We use affiliate links. If you buy something through the links on this page, we may earn a commission at no cost to you. Learn more.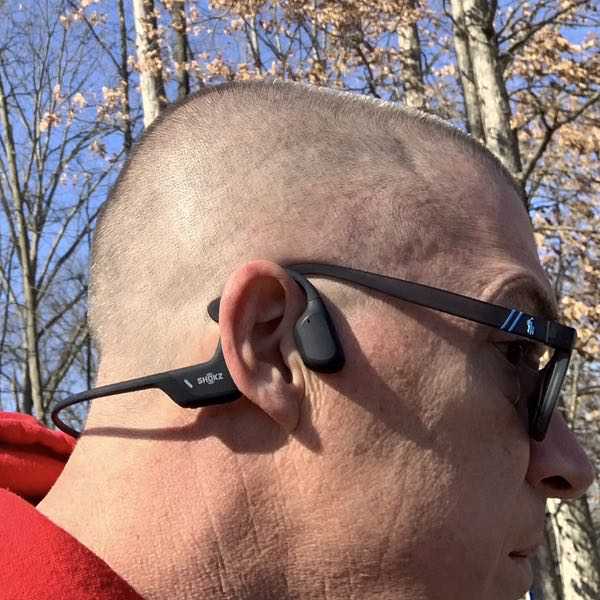 REVIEW – What is this sorcery?!? I'm testing the Shokz OpenRun Pro sports headphones, which feature bone-conducting technology for those with active lifestyles. These are a game changer for me. Let's find out more. To the review!!
What is it?
Shokz OpenRun Pro sports headphones are bone conduction open ear headphones.
What's in the box?
You'll get the headphones, a charging cable, and a hard-sided carrying case.
Hardware specs
Premium Sound Quality with Enhanced Bass
9th Generation Bone Conduction Technology (TurboPitch™ Technology)
10 Hours of Music & Calls + Quick Charge
IP55 Water-Resistant
Design and features
Your Shokz OpenRun Pro adventure begins with a hard-sided carrying case. Behold!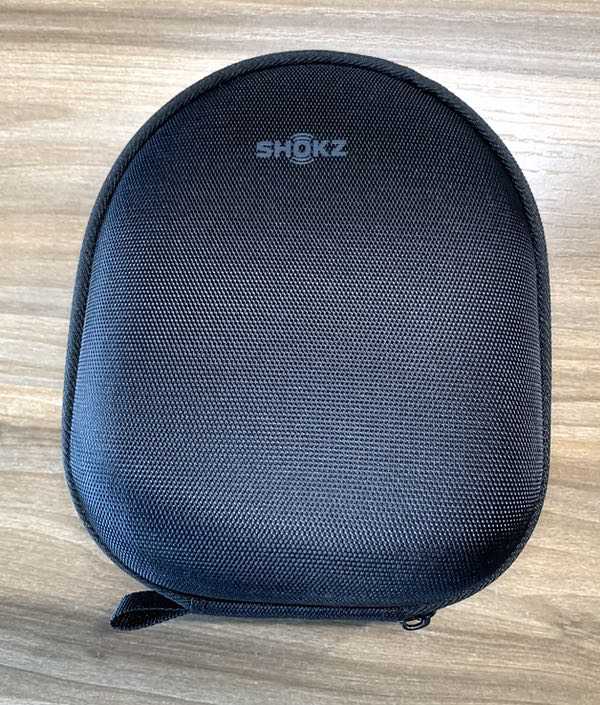 The molded case keeps your headphones and charging cable safe from harm in your gym bag or backpack. It's kind of a big deal considering that these are premium headphones.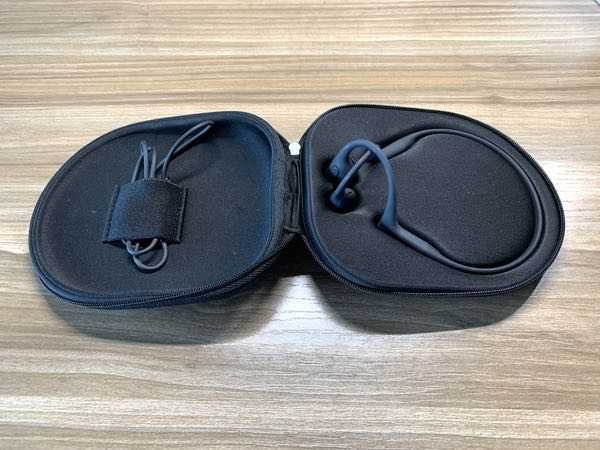 The headphones themselves are built on a wraparound titanium frame that's been coated in a rubberized material. They're IP55 water resistant, which means that they're good for work in the rain or sweaty conditions.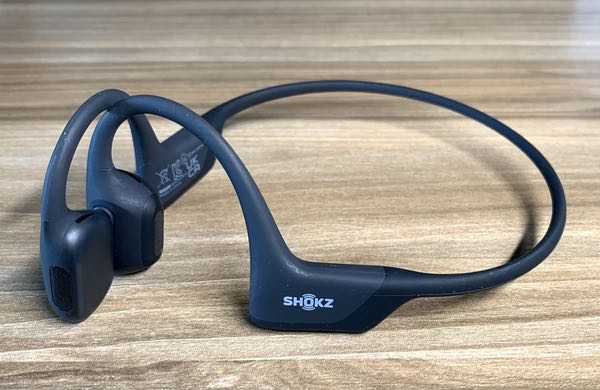 These are bone-conduction headphones, so there's nothing sticking in your earholes. Those pods loop over your ears while the band keeps them in place. The sound is transferred to your ears via that magic bone-conduction technology.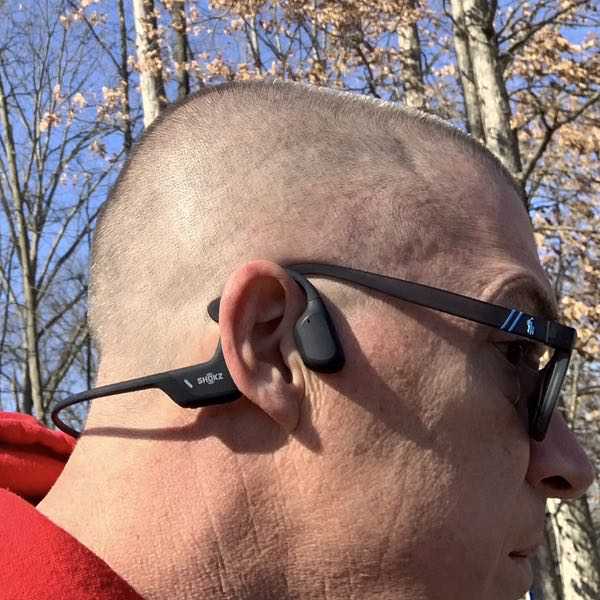 I was pleasantly surprised that the headphones are not only comfortable with my glasses, but they also work with a loose fitting skullcap like I have on here. This is a good thing. It's been cold in my part of Pennsylvania the past few weeks.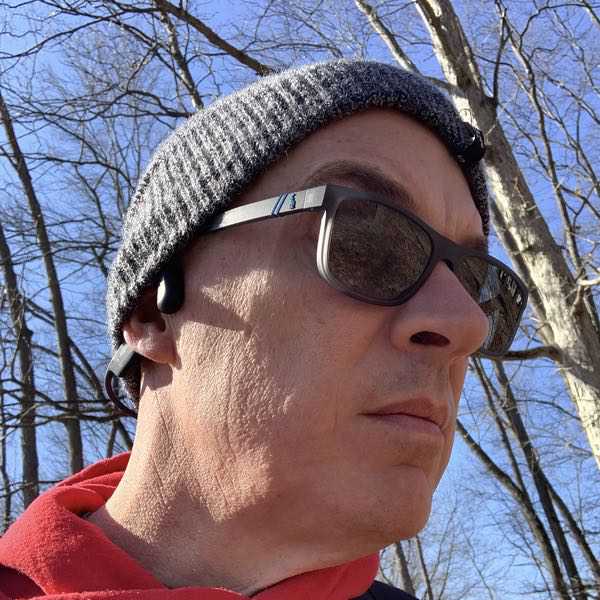 All of your onboard controls are managed on the pods that sit in front of your ears. The left pod has a simple button for play/pause music (one click), next song (two clicks), previous song (three clicks), or answer/end calls (one click). The button itself gives good tactile feedback so it's easier to feel what you're doing.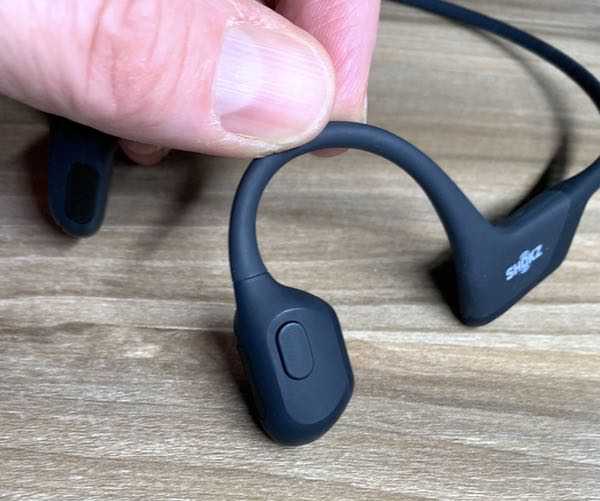 The right pod has two buttons on the underside that manage power on/off, volume up, volume down, and Bluetooth pairing. The volume down button is a single-function control; the rest of those features are managed from the power/volume up button with some combination of click and click/hold to do the things.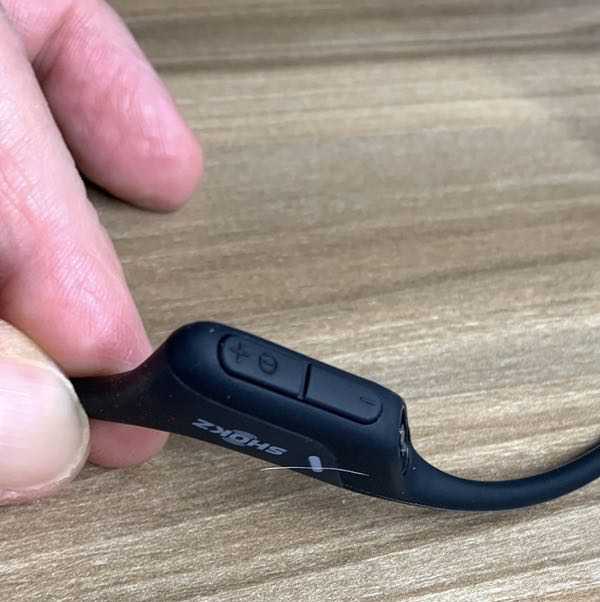 Behind the power & volume controls, you'll find your dedicated charging port.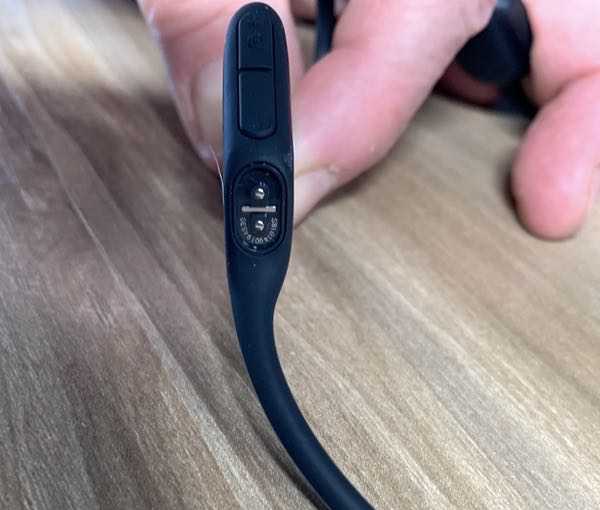 The charging cable is a USB cable with the port attachment on the opposite end that connects to the headphones. This is a specialized cable, so it's a good thing that they have a place for it in your carrying case. You don't want to lose it!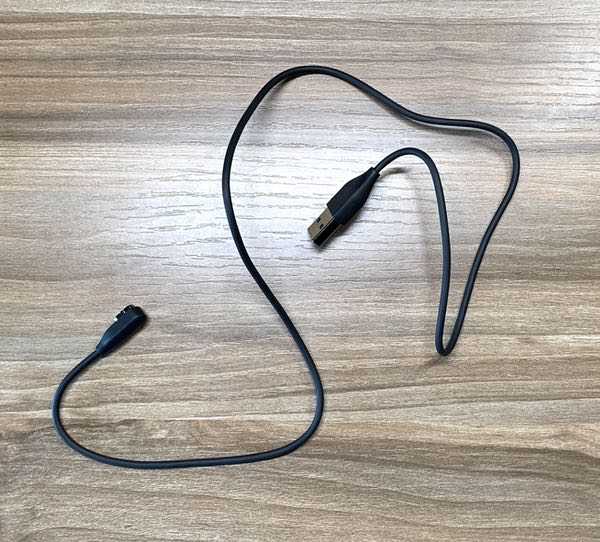 The port attachment snaps to the headphone port via a magnet… no fumbling with plugs here! You'll get 10 hours of continuous use off of one charge. The headphones will tell you your power level when you turn them on ("Battery is high!" "Battery is low!"), which is helpful. You can also do a quick 5 minute quick charge for 90 minutes of use if the headphones are completely dead.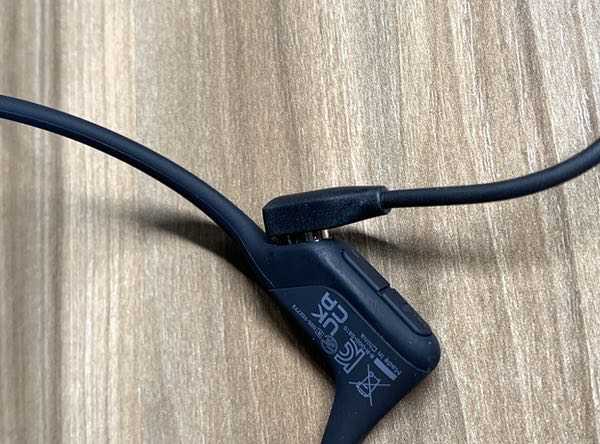 The audio feedback also includes notifications for pairing and connecting your devices; pairing is straightforward and drama free.
Performance
This is my first pair of bone-conducting headphones, and I don't think I can go back now. At first, I thought that they would waggle around and potentially slip off, given the gap between the collar and my neck that you see in the picture below…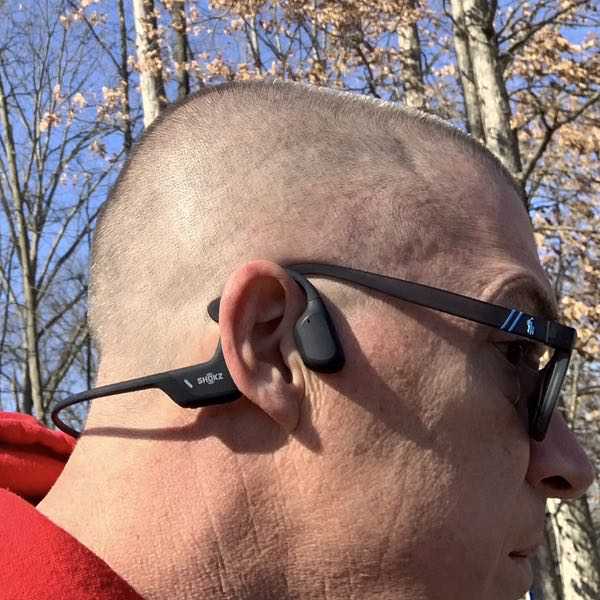 … but that's not the case. There's just enough pressure to keep the loops in place, without so much pressure that they feel like they are pinching. I've used them 5 times a week for rucking, weight training, and the elliptical machine. Even when I'm working out on the bench they stay put.
I've also been pleasantly surprised with the sound quality. Excellent range of bass notes and treble, with outstanding stereo sound. I've tried a variety of music from my iPhone and movies from my iPad with consistently good results. You'll notice right away that you'll get more ambient sound than an in-ear earbud, but that's a good thing if you're out in the wild. I wear these and I have full awareness of stuff going on around me (like passing cars). You can dial up the volume, but still have just enough awareness of the world around you for safety.
I'm also liking the fact that they're comfortable to wear over long periods. No sweaty earholes or irritation. I've been taking these to the office for music and podcasts while I am working where I can use them for hours comfortably. And call quality is excellent (another big surprise).
The controls still require some learning curve to use some of the more advanced features, but they're nowhere near as bad as some of the other earbuds I have tested. There's also an app you can download that assists with pairing and setting your equalizers. Honestly, I find that I don't need it.
What I like
Very comfortable
Well built, water/sweat resistant and durable
Top-notch sound quality
Great battery life
Nice carrying case
What needs to be improved
The only knock I have found so far is the bone-conducting technology if you're been used to in-ear phones. It takes a little getting used to the extra ambient sound.
Final thoughts
The Shokz OpenRun Pro Sports Headphones may be premium priced, but I think they are worth the coin if you are looking for bone-conducting style headphones. You'll love them for indoor and outdoor activities, and I use them all the time for other things. Just keep in mind that you'll get that ambient noise as a tradeoff for the comfort factor, which is something to consider. These are my personal go-to headphones now.
Update 6/23/22
Good news and bad news with these headphones. They're still my favorite headphones for exercise including weightlifting & rucking. I also use them at the office to play music or podcasts while I am working. But I find the open design is not so great when there is a lot of background noise after additional testing. I used them on a plane flight recently, for example, and they just don't overcome the background noise. Same thing if you're mowing the lawn. They're still great, but not ideal for all situations.
Price: $179.95
Where to buy: Shokz.com and Amazon
Source: The sample of this product was provided by Shokz.