We use affiliate links. If you buy something through the links on this page, we may earn a commission at no cost to you. Learn more.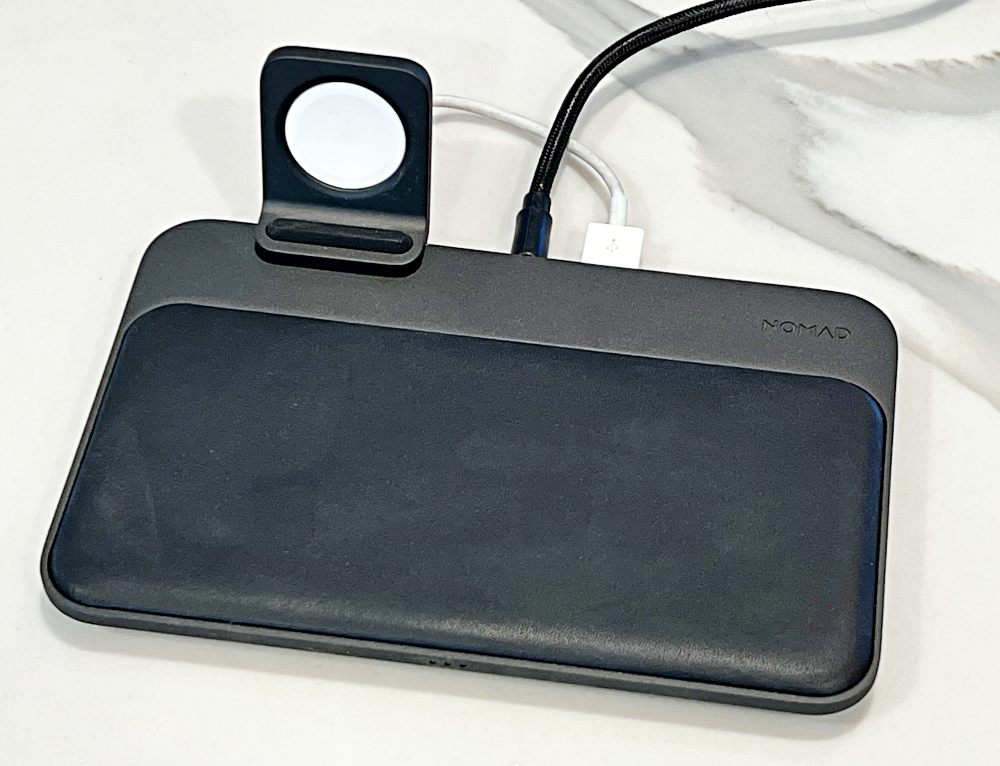 REVIEW – Nomad has been making their Base Station product for a few years now. They've been able to stay true to a design theme while varying materials, footprint and Apple Watch compatibility. Magnetic alignment is the addition this time around and while that may seem minor or trivial, it makes a pretty big difference when it comes to charging time.
What is it?
The Nomad Base Station Hub with Magnetic Alignment doesn't exactly have a name that rolls off the tongue, but it does adequately describe the product. It's a wireless charging station with magnetic assistance for locating your MagSafe compatible iPhone directly overtop one of the 3 high-power charging coils. An additional USB-A and USB-C port sets up charging for up to 4 devices simultaneously.
What's in the box?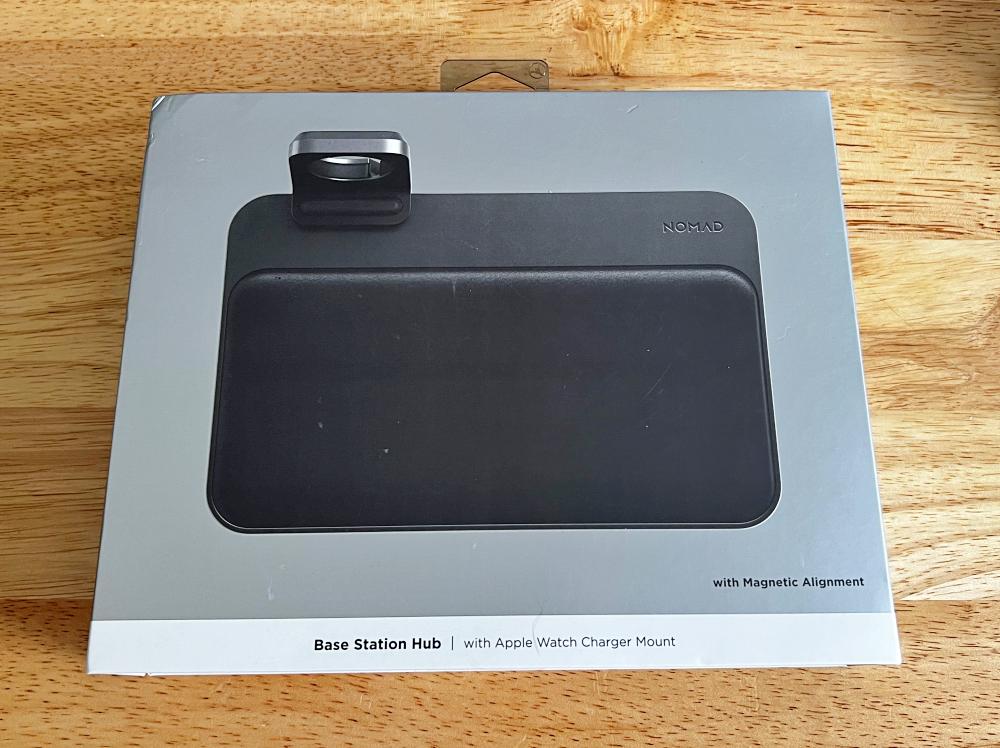 Nomad Base Station Hub
Wall adapter with 3 international plugs
Apple Watch module w/ 4 interchangeable risers (Apple Watch module is an add-on feature)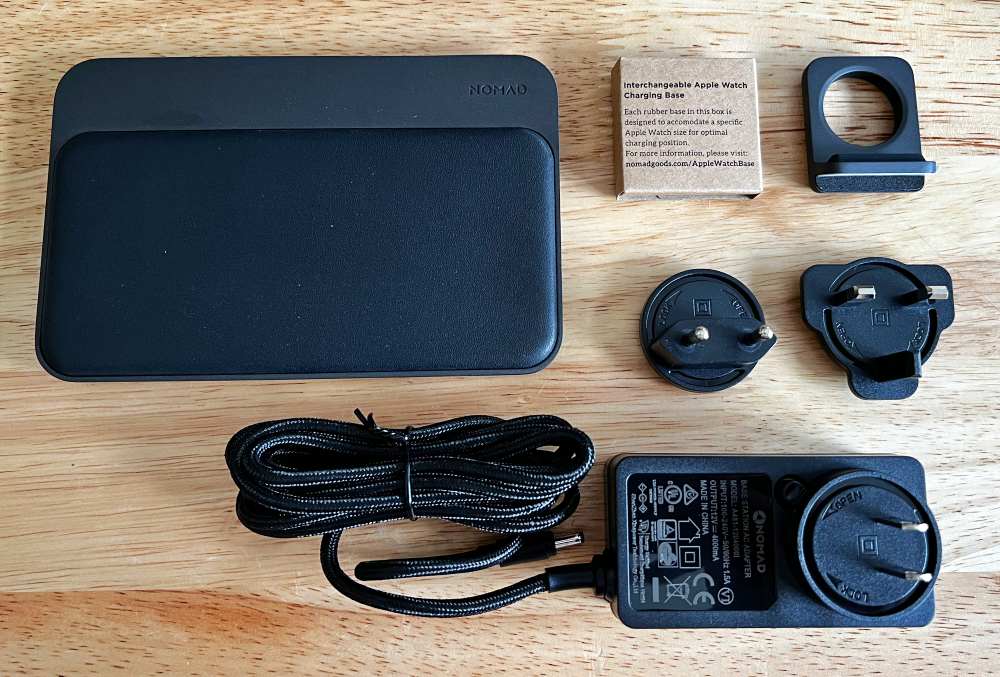 Hardware specs
Charges up to 4 devices simultaneously (2 wireless, 2 wired)
Up to 10W wireless charging speed
Magnetic Alignment as an added benefit for MagSafe products (iPhone 12 series and later)
USB-C PD 18W port
USB-A 7.5W port
Padded leather wireless charging surface
Ambient light sensor dims LED's at night
Design and features
Hands down, Nomad's design aesthetic resonates well with me. The dark metallic grays paired with the black leather and braided power cord are just spot on.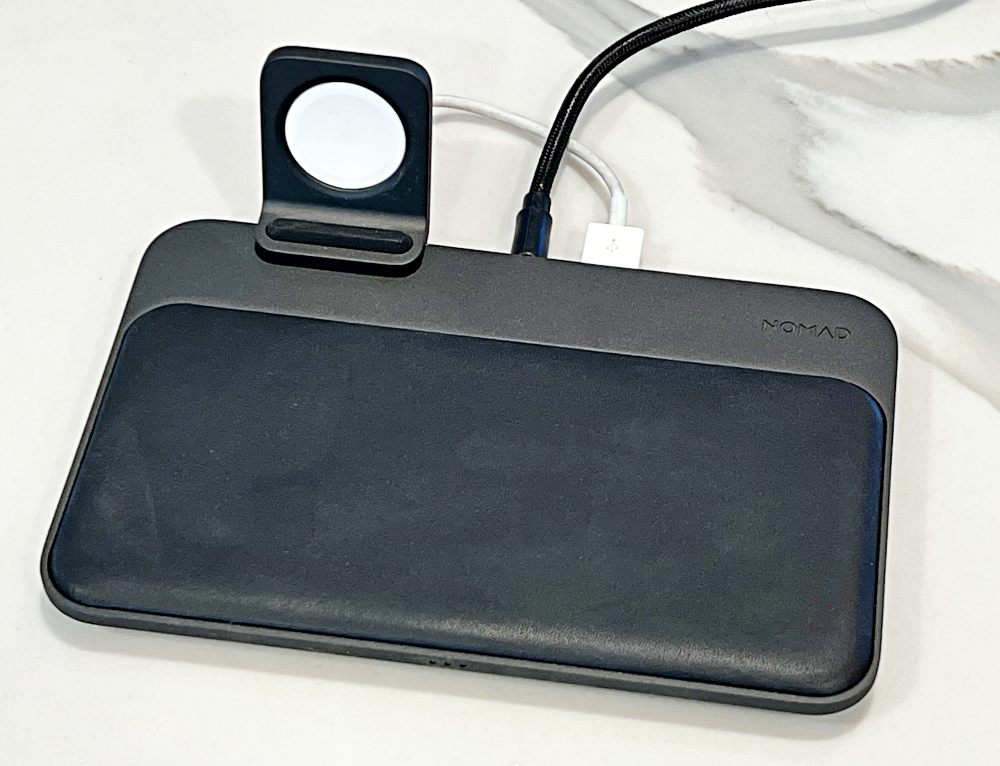 On the business side of the hub are your connections. From left to right they are… USB-C (PD 18w), USB-A (7.5w), power port and then the ambient light sensor.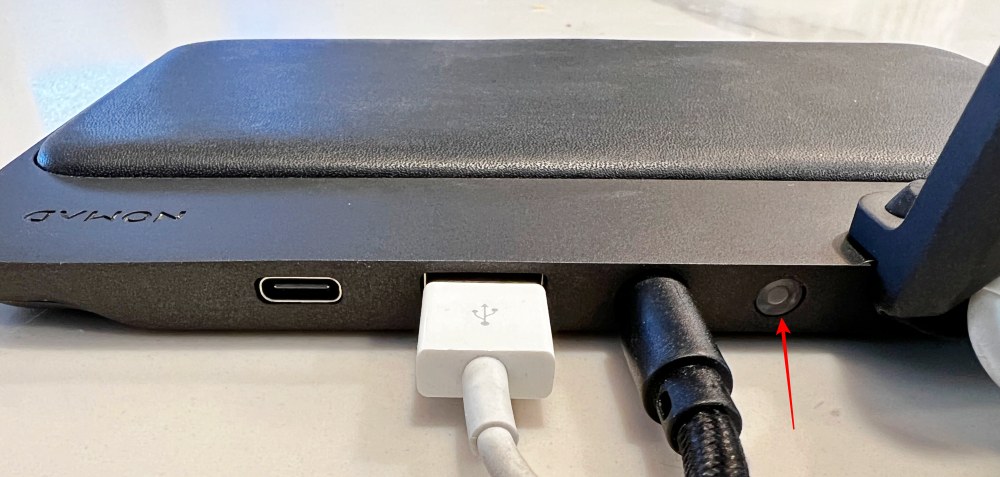 On the front edge are 3 LEDs. You'll only see all 3 lit up right as you connect the power adapter, then they all turn off. After that, they each will indicate which charging coil is active (Left, Center or Right).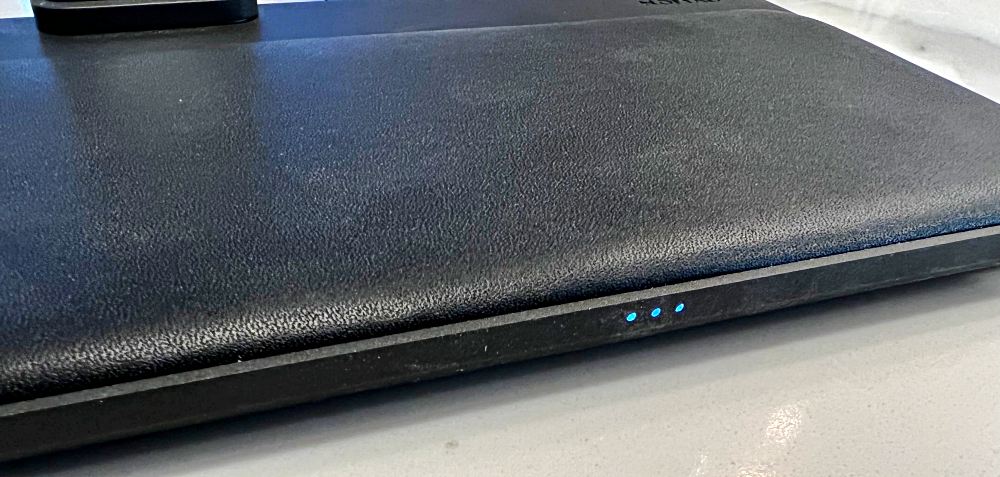 Only two coils can supply a charge at the same time, so the most common scenario is L and R charging coils in use. Here's a pic of the charging coils courtesy of Nomad.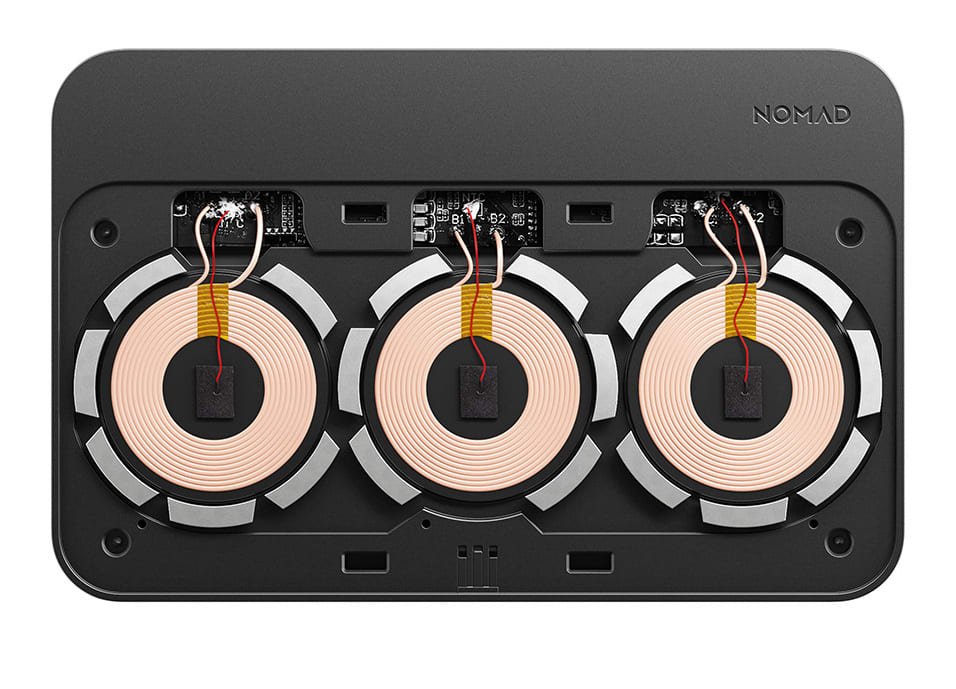 On the underside, two long silicone feet run the full width giving the hub plenty of stability and grip.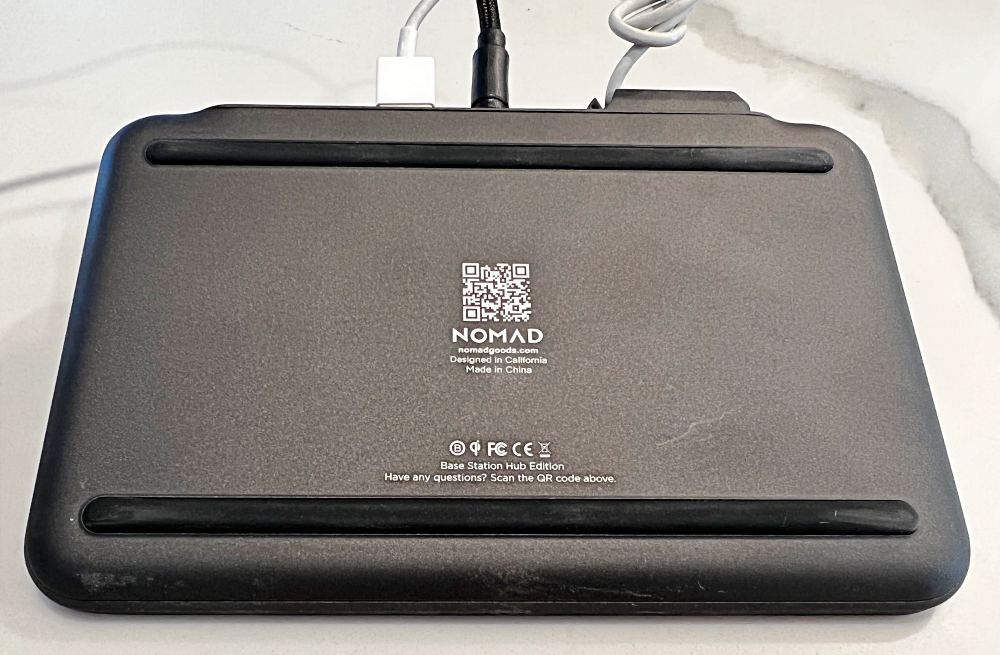 Setup
Install the appropriate prongs for your region onto the wall adapter
Connect the wall adapter to an outlet and to the back of the Base Station
To install the Apple Watch Module…
First, select the correct riser for your specific watch. The pre-installed 44mm worked perfectly for my Series 7 45mm Watch. They're clearly numbered on the underside of each riser.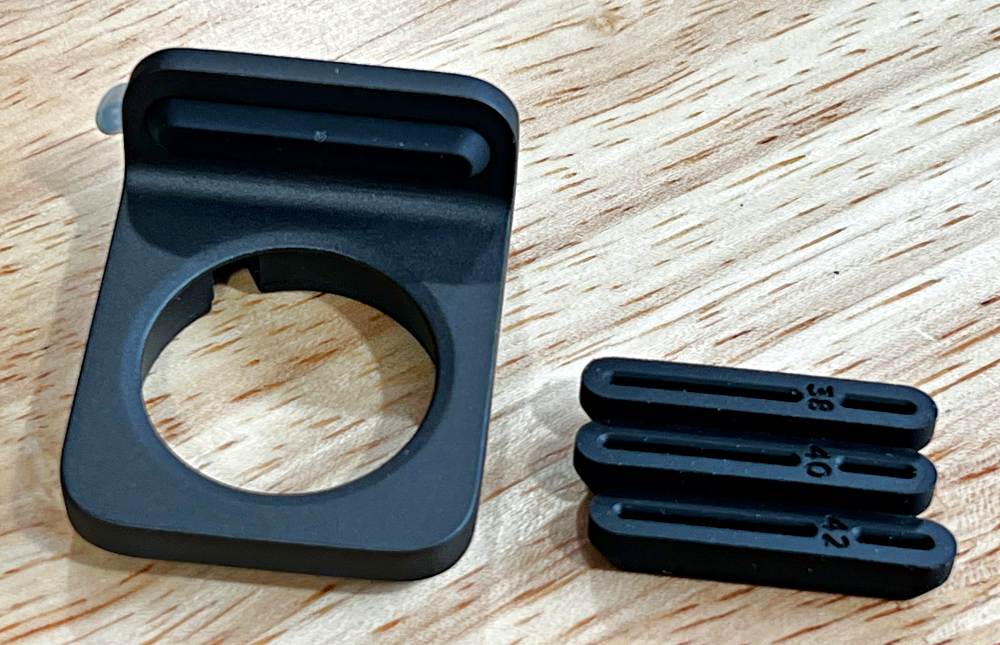 Next, install your own Apple Watch charging cable into the module by pressing it in from behind.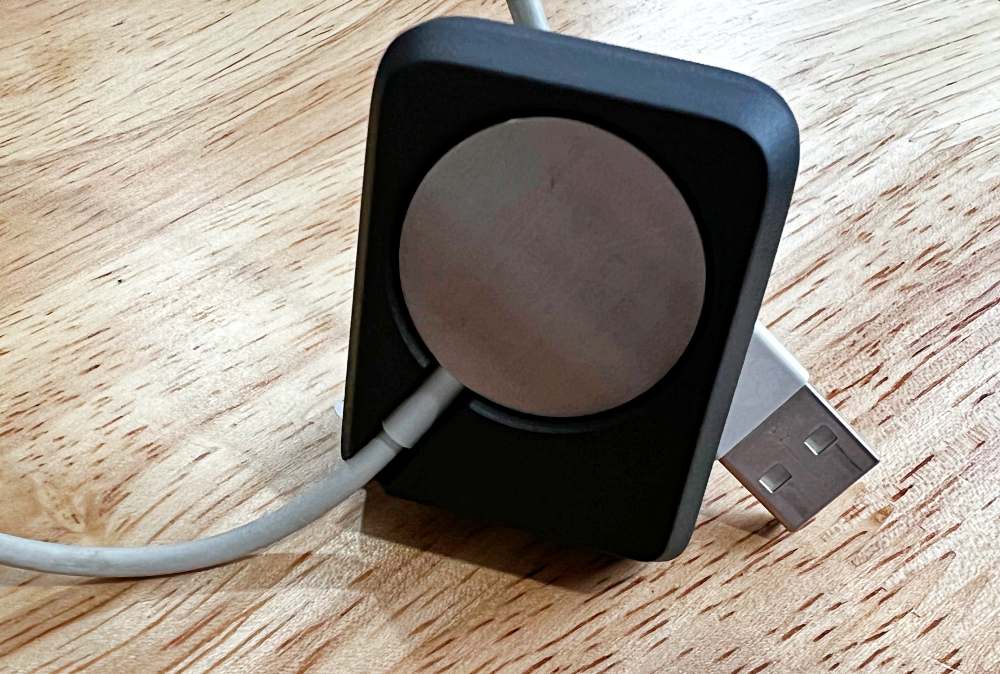 Then you get to decide where to place it. It's applied with 3M VHB adhesive so it's not a permanent decision. Just peel and stick when you're ready.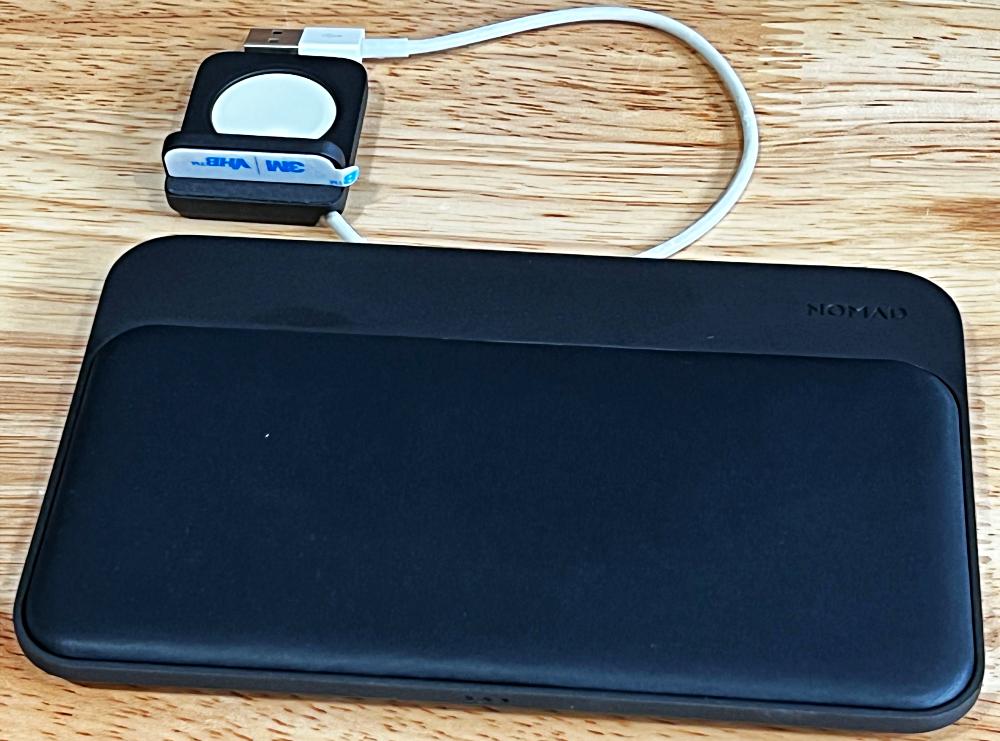 I've still used some of the original short watch modules from the series 1 launch. They're nice and short and work just great if you don't mind keeping your watch docked longer due to their slower charging speed. For some reason, Apple doesn't make a short USB-C charger.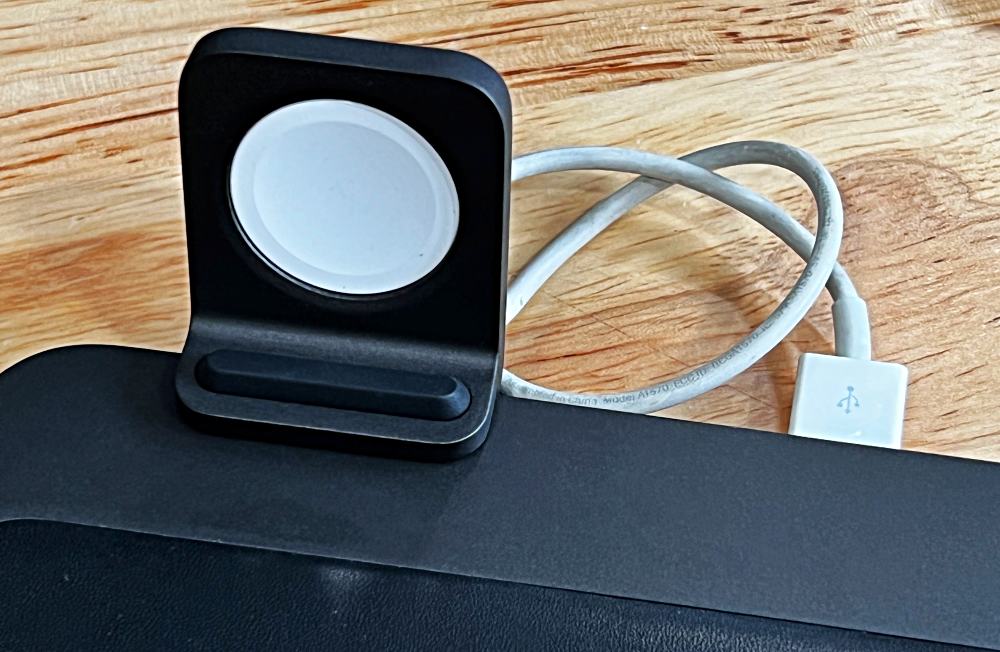 Performance
There are plenty of reviews on Nomad's Base Station and you can find a collection from Gadgeteers right here. All of the main details won't vary a ton from any of those reviews. The build quality is great, the materials feel good, watch modules charge as well as the adapters you install and the front LEDs dim significantly at night due to the light sensor on the back. All of these things are great reasons to pick one of these up.
What's different this time around is the magnetic alignment. If you have an iPhone 12 or newer, this feature works with MagSafe to 'snap' your phone into position over one of the 3 charging coils. The result is kinda magical as it guides your phone as long as you're relatively close.
I typically drop my phone onto the hub lengthwise at night where it's almost the same size as the leather pad. I had gotten used to using my fingers to feel the edges of the leather to make sure my phone was centered and charging. Now it just finds its center without much assistance. The other night I missed by a lot without knowing it. In the morning I found it had landed on the left charging spot hanging over that side by a good 1/3, but still secure and fully charged.
If I'm also charging my hearing aids or AirPods, then I'll place that in front of the watch module and turn my phone 90 on the right side. All good. The only issue I ran into was trying to charge 2 phones while avoiding the watch module. It worked, but everything had to rotate a bit. This was with an iPhone 13 Pro and an iPhone X. A Max would have kicked the other phone off to be charged by the USB-C port which is always an option.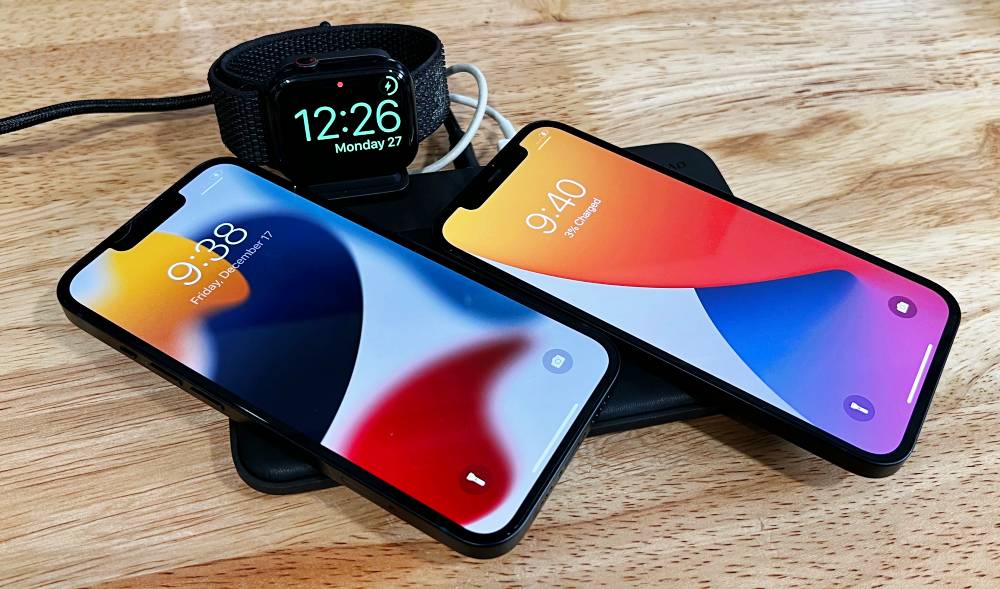 The last thing that's worth mentioning is that your choice in phone cases could cause issues with the magnetic alignment. The most likely scenario is an aggressive, oversized lip around the iPhone camera that can hang up on the leather pad's edges preventing the phone from finding the sweet spot. There are also a few cases with additional magnets beyond MagSafe compatibility that might interact weirdly.
What I like
Materials, finishes and build quality
Good heft, stays where you put it
Being able to choose where the watch mount (or not to)
What I'd change
Would be cool to be able to mount the watch module along one of the sides and retain 2 phone charging in a more normal orientation
Would like to see a 2nd 3M adhesive for the watch module in case you need to relocate
Final thoughts
Nomad's Base Station Hub continues to be my go-to choice for my nightstand. The ability to charge up to 4 devices is key as I can have my Apple Watch, iPhone 13 Pro, AirPods and iPad Pro all topped up reliably by morning and ready to seize the day. What more do we really need?
Price: $119.95 (+ $14.95 to add Apple Watch Charging Mount)
Where to buy: Nomad Goods
Source: The sample of this product was provided by Nomad Goods