We use affiliate links. If you buy something through the links on this page, we may earn a commission at no cost to you. Learn more.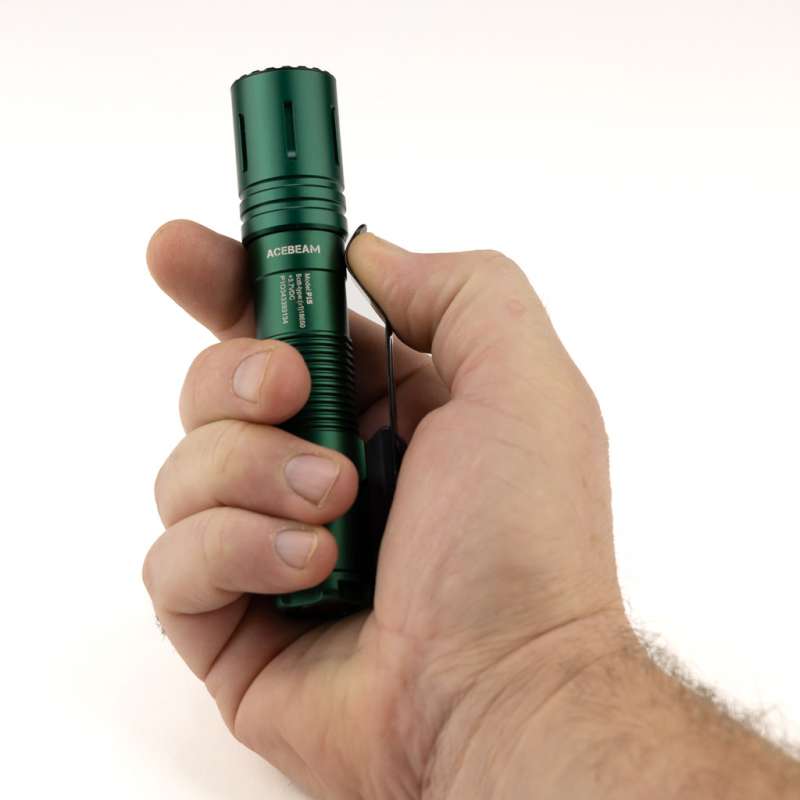 REVIEW – Once you've had a really bright flashlight, you don't ever want to go back to using an old dim one. The folks at Acebeam offered to send along their P15 EDC Tactical Light for review, and I just had to try it out.
What is it?
The Acebeam P15 EDC Tactical Light is a multi-purpose rechargeable tactical flashlight.
What's in the box?
Acebeam P15 EDC Tactical Light
Charging cable
Hex wrench
Lanyard
Quick Function switch
Remote Weapon switch
Tactical Ring
M-LoK rail mount
Picatinny rail mount
Spare O-rings
Hardware specs
18650 battery
1.5A fast charging directly, full charge only 2.5 hours
Output:
Ultra-Low: 2 Lumens; 35 days
Low: 45 lumens; 400cd; 40 meters; 37 hours
Mid: 200 lumens; 3,600cd; 120 meters; 8.5 hours
High: 600 lumens; 10,000cd; 200 meters; 2 hours 45 minutes
Turbo: 1,700 lumens; 27,225cd; 330 meters; 1 hour 45 minutes
Strobe: 1,200 lumens;
Size: 130.7mm (Length) x 25.4mm (Head Diameter) x 23mm (Tube Diameter)
Weight: 98.8g(3.48oz.) w/o battery; 151.5g(5.34oz.) w/battery
Design and features
I've had many EDC flashlights, some good, some bad. What attracted me to the Acebeam P15 EDC Tactical Light was the multi-function switch, the charging cable connection, and the weapon mounting options.
The P15 is made of an aerospace 7075 aluminum alloy and a stainless steel bezel. Strong and lightweight, the P15 features a unique locking tail tube that rotates slightly to lock in place the charging cable, remote Weapon switch, or quick function switch.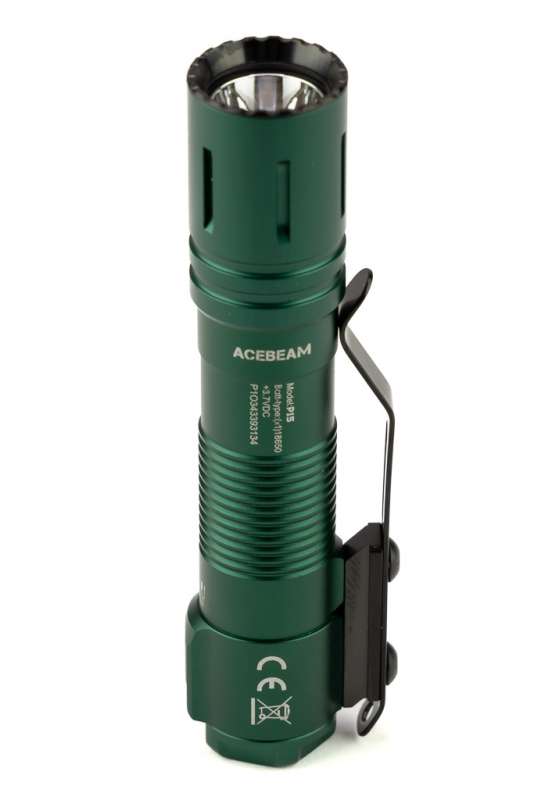 I found the overall quality of the materials used to be excellent. The Picatinny rail mount is a flexible material that fits very snuggly. All of the hardware and workmanship seem to be excellent.
The maximum output of 1,700 lumens is exceptionally bright and well suited for this kind of light. The multi-function switch is a one-touch strobe switch. I think this feature would be very useful for a non-lethal deterrent, making it almost impossible to see what you're doing when it's pointed in your eyes.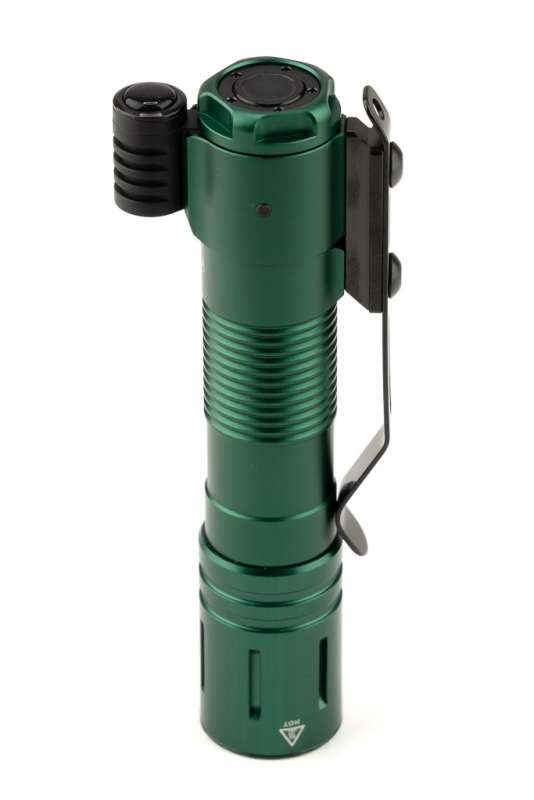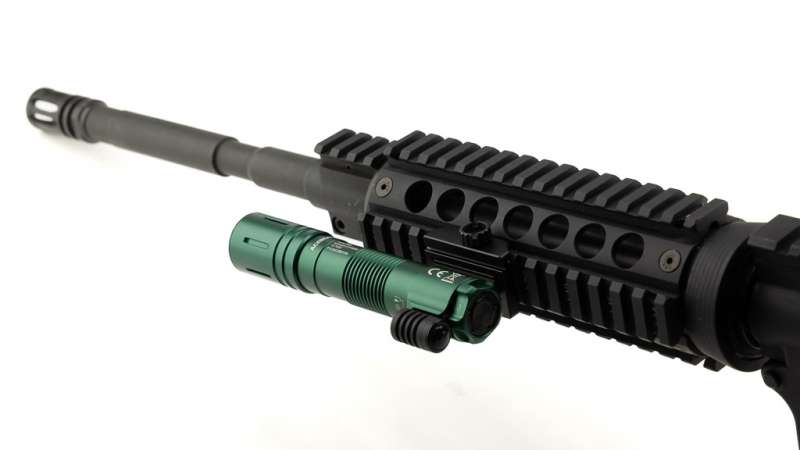 The customized 18650 battery provides for 1.5A fast charging, and a full charge takes only 2.5 hours. This battery powers the flat LED, which provides the most efficient light and long-range beam in the same size light.
The tactical remote switch is easily side-mounted using the provided mount and connects via the multi-function port. It fits snugly in its mount and works exceptionally well.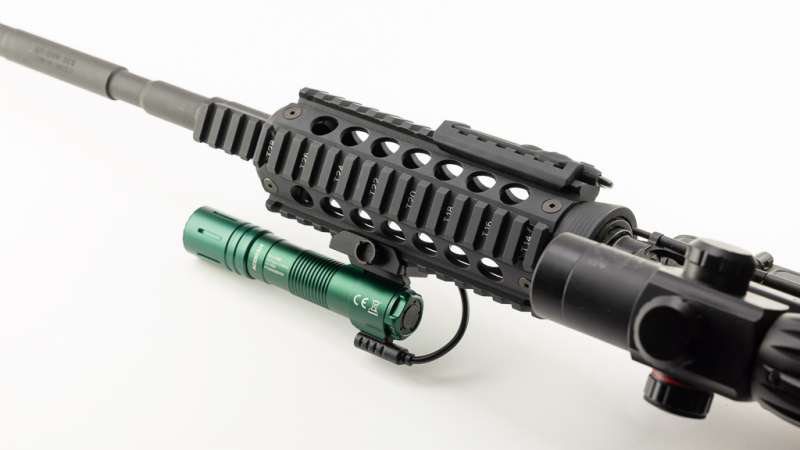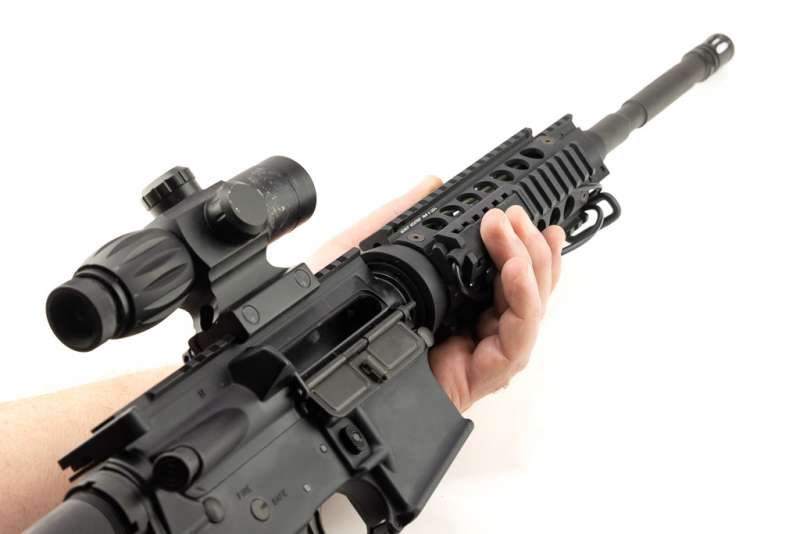 The tactical ring offers an optional way to carry the light and provides light retention while using your hands for other things. The ability to still use two hands while operating the flashlight is a very nice feature.
The P15 is IPX68 waterproof (2 meters underwater) and designed for use in heavy rain. Two spare O-rings ensure you'll always be ready for bad weather. Not only that, but the P15 is impact-resistant to 1.5 meters so that it can survive accidental drops.
The pocket clip is reasonable and provides a hole for the lanyard. However, It does sit quite high out of the pocket. I would prefer having an upside-down "U" shaped clip so the light would sit almost entirely in my pocket.
Regular operation of the light is:
On/Off: Single click of the switch, remembers the last mode you were in.
Mode Selection: When the flashlight is on, holding the switch down will cycle through the low, medium, and high modes.
Turbo Mode: Double clicking the switch will toggle between turbo mode and the last memorized mode.
Strobe: Triple click, works when the light is on or off.
Ultra-Low Mode: When the flashlight is off, press and hold the switch for 0.5 seconds and the light goes to ultra-low mode.
Lock Mode: When the flashlight is off, hold the switch for 5
What I like
Multi-function switch
Charging cable connection
Weapon mounting options
What I'd change
I prefer the pocket clip to allow it to go deeper into the pocket
Final thoughts
Overall the Acebeam P15 tactical flashlight is a very lovely light that will certainly go with me almost everywhere I go, either in my pocket or in my carry bag. I like that the light has multiple uses, which could come in useful if I decide to carry another light.
Price: $129.60 as tested, $114.90 base price
Where to buy: Acebeam and Amazon
Source: The sample of this product was provided by Acebeam.