We use affiliate links. If you buy something through the links on this page, we may earn a commission at no cost to you. Learn more.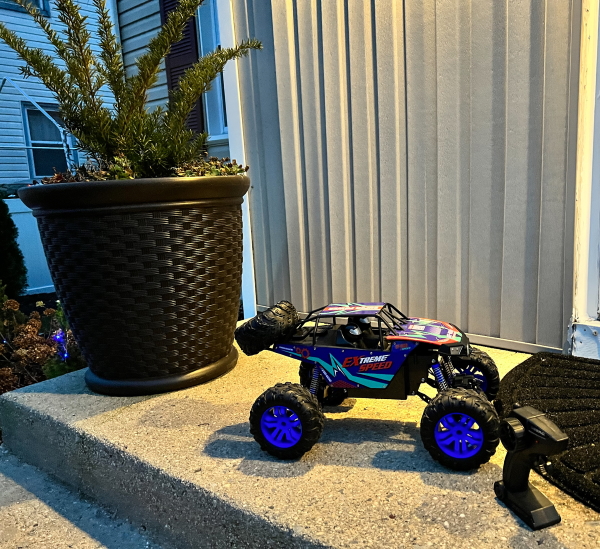 REVIEW – My kids are now at the age where they are into their tablets and all sorts of electronics. They love remote-controlled robots, cars, etc. Over the years I have bought them a few smaller remote control cars and trucks with the promise that when they get older I will buy them a bigger car/truck. I would have likely bought one for this Christmas but I was lucky to get the opportunity to review this DEERC 9300 Remote Control Car/Truck. Let's see if we enjoyed it!!
What is it?
The DEERC DE60 Large 1:8 Scale Upgraded Remote Control Truck is a 1:8 Scale model that is controlled by a remote using the 2.4GHz frequency. It is built as a 4wd Rock Crawler All Terrain toy. It comes with 2 Rechargeable Battery batteries for a total of approximately 80 minutes of fun.
What's in the box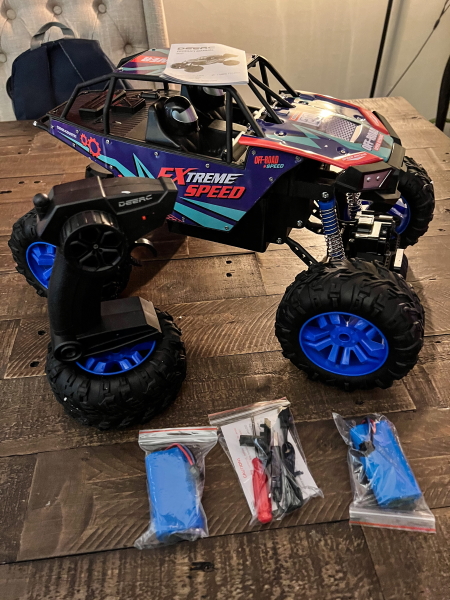 1 x RC Monster Truck
1 x 2.4GHz Remote Controller
2 x Truck Batteries
1 x USB Charging Cable
1 x User Manual
1 x Screwdriver
1 x Replaceable Rear Wheel
1 x Rear wheel fixing rubber piece
Design and features
Features
2021 Brand New 1:8 Large Size Remote Control Car: This 1:8 monster truck with a super large ratio is cost-effective, and its huge size makes it stand out. It is equipped with a realistic interior and a replaceable rear tire. Its powerful performance makes this RC car an ideal toy for boys and girls, and adults.
Strong Power Brings Exciting Off-road Climbing Experience: The four-wheel-drive remote control off-road car is equipped with a steering motor and 2 powerful front and rear built-in power motors, which work together for extra power. The upgraded large wear-resistant tires come with a special thread design tread that increases the friction between the tires and the ground so that it has a stronger grip, and the climbing angle can reach an amazing 60°!
Durable All-terrain Off-road Car: The four wheels are installed with independent suspension springs to allow the body to be more flexible and to buffer the impact of the uneven road surface on the body frame. It also protects the internal electronic components of the vehicle body. The DE60 has undergone a professional drop height test of 2 meters and can adapt to extreme terrain. The stylish and sturdy alloy body and wear-resistant nylon chassis allow you to conquer almost any terrain.
Hobby Grade RC Truck Suitable for Children & Adults: The monster truck has a sensitive wireless RC System that enables the car to be flexibly controlled when running in 2.4Ghz frequency. The Controller provides a stable signal, a control distance of about 230 ft, and has a non-interference function, allowing multiple vehicles to play at the same time. Sensitive steering and throttle control the car to burst out with strong power torque, allowing the car to easily complete difficult movements.
Unimaginable Super Battery Life: Equipped with 2 professional 7.4V, 1200mh upgraded LIPO batteries, each battery can be used for about 40 mins. You can enjoy the fun of driving for about 80 mins (depending on the terrain and operation). Please note that, when you receive DE60, the rear tire needs to be installed manually)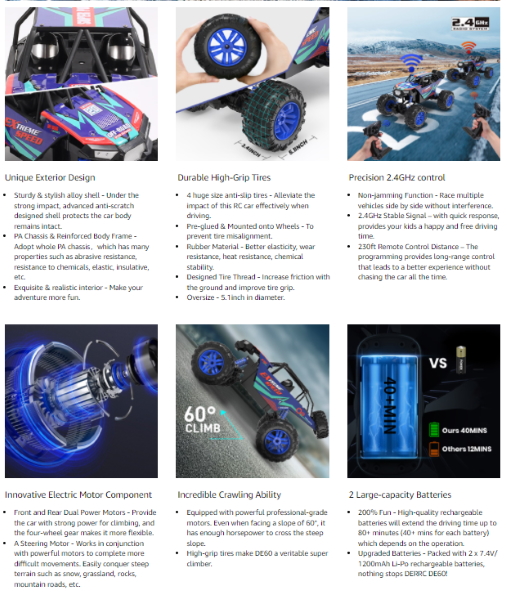 Specifications
Size: 20.1 * 11.8 * 9.4 inch
Drive System: 4WD
Frequency: 2.4GHz
Charging Time: 6 hours
Control Distance: about 230ft/ 80m (no interference and occlusion)
Running Time: 2 * 40+ mins (depends on playing operations)
Truck Battery: 2 * 7.4V/1200mAh rechargeable batteries
Remote Control Battery: Needs 2 * AA batteries (not included)
The truck comes well packaged in an attractive box.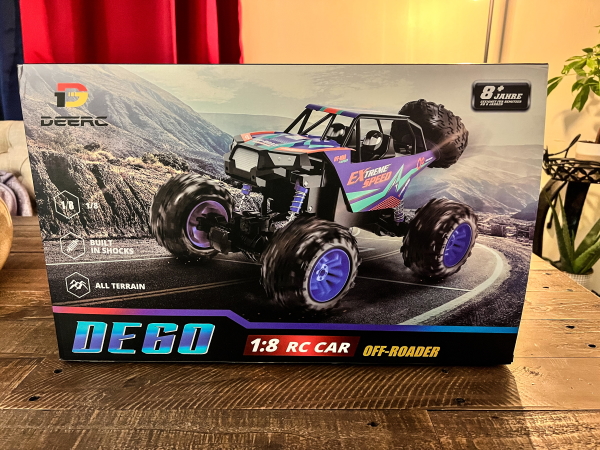 The truck is well designed and made of plastic/ABS. It features large wheels, spring shocks, and even 2 drivers in the cab. On the back, there is a mounted spare tire and underneath there is the battery compartment, power switch, and trim control.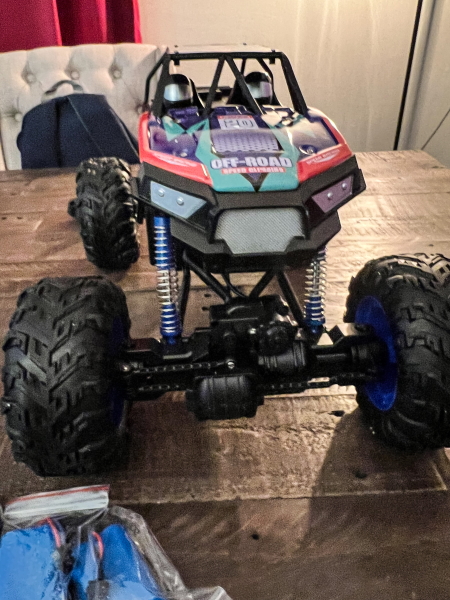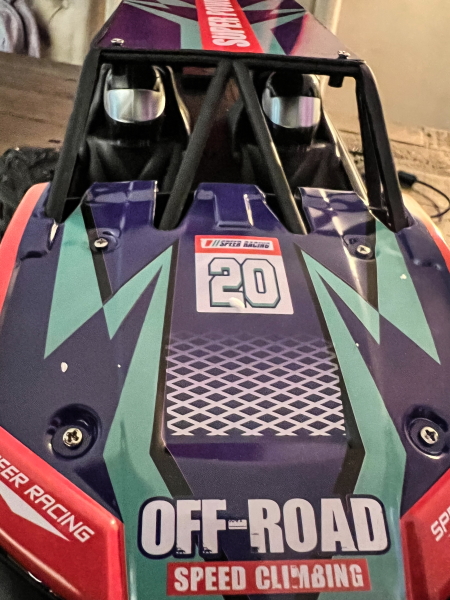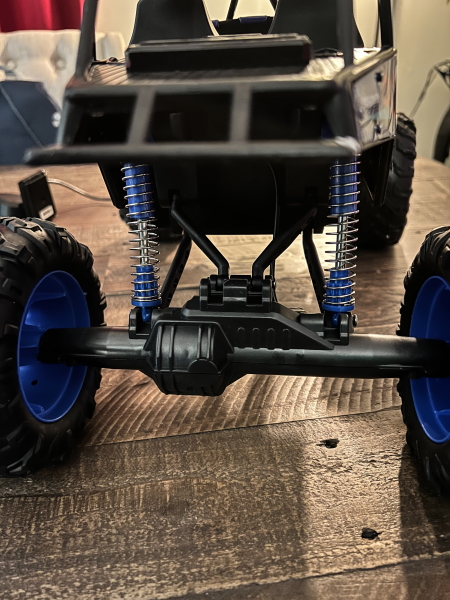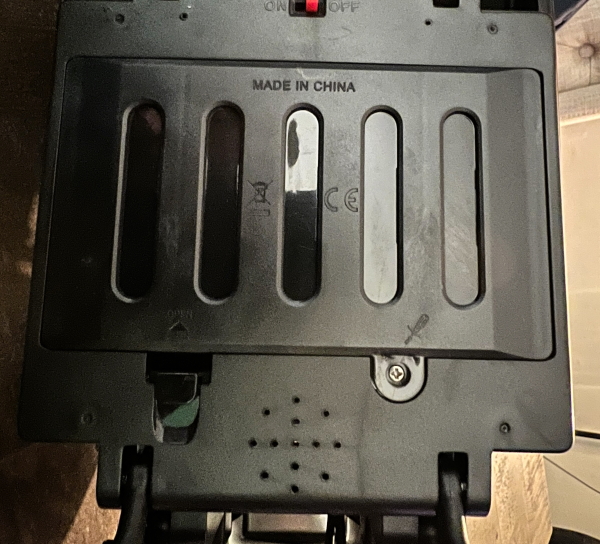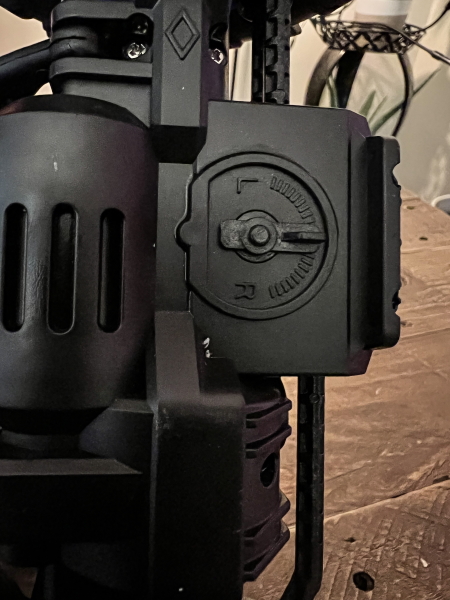 The remote control is plastic and has speed, direction, and power controls.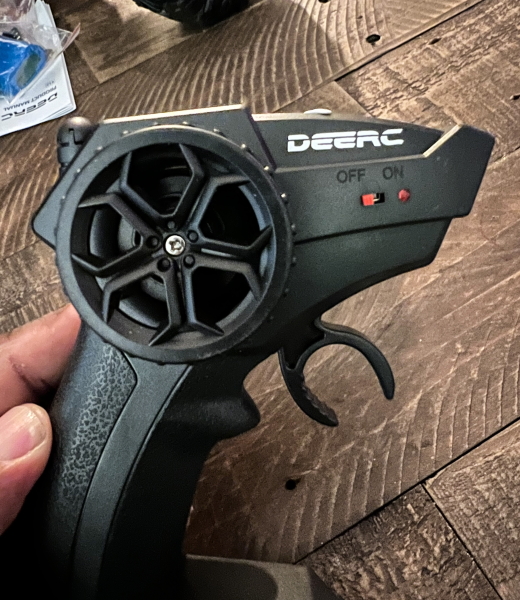 Performance
The first thing I did was to follow the instructions and charge the battery for at least 6 hours. While the battery was charging I mounted the spare wheel on the back.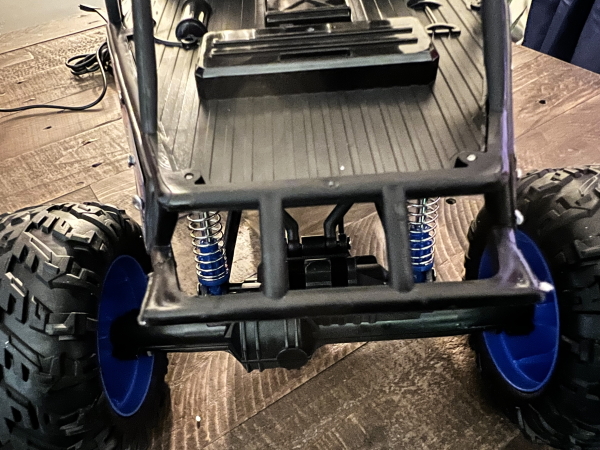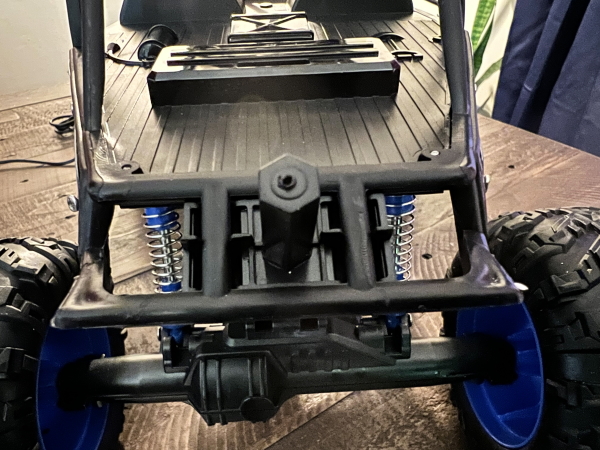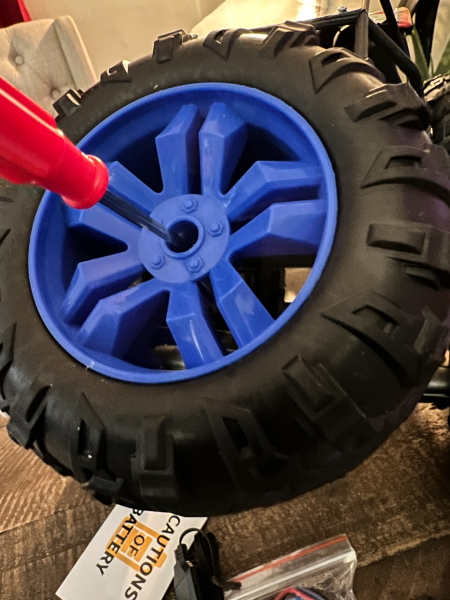 The remote control holds 2 AA batteries in the side compartment.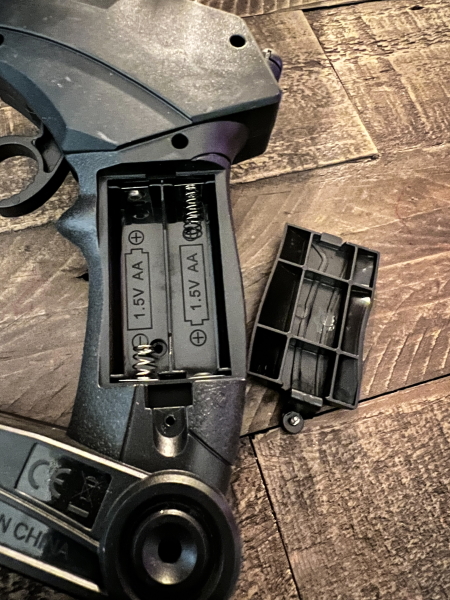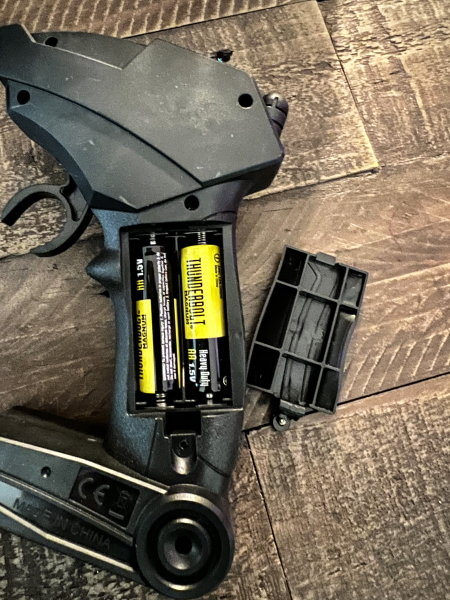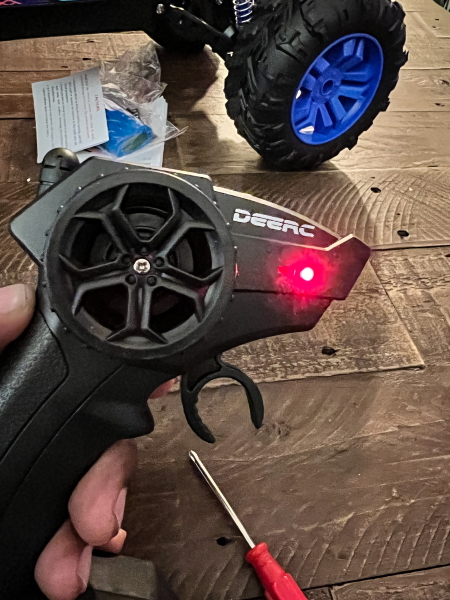 Underneath the truck, there is a battery compartment and a power switch. The next step was to install the charged battery. There is also a trim control underneath near the front. I did not have to adjust the trim.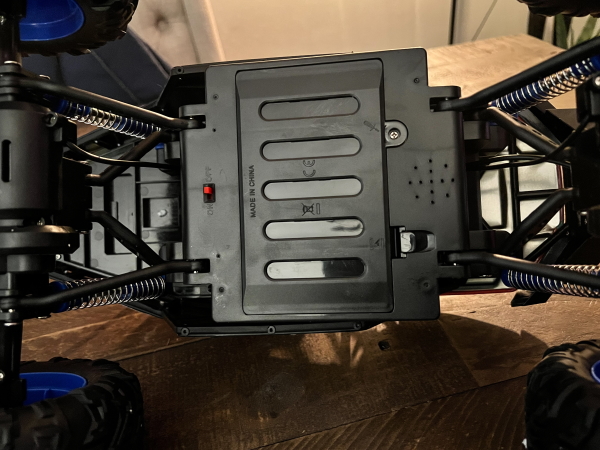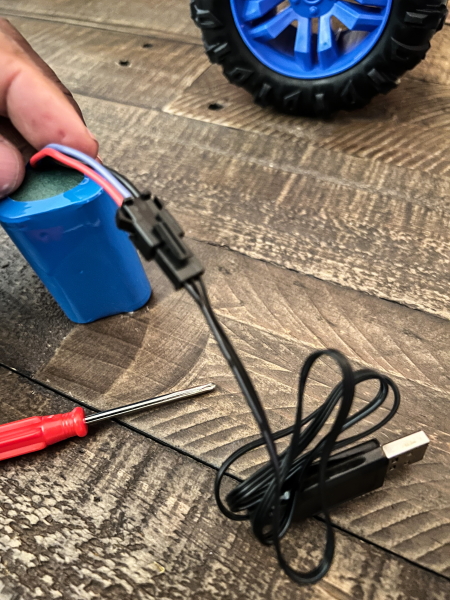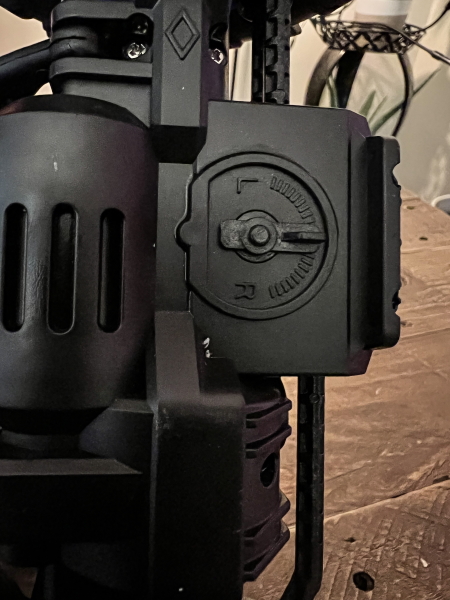 The following is a video of my kids playing with the truck indoors (it was too cold outside). It was their first time and they could not quite control it :-):
We finally got some decent enough weather so the kids had fun with this truck outdoors:
What I like
The design and build quality
The paint colors and the rugged look
The shock absorption system
The ease of control
The adequate speed
The 2 included batteries
The runtime for each battery
The sheer fun
What I'd change
I am not sure about scaling but I would think that the 1:8 scale size would be a lot bigger
Final thoughts
Before getting the DEERC DE60 Large 1:8 Scale Upgraded Remote Control Truck to review, I only had experience playing around with smaller models. This model is a great size that is fun indoors and outdoors. It is well built and runs great. It can take a beating and still keep going. Also, I did not need to trim the steering. It was straight right out of the box. My kids love this toy. My only issue is that with 2 kids, I may now have to buy a second one. Lots of fun!!
Price:
Where to buy: Amazon
Source: The sample for this review was provided by Deerc.