We use affiliate links. If you buy something through the links on this page, we may earn a commission at no cost to you. Learn more.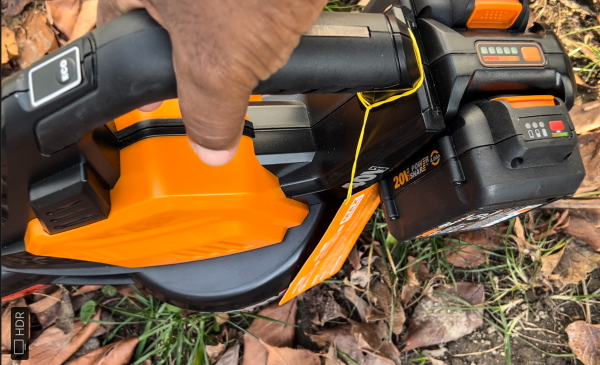 REVIEW – When I first moved into my new home, it was the middle of winter and the ground was filled with tons of leaves from the 4 big trees in the backyard. By the time spring came around and the snow melted, I realized that I just had too many projects on my plate to rake the overwhelming amount of leaves. So, I hired someone to clean the yard and while he did a great job, I felt like it was money wasted because, with the right tools, I could do the job and save myself several hundred $$$. Enter the WORX 40V Power Share cordless Blower/Mulcher/Vac.
What is it?
The WORX 40V Power Share cordless Blower/Mulcher/Vac is a 3-in-1 solution for leaf and debris collection. It allows the users to suck up both dry and wet leaves and mulch them with the same device.
What's in the box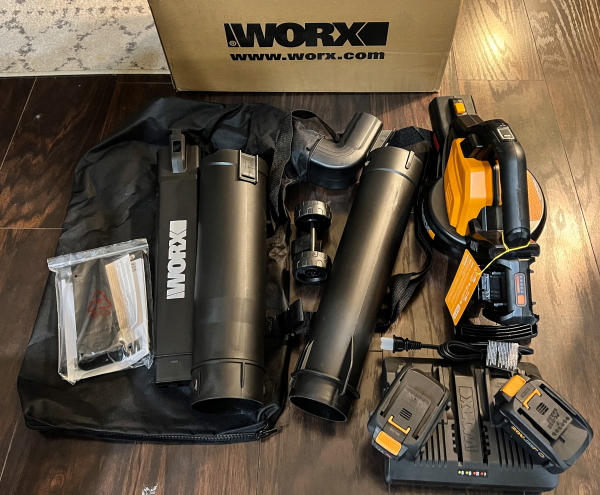 1 x WORX 40V Power Share cordless Blower/Mulcher/Vac
2 x 4.0Ah Batteries
1 x 4A Dual-Charger
1 x Collection Bag
1 x Blower Tube
1 x Vac Tube
1 x User Manual
Design and features
Features
2X20V HIGH CAPACITY 4.0AH BATTERIES:  40V leaf blower/vacuum/mulcher with (2) 4.0Ah Power Share batteries delivers 350 CFM to blow, vac, and mulch leaves… without a cord
HIGH-EFFICIENCY BRUSHLESS MOTOR:  40V cordless blower/vac/mulcher with high-efficiency brushless motor for higher power, extended runtime, and longer life
12:1 MULCH RATIO:  Durable, 2-stage impeller design shreds 12 piles of leaves into 1
SAME BATTERY, EXPANDABLE POWER:  Worx Power Share is compatible with all Worx 20V and 40V tools, outdoor power, and lifestyle products
ONE-STEP TOOL-LESS BLOWER/VAC CONVERSION:  Single tool w/ two tubes for dedicated mode conversion from a leaf blower, to leaf vacuum & leaf mulcher
TWO-SPEED CONTROL:  For added control in tight spaces or large areas
LIGHTWEIGHT BLOWER & WHEELED VAC-TUBE:  Reduces user strain and fatigue
CHARGE LEVEL INDICATOR:  Battery-powered leaf blower/vacuum/mulcher features charge level indicator for quick reference to remaining runtime

Specifications
Voltage: 40V MAX
Battery Capacity: (2) 4.0Ah Batteries
Air Volume:High: 350 I Low: 200 CFM
AirSpeed: High:185 I Low:116 MPH
Mulch Ratio:12:1
Collection Capacity: 1.0 Bushels
Unit Weight: Blower: 8.4 / 5.5. lbs. (bare) | Vac: 11.5 / 8.6 lbs. (bare)
Technologies: 2-Stage Impeller
Never miss one of our posts again. Sent MON, WED, and FRI with the latest gadget reviews and news!
This tool is made mostly of plastic/ABS. It features two batteries chambers on the rear behind the handle. There is an ECO button on the top of the handle and the power/throttle lever below the handle. On the other end of the blower, there is a spring clamp button the secures the blower tube. Underneath there is a removable air vent that covers the mulching mechanism. At the end of the vacuum tube, there are wheels that allow you to roll the tool when vacuuming.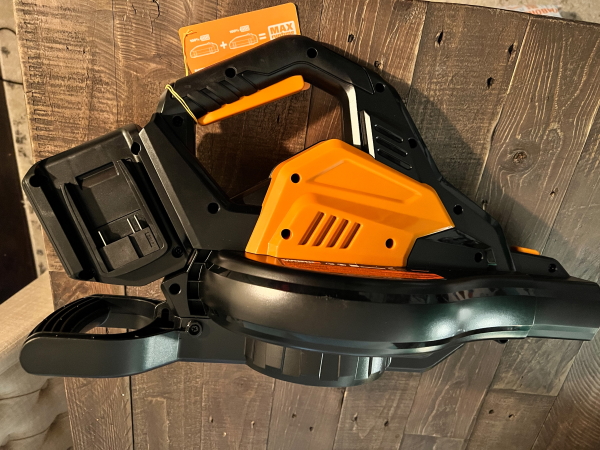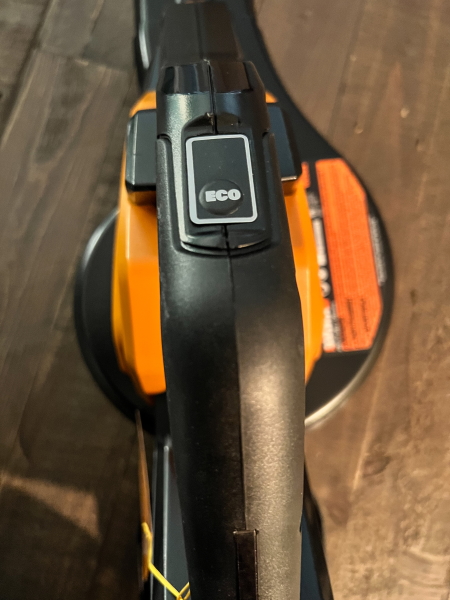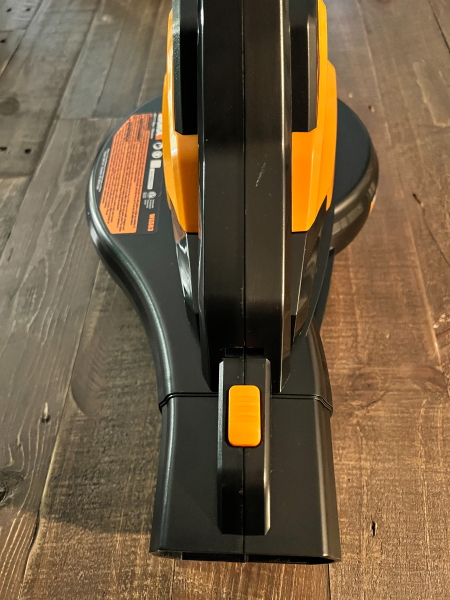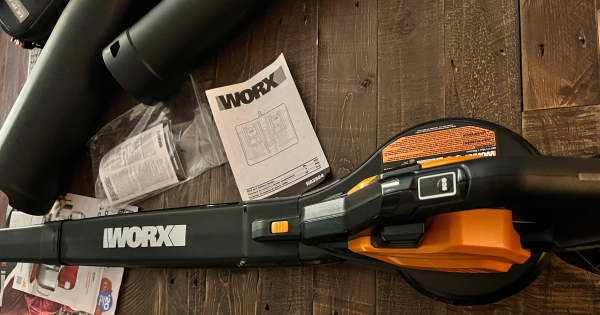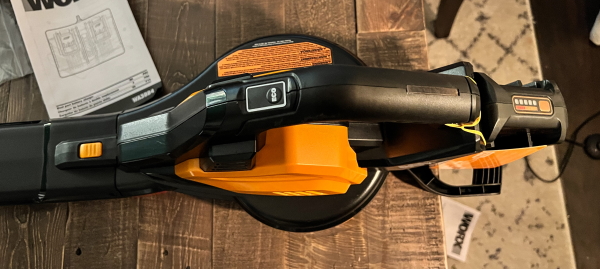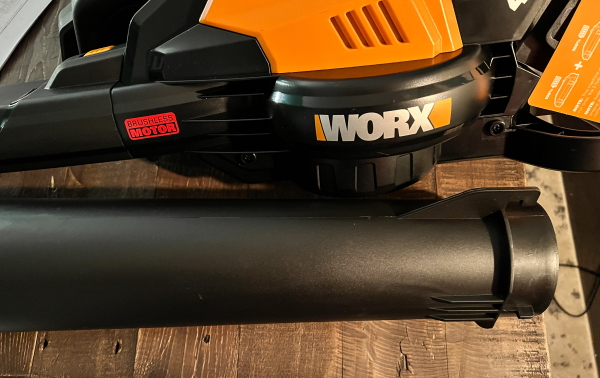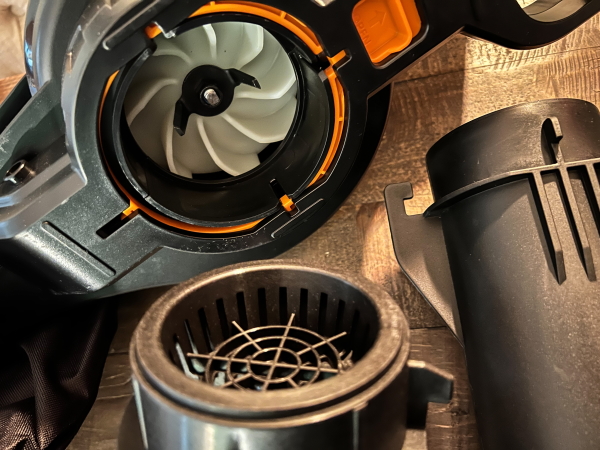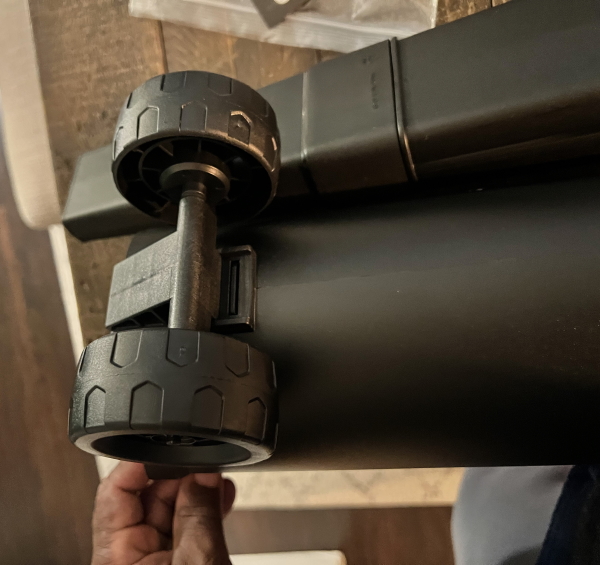 Performance
The WORX 40V Power Share cordless Blower/Mulcher/Vac simply snaps together for either blowing leaves or vacuuming and mulching leaves. It is powerful enough that it even mulches twigs.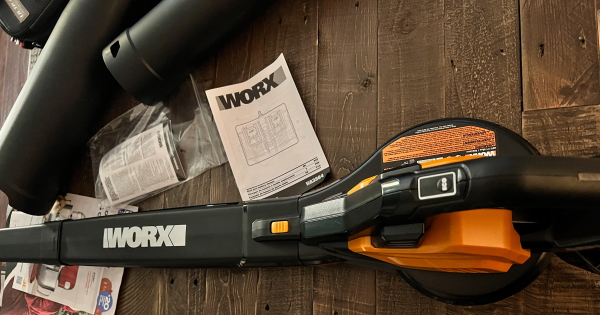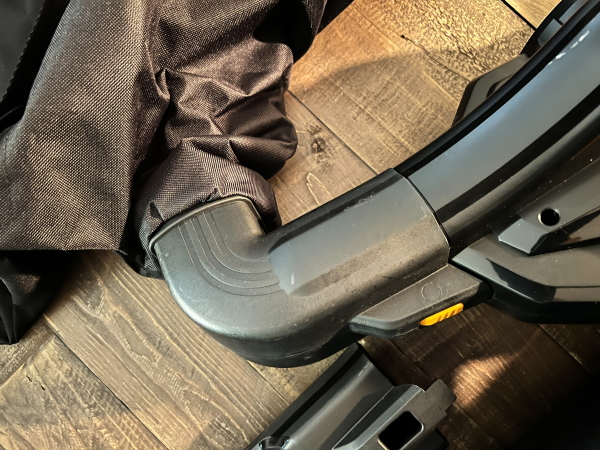 This tool is all about its ability to blow, suction, and mulch. The following video shows the tool in action blowing the tons of leaves on my property. It is arguably the most powerful blower that I have ever reviewed:
Next, I set it up in vacuum/mulcher mode by simply disconnecting the blower tube, and attaching the vacuum bag to the same place. Then I removed the vent cover from underneath it and snapped in the vacuum tube.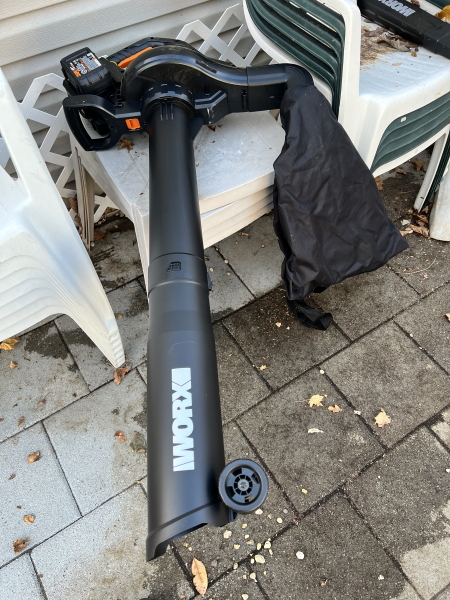 Then, it was time to vacuum up and mulch that huge pile of leaves I had blown together: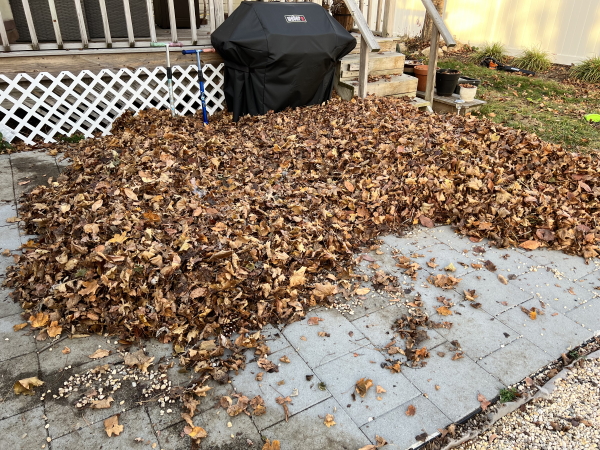 The WORX 40V Power Share cordless Blower/Mulcher/Vac works very well sucking up and mulching the leaves. My pile was huge much larger in person than as it looks in the photo) and after about 30 minutes my batteries ran out. So that is the only caveat is if you need to mulch a really large pile of leaves. I had to scoop up the remaining leaves and put them in bags since it was getting windy and waiting for the batteries to recharge was just not an option.
Here is what the mulch looks like: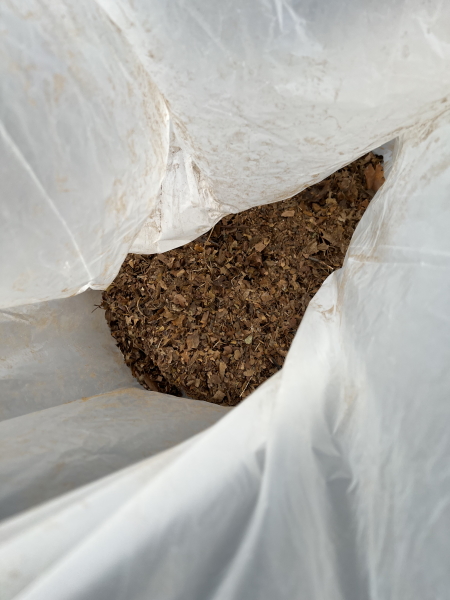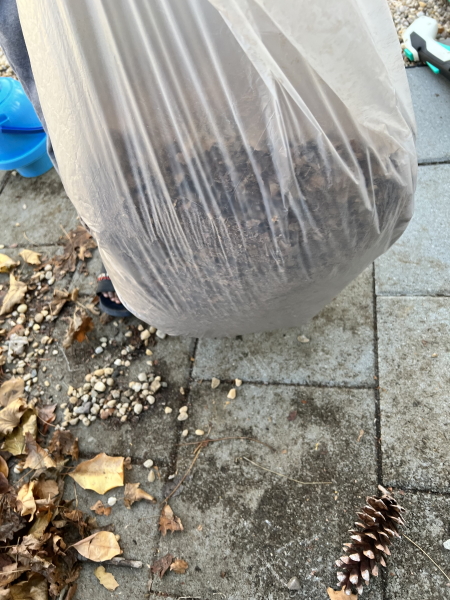 What I like
The build quality
The design
The power of the blower
The suction power of the vacuum
The performance of the mulcher
The wheels that allow for easy use of the vacuum/mulcher
The included bag for mulch
The multi-tool convenience
What I'd change
I can't really think of anything at this time other than I cannot seem to find a comfortable way to wear the strap for the mulch bag
Final thoughts
I really like the WORX 40V Power Share cordless Blower/Mulcher/Vac. As a blower, it is very powerful and as a vacuum /mulcher it does a great job. If you don't let your leaves pile up as I did then you can use this quickly and easily on probably just 2 batteries and get the job done. If you let it pile up as I did, then you will need a lot of patience or multiple sets of batteries. Regardless, this is a great tool and I give it a well done and two thumbs up!!
Price: $228.07 (Amazon); $269.99 (Worx Website)
Where to buy: Amazon, Worx website
Source: The sample for this review was provided by Worx