We use affiliate links. If you buy something through the links on this page, we may earn a commission at no cost to you. Learn more.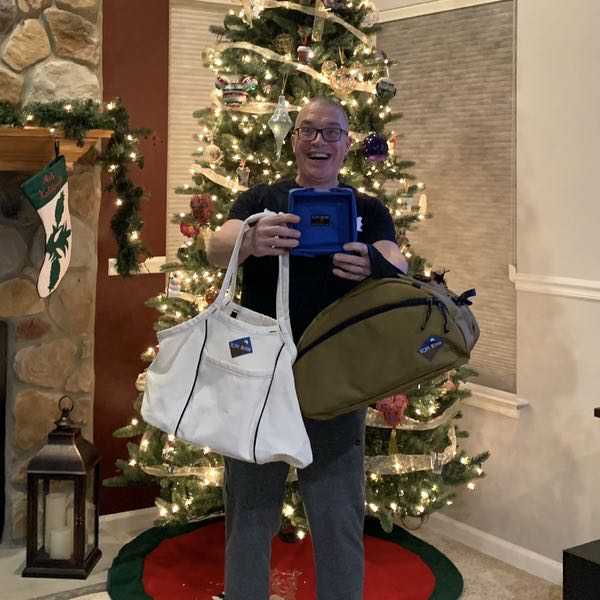 REVIEW – Remember when Ebeneezer Scrooge was visited by the Three Ghosts in A Christmas Carol? Well, I've got the Tom Bihn version of that story from their new winter releases! We've got something from the past (the Old School Carryall), something from the present (the Truck Tote, now in new organic materials), and the future (the new Tray Bien). A little something for everyone to warm up even the grumpiest folks for the holidays. To the reviews!
What is it?
The Tray Bien is a desk or drawer organizer. The Organic Cotton Truck is a multipurpose tote bag. The Old School Carryall is a duffle-style bag for travel, overnight trips, or the gym.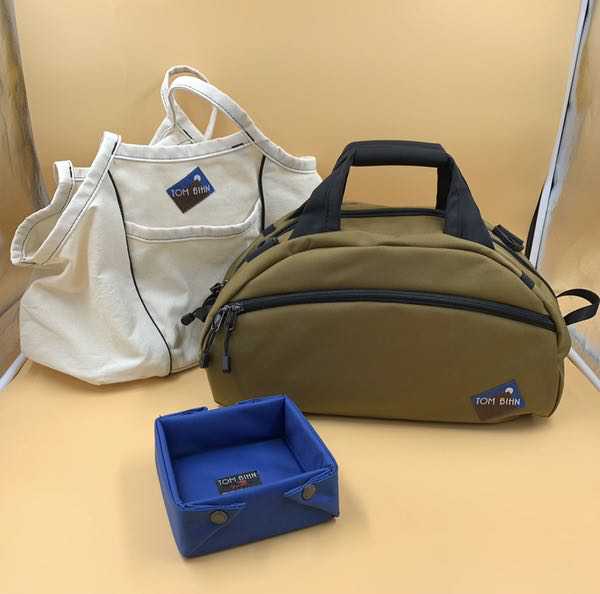 From the Past: The Old-School Carryall
Tom Bihn originally offered this bag design in the 90's based on customer requests for a gym bag, but the Old-School Carryall will serve you well on all sorts of missions. The shape is interesting… I'm calling it Pierogi-shaped in honor of my Polish heritage.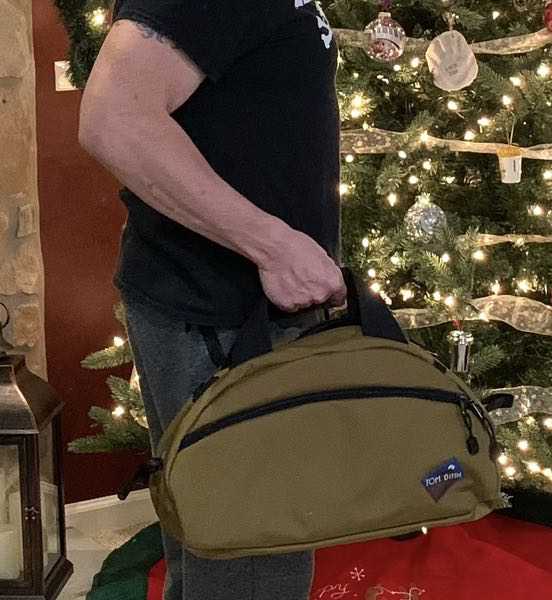 It's a deceptively big bag for the smallish looking profile at 17.5″ long by 9.3″ high by 11.6″ wide. The build is perfection, as one would expect with Tom Bihn. You'll see a combination of high-tech fabrics in ballistic nylon, halcyon ripstop nylon, or Cordura depending on which color scheme you choose. You'll also get YKK water-repellant zips and burly hardware throughout. It's ready to rumble.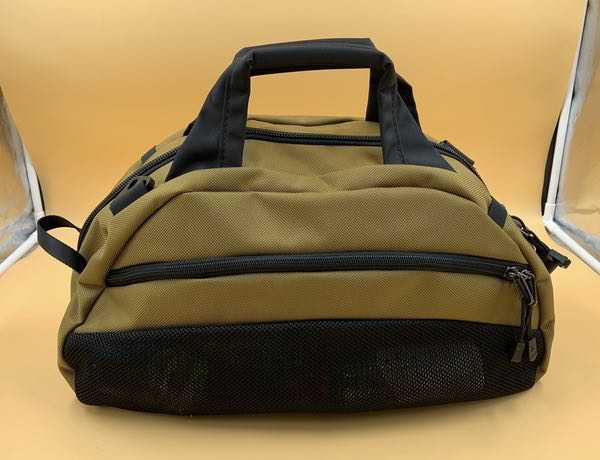 The bag measures in at 22 liters in total capacity. I have the main compartment stuffed with my sneakers, gym clothes, and a 28 ounce Yeti with room to spare.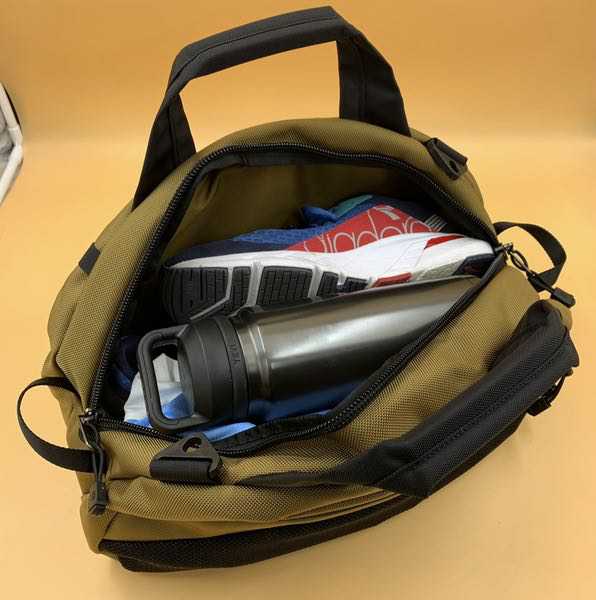 This design also has two side pockets that run the length of the bag. Tom Bihn calls these "3D pockets" because they're not only big, but they also don't take up space from the main compartment. The pocket on one side is solid, while its partner on the opposite side is mesh just in case you need to stash some wet, smelly stuff (like those gym socks, ew) after a workout.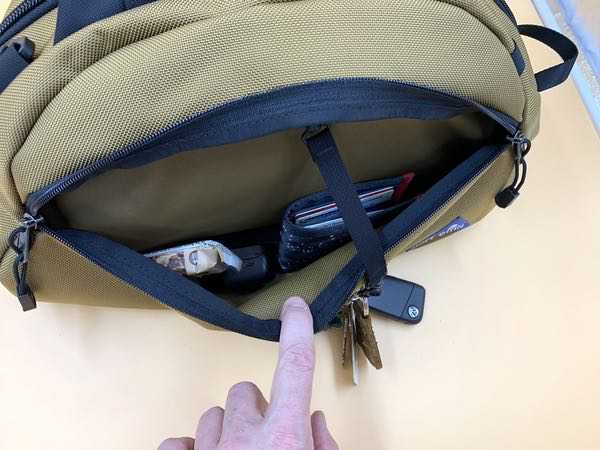 Here's the front profile. Check out how all the compartments have double zips. You'll also see that loop (below the zips) that can be used as a grab handle for slinging the bag around. And see that plastic tab peeking out of the top above the zips? It's got a mate on the back side for the addition of a shoulder strap. There's also a webbing loop (opposite the shoulder strap attachment point) that you can slip a carabiner through for attaching more things.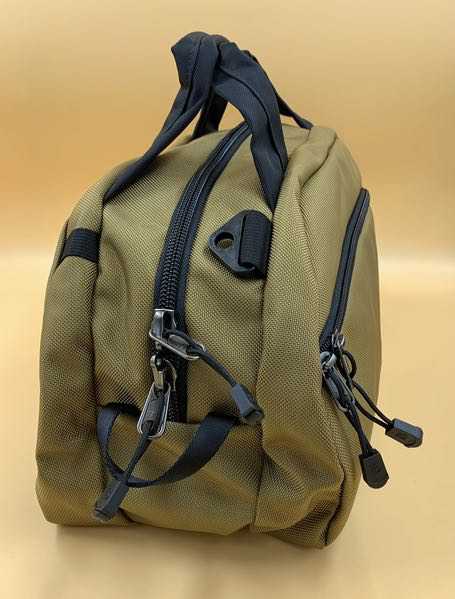 (Side note on shoulder straps: you can get those at the Tom Bihn website. I've had an Absolute Shoulder Strap that I bought with my first Tom Bihn bag years ago that I still use on all my bags.)
No shoulder strap? No problem. The carry handles are padded and comfortable, without adding extra bulk/weight to the bag.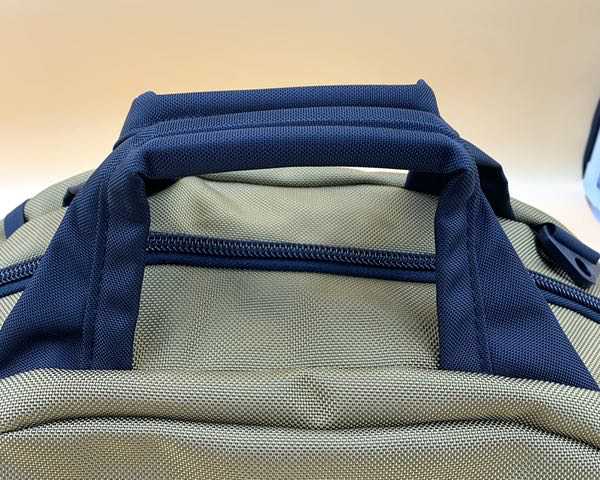 And then there are the O-rings. Tucked into compartment seams, Tom Bihn aficionados all about how useful these are as attachment points for key leashes & organizational extras. You'll get a whopping TEN O-rings on this bag (four in the main compartment, three in each side pocket). Tom includes a key strap (shown above) with your purchase to get you started.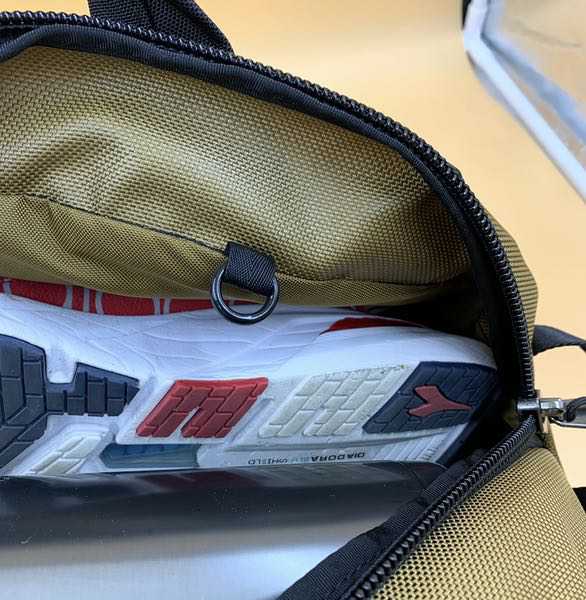 My son recently stole this bag from me for an overnight trip and I had to fight to get it back. It's just a great size for a gym bag, a tool bag, a carry-on, a gig bag… all sorts of things. I like it for keeping stuff organized in the trunk of my car.
(Side note 2: Those zipper pulls are also included with your purchase. You'll get a set of cords & pulls that you can install in a number of different ways. See the Tom Bihn website for more info.)
So we have traveled to the past with the reissue of the Old School Carryall. Let's fast-forward to the present with our next item…
From the Present: The Organic Cotton Truck
The Truck Tote is a relatively new release from Tom Bihn, designed as a multipurpose open tote bag. If you love the Truck, you can now get it in Organic USA-sourced organic cotton. Mine is the natural color, but other colors are also available. I dig the classic Tom Bihn logo, also found on the Old School Carryall.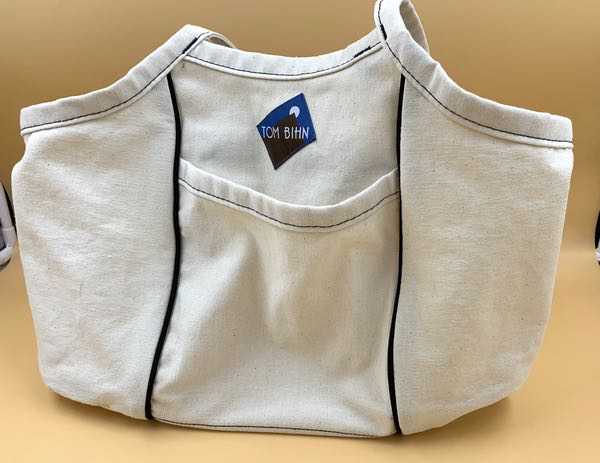 This bag measures in at 17.3″ long by 12.5″ tall by 11″ wide with a total capacity of 25 liters. It's a three-chambered design, with a plastic stiffener in the center space that allows it to stand on its own for easy loading.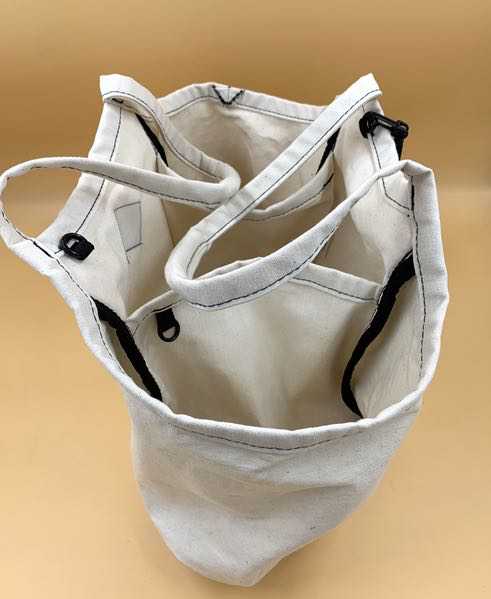 Here's a top view. The padded handles are positioned over the middle of the chamber, which makes a big difference in weight distribution when you're hauling your groceries. You'll also get O-rings in all three compartments and a key leash included with your purchase so you don't drop your keys in the lobster tank at the grocery store.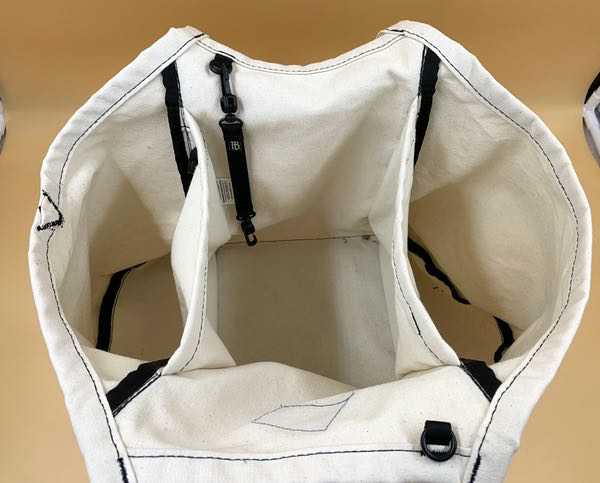 There are two additional side pockets (one on each side) for smaller stuff you might pick up in your travels.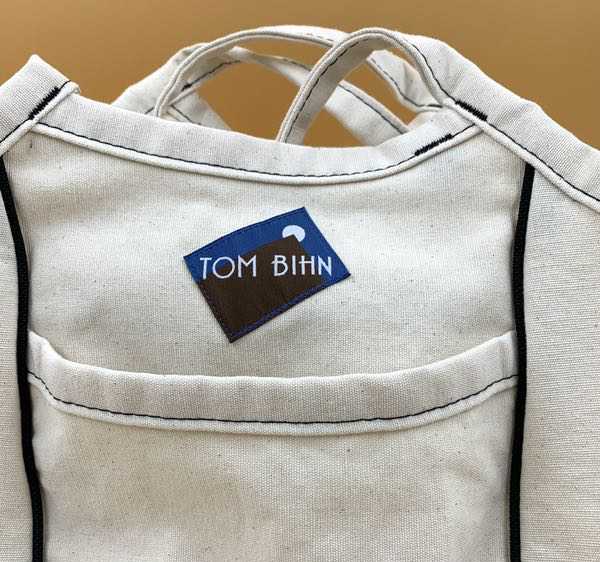 We're all in on bringing our own bags for shopping trips, and I'm loving this design for groceries. The side compartments don't crunch in due to the way the carry handles are designed, so I'm not crushing my bagels.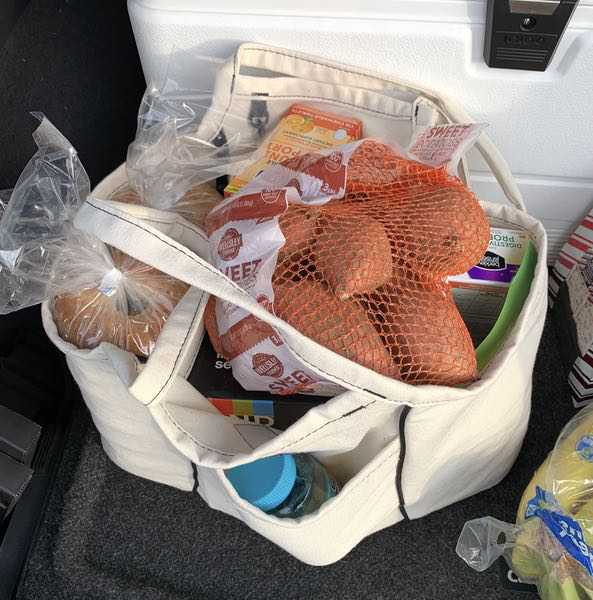 Here's an action shot of the Truck in the parking lot.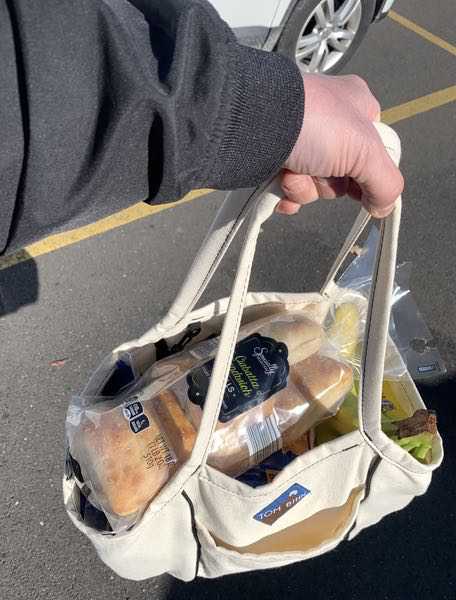 Big heavy items? No problemo! I've got the liquid cartons loaded up here with some delicate stuff in the side pockets. This bag ain't gonna break. Not sure that I can say the same about my arms after this haul.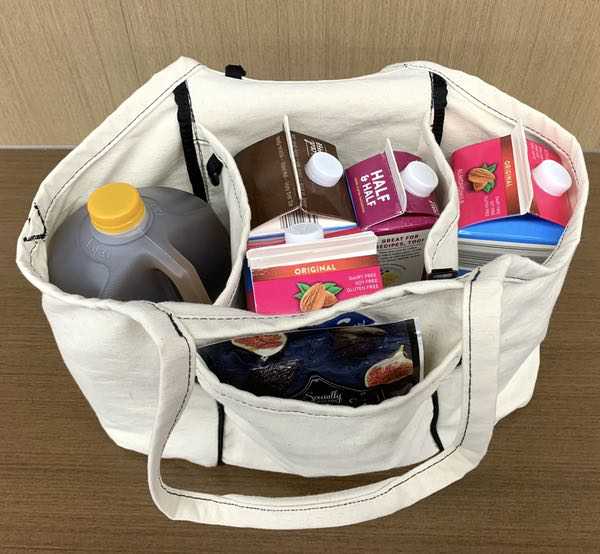 This bag is also outstanding for cookouts, pool parties, and beach adventures. I can get beverages, towels, snacks, and the like loaded up while stashing my sunglasses & iPhone in the side pockets. My wife has eyes on this one for when the weather gets warm and we start getting back to outdoor markets.
The Organic Cotton is lovely. Soft but durable, I expect that it's going to get more character as it ages. Beautiful stuff and sourced from USA manufacturers as Tom does with all his products.
So that's our trip to the present, with a spin on an existing design. Now we'll visit a completely new design…
From the Future: The Tray Bien
There's an interesting story to this one. Apparently, Tom whipped up something in the shop to organize and display accessories in his showroom. Visitors started asking about buying them, and the Tray Bien was born.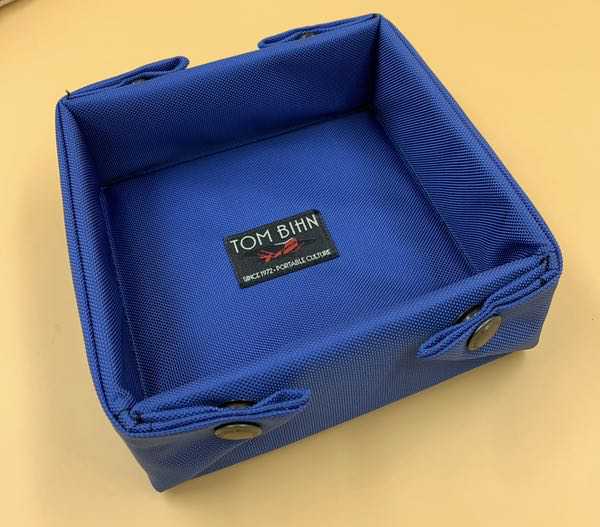 Offered in 11 different sizes and two colors, the Tray Bien is one of those super simple gadgets that just makes sense. It's made from the same materials used in the bags, stiffened with corrugated polypropylene sheets. The sides are then folded up and fastened with button snaps to form a tray for your stuff.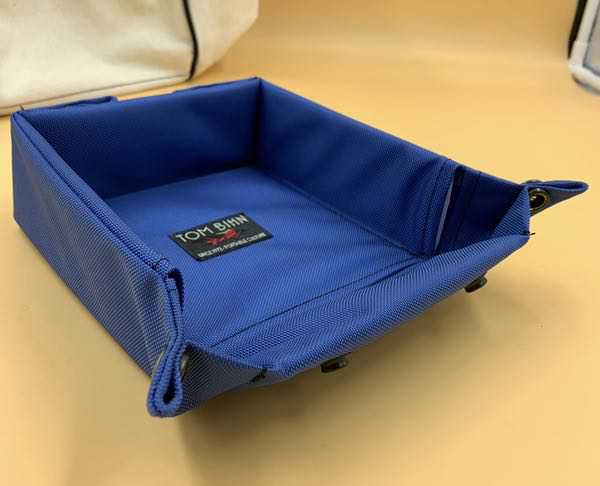 Mine is the 6.3″ by 6.3″ version, but a bigger 9.8″ by 9.8″ size is also available. Both versions are available in a bunch of colors and measure 2.3″ tall. Note that this design does have snaps, but it's not designed to lay flat for travel.
So… how do you use this thing? Mine has taken up residence on my desk to collect all the stuff that's usually hanging around and getting in my way. Pens. Post-it notes. Paper clips. Packs of gum. You get it.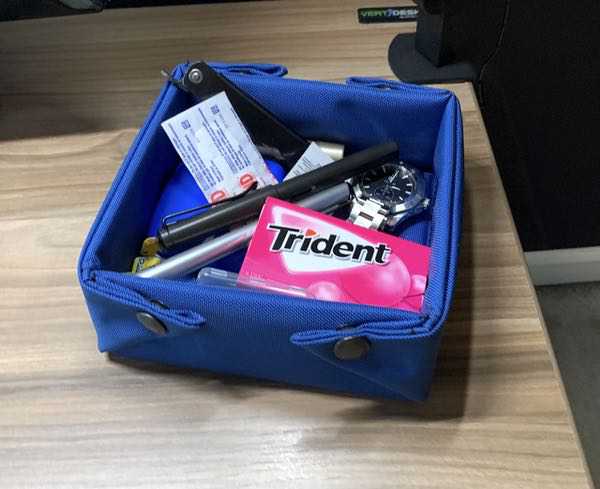 But that's just one example. These make great traps for keys and whatnot in your foyer, or a drawer organizer for that loose change & stuff that collects in your bedroom dresser. I could use a bunch of these for the workspace in my garage. It's a simple solution for a common problem, which makes it a winner in my book.
Final thoughts
These new releases demonstrate why Tom Bihn has such a big fan base. Tom rarely chases trends, focusing instead on producing extremely usable products that meet multiple organizational and lifestyle needs. The Old School Carryall, The Truck, and the Tray Bien are perfect examples of that design thinking. Once you get your hands on these bags and accessories, you'll find yourself using them in all sorts of different ways.
And that's a wrap for 2021 for me. I hope you all have the happiest of holidays. We'll see you in 2022!
Price: The Organic Cotton Truck retails for $70. The Old School Carryall retails for $170. The Tray Bien retails for $30 or $35 depending on size.
Where to buy: Visit the Tom Bihn web site.
Source: The sample of this product was provided by Tom Bihn.