We use affiliate links. If you buy something through the links on this page, we may earn a commission at no cost to you. Learn more.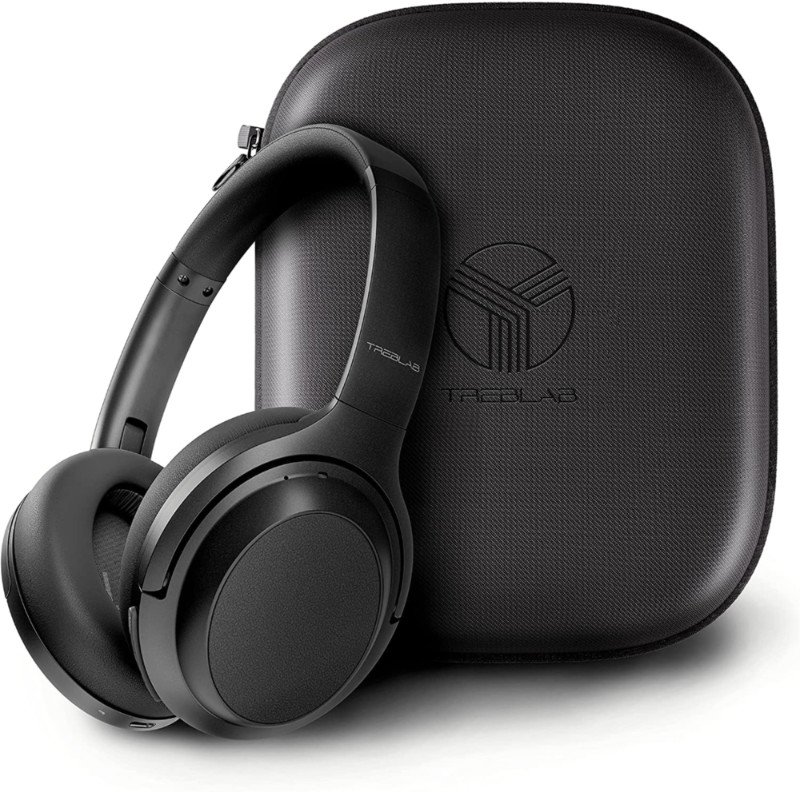 REVIEW:  The Treblab Z7 Pro Hybrid Active Noise Canceling Headphones are among the most comfortable over-ear headphones I've used. But comfort is little consolation if the sound is only so-so, right? Don't tune out yet! I used the Treblab Z7 Pro headphones for phone calls plus a range of music listening and as a tease I'll say, don't be distracted by the relatively low cost. And what's with the brand name? Are these headphones heavy on treble instead of bass? TREB-LAB or TRE-BLAB? I'm only sure about how they sounded, so here we go.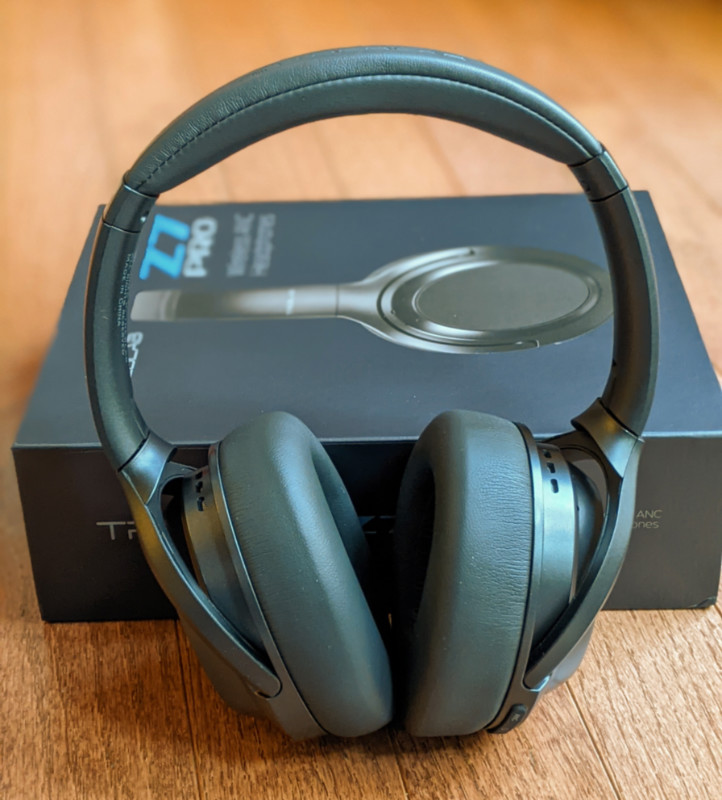 What is it
The Treblab Z7 Pro Hybrid Active Noise Canceling Headphones are over the ear, comfortable, rechargeable, noise-canceling headphones for wireless (Bluetooth) or wired use. I'll call this headphone 'Z7' for simplicity through most of this review.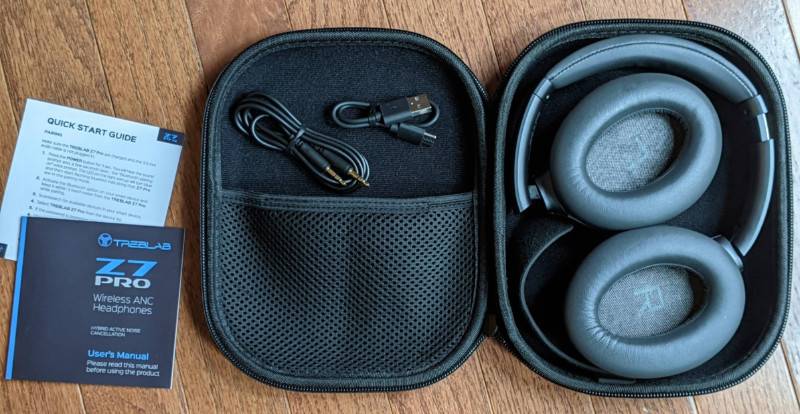 What's in the box
Treblab Z7 Pro headphones

USB C to USB A charging cable

Cable for direct connection to cell phones or amps. ⅛" plugs on each end of the cable

Zippered protective carry case 

Manual and quick start info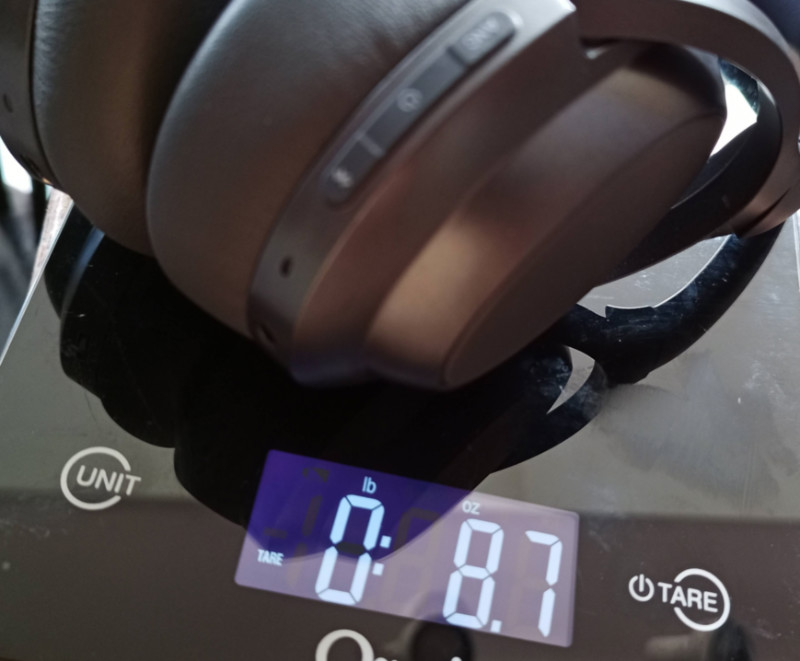 Hardware specs
Qualcomm AptX HD chipset

40 mm drivers

Full charge from empty in 2.5 hours

45 hour listening time with full charge

Bluetooth signal range 33 feet / 10 meters

Quick charge for 20 minutes for 5 hours listening time

Automated Ear Detection – auto-pauses when headphones are taken off, and auto-plays when placed back on ears

Touch control for volume, call answer/end, next track, skip, and pause

Memory foam and leather earpieces and headband pad

Multipoint connection – two devices can be connected simultaneously

Weight: 8.7 oz

IPX4 water resistance rating (splashing water protection)

USB C charging port

Voice assistant responsive – Android or Apple

1 year warranty

Design and features
This section is well covered in the Hardware Specs but I'll add that the Z7 should be a good workout headphone with its IPX4 rating. IPX4 means it resists water splashing from any direction. I'll wipe off my Z7 after a sweaty workout but I don't expect anything to go wrong from minor moisture exposure. This rating should make the Z7 fine for a light rainy run or bike ride. Nah, not a bike ride. You need a helmet on! And if you run with the Z7 may I suggest 'transparency mode' so you can hear necessary outside sounds for best safety?
Installation and Setup
I fully charged the Z7, pressed the pairing button on the right earpiece, paired the headphone to my phone and in about a minute the process was complete and I was ready to hear some tunes. 
Testing and observations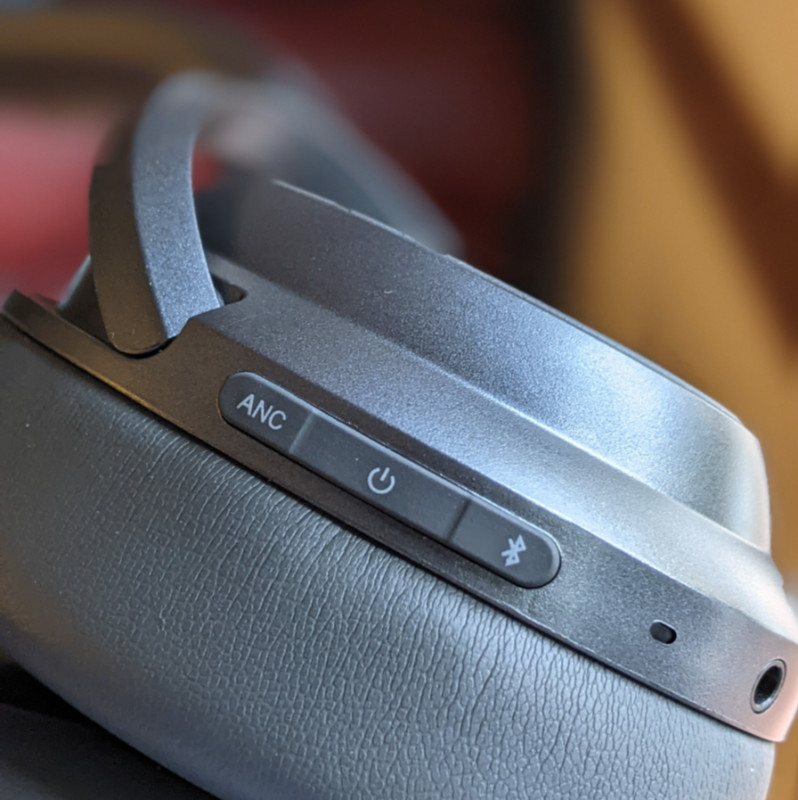 CONTROLS
I really like the minimalist approach to headphone controls. The Treblab Z7 excels here. There is one thin, rubber 'bar' of controls on the right earpiece. This bar does power on/off at its center, ANC on/off or 'transparency' modes by a press on the top end, and Bluetooth pairing with a long press on the lower end of the bar.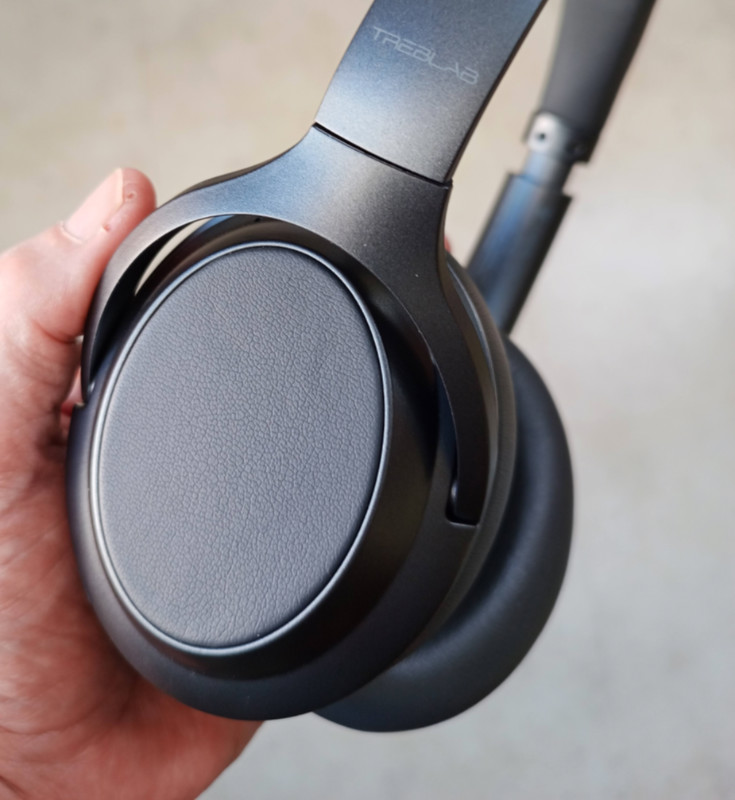 Volume is increased and decreased by a finger-swipe up or down on the flat, leather covered outer part of the right earpiece. I really liked this control method vs. trying to make my finger locate a tiny button on some edge of the headphone. 
Calls are answered or ended by using this same touch control surface on the right earpiece. Double tap to answer, double tap to end the call.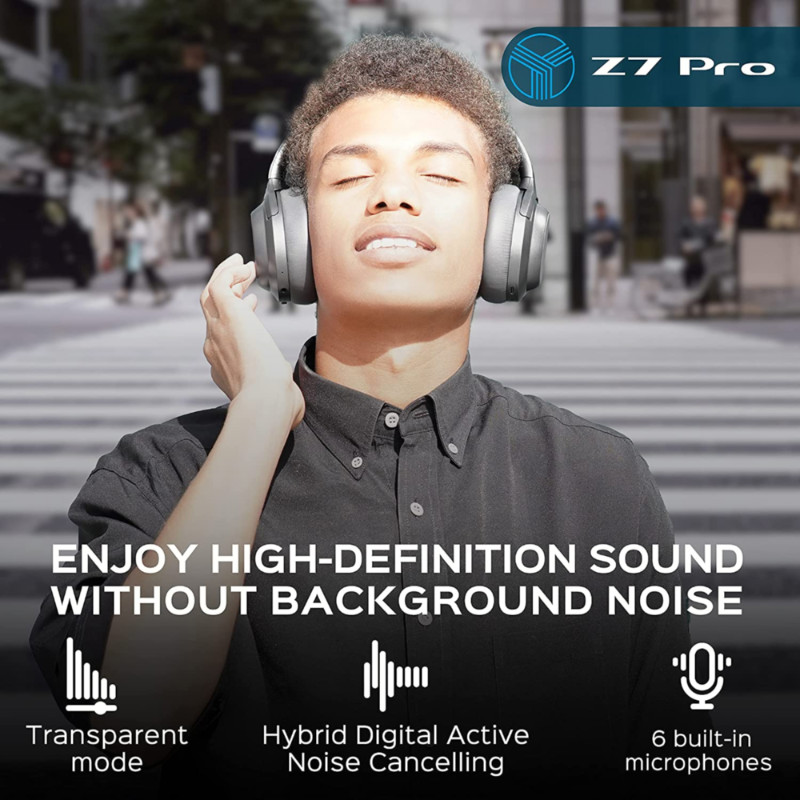 I had this same reaction when I first put the Z7 on. Comfort, I hereby repeat!
WEIGHT / COMFORT
The Z7 did not cause 'headset fatigue' on long calls as can some over the ear cans. This is achieved by being lightweight and having the super-soft earpiece cushions featured on the Z7.
PHONE CALLS
Unfortunately, my sound was reported as 'OK' or 'medium quality' by the people I called and asked to evaluate how I sounded. When talking to my wife through the Z7 I asked her to rate the voice quality, then I turned off the headphones and continued our conversation through the phone. She said my voice quality was better through the phone itself.  
During my testing of the Z7 I called a radio talk show and later listened to myself on the show's podcast. Sadly my voice quality was not very good there either. (There goes my big break.)
I'm not sure why telephony was a challenge with the Z7 or if my phone made some negative contribution? 
As a final test, I made a one minute audio recording with the Z7 through an audio recording app on my phone. The audio was crisp and clear on playback. Bluetooth carried that voice audio through the Z7 into my phone just as it would with a phone call so, I'm shrugging. 
MUSIC
I listened to a variety of music and found the Treblab Z7 to reproduce rock to classical to jazz accurately. I always try to hear specific instruments and sections of performers that I know are present from the previous listening, and if any are missing it's a 'ding' on the quality evaluation. To these ears, the Z7 performed well. Try Fleetwood Mac's 'Gypsy' and 'Rhiannon' as a test of your audio listening. There are plenty of highs, lows and vocals to listen for. The Z7 delivered the kick drum and electric bass sound clearly, but also the high hat, cymbals and snare drum quite well.
MULTIPOINT CONNECTION
Two devices can be connected at the same time, e.g. a cellphone and laptop. Input will come from only one device at a time, but you can switch seamlessly from one to the other without having to go through device pairing again. You could be on an online conference call, hear your phone ring and switch to take the phone call.
NOISE-CANCELING
The ANC mode definitely lowered external sound levels but with a radio station streaming from my lame Chromebook speakers, I could hear every word of a talk show while wearing the Z7 with ANC on (with no audio being played through them). ANC on the Z7 decreases external sound but don't expect these to be safe hearing protection when target shooting or jack-hammering.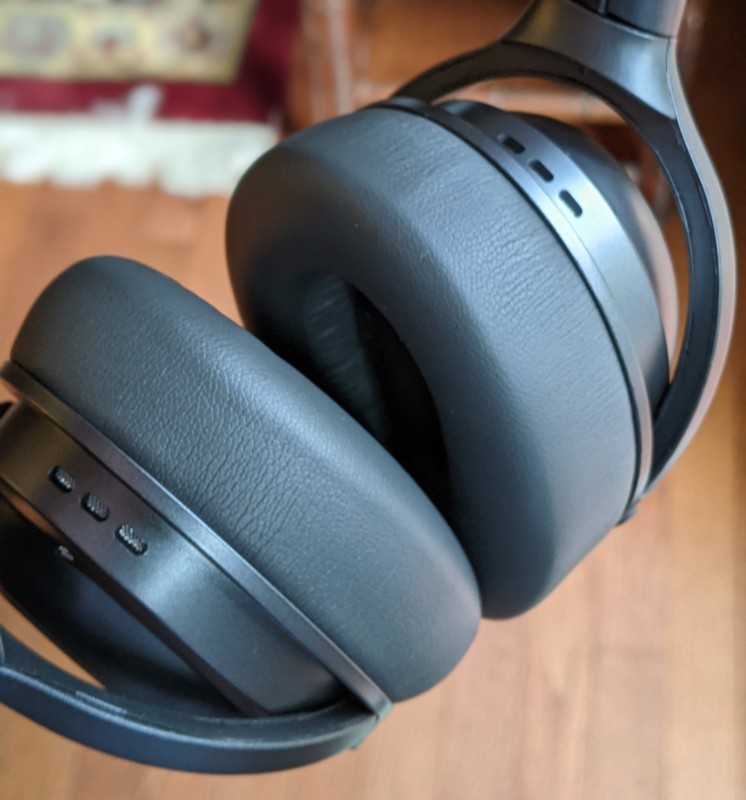 What I like
Well balanced sound without majoring on highs or lows

Have I mentioned they're comfortable?

Great price

L and R printed on inner earpieces.

Simple, responsive controls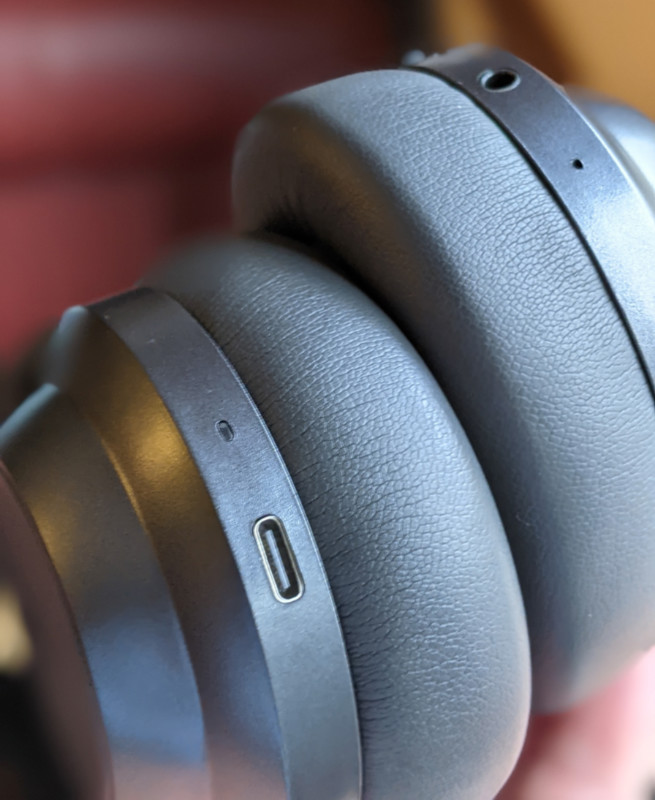 What I'd change
Not the greatest mic performance on phone calls. Could a firmware update bring improvement?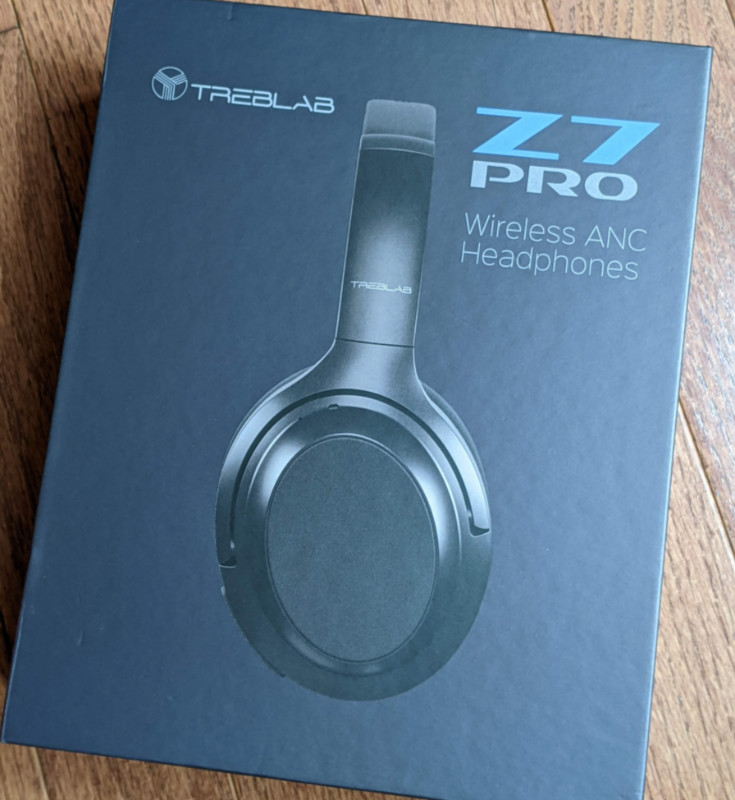 Final thoughts
If you require high quality vocal reproduction from a headphone set then factor that into your purchase decision. If your main focus is on music or other audio listening, the Treblab Z7 Pro headphones may well be for you. If you are ok with medium quality voice transmission on calls and conferences you may still consider this set. The Z7 Pro was never tiring to use (there's comfort again) and reproduced various music styles and voice audio very nicely.
Price: $159.97
Where to buy: Amazon
Source: The sample for this review was provided by Treblab.