We use affiliate links. If you buy something through the links on this page, we may earn a commission at no cost to you. Learn more.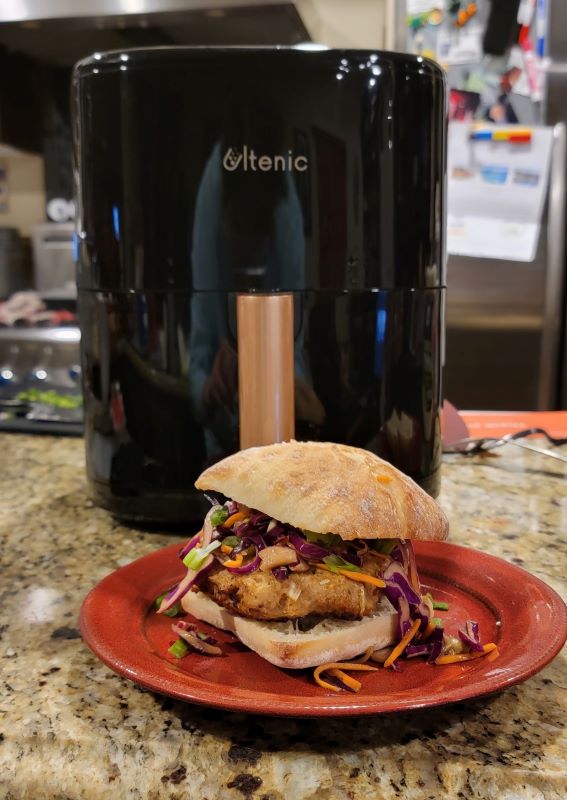 REVIEW – I know air fryers are all the rage right now, and although I never really thought I needed one, when one appeared on my doorstep I decided to give it a try.  If you cook lots of frozen foods or reheat fried foods, I can definitely see the appeal!  The Ultenic K10 5.3QT air fryer has many features that make it a great kitchen accessory.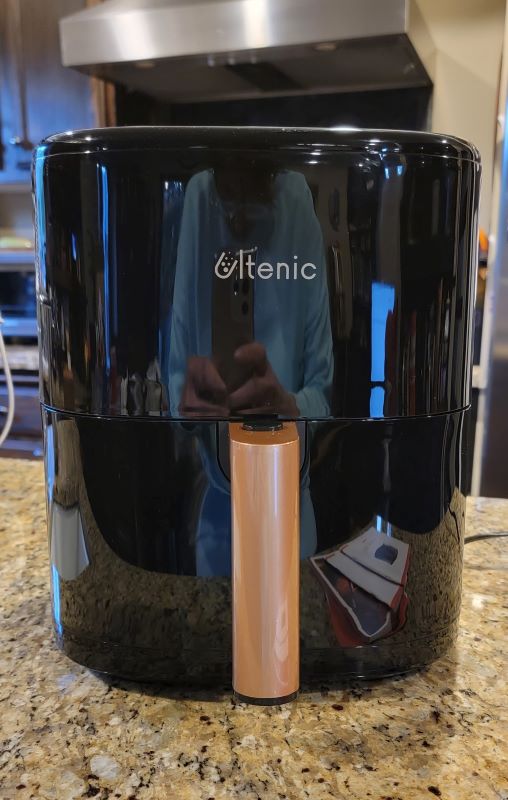 What is it?
The Ultenic K10 5.3QT air fryer is an air fryer that can be controlled by your smart devices (Alexa and Google).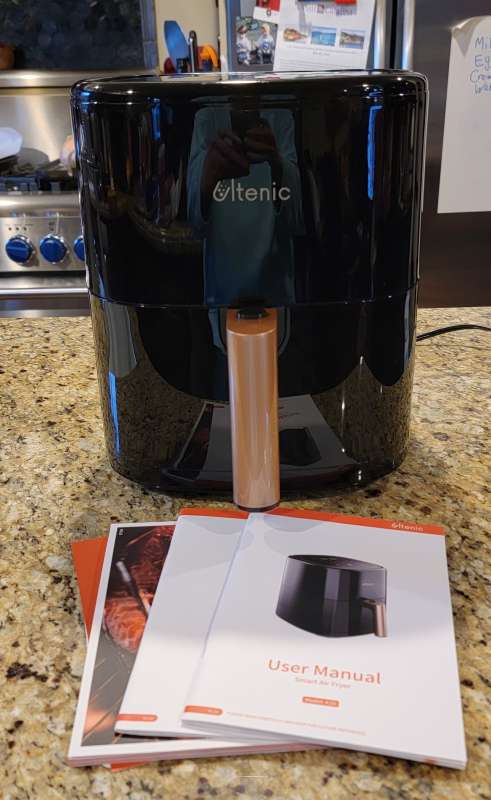 What's in the box?
Ultenic K10 5.3QT air fryer
Recipe book
Warranty and directions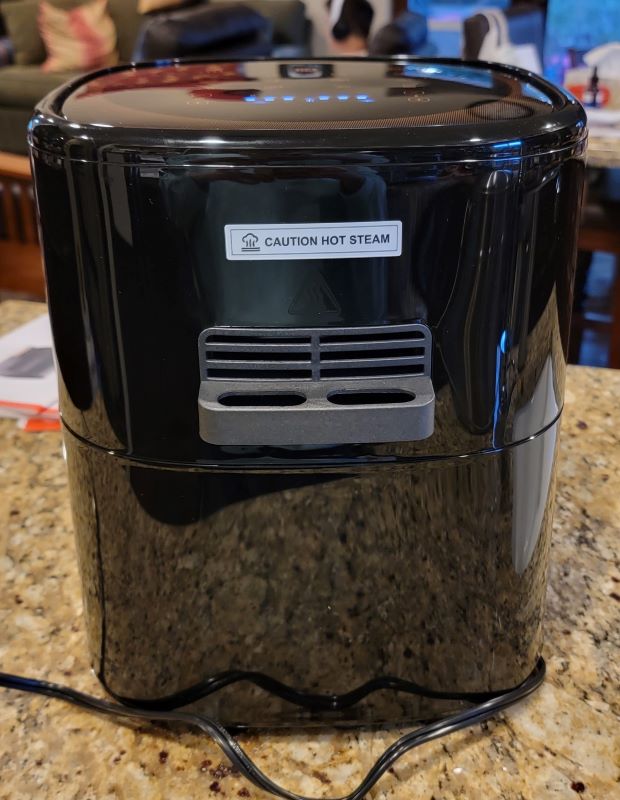 Hardware specs
Capacity:  5.3 Qt/5 Liters
Dimensions:  11.81×10.43×12.6 inches
Weight:  9.02lbs
Number of preset cooking routines:  11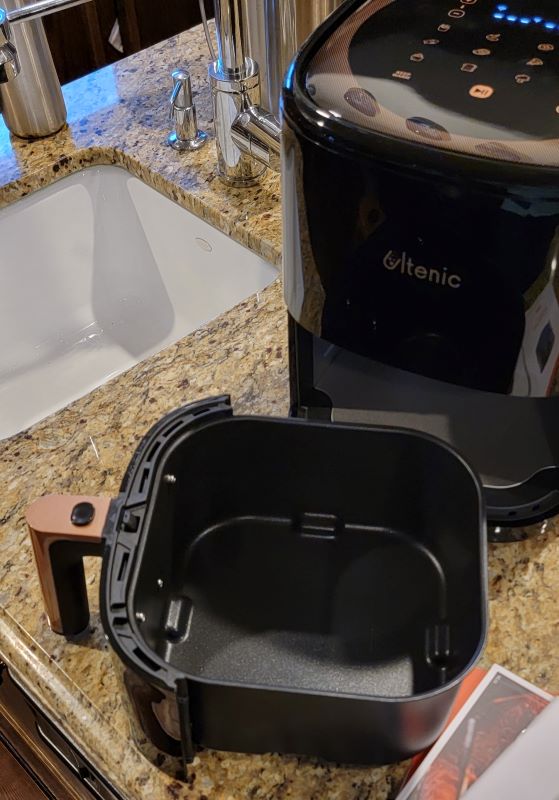 Installation and setup
The Ultenic K10 5.3QT air fryer arrived and right away I set it up without much trouble.  I downloaded the Ultenic app and connected it to the air fryer, then I hooked it up to the SmartLife app that controls other devices around my house and connects to Alexa.  You can use either the Ultenic app or the SmartLife app to set the temperature and time on the fryer as well as the buttons on the fryer itself.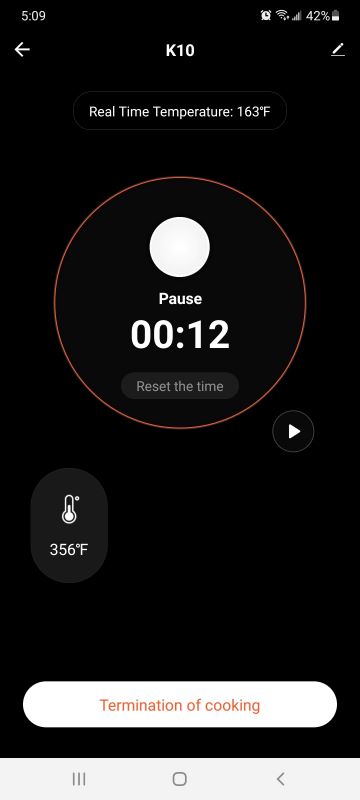 All of the controls and the 11 preset cooking routines are located on the top of the fryer and are flat for easy cleanup.  The digital panel clearly shows the status of the fryer in temperature and cooking time.  I find that the shiny black surface shows the dust more than I like, but I like that the controls are on top where they are easy to see and access.  The K10 also generates a notification on your phone when food is ready or if it needs a shake.  This is pretty helpful for me because I often go off to do something else while stuff is cooking and forget to check if the food is done.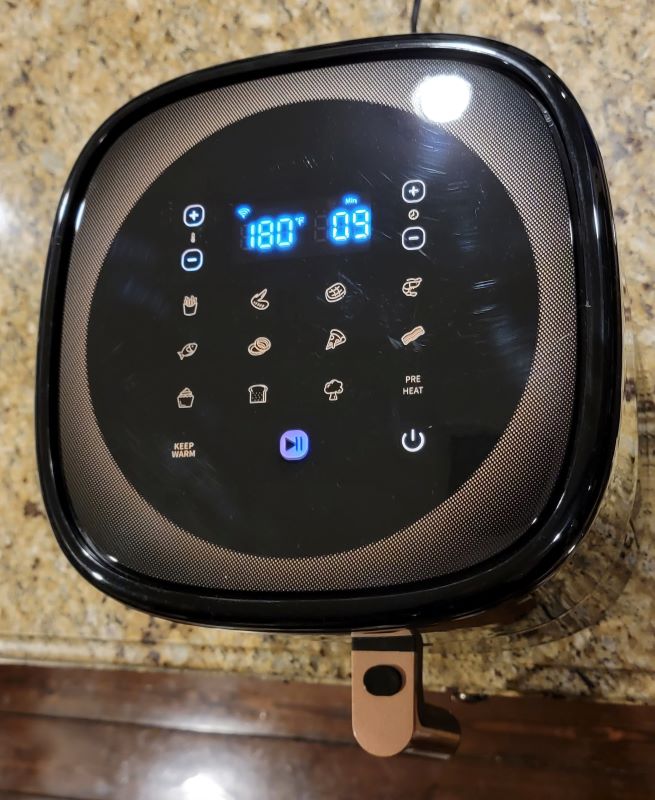 Design and features
I was determined to give this fryer a fair evaluation, so I cracked open the recipe book that came with the fryer to try some of the recipes they included.  My first one was "Turkey Burgers with Asian Slaw."  The recipe reminded me very much of something I made one time in a Hello Fresh meal kit, and involved ground turkey, panko breadcrumbs, green onion, hoisin sauce, sambal oelek, and ginger.  I mixed up the ingredients and formed the patties, skeptical that they would all fit in the basket because they were fairly large.  To my surprise, they all fit.  The basket is bigger than it looks and the advertising indicates that you could fit an entire chicken in it.  I think that's possible, although you might have a height issue depending on the size of your bird.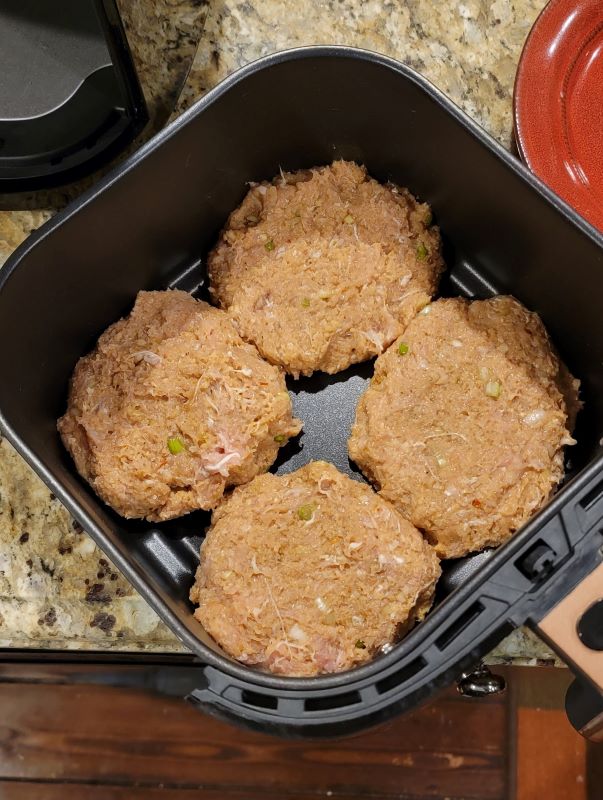 I followed the directions carefully and I put the patties into the preheated fryer for ten minutes at 400 degrees f.  Meanwhile, I whisked together the marinade for the Asian slaw and I toasted some ciabatta buns.  When the fryer beeped, I pulled out my instant-read thermometer to see if they were really done.  They didn't look done, and the thermometer read 115 degrees so I put them back in for another ten minutes.  At the end of that cycle, they were done.  They didn't look that crispy on the outside, so if you are looking for a chargrilled look, you might struggle with this machine.  I don't know why they took extra time, but maybe it's because the preheated fryer basket cooled too much while I was loading my patties in it.  Either way, the extra time didn't hurt the final result.  They were so delicious and moist! Air fryer hamburgers are easy to fix in this air fryer.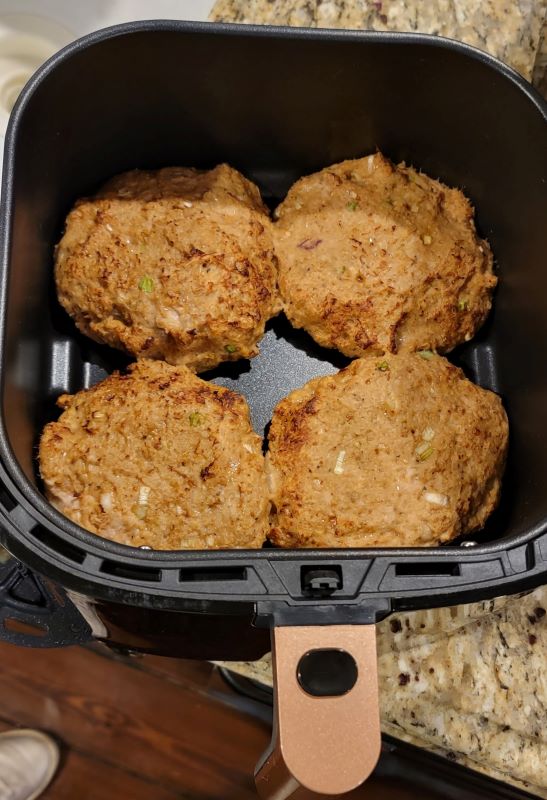 Next up was a recipe for "Coffee Streusel Muffins."  Once again, I carefully followed the recipe which produced quite a thick batter that held up well in individual foil baking cups.  I must confess that in the middle of making the batter I was interrupted with a phone call, so the batter probably lost much of its rising capability while it sat until I got off the phone, but I forged ahead anyway.  I put the muffins in the Ultenic K10 5.3QT air fryer basket at 350 degrees for 12 minutes.  They also failed to finish in the prescribed time.  I put them in for another six minutes and my inserted toothpick came out clean.  I had one muffin leftover that didn't fit well with the rest and I put that one in solo for 12 minutes and it turned out much better than the others.  It rose higher and was done in time.  All the muffins tasted great, though.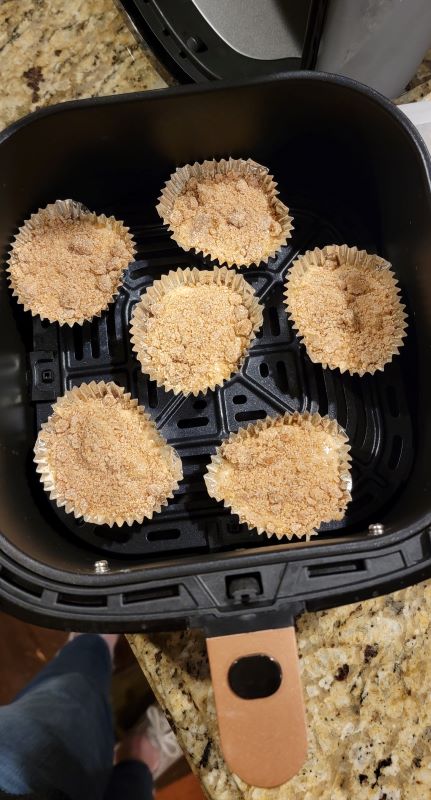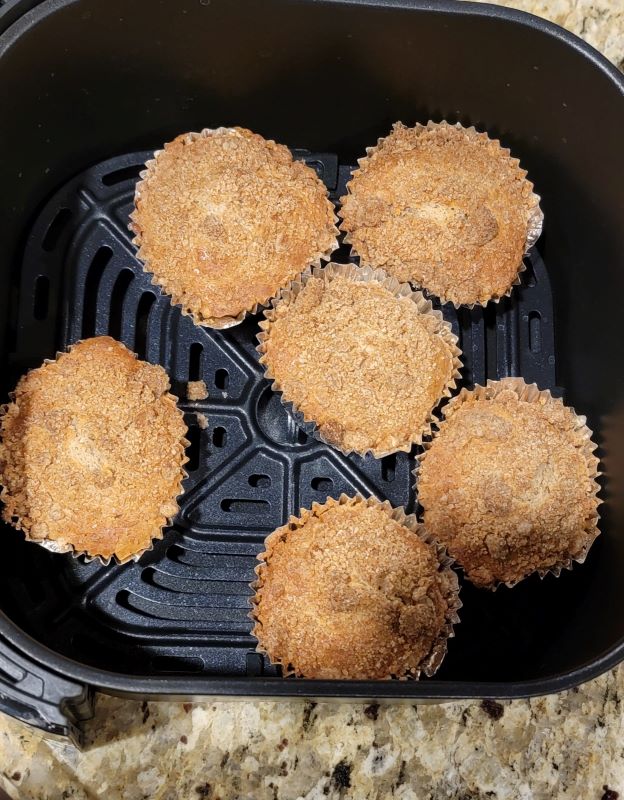 I should mention that at this point, I wanted to make sure that the air fryer heated up to its specified temperature since I'd had two recipes that seemed to take longer than expected.  I felt the reason could have been that I was overcrowding the basket (in the baking scenario) or maybe it's because I didn't have the grate in the bottom of the basket for the turkey burgers so the air couldn't circulate properly.  Either way, I had to check.  I did a preheat cycle to 400 degrees with my oven thermometer inside to see if it also read 400.  It did.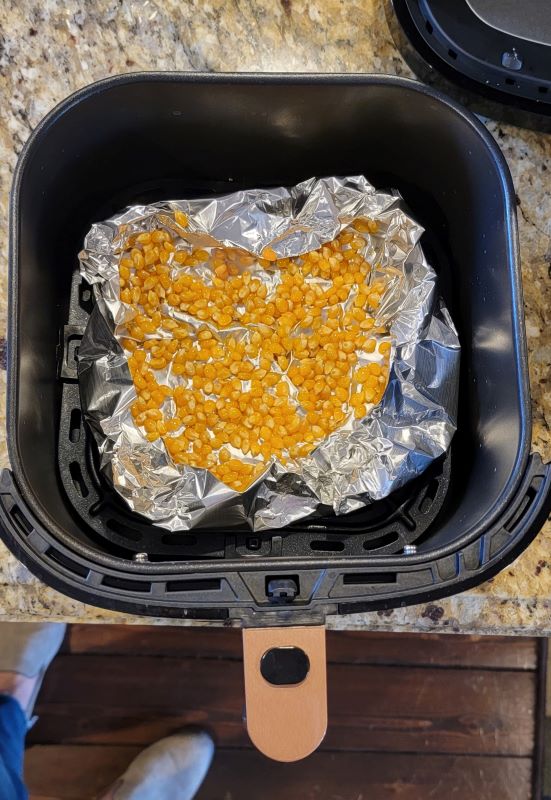 My next test of the air fryer was recommended to me by a friend who said the best popcorn she has ever made came from the air fryer.  I had some old popcorn sitting around so I searched up an internet recipe that said that you should make a foil liner for the popcorn and then crank it up 400 degrees and check it periodically.  Now I'll admit that I'm an old-fashioned popcorn gal.  My grandmother made it in a pot on a burner and that is also my preferred method.  But I kept my mind open and all I can say is this:  don't ever make popcorn in an air fryer.  It's dumb.  It doesn't all pop at once, so you're stuck pulling popcorn out of there every few minutes because if you leave it, it kind of dries up and loses its fluffy texture.  It doesn't burn, but it's not as good.  The next time my friend who recommended this method comes over, I'm going to make her popcorn on the stove and blow her mind.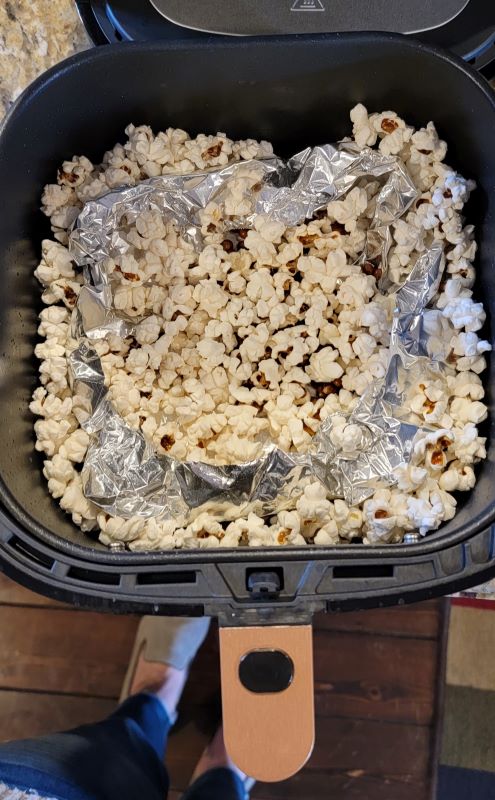 Finally, I tested the Ultenic K10 5.3QT air fryer what most people use an air fryer for:  fried food.  I used the French fry pre-set on the control panel and mid-way through the cooking cycle, the fryer beeped to tell me it was time to shake the basket to move the fries around for even cooking.  I did that and I have to say, they were great fries.  So great they were gone before I took pictures.  I even used it to re-heat some fries that I brought home as leftovers and those turned out great too.  The "keep warm" function kept my fries hot until I was done cooking the rest of my meal, which I appreciated because timing is everything with French fries.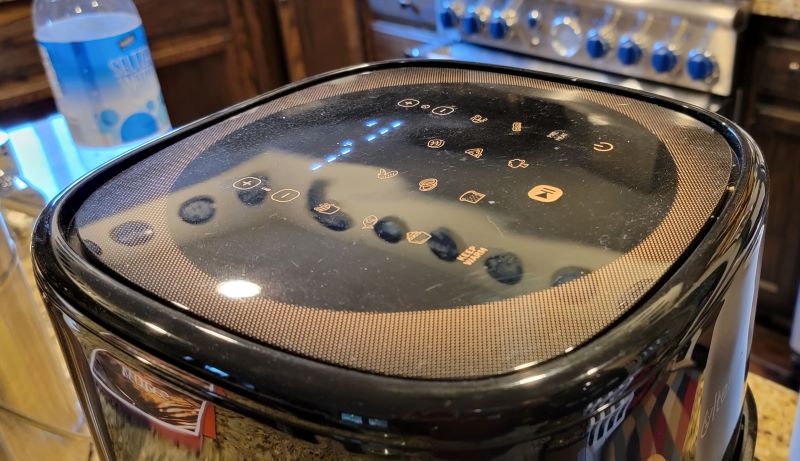 One of the selling points of this air fryer is the ability to control it hands-free via Alexa or Google.  I have a hard time appreciating this feature, personally.  I guess the idea is that you could pre-heat the air fryer hands-free, but for everything else, your hands are already involved because you have to take out the fryer basket and load it and then put it back into the air fryer.  But, in the name of testing,  I tried several times to get Alexa to start up the air fryer and was disappointed.  The manual doesn't really give you any suggested phrases to use, so I wasn't sure what to say that Alexa might understand.  I tried "Alexa, preheat the air fryer to 350 degrees" and I tried "Alexa, ask SmartLife to turn on the air fryer."  No matter what phrase I tried, Alexa either said she didn't understand or she said "You're welcome" but didn't do anything.  I wish there were some sample commands in the instruction manual so I'd know the magic phrases to use.  [UPDATE:  The company now includes sample voice commands and has updated the app to make it easier to connect and control.  You can also rename your air fryer if you like.]  This wasn't a functionality that I could see myself using regularly, so it wasn't a big deal (to me)  that I couldn't get it to work.
Food can also be scheduled to begin cooking up to four hours ahead, which is another feature I can't see myself using, but I feel like I should mention it in case someone else needs that.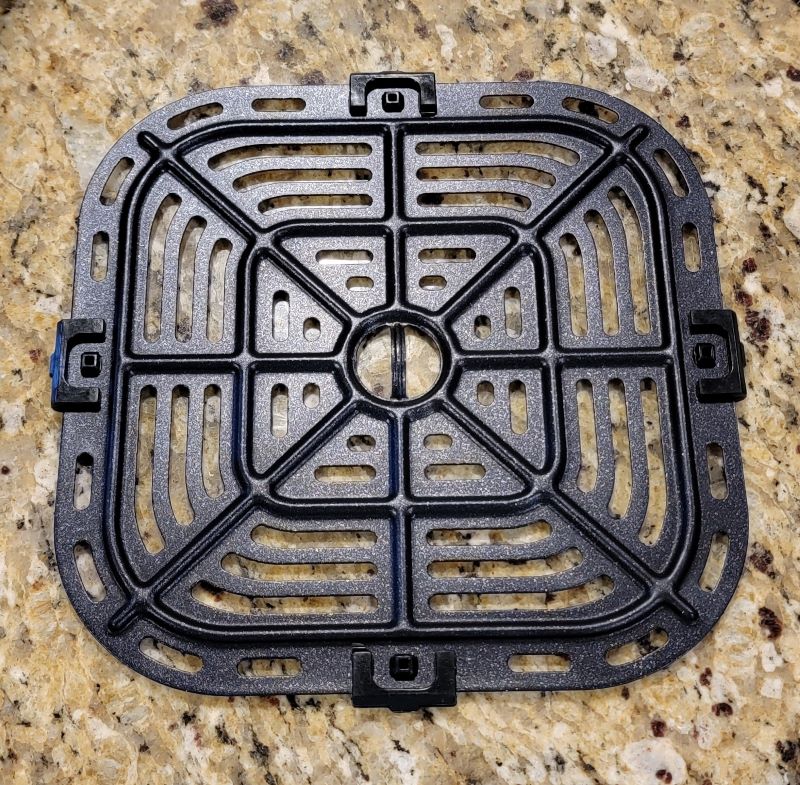 Another item that was left out of the instruction manual was a flat, nonstick grate that comes with the oven.  Packaged separately, I had no idea what it was for until I watched the promotional video on the Amazon page where the air fryer is sold.   It isn't mentioned in the instructions at all.  It turns out that it fits into the bottom of the air fryer to allow the hot air to circulate underneath the food. I didn't know what it did when I was fixing the turkey burgers, so you'll see that it the grate isn't in those pictures.
One of the features that I think is really nice is the ability to just throw the basket and the grate into the dishwasher.  While I think that it's pretty easy to clean by hand (due to the nonstick surface) it is a great option.
What I like:
Easy to clean
Clear readout on the top of the fryer
Phone notifications
Great results
What I would change:
More detailed instructions (for using the cooking grate and Alexa)
Maybe if it came in a different color it wouldn't show the dust.
Final thoughts:
While I didn't think I would ever want an air fryer, I found there's a lot to like about this versatile kitchen appliance.  The Ultenic K10 5.3QT air fryer has many useful features and I really enjoyed trying it out!
Price: $129
Where to buy:  Amazon
Source: The sample for this review was provided by Ultenic.