We use affiliate links. If you buy something through the links on this page, we may earn a commission at no cost to you. Learn more.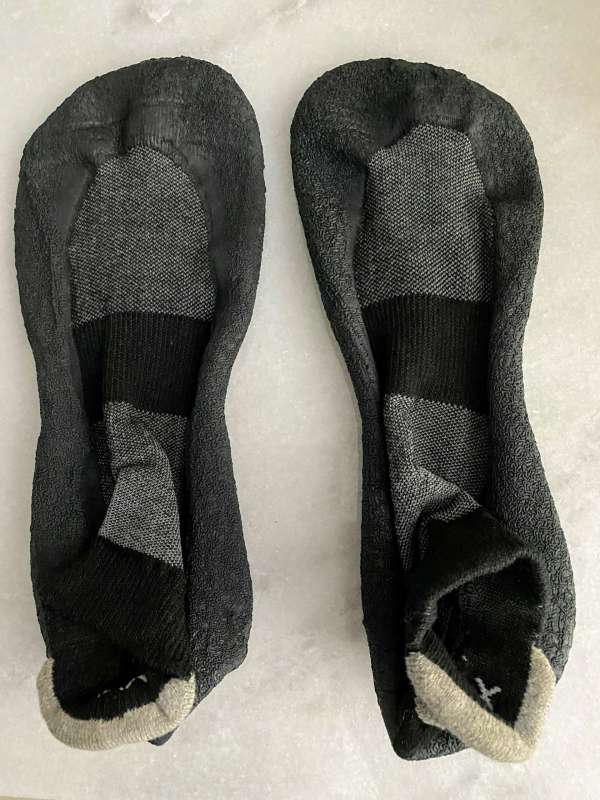 REVIEW – Living in South Texas means we do tend to spend a lot of time in the water.  We spend time out on our lakes on boats and tubing in our rivers.  I also spend a bit of time detailing my cars.  I have learned the hard way that washing a car in flip flops is asking for a twisted ankle.  The flip flops get wet and your foot slides off the back of the shoe as you are working your way around the car.  When these shoes came up for review I was intrigued.  They look like they might do a better job of staying on my feet while still protecting the bottom of them from the hazardous stuff on the ground.  Let's see how these worked out as I gave them a test at my house and the surrounding area.
What is it?
Baresocks 2.0 are ultra-portable footwear designed to simulate going barefoot but still protect the bottoms of your feet from hazards on the ground.  They look like socks and are designed to get wet and dry fast and are super light at only 150g.
What's in the box?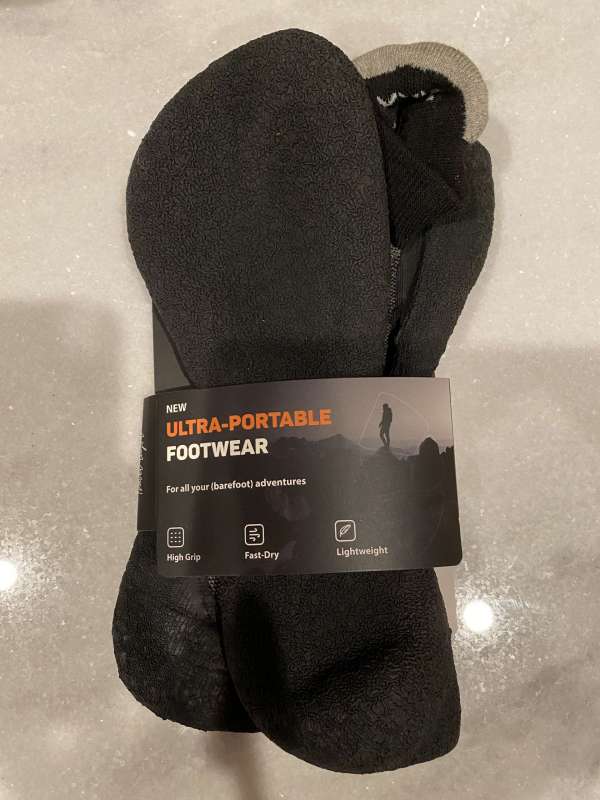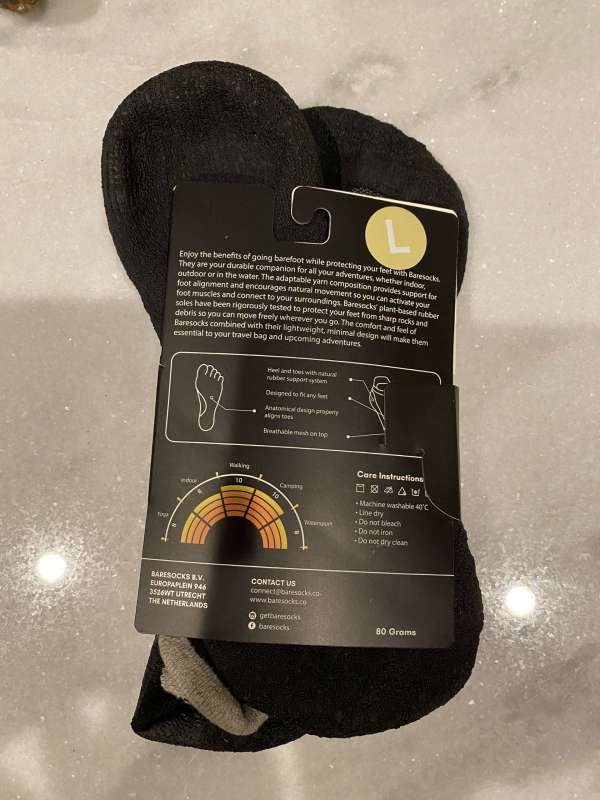 In the package, I received two pairs of large Baresocks.  I took pictures of the front and back of the packaging that came with the shoes.
Hardware specs
a pair weights about 150g
natural rubber sole that should last 300 miles
can be machine washed
anti-slip grip
quick drying with recycled CoolMax yarn
They come in six different sizes
Design and features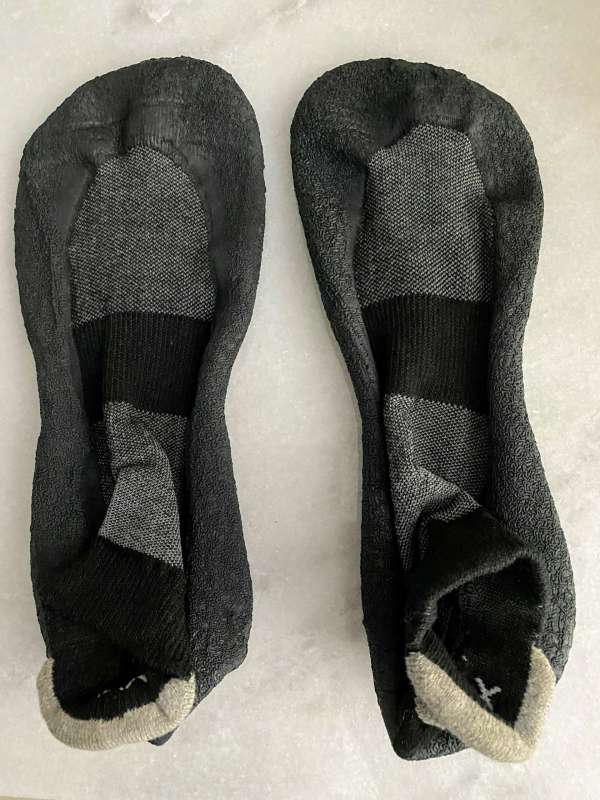 In the picture above you can see a pair of the Baresocks.  The lighter grey with the black band and cuff area are all made of the recycled CoolMax yarn.  There is a nice cuff in the back that lets you pull the socks on and off really easily.  The black band in the middle allows the sock to hug the arch of your foot which I found was a really nice feature.  It really helped the socks to stay in place when on my foot.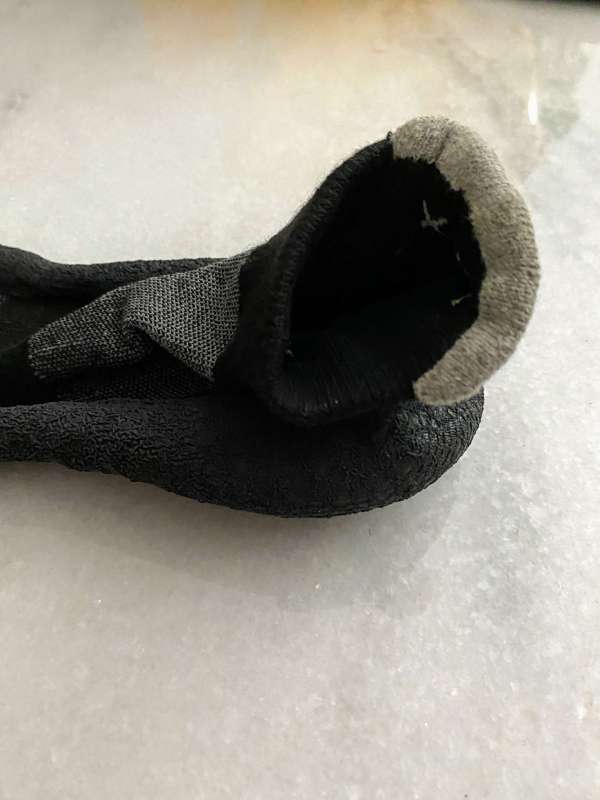 This is a close-up of the cuff.  The black around the cuff is double thick and handles the removing off the socks real well.  I do not feel like it is getting stretched out when I pull on it.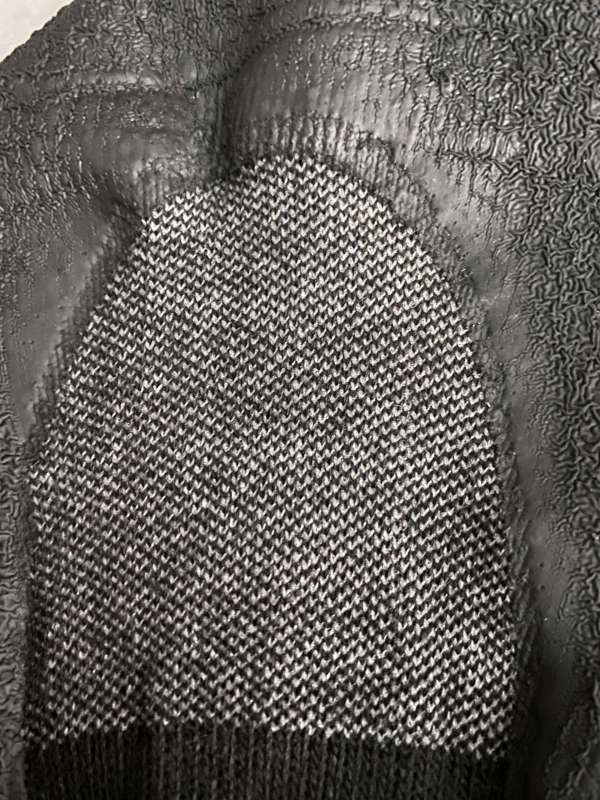 Next, I took a picture of the front of the foot where the sole meets the CoolMax material.   The two different materials are melted together.  There is no stitching.  I like how the sole wraps around the side of your foot for better protection.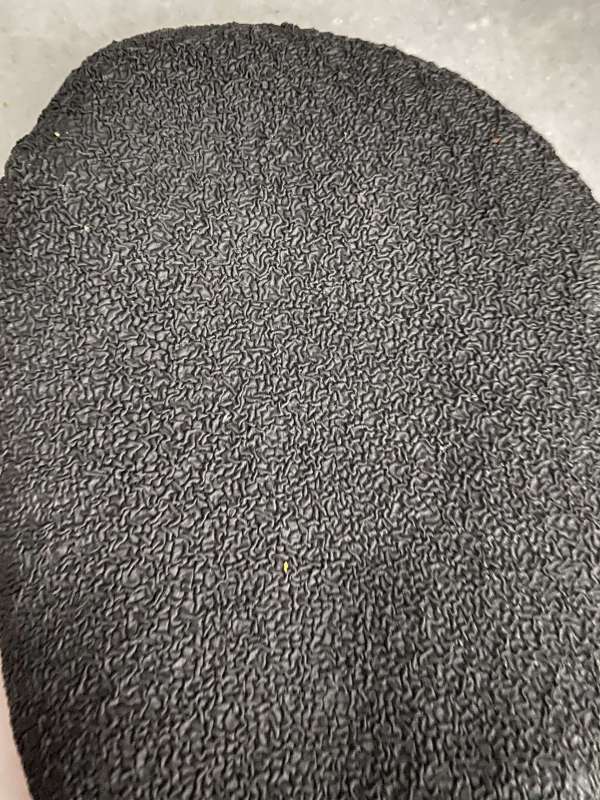 Here I took a closeup of the sole of the shoe.  It is a textured natural rubber and grips surfaces really well.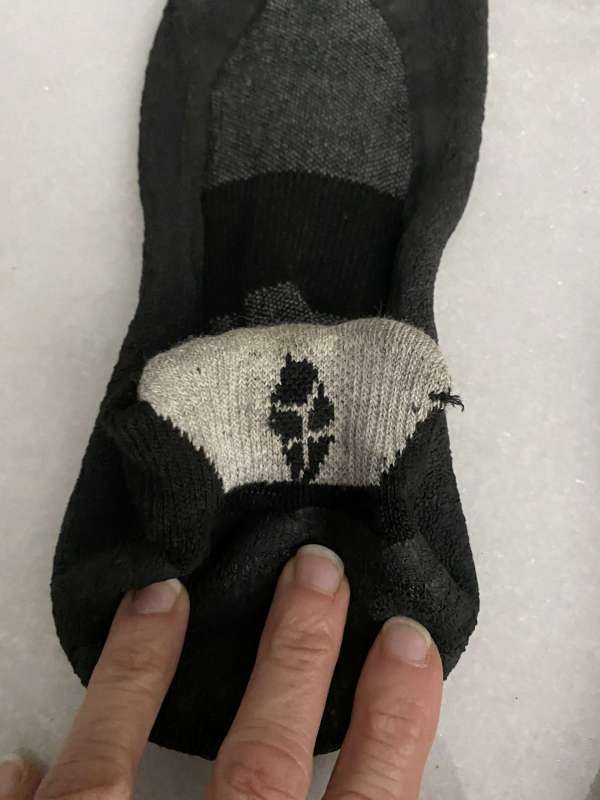 Finally here is a picture of the back of the cuff.  Like I stated earlier, the cuff is what appears to be a double layer of the CoolMax material.  You can see a small bit of thread sticking out on the right.  I was able to trim that off and did not get any additional thread pull.  Only one sock had that extra thread on it out of the four we received.
Performance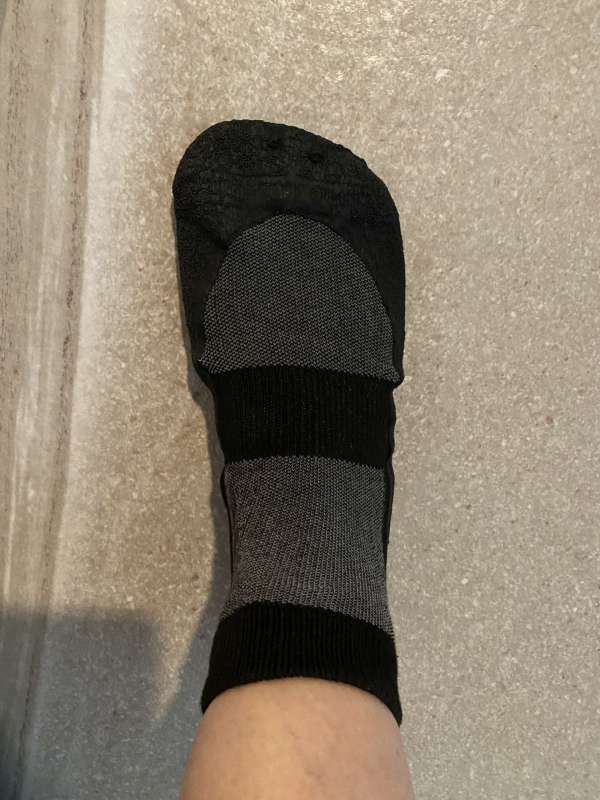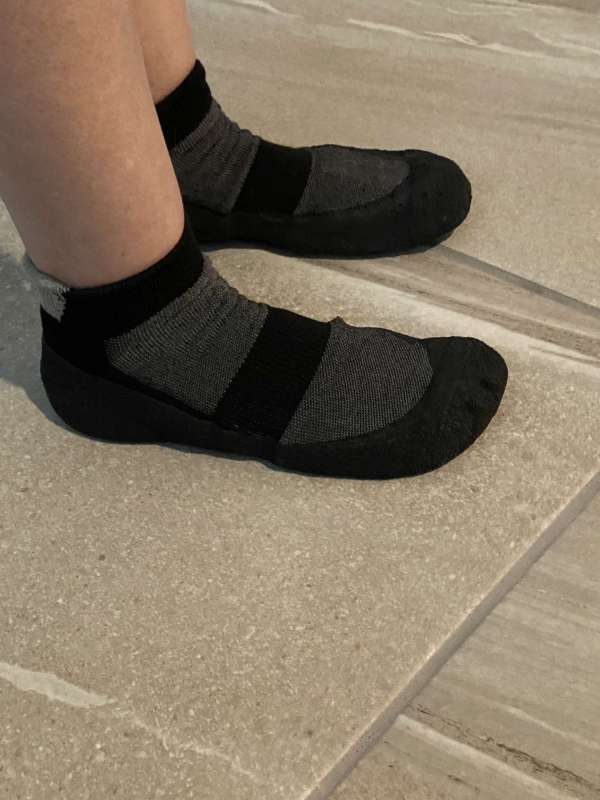 Now according to the size charts on the website, I should be able to wear a size large since I have a 9.5 sized women's shoe.  The socks seemed a little large for me as I had some material bunching up on top.   I then had my husband try on the large pair even though he wears a men's size 11 and should be in an XL size.  You can see in the picture below the socks seem to fit him perfectly.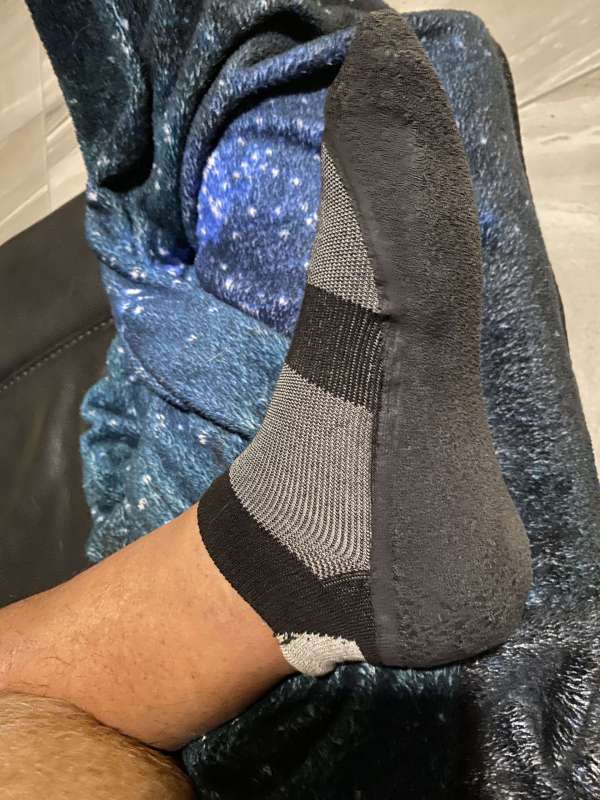 I wore these socks walking the dog around my neighborhood in the streets, sidewalks, and a small bit of trail.  I also wore them washing my car.  Wearing them on a surface with no stones or any kind of protruding items they performed great.  My feet never moved around in them even though it seems like I have a bit of play in the material up top.   They dried within a couple of hours in our house with 49% humidity.  My only issues were when I walked over a stone or the hose in the driveway as I was washing my car.
I will admit I have sensitive feet.  I also have high arches and a neuroma on my right foot.  Working on my car and not really paying attention to where I was walking means I often step on the hose from my pressure washer or garden hose.  That hurts!  The soles on these shoes are no thicker than 2mm.   When I walked the little bit on the trail in our neighborhood I lasted maybe two minutes and had to head back to the street.  We have very rocky (think lots of small rocks around 2 in or so and rough caliche) soil and the bottoms of my feet were screaming at me.   I also found that without any kind of arch support my feet were aching by the time I was done washing my car in a couple of hours.
What I like
Very grippy sole.  I never had an issue where I slipped on wet cement or tile.
The shoes stayed in place on my foot and did not move around even when wet.
They are very lightweight and would be perfect to pack along in a kayak or use on a standup paddleboard.
What needs to be improved
See if they can offer a version of the shoes with a slightly thicker sole for more protection over rough ground.  They mention an insole on their website, but I could not find it.
I think their sizing chart runs a tad to the larger size.  Maybe buy one size down from what you think you need.
Final thoughts
I will continue to use these as I wash and detail my car.  I am hoping my feet will become more accustomed to them after a while.  The fact that I don't slip and slide around in them is a HUGE plus to me.  I also plan to use these when I clean my pool and make quick trips into our yard with the dog.  I may also look around for some kind of waterproof insoles that I could use in the shoes.  I think that if you don't have sensitive feet (heck there are folks hiking up mountains in these shoes on their website!) or have smooth terrain you want to walk around in, these shoes would work out great.  Unfortunately, all of our rivers and lakes here have very rocky bottoms.  I will definitely need to find an insole that works with these shoes if I were to wear them to any of those.  I also want to mention that I think these shoes stay on your feet much better than any other water type shoe I have used in the past.  The whole shoe forms to your foot and that really helps it stay in place.
Price: $28.95 plus they are currently offering a 25% discount with the code PRESALE on their website.
Where to buy: Baresocks
Source: The sample of this product was provided by Baresocks.