We use affiliate links. If you buy something through the links on this page, we may earn a commission at no cost to you. Learn more.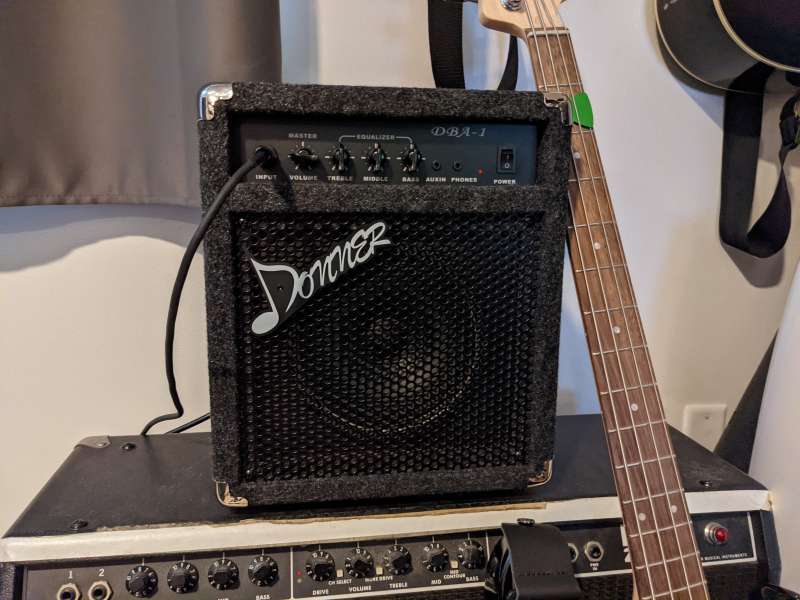 REVIEW – One of the many hobbies I picked up during my pandemic downtime is the bass guitar. I've played guitar since I was a kid but was always a bit intimidated by the bass. Having been in the same band for about twenty years now (insert shameless Spotify plug here) I'd frequently pick up my bass player's guitar during practice to mess around, but was never able to get the hang of it. It took a year of pandemic self-isolation and practice to finally get proficient at the bass and now it's time to start acquiring some good gear.
I have a few dependable guitar amplifiers, but because bass guitars produce much lower frequencies, they require amplifiers specifically designed to handle them. Playing bass guitar through a standard guitar amplifier could seriously damage it. This isn't a problem at all though for the Donner DBA-1 Bass Guitar Amplifier I recently tested. The DBA-1 is perfect for my needs, it's a practice-type bass amp with a whole lot of power in a small footprint. Priced for the budget conscience, the DBA-1 is great for beginners like myself or as a secondary practice amp for pros. Not only does the DBA-1 sound great, but it has a few extra features that make it an even better buy.
What is it?
The Donner DBA-1 is a 15W Bass Guitar Amplifier with both an auxiliary input jack and a headphone output jack.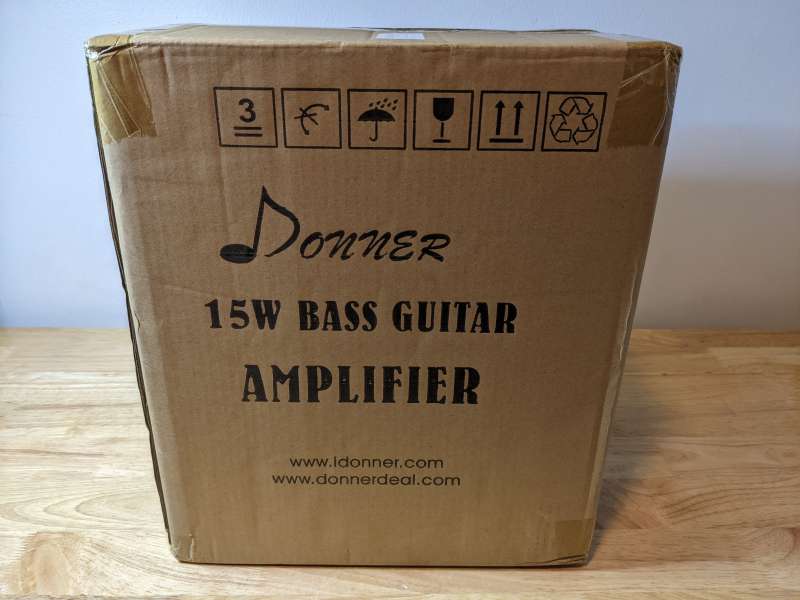 The Donner DBA-1 15W Bass Guitar Amplifier arrives in a sturdy cardboard box detailed with the Donner logo and amplifier specifications.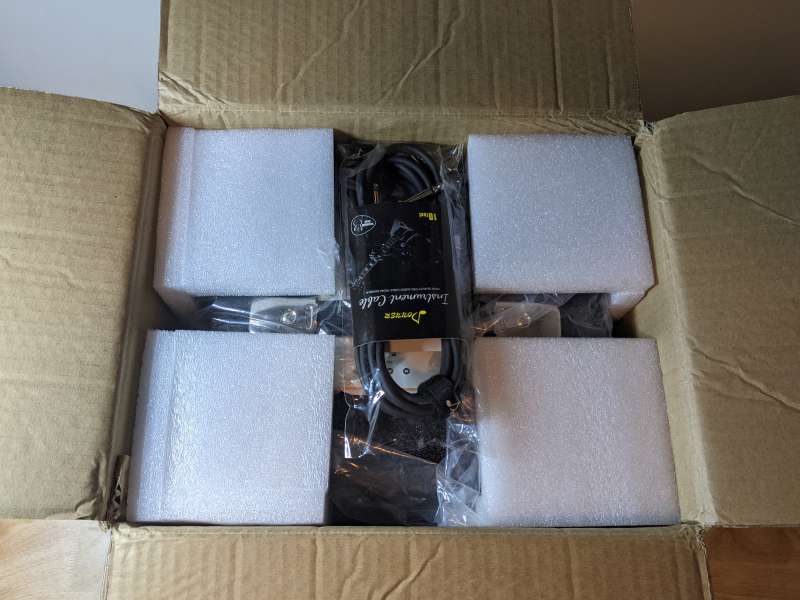 Everything is safely secured for shipping in the box with plenty of foam and plastic.
What's in the box?
Donner DBA-1 Bass Guitar Amplifier
1 – Donner 10 ft 1/4″ (6.35 mm) Instrument Cable
1 – 1/8″ (3.5 mm) Male to Male Stereo Audio Cable
2 – 1/4″ (6.35 mm) Female to 1/8″ (3.5 mm) Male Adaptors
User Manual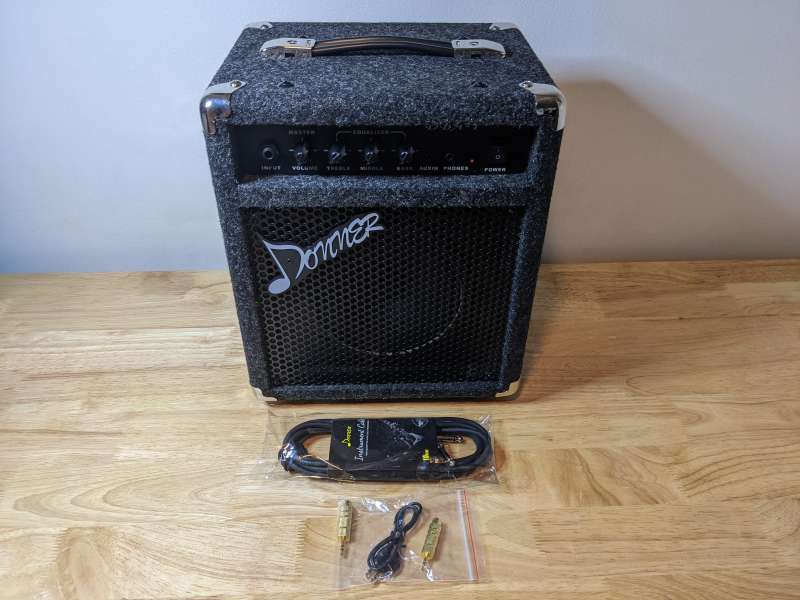 Hardware specs
Power Consumption: 15 watts
Speaker: 6.5″, 8 ohms
Inputs:

1/4″ (6.35 mm) Guitar Input Jack
1/8″ (3.5 mm) Aux Input Jack

Outputs:

1/8″ (3.5 mm) Headphone Output Jack

Indicator Lights: Power
Dimension: 12.6″ (320 mm) W x 13.4″ (340 mm) H x 8.86″ (225 mm) D
Power Supply: AC Adapter
Net Weight: 15 lbs. (6.8 Kg)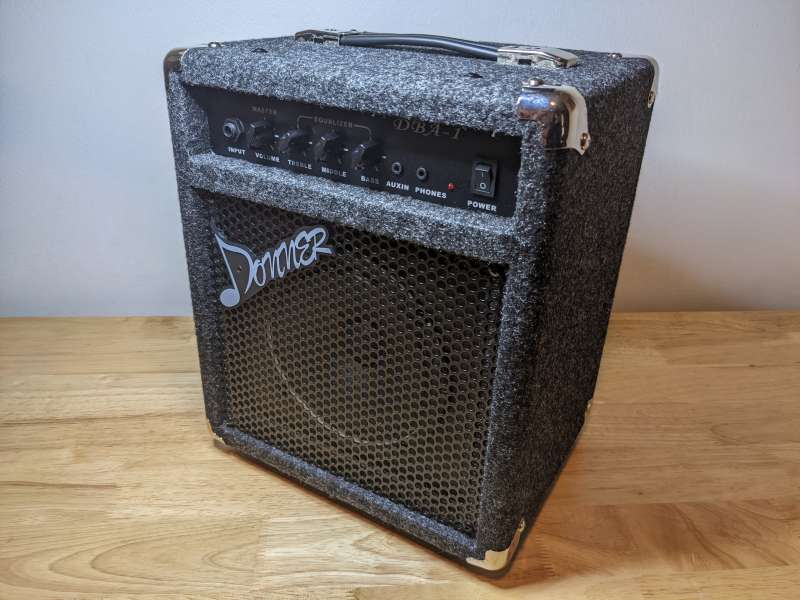 Design and features
The Donner DBA-1 15W Bass Guitar Amplifier is very well-built with a few extra features I was surprised to find on such an inexpensive amplifier. The controls are fairly standard for a bass amp, a master volume knob along with equalizer adjustments for treble, mid-range, and bass.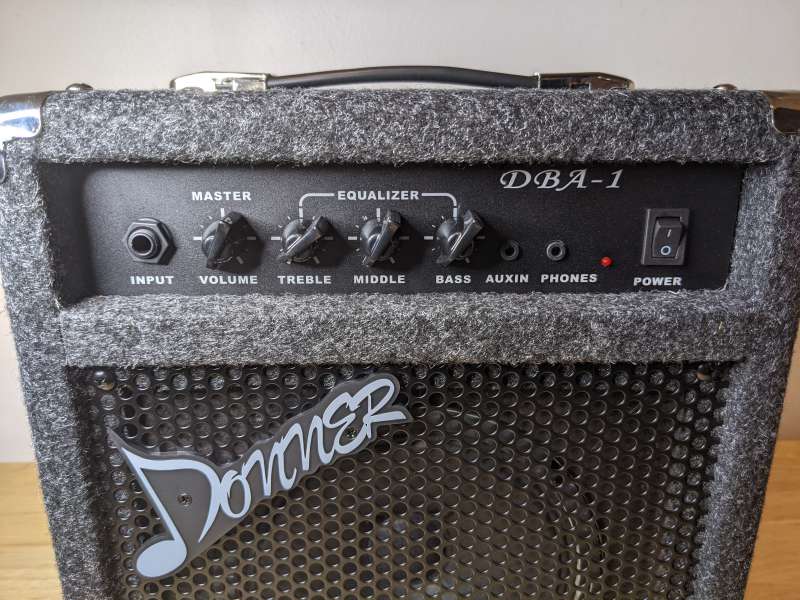 There are no numbered increments on the knobs, which I prefer. Instead, the knobs have large slashes marking off 1/4 measurements and dashes marking off smaller increments. The control panel is inset to prevent the knobs or power switch from getting inadvertently hit. The backplate is textured black plastic with names for the controls clearly labeled in white. The main input is a standard 1/4″ port for an instrument cable.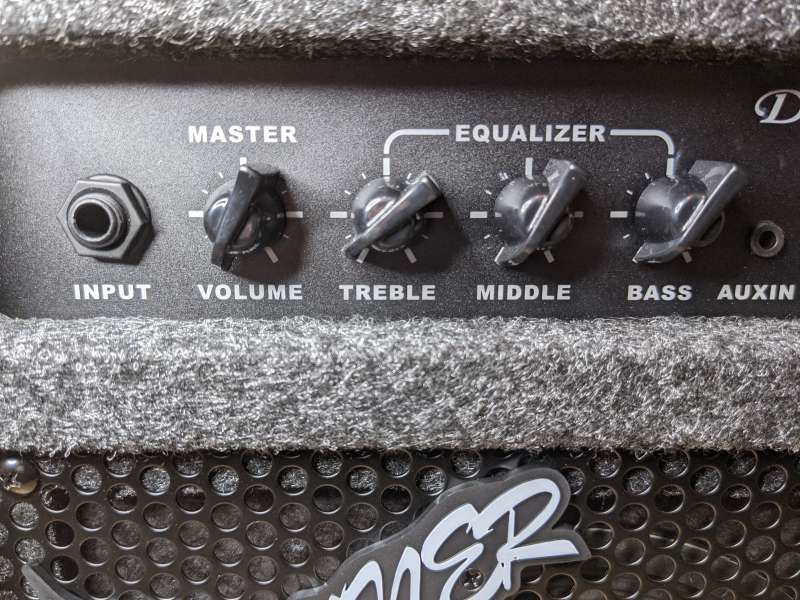 The addition of a 1/8″ auxiliary input port and a 1/8″ headphones output port really adds to the value of the DBA-1. The Aux-In port allows you to plug in a separate audio source to play along with, which is great for beginners or pros who want to accompany a drum track. The headphone port is useful for practicing without disturbing roommates or neighbors. Next to the ports there's a rocker power switch and a small red power indicator light.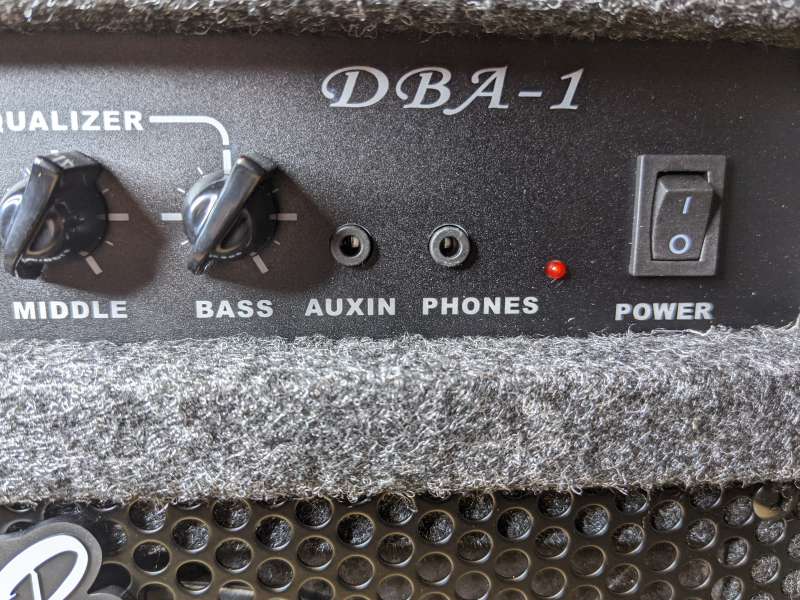 Included with the DBA-1 are two 1/4″ to 1/8″ adaptors and a 1/8″ male-to-male audio cable for use with the Aux-In port.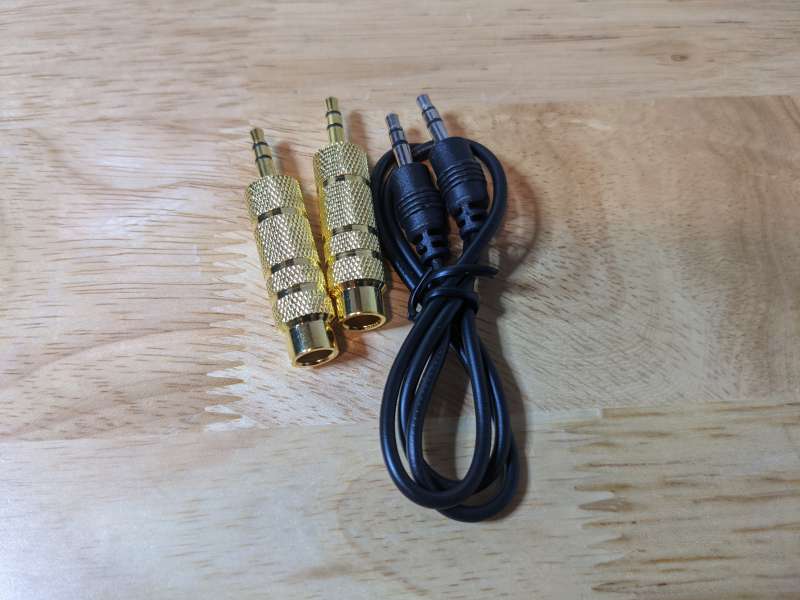 Donner also throws in a 10ft 1/4″ angled instrument cable. The inclusion of the adaptors, audio cable, and instrument cable really adds to the value of the Donner DBA-1 15W Bass Guitar Amplifier.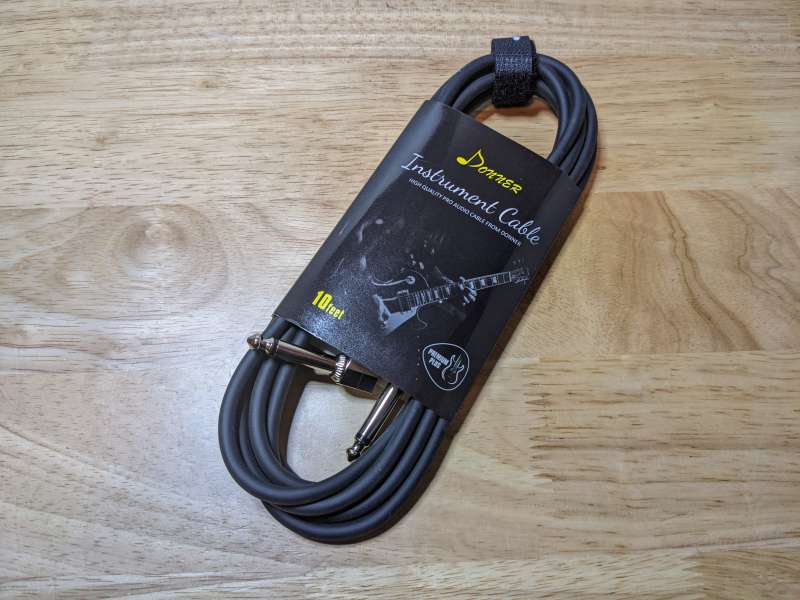 The DBA-1 has a black metallic grille protecting the 6.5″ 8-ohm hybrid cone speaker. The speaker is constructed by Donner with an outside paper cone and an inside aluminum cone.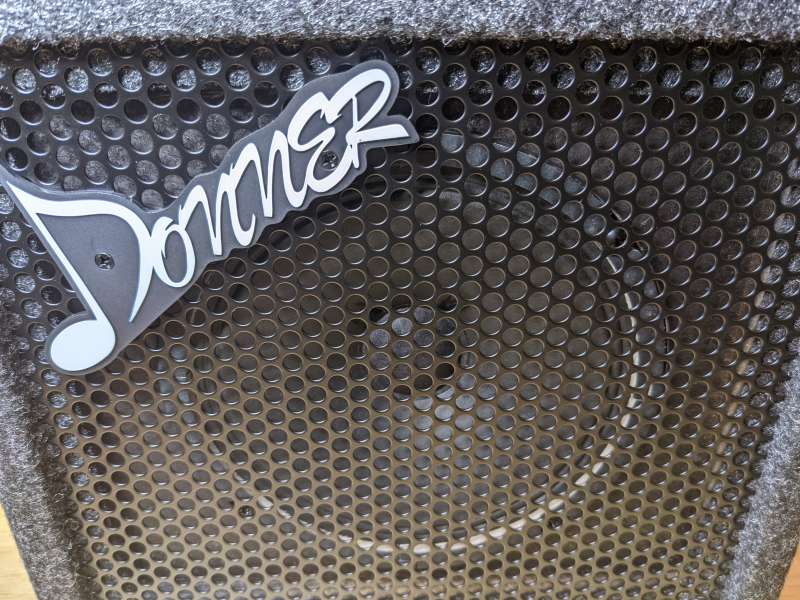 The whole exterior of the DBA-1 is covered in a thick carpetlike fabric which helps with sound dampening and protection.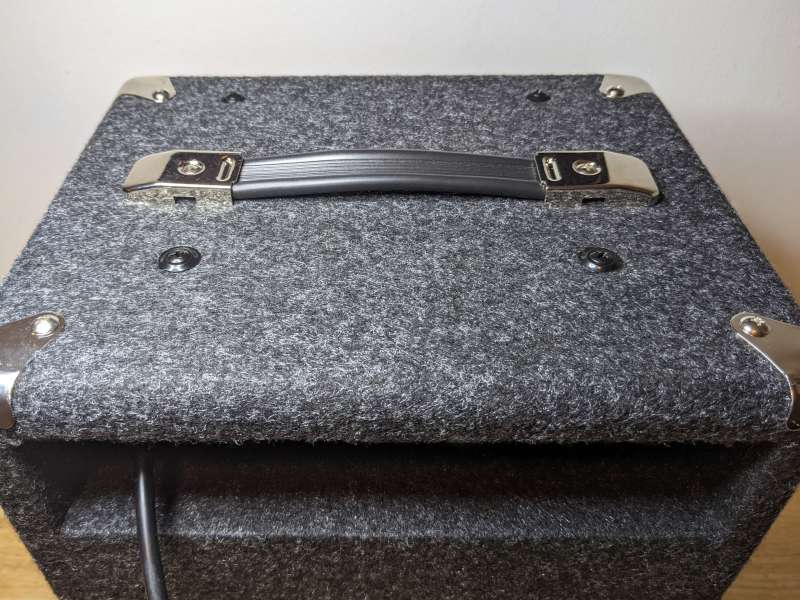 To further protect the amp from damage, all edges of the Donner have metal corner wraps as well.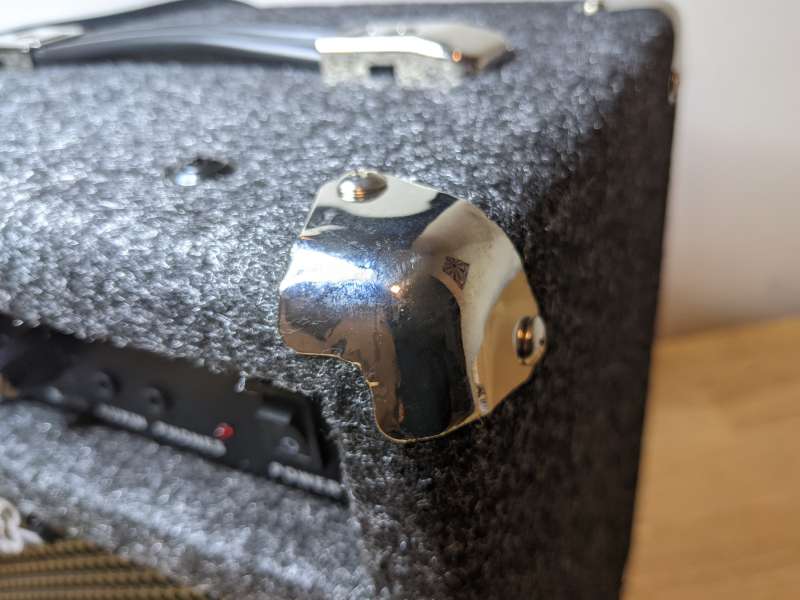 The power cord on the back of the Donner DBA-1 15W Bass Guitar Amplifier is five feet long and non-removable.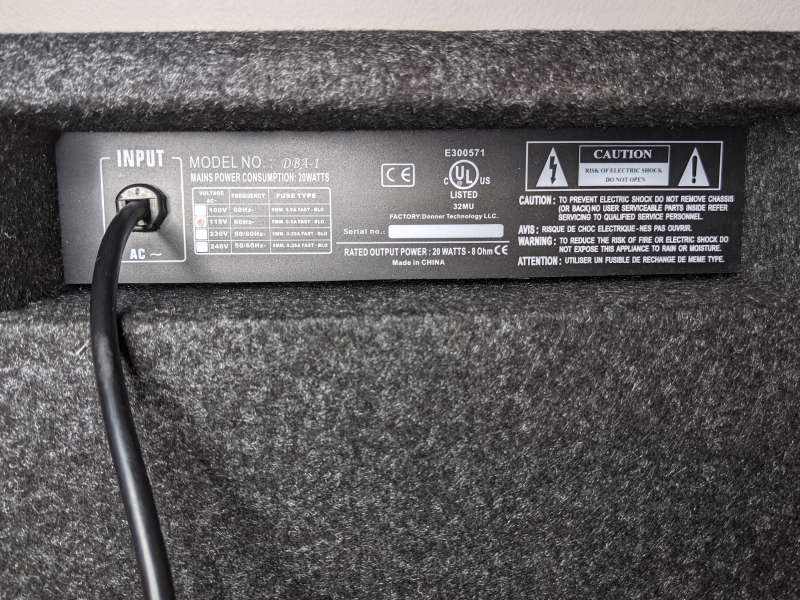 The closed-back of the amplifier has an inset like the front and it's perfect for storing the power cable.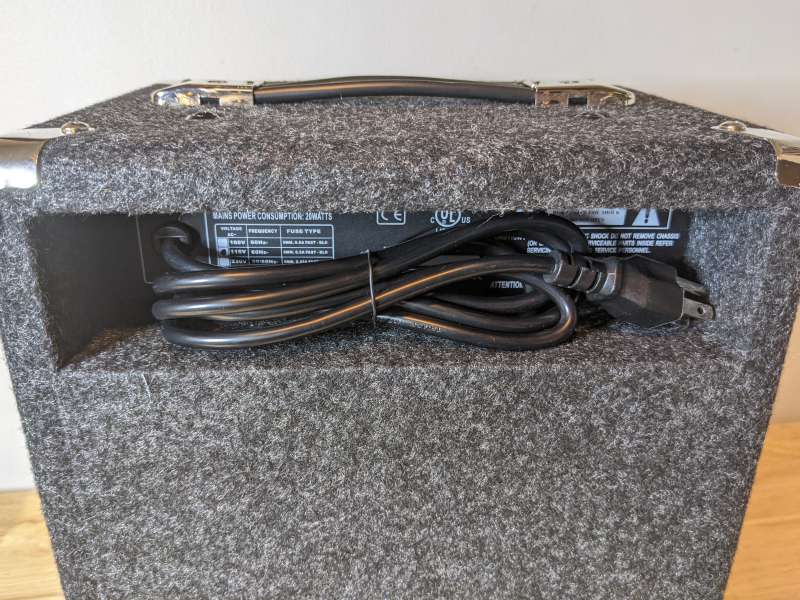 The top of the Donner DBA-1 has a strong carrying handle securely fastened with metal brackets.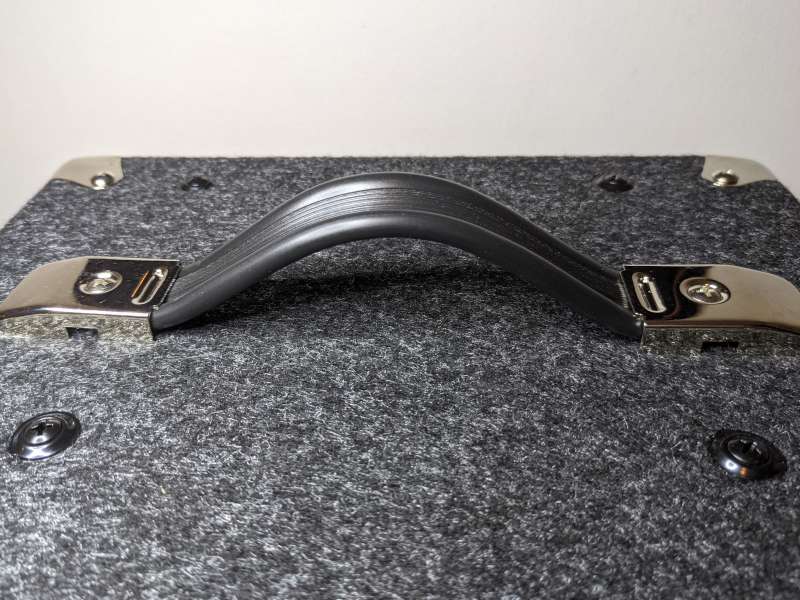 Flip the DBA-1 over and you'll find four rubber feet that help keep it from sliding and also prevent vibrations.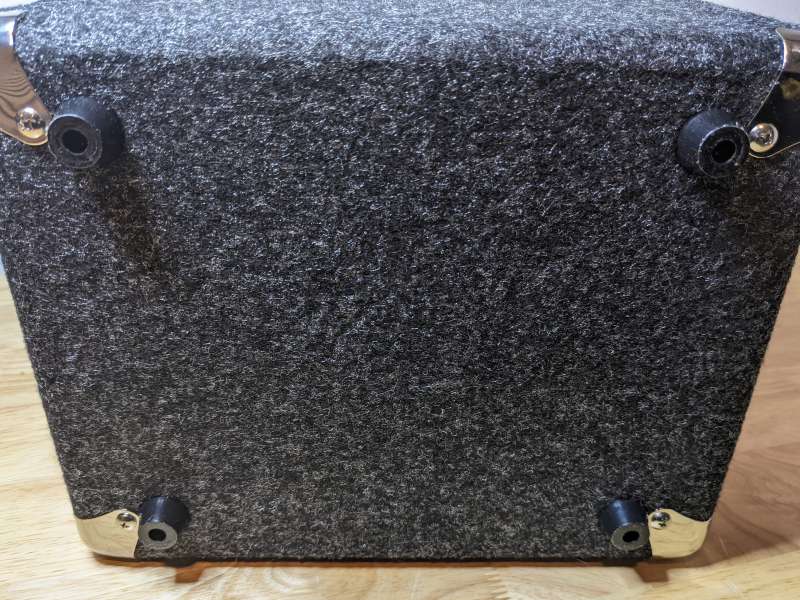 As a whole, the DBA-1's build quality is quite impressive. It's strong and affordable enough to be thrown around on the road without worrying if it'll be damaged. While the sturdiness of the DBA-1 scores a lot of points, the real measure of an amplifier is ultimately how it sounds.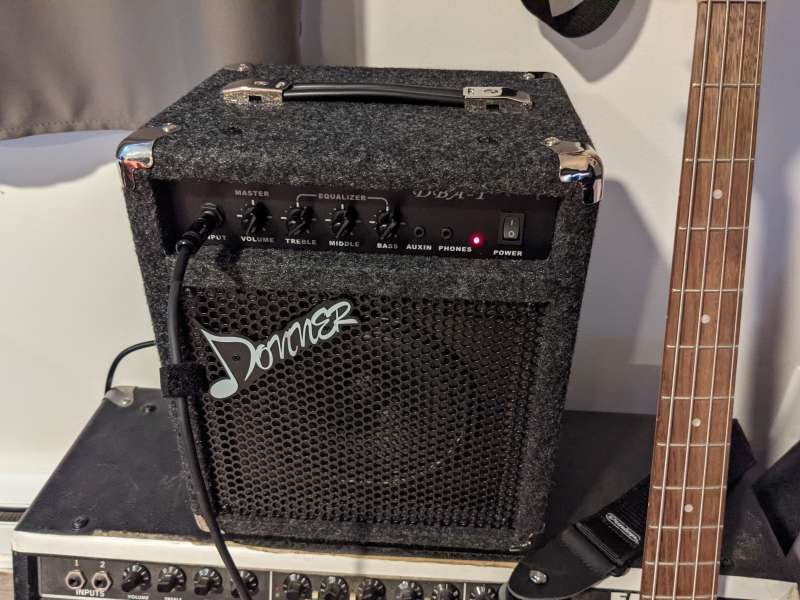 Performance
I tested the DBA-1 with my Squier Affinity Series PJ Bass. The Squier and the DBA-1 are a perfect match because they are both super affordable, great for beginners, and sound terrific.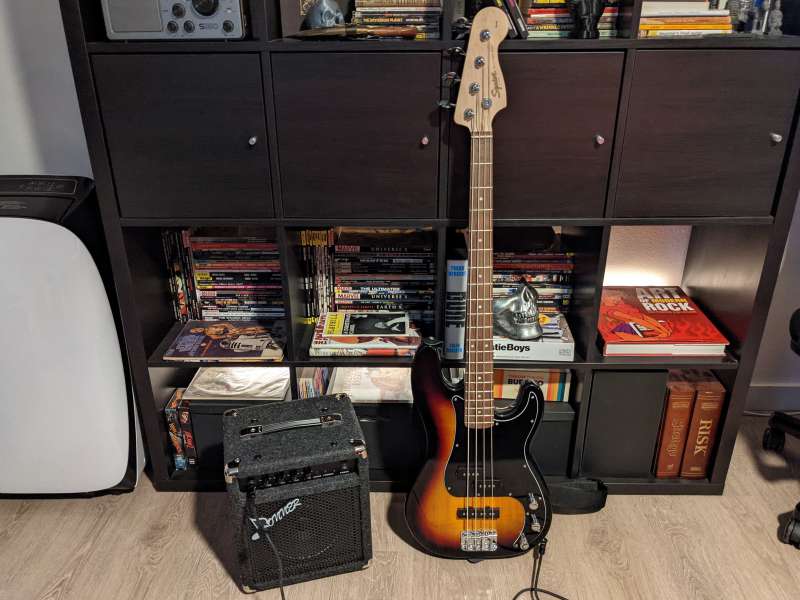 The sound quality of the Donner DBA-1 15W Bass Guitar Amplifier really surprised me for such a small amp. The DBA-1 only has a clean channel, no overdrive, so the notes were crisp and punchy without distorting at lower volumes. At maximum volume, the sound did start to distort and break up a bit. But because this is primarily a practice amp and I live in a small apartment I can't see myself ever consistently playing that loud. And because I do live in such a small apartment the headphone jack on the DBA-1 really came in handy, especially for practicing late at night.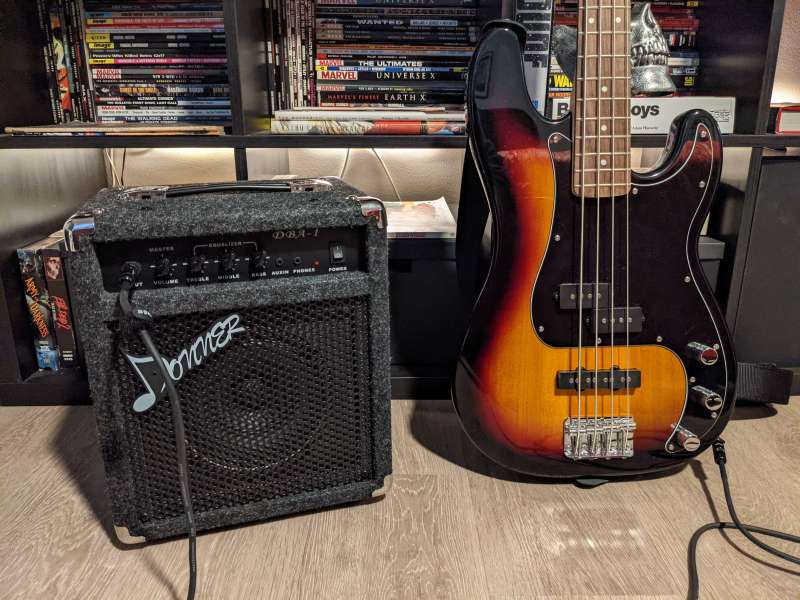 I'm not exactly Bootsy Collins or Jaco Pastorius on the bass quite yet, so I tested the DBA-1 by playing some of my favorite basslines. For the review's audio tests I played the bassline for "Seven Nation Army" by the White Stripes. I chose this bassline because it's catchy, instantly recognizable, and really easy to play.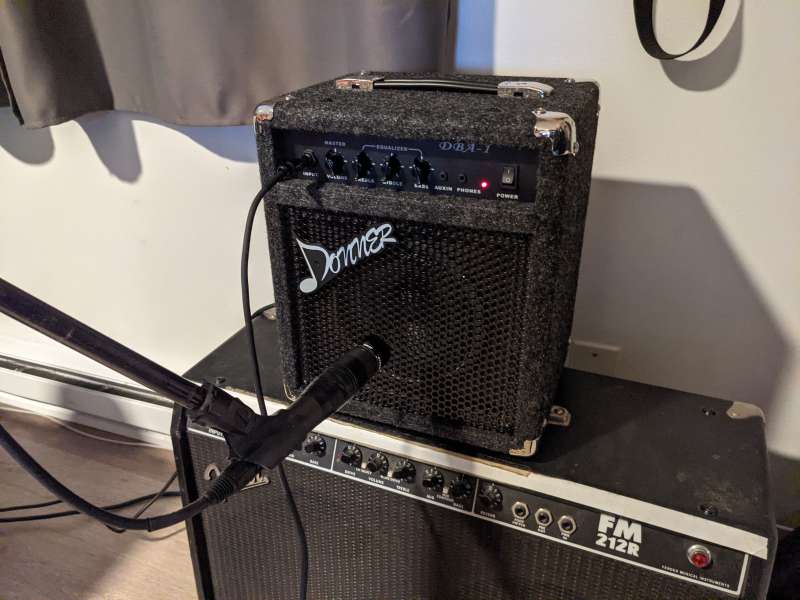 I recorded myself playing my Squier bass through the DBA-1's external speaker using my trusty Shure SM57 microphone and then through the headphone port wired directly to my computer's audio interface for comparison.
This first audio sample is playing through the DBA-1's external speaker at medium volume. This is the volume I would primarily use the amp at in practice. The audio quality of the amp is really good in my opinion. I wish I could say the same about the quality of the playing, but it was good enough for testing.
The second audio sample is playing through the Donner DBA-1 15W Bass Guitar Amplifier's external speaker again but at a much higher volume, which is clear from the waveform. You can hear some distortion in the sound at this higher volume and the notes break up a bit. I didn't play the Donner at full volume out of respect for my neighbors, but I don't see myself ever using it at that volume anyway. The DBA-1 is really a practice amp, so even though it can be played at high volume it performs best at a lower one.
The final audio sample is playing through the headphone port of the DBA-1. The sound from the headphones is really clean, clear, and punchy and it's my favorite way to practice when I really want to focus on what I'm doing. And as you can tell from the samples, more practice is definitely something I need.
Overall, I was really impressed with the audio performance of the Donner DBA-1 15W Bass Guitar Amplifier. For the low price, I honestly didn't expect it to sound as good as it does, but Donner has a well-built, powerful little amp in the DBA-1.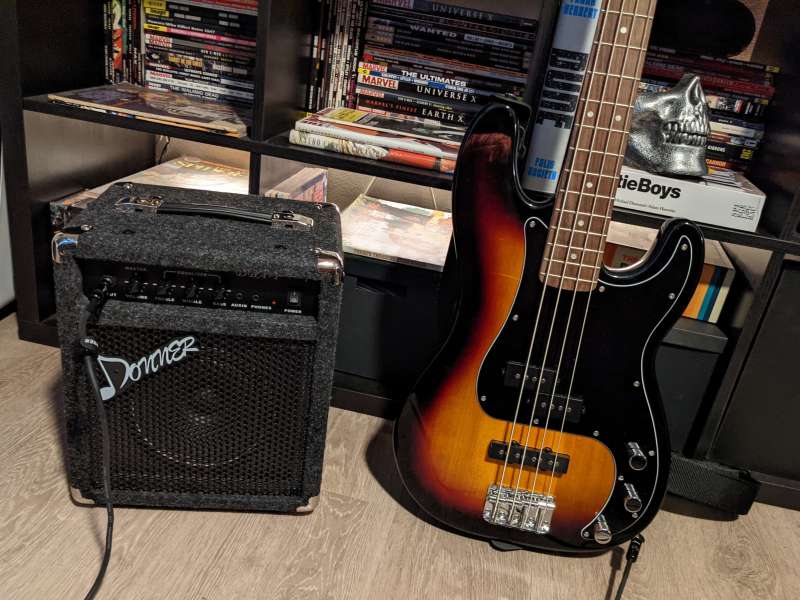 What I like
Affordable
Instrument cable, headphone port, and auxiliary input are great added features
Quality build
What needs to be improved
Distorts at higher volume
Gain control or Overdrive channel would be great
Final thoughts
For the price, the Donner DBA-1 15W Bass Guitar Amplifier is a great, well-built practice amplifier for both aspiring and pro bass players. Despite its small size, the DBA-1 uses its 15W expertly to pump out some big sound. The amp has a clean, crisp sound that may distort at higher volumes, but since this is more of a practice amp, I don't see that as being much of an issue. The addition of an instrument cable, adaptors, headphone output, and an auxiliary input makes the Donner DBA-1 15W Bass Guitar Amplifier that much more of a bargain at the low price of $103.99.
Price: $103.99
Where to buy: Donner (Use code: gadgeteer for 15% OFF. expires 12/31/21) and it's also on Walmart for less.
Source: The sample of this product was provided by Donner.