We use affiliate links. If you buy something through the links on this page, we may earn a commission at no cost to you. Learn more.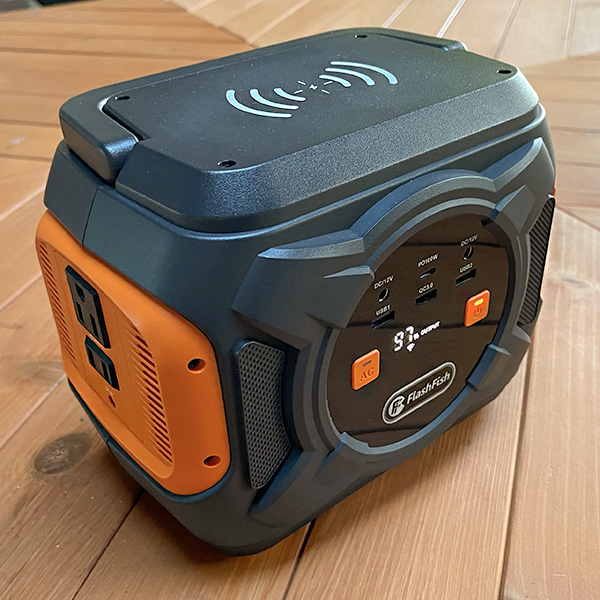 REVIEW – It's weird reviewing a small portable power station right after testing a monster power generator—the Generark HomePower 2 power station. But if you're serious about being able to weather storms (pun intended), then smaller generators can be as useful as their larger, more powerful cousins. Sometimes, you just need something you can easily carry from room to room to power smart devices or other less power-hungry gadgets.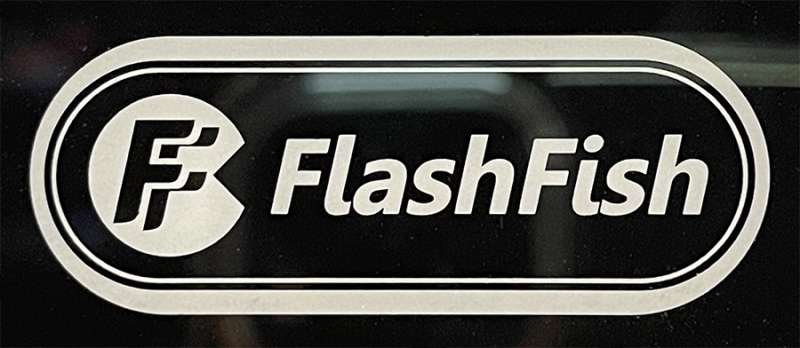 It's in this affordable arena where competition is fierce. You have the "big boys": Jackery, Bluetti, and EcoFlow as examples. But there are also many smaller brands that have come out with interesting and unique spins on these types of products. Flashfish is in that category. They may not be as well known, but they've certainly created something interesting with the A301 portable power station.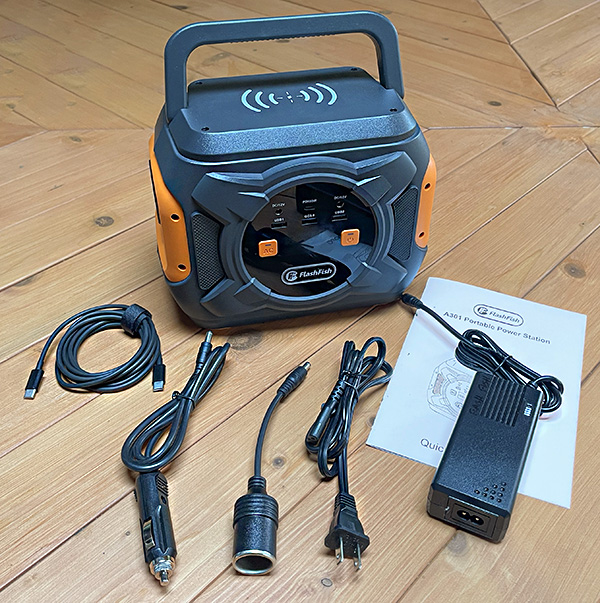 What is it?
The Flashfish (who named this company?) A301 portable power station is a powerful, light, and affordable generator that's easy to use and easier to carry. There are plenty of ports. The front panel features one 100-watt USB-C, two USB A, one quick-charge USB A, and two 12V DC output ports. The side has two AC (wall plug) outlets—one regular and one grounded.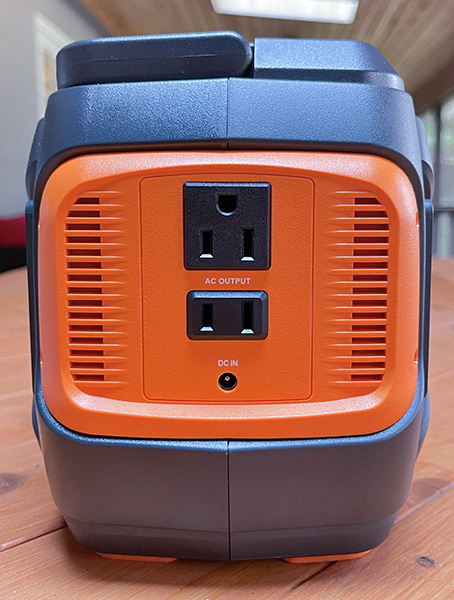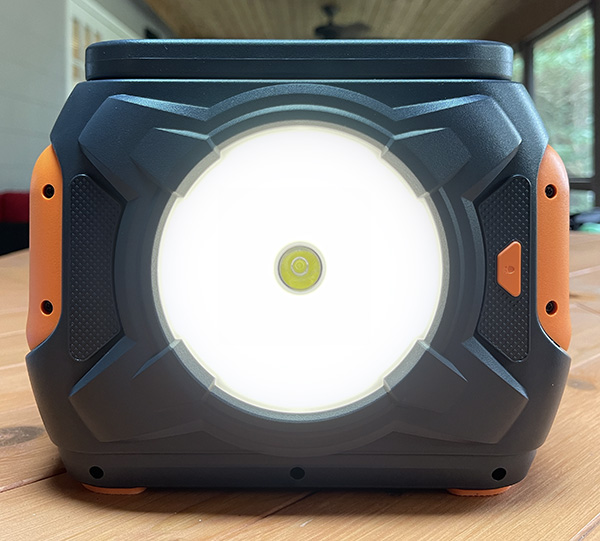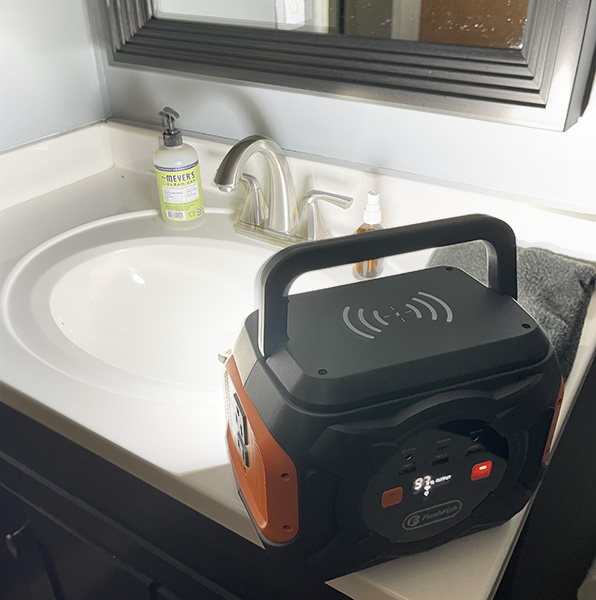 It's the back panel that's the interesting part. The middle of the back panel suits a 4 in. LED "flashlight". This light has low and medium brightness settings, but the high mode is almost blindingly bright. It can easily light up a bedroom. Depending on how you press the single lighting button, the light will flash an SOS signal or rapid strobe. Long-press the button and a real flashlight bulb in the center of the LED circle lights up. I can picture using the bright SOS mode if you're stranded after a car accident or lost and need to be located.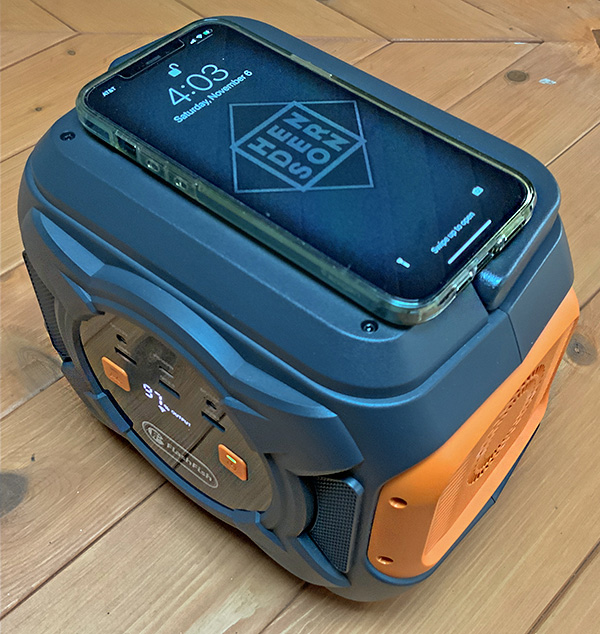 The top panel features a 10-watt wireless charger. Just drop a smartphone on the pad and it will automatically charge if your device supports wireless charging.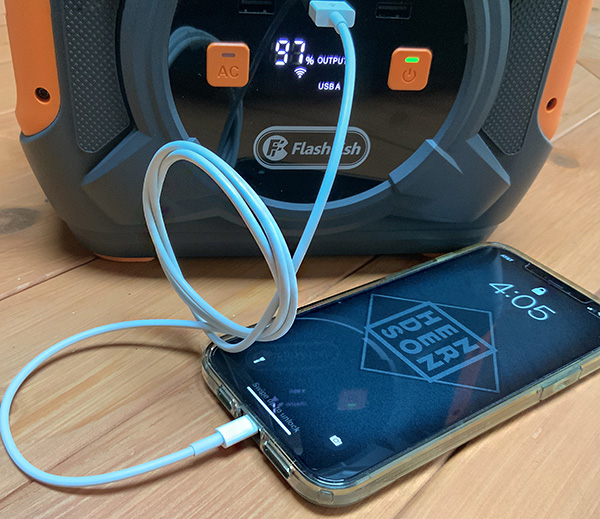 Specs
292Wh Lithium-ion Battery
320W AC Output
12V / 10A (Max) DC Output (2)
100W USB-C
QC 3.0 USB A
5V / 2.4A USB A (2)
10W wireless charger

 
What's in the box?
Flashfish A301 portable power station
AC adapter
PD charging cable
Car charger cable
User guide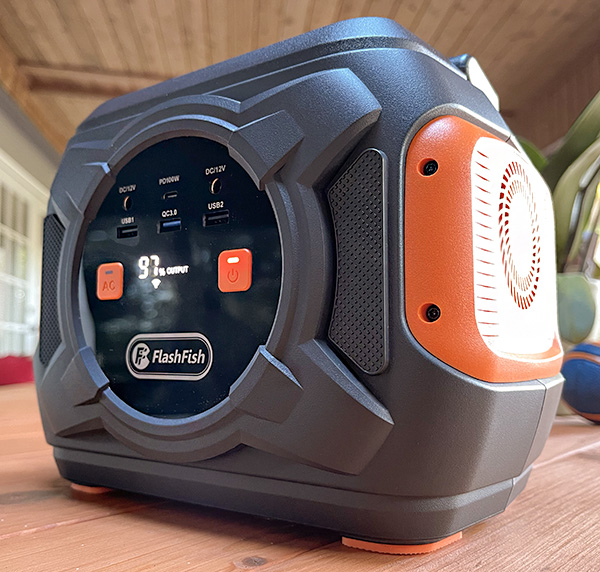 Design and features
The Flashfish A301 portable power station may not be the best-looking power station available, but it gets the job done—and does it well. The dark-gray and orange color scheme screams "Jackery", although the design is all Flashfish. The exterior is covered in tough plastic that looks like it can be roughed up without much fuss. Just don't get water or dirt in the ports—they're not protected.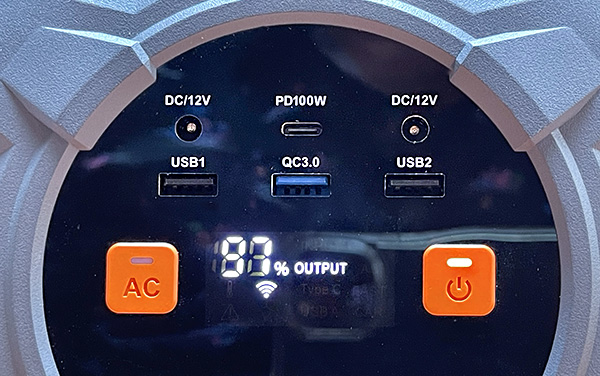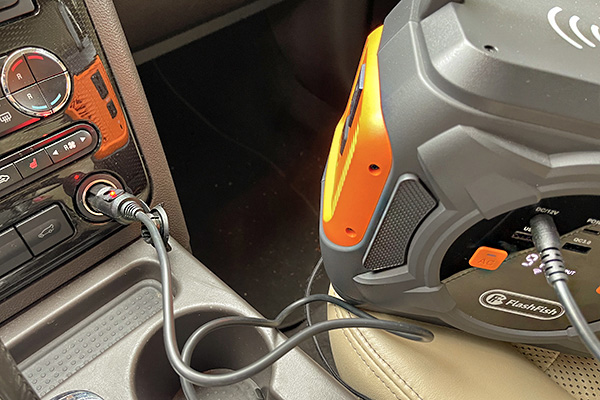 The front ports are strange but interesting. If you plug anything into the USB A ports, the A301 will automatically power on (why can't all power stations do that?). But if you plug in the USB-C cord or any 12V DC adapter—nothing happens. You have to press the power button. You also have to press the front AC button after pressing the front panel on/off button in order to use the side panel outlets.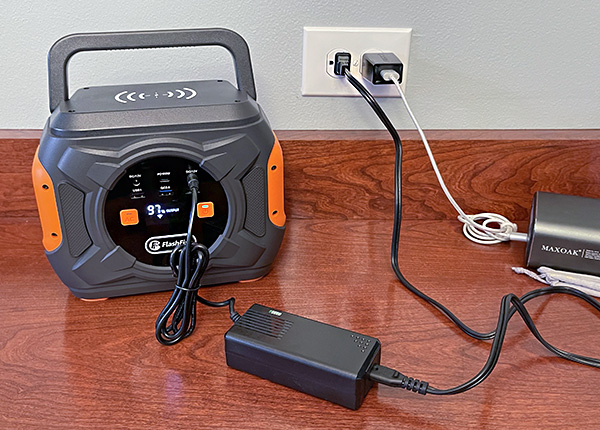 Another unusual thing is that while charging the A301, you cannot use either the AC or QC USB A ports. However, you can use the other USB A, USB-C, and DC ports.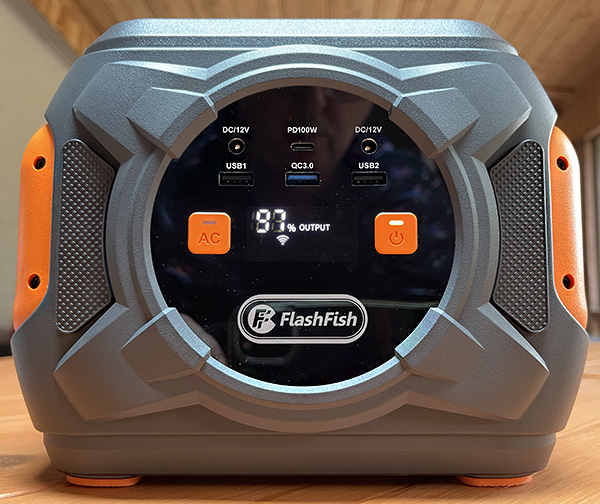 The front panel of the Flashfish A301 portable power station has a built-in monochrome LED panel. The info shines bright against the black background, making it easy to read, although some of the info text is small. The screen shows the percentage of battery life remaining, a wireless icon, whether the A301 is drawing or outputting power, and which port is being used at any time.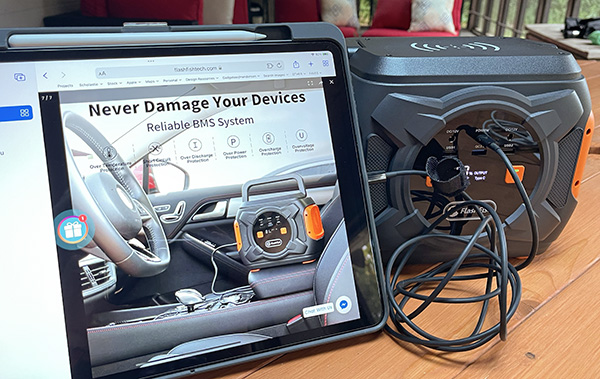 The A301 is rated at 292-watt hours (Wh), meaning it will run a 300-watt device for one hour. It can power a device up to 320 watts without shutting down. That roughly translates to charging a smartphone up to 28 times, a laptop 3 times, an iPad 8 times, or a 30-watt mini fan for 9 hours. So you can see that the Flashfish can be quite useful during a blackout.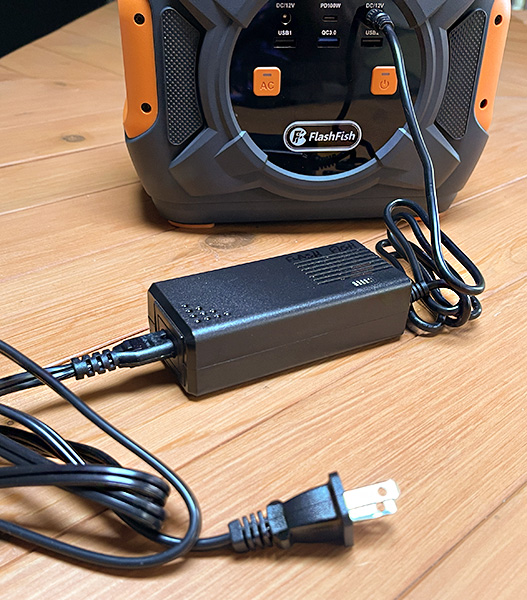 Charging the Flashfish A301 portable power station is easy. To keep its weight down the power cord has a power brick attached—but then most other battery power generators have them, also.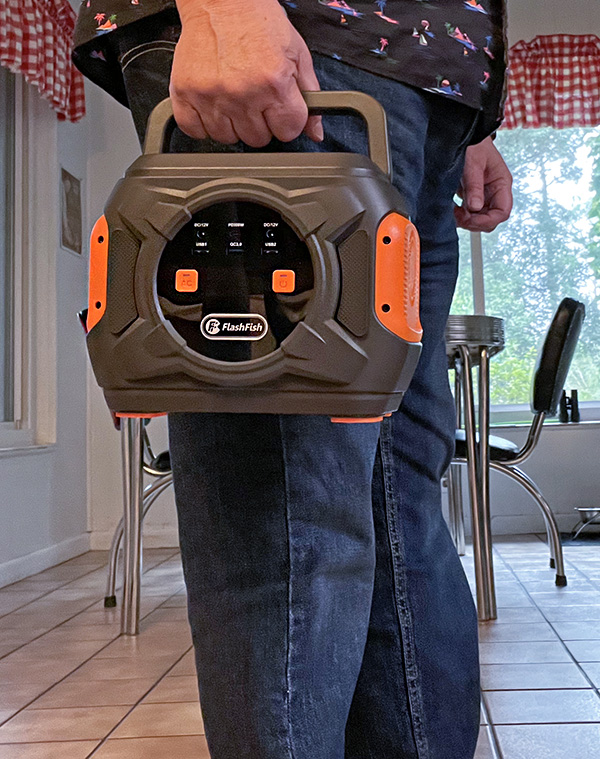 Carrying the Flashfish A301 portable power station indoors and outdoors is easy. Its small size and lightweight make it easy to pack for a car trip or weekend camping. It's even great for backyard adventures or any place around the house not in range of an outlet. For $260, it's great insurance to stay connected to the world.
One thing worth noting is that Flashfish makes solar panels that will charge the A301. Flashfish did not provide a solar panel for this review, so I can't say how effective it is. However, like all solar panels, they need constant, bright sun to be truly effective—which rules out many areas of the country.
What I like
Lightweight
Affordable
Has wireless charging
easy to understand LED display

 
What I'd change
Some ports cannot be used while the unit is charging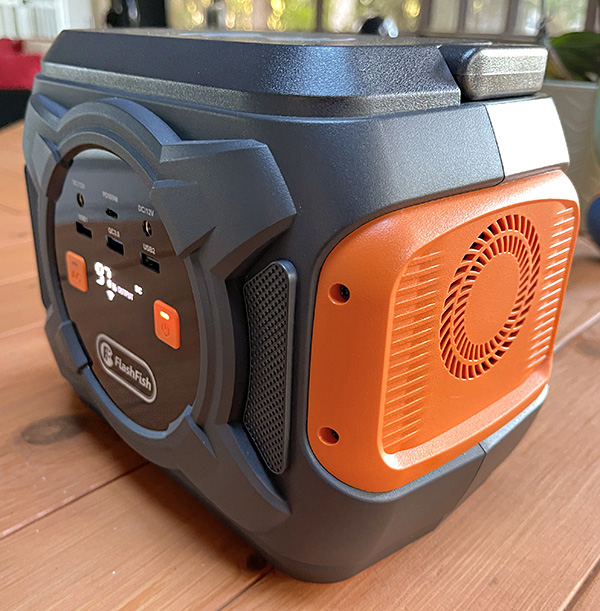 Final Thoughts
Power generators do not have to be huge in size, power—and especially cost—to be effective. Sometimes. you just need enough power to charge some stuff and nothing more. That's why smaller generators are gaining in popularity. They are useful, cheap (for what they are), and can keep us connected for hours after the power goes out. And the power always goes out occasionally. Generators like the Flashfish A301 perfectly fill this need.
Price: $259.99 US
Where to buy: Amazon
Source: The sample of this product was provided by Flashfish.