We use affiliate links. If you buy something through the links on this page, we may earn a commission at no cost to you. Learn more.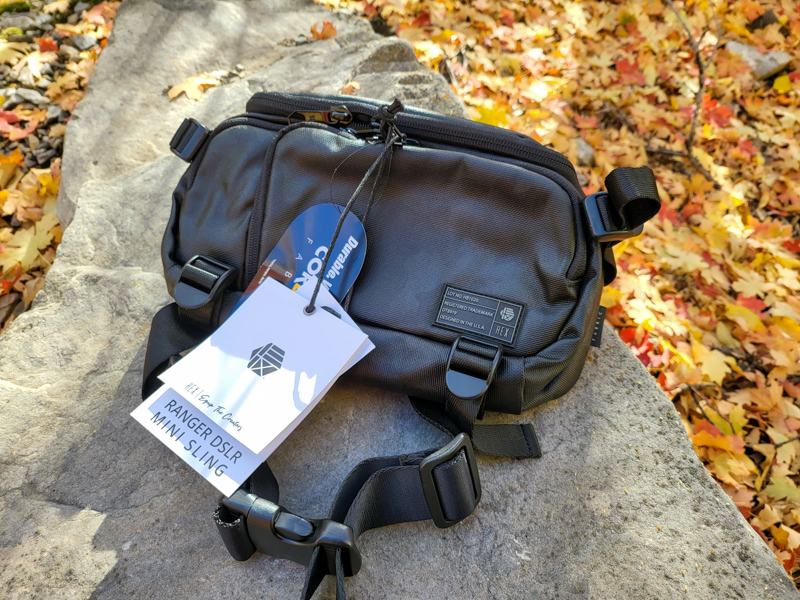 REVIEW – I've been on the hunt for a good travel bag for my DJI Mini 2 drone for a while now, as the bundled bag I received with the drone offers almost no protection to the drone itself. When the opportunity arose to review the Hex Ranger Blackout Camo camera mini-sling, I was very interested since it looked like it would be a good fit and size for my needs. It turned out to be smaller than I expected (they don't say "mini" in the product name for nothing), but that's a good thing in my case. Good materials and good construction quality rounds out a nice little package, and as an extra bonus this sling also works well as a "fanny pack" (sorry to any U.K. readers!).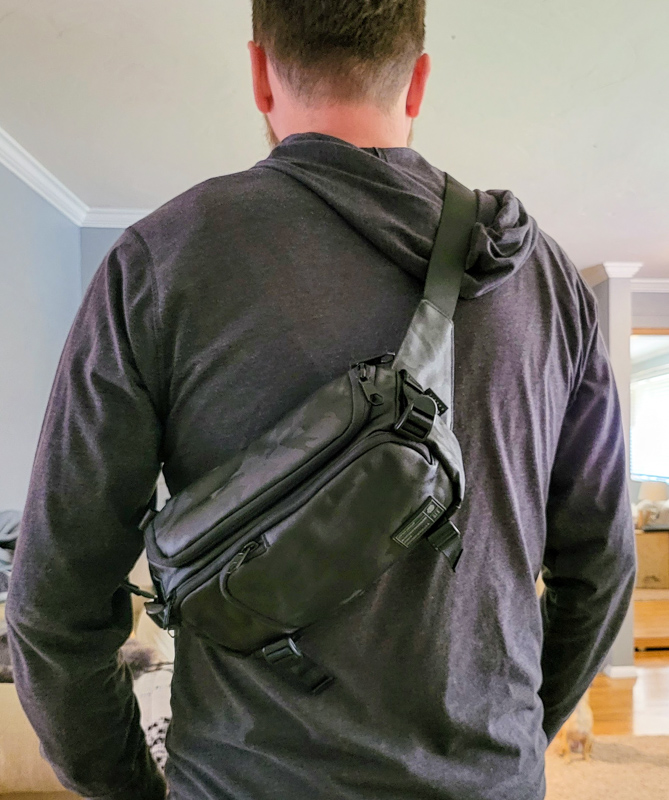 What is it?
The Hex Ranger Blackout Camo camera mini-sling is a small padded water resistant gear sling. The adjustable strap also allows it to be used clipped around the waist. The "Blackout Camo" pattern is nearly invisible in dark rooms, but offers an interesting pattern when outdoors. I'm not usually a camo fan, but I like this implementation.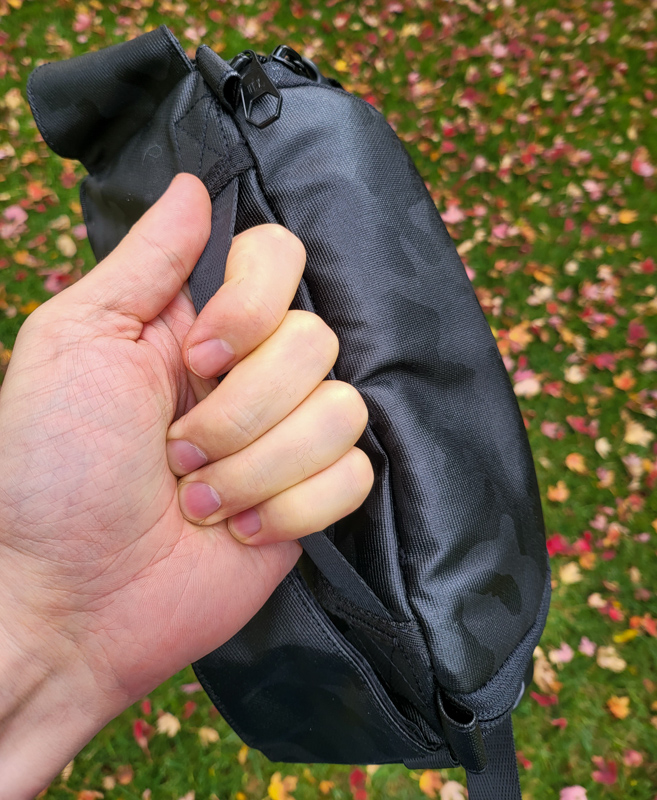 Overall the sling really lives up to it's mini name, it's not going to work well for big SLR cameras, but for mirrorless cameras or small drones it's well-suited.
What's in the box?
Just the Hex Ranger Blackout Camo camera mini-sling
Hardware specs
Dimensions: 5.5″ H x 10.5″ W x 3″ D
Materials: Cordura ®, Velcro ®, and Faux-fur, 900D Poly Water resistant exterior, EVA padding
Zippers: YKK with metal pulls
Interior dividers: adjustable
Weight: 0.8 lbs
Capacity: 2.5L
Design and features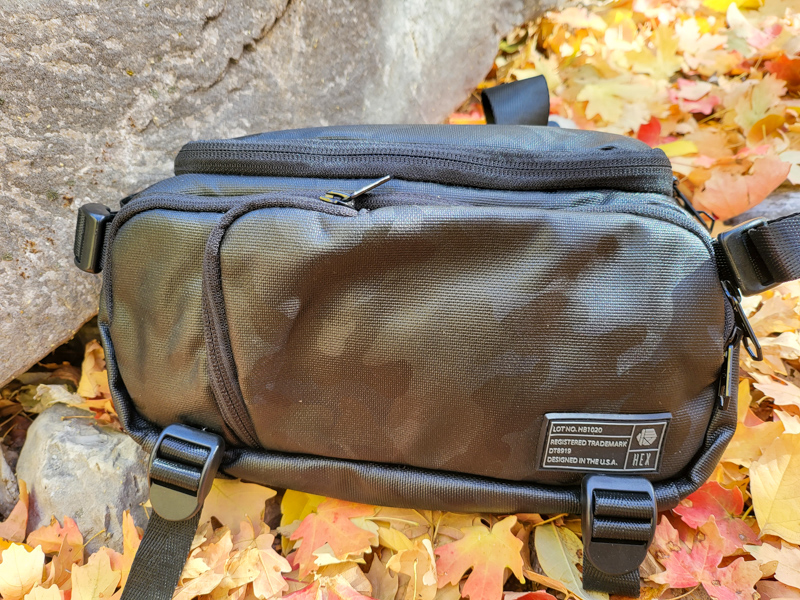 The Hex Ranger Blackout Camo camera mini-sling has 3 compartments: a small phone or sunglasses faux-fur lined outer pocket, a middle pocket with small-item storage, and a larger pocket with customizable padded inserts for your stuff. It also has compression straps on both sides if you needed this already-small sling to be squeezed down a bit smaller.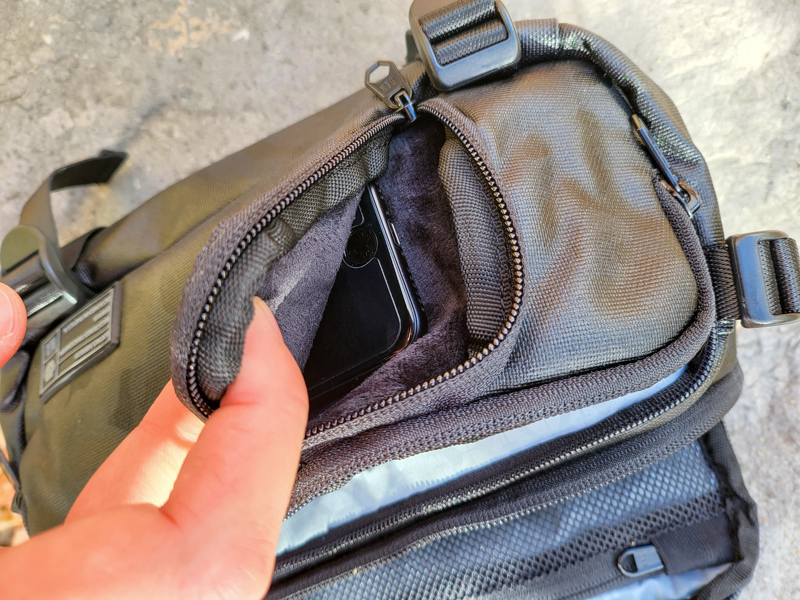 Here's a shot into the phone/sunglasses pocket. I could fit even very large phones in here, and the faux-fur interior is very soft.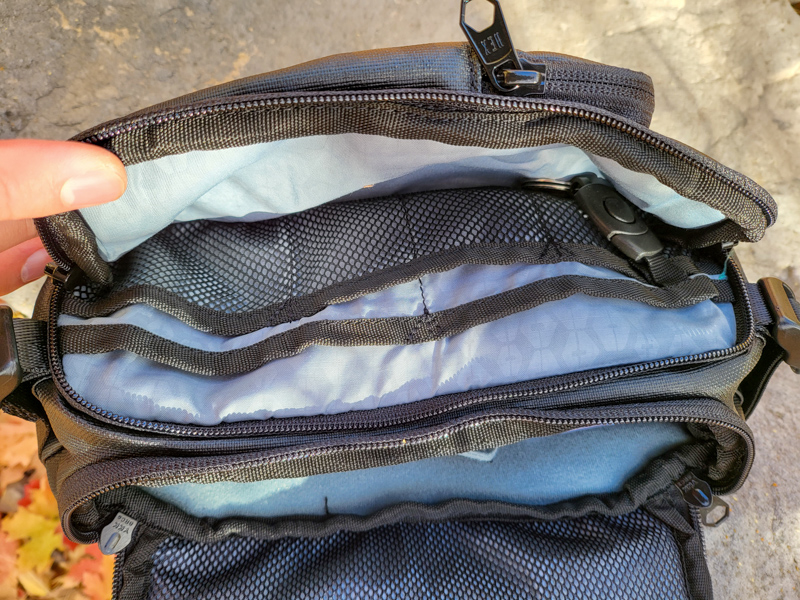 The next compartment has a series of small pockets (good for batteries or tools or anything else a few inches in size or smaller), as well as a detachable keyring.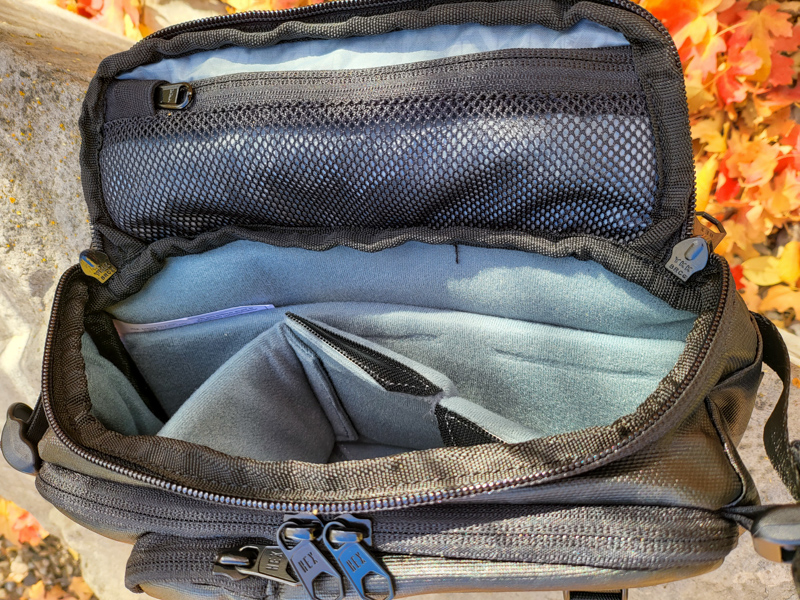 And above is the main compartment. 3 padded squares with Velcro tabs on 3 sides each lends to almost infinite customization for your needs in this main compartment. You can set up several small compartments, or a single very large one, or in my case I set up a diagonal separator for my drone and its controller, shown below. I liked the zippered mesh compartment on the top of this area as well, good for even more storate.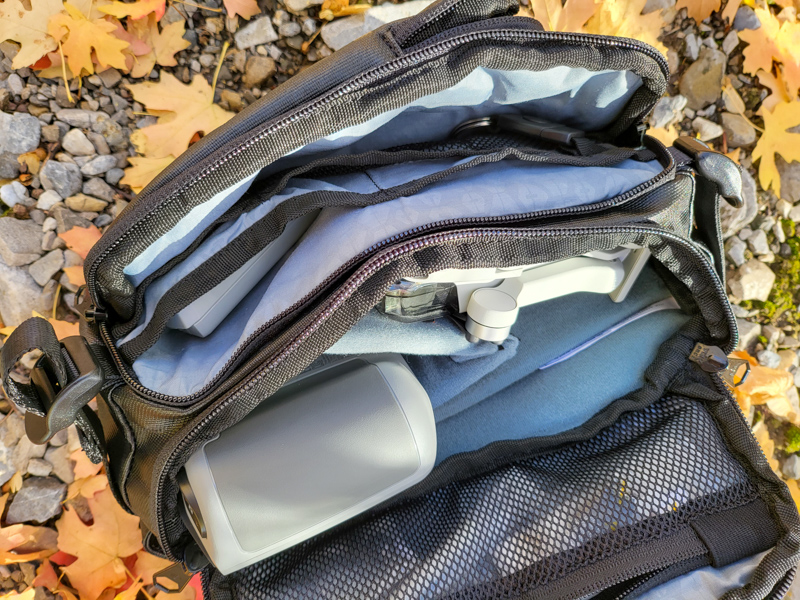 The interior is soft and the padding all around is decent. I wouldn't trust this if dropped to a hard floor, but it can absorb some light bumps fairly well. If there was one thing I'd change on this bag, it would probably be some additional padding to the bottom of the bag. It's better than what I've been using, but you can always use more, right?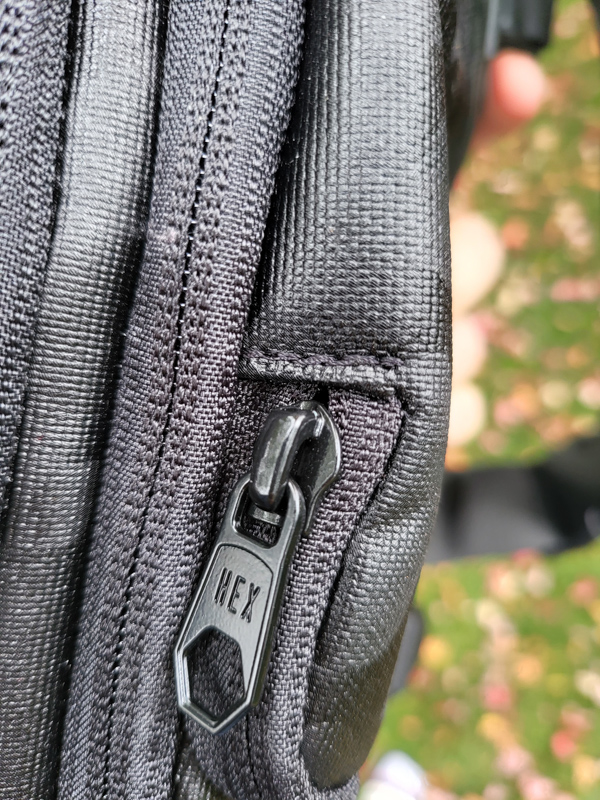 The zippers were all smooth and worked perfectly (as has been my experience with previous YKK zippers). The metal pulls feature Hex branding and you could add leather pulls through their generous holes as well. When zipped closed these look pretty water resistant, you can barely see the zippers themselves.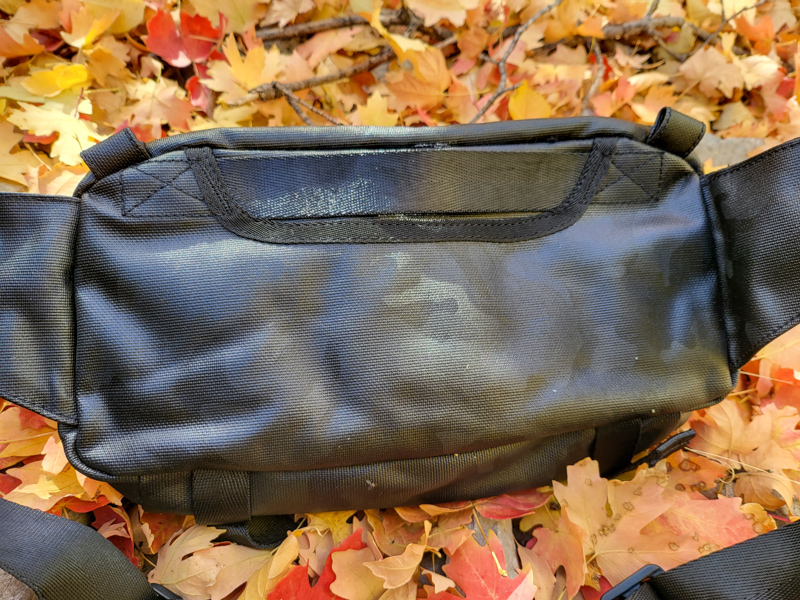 On the backside of the sling is a carry handle, which is very nice for quickly grabbing and moving around. This lays flush when not in use so it doesn't interfere.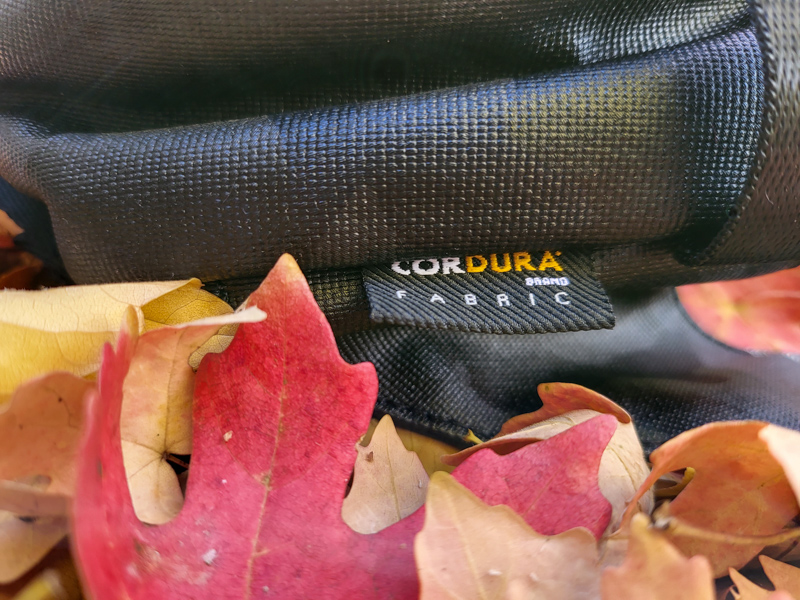 The Cordura fabric used in construction feels rugged and protective. I like that it's water resistant, and the zippers are mostly covered when zipped up, so I would trust it through some drizzle but I'd probably seek shelter in a downpour.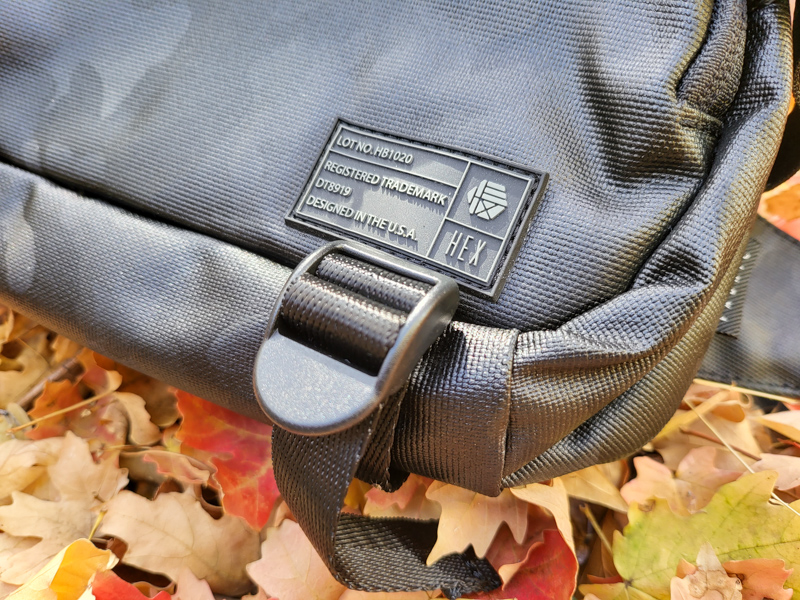 The bottom has a pair of adjustable straps that could be used to hold a tripod, umbrella, or even  a jacket.
What I like
Small size that still offers decent storage
Customizable main compartment and lots of small spots for other gear
Design and build quality were solid
What I'd change
A bit more padding on the bottom wouldn't hurt
I like when water-resistant bags also include a cheap fully waterproof cover for really wet conditions, I would have liked to see this included as well
Sling length wasn't super easy to adjust, this would be nice if it was a quick-adjust style so you could go from waist to sling setup quickly (or shorten them when not using as a sling)
Final thoughts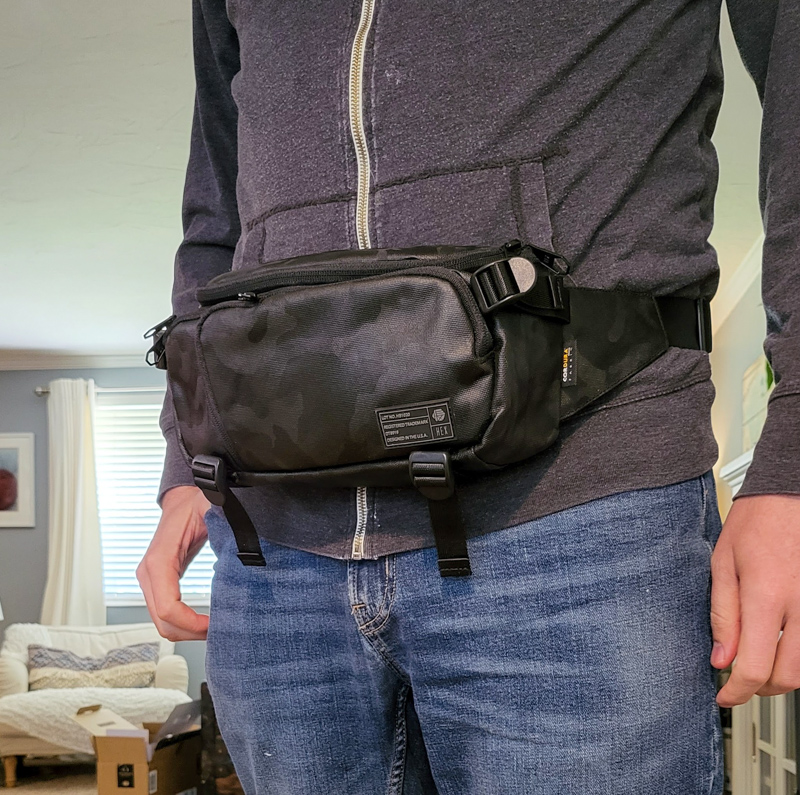 The Hex Ranger Blackout Camo camera mini-sling ended up being a perfect bag to take my small drone on adventures. Worn as a sling while biking or around my waist while hiking, it gives easy access to its contents and decent protection to bumps and rain. I like the muted black camo design, and everything seems built to last. If you're looking for a sling or waist pack for mirrorless cameras or small drones, this might be the one you're looking for!
Price: $69.99
Where to buy: Hex and Amazon
Source: The sample for this review was provided by Hex