We use affiliate links. If you buy something through the links on this page, we may earn a commission at no cost to you. Learn more.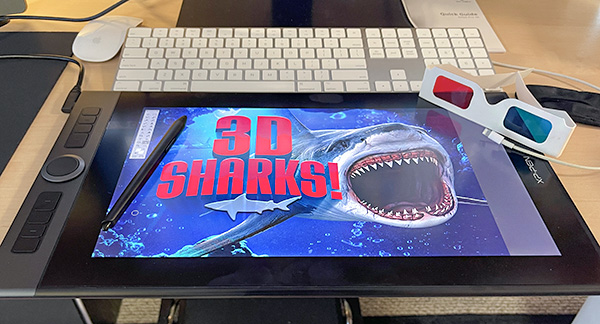 REVIEW – Almost everybody knows what an iPad is. It's become ubiquitous in our tech-centered lives. What almost everybody does not know is that there are tablets out there artists use that aren't iPads at all. In fact, these tablets need to be hard-wired to a computer just to work. A company called XP-Pen makes such a tablet—the Artist Pro 16 Graphic Display. So why would someone choose this tablet that requires a computer over a wireless iPad? Good question.

What is it?
The XP-Pen Artist Pro 16 is a graphics display tablet that allows you to draw on the screen using the XP-Pen stylus (pen) instead of a mouse. Think of it as a monitor you can draw on. The Artist Pro 16 measures 15.5 inches (diagonal). It features software shortcut keys and comes with the necessary cables, a stylus with extra drawing nibs, and a fingerless drawing glove.
It's extremely thin, inexpensive, light-weight, and easy to position on a desk or lap. It connects to either a Windows PC or Mac, allowing you to use any software those computers will run.

What's in the box
Artist Pro 16 tablet
Stylus w/case
Extra stylus nibs
Cleaning cloth
Fingerless glove
3-in-One cord
Specs
Dimensions: 17.5 x 10 x .3 inches
Display area: 13.5 x 7.5 inches
Display resolution: 1920 x 1080
Contrast: 1000:1
Lamination: Yes
Aspect Ratio: 16:9

Design and features
So, if a graphics display lets you "draw" on a monitor, how is that better than an iPad? It's not. The iPad is different than a graphics display in a major way. The iPad is a computer, period. The Artist Pro 16 is not. The iPad uses iOS. The Artist Pro 16 doesn't care what software you use, as long as your computer can use it. If your monitor can see it, the Artist Pro 16 can see it—and you can draw with it.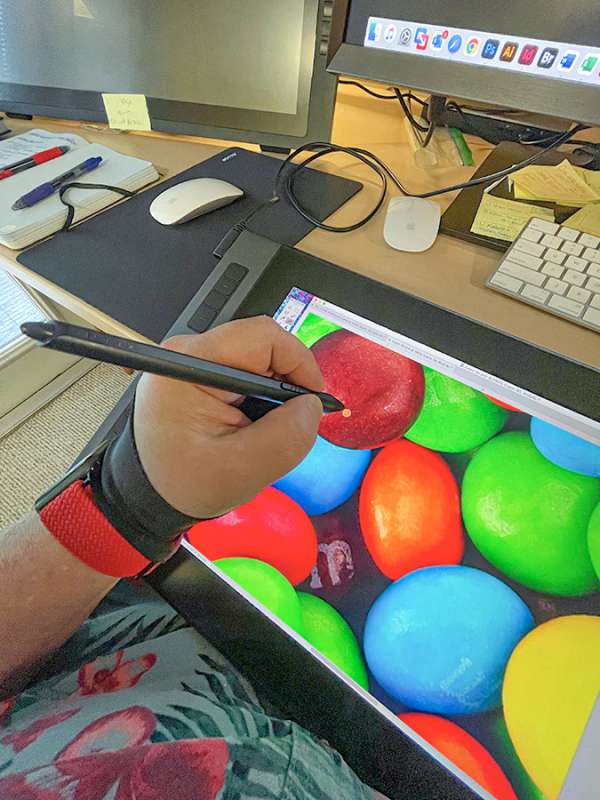 A tablet like the Artist Pro 16 (and others like it) serves an important function. If you use drawing or painting apps—such as Photoshop for instance—you can pick up the stylus and use it as a mouse. And everyone knows how awkward it is to draw using a mouse. In fact, my daily driver tablet is an XP-Pen Artist Pro 24. I love that tablet, despite its quirks, which is why the Artist Pro 16 is so frustrating.
Let's talk about what is good—or great—about the Artist Pro 16. You can't beat the price. Just below $450, the build quality is matched by the quality of the screen and aluminum shell. Its 1920 x 1080 resolution is wonderful. I've reviewed larger tablets at this same resolution and you can see individual pixels—not a great experience. But this same resolution on a 16 in. size tablet is perfect, because the pixels are much, much smaller. Add to that a 99% Adobe color accuracy and—well, you can't beat it.
The screen is laminated, meaning no parallax—meaning that where the stylus tip touches the screen is exactly where you see the corresponding point in the app you're using. You would be surprised how weird it is when you can see a gap between those two points.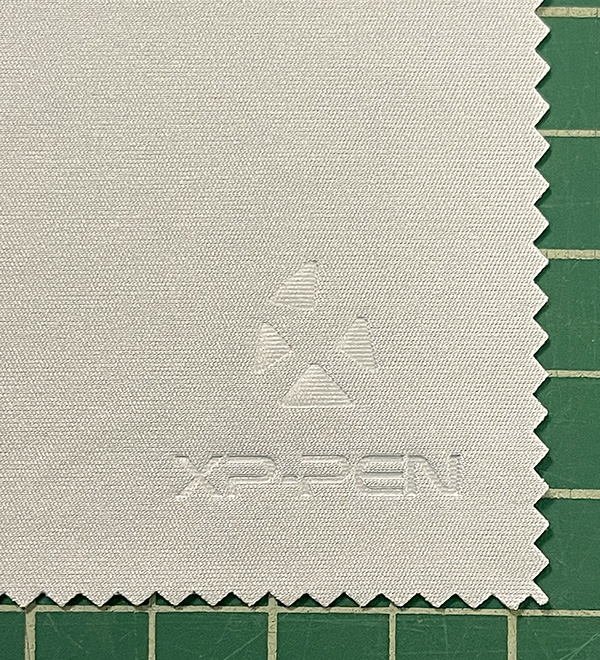 The screen has a matte plastic film protector that can get scratched if you're not careful. Plus, the matte finish can dull the colors a bit. However, without it, you can get severe glare (think iPad), so it's a worthy tradeoff. XP-Pen included a free scratch-free cleaning cloth.
On one side of the Artist Pro 16, sits 8 keys that can perform customized shortcuts, such as keyboard combinations you may use in various apps. Plus there is a built-in scroll wheel that can that can zoom in and out or perform other tricks you set up in the XP-Pen app prefs. These keys can be a real time-saver—except I disable all of them. Having used Photoshop since version 2 or 3, I use my keyboard for all shortcuts. I haven't found any tablet shortcut key that I've liked—on any tablet regardless of price. However, many artists love the shortcut keys which is why most of the better tablets have them. Oh well.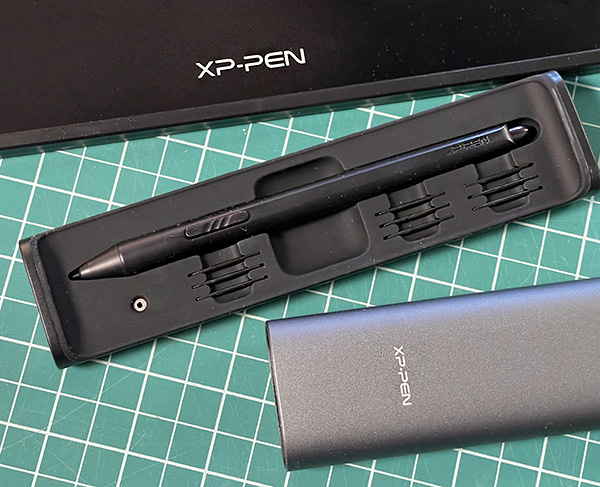 Then there's the X3 Elite Plus stylus (pen). XP-Pen has developed this new stylus from the ground up and it's a winner. XP-pen's other styluses (styli?) are okay, but the X3 Elite has a new chipset that XP-Pen claims will last twice as long as their other pens. They also say that this new chip converts an analog signal into a digital signal reducing interference and more accurate pen strokes. XP-Pen states, "This change increases 10-fold the sensitivity of the initial activation force, so your artwork can be produced with a featherlight stroke." I'm sure these are good things, but since I've never had any issues with their previous pen's accuracy, I can't tell the difference.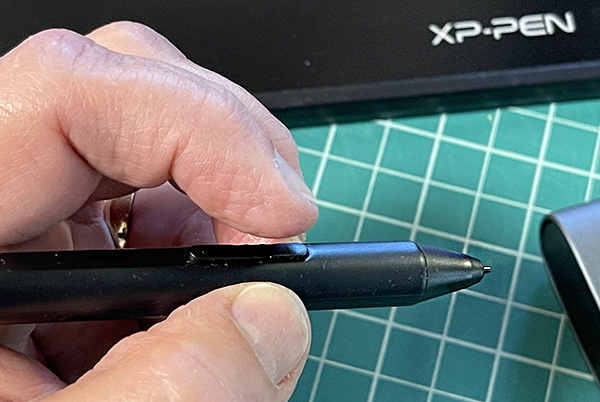 XP-Pen touts that they got rid of any spring mechanism in the tip. Once again, if they hadn't mentioned it, I never would have noticed.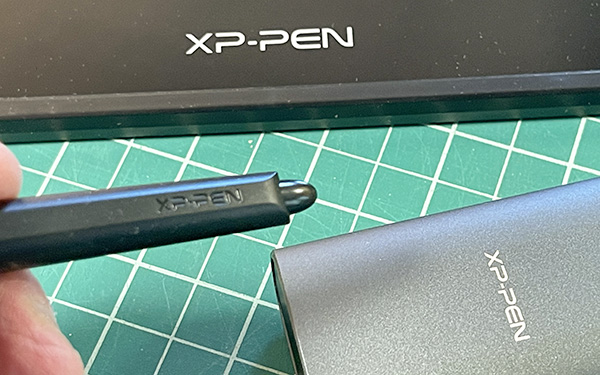 It also has a functional eraser on the other end—a first for XP-Pen. Note that the eraser will only work with supporting apps.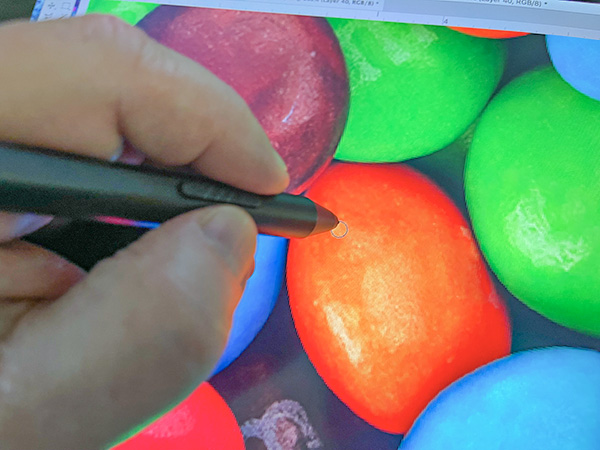 The Stylus is comfortable to hold and use. It has two shortcut buttons on the barrel. I like these because they can imitate a keystroke allowing pop-up windows or other tricks. These buttons are a bit harder to push to activate than XP-Pen's other pens. That's a good thing because the buttons on other XP-Pen pens are too touch-sensitive which causes unwanted actions.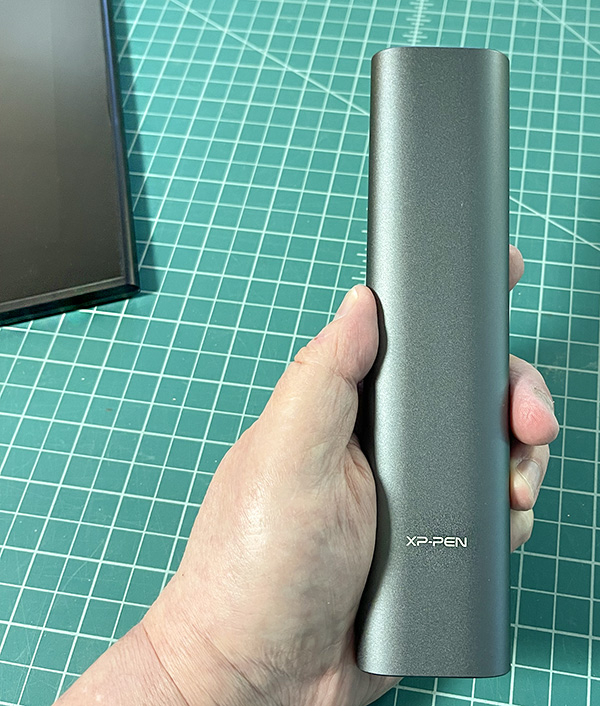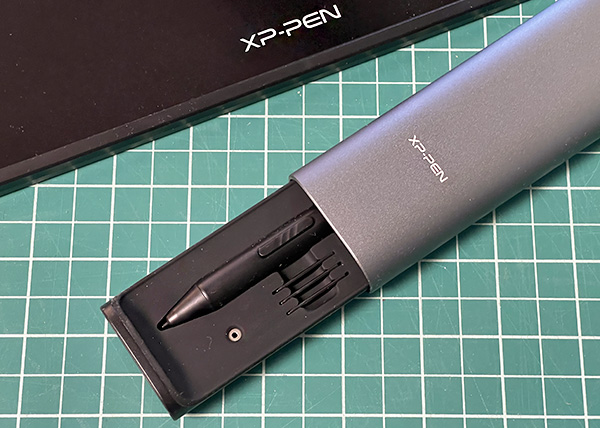 The Stylus comes packaged in a nice case containing six extra replacement nibs—more than you will ever need. The stylus has 8,193 levels of pressure sensitivity (how do they count this?) which means any line you draw on the screen can be any thickness depending on drawing pressure. Again, the software you use has to be compatible. Most drawing and photo apps are. Note that this new stylus does not work with other XP-Pen tablets, like my Artist Pro 24.
Now the not-so-good stuff.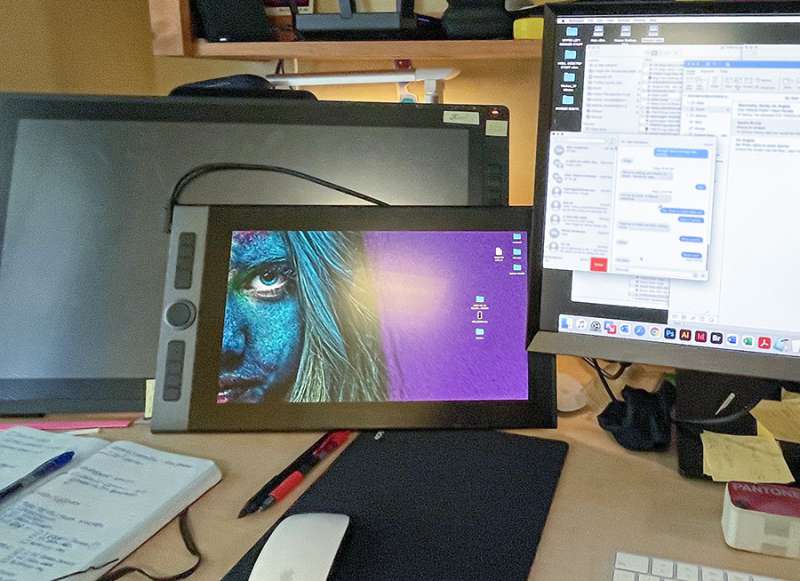 The Artist Pro 16 graphics display has a nice weight distribution that allows easy positioning on a desk or in your lap—but I don't care. What the Artist Pro 16 needs—but does not have—is a stand. Other XP-Pen tablets have stands, so why doesn't this one? If you want to use it as a monitor, you need to prop it up or lean it against something. You can't appreciate how important a stand is until you don't have one. My Artist Pro 24 has an adjustable built-in stand and it's great. It's like XP-Pen can't decide if the Artist Pro16 is a real graphics display or an iPad wannabe—and that's frustrating. Note that you can buy a generic XP-Pen stand, but you shouldn't have to.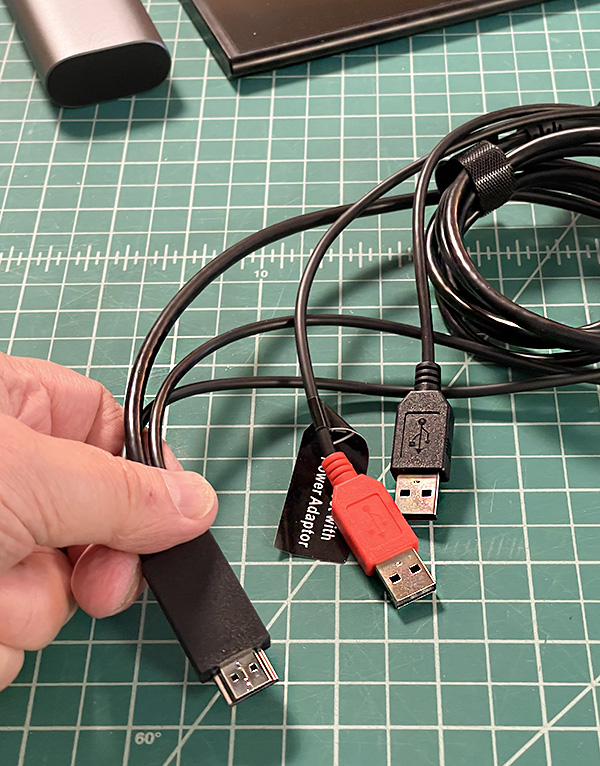 Then there are the cords. Ugh! The Artist Pro 16 has a thick, hard-to-manage cord that splits into three separate cords: USB A power, HDMI, and USB A. The USB A power cord is laughably short—although XP-Pen includes a longer USB extension cable. Since I use a 16 in. MacBook Pro, I wish the HDMI was USB-C. I had to dig out an HDMI to USB-C dongle (it's dongle hell on my desk already).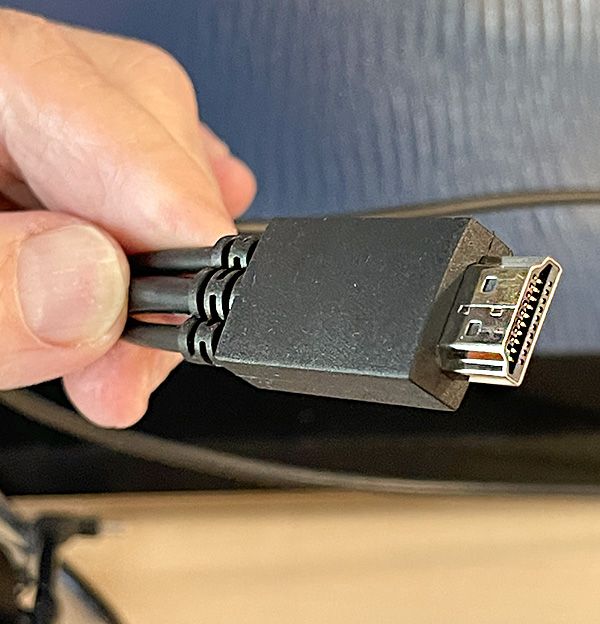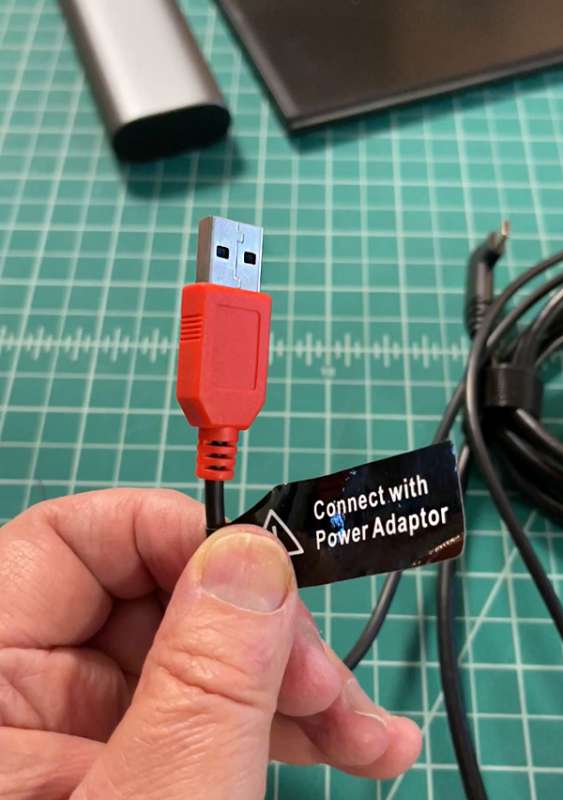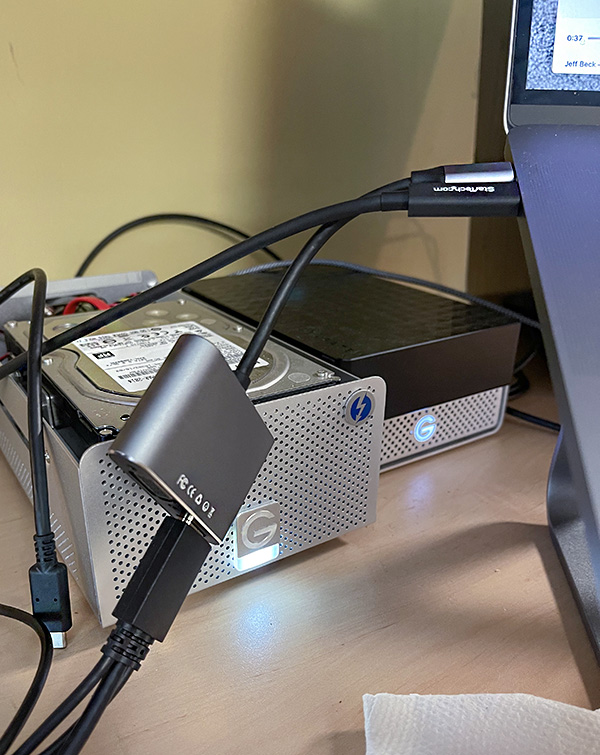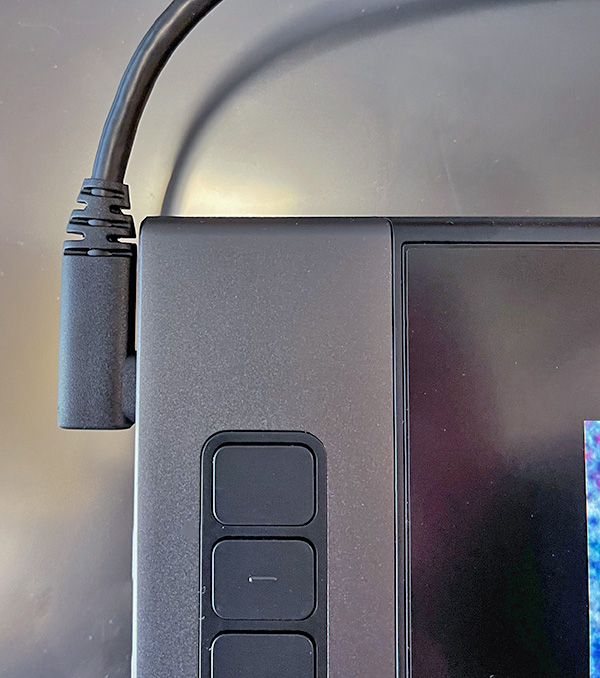 I am left-handed and the wire points up and away from the tablet—on the left side. the power cable plugs next to the shortcut keys, so my hand is constantly resting on the keys. Granted, I turned them off, but if you use the keys, it may drive you bonkers. While the tablet screen image can be flipped so the keys (and power cable) are on the right, the cord is now in the lower right corner pointing down away from your desk and getting in the way of your chair and body. 
I think the Artist Pro 16 is best suited for laptop owners that need a dedicated graphic display they can quickly connect and start to work.  For that use, XP-Pen has hit the nail on the head, especially if you plan to use the tablet like a sketchpad. But for more desk-bound artists/designers like me, there are better alternatives from XP-Pen.

What I like
Great screen
That stylus!
Good weight and ease of use
Express keys (if you want them)
What I'd change
Include a stand
Re-arrange the cord so it's not awkward
Not great for left-handed artists

Final Thoughts
If you're a mobile digital artist and issues like I've described won't bother you, then you will love this tablet. The color is spot-on, the pen is fantastic and the build is as good as it gets. But the cable set-up ruins it for me—a left-hander. If XP-Pen can rethink the cable and include a stand, the Artist Pro 16 could become the tablet to beat for digital artists on a budget.
Price: $449.99 US (often on sale)
Where to buy: XP-Pen store and Amazon
Source: The sample of this product was provided by XP-Pen.