We use affiliate links. If you buy something through the links on this page, we may earn a commission at no cost to you. Learn more.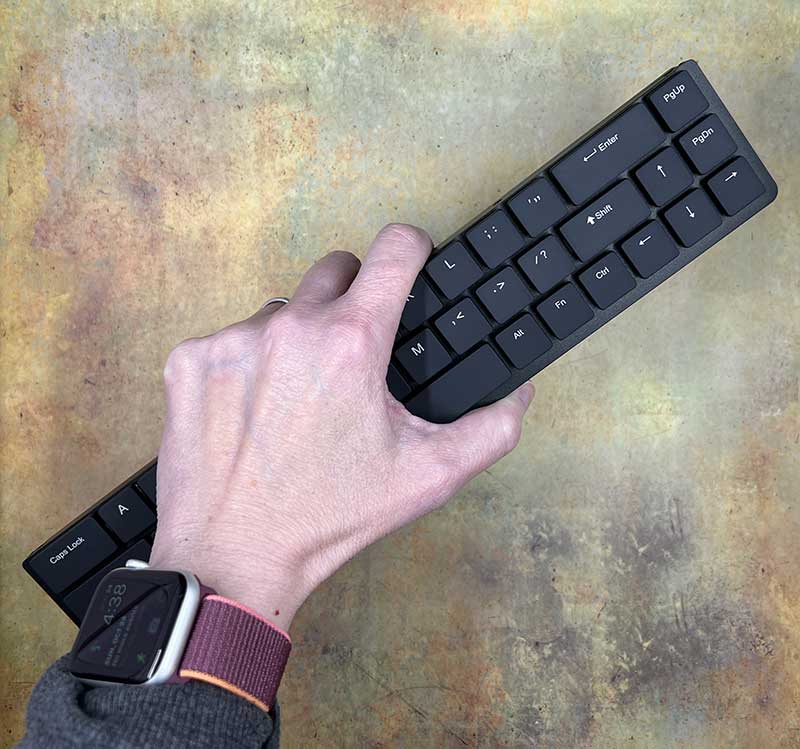 REVIEW – Mechanical keyboards are popular with geeks because they can be customized with a variety of switches and keycaps. But have you ever seen a mechanical keyboard that can fold? Well, you will today because I'm going to tell you about the RK ROYAL KLUDGE RK925 folding mechanical keyboard. Let's crack our knuckles and start typing.
What is it?
The RK ROYAL KLUDGE RK925 is a foldable wireless (or wired) mechanical keyboard with an unfortunate name. Someone needs to tell them that "kludge" means: an ill-assorted collection of parts assembled to fulfill a particular purpose. That's not exactly a flattering word to use as their company name.
What's in the box?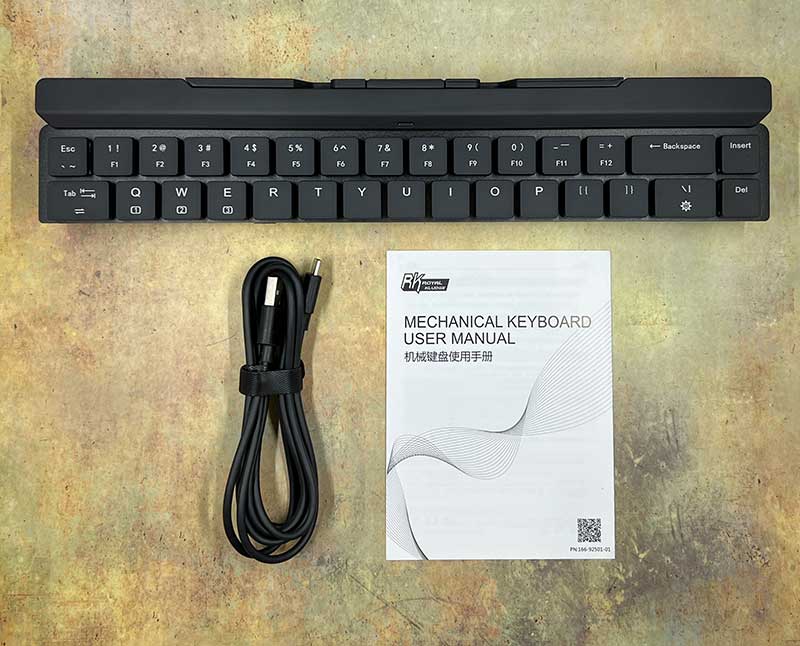 RK folding keyboard
USB-C cable
User manual
Design and features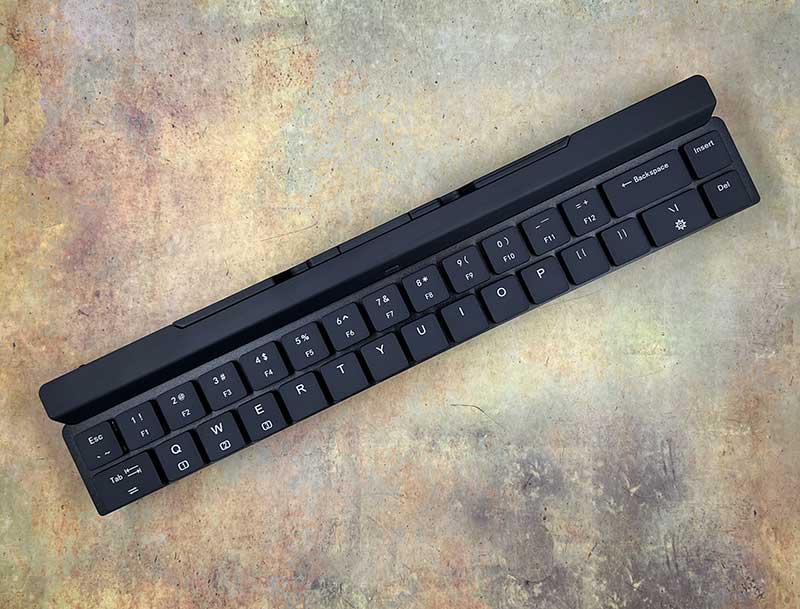 Hey, what happened to the rest of the keys? 😉 The RK ROYAL KLUDGE RK925 folding mechanical keyboard folds in half for the ease of portability and even storage when it's not in use.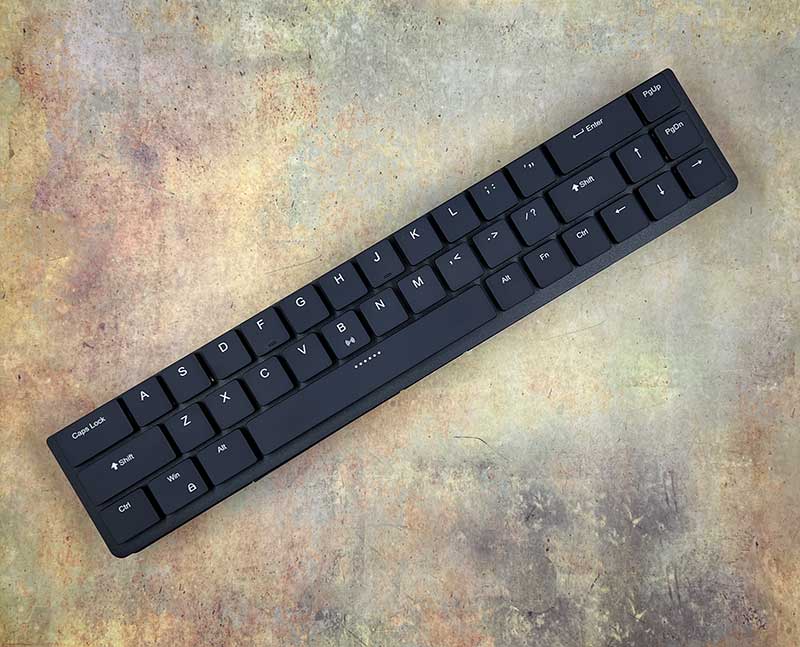 Although not the same, this brings back fond memories of the Stowaway folding keyboard for the Palm Pilot that I reviewed over 20 years ago. Yes, folks, The Gadgeteer has been around a LONG time.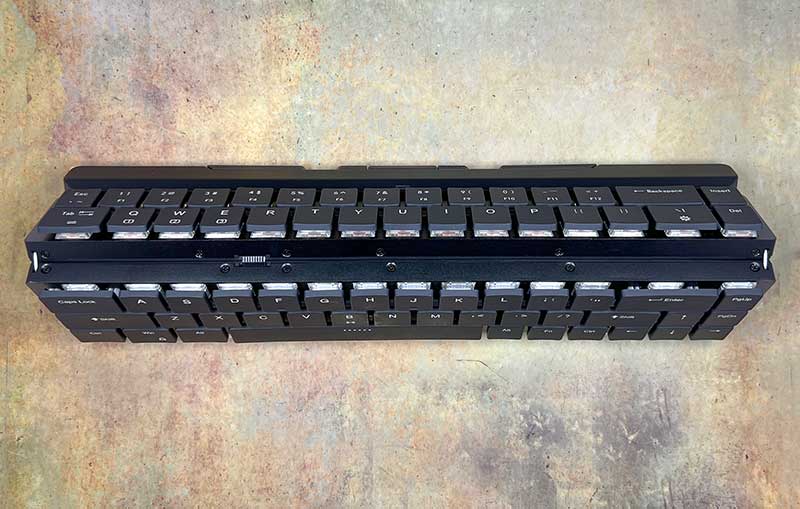 Instead of folding in half vertically like the Stowaway, the RK ROYAL KLUDGE RK925 folding mechanical keyboard folds horizontally.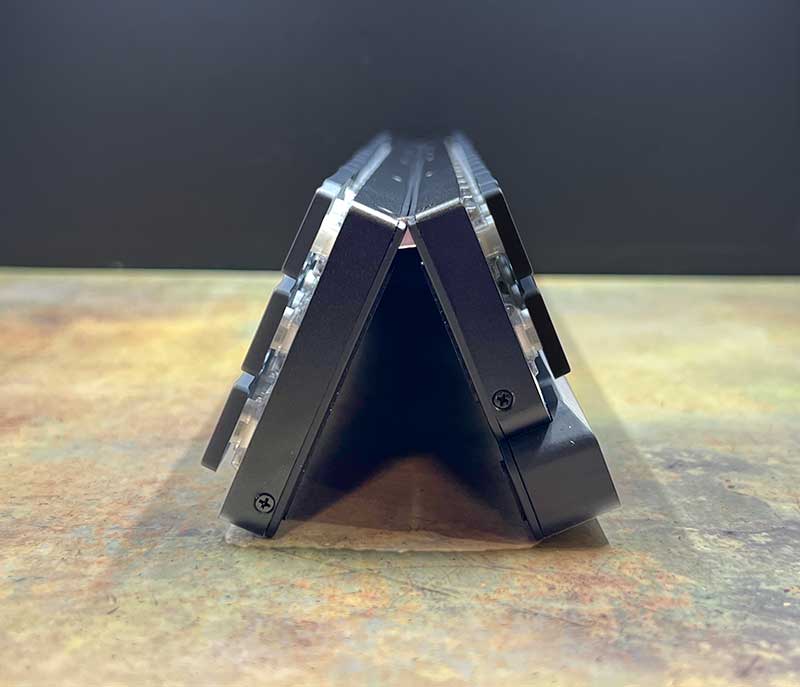 There isn't a lock to keep the keyboard securely closed while it's folded, but a velvet pouch is included with the keyboard so that you can travel with it in the folded form.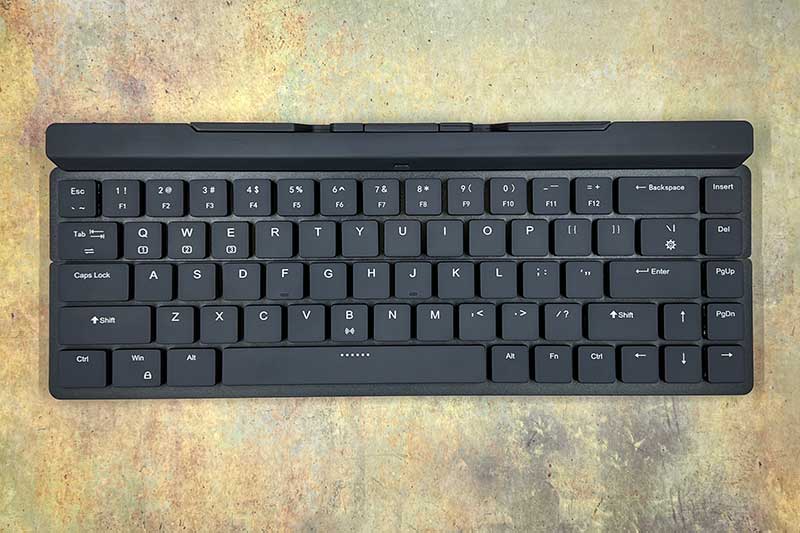 This is folding keyboard features 68 low-profile mechanical backlit keys.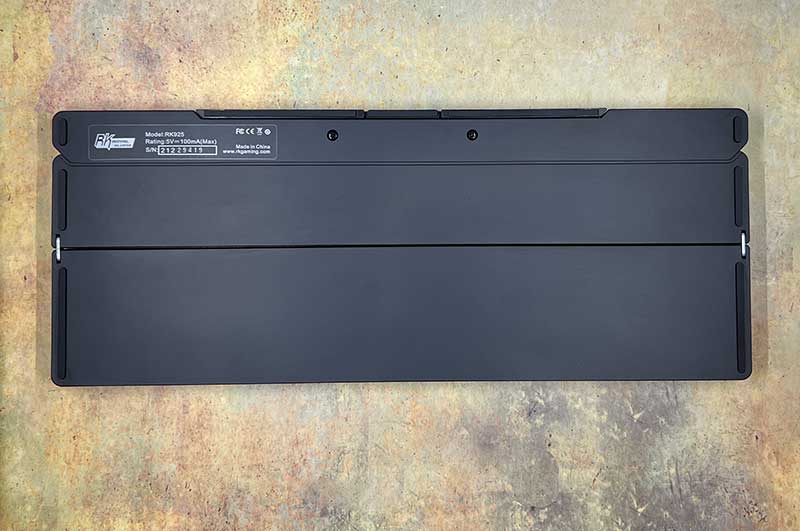 The x has a reinforced aluminum chassis that keeps everything relatively lightweight.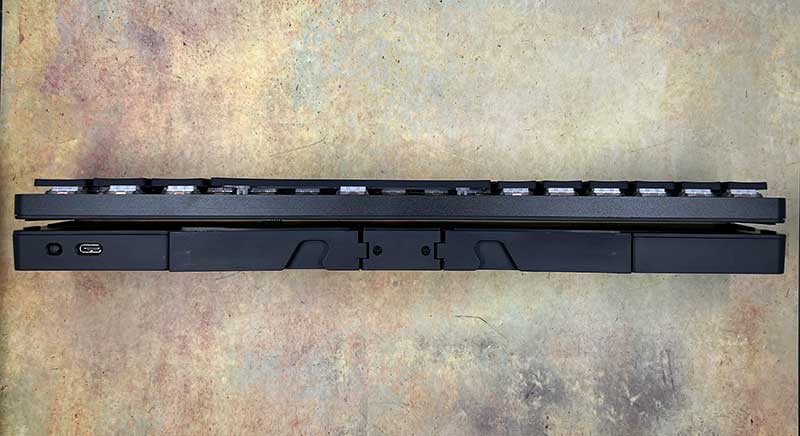 Along the top edge are the power switch, USB-C charging or connectivity connector, and a foldout phone/tablet holder.
The RK ROYAL KLUDGE RK925 folding mechanical keyboard can be paired with up to 3 devices using Bluetooth 5.1 and it can also be tethered to a device using a USB-C cable.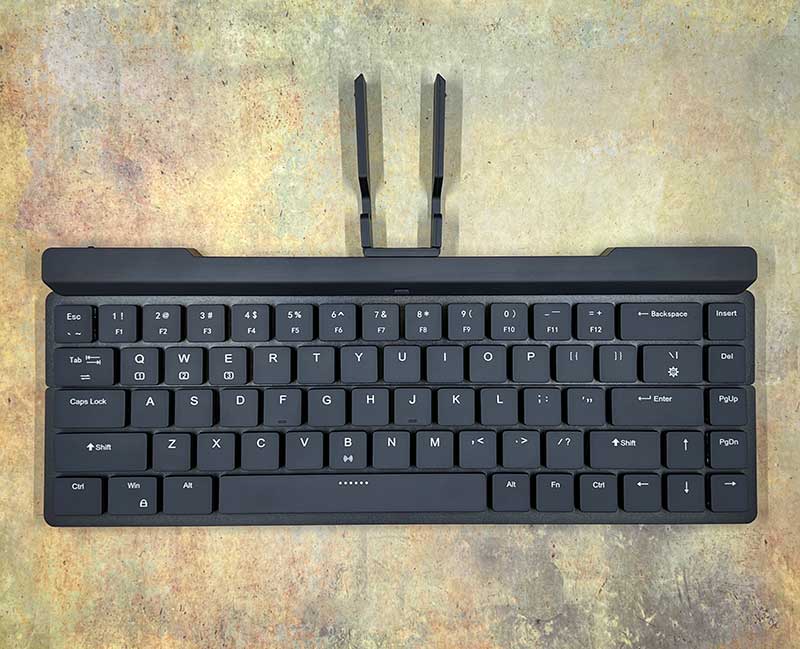 The fold out stand is super convenient if you want to use this keyboard with a smartphone.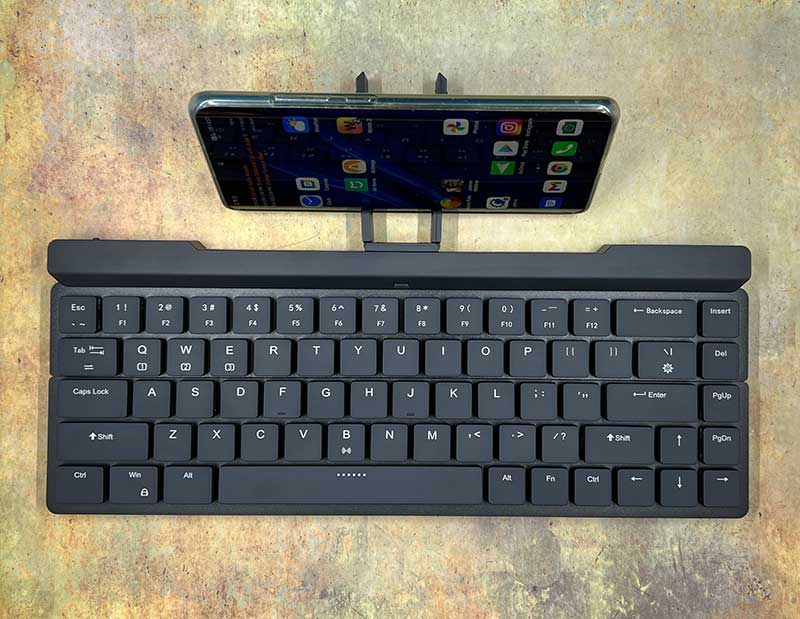 It works fine in both landscape and portrait orientations and cases aren't a problem – depending on how thick the case is of course.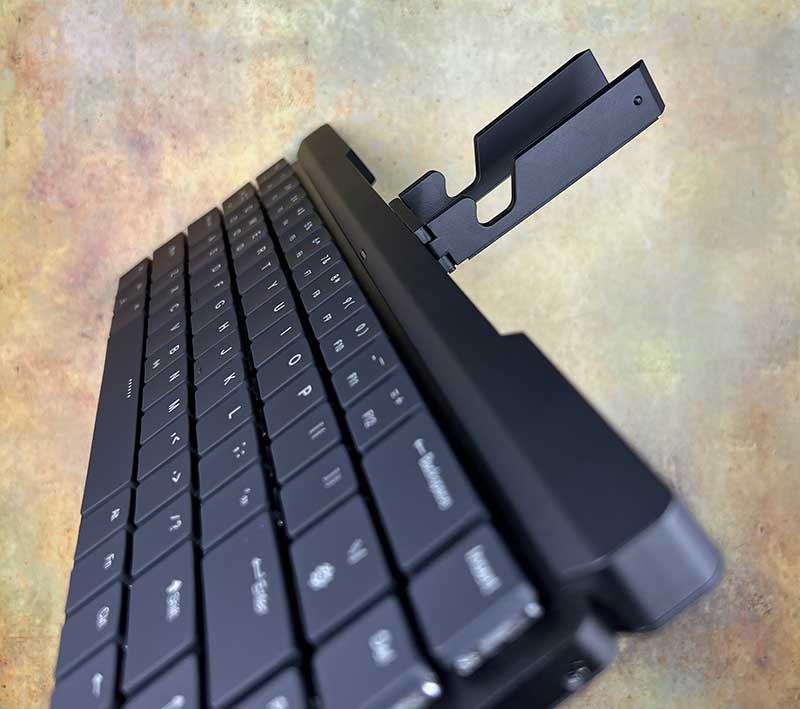 I even tested it with an 11 inch iPad Pro. The stand held the iPad but it didn't feel very secure so be aware of that when using this keyboard with a tablet.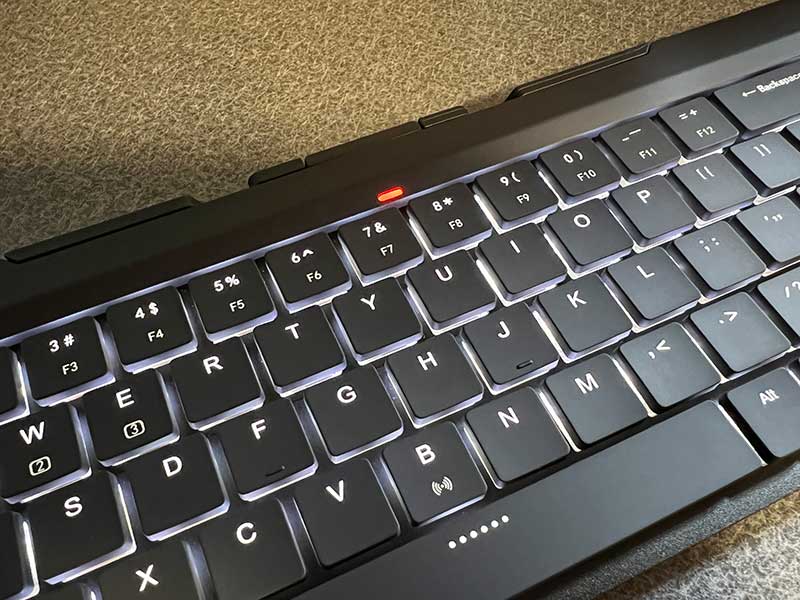 This keyboard uses low profile white switches that have a 12mm height and a 1.4mm distance to actuation.
The double shot ABS keycaps have a very shallow concave shape but they are full-size keys allowing typing to feel roomy and comfortable.  Being a mechanical keyboard, typing on it results in a pleasant clickity clackity. I found the volume of the clicking and clacking to be fine for my ears but if you work in a quiet office, you might bother others.
The backlight is bright but not too bright. It can be completely turned off or you can switch it to a 'breathing' mode where it will fade in and out.
Wireless or wired
As already mentioned, you can use the RK ROYAL KLUDGE RK925 folding mechanical keyboard wirelessly or wired. It has a 600mAh battery that will give you up to 200 hours of nonstop typing with the backlight off and is fully recharged in 2-3 hours.
Note that this keyboard seems to automatically time out and go into power savings mode after about a minute. So if you come back to your desk and start typing, you might lose a stroke or two before you notice.
See it and hear it in action
I tested this keyboard with my iPhone, an Android phone, and my MacBook Pro. It worked great with all of them except that I could not use special key combos with the MacBook due to this keyboard not having a Mac mode with OPTION and CMD keys. It worked fine with the MB until I needed to use keyboard shortcuts to cut/paste or in Photoshop. It is possible remap the keys by going into the keyboard prefs in settings, but that's a bit messy.
What I like
Folding is handy for travel
Nice typing experience
What I'd change
Final thoughts
I get tired of reviewing the same types of products over and over again, so it's always fun when a standard product levels up with a new feature like a mechanical keyboard that can fold in half. The RK ROYAL KLUDGE RK925 folding mechanical keyboard is a well-made mechanical keyboard that's both affordable and portable. If you'd like to be able to take your mechanical keyboard with you in a smaller form factor, you should check this one out.
Price: $74.99
Where to buy: Amazon
Source: The sample for this review was provided by RK Royal Kludge.