We use affiliate links. If you buy something through the links on this page, we may earn a commission at no cost to you. Learn more.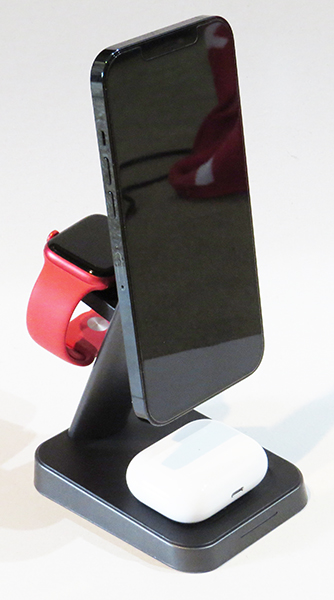 REVIEW – I have barely taken advantage of the wireless charging trend, the exception being in the car, but recently I picked up my third wireless device; the AirPods Pro. Shortly after, the Acefast E3 Fast wireless charging desktop holder came along, and it was perfect for my trio of wireless devices.
What is it?
The Acefast E3 Fast wireless charging desktop holder is a charging station for not just your iPhone, but Apple Watch and wireless earbuds as well.
Hardware specs
2.5W for Apple Watch charging
5W for wireless earbuds
5W / 7.5W / 10W / 15W for iPhone 12/13

What's in the box?
Wireless charging stand
USB-C charging cable
User manual
Design and features
Since this is plug and play, I plugged it directly into my alarm clock on my nightstand. While that worked just fine, it charged my items slowly, which is to be expected with a 5 year old alarm clock. Once I plugged it into a real charging brick, it charged my phone up like expected. Even better, when I plugged it into the fast charging brick I had conveniently forgotten existed, it charged fast as advertised.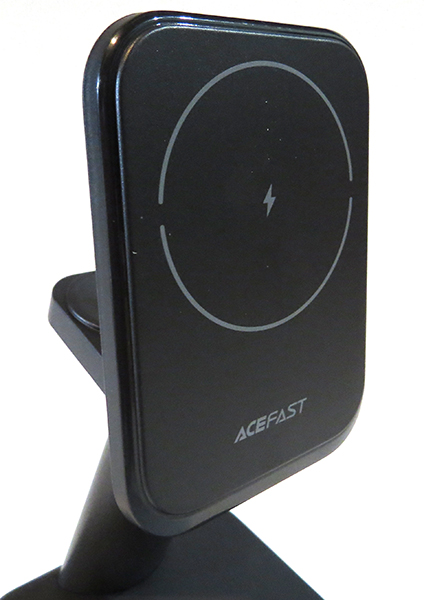 There are three indicator lights in a row at the bottom of the stand. Depending on if something is being charged or not, they are either green or blue. If you plan to use this in your bedroom as I did, then you'll probably want to put some tape over the lights, as they are very bright!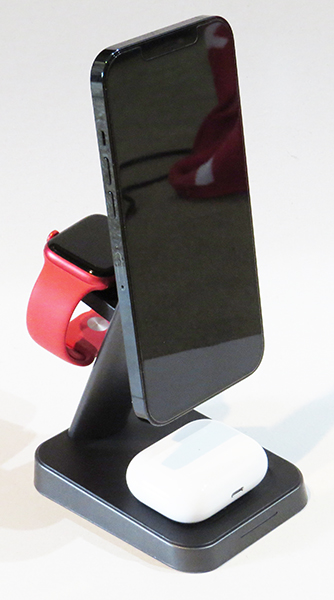 Attaching the phone to the charger took some getting used to, but man, once that phone was attached, it stuck firmly. It worked very well with the MagSafe case that I have, though with a regular case, it would barely stick. With no case, it worked just as expected. Like I mentioned above, it charged quite quickly with the fast charging, even with other items charging with it.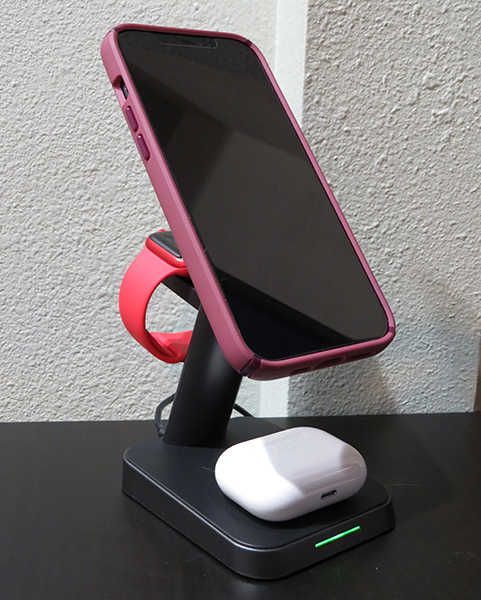 I could mount my phone vertically or horizontally on the charger. Usually, I kept it vertically, but when I wanted to watch videos, I would turn it horizontal. I really like that it was solidly attached to the charger regardless of position.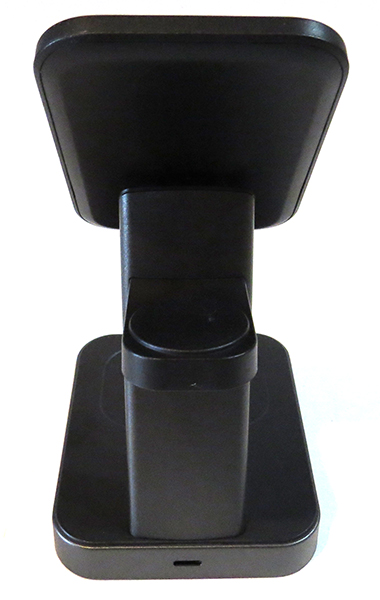 My Apple Watch was very easy to toss onto the charger, and I had no problem with it getting too warm. I felt my old charging stand for it was a little warm for my liking, but this one keeps it cool with ventilation under the charger. Every morning it was charged up and ready to go.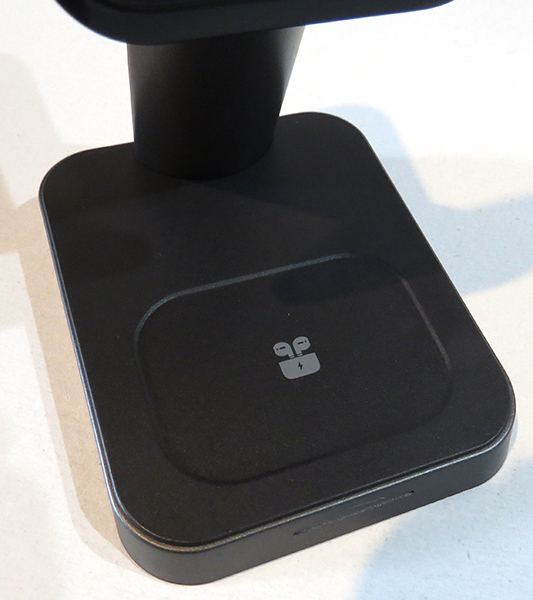 The bottom area that is meant for wireless earbuds actually can double as a second charger for a phone if needed. I sat my phone on it and it started charging like a flat charging mat. What made it very useful for my AirPods was that it is indented slightly in the shape of the case. It kept them from being knocked off of the charger as easily. I have a silicone covering over my case as well and it did not have any issues charging through it.
A bonus addition to this review: I was in the middle of moving cross country while writing this review. I stayed in five different locations and pulled this out and tossed it back in my suitcase multiple times. It held up flawlessly and was extremely useful to keep my devices charged up and handy. While I normally wouldn't travel with an item like this, the timing made it necessary, and it held up!
What I like
MagSafe works flawlessly
Can charge second phone where earbud charging area is
Charges quickly (when you have the fast charging brick)
What needs to be improved
The indicator light is extremely bright
Doesn't come with charging brick
Final thoughts
Overall, the Acefast E3 Fast wireless charging desktop holder worked very well to keep my devices topped up and ready to go. The lack of charging brick is not the end of the world, but a fast charging brick would allow people to take advantage of the fast charging advertised in the name. Lastly, I loved to use this as a stand for my phone on my nightstand, but I had to cover the light on the front because it was so bright in a dark room. Easily fixed though, and nothing about the Acefast E3 was a deal breaker. I really thought it was a solid device and would recommend it for folks looking for an all-in-one wireless charging stand.
Price: $46.99
Where to buy: Amazon
Source: The sample of this product was provided by Acefast.