We use affiliate links. If you buy something through the links on this page, we may earn a commission at no cost to you. Learn more.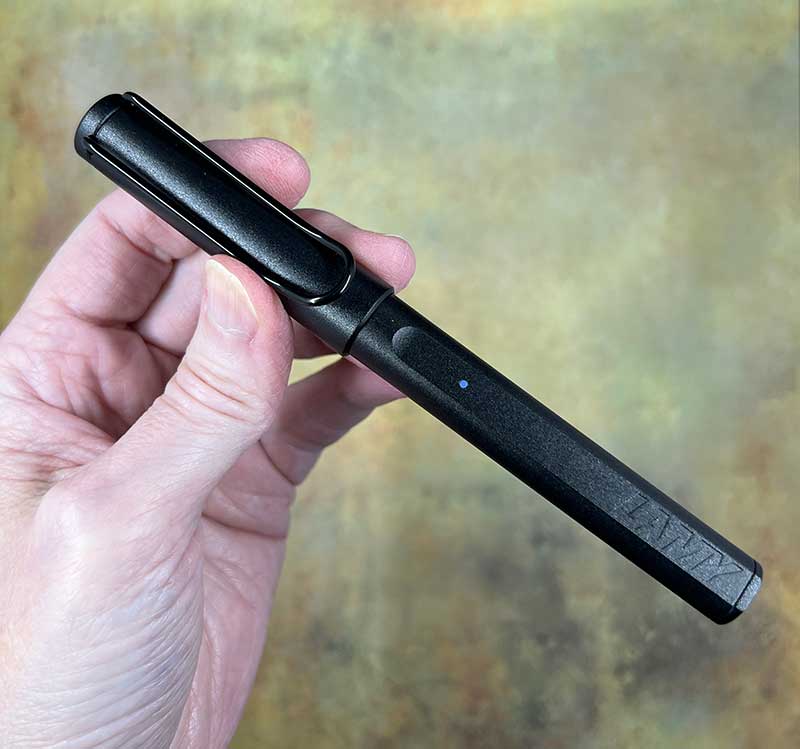 REVIEW – I enjoy keeping a paper journal, notebook, diary, log, whatever you want to call it. I use one every day to write down 3-4 tasks that I want to accomplish because I've found that writing them on paper and checking them off as I finish them, actually makes me more productive than putting them in an app. That's because I have my notebook open right next to me all day so I can see it. While I love keeping a journal, there are two reasons why switching to a digital journal is always on my mind – archiving and searching. The NeoLAB LAMY Safari all black ncode smartpen is a potential solution to that issue. Let's check it out.
What is it?
The NeoLAB LAMY Safari all black ncode smartpen (yikes, that's a long name for a product) is an analog ballpoint pen with digital pen superpowers when paired with an Ncode notebook. I'll explain more about Ncode later.
What's in the box?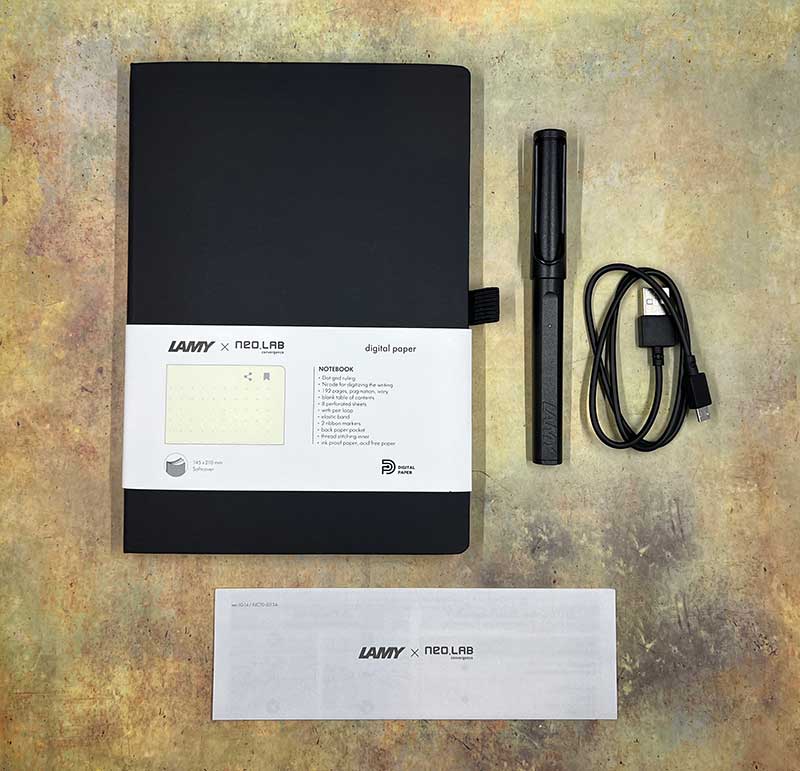 NeoLAB LAMY Safari all black ncode smartpen
micro USB charging cable
Ncode digital notebook
Manual
Design and features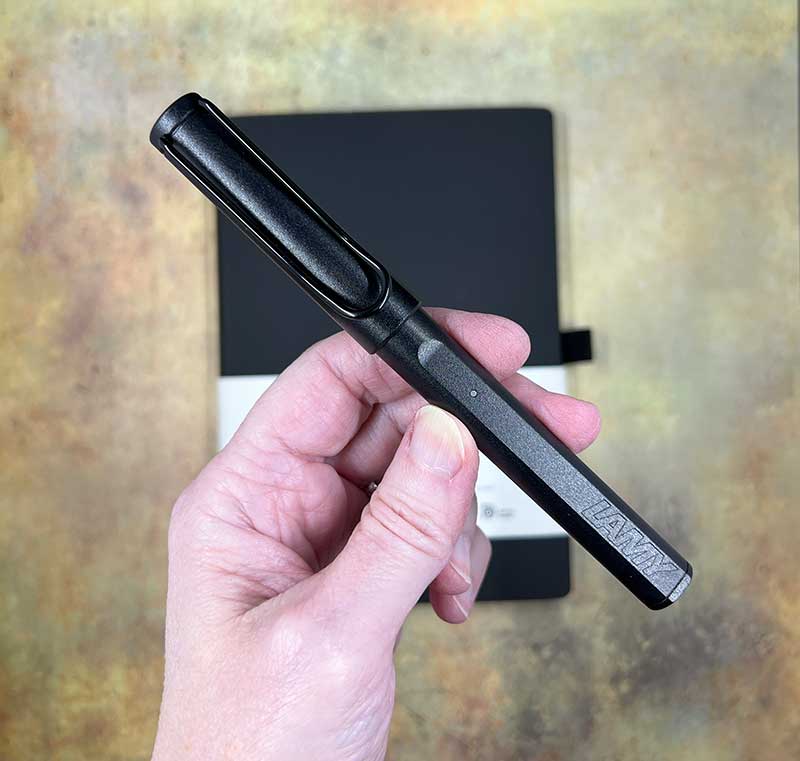 If you're into pens, you'll already be familiar with LAMY who are well known for their fountain pens. But the NeoLAB LAMY Safari all black ncode smartpen is NOT a fountain pen so don't be disappointed by that fact. It does feature a removable cap with LAMY's standard pocket clip.
One indication that this is not a totally analog pen is the status LED on the barrel that glows blue while the pen is powered on, green when connected to the Neo Studio app, and red when the battery is low.
This is a ballpoint pen that uses standard D1 style ink refills that you can find on Amazon. If you click the image above on the left, you'll notice a small window below the writing tip. This is the built-in camera that digitizes your writing in real-time and works with the Neo Studio app on your iOS or Android device to record what you're writing as you write it in a special Ncode paper notebook.
If this looks a little familiar, you might be remembering the Neo Smartpen M1 that I reviewed a few years ago. The NeoLAB LAMY Safari all black ncode smartpen / system is basically the same thing except that the pen looks like and is branded like a regular LAMY Safari pen minus a fountain pen nib.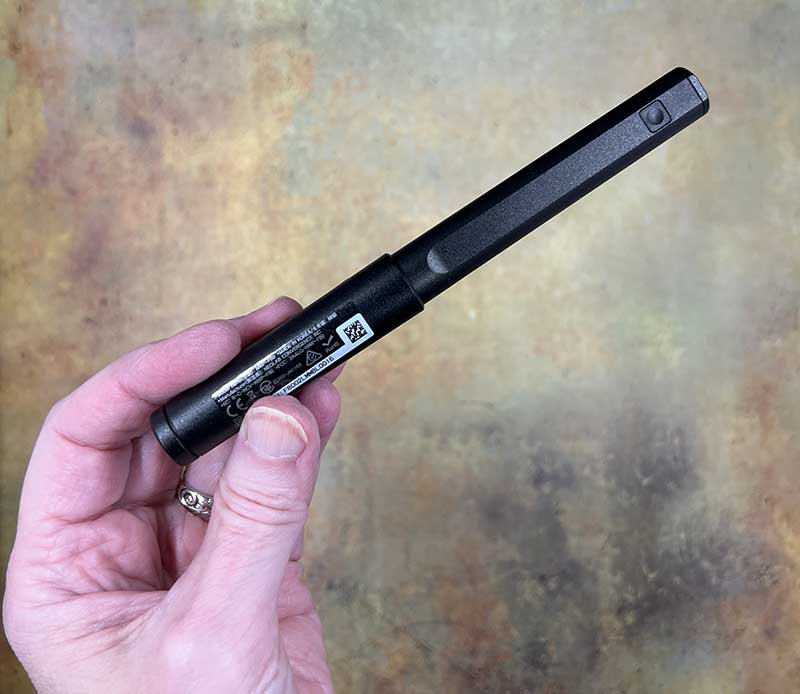 The LAMY pen has a power button on the barrel that you really only need to press once when you're initially setting up the pen.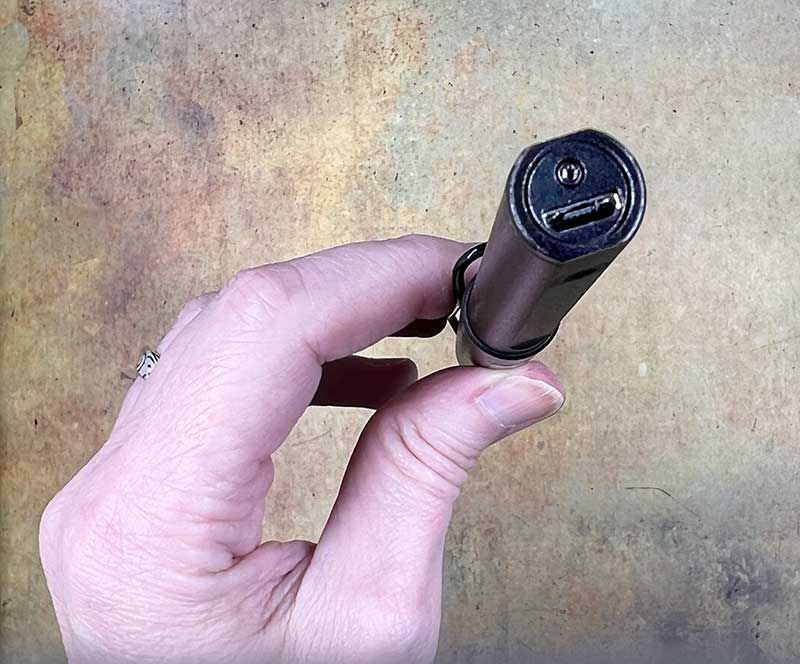 With power comes the task of recharging the internal batteries. This is done through the micro USB port on the bottom of the barrel.
Ncode notebooks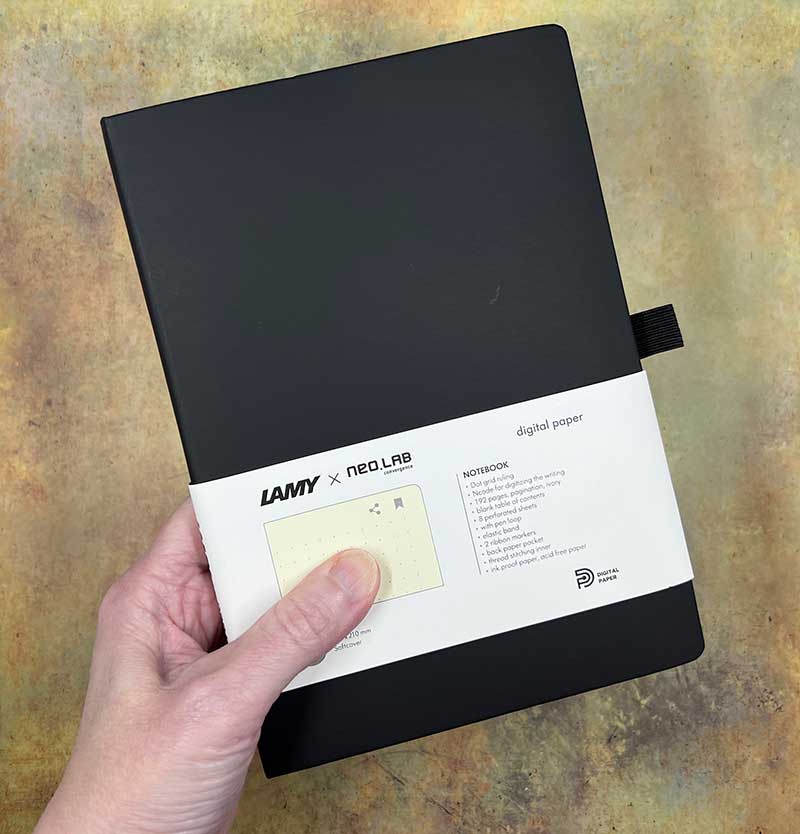 This smartpen has to be used with special paper/notebooks if you want your writing to be digitized. At first glance, these notebooks may look no different than other paper journals. They come in different styles with hard or soft covers, spiral or hardbound, etc. Neo also offers PDFs that you can use to print your own pages for free. You can see all the pages here.
The NeoLAB LAMY Safari all black ncode smartpen bundle includes the 192 page A5-sized notebook that you see above.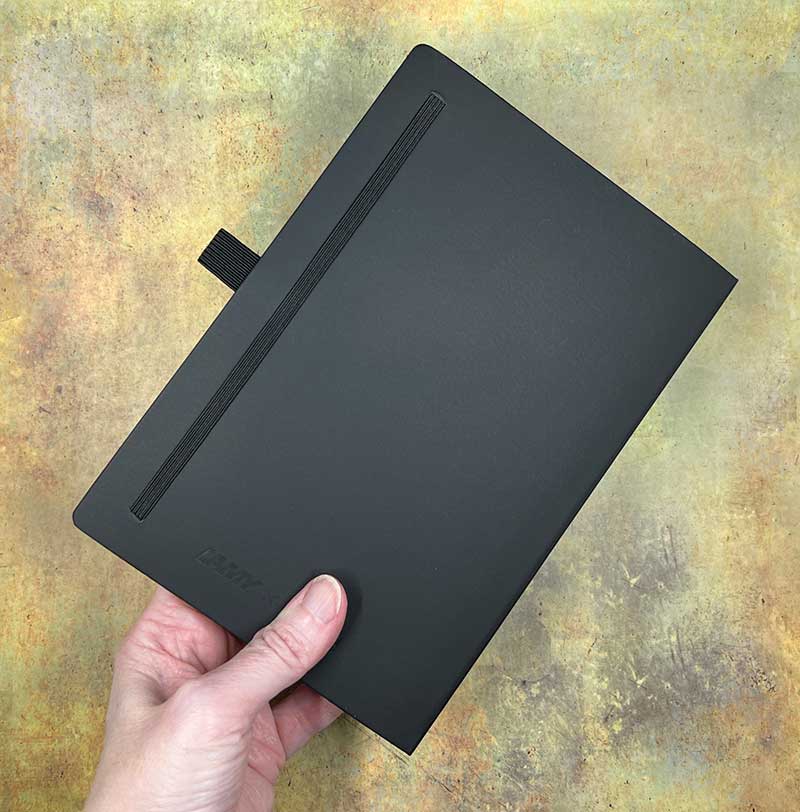 This notebook features an elastic pen loop, and an elastic closure strap.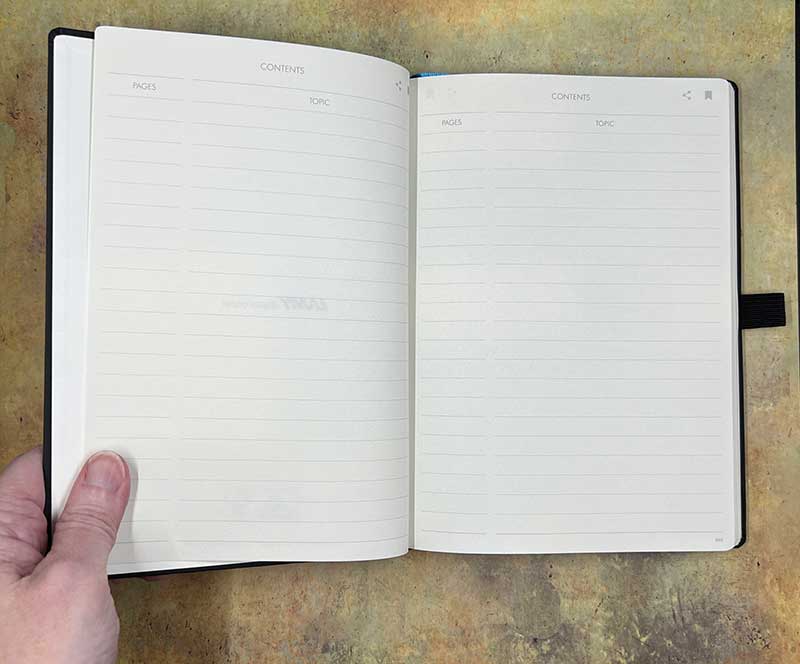 Inside the notebook, you'll find two contents pages at the front.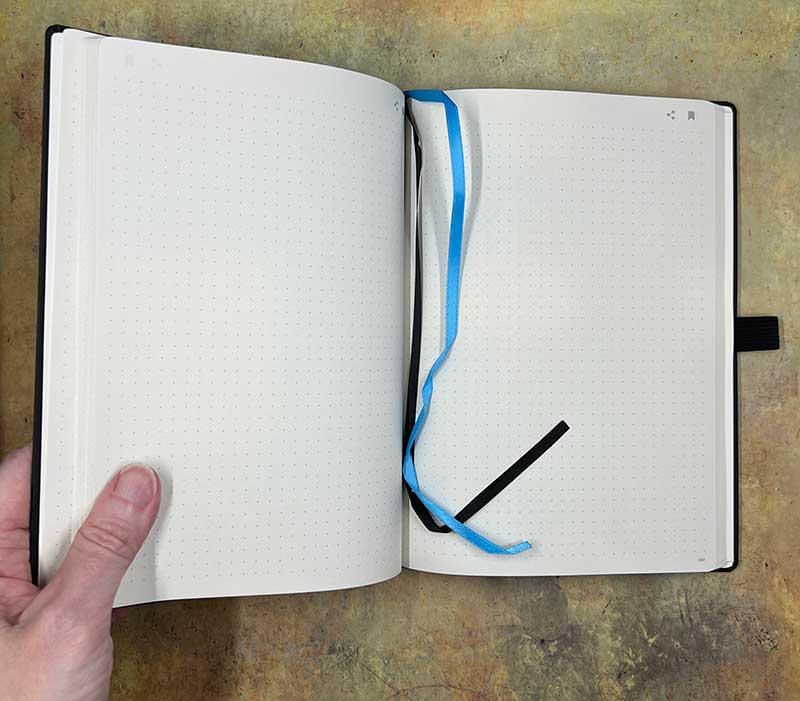 And there are also 2 bookmarks.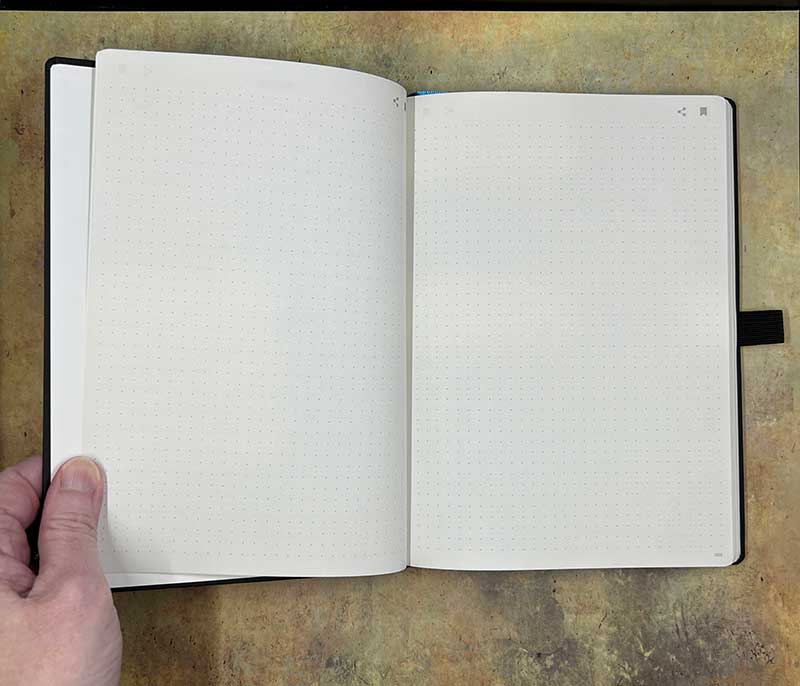 The Ncode notebook included with the LAMY pen has dot grid style paper with page numbers at the bottom and special sharing and bookmark icons at the top. But when you look much closer at the paper…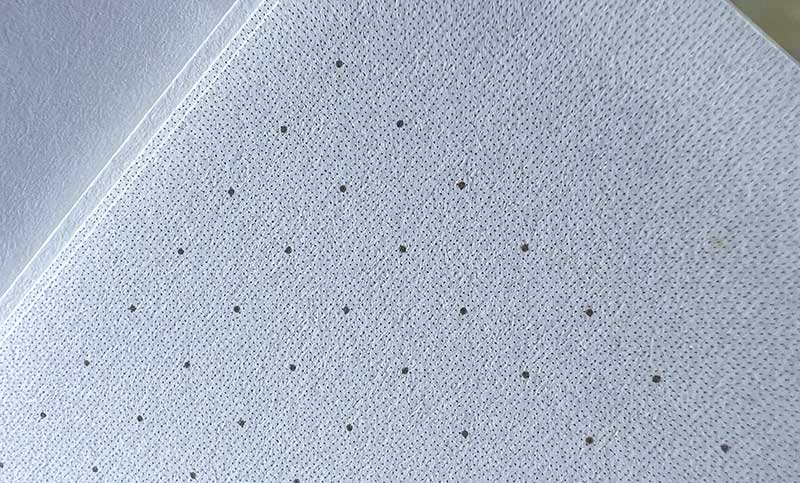 You can see even tinier dots in addition to the grid dots. These smaller dots allowed the pen and app to digitize your writing.
Neo Studio app
The app that is used with the NeoLAB LAMY Safari all black ncode smartpen is called NEO Studio and it's a free download from the app store. Once installed, it will detect the LAMY pen and the Ncode notebook. As you write in the notebook, it keeps track of the pages.
You can even change the ink color in the app so that different portions of what you're writing in the physical notebook appear differently in the app.
You can export your notes in the app to PDF, PNG, etc. And you can also add tags and watch a replay of your writing which is kind of fun to do for doodles more than writing in my opinion.
Another cool feature is the ability to convert your handwriting to text. The results aren't 100% accurate but they are pretty impressive considering my hybrid printing/cursive style as you can see above. The app even converts smiley faces. Note that any drawings on a page are converted to nonsense text which shouldn't be a surprise.
You can also search for words in the NEO Suite app and it will show the pages that contain those words which is awesome for finding info within journals.
See it in action
The real-time writing from physical to digital is cool and is only slightly laggy.
Battery Life
According to NeoLAB, the pen should work for up to 11 hours of note-taking. In the NEO Suite app, you can customize the settings to turn off the pen after inactivity to help save the battery.
What I like
Ability to sync and share what you physically write on paper to your phone/tablet and other sites
Searching, archiving, translating features
Looks and feels like a regular pen
What I'd change
Include extra D1 ink refills
Lower the price of the Ncode notebooks
Final thoughts
The NeoLAB LAMY Safari all black ncode smartpen is an interesting solution for fans of LAMY pens who would like a way to turn their notes into digital format. The pen is well made but if you're a pen snob, you might not like the fact that writing with a ballpoint pen isn't a smooth as writing with gel pens and fountain pens. There's also the fact that they don't even include 1 extra refill which I think is super cheap on their part. Speaking of money, a replacement LAMY notebook is $27. Ouch. But, you can buy other Ncode non-LAMY branded notebooks starting at $15 and you can print your own Ncode paper for free. And if the LAMY look and brand isn't special to you, then you can get the NeoLAB M1+ smartpen which is $40 less than the NeoLAB LAMY Safari all black ncode smartpen. It's good to have options right?
Price: $169.00 (Bundle with pen and notebook)
Where to buy: Neolab
Source: The sample for this review was provided by Neolab.