We use affiliate links. If you buy something through the links on this page, we may earn a commission at no cost to you. Learn more.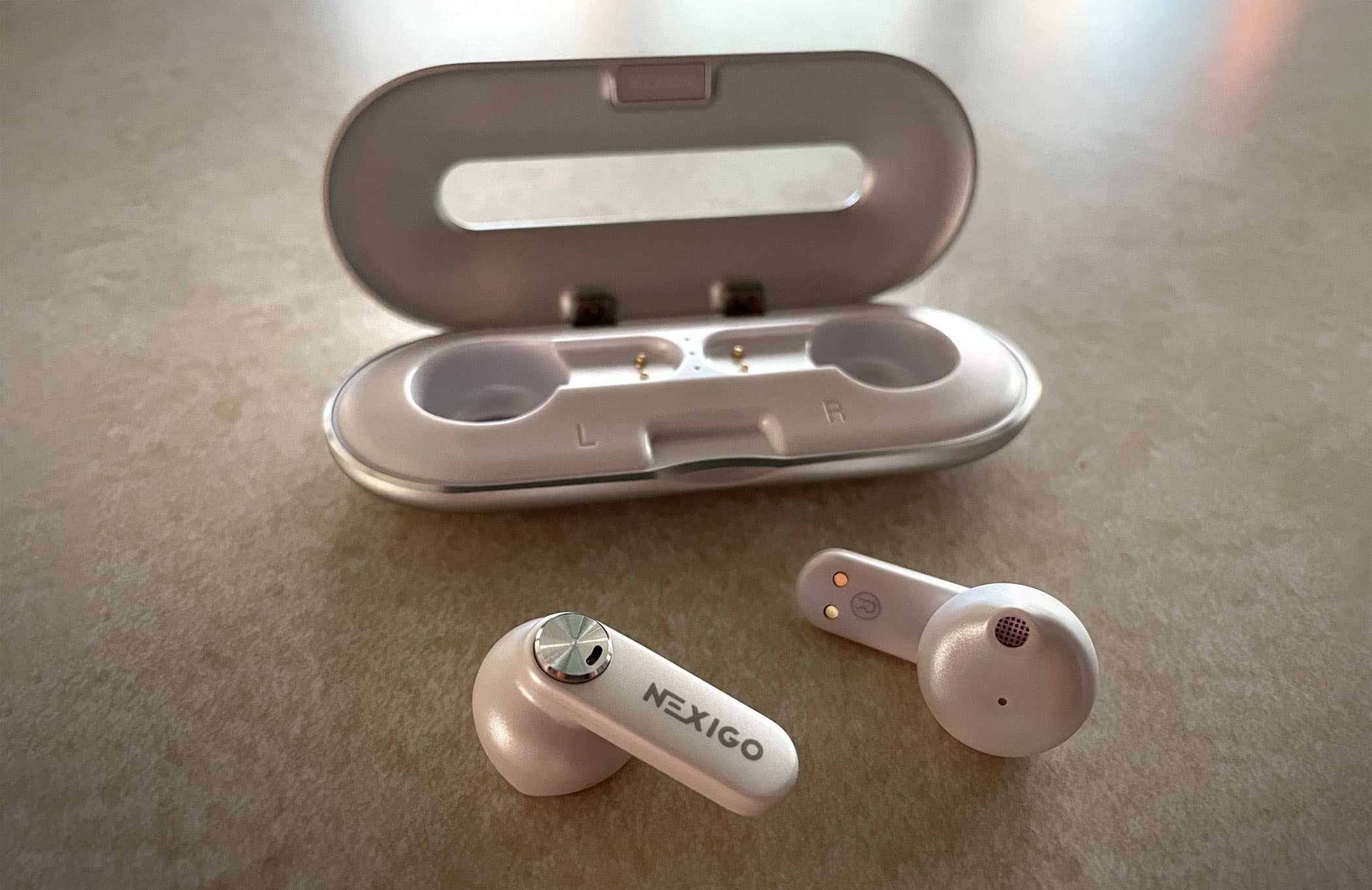 REVIEW – The NexiGo Air T2 Wireless Earbuds are hailed as the thinnest TWS Bluetooth earbuds on the market, but does the sound quality fall flat? Read on!
What is it?
The NexiGo Air T2 Wireless Earbuds are a set of small Bluetooth 5.2 True Wireless Stereo (TWS) earphones. They are described by NexiGo as the "thinnest and most compact TWS headphones in the world," and while I have no evidence to back this up, they indeed are the thinnest earbuds I've ever had the opportunity to review.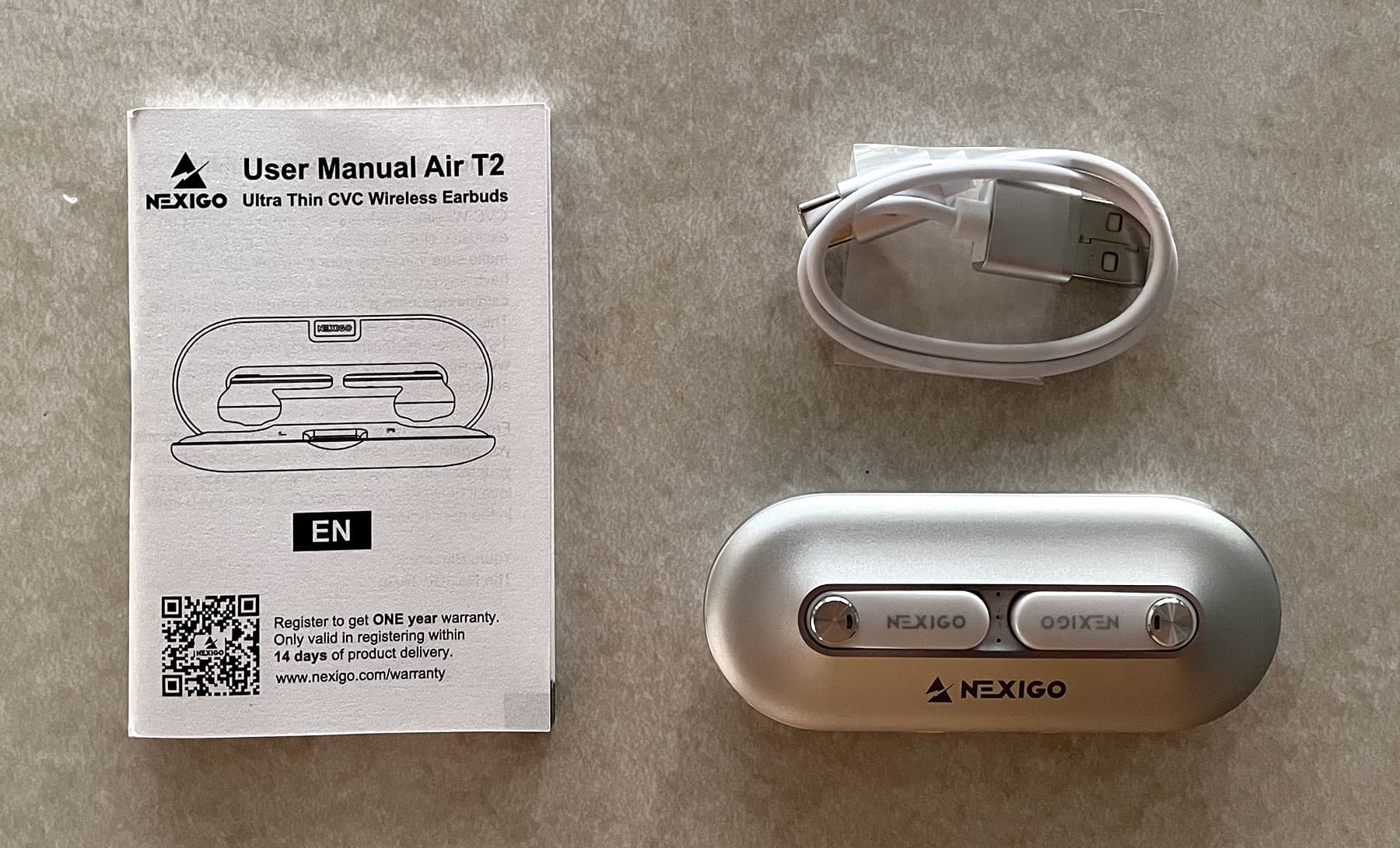 What's in the box?
Air T2 Wireless earbuds
Charging case
USB-A to USB-C charging cable
User manual
Hardware specs
Ultra-thin design & premium material
Qualcomm QCC3040 chipset, Bluetooth 5.2 (APTX, SBC, AAC) up to 49ft transmission distance
Charging case battery capacity: 300mAh
Earbuds battery capacity: 35mAh (x2)
0.5" thick case
Each earbud weighs 3.2g and is 0.4" deep
4 mics with cVc 8.0 noise reduction technology
7 hour use time, 28 hours total time with recharging from case
IPX5 waterproof & ultimate fit and comfort
Touch-sensitive tap controls
1-Year Warranty
Design and features
The NexiGo Air earbuds make a bold claim right out of the gate, that they are the slimmest on the market. The case itself is a mere half-inch thick, which is indeed very thin. I can't say that I've seen a thinner set of earbuds in person, I'm inclined to believe that their claim is accurate, although it's possible that they are the thinnest by a very small margin.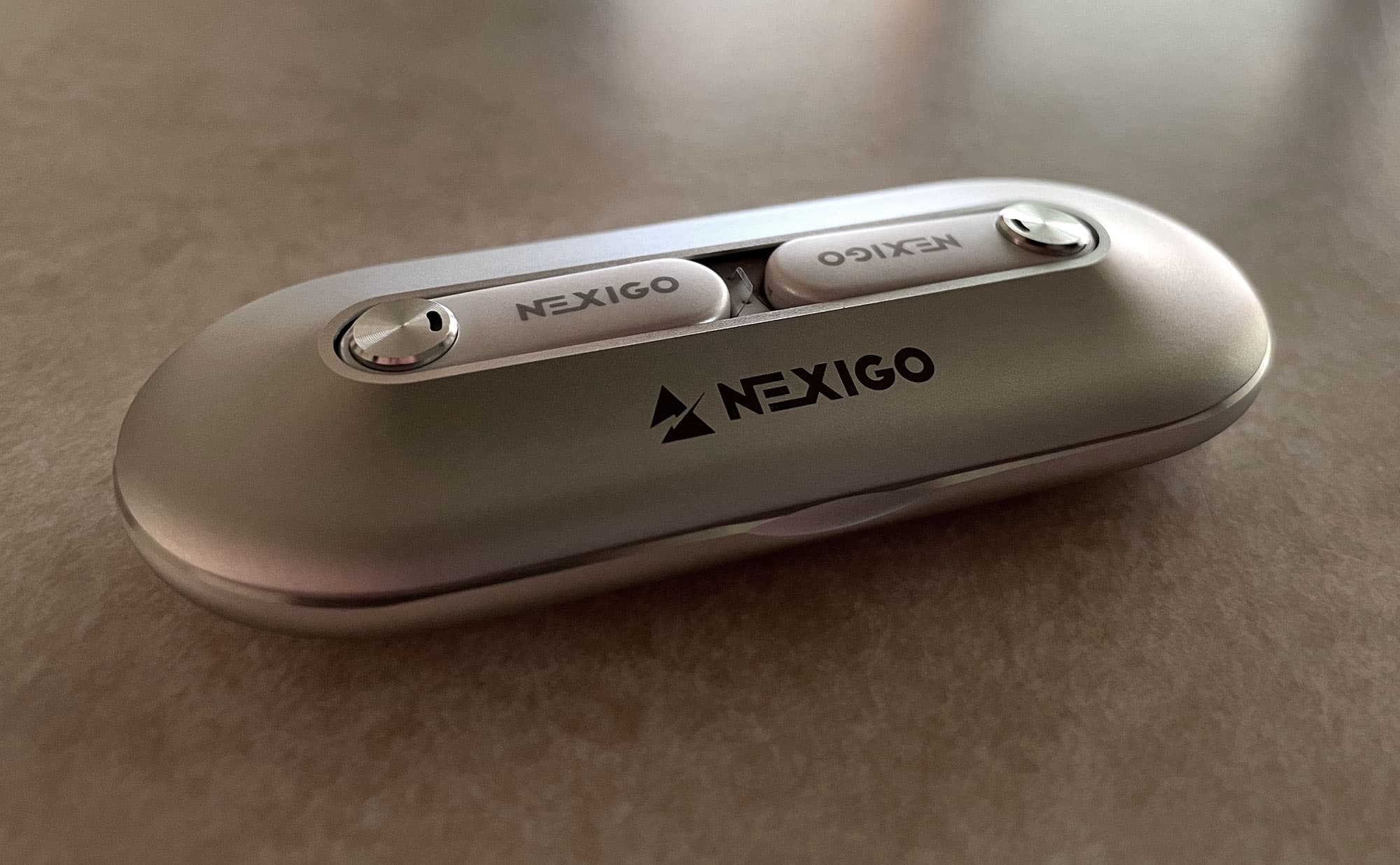 You have to take into account the overall volume of the case compared to other earbuds. The case of my AirPods Pro are 0.86" thick, and while that's over 70% thicker than the NexiGo Air case, for some reason the AirPods case feels smaller in hand and pocket. I think that's because they're a bit more compact.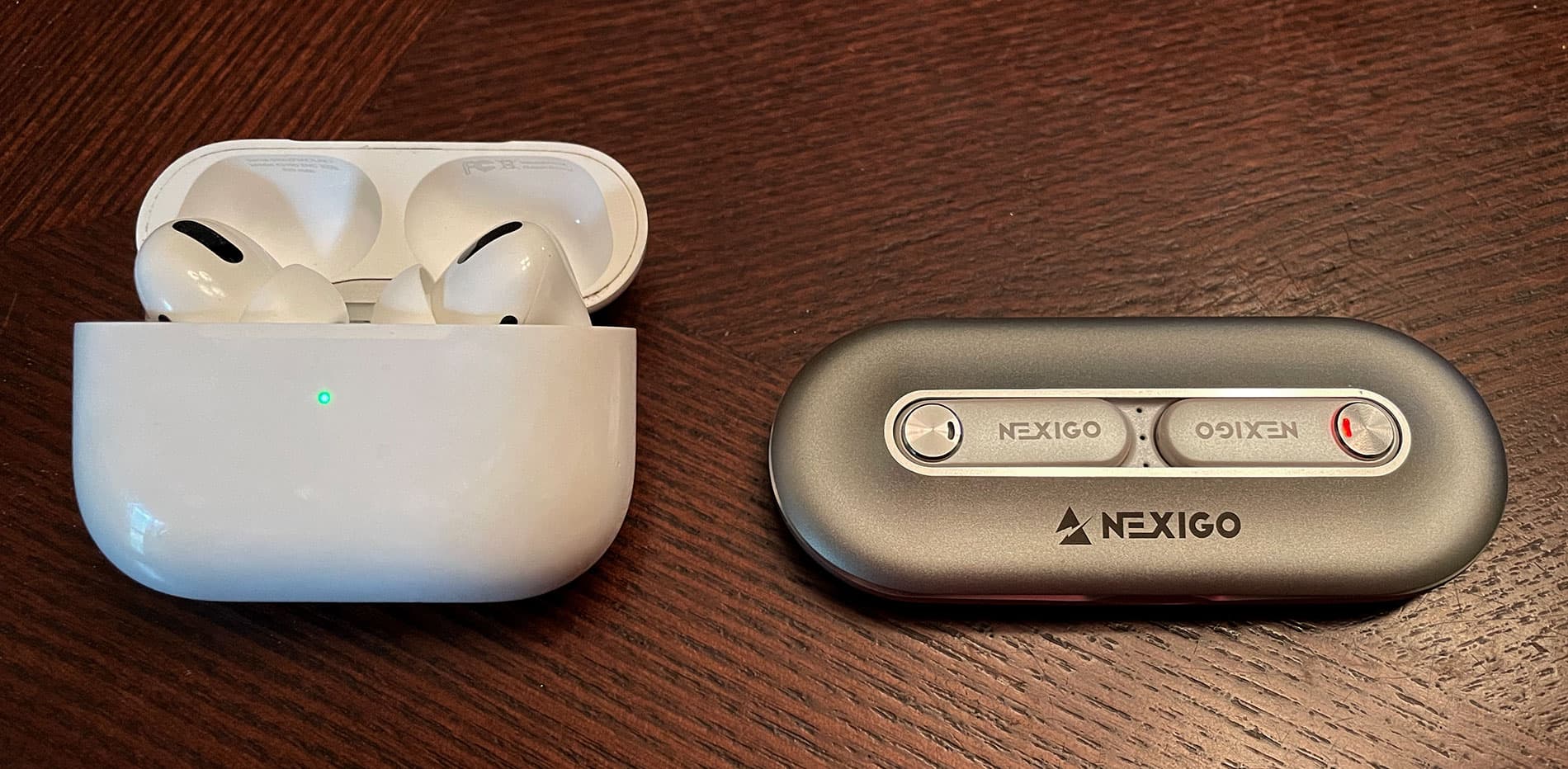 Setting Apple product comparisons aside (after all, they're almost $130 more expensive) the NexiGo Air case is nice and compact. The sleek aluminum case opens quickly and closes with a clean, satisfying snap. There is a row of LED lights in the middle of the earbuds that displays the battery life of the case. The USB-C charging port is on the bottom of the case.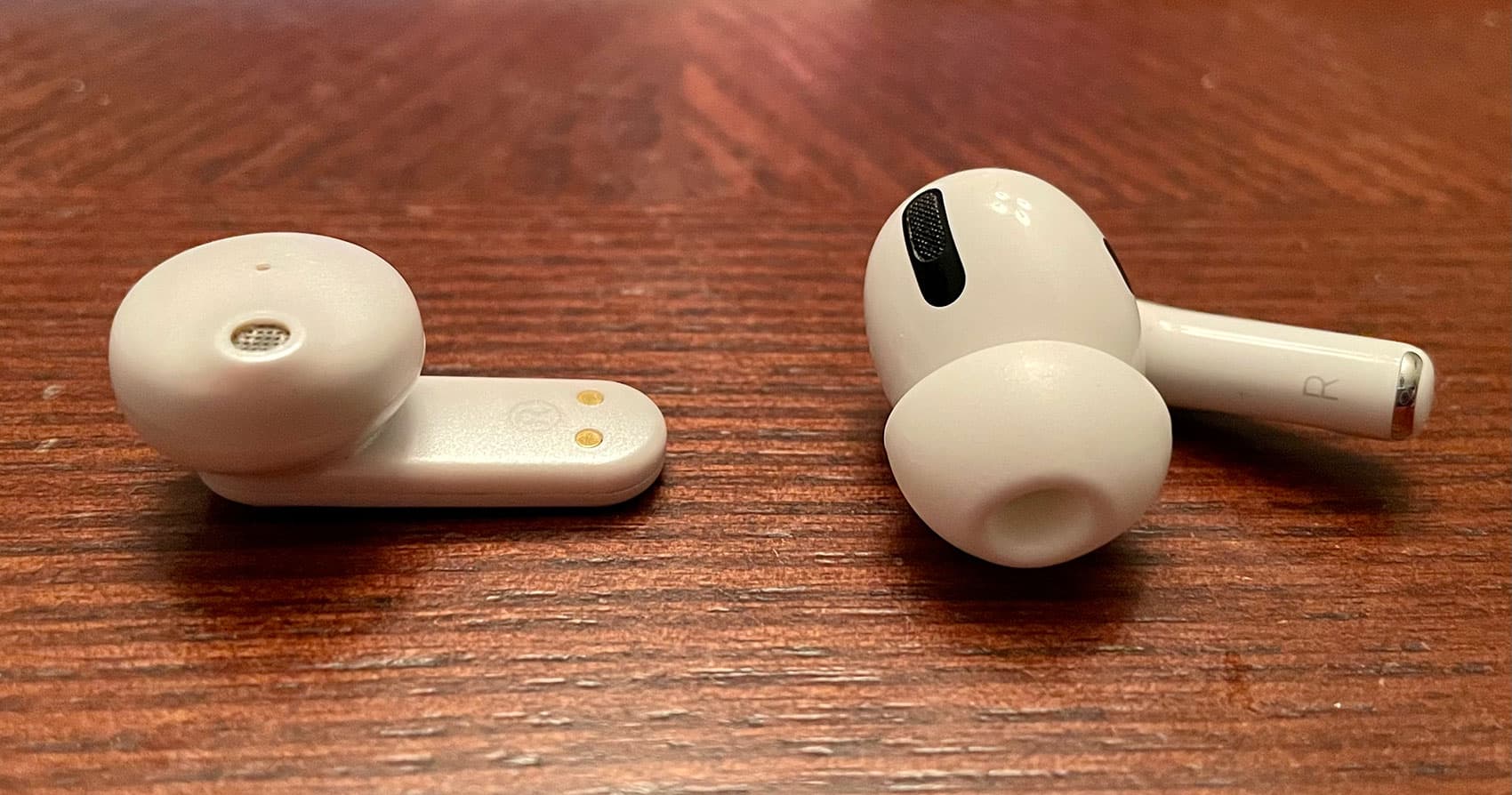 The earbuds are plastic and very light, a mere 3.2 grams each. Their profile is slim in keeping with the "world's thinnest" moniker.
The earbuds attach magnetically into their little homes in the case, where they disconnect and start charging, siphoning power from the case itself. They get about 4 full charges from the battery in the case before the case itself needs to be recharged, which is respectable. I found the earbuds a bit frustrating to get out of the case, there's not really an easy way to push or slide them out because of just how slim they are. It's not a major issue, just something that I thought about every time I removed them.
The small silver circles on the outside of the earbuds is a touch sensitive panel that allows the user to use 2 taps to forward the music track, 3 taps to rewind, or 4 taps to invoke Siri/Google. This function works well enough. There is no 1-tap command to avoid accidental bumps, since the controls are enabled by the lightest touch and not a hard tap.
Setup
Setup is a simple affair if you've paired any Bluetooth device before. You remove the plastic film from the stems of the earbuds, place them back in the case to begin charging them, and then close and open the case to put the earbuds into pairing mode. All that remains is finding the earbuds in your device's Bluetooth menu, tapping on it, and you should be all set.
The earbuds then connect when removed from their charging case, and disconnect once they are returned.
Performance
Earlier, I mentioned the slimness of the earbuds and how they don't extend very far into the ear canal. For me, that caused a very poor fit. The material is slippery enough so that it doesn't "grip" my ear, so they just sort of hang in my ear.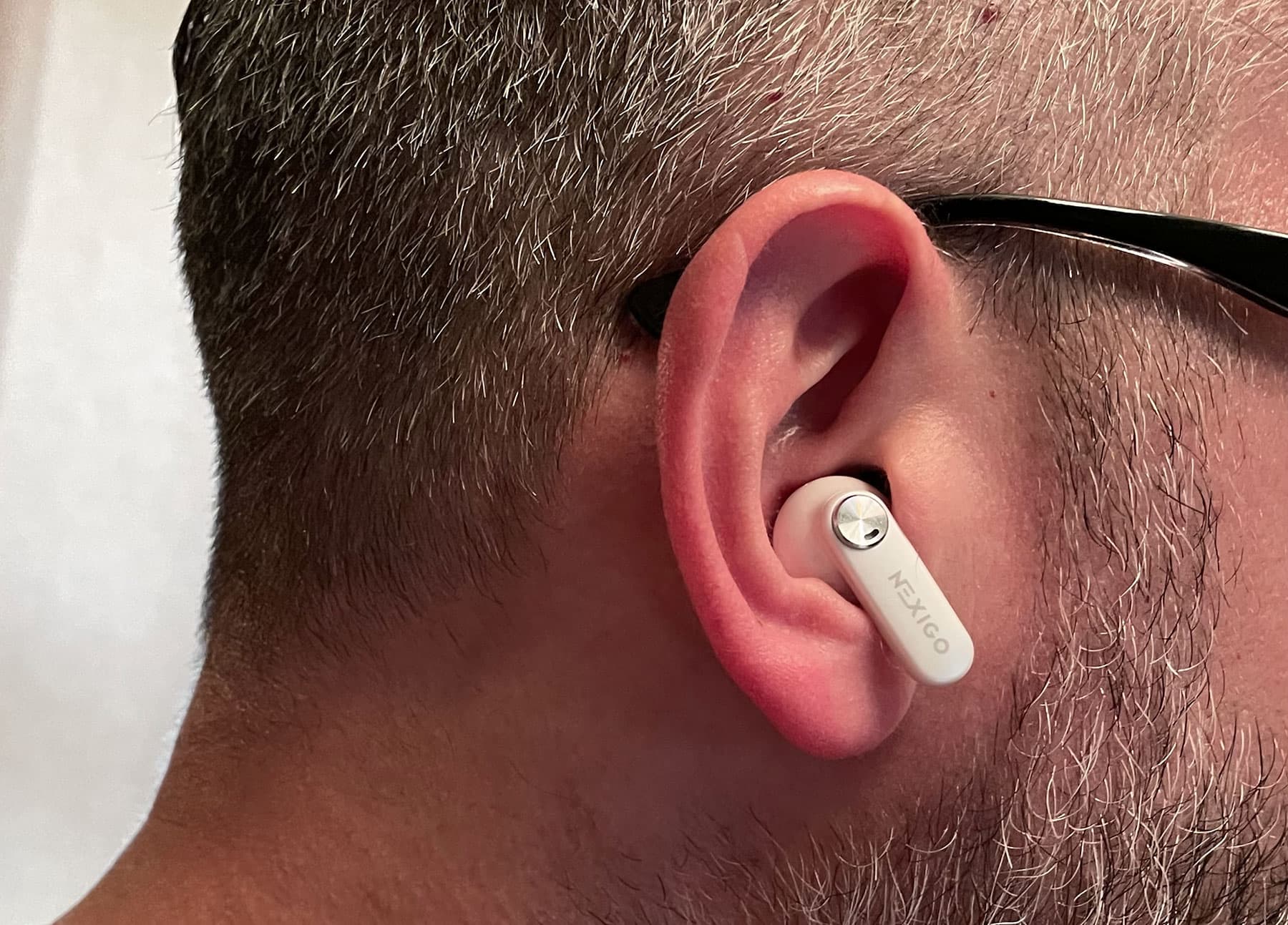 The earbuds are light enough that they never quite fall out of my ears, so that wasn't too bad. But it did cause the tiny speakers to be pointed at my ear holes rather than nested in them, so the sound quality suffered as a result. I could push the speakers further into my ear canals, sealing the speakers more and the sound was decent, but they wouldn't stay put.
I asked my daughter to try them out instead and she said they fit well, so it could just be that my ears are too large and a more average sized ear would accommodate the earbuds much better. I'm going to have to say that purposely limiting the thickness of the earbuds caused more harm than good, just for the sake of being the "world's thinnest."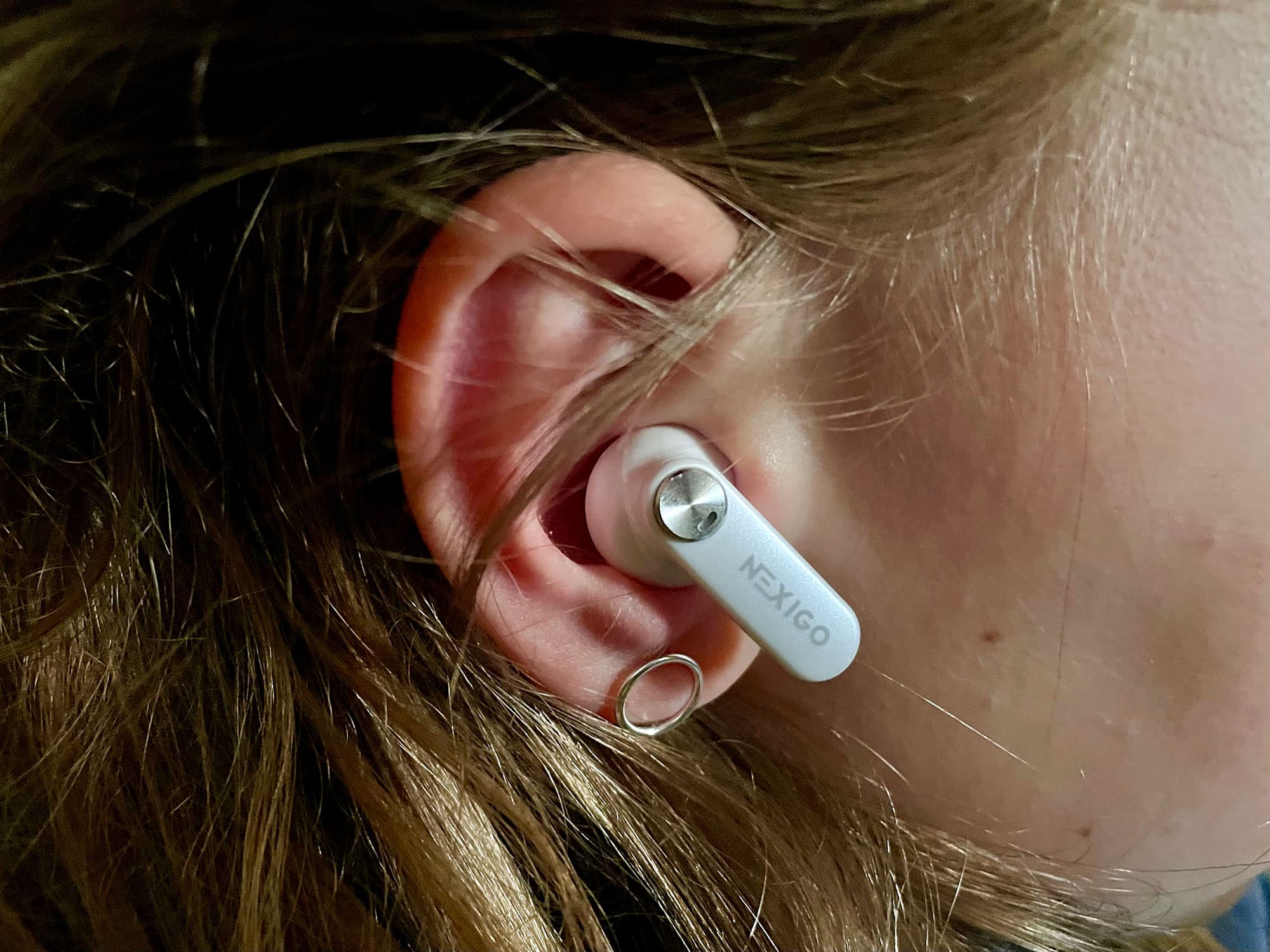 While holding the earbuds in place with my fingers to emulate a proper fit, I tested out several music tracks and genres, and the sound quality was merely okay, a bit tinny and lacking in bass. I'm sure this is, again, due to the size of the earbuds… there's simply no room for the big magnets and speakers needed to power serious sound. On the flip side, this probably helps to extend the battery life.
Overall, while I can appreciate NexiGo's efforts in keeping their earbuds lightweight and small, I think going a bit larger would have vastly improved the sound quality without creating an unacceptably large bulge in your pockets.
What I like
Great battery life
Very slim case and earbud profile
What needs to be improved
Sound is tinny, lacking in bass
Fit may be decent or terrible depending on your ear shape
Price is a bit high
Final thoughts
Nexigo's Air T2 Earbuds are a slim and attractive entry in the vast world of Bluetooth earphones. However, they suffer from the "world's first, smallest, biggest" problem. The attempt to claim some exclusive honorific ends up producing inferior quality in areas that matter, in this case, sound quality and fit, which are almost the only things I look for in a pair of earbuds.
Price: $69.99
Where to buy: Amazon
Source: The sample of this product was provided by NexiGo.