We use affiliate links. If you buy something through the links on this page, we may earn a commission at no cost to you. Learn more.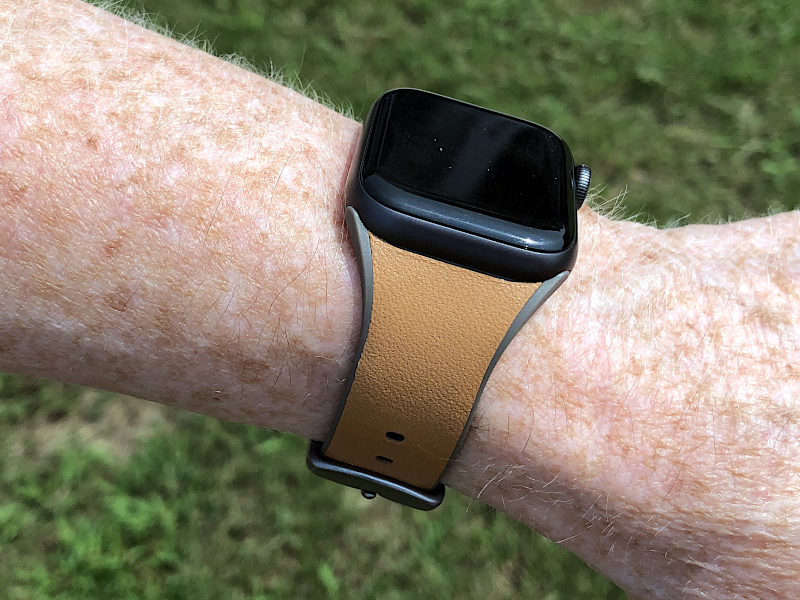 REVIEW – My wife recently purchased one of the Series 6 Apple Watches, and she loves it.  It monitors her exercise and activity, it allows her to quickly read text messages, it's easy access to Siri, and so on.  The Apple Watches are rather expensive, but she finds hers to be worth it, given all the functionality she gets.  Apple's watch bands, however, are another story.  They are very expensive–some cost over $500– and we just don't think they are worth the money.  My wife settled for the cheapest band she could find, a black sports band made from fluoroelastomer (a synthetic rubber), which I would describe as functional but not attractive.  She's had her eye out for something more visually appealing at a pocketbook-friendly price, and I think she found what she was looking for in Bellroy's watch strap.
What is it?
This is a watch strap for the Apple Watch.  It has premium leather on the outside and polymer on the inside.  It comes in small or large sizes and in five different colors.  Bellroy is an Australian company that wants to "bring your life to tech."
What's in the box?

The only things in the slim case are the top and bottom pieces of the watch band.
Hardware specs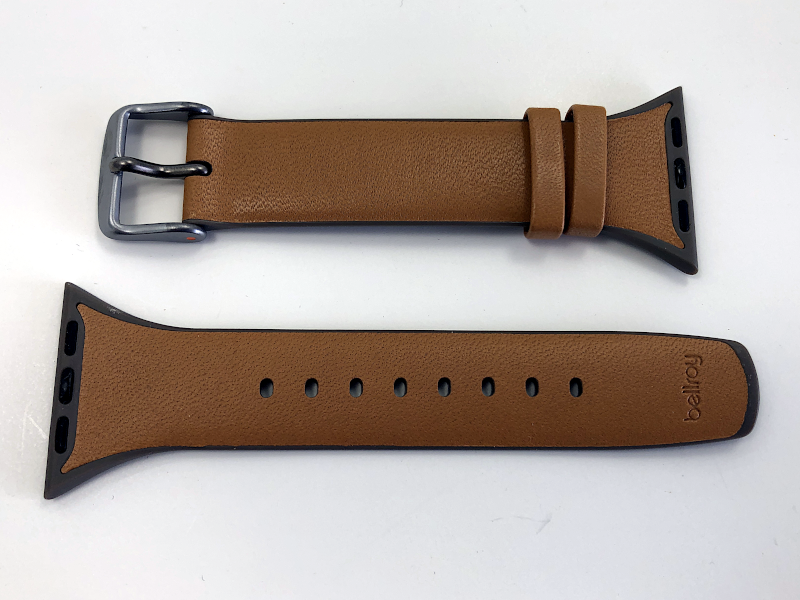 Size:  Large (42-44mm) or small (38-40mm)
Dimensions:  255 x 22 x 3.3mm (large) or 225 x 18 x 3.1mm (small)
Colors:  Black, basalt, cobalt, racing green, and toffee
Material:  Premium, eco-tanned leather exterior with a durable, flexible polymer interior
Design and features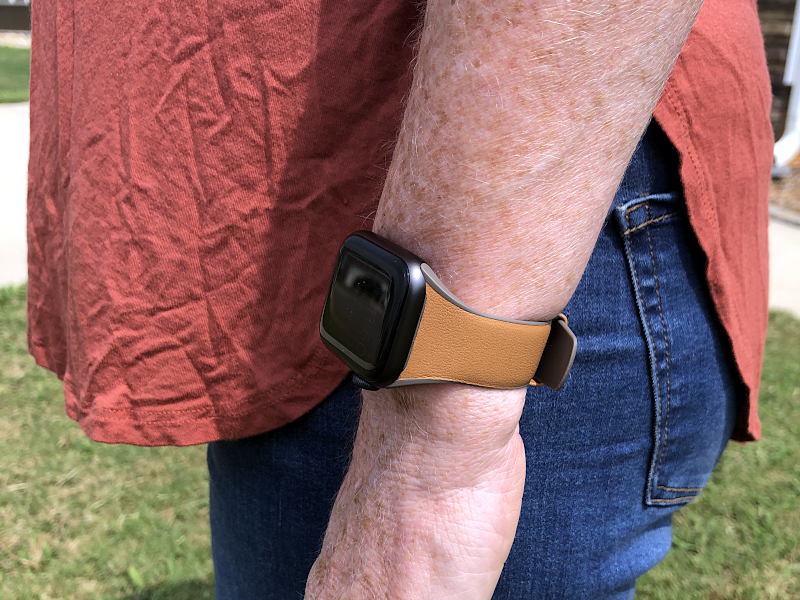 Looking at this watch band, I would say that it has a smooth, classy, traditional design.  The leather gives it a more refined look than any of the sport or loop bands that Apple offers.  It's perfect for shopping, a night out, or Sunday morning church.  While the toffee that my wife chose is a timeless color that goes with many outfits, Bellroy also offers bolder blue and green colors for those who prefer a stand-out look.
Installation and setup

Installing the watch band is easy.  Looking at the ends of each half, I can see that they are meant to slide in and out of the watch body.  There's a small, black "bump" in the middle that serves to hold the band in place.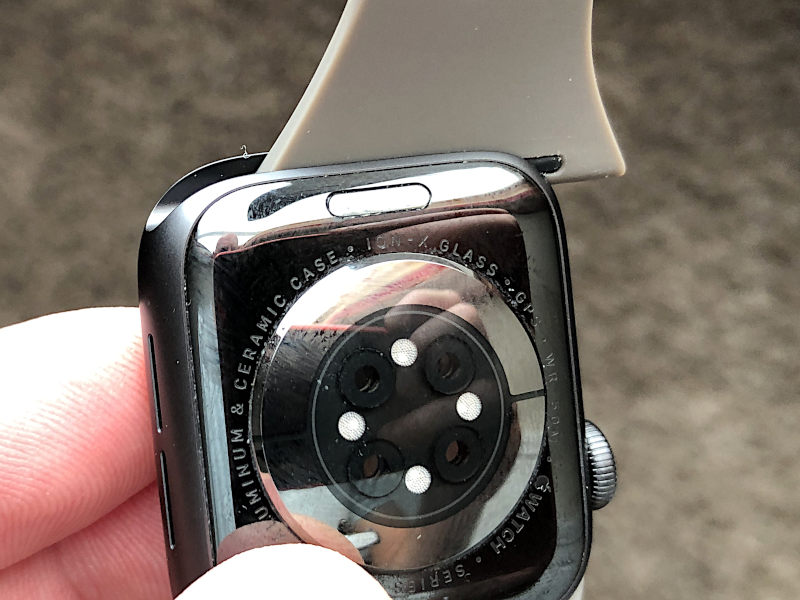 Flipping the watch over, I can see a pair of faint "buttons," one on each side.  I pressed the button, slid the old band off, and then slid the new one on.  I did this for both the top and the bottom, and it was done.
Performance
There are three things that my wife really likes about this band.  First, as I mentioned above, she likes the way it looks.  It's big step up in attractiveness from the "rubbery" look of the sport band.  It looks comparable to Apple bands that cost nearly five times more.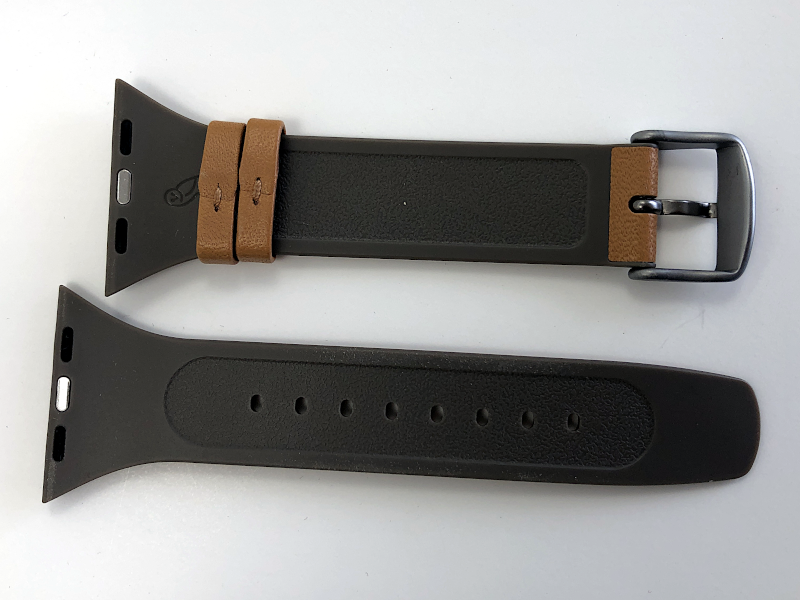 Second, she likes that the inside of the band is made from polymer, rather than the band being entirely leather.  This sweat-proof material allows her to keep the band on when we're just walking in our neighborhood or our hiking a mountain trail.  Third, she prefers the traditional buckle-with-loops claps over Apple's pin-and-tuck closure.  It just fits better for her, and it does a great job keeping the watch on her wrist.
I'll end on a humorous note:  I had an issue with a different gadget that I am reviewing, and I accidentally sent an email about the issue to Bellroy's tech support instead of the other company.  In their responses, Bellroy commiserated with me, politely informed me that I had the wrong company, and gave me suggestions on how to reach the right company.  I think they were the most gracious emails that I have ever received from a gadget company.  Well done, Bellroy!
What I like
That classic leather look
Waterproof polymer for active days
Great price
What I'd change
Final thoughts
Bellroy's watch strap for the Apple Watch has a stylish design and an affordable price.  It's made from leather and polymer, so it looks good and will last for years.  My wife set aside her Apple-made sports band and put on this toffee-colored band in its place, and she hasn't looked back.  If you're looking for a step up in quality but aren't willing to pay Apple's often exorbitant prices, then my wife and I recommend that you take a good look at Bellroy's watch strap.
Price: $69
Where to buy:  Bellroy's online store
Source: The sample for this review was provided by Bellroy.