The Gadgeteer is supported by readers like you! If you buy something through links on our site, we may earn an affiliate commission. Thank you! Learn more.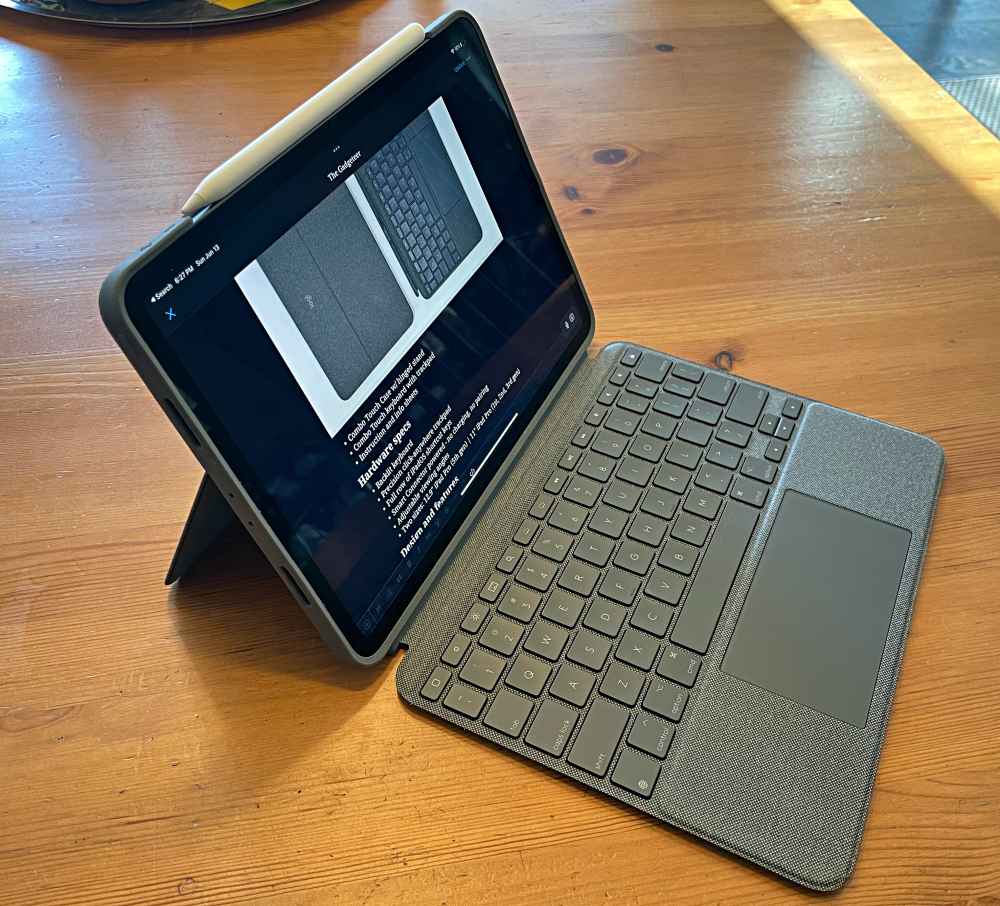 REVIEW – Many of us have had those moments where we're trying to decide if we can take a trip without the laptop. iPad has made that possible for a while, but depending on what you need to get done, a keyboard is almost a requirement. When Apple enabled trackpad support it got even closer to a laptop experience and the Logitech Combo Touch is a great example of how good it can be. Dive in with me.
What is it?
The Logitech Combo Touch is a keyboard and trackpad case for iPad Pro. The "Combo" in the name is your clue that the backlit keyboard has a few tricks hidden within. It's both magnetically detachable and reversible so you can have it work for you not against you. More details below
What's in the box?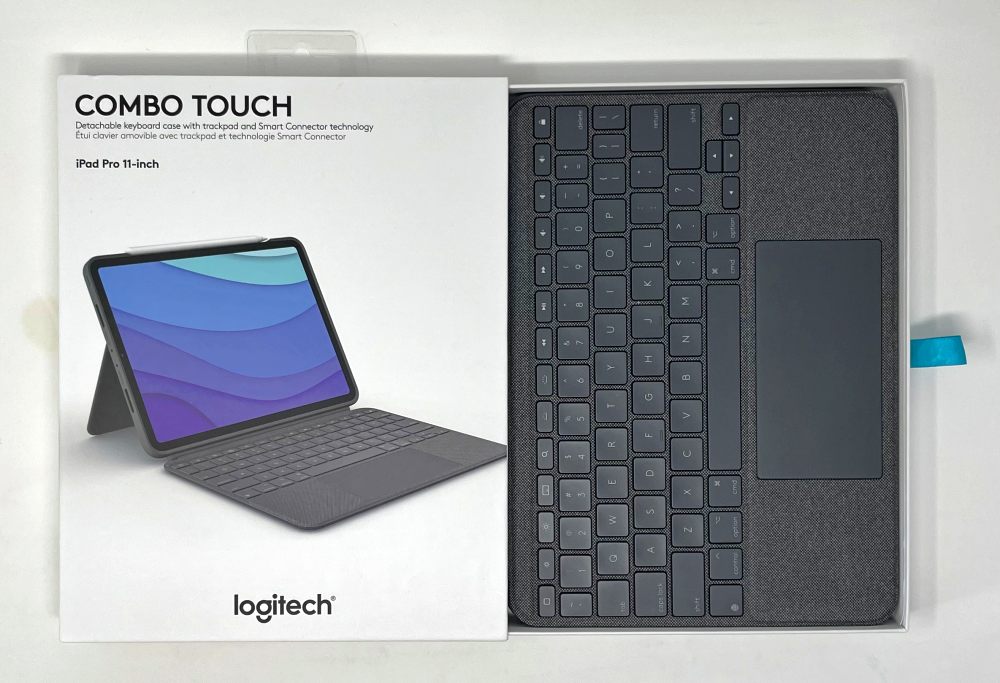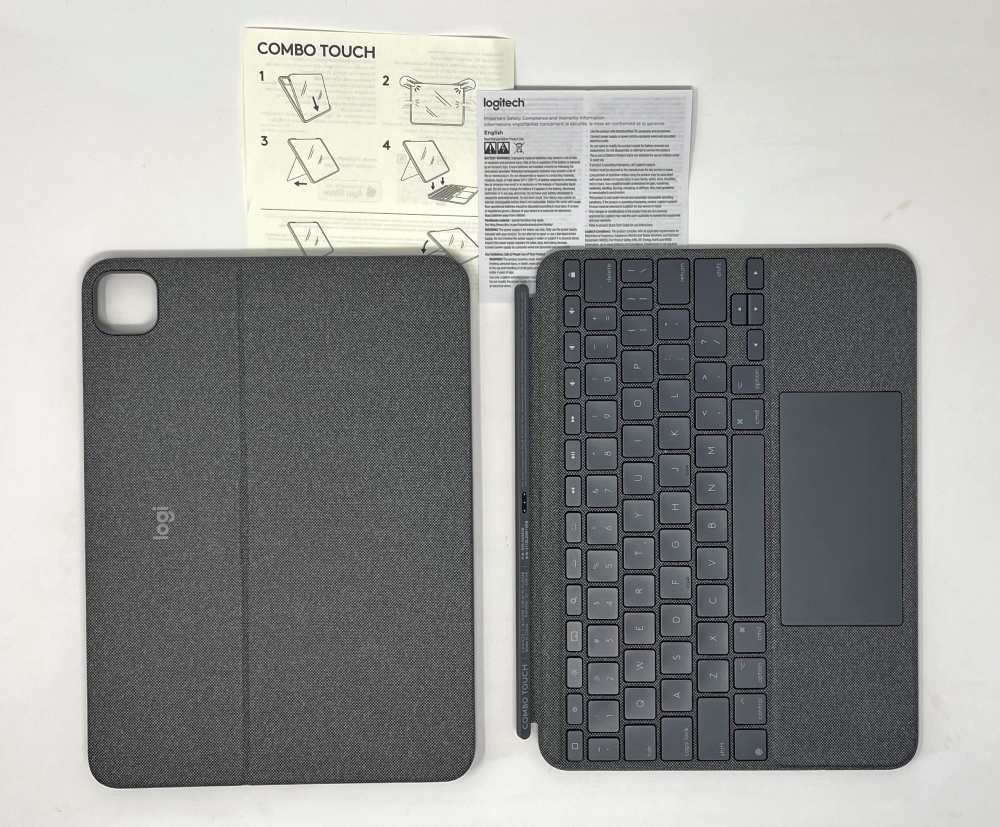 Logitech Combo Touch Case w/ hinged stand
Combo Touch keyboard with trackpad
Instruction and info sheets
Hardware specs
Backlit keyboard
Precision click-anywhere trackpad
Full row of iPadOS shortcut keys
Smart Connector powered – no charging, no pairing
Adjustable viewing angles
Two sizes: 12.9″ iPad Pro (5th gen) | 11″ iPad Pro (1st, 2nd, 3rd gen)
Design and features
The Logitech Combo Touch case and keyboard fully encloses your iPad Pro in a protective case that has a canvas look to it while being very durable and easy to wipe down.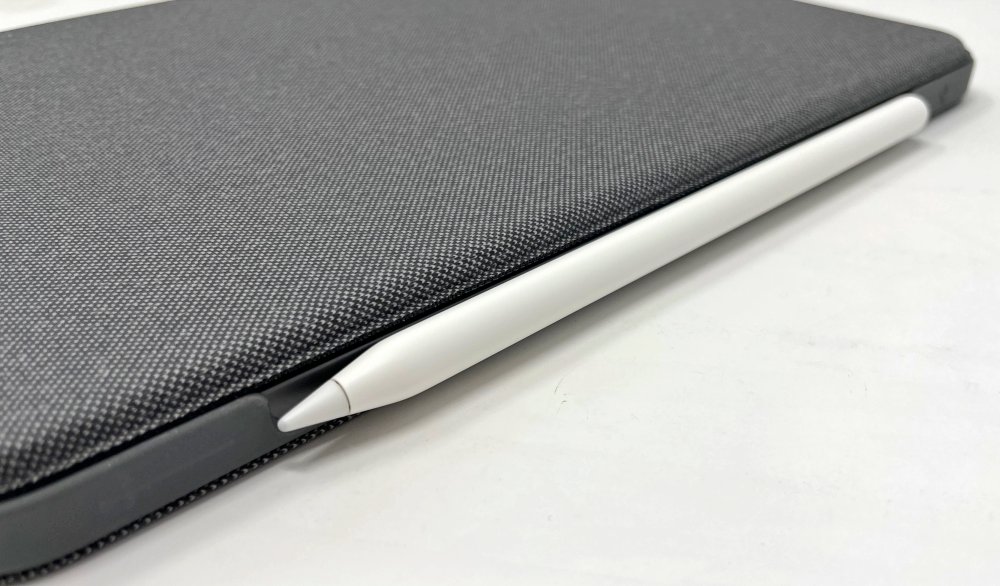 The case has raised sidewalls that come up and over to protect the screen while leaving room for screen protectors should you choose to run one. The right side is left open for charging the Apple Pencil while the left side has the Smart Connector and embedded magnets on either side. Volume and power buttons press through the case well and there are cutouts for all speakers as well as the charging port.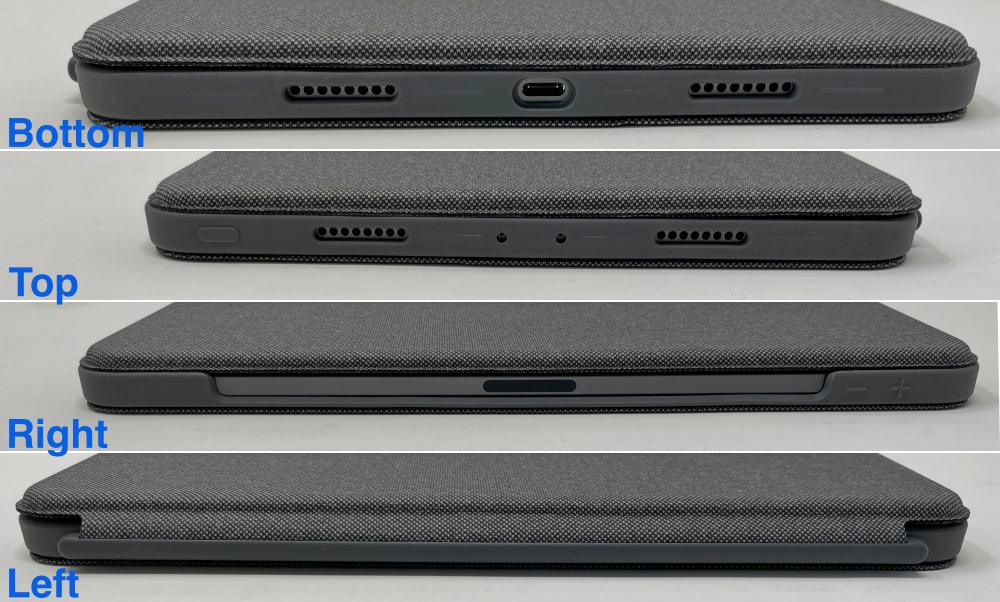 The keyboard uses the Smart Connector for power and communication and it easily and quickly attaches in two orientations; keyboard mode and viewing/drawing mode. Here you can see some of the angle range in keyboard mode.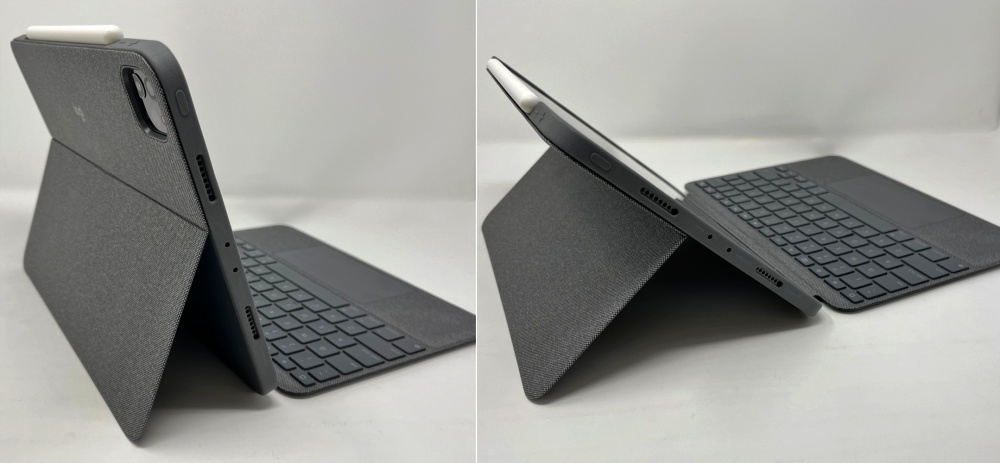 And then super low mode for drawing and sketching.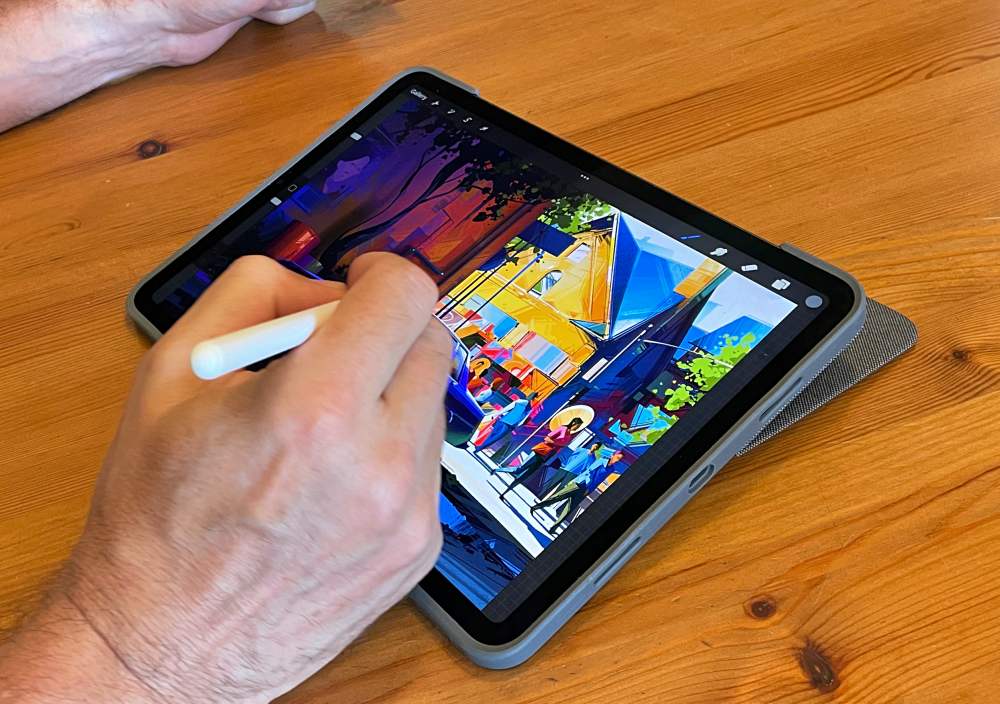 The keyboard is backlit and also has a full row of iPadOS shortcut keys across the top in addition to the trackpad which significantly improves functionality over a keyboard-only solution.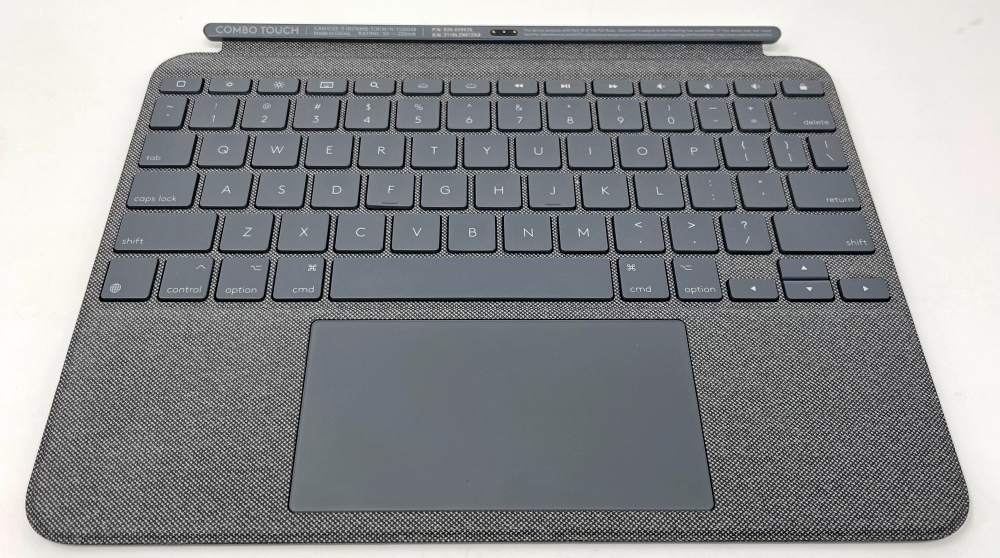 Setup
Install the Logitech Combo Touch case by pressing your iPad into place. You can see the Smart Connector inside the case here that interfaces with the iPad Pro.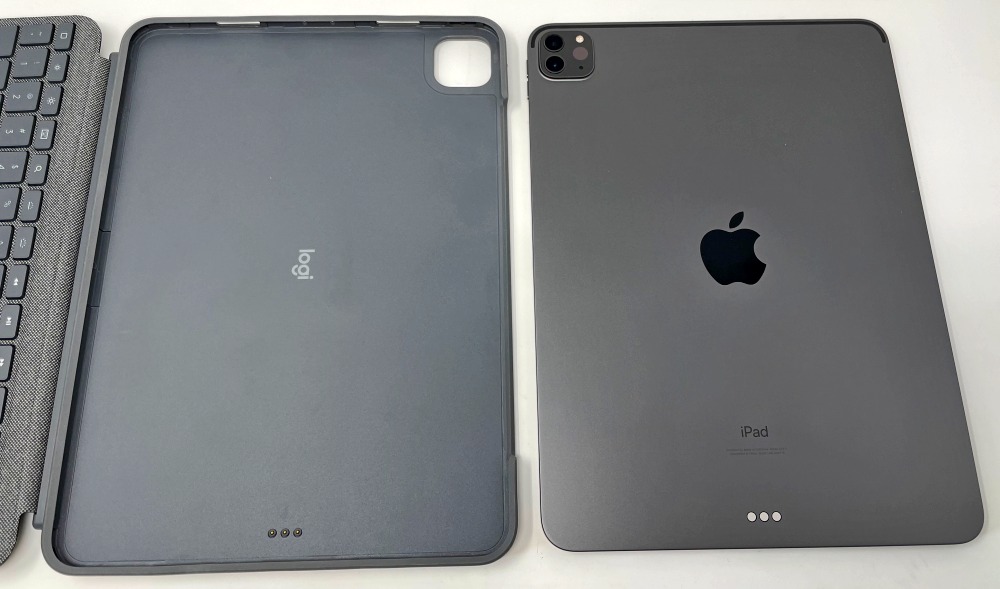 Attach the keyboard by lining up the Smart Connector and magnets to the left side of the case and it will magically snap into place with a firm click.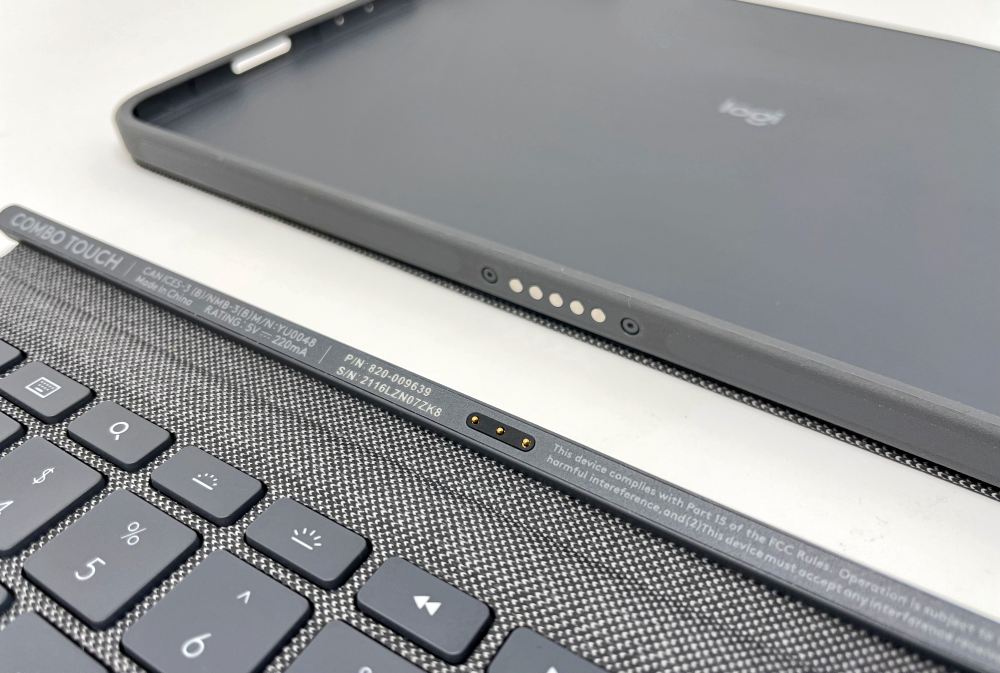 That's it. No charging. No pairing. No downloads. Sweet.
Performance
The Logitech Combo Touch is a substantial solution in the best way. If you've used Apple's own keyboard solutions you already know that having a keyboard can be a huge benefit. But frequently, it just gets in the way. That's where Logitech's Combo Touch shines. Don't need the keyboard? Just pull it off and set it aside.
The magnetic attraction is pretty darn strong. You can literally bring the iPad close to the keyboard and it will jump into place and stay through some shaking as long as you aren't swinging. Don't recommend holding the keyboard with the iPad dangling, but it's strong enough to do so.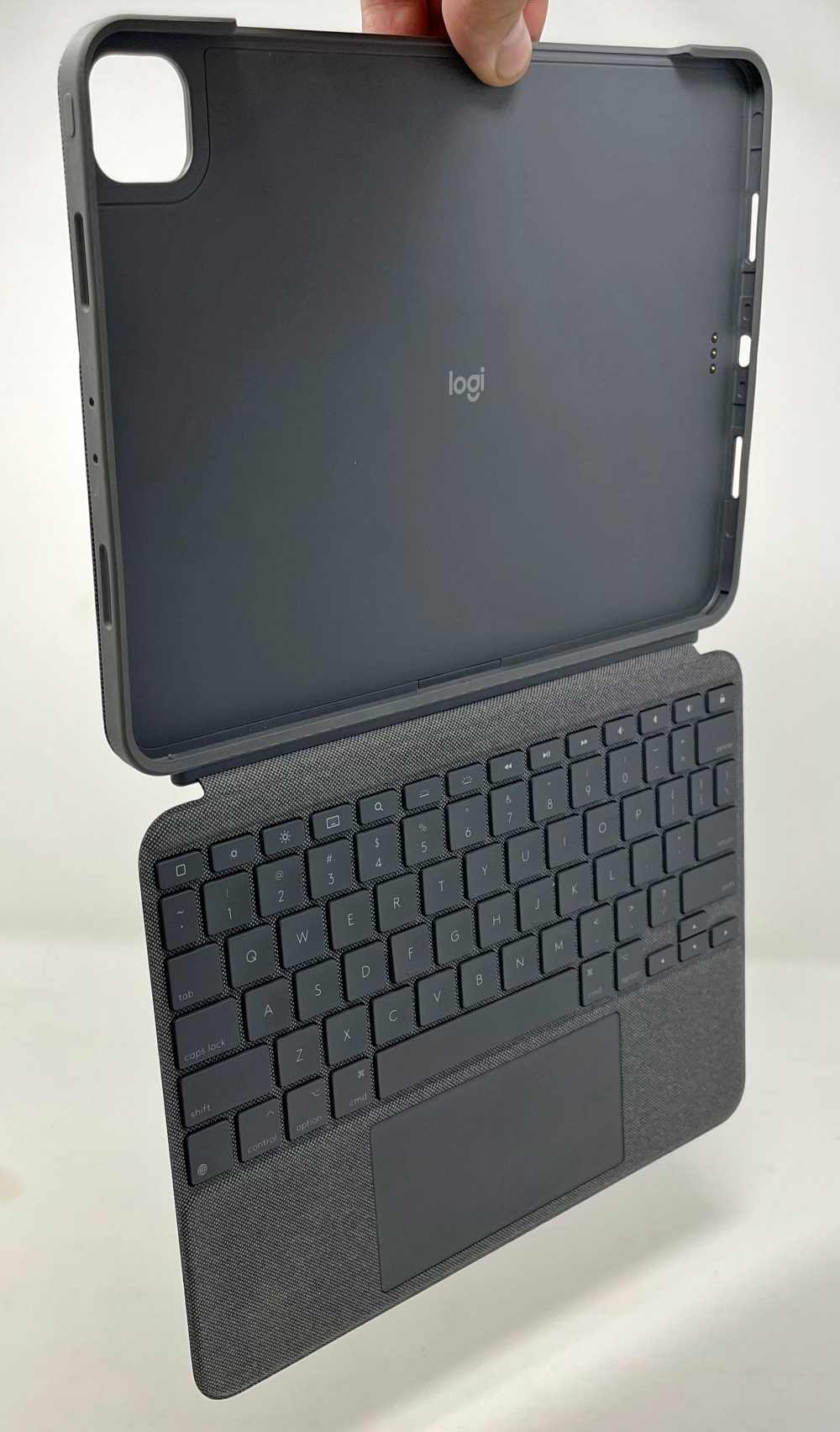 Here are some reference numbers for you…
iPad Pro 11″ weighs 467g (gen 1) or 458g (gen 3)
Apple Pencil weighs 17g
Logitech Combo Touch weighs 563g (Case side weighs 247g, keyboard weighs 315g)
So yeah, at 1040g (iPad, Combo Touch and Pencil) it's not the lightest solution, but it is lighter than my M1 MacBook Pro which weighs in at 1375g. In my opinion that weight penalty is more than made up for in functionality.
Zero issues fitting my 1st gen iPad Pro and then my new 3rd gen which showed up a few days after receiving the Logitech Combo Touch. You can see here there's no real differences other than the camera.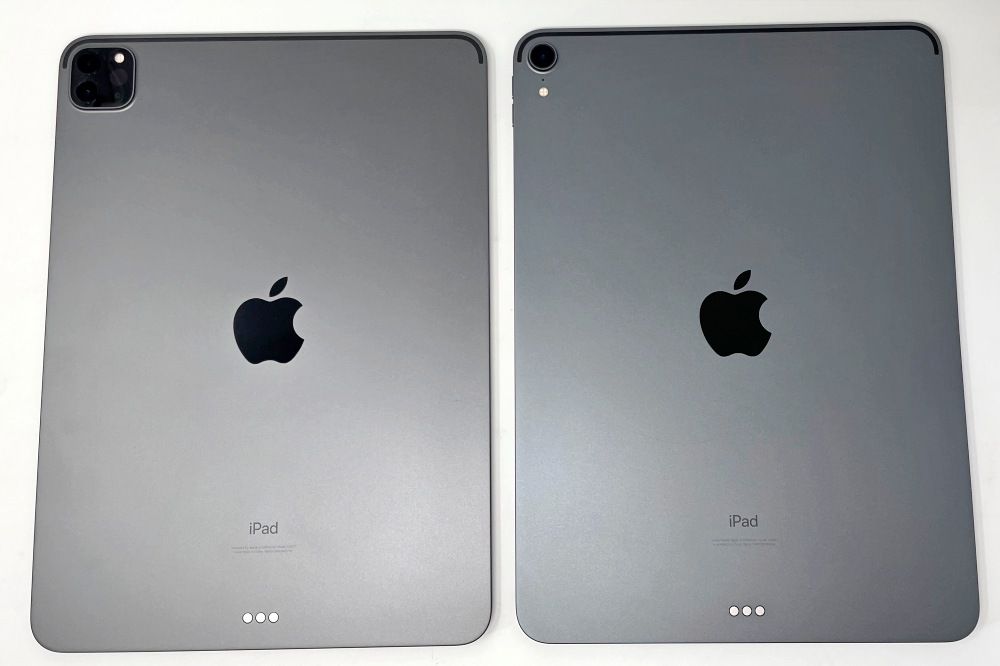 In no particular order, here are a few things I really like about the Combo Touch
Detachable keyboard – there when you want it; removable when you don't. Also, the fact that you can connect it reversed with the keys facing the back of the iPad is handy while reading or in viewing mode to reduce footprint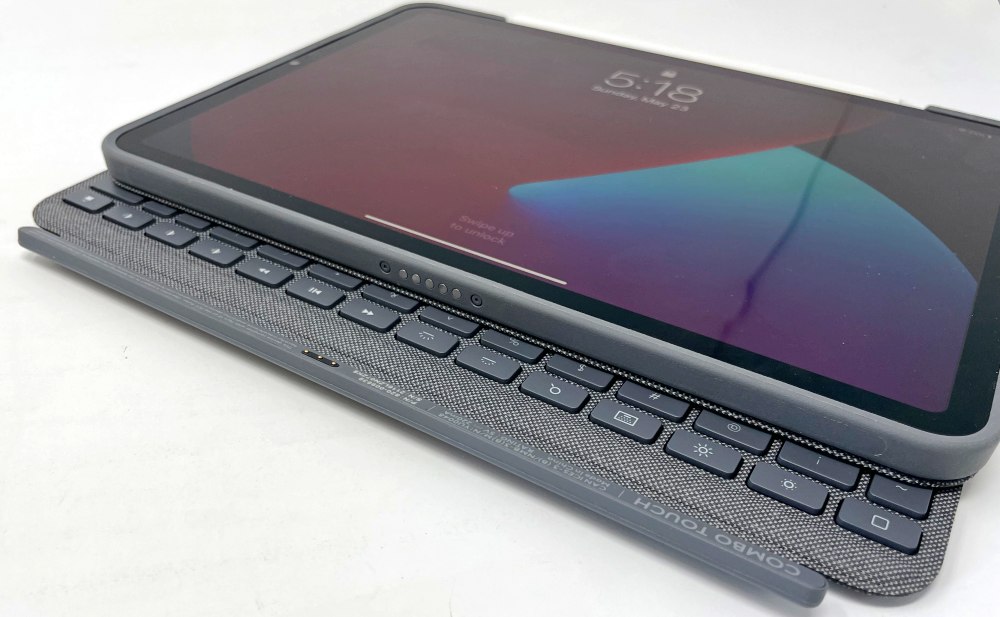 Keystroke feel – keys have a subtle concave shape and enough travel to feel good
Backlit keys – super helpful when working in dungeons and poorly lit home offices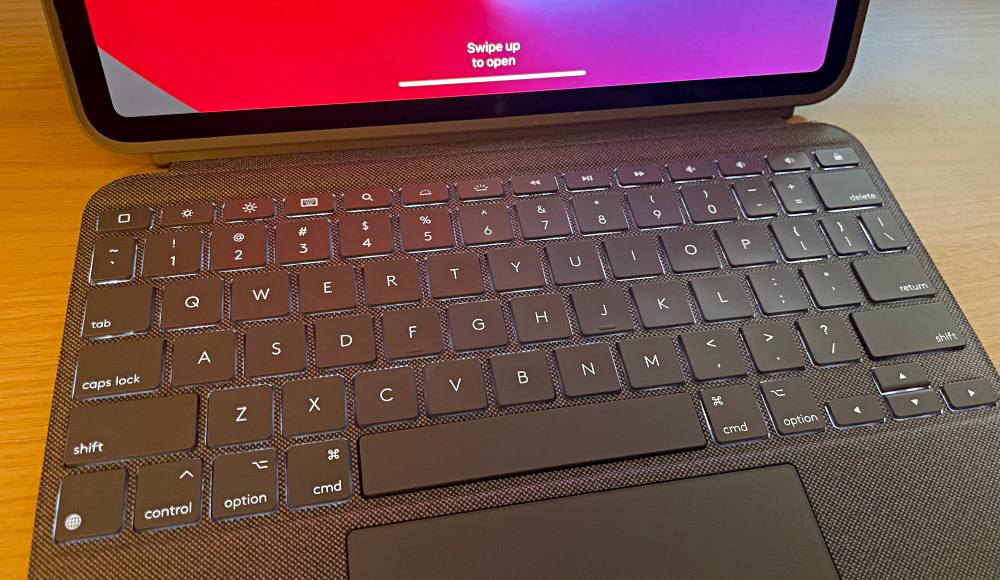 Case – provides great protection and should tackle most fumbles, especially with keyboard on to protect the screen
Kickstand – the surface-tablet style kickstand works great and provides lots of angles from typing to watching movies to near flat drawing. I also found myself flipping open the kickstand slightly when gaming on my iPad. I can tuck my fingers between the iPad and kickstand allowing lighter touch on the controls since I don't have to grasp the iPad anymore. Definitely not a primary purpose but a nice bonus feature.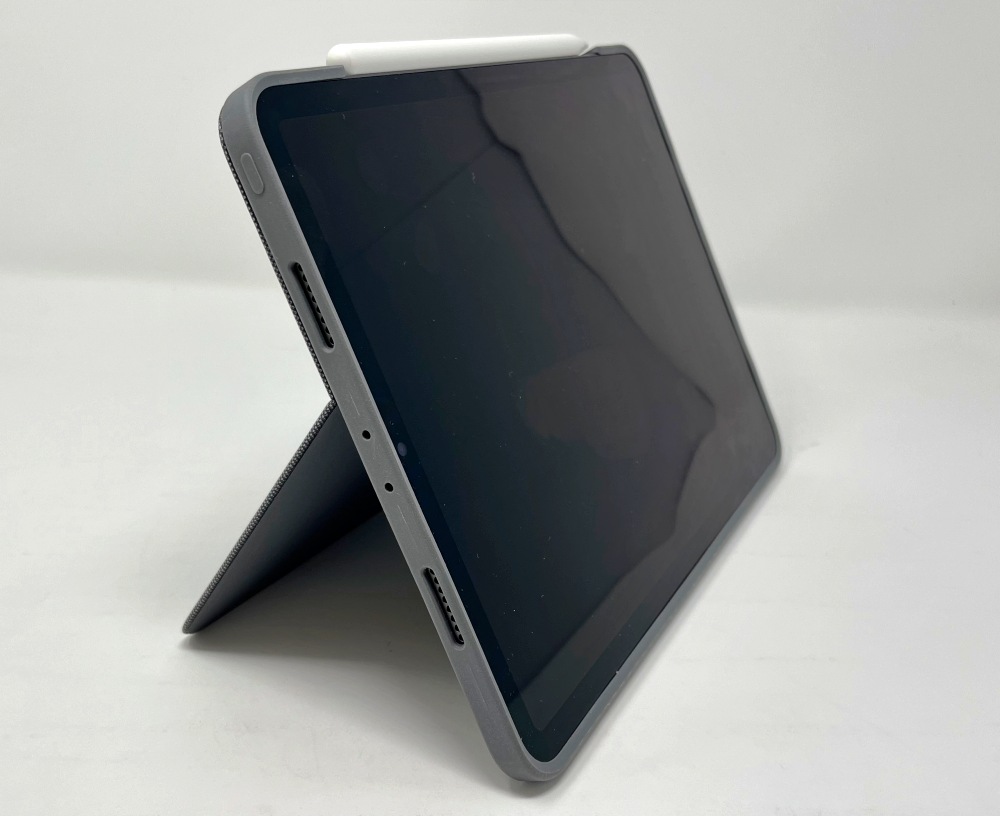 Trackpad – this really changes the game. It's easy to move the cursor around and click into text where needed. Command+tab brings us the application switcher just like on Mac and the shortcut row of keys put everything else you need right at your fingertips.
As for faults, I'd really only flag a couple of things…
It can feel a bit heavy (literally more than another iPad, but less than Apple's Magic Keyboard by about 40g)
I wish there was a more secure way to keep the Apple Pencil in place. It's better than with an uncased iPad, but may still get knocked off when hanging out in a backpack.
The welded or pressed edge around the front and sides of the keyboard can sometimes feel sharp
The keyboard can be a bit tricky to open from closed folio position especially when the pencil is in place charging as there's no lip to grab. It's easiest to kind of push with your thumb to scissor the case open like you see below.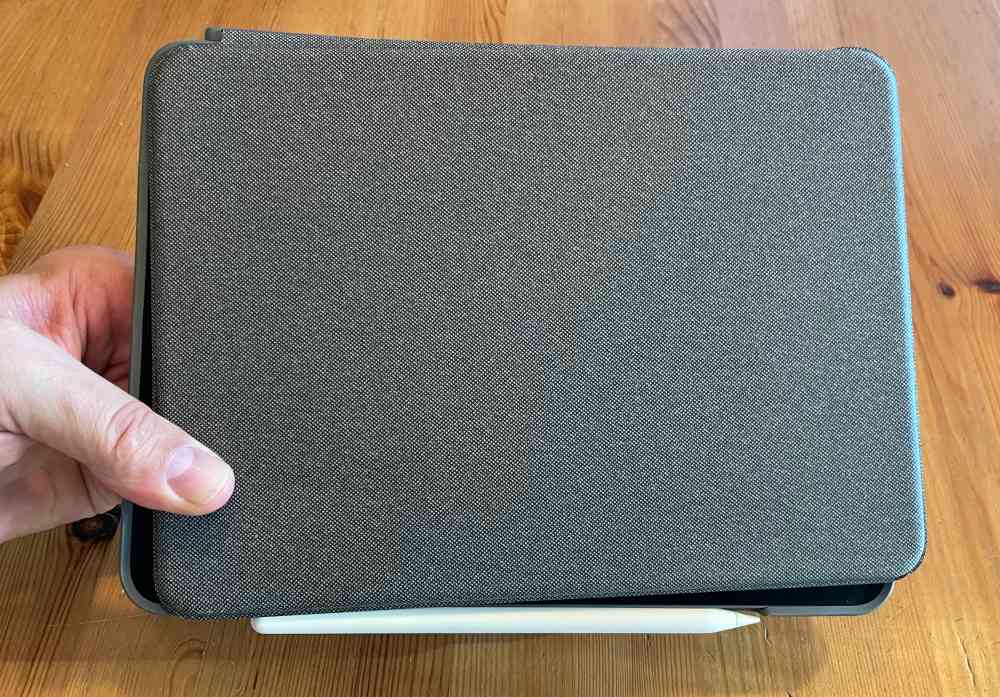 Cutout for charging port can be a little small for some cables with large connector over-molds.
What I like
The versatility of detachable keyboard w/ Smart Connector
Super functional kickstand for lots of angles
Trackpad and shortcut keys are game changers
What I'd change
Welded edge of keyboard can feel a little sharp/rough
Would like a more secure way to keep Apple Pencil attached in transit
Larger opening for charging port
Final thoughts
A keyboard can be indispensable if you're trying to use an iPad in place of a laptop. The Logitech Combo Touch trackpad and its solid keyboard here really help to recreate that feel. Being able to remove the keyboard while keeping the iPad protected is a huge bonus over Apple's offerings especially when considering cost differences.
Price: $199 for iPad Pro 11″ | $229 for iPad Pro 12.9″
Where to buy: Amazon
Source: The sample of this product was provided by Logitech
Support The Gadgeteer
:
The Gadgeteer is supported by readers like you! If you buy something through the links on our site, we may earn a small affiliate commission. Thank you! Learn more.