We use affiliate links. If you buy something through the links on this page, we may earn a commission at no cost to you. Learn more.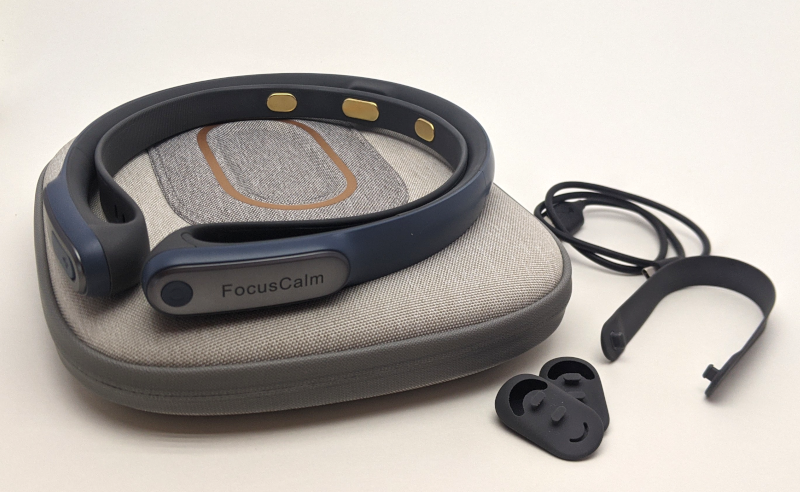 REVIEW – This past year has been a doozy! Trying to find a minute to relax and chill out has been nearly impossible and even if you manage to get a moment alone, there's so much going on it's hard to calm down. The FocusCalm headband helps train your brain to slow down and relax by providing neurofeedback based off of EEG sensors worn on your forehead. Through guided meditations and games focused on training your brain to relax, it provides an easily accessible and portable way to take a few moments to yourself.
What is it?
The FocusCalm headband is a Bluetooth connected neurofeedback tool that with the combined app helps train you to relax and destress.
What's in the box?
FocusCalm headband
Soft pads x2
Head strap
Charging cable
Storage bag
User manual
Hardware Specs
Size: fits head circumference 18″ – 24″
Weight : 3.7 oz
Charge time: 2 hours
Battery life: up to 8 hours per charge
Sleep mode battery life: about 180 days
Wireless: Bluetooth
Charging port: USB-C
Input Voltage: 5V, 200mA
Battery size: 185mAh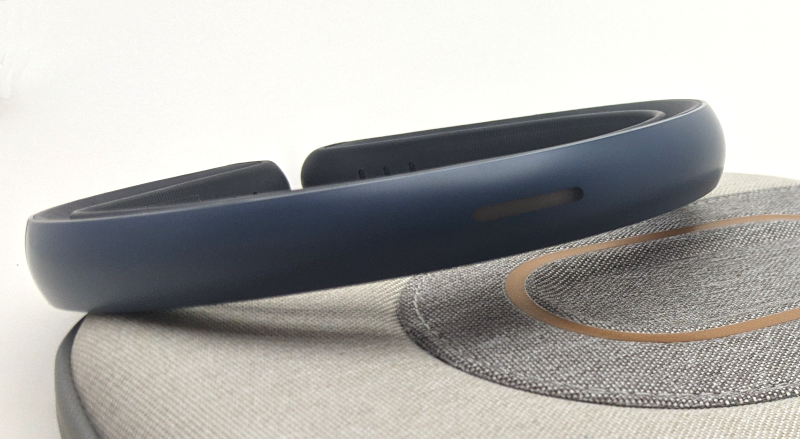 Design and Features
The headband itself is super simple. On the right side of the band is the power button while on the left is the covered charging port. The front of the band has a LED indicator that glows a different color depending on the level of relaxation, blue indicates top third, orange the middle third and red the lower third. Since while you're wearing the band you can't see the indicator LED, I chose to turn it off using the app settings. Inside the front of the band are three EEG sensors that it uses to read brain activity. If the band isn't situated correctly, it will vibrate to let you know to readjust it. The level of vibration is also adjustable inside the app.
It also comes with two soft pads and a head strap to help adjust the fit of the headband. I prefer to wear it with the soft pads installed as the ends of the band pinched my head a little too tightly. The head strap can be used to help secure the headband tighter around your head if it feels loose or keeps sliding down.
App
The app only allows you to connect the headband and view your live FocusCalm score if you do not purchase a subscription. There are three options for subscribing; $9.99 a month, $69.99 yearly or a lifetime subscription for $99.99. Once you purchase a subscription, you are able to access all of the features in the app.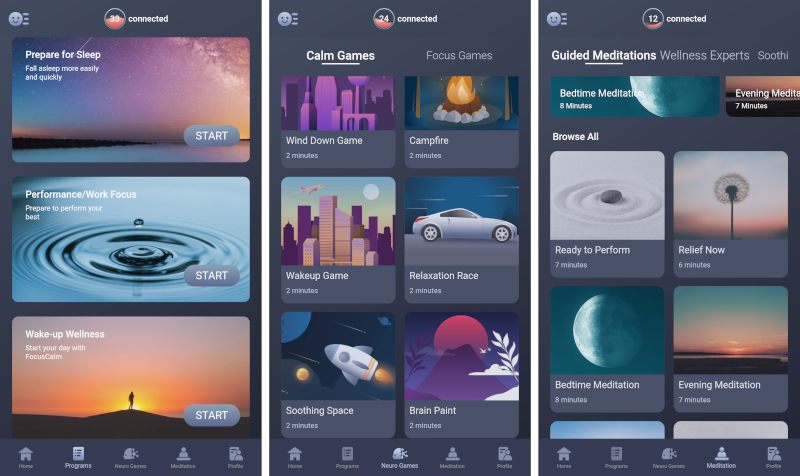 The three main groups in the app are Programs, Neuro Games and Meditation. Under meditations, you can listen to a guided meditation, a wellness expert's advice or a soothing story. Neuro Games are divided into calm games and focus games. Calm games reward you for relaxing your brain and don't require any interaction while focus games help train your brain to stay relaxed while trying to accomplish a task. These require interaction with the app to play the game while trying to stay calm. Each program consists of a meditation, a calm game and a focus game specifically picked out to help with the programs goal.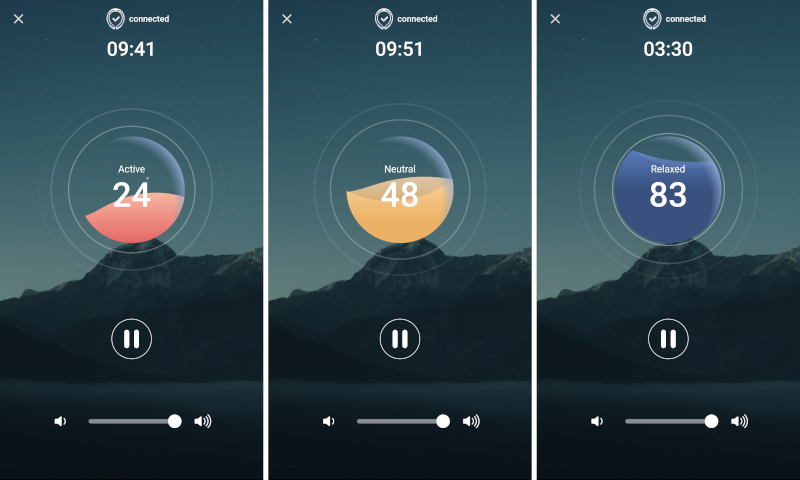 The meditation screen shows the time left in the meditation at the top of the screen, your FocusCalm score and audio controls. The FocusCalm zones are active from 0 to 35, neutral from 35 to 65 and above 65 is relaxed.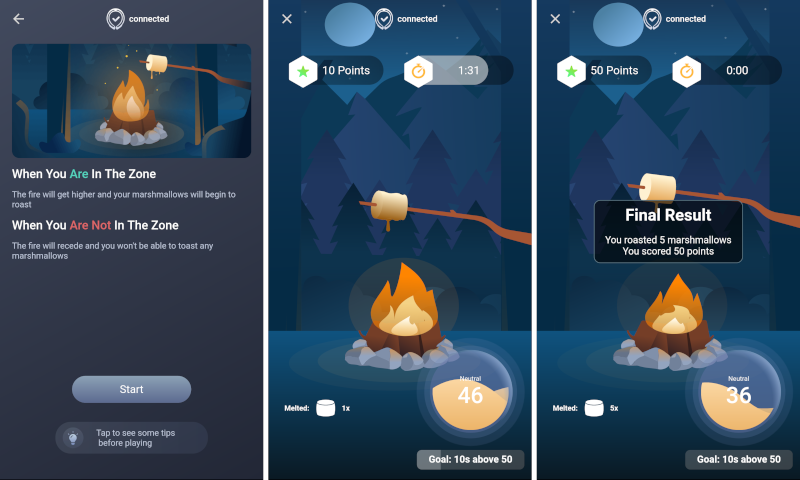 This is my favorite calm game, Campfire. The goal of the game is to consistently increase your FocusCalm score to toast marshmallows. If you meet the goal shown in the lower right hand corner you earn points and virtually toasty marshmallows. Focus games are the same concept where you have meet the goal with your FocusCalm score but you also have to complete a task such as a simple game of memory or touch numbers in an increasing sequence when they are scrambled up.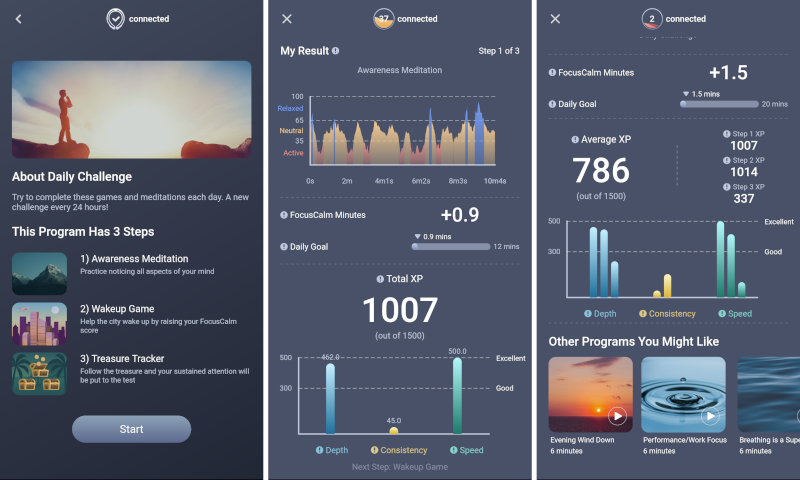 After completing each activity, the app displays your results. It shows you your brain activity throughout the activity, the total time you were able to stay in the relaxed zone known as FocusCalm minutes and your total experience points which helps to show trends between different activities and days. XP is calculated based on depth, consistency and speed. Depth is based off of the highest FocusCalm score during the activity while consistency is how well you stay in the relaxed zone. Speed is how fast it takes you to to reach the relaxed state. When you complete a program, it will compile all the results to show you what your average experience points.
What I like
The additional accessories to make wearing the band more comfortable
Simple and easy to use
App provides live feedback on how to relax and destress
What I'd change
App usable without additional subscription
Ability to wear it while laying down
More games
Captions for meditations
Final thoughts
The FocusCalm headband is great for someone who is looking to figure out how their brain relaxes. Through the games and meditations it walks you through how to decrease your brain activity and maintain a calmer outlook on life. If anyone is curious about how active their brain is while they think they are relaxed, the FocusCalm headband is a great tool for them.
Price: $199 + FocusCalm app subscription
Where to buy: FocusCalm
Source: The headband for this review was provided by FocusCalm