We use affiliate links. If you buy something through the links on this page, we may earn a commission at no cost to you. Learn more.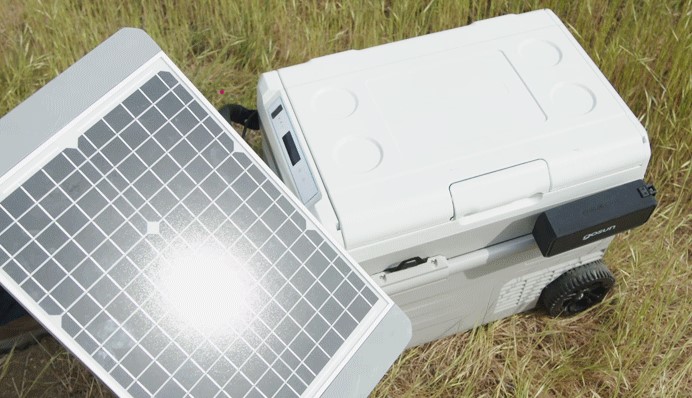 CROWDFUNDING NEWS – Finally an Indiegogo project I can get behind!  The GoSun Chillest is a solar-powered cooler that has both a freezer zone and a refrigerator zone.  They claim they can keep you in popsicles at the beach for up to 10 hours, no ice required!
This may seem a bit familiar, since the team bringing the Chillest to market previously launched the similar GoSun Chill on Indiegogo.  They added some features to this model, like a handle, an adjustable thermostat -4°F to 68°F (-20°C to 20°C) and two compartments that can chill simultaneously at different temperatures.
The internal battery on this rolling cooler will run for up to 10 hours, and they also sell an external battery that will add another 30 hours to that, so you can camp with this bad boy.  They also offer a tilting solar panel that also doubles as a small table, and you can plug it into your car lighter or standard household outlet.  They are offering extra accessories for the cooler, like an umbrella mount, an umbrella, a Bluetooth speaker, a camp kitchen kit, and a cutting board.    Is it heavy?  Yes.  It's 42 pounds, but it's on wheels.  Loaded with your stuff might make it a "team lift" item, but don't forget, ice isn't lightweight either.
The group expects to ship in July, and they've run 8 successful campaigns previously, so that may actually happen (unlike so many crowdfunded projects).    It is pricey … the super early bird is $599.  I'm pretty sure you could get a regular fridge for that price, but you can't take a regular fridge to the beach, and you can't put a price on that — except they did and it's $599. Their fully-funded campaign ends soon, so check it out on Indiegogo.