We use affiliate links. If you buy something through the links on this page, we may earn a commission at no cost to you. Learn more.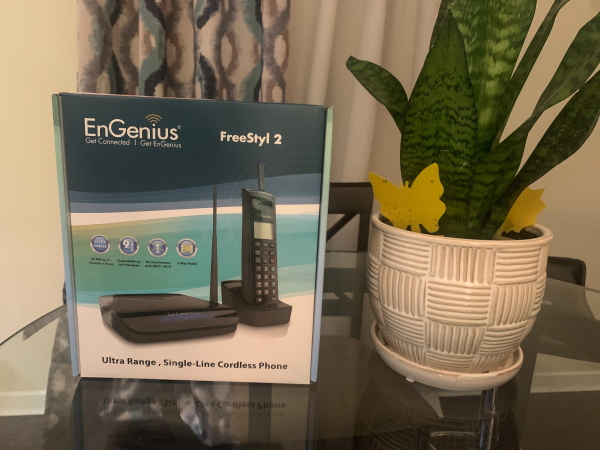 REVIEW – These days, most people use their smartphones or at least some type of cell phone for most of their personal calls. However, businesses still use conventional phones and in my case, I still prefer to have a conventional handset, and base on my home office desk albeit that I use VOIP as opposed to a hardwired landline. I was very happy to get the opportunity to test and review the EnGenius FreeStyl 2 phone system.
What is it?
The EnGenius FreeStyl 2, is a 900 MHz long-range desktop Scalable Cordless Phone with 2-way Radio for Broadcast or Intercom, and it is expandable up to (9) Handsets. It is capable of providing coverage up to 100,000 sq ft.
What's in the box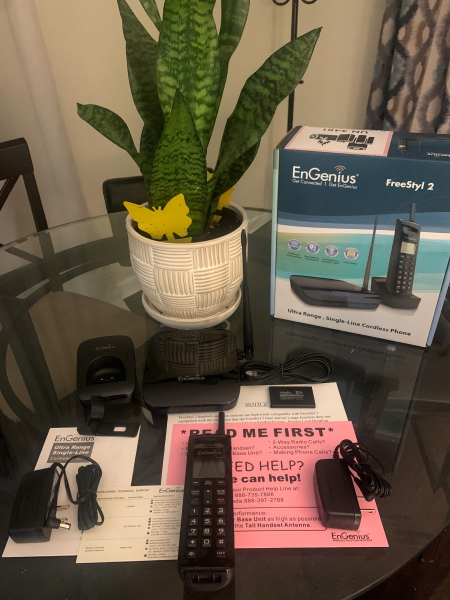 1 x Base Station
1 x Base AC/DC Adaptor
1 x Handset (antenna installed)
1 x Desktop Charger
1 x Charger AC/DC Adaptor
1 x 1100mA Li-ion Battery Pack
1 x Telephone Cord
1 x User's Manual, Quick Guide
1 x Belt clip
Design and features
Features
Coverage of Up to*:

25,000 square feet

10 acres

6 floors of penetration

Single Line

Operation Frequency: 902~928MHz (option for 902~915MHz & 915~928MHz)

Up to 400mW/-111dBm transmit power

Phone book: 50 entries

Soft menu key

Speakerphone in handset

Broadcast (independent with base)

Intercom (independent with base)

User-friendly MMI

Keyguard

Transmit power control

Adjustable microphone gain

Handset group setting

Type I/II caller ID

DTMF/FSK Caller ID

Message waiting detection (VMWI)

4-line LCD display

Call on hold

Built-in music on hold

Rapid charging

Mute

Baby monitor

Call manager (Call barring for incoming/outgoing call)

Any key answer

Feature call: 10

Adjustable flash time

Wall mountable

Supports Up to 9 FreeStyl2 Handsets 

Earphone call control

2.5mm headset jack

Ringer/ vibrator

compatible with FreeStyl1 handsets
The handset for this phone is designed like a typical handset with a standard layout. The back of the phone is also typical with the battery contained in the lower half and a belt clip for carrying. There is also a covered jack on the side to accommodate an earpiece/headset. The charging base for the phone is also standard with the power jack in the back.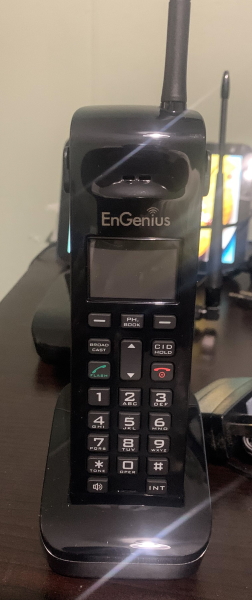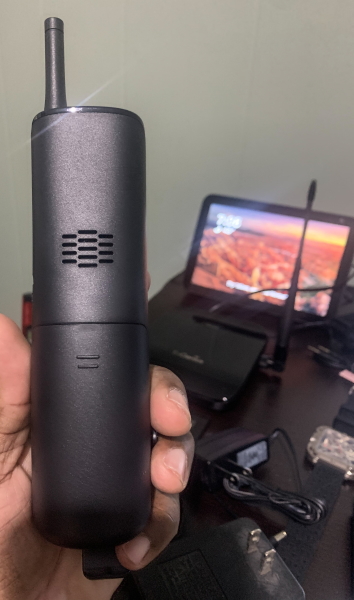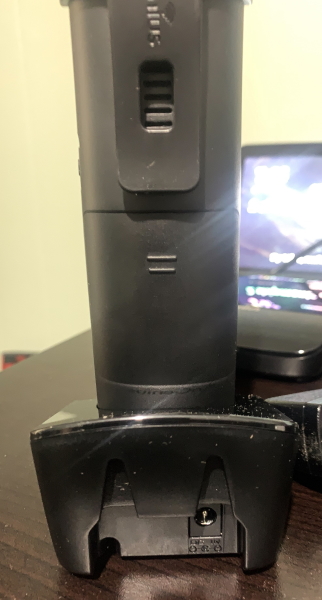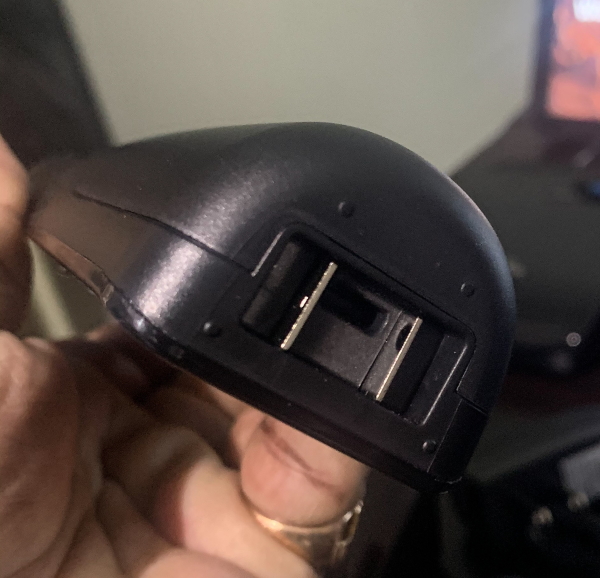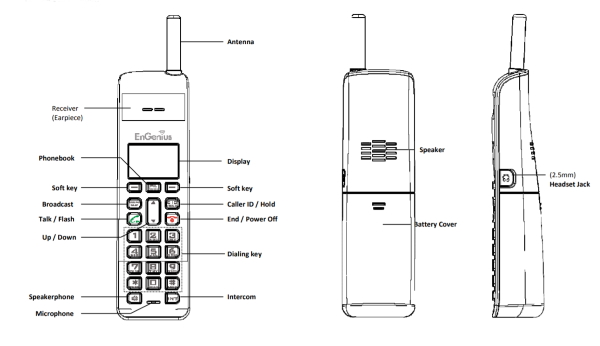 The base unit is small and sleek with an antenna and a LED on the front, and the power jack, reset button, and phone jacks on the back.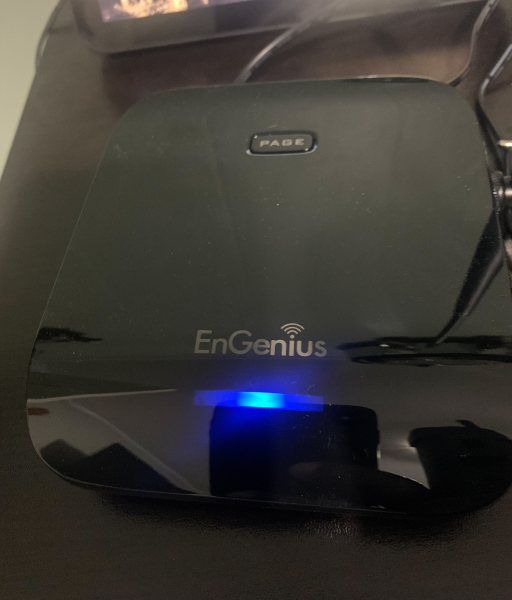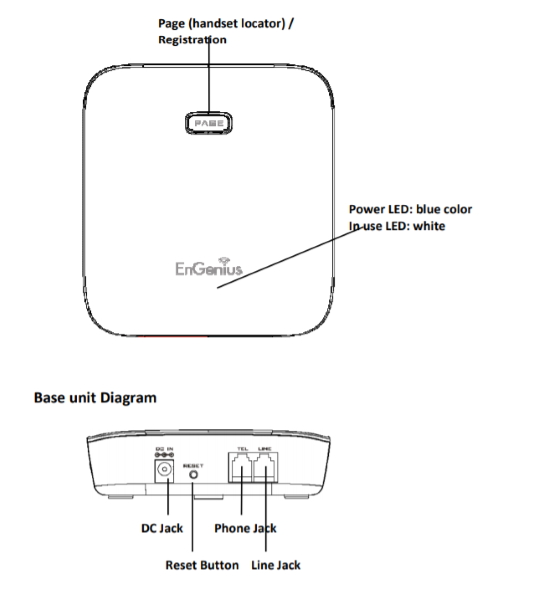 Performance
Setting up this phone is simple and just like any other cordless phone. EnGenius recommends a landline, but since I do not have one of those, I have the phone connected via VOIP using a MagicJack device. It works well via VOIP and it is reliable enough for me to use it as the business phone in my home office/studio.
The most important feature of this phone is supposed to be its range, so let's talk about that. I took the handset with me for a drive, and I was able to get a dial tone and make a clear call at over 1/2 mile away from the base. That is the longest range I have ever experienced using a cordless phone.
The one issue that I encounter, is that if I use the phone near my desk, I experience interference with the studio audio monitors that are on my desk. However, this interference does not seem to affect the quality of the phone call
This phone also offers many other features including the ability to use it as an intercom and a baby monitor. You can click here to read the manual and find out more.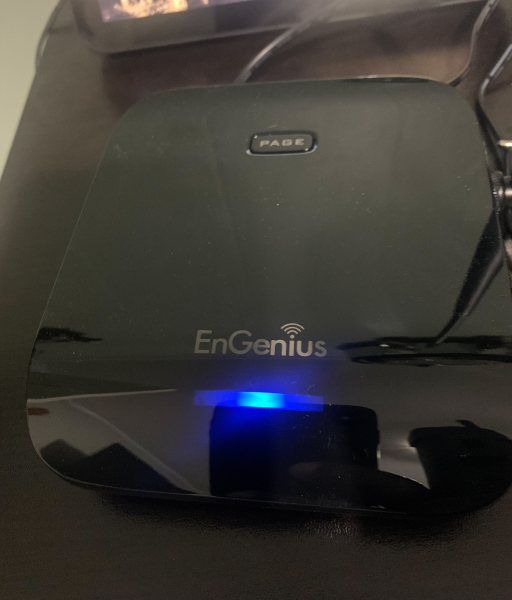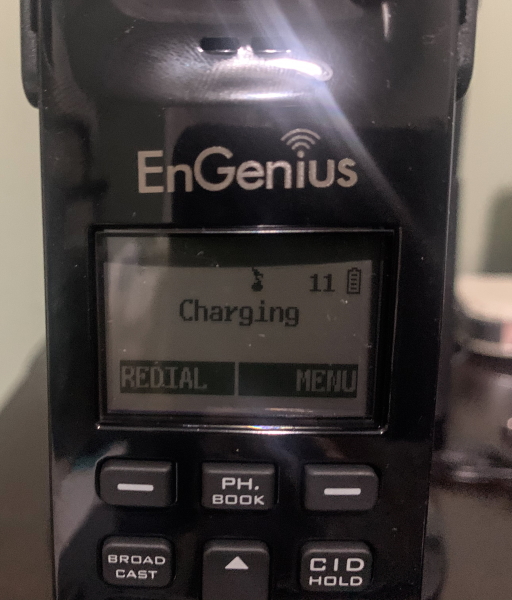 Overall, this is a good cordless phone system and would likely work well for many types of businesses especially because of the range and the expandability.
What I like
The good and lightweight build quality
The operational range
The sleek design and style
The easy to navigate menu
What I'd change
Fix the interference that occurs around other equipment
Final thoughts
The previous cordless phone that I was using for many years worked quite well, so I was very interested in upgrading to this one that promised a much better range. The range capability does work quite well. I can definitely see this phone being useful for business with buildings that are large and/or that occupy more than one floor, but I am not sure if the interference that I experienced would become a major factor.
Price: $329.60
Where to buy: EnGenius and Amazon
Source: The sample for this review was provided by EnGenius.