We use affiliate links. If you buy something through the links on this page, we may earn a commission at no cost to you. Learn more.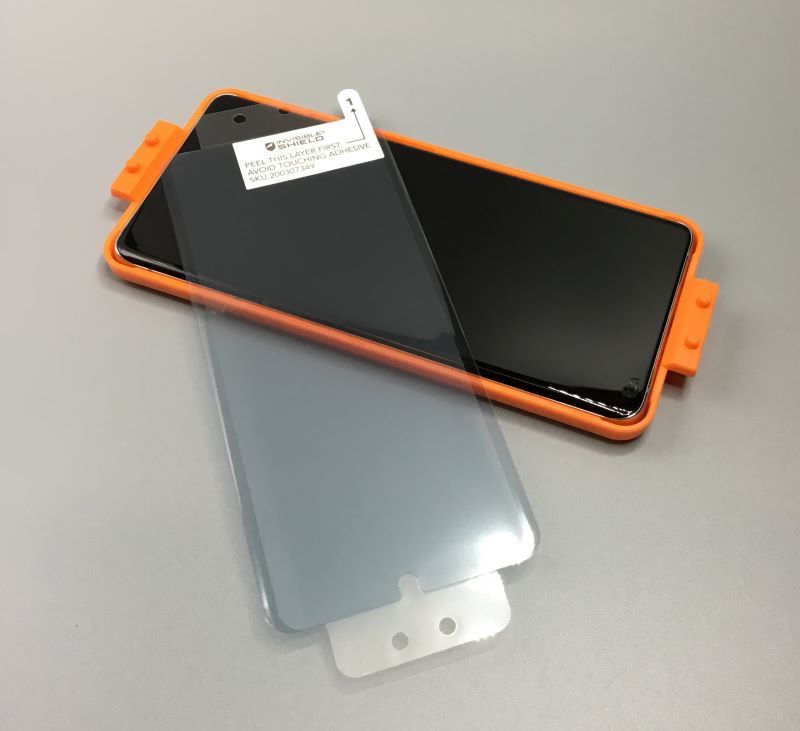 REVIEW – Once again Samsung suckered me in with an unbeatable deal and I'm the proud owner of the Samsung S21 Ultra.  It still cost an arm and leg and unlike their previous releases, this phone does not ship with a factory-installed screen protector.  I was shopping for one before the phone even arrived, but when the opportunity came to review the Zagg Invisibleshield, I eagerly peeled off that old one!   This one does a lot more than just protect from drops!
What is it?
The Zagg InvisibleShield Glassfusion VisionGuard+ with D3O (which I will refer to as "the screen protector" after this because that's a lot of words) is a fancy screen protector that has a number of very useful attributes.  It has a blue light filter that helps protect you from eye strain, it has an anti-microbial treatment that inhibits the growth of bacteria and it is scratch, smudge and impact resistant.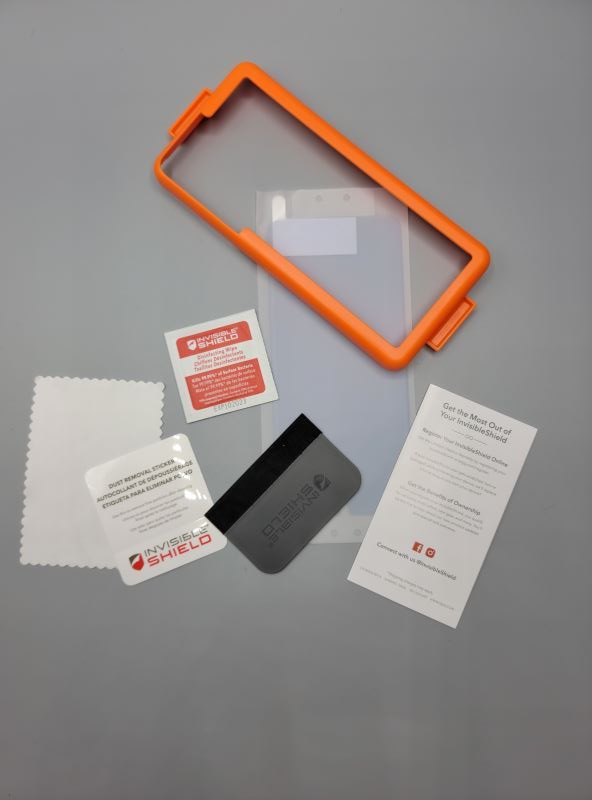 What's in the box?
Screen protector
Microfiber cloth
Cleaning wipe
Dust removal sticker
Instructions
Squeegee
EZ apply tray
Features
This screen protector is the top of the line from ZAGG and protects the phone with something called D3O.  D3O is a brand of material that dissipates and absorbs impacts from whatever small disaster might befall your latest overly expensive gadget.  They use it in bulletproof vests, helmets, kneepads, and apparently, screen protectors.  D3O hardens on impact and is usually used in conjunction with other materials, giving whatever it is used with an extra boost of protection.
The ZAGG website says that it is military grade protection that uses a glass hybrid that is flexible, which I didn't expect.   I really like that because I've had rigid glass screen protectors and they always break and you have to replace them.  This one isn't any thicker than other screen protectors I've used, but it feels like glass.  It doesn't interfere with fingerprint recognition, either.
This screen protector also incorporates something called VisionGuard, which is a layer that blocks high energy blue light which is generated by electronic displays like phone and computer screens.  Blue light not only disrupts your body's natural sleep cycle, it has been linked to cataracts and macular degeneration.  Macular degeneration is the leading cause of permanent vision loss in people over 60.  My grandmother had it (so I might be predisposed for it) yet I spend all day in front of computers these days.  Most of the time I'm wearing glasses with a blue light filter, but when I look at small stuff on my phone, I tend to remove my glasses, so I'm pleased I have another form of protection. I was worried that the blue light filter would affect the colors the phone displays but I don't notice any difference.  Everything looks the same to me.
The literature says the anti-microbial treatment inhibits odor causing bacteria and guards against degradation from microorganisms, but there are no specifics beyond that.  I'm a little confused by this, because I've never had a smelly phone, and I have never had a phone that quit working because of microorganisms.   I'm more worried that my phone might collect germs that can make me sick and I'd like to know if it kills those kinds of bugs.  I tried to research a bit more about the coating, but I couldn't find any more information.
The literature also said it was smudge resistant but my phone still seems pretty smudgy, so take what you will from that.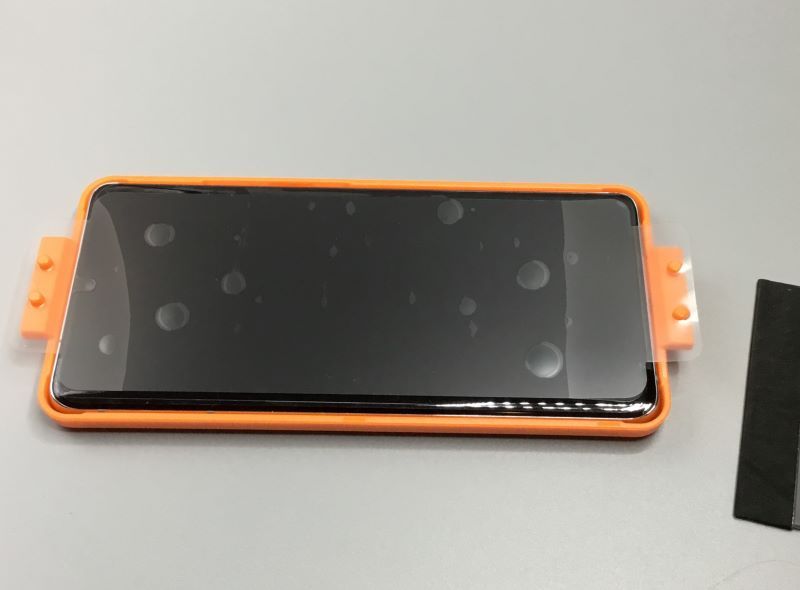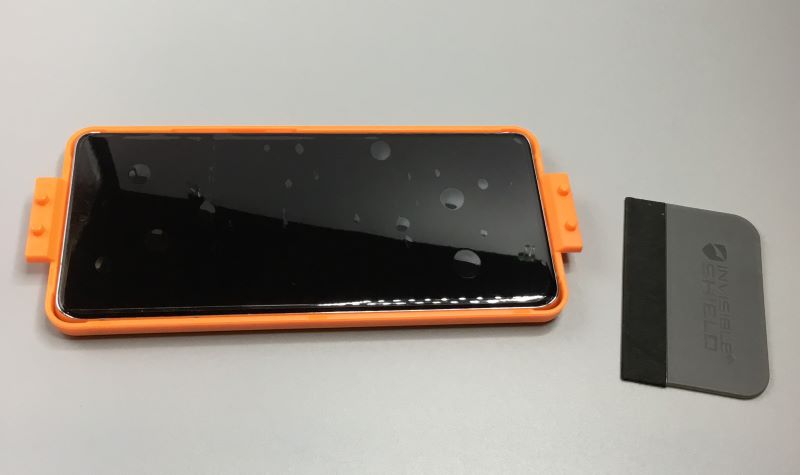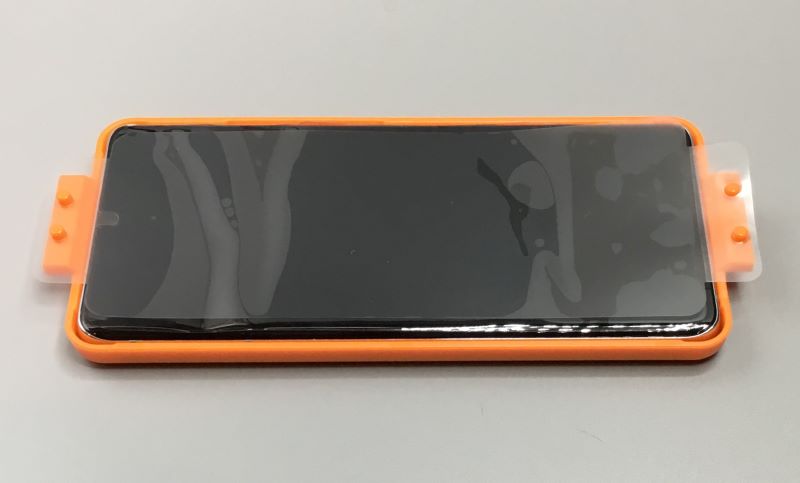 Now let's talk about installation because it is a unique experience.  I do not purport to be an expert on screen protector application, but I've done a fair number of them.  My favorite kind is wet installation because is a forgiving process.  You can move them around and reposition them and it seems easier to work out any bubbles.
This particular protector came with something I'd never used before:  a tray.  The idea is that you put your phone into the tray, and then there are pegs on the tray that line up with holes on the protector so you get perfect positioning.  I was eager to try this out.  Maybe too eager?  I don't know. The tray thing is supposed to sort of suspend the protector above your phone until you've got it all lined up on the pegs, and then you can squeegee it out.  Unfortunately, the screen protector kept sagging and touching the phone, making it a huge pain to line up on the pegs.    I wound up lifting and repositioning it four times and eventually I got rid of the tray and just stuck it on old-school style!  Success!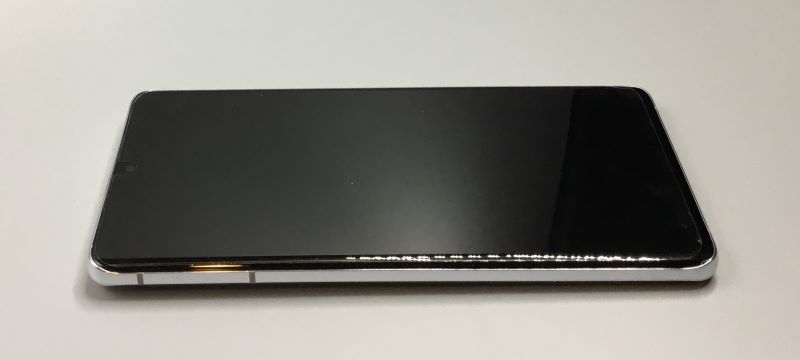 The end result is acceptable.  I handled it too much and that's why there are some fingerprints on the corners but it is really hard to see that, and you don't notice them when the phone is on.
Now that I've had the screen protector on for a few weeks, I can also say that I don't notice any lifting.  Half the reason that I opted to get a new phone is that Samsung is so fond of the curved screen, and it drives me completely nuts with screen protectors.  None of them stay on by the buttons, because you are constantly running your fingers over them and they start to lift.  This phone has less curve than my previous one (a Note 10), but there is still a bit of a bend on the edge.  I can already tell, though, that whether it's the design of the phone or the adhesive ZAGG uses, I won't have that problem anymore.
What I like:
Cutting edge drop protection
Blue light filtering
Anti-microbial coating
No lifting!
What I'd change:
Maybe lose the tray?
Put a bit more information on the website about the antimicrobial treatment.
Final thoughts
When you pay as much as phones cost these days, I think it's best to go ahead and throw a few more bucks at a decent screen protector.  This one protects your phone not just from drops but from germs and blue light, and that's pretty cool.
Price:  $45.99-59.99
Where to buy:  ZAGG, Best Buy, and Amazon
Source:  The sample for this review was provided by ZAGG