We use affiliate links. If you buy something through the links on this page, we may earn a commission at no cost to you. Learn more.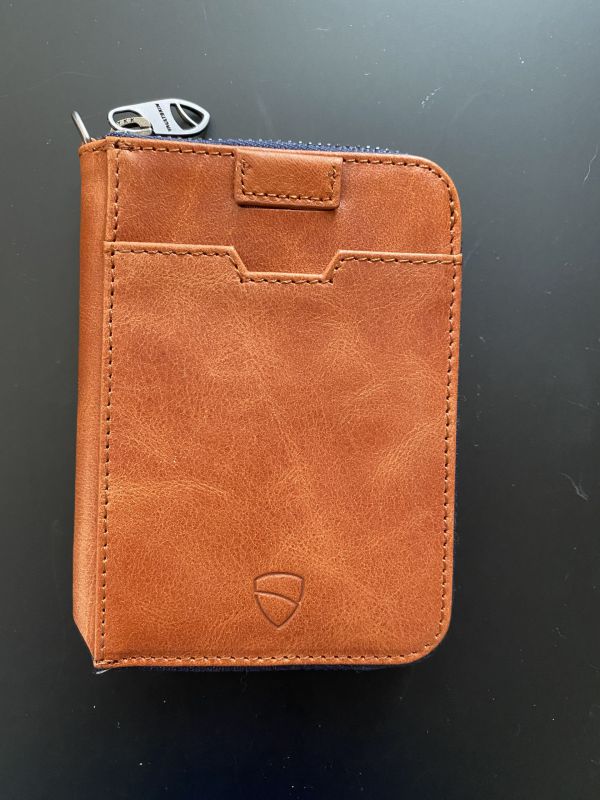 REVIEW – I am not your normal female in that I do not enjoy lugging a purse around with me every day.  I am very minimalist when it comes to how I carry around cash and cards.  I tend to stick to minimalist wallets that fit easily in my front pocket (even those lame, not very deep, women's pant pockets).  It needs to hold my cash (yes, I still carry some) and cards.  If it can also hold a few coins, it is a bonus.  My current wallet is the Waterfield Micro Wallet.  It is a zippered wallet that I have come to love and used for well over a year.  I now get the opportunity to review the Vaultskin Notting Hill zippered wallet.  Let's see how they compare.
What is it?
The Vaultskin Notting Hill zippered wallet is a zippered wallet that can hold up to 12 cards and 10 bills.  It has a snap pocket that can hold coins, SD cards, or a house key.  It has a zippered area that keeps your coins and cash secure, along with a pocket to hold even more cards if you wish.
What's in the box?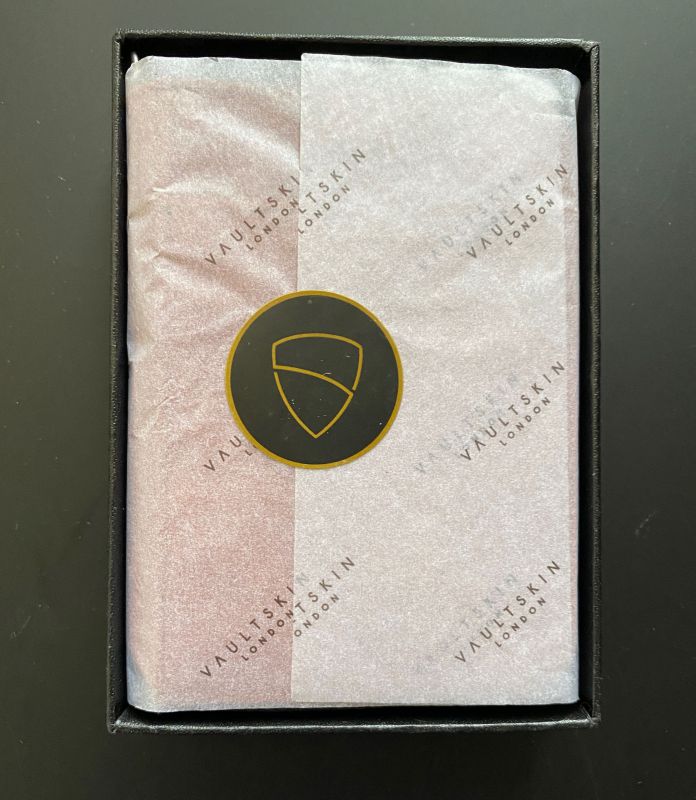 The wallet came nicely packaged in an exact fit box wrapped in tissue paper.  It is a very elegant presentation.  The box contained the following items.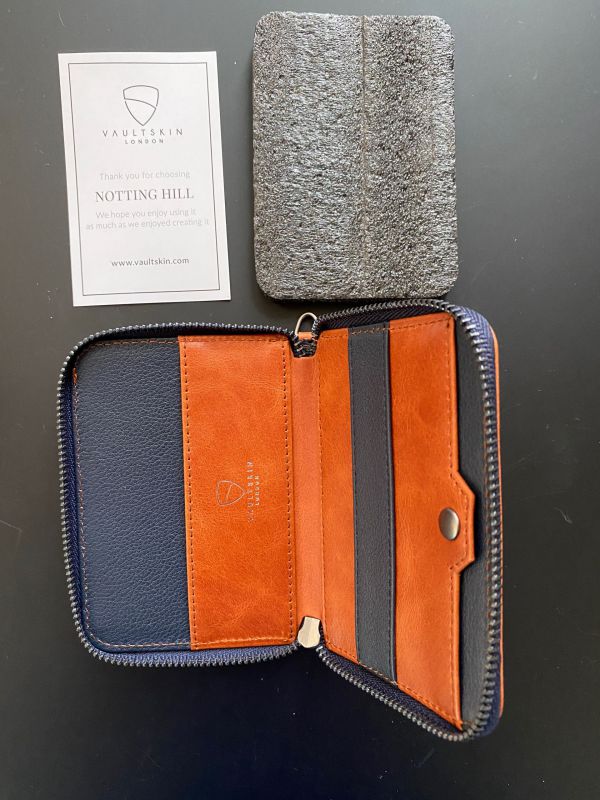 Thank you card with registration information
foam insert
the wallet
Hardware specs
Dimensions – 80 x 105 x 12 mm or 3.15 x 4.13 x 0.47 inches
Weight – 60 grams or 2.12 ounces
Maximum Banknote dimensions – NOTTING HILL can fit any folded banknote securely in its internal compartment.
Holds a maximum of 12 cards and 10 bills.
RFID protection on all card pockets – Note, I think the very front pocket is a weaker RFID pocket, and users have reported door cards will still work through that pocket.
Design and features
This EDC wallet has a lot of nice features in a beautiful package.  The wallet comes in your choice of colors to include cognac(this is the color I received), alpine green, black, and brown.  The wallet is made of top-grain, genuine Italian leather and smells like it.  All in all, this wallet looks feels and smells great.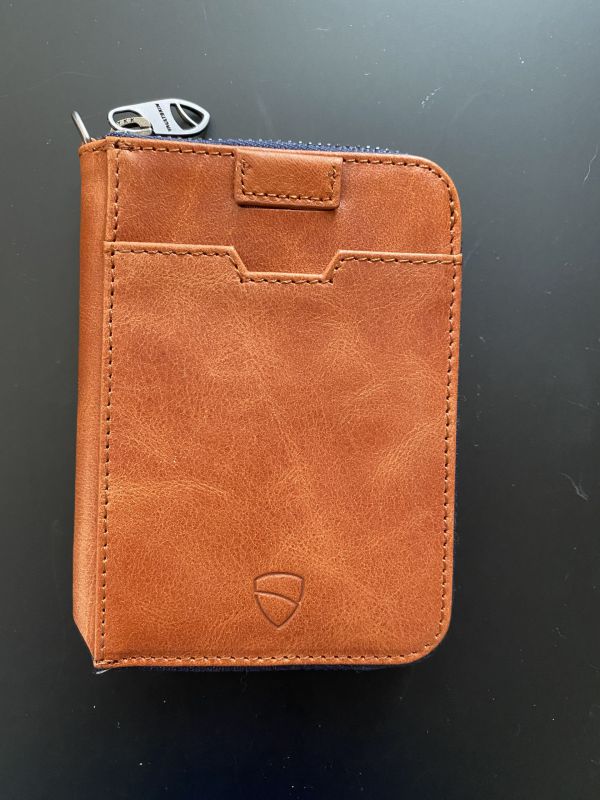 The front of the Vaultskin Notting Hill zipper wallet pictured above has two card slots.  The first is very obvious, as you can see the notch for the card.  This slot also has the weakest RFID protection and can be used for things like door cards.  There is a tab behind that slot that lets you pull it straight up to pull a card out of a slot behind it that is between it and the zipper.  This is a really nice easy access slot.  I will have a picture later showing how this pull tab works.  Many folks in the review missed this slot and thought the pull tab worked the front slot, which it does not.  I personally put my most frequently used credit card in this slot.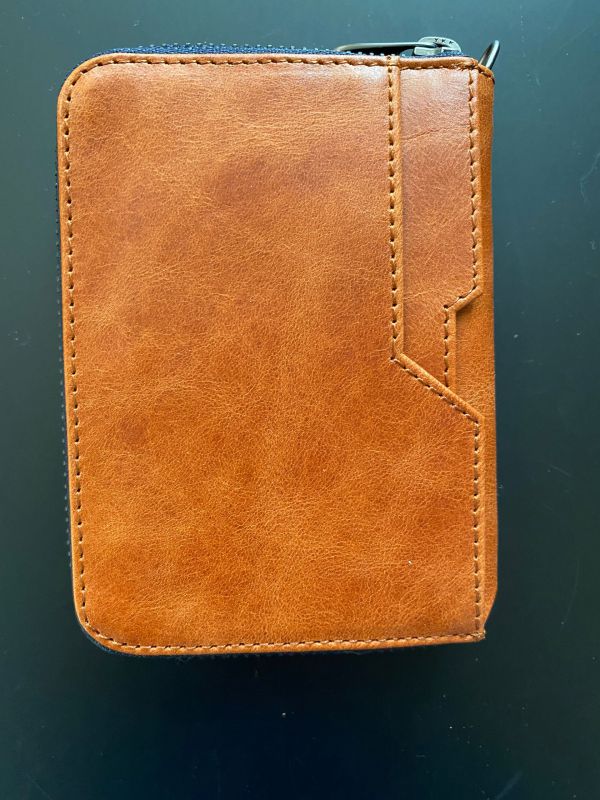 The back of the wallet has two additional card slots.  I fit two credit cards in each slot, but it was very snug and made it difficult to get the cards out.  It may break in overtime as the leather wears in.  I currently only have one card in each slot.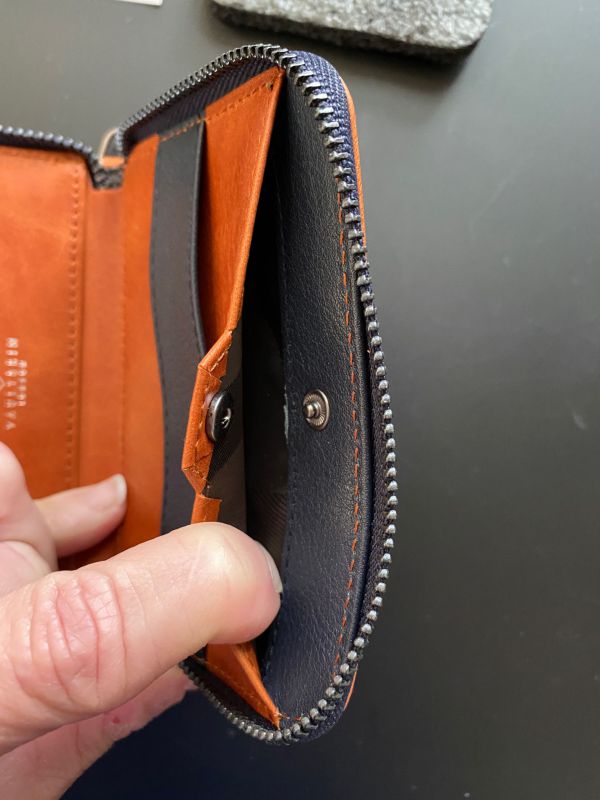 Inside the zippered area, you will find a pocket with a snap.  This allows you to store a few coins or a key.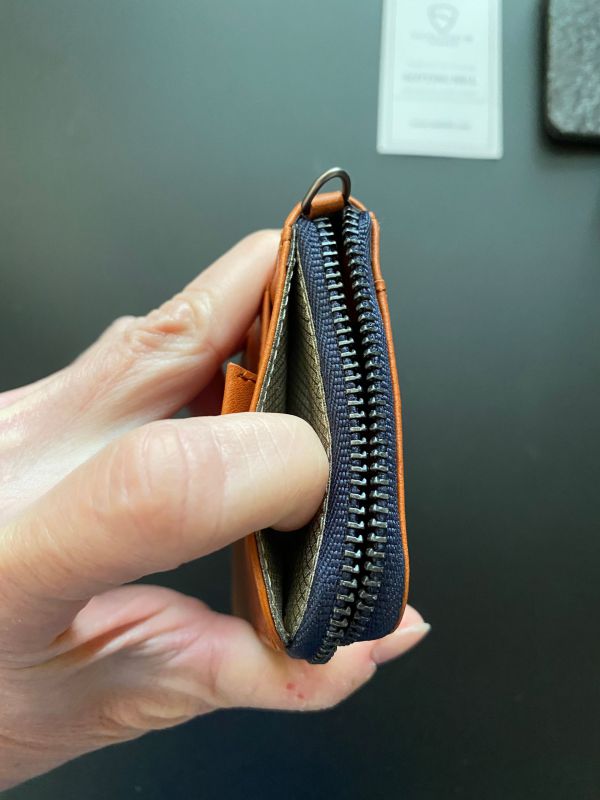 The picture above shows you where this extra hidden card pocket is on the front of the wallet.   This is the slot that is activated by the pull tab.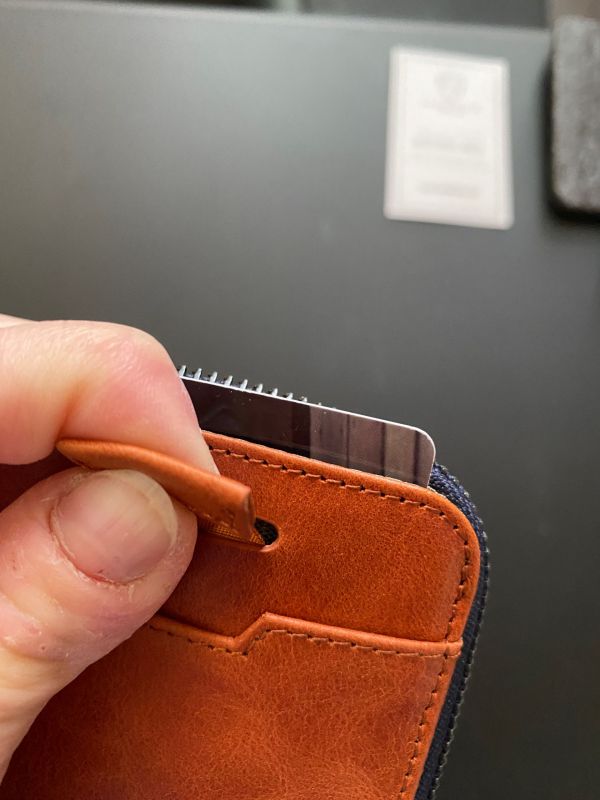 This picture shows me pulling the tab and the card popping out of the slot.  When I let go of the tab, the tab pops back into place automatically.  I really like this feature.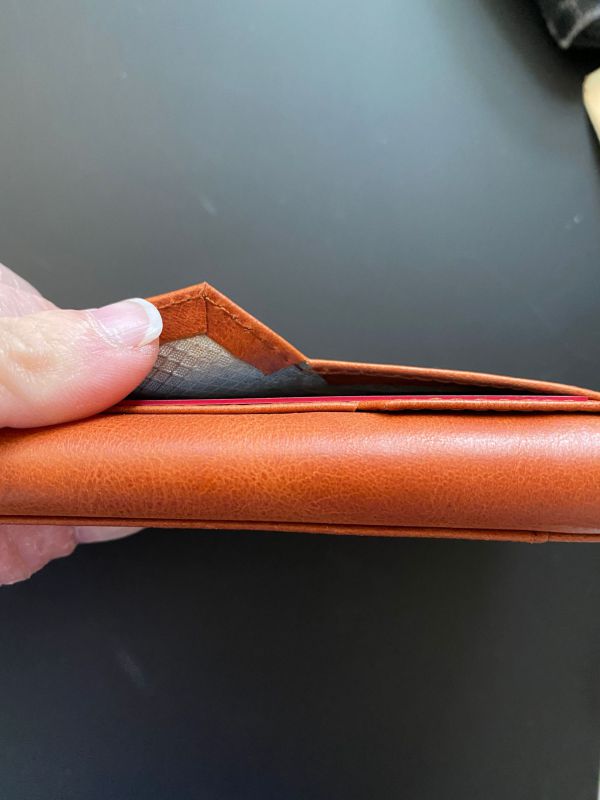 This is a picture I took of the inside of the back two card slots.  You can see the RFID material.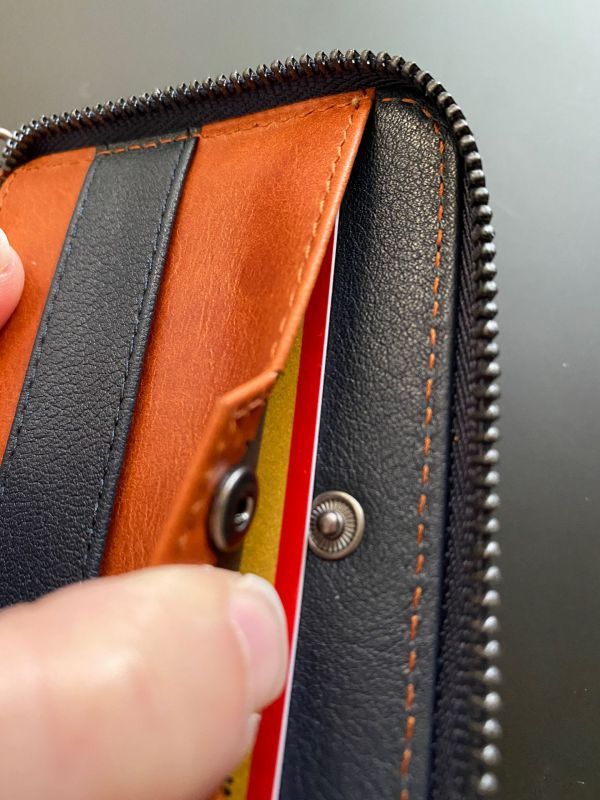 I attempted to store an additional card in the slot to keep your change or house key.  Note the card does not go in far enough to expose the snap fully.  The snap did close, but you can see this slot is not really designed to hold a card.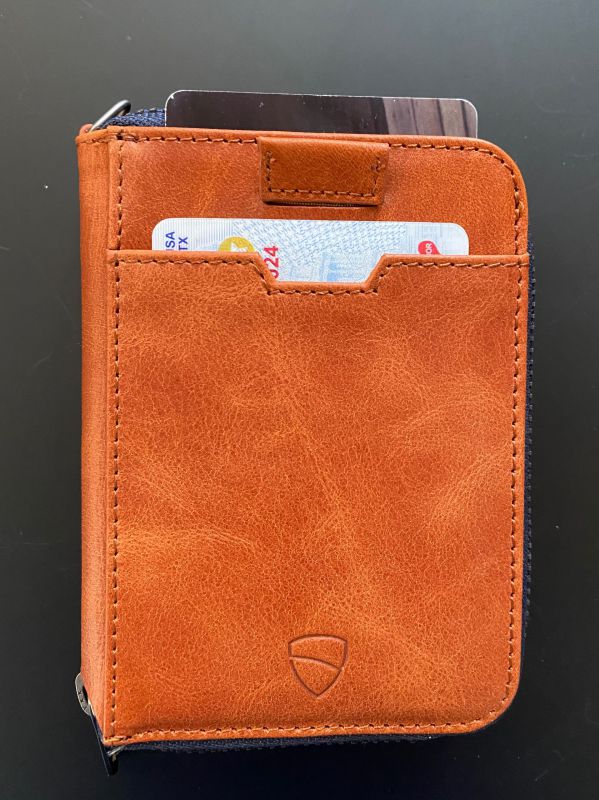 Finally, I took some pictures of the wallet's front and back with my cards in place.  The back card is popped up, so you can see that the card is in there.  When the card is inserted, you cannot see that back card at all.  You have to use the pull tab to get it out.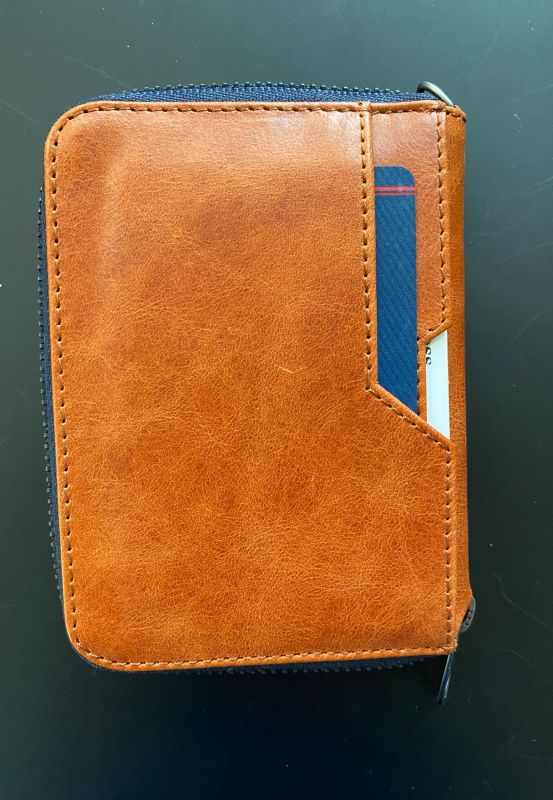 This is the back of the wallet with two cards inserted.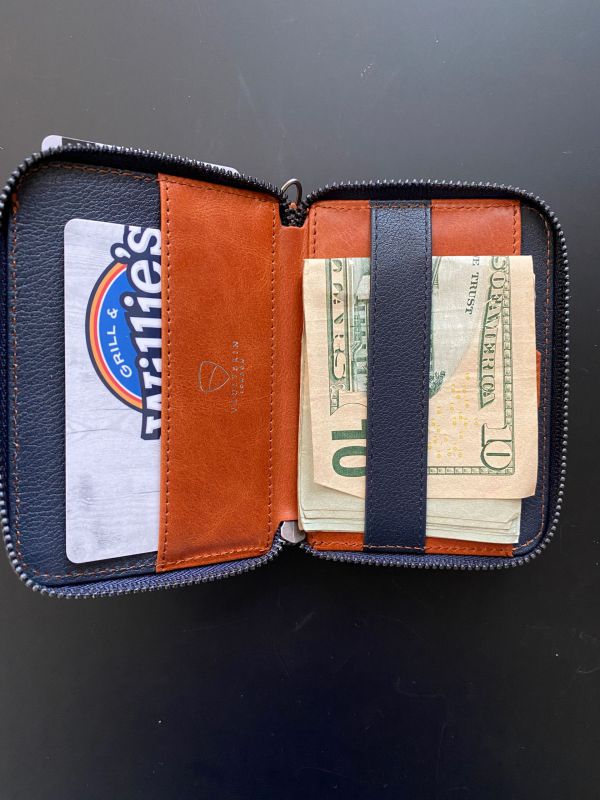 Here is a shot of the inside of the wallet.  I have a single card stored in the left slot and five bills stored under the money strap.  The strap is leather and not elastic.  It holds the money pretty securely, but I am sure over time, it might stretch out.  Since it is inside the zippered area, I am not worried about losing my cash.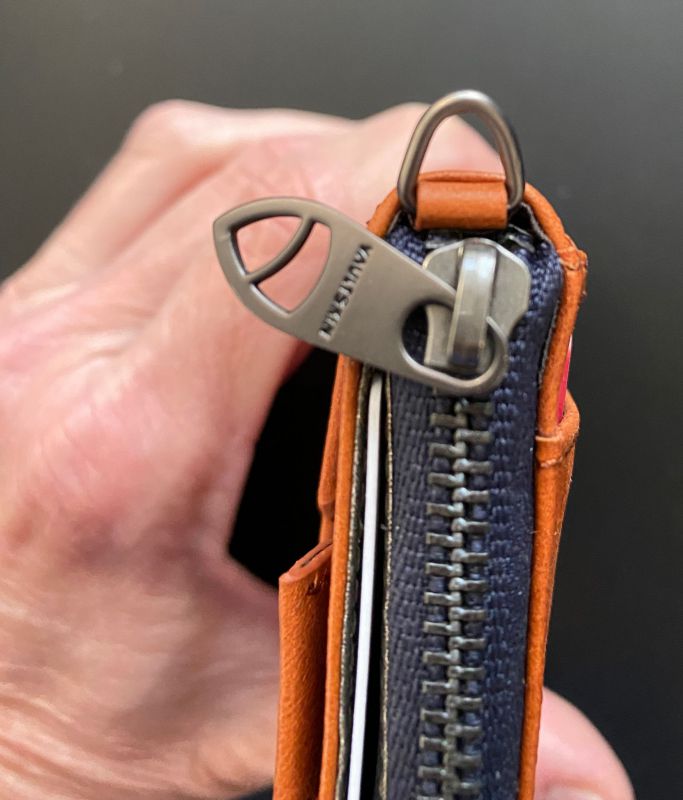 This final picture is a closeup of the zipping and ring on the wallet.  There have been several complaints of the zipper failing over time.  I cannot find anywhere on the Vaultskin site where it says what type of zipper is used, only that it is metal.  Some people have posted that it is a YKK zipper, but I am not sure that it really is.  I can say the zipper does not have the same heavy-duty feel that the zipper does on my Waterfield wallet.
Performance
I am comparing the Notting Hill wallet to my current wallet from Waterfield, the Micro Wallet.   Looks-wise as you can see below, there is no beating the Notting Hill wallet.  The wallet is exquisite.  Now I will say the Waterfield is a canvas material, so it is not completely comparable.  My Waterfield wallet has developed a lot of wear on the edges, and you can see how it has folded in on itself in the corners.  I can tell that the Notting Hill wallet won't have the same issue with corners folding as the material is much stiffer.
I love that I have quick access to my credit card without opening the zipper.  I have quick access to four of my cards this way, and they are all RFID protected.  The Waterfield wallet has no RFID protection.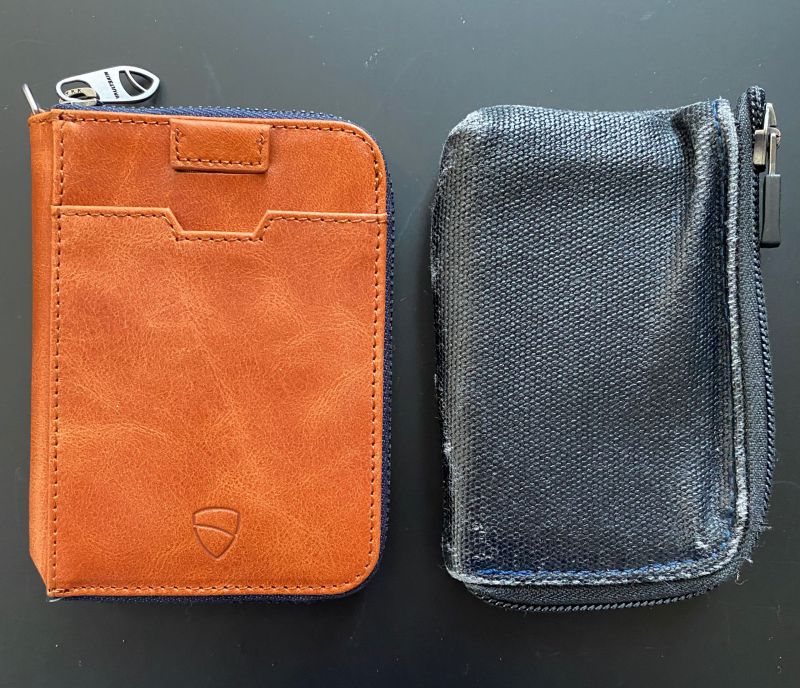 Finally, I have a side shot.  You can see that the Waterfield, being made of a more flexible material (even their leather version of this wallet which I have is the same way), will have a slightly slimmer profile.  The Vaultskin will add a touch more bulk to my pocket.  I have been using it the last few days, and after a few moments, I forget that the wallet is even in my pocket.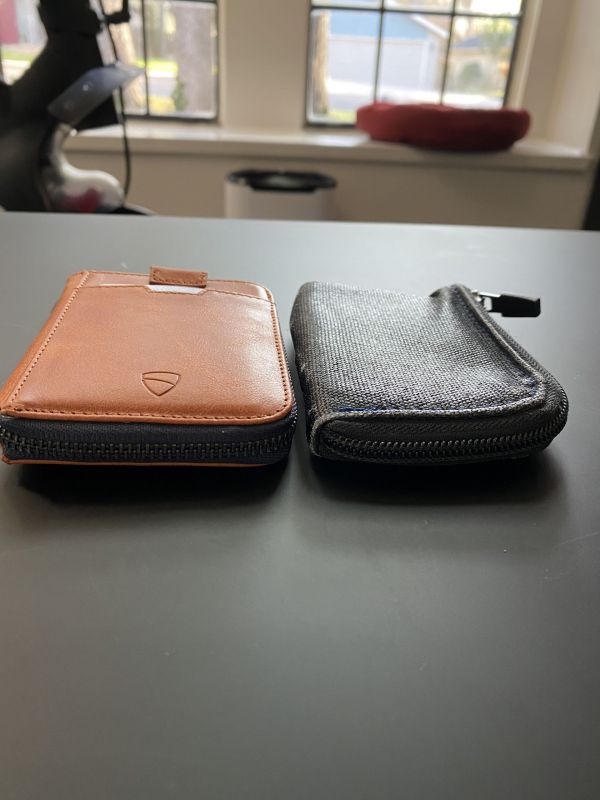 I have enjoyed using the Notting Hill wallet, and it has become my new daily wallet.  The card slots and money slots are a bit stiff, but I am sure they will break in overtime.  I also find putting the money in place easier than the Waterfield.  The Notting Hill has a separate pocket for coins, while with the Waterfield, you have to dump the coins in the same pocket as the cash.
What I like
Beautiful wallet with top grain leather
Easy access card slot with a pull tab that is RFID protected
Four slots for cards outside of the zipper area
It has a place to hold folded money.
Has a place to hold coins or a small key
It still fits in my front pocket.
What needs to be improved
They need to upgrade their zipper to a YKK zipper if it has not been done yet.  Hopefully, it lasts.
Only a six-month warranty.  I feel it should be a year.
Final thoughts
With a few concerns about the Vaultskin Notting Hill zipper wallet's zipper warranty, I really love this wallet.  It is the perfect combination of minimalism with the capacity and functionality to hold exactly what I need in a wallet.  The easy pop-up card access is a big winner for me.  For a top grain leather wallet, you can't beat the price.  I suggest giving it a shot if you are looking for a nicely made, good-looking, minimalist wallet.
Price: $36.99
Where to buy: Vaultskin and Amazon
Source: The sample of this product was provided by Vaultskin.