We use affiliate links. If you buy something through the links on this page, we may earn a commission at no cost to you. Learn more.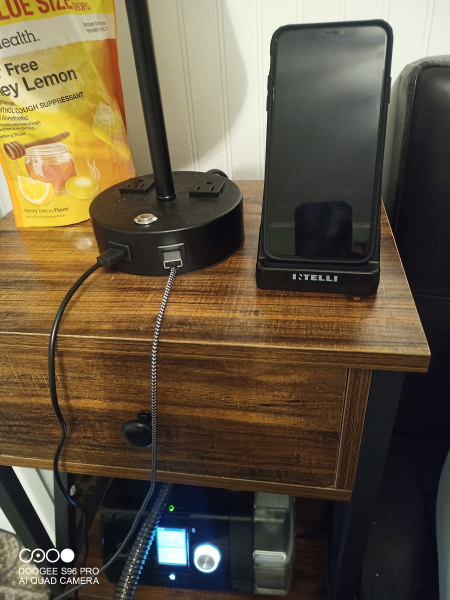 REVIEW – After a few years of testing and reviewing wireless charging devices, I have lost track of how many I have tried. Most of the solutions I tested either offer a single wireless charging option in an awkward or unbalanced position, or they try to offer multiple options, but on a footprint that is either too large for my practical use on my desk or nightstand. In some designs, they offer built-in popup jacks that make connectivity frustrating. I had given up on finding any device that included a design that is practical for my needs until now. Enter the Intelli Powerhub!!
What is it?
The Intelli Powerhub is an all-in-one charging/powering device that is capable of charging up to 4 devices at once as well as providing power via its 2 built-in power outlets. Additional features include Wireless Charging, fast-charge USB, and type-C charging as well as a Power Delivery port.
What's in the box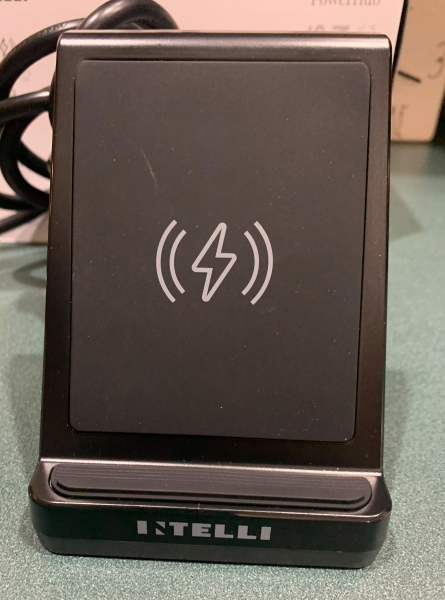 1 x Intelli Powerhub
Design and features
Features
* Built-In: USB-C PD Port
* Built-In: 2x USB-A Ports
* Built-In: Qi Wireless Charging Stand
* Built-In: 2x A/C Outlet Ports


Specifications:
| | |
| --- | --- |
| Power Input | AC110V-240V // 50/60Hz 10A |
| AC Output | AC110V-240V // 50/60Hz 1100W (Max) |
| (2) USB-A Outputs | 5Vdc2A (Max) |
| Wireless Output | 5Vdc1A/7.5Vdc1A/9Vdc1.1A |
| Typc-C Output | PD18W 12Vdc1.5A/9Vdc2A/5Vdc2.4A |
| Base | 4 anti-slip rubber feet |
The Powerhub is a clean design with the wireless charging surface on the front, the 2 AC ports on the back behind the wireless charging surface, the USB ports on the sides, and the on/off power switch on the back.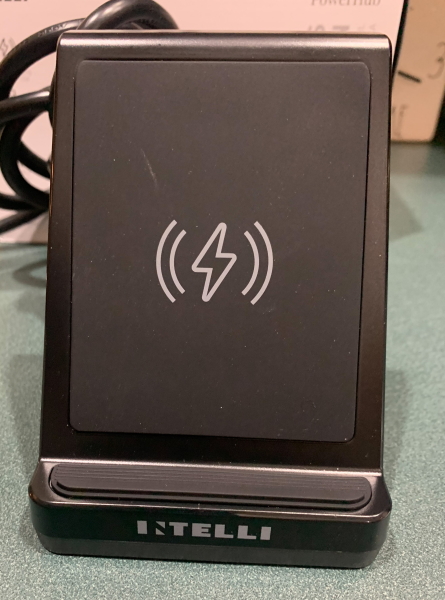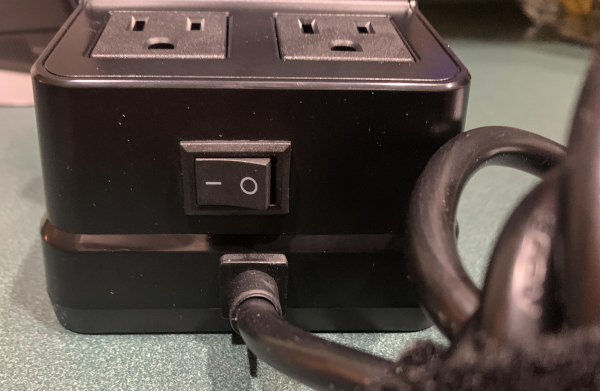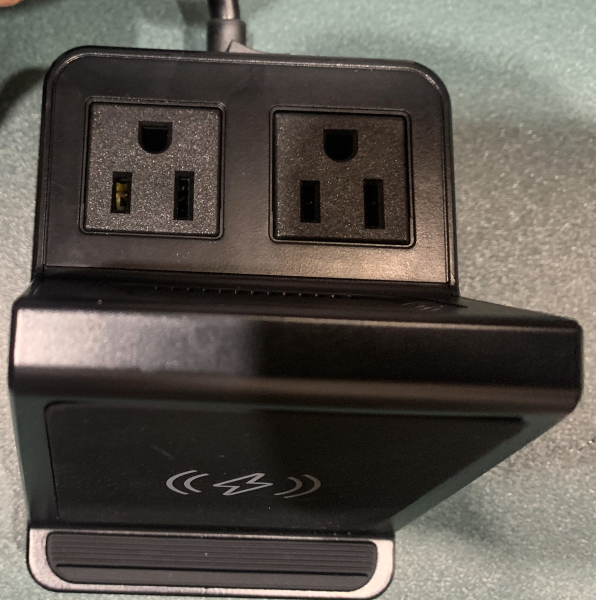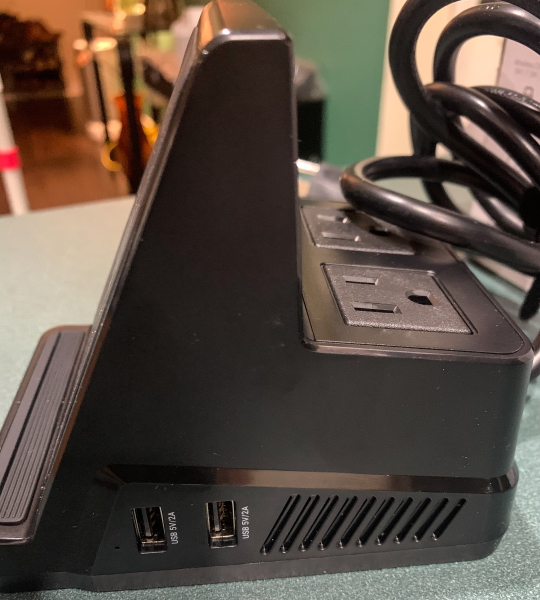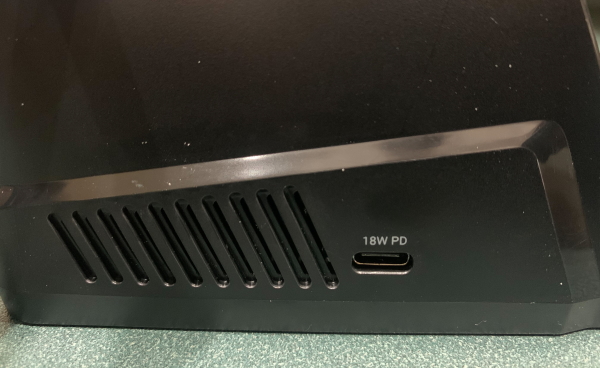 Performance
I use this Powerhub on my nightstand. As shown below, I am able to plug in my lamp, my CPAP machine and charge my phone. When needed, I can also charge things like my earbuds, and I can power some USB-C devices.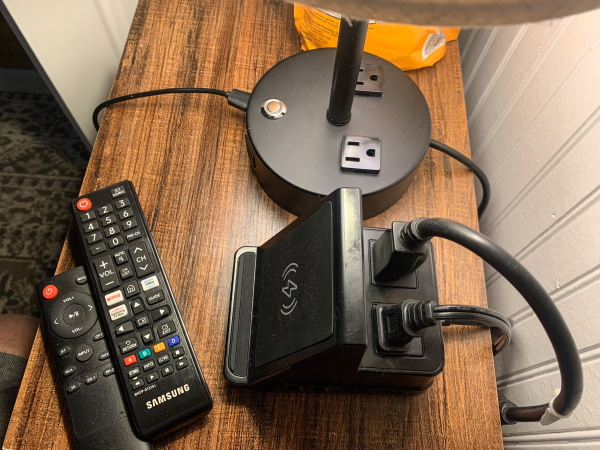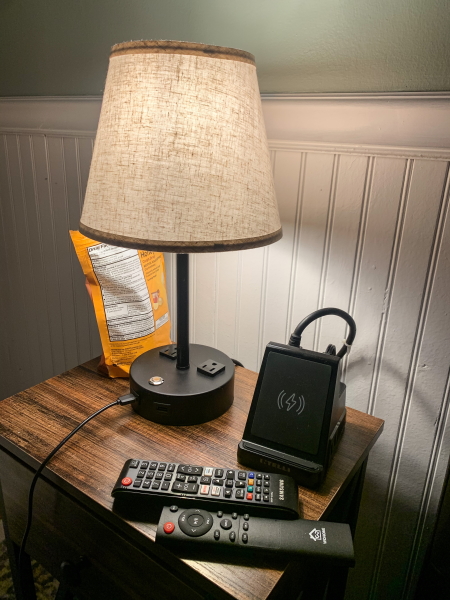 This hub works well and is very convenient. My phone charges easily just by placing it on the charger, and the angle is good for me to glance over at the phone while it is charging. I can also use the touchscreen on my phone while it remains charging, and the rubber feet at the bottom of the device ensure that it does not slide.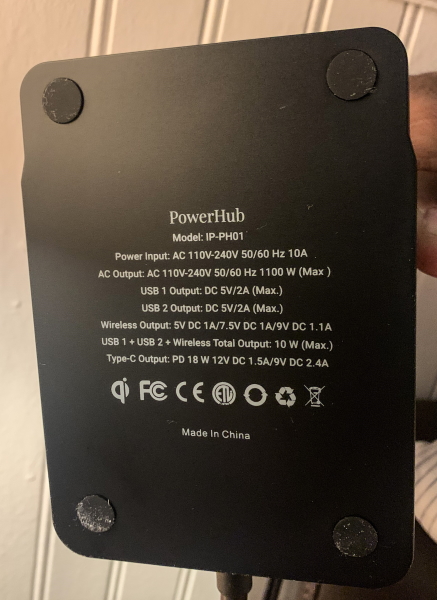 On the nightstand lower shelf, I have the CPAP machine that I plug in the Powerhub. In the morning, when I get up from bed, I am able to turn off the Powerhub via its on/off switch, as opposed to having to plug out my CPAP machine, etc.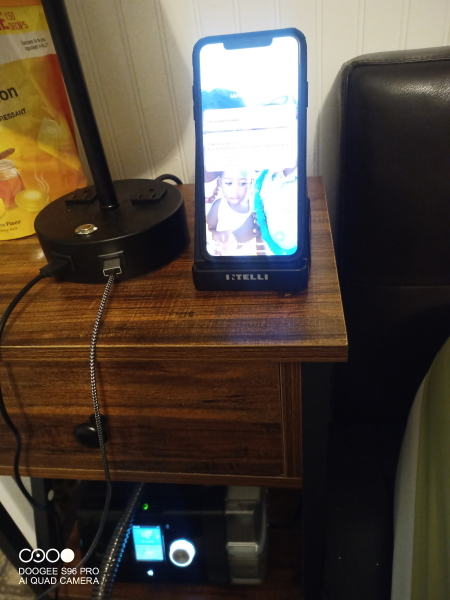 What I like
The build quality
The number of charging/powering options
The wireless charging option
The 2 built-in AC ports
The practical on/off switch option
What I'd change
It does exactly what it is designed to do
Final thoughts
After testing and using the Intelli Powerhub for about a month, it has earned a permanent place on my nightstand. For my use, the phone sits at the perfect angle, the extra USB ports allow me to charge my additional phones and earbuds, etc and the 2 AC ports allow me to power my nightstand lamp and my CPAP machine. This simply works for me!! Well done!!
Price: $49.99
Where to buy: Intelli Website and Amazon
Source: The sample for this review was provided by Intelli.