We use affiliate links. If you buy something through the links on this page, we may earn a commission at no cost to you. Learn more.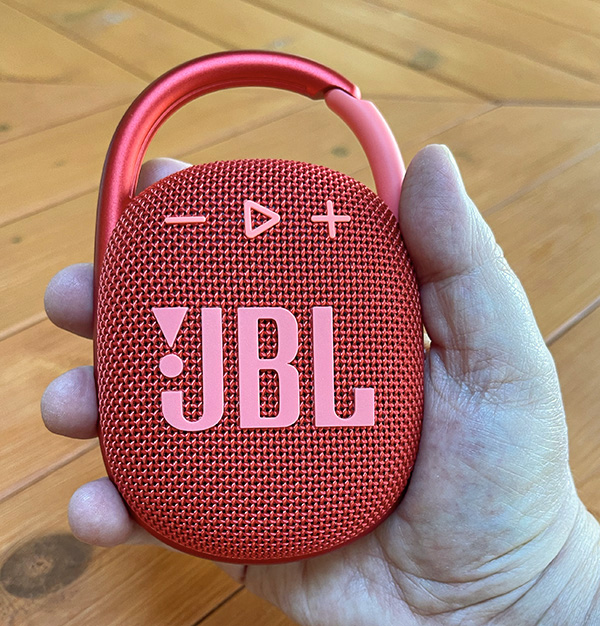 REVIEW – There are so many small Bluetooth speakers available, it's hard to not say to yourself, "Oh, screw it!", and buy the first one that sells for what you want to spend. That kind of thinking could be a mistake because there is a lot of good to great speakers selling at good to great prices. One such speaker is the new JBL Clip 4 ultra-portable waterproof speaker. The question is, "Is it good or is it great?" 

What is it?
The JBL Clip 4 ultra-portable waterproof speaker is a small, handheld Bluetooth speaker with a built-in aluminum carabiner allowing the Clip 4 to be securely attached to a belt loop, backpack strap, or anything else you can think of. The Clip 4's oval shape fits and feels good in the hand. It's waterproof, dustproof, and rugged enough for inclement weather and even total water immersion. There are seven colorways available in the US: Black, Blue, Gray, Pink, Blue/Pink, Squad (camouflage), and Red (this review). Charging is via USB-C.

Specs
Speaker: 40 mm
Power: 5 watts
Bluetooth: 5.1
Dimensions: 3.4 in. x 5.3 in. x 1.8 in.
Weight: .527 lbs

Design and features
It's hard to be different in this "me-too" world of portable audio but JBL has proven to be a trendsetter rather than a follower. Other speakers try to emulate JBL with similar shapes, styles, colors, and fabrics—some successful, some not so much. Even one of my favorite small Bluetooth speakers—the Tribit StormBox Micro—looks and performs like a JBL.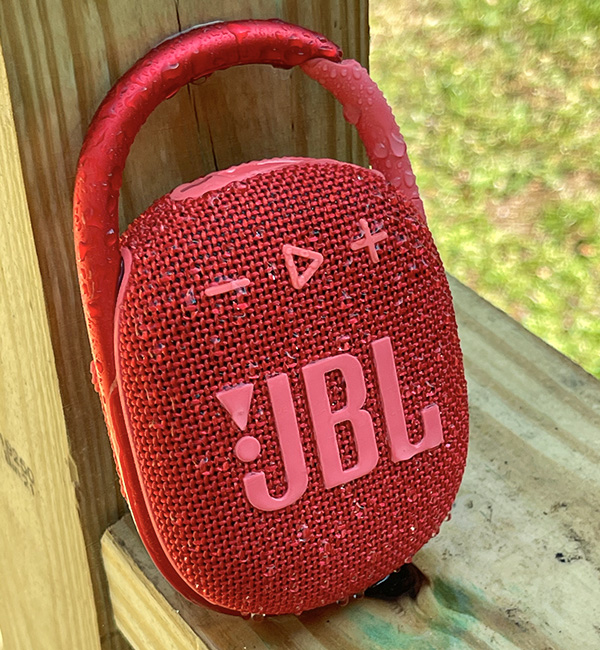 JBL has a habit of just tacking a number on their speakers as they're updated. The Clip 4 is no exception. It follows the Clip 3 (still available), which followed the Clip 2, which followed the original Clip. I reviewed the original JBL Clip speaker in 2014, noting that not only was it not waterproof, but it also couldn't even get wet. The new Clip 4 has a respectable IP67 waterproof rating (30 minutes at 3 feet completely submerged). Over the years, Bluetooth speakers sure have improved!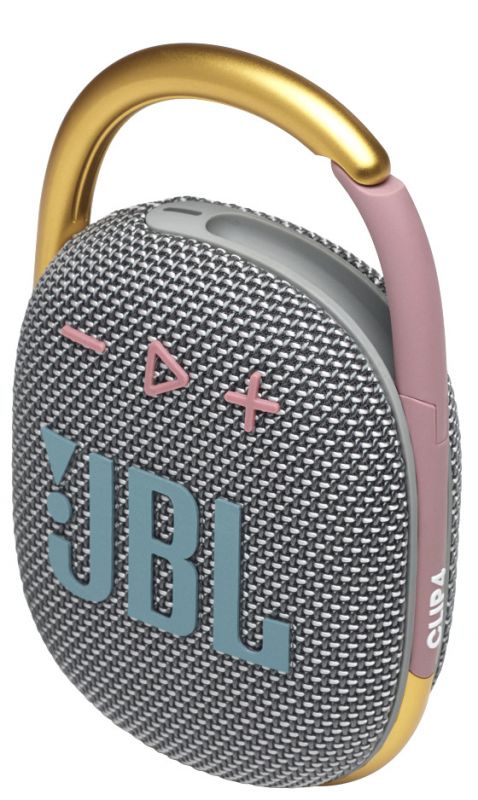 The Clip 4 comes in many colors. My favorite is Gray because the parts look like their leftovers from other speaker colors giving it a hand-me-down eclectic look. The front and back of the speaker are covered in a durable cloth sandwiched over a tubular aluminum frame. Large silicone buttons protruding from the fabric on the front and side of the Clip 4 make it easy to select On/off, Play/pause, volume, and Bluetooth pairing by feel only. There's also a giant, matching silicone JBL logo on the front speaker grill. A silicone linear grid on the back grips the speaker in place when placed on a hard surface.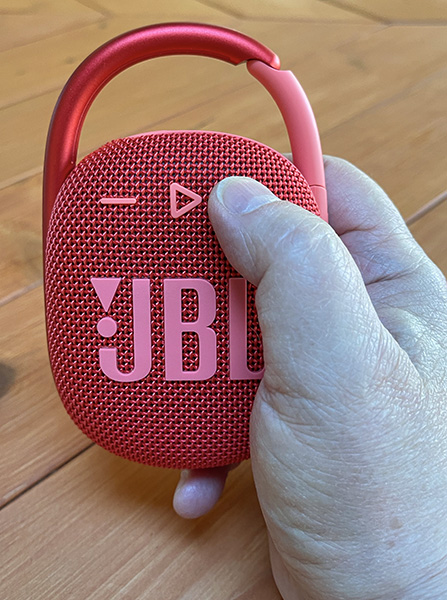 The silicone buttons come in the shapes of their function. For instance, volume up is a "+" and volume down is a "—" symbol. Play is a triangular arrowhead pointing to the right. Even the pairing button is the shape of the Bluetooth symbol. Once you use these buttons, it just makes so much sense. Many other JBL Bluetooth speakers also use this design motif.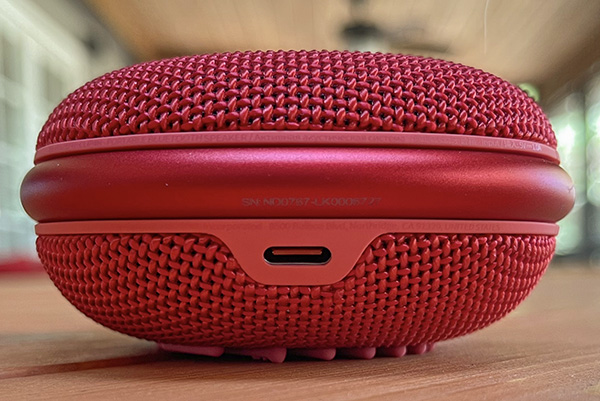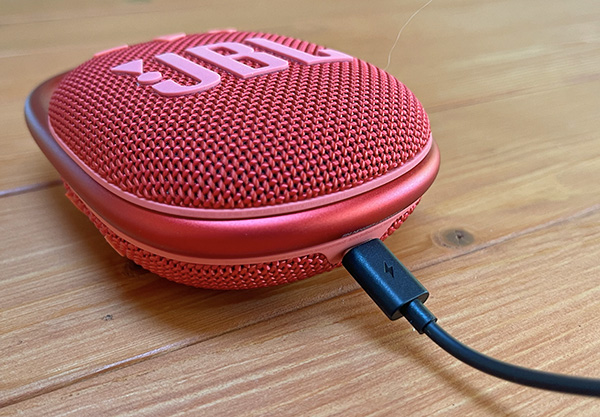 Charging the Clip 4 is via the newer—and faster—USB-C. JBL supplies a short USB to USB-C charging cable. An internal rechargeable battery is rated to provide 10 hours of playtime. Keep in mind that factors such as volume can affect battery life. A red light at the top of the speaker indicates if the battery needs charging or not. Blinking means charging—solid means fully charged. Unfortunately, there is no way to see how much battery life remains.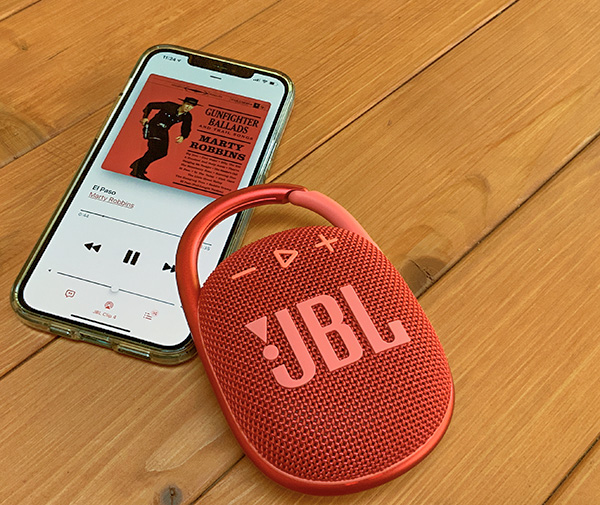 Once paired, the Clip 4 more has than enough volume for any kind of personal listening. Whether you prefer music, podcasts, YouTube/TV audio, or audiobooks, the Clip 4 will satisfy your requirements. Volume can be set at any loudness you could want for a speaker right next to you. However …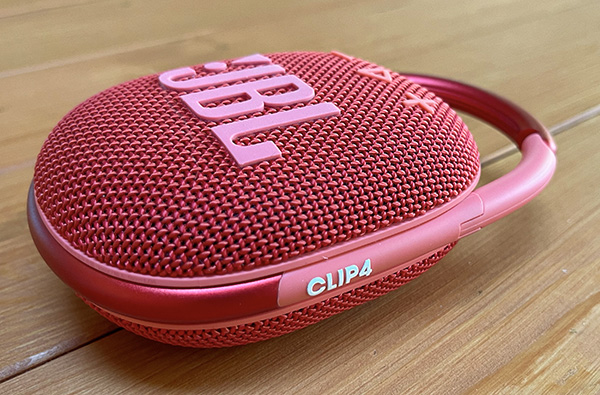 It's a small speaker, so physics dictates that bass will not (and cannot) match a larger speaker. Even so, JBL places a slight emphasis on bass, which helps music sound a bit richer than it might otherwise. No, it won't satisfy a room full of friends for a hip hop or hard rock party. But, the Clip 4 will fill a musical void for quieter background listening among a small group of people.

What I like
Easy to use

 

Affordable
Well built
Waterproof

What I'd change

Final Thoughts
The main purpose of small Bluetooth speakers is convenience. The rugged and waterproof Clip 4 is perfect for personal listening, whether indoors or in the harsh outdoors. The fact that it can be "clipped" to almost anything only makes the $70 JBL Clip 4 an even better choice than other Bluetooth speaker wannabes. So, is the JBL Clip 4 good or great? It's great.
Price: $69.95 US
Where to buy: Amazon
Source: The sample of this product was provided by JBL.