We use affiliate links. If you buy something through the links on this page, we may earn a commission at no cost to you. Learn more.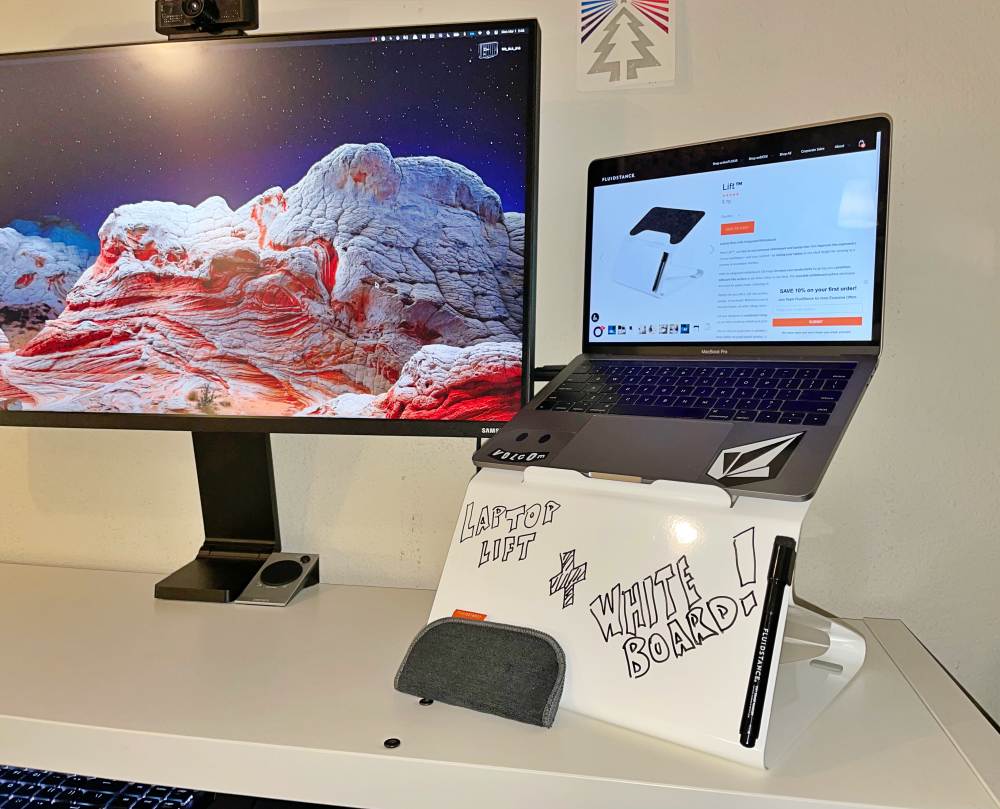 REVIEW – If you thought Fluidstance didn't have further tricks up their sleeves for ways to optimize your workspace, think again. This time they've introduced Lift, a powder-coated steel laptop stand that integrates a whiteboard. I previously reviewed and really liked Slope (their angled whiteboard that sits in front of a monitor) and was excited to check out how Lift compared.
What is it?
The Lift from Fluidstance is laptop stand that raises your screen to a more ergonomic height while incorporating a handy whiteboard below for jotting quick notes.
What's in the box?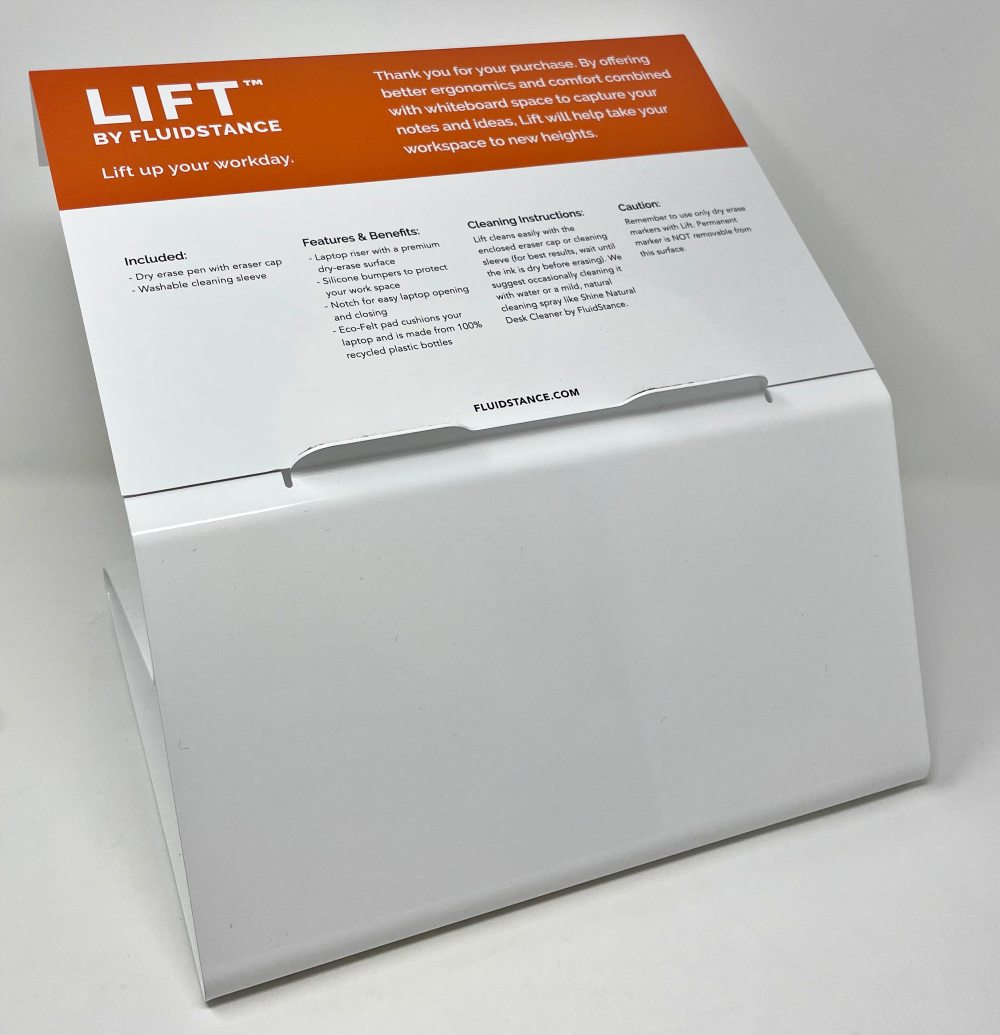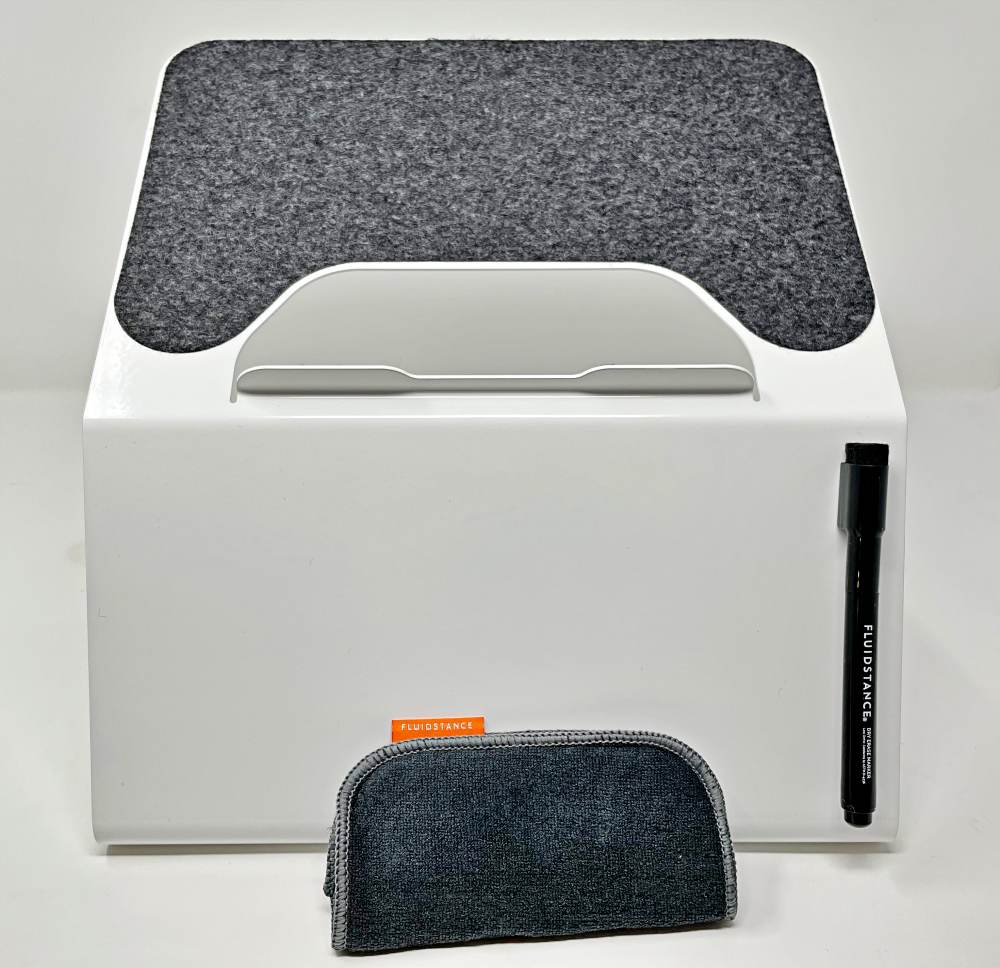 Lift laptop stand and whiteboard
Dry-erase market
Microfiber cleaning wipe
Info card
Hardware specs
• Footprint is 11.5" wide x 10.5" deep
• Lift raises your laptop to 9″ at the back with the front of the keyboard sloping down to 6.25″
• Weight: 5 lbs. 4 oz.; provides a stable and sturdy base for your laptop
Design and features
The Lift is a solid-steel structure with a gloss white powder-coated finish. The felt pad that protects the bottom and front edge of your laptop is made from 100% recycled plastic bottles!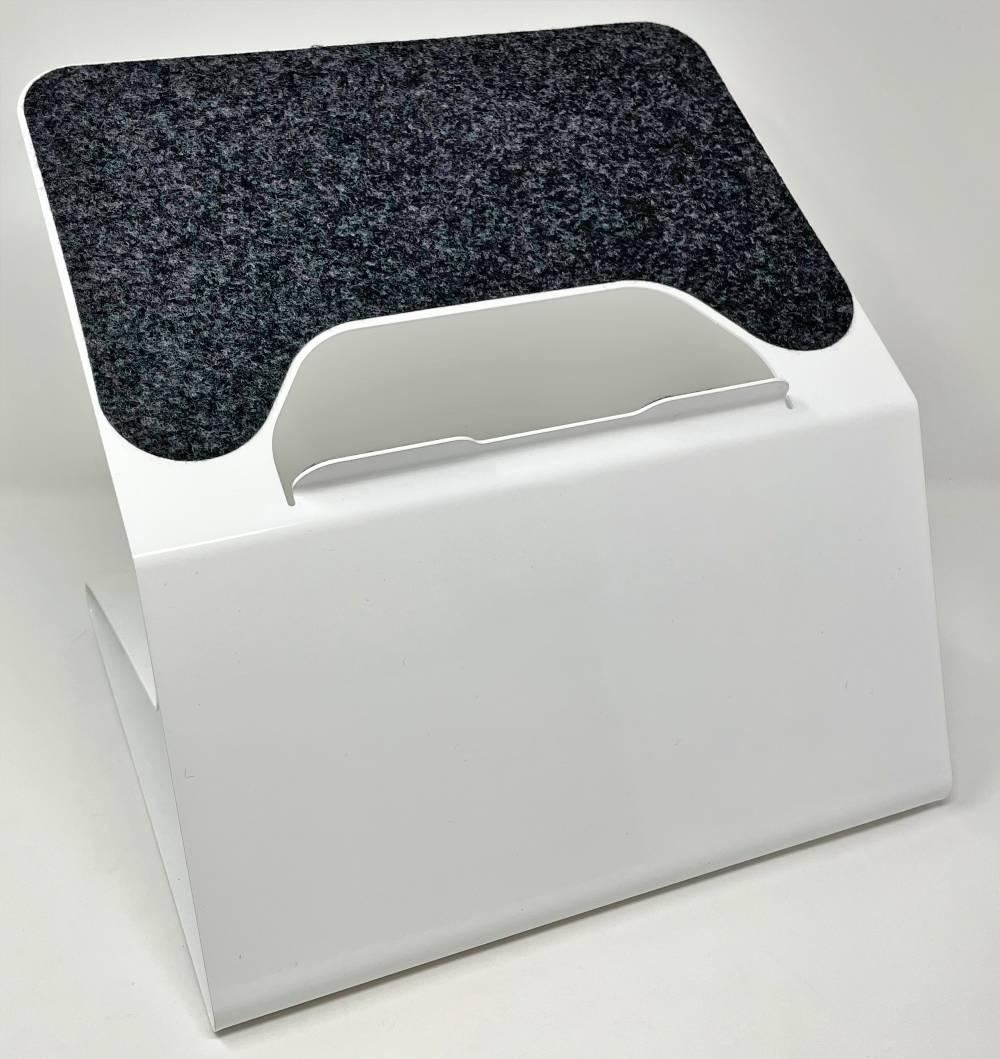 Your laptop is held at a good angle, further increasing the lift and helping keep the keyboard viewable. The lower triangular structure adds weight and stability.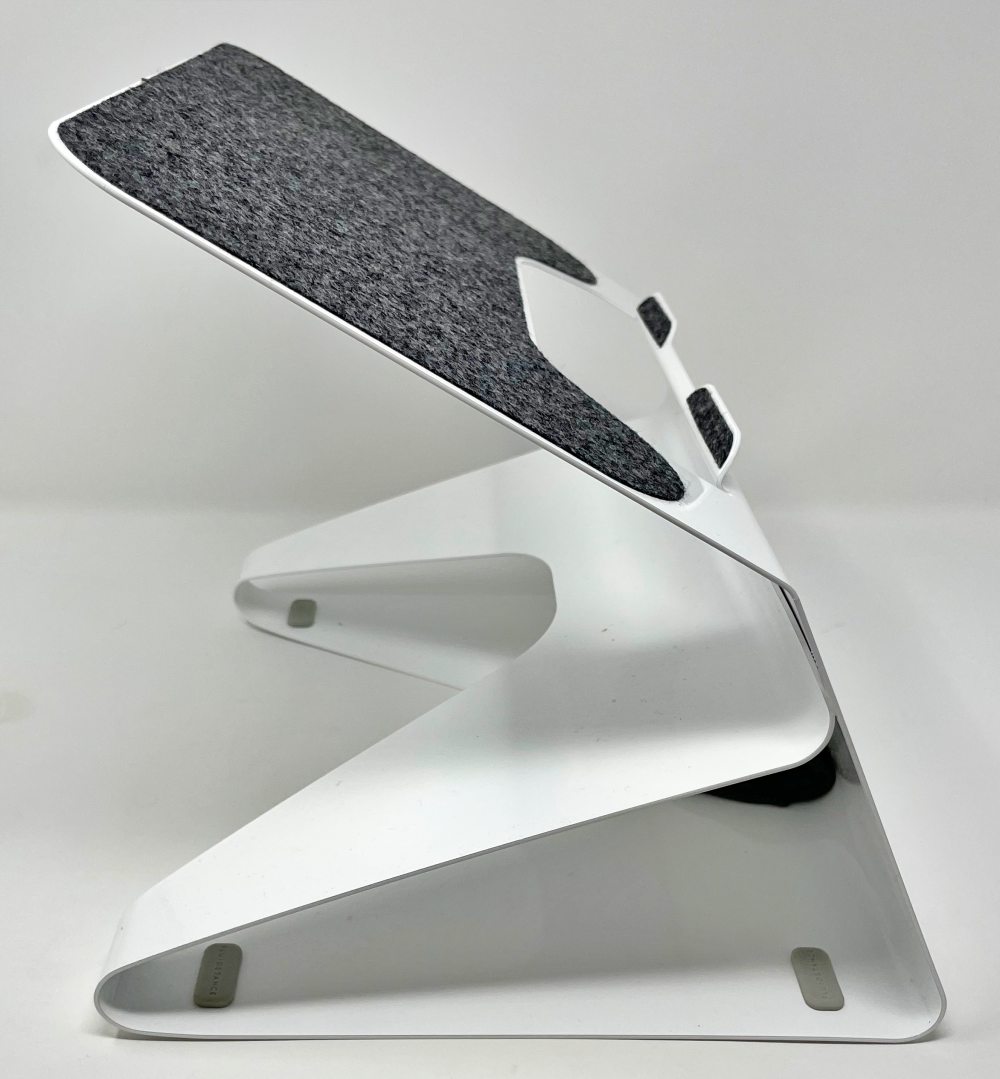 The back side shows the elegant simplicity of the design.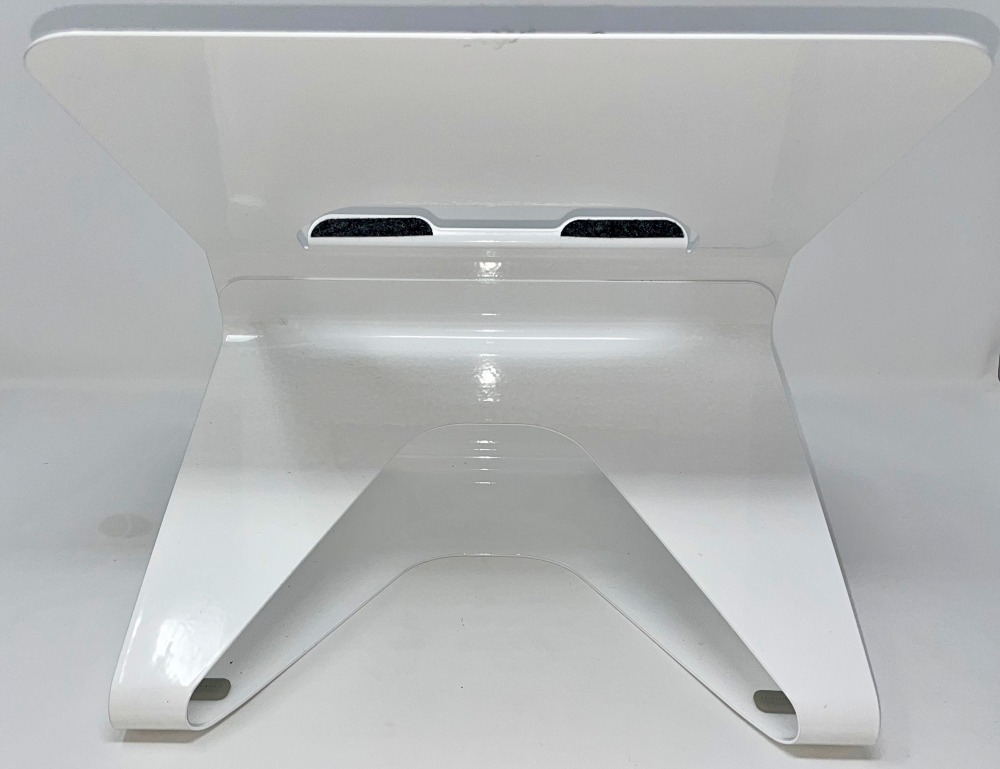 And on the underside you can see the four silicone feet that keep it where you put it.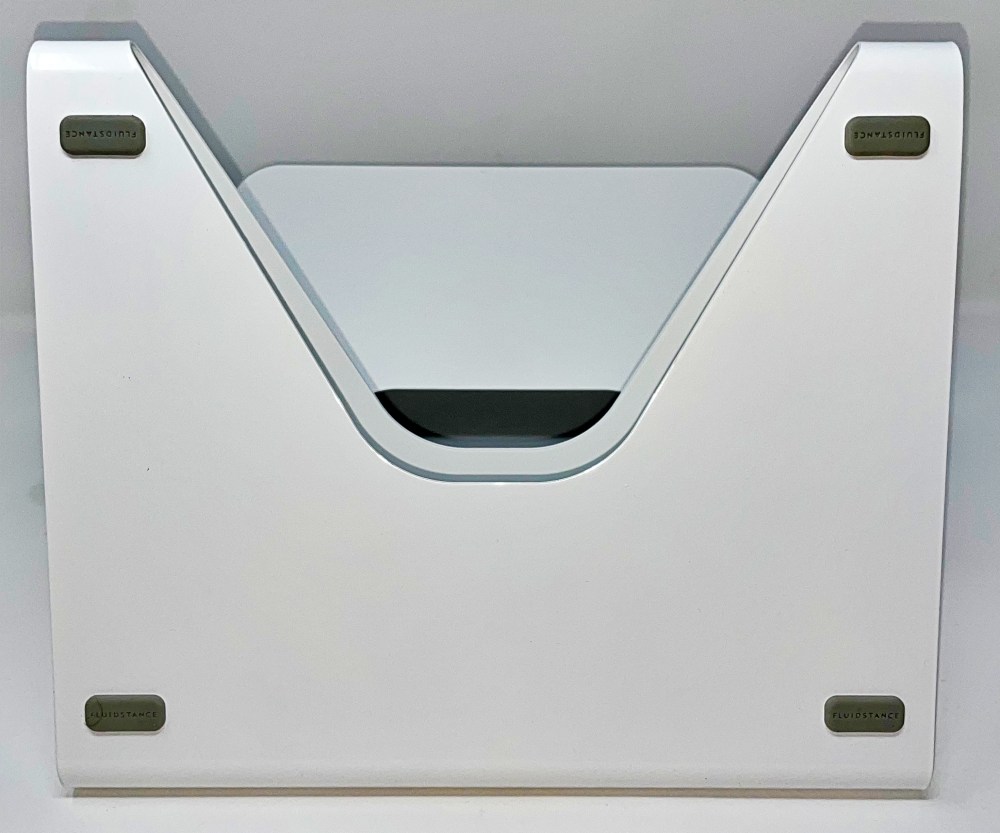 Setup
Open the box, place Lift on your desk and set your laptop on top.
You'll want an external keyboard and mouse/trackpad as your arms will get pretty tired trying to type anything more than a quick password on your laptop at this height.
If you're using an external monitor, you'll want to decide which side to put Lift on. It might be that you're more comfortable looking to a specific side, have a window you don't want to block or a dock or hub with cables that make that choice for you.
Lastly, depending on your external monitor setup you might want to tweak the height of that monitor to line up the bottom edge of the screens, or the top, or center it. It all depends on how particular you want to be.
Performance
As useful as they are, I've never really liked sticky notes, and I can already feel the beady eyes of all my design friends glaring at me as I say that. A dry-erase board has always been a handy thing, but almost always on a wall out of reach or only in meeting rooms, not my desk.
As I mentioned, I really like the Slope whiteboard I reviewed earlier and still use it when I haven't cleared my desk entirely for whatever reason. With the Lift, the whiteboard function becomes a bit more permanent as it is also your laptop stand which possibly rules this product out if you're not a stand user.
I go back and forth between wanting my laptop open on a stand and wanting it closed with only the external monitor in use to regain some desk real estate. It ends up being tied to the monitor I'm using. If I'm using the big 34″ curved display, I don't need the laptop screen, but with the more traditional sized monitor it's super useful. It's also worth noting that the current MacBook M1s don't support more than one external screen, so a stand is a great way to really get that multi-monitor feel.
In this photo you can see that it places the screen of my Lenovo laptop pretty much dead center vertically with the Samsung Space monitor, where my MacBook Pro 13″ in the lead photo sits a little lower than that.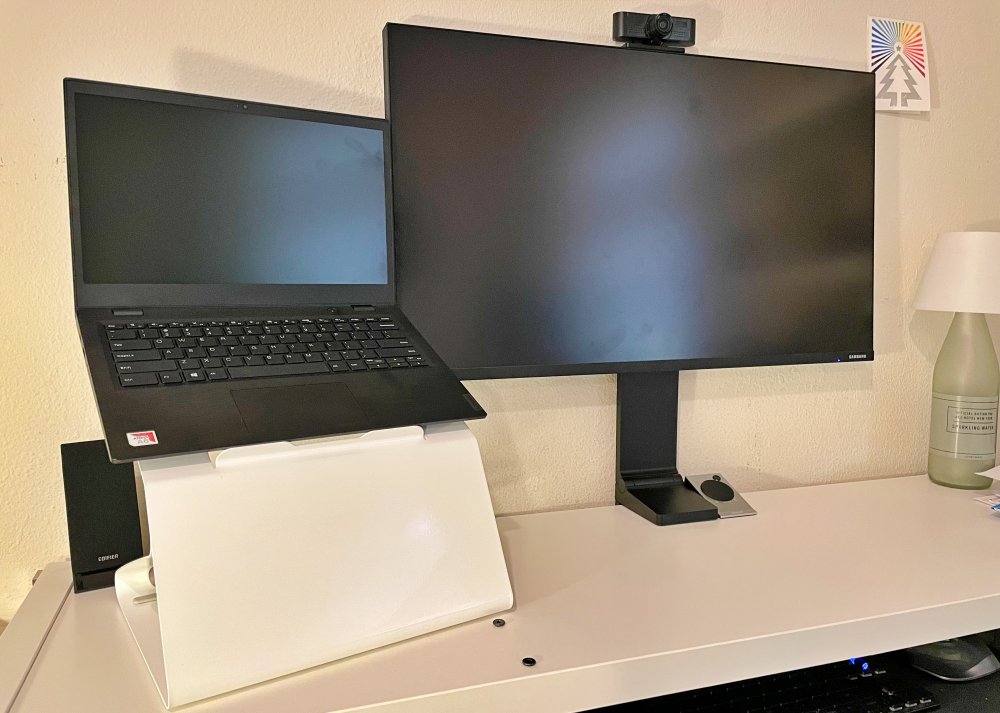 Unlike sticky notes or a dry-erase board, the Lift is always there ready for your notes, scribbles or doodles. The white gloss surface looks good when clean and arguably better when covered with pen marks depending on your skill level. The microfiber cleaning pad makes wiping up a snap and the magnetic pen is always at the ready.
Here's the couple things you'll want to know…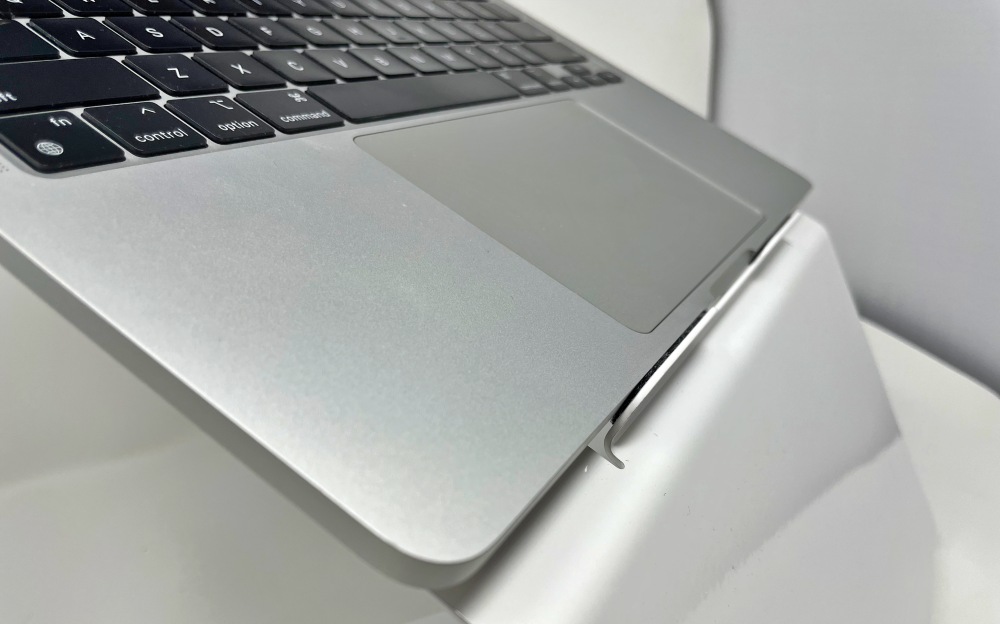 The front lip that keeps your laptop from sliding off the front is just 0.5″ tall. It works great with MacBooks and other laptops with a very squared off front edge. It could however, cause a problem with a laptop that has a tapered front edge. Case and point, see this close-up of how little the overlap is on my Lenovo. Bottom line, measure the front edge of your laptop first.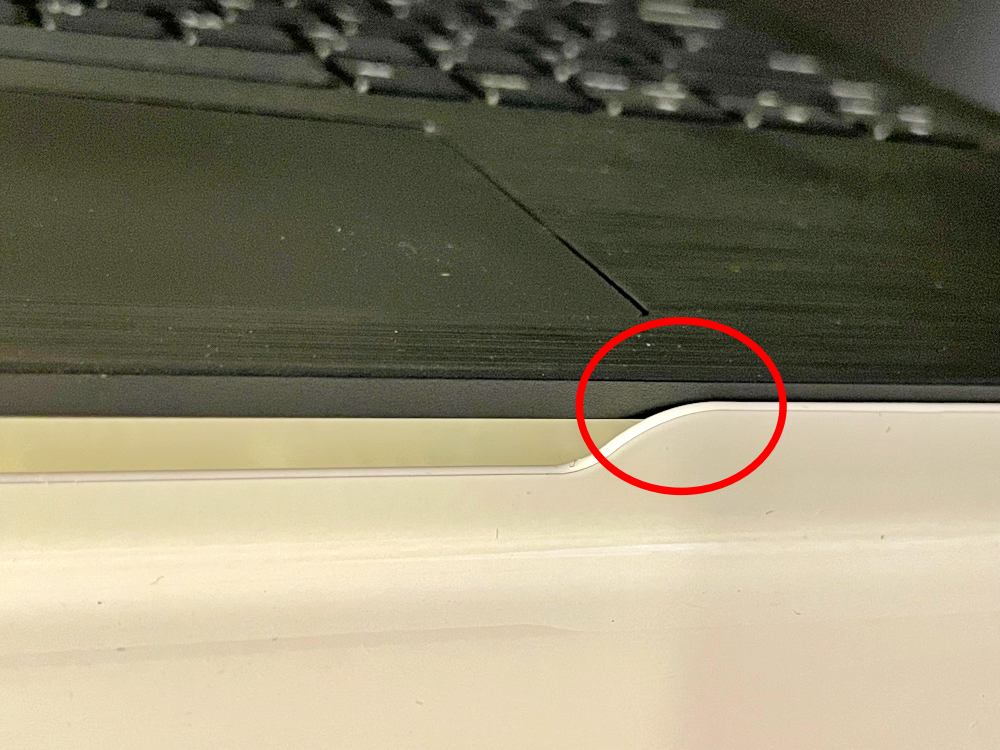 This stand is significantly higher than almost any other stand I've used. The front edge is 6.5″ off the desk surface and the height of your laptop screen will depend on your laptop size and model. For reference, the bottom edge of the screen on my 13″ MacBook Pro is just over 11″ off the desk.
There's a good bit of useable space on the back and underside of the Lift. Plenty of room to tuck a hard drive or thunderbolt hub out of view.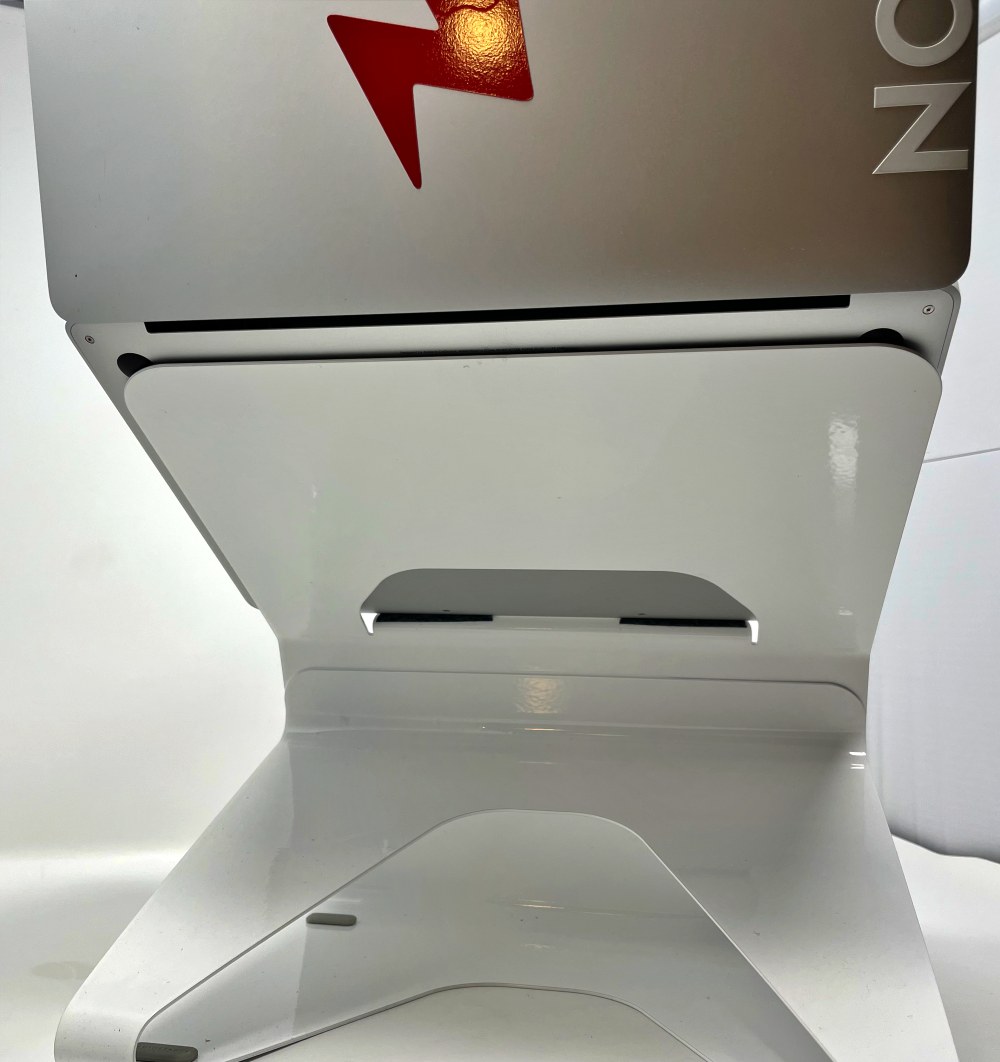 If you do end up typing on your laptop's keyboard you're going to see some bounce as that entire steel platform is a single thickness and works like a diving board with additional weight. It shouldn't cause any real issues, but if you were typing and on a video call it could be bad.
Lastly you may want to pick up some peel and stick cable guides. Beyond keeping a power cord or monitor cable close, they also can help to relieve torque on your laptop ports.
What I like
Sturdy build and clean visual
Whiteboard functionality is very handy
Weight and silicone feet keep it very stable
What I'd change
Bouncy if you end up needing to type directly on the laptop
Would be useful to have a silicone cable grommet or something to keep a monitor/charge cable contained
Might be too tall for some users
Final thoughts
Laptop stands are great for raising your screen for ergonomics and in this era of video calls helps put your laptop's camera at eye level. The fact that it's also a whiteboard adds very useful functionality that may improve your efficiency. If you're at your desk all day and would like to improve your posture and reduce reliance on sticky notes head on over to Fluidstance to find out more.
Price: $79
Where to buy: Fluidstance
Source: The sample of this product was provided by Fluidstance