We use affiliate links. If you buy something through the links on this page, we may earn a commission at no cost to you. Learn more.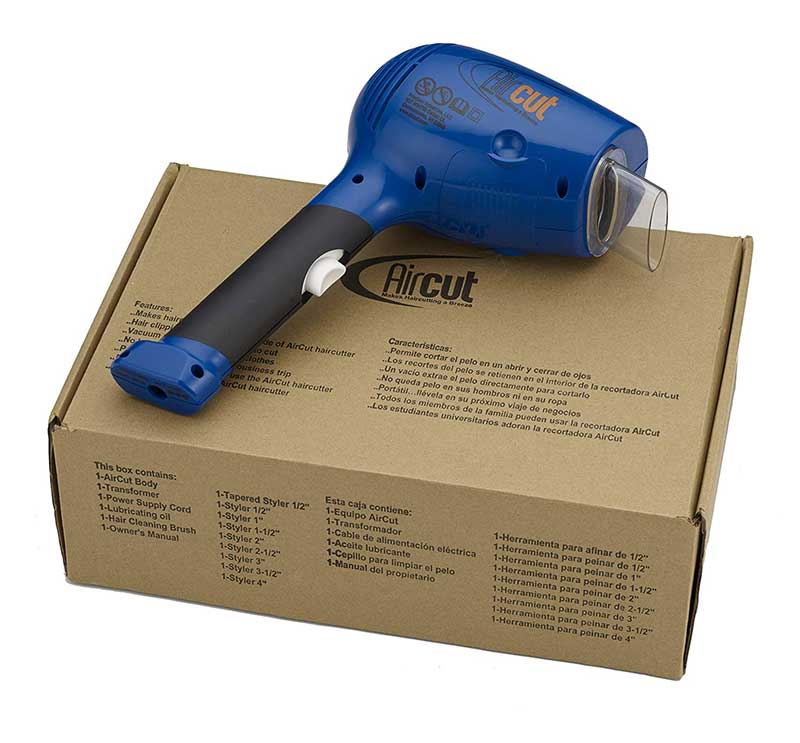 REVIEW – In addition to working from home, COVID has caused many of us to take matters into our own hands (literally) when it comes to getting our hair cut. I don't enjoy getting my hair cut because I'm cheap and don't like paying $20 + tip more for a haircut that takes less than 15 minutes to do. My hair grows incredibly slowly thanks to chemo 10 years ago, so I typically get my hair cut every two months and in between those "real" cuts, I have Jeanne trim it. My 2020 hair situation was ok until last fall when I badly needed a full haircut but didn't want to go to a salon. So I asked Jeanne if she would give me a full haircut instead of just trimming around my ears and bangs. She reluctantly agreed but halfway through the cut, she whacked off too much in one area, scared, and refused to continue. I ended up getting an "emergency" appointment to fix the cut but told myself I'd find a solution and I have with the AirCut DIY Portable Haircutting System.
What is it?
AirCut is a DIY haircutting gadget that looks like a traditional hairdryer but instead of blowing your hair dry, it has a vacuum that pulls the hair into blades that cut it. That may sound terrifying, but it's not… keep reading.
What's in the box?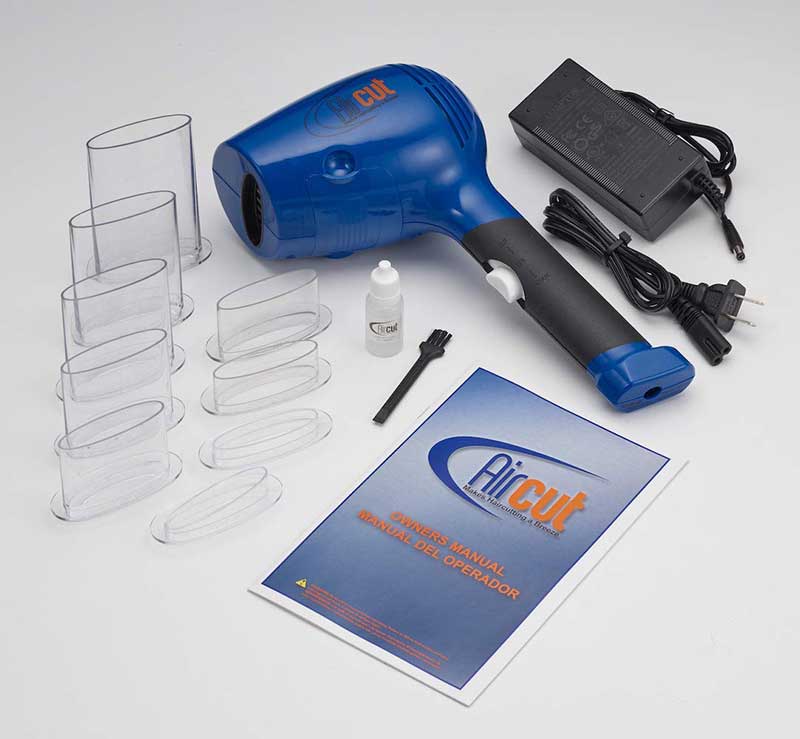 AirCut
Power adapter and cord
9 Stylers
Lubricating oil
Cleaning brush
Owners manual
Design and features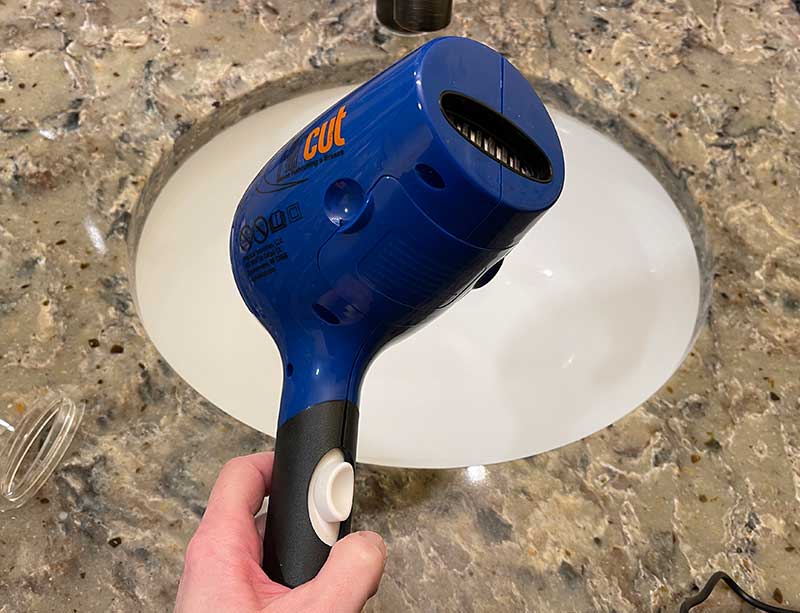 The AirCut device is easy to mistake for a regular hairdryer. It is made of blue plastic with a rubber grip and a sliding power switch.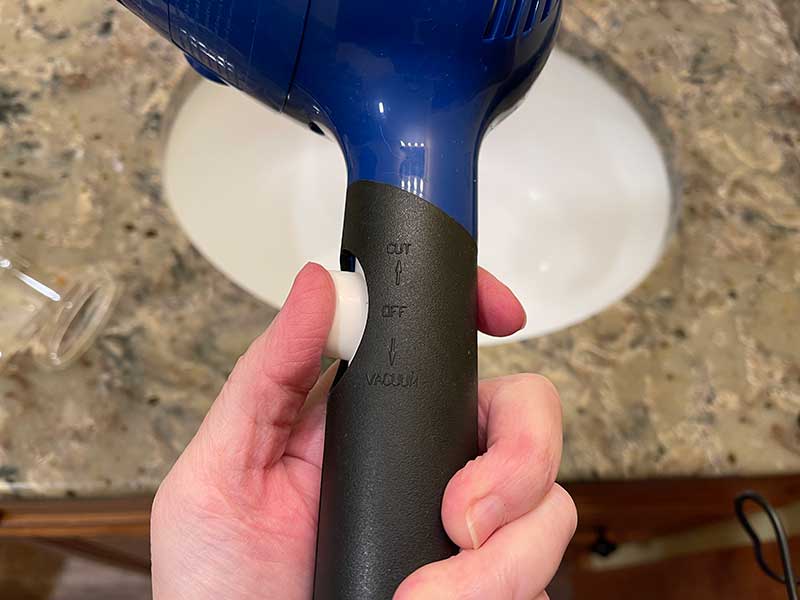 The switch is OFF in the center and can be slid up or down to choose from cutting mode or vacuum only mode.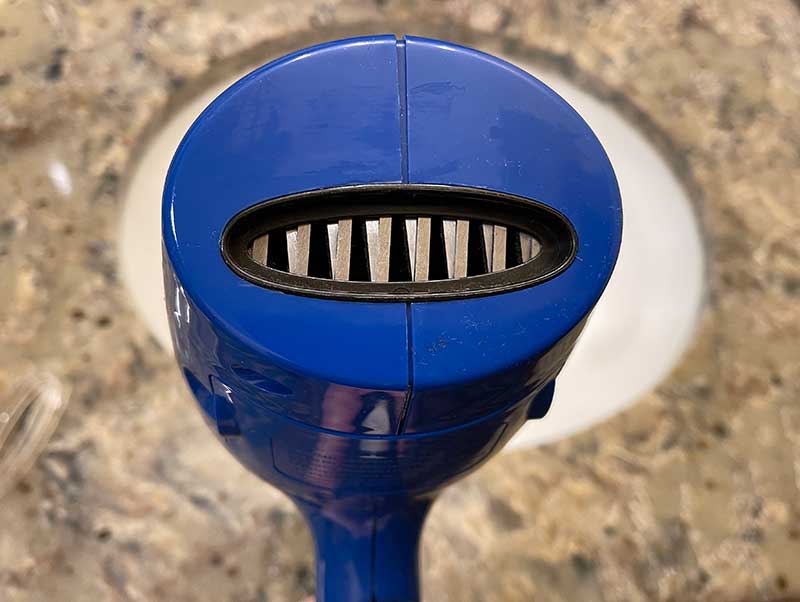 The end where a hairdryer would typically blow out air has an oval with 8 pairs of blades or "scissors". But instead of blowing out hair, the AirCut uses suction to pull the hair into the blades to cut it.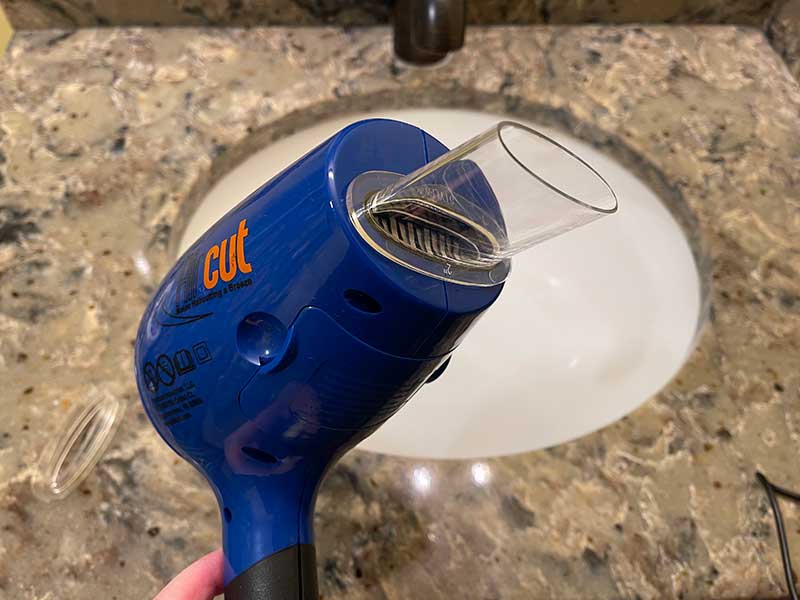 The portable haircutting system comes with 9 stylers. The stylers are clear plastic tubes that snap into the end of the AirCut to allow you to choose the length that you want your hair cut. The longest one is 4 inches and the shortest one is .5 inches.
Using the AirCut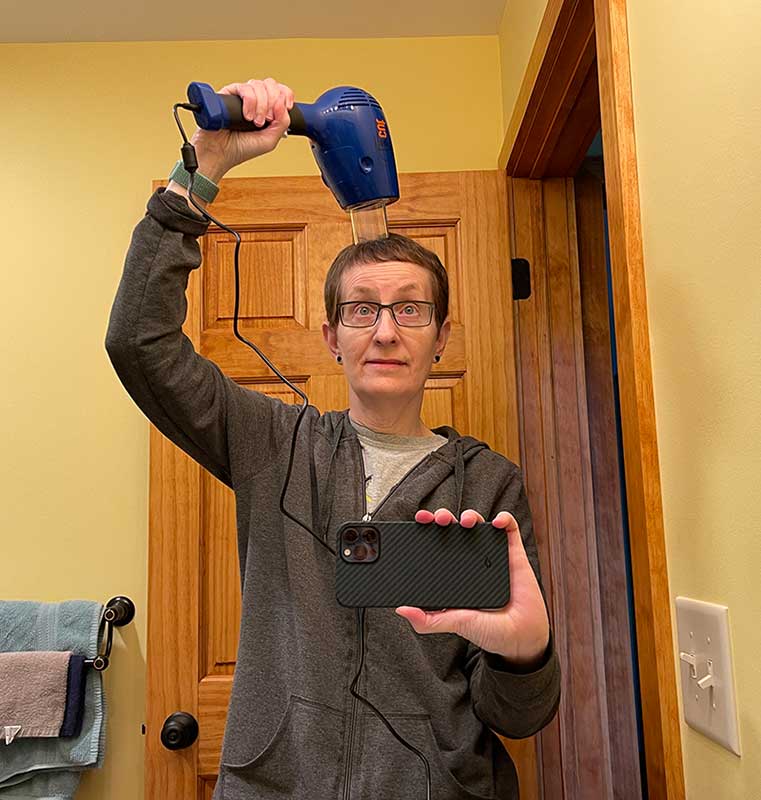 Plug in the power cord, choose the styler tube that you want to use, and slide the Aircut's switch to cut. Then move the Aircut's styler tube around your scalp to cut your hair. Your hair is drawn up into the tube and the blades snip off the ends. I was a little anxious the first time I used it because I was worried that it would snag or pull my hair but it didn't do either of those things. It's completely painless and other than the noise of the AirCut, you won't notice anything is happening.
As you can see, I like to keep my hair short, so to start out, I picked the styler tube that was about a half-inch shorter than the current length of my hair and I used that one on the top of my head. Then I used a shorter one around the back and upper sides of my head.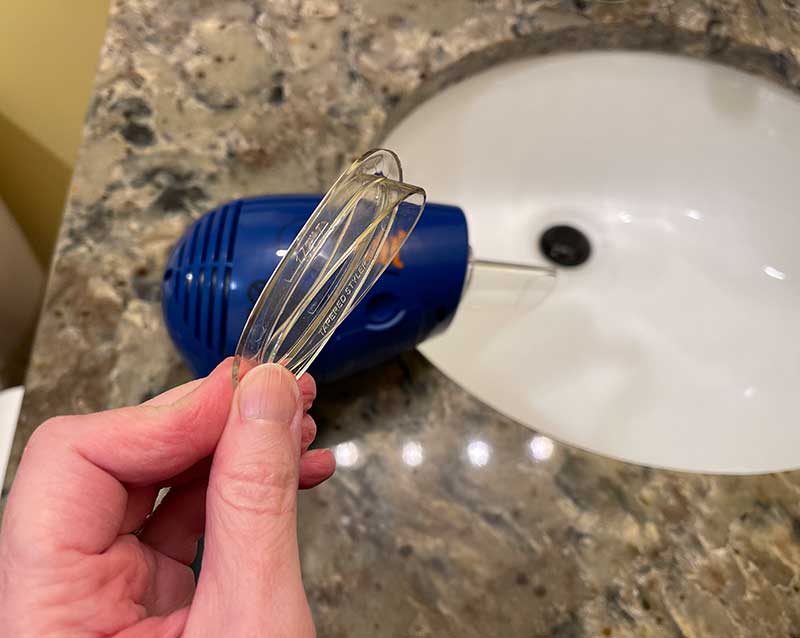 I finished up around my ears and back of my neck with the tapered styler tube.
Clean up is as easy as removing a plastic door on the bottom of the unit, dumping the hair clippings into the trash, pulling out the nylon filter, washing it, and reassembling.
Results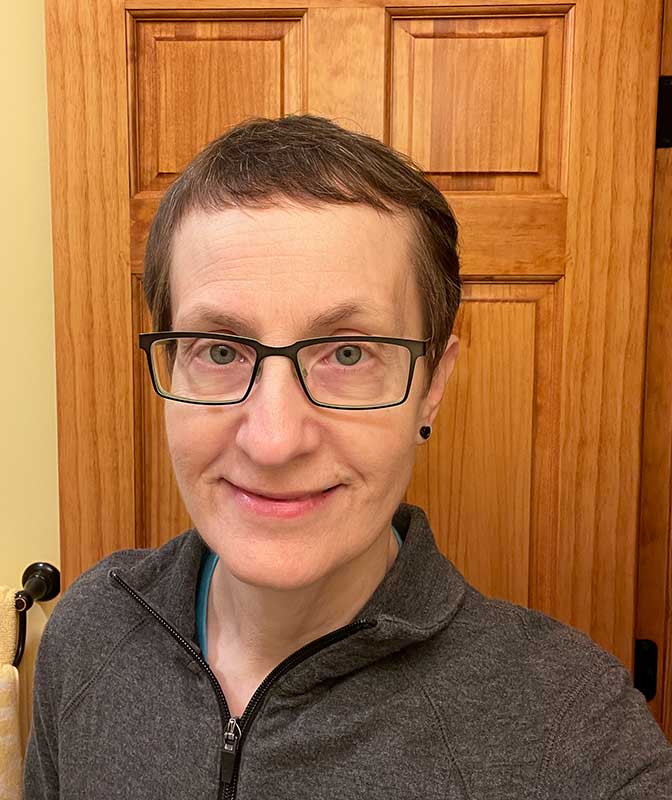 The resulting cut looked just like the way it looks after coming home from a regular salon cut except that I didn't have to leave my house, didn't have to wear a mask, and didn't get hair all over my clothes.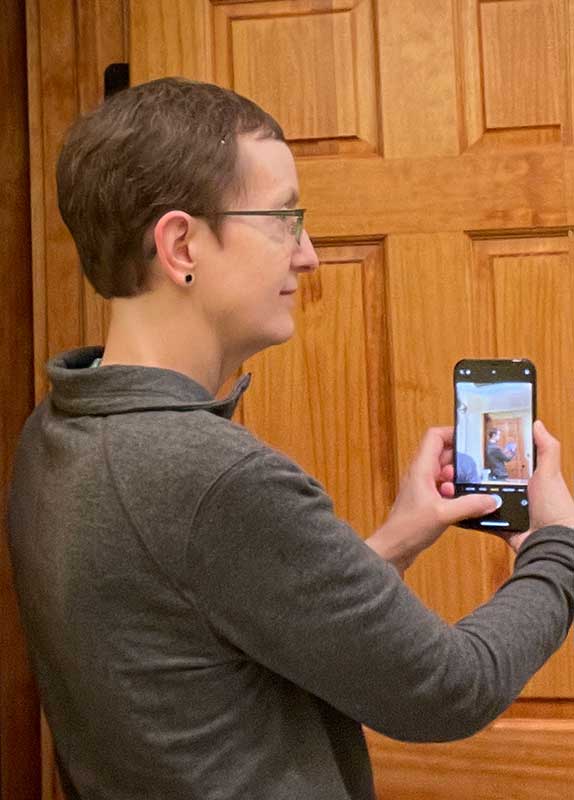 I think the AirCut gives the perfect layered do-it-yourself haircut.
What I like
Easy to use and kind of fun!
I never have to go to a salon again
No hair clippings all over the place
What I'd change
I can't think of anything
Final thoughts
I had originally wanted to buy a Flowbee, but at the time it was sold out everywhere (and still is) and it was incredibly expensive on eBay. So I did a little Googling and discovered the AirCut. I'm really glad that I did because I think the AirCut is a better solution. Flowbee requires that you connect it to your existing vacuum cleaner, but the AirCut is a complete no mess haircutting system and one that you can take with you when you travel. I've used the AirCt a few times now and I'm extremely happy with my purchase and after a couple more cuts with it, I'll be saving money by not going back to the salon!
Update 1/29/23
I'm still using the AirCut every few weeks and have not been to a salon since the Fall of 2020. I absolutely love this thing for its ease of use, no mess, and the fact that I don't have to spend over $20 for a hair cut. It's more than paid for itself. I hope it lasts for a long long time.
Price: $129.99
Where to buy: Aircut.com and Amazon
Source: I purchased this product with my own funds.