We use affiliate links. If you buy something through the links on this page, we may earn a commission at no cost to you. Learn more.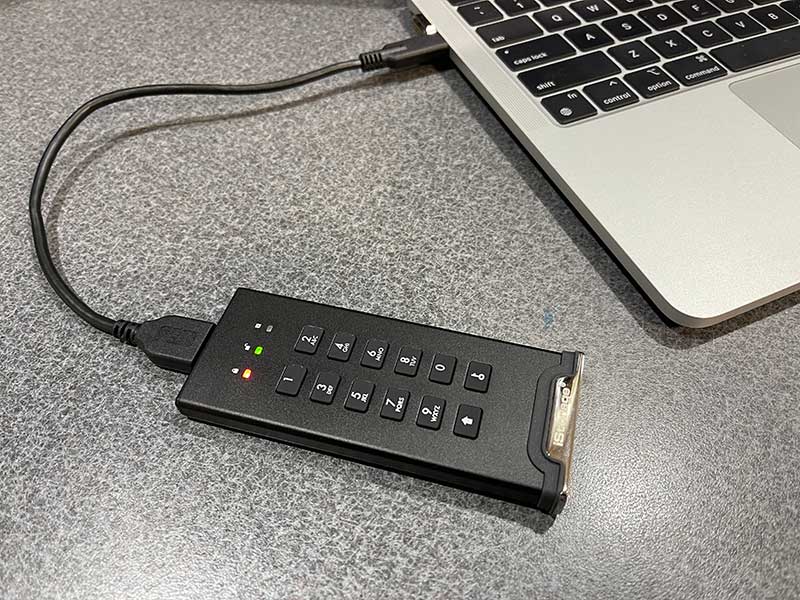 REVIEW – Keeping your flash drive data secure sounds simple right? But there's a lot more to making sure someone can't see or steal information that you put on a portable drive than just putting the drive in your pocket or your bag and hoping for the best. If you're serious about data security, one solution is the iStorage diskAshur M2 1TB SSD hardware encrypted portable drive. Let's check it out.
What is it?
The iStorage diskAshur M2 is an SSD (solid-state drive) hardware encrypted portable flash drive that is available in 120GB up to 2TB capacities. It features FIPS PUB 197 validated, AES-XTS 256-bit hardware encryption, and a physical touchpad for entering a PIN to unlock the drive.
What's in the box?
iStorage diskAshur M2 1TB SSD flash drive
Zippered storage case
USB-C cable
USB-A cable
User guide
Hardware Specs
Interface – USB 3.2 (Gen 1) SuperSpeed – up to 5Gbps. Backward compatible with USB 3.0/2.0/1.1
Data transfer rates – Read: 370 MBs / Write: 370 MBs
Dimensions – Without sleeve: 106 x 45 x 12mm, With sleeve: 111 x 45 x 12mm
Weight – Without sleeve : ~65g / With sleeve: 86g
Compatible – MS Windows, macOS, Linux, Chrome, Android, Thin Clients, Zero Clients, Embedded systems, Citrix, and VMware
Hardware data encryption – AES-XTS 256-bit full disk hardware encryption
Certifications  FIPS 140-3 Level 3 (pending)
IP68 water-resistant – 30mins at a depth of 1.5m
Warranty – 3 yr with free lifetime tech support
Design and features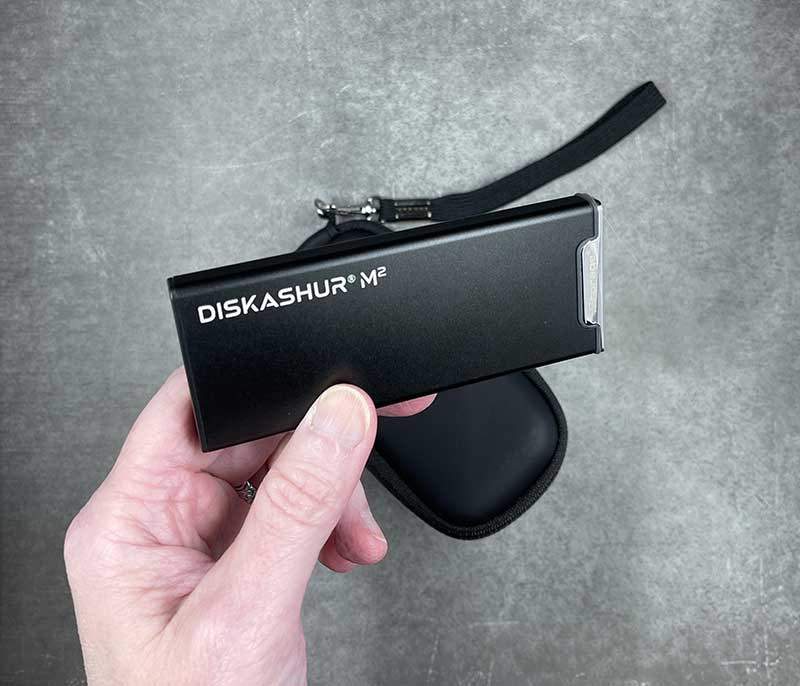 The diskAshur M2 is available in capacities from 120GB up to 2TB. I was sent the 1TB version of the diskAshur M2 and at first glance/feel, I can tell that this the most impressive portable drive that I've ever used.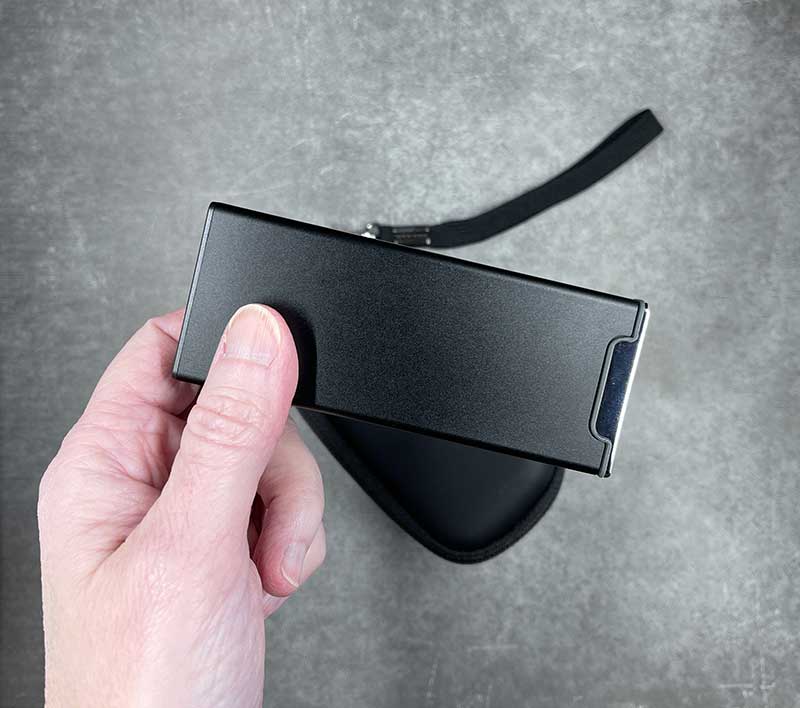 First of all, it's sleek and compact. The protective black anodized aluminum sleeve is a great touch and the chrome accents definitely provide a little bling. Not sure I've ever thought of the bling factor when it comes to SSDs, but Storage has done that. But the sleeve isn't just to make this drive look good, it protects it from drops, and provides a level of crushproof and shockproof protection.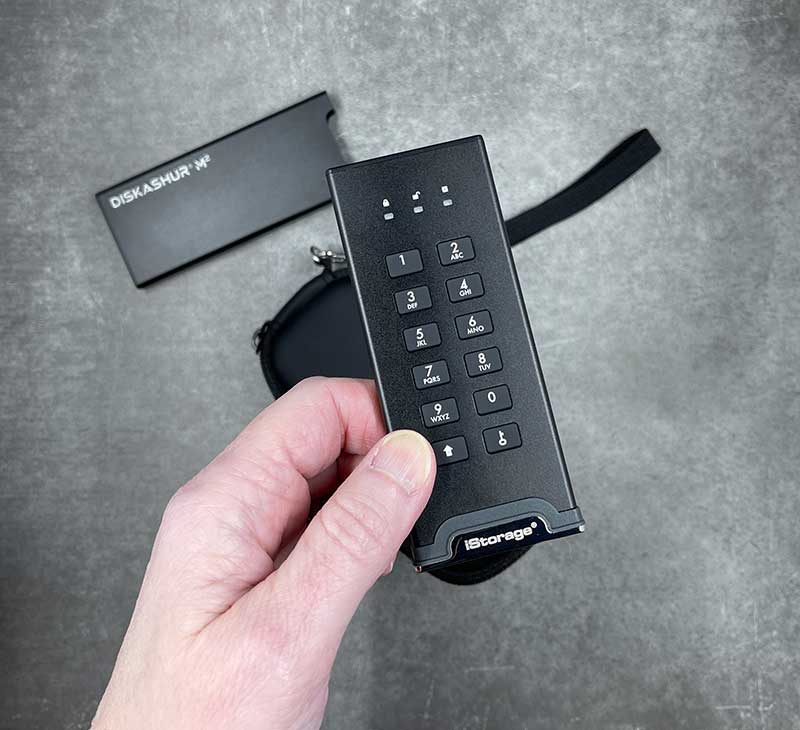 Then when I pulled the drive out of the metal sleeve, my first thought was wow, what kind of spy gadget is this thing? In all seriousness, the M2 is impressive. There are 12 buttons that you use to input your 7-15 digit PIN# to unlock the drive for use.
There is also a row of status LEDs above the keypad that will light up when the drive is connected to power to show if the drive is locked, unlocked, in user mode, or admin mode.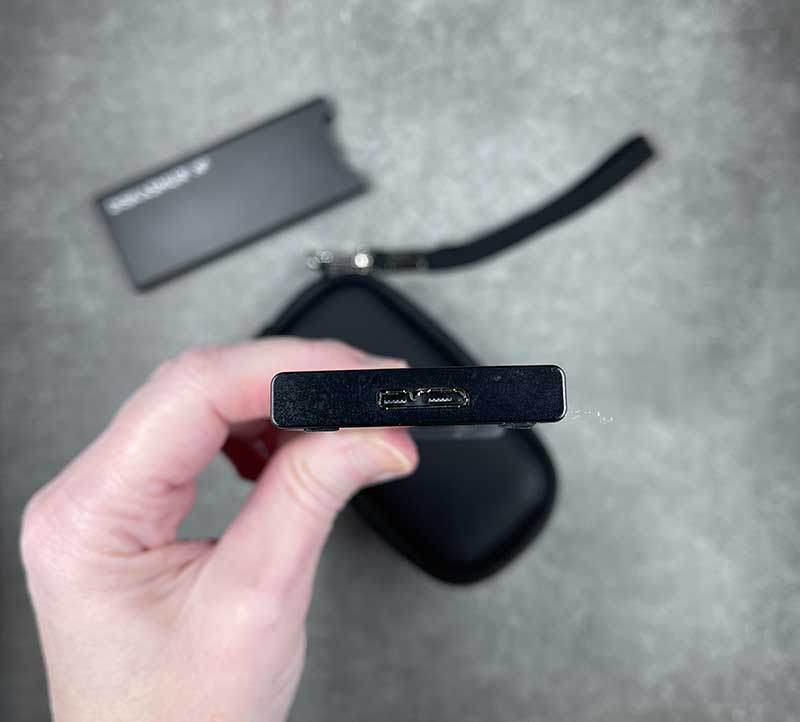 To transfer files, you can use one of the included USB cables. Unfortunately, you'll need to make sure that you don't lose the cables because they aren't run-of-the-mill standard USB cables that we all have stuffed in drawers. As you can see, the port on the M2 is a dual cable.
Setting up a PIN
You can set independent Admin and User PINs for the M2. That way if a user forgets the PIN, a designated Admin can unlock it and then allow the user to set a new PIN for future use. Admins can also set the policy of the PIN numbers. They can set a minimum length as well as requiring the input of one or more special characters which can be entered by pressing SHIFT + digit.
There's also a one-time user recovery PIN that is admin configurable.
If the User PIN is entered incorrectly 10 consecutive times (the Admin can change this from the default of 10 times to 1-9 times), the User PIN will be deleted and the drive will only be able to be unlocked using the Admin PIN or the one-time User PIN.
More security features
There's an option of setting up a Read-only mode. The admin and the user can both set this up.
The drive will auto-lock when unplugged from the host computer and it can also be set to automatically lock after a predetermined amount of time.
There's also a self-destruct feature (I told you this was a spy gadget!) that will delete all of the data, the encrypted encryption key, and all PINs when a pre-programmed self-destruct PIN is entered or when the Admin PIN# has been entered incorrectly the pre-determined number of times. At that point, the drive will need to be setup all over again with a new Admin PIN as if it were brand new and of course, all previous data will be gone.
The drive does not require any special software, it can be used with any device that has a USB port and it's also bootable so that you can install an OS directly on the drive.
Using the iStorage diskAshur M2
The very first time that you use the diskAshur M2 SSD drive, you have to set a PIN. That means you need to read the included user guide which takes you through the steps of adding the Admin PIN#. Basically, you hold down the key button and 1 button until the status LEDs blink a certain way, then you key in a 7-15 digit PIN#, press the key button, and then repeat. After that, the M2 will work like most flash drives that you plug into your computer except that every time you plug it in, you will have to key in the PIN# to unlock it before you can see the contents of the drive and read/write files to it.
When the drive is unlocked, using the drive is straightforward. File transfers and accessing files on the drive are easy and fast. I also had no problems playing video directly from the drive.
I tested the Storage diskAshure M2 1TB drive with my 13in MacBook Pro M1 and with a Dell laptop and found no real issues using it with either operating system. However upon connection to the Dell laptop, it popped up messages complained that there was a problem with the USB device over and over again. A reboot fixed that though.
What I like
Ability to set a PIN#, and self-destruct features if the drive gets in the wrong hands
Fast file transfer
Bootable
What I'd change
Build the cable into the drive so it's not a separate item that you have to carry with you and potentially lose
Expensive
Final thoughts
If you're in the market for an SSD drive that you know is built like a tank and will keep your data safe from prying eyes (as long as they don't know your PIN#), the Storage diskAshur M2 SSD drive is worth checking out if it's within your budget. Since it's priced more for a business than the average Joe, the price is a concern.
Price: $142 – $474 depending on the drive capacity. The 1TB version is $275
Where to buy: Amazon
Source: The sample for this review was provided by iStorage.