We use affiliate links. If you buy something through the links on this page, we may earn a commission at no cost to you. Learn more.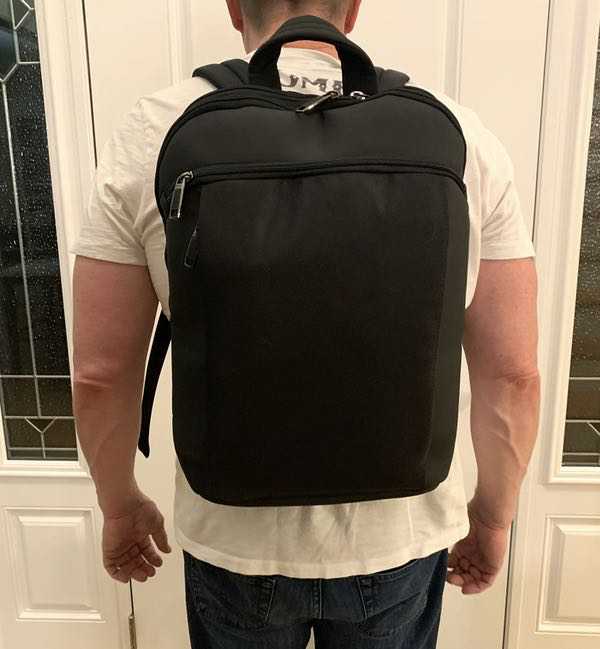 REVIEW – The Zinmark Backpack has a sneaky secret. It starts as a sleek, low-profile bag for your office essentials. That's only part of the story though. When needed, the bag transforms into a fully-featured gear hauler. Let's explore, shall we? To the review!
What is it?
It's a laptop backpack designed for school work & travel that expands for additional carrying capacity.
Hardware specs
17″ by 13″ by 4.3″
Expandable to 7.5″ depth
Water repellant vinyl construction
Anti-theft hidden pocket
USB & audio ports
Design and features
The Zinmark backpack sports a sleek & unobtrusive design with a black exterior and grey interior. The look will work just fine in the office, the classroom, or on the road. Let's walk around the exterior then we'll delve into the bag's multiple carry options.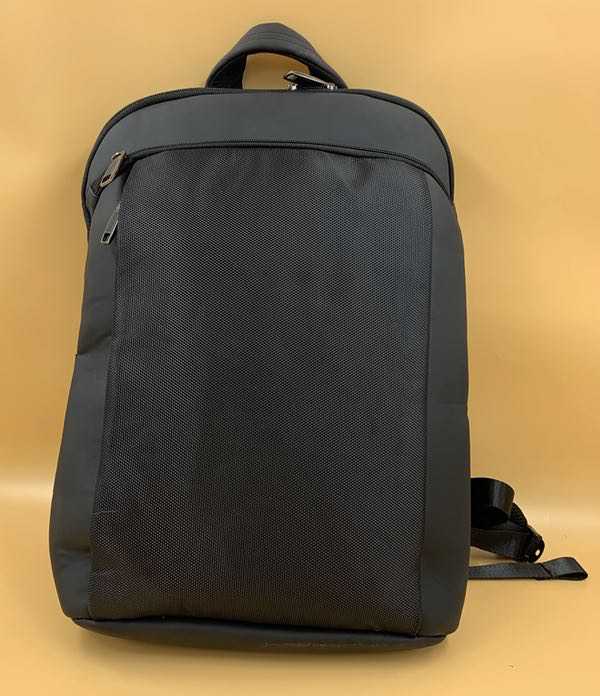 You're going to find nice, simple layout elements throughout the design to accommodate all of your gear. There's a tablet pocket on the front panel fronted by a bit of padding. That's an iPad Air in that pocket for reference.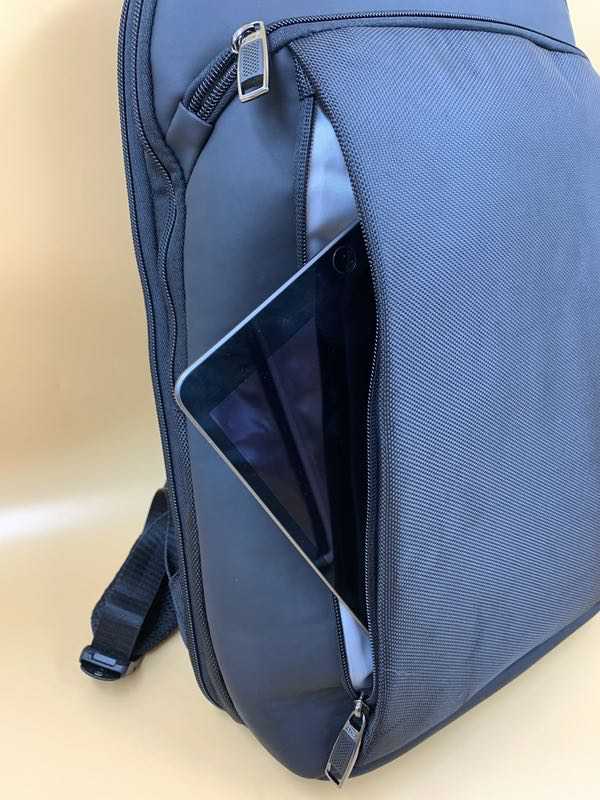 Behind the iPad pocket is a tall open pocket with a key leash on a removable clip. I have a MacBook Air in this pocket for reference. It's got nice height and width, but isn't very deep… it works just fine a spot for dumping assorted quick grab items. You could roll with your iPad in here and use the front pocket for that stuff as well, but I'd probably avoid that with the key leash unless you have a case for your tablet. You don't want to scratch up your moneymaker.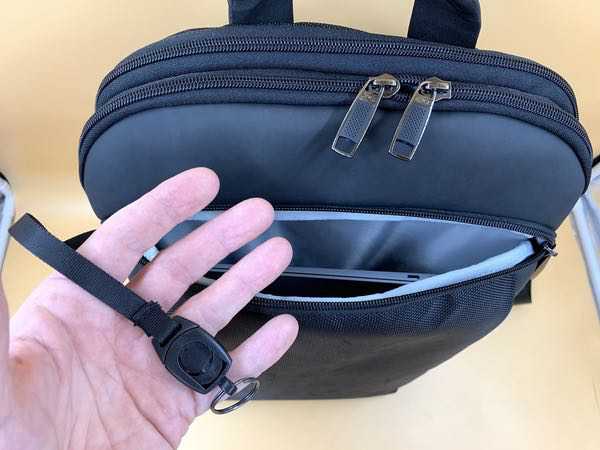 The back panel is a basic ribbed foam padding, with a pass-through luggage strap at the midpoint.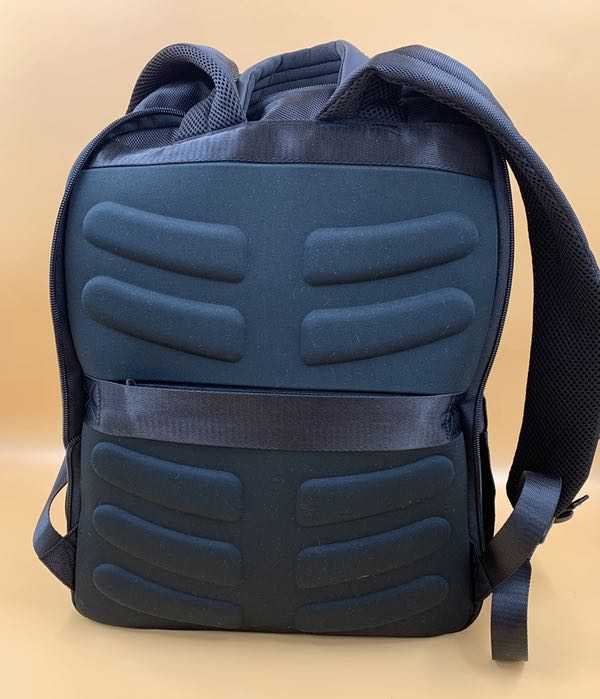 There's a sneaky little zip pocket behind that luggage strap you can use for stashing important papers or valuables while traveling.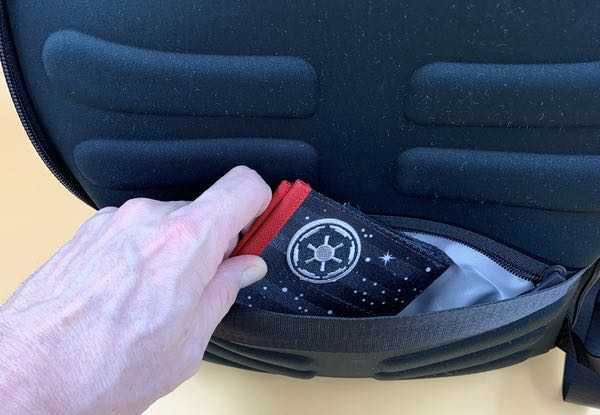 Your carry harness is super-basic stuff, with lightly padded backpack straps. It does have a nice sternum strap to balance the load, and a cushy padded grab handle at the top.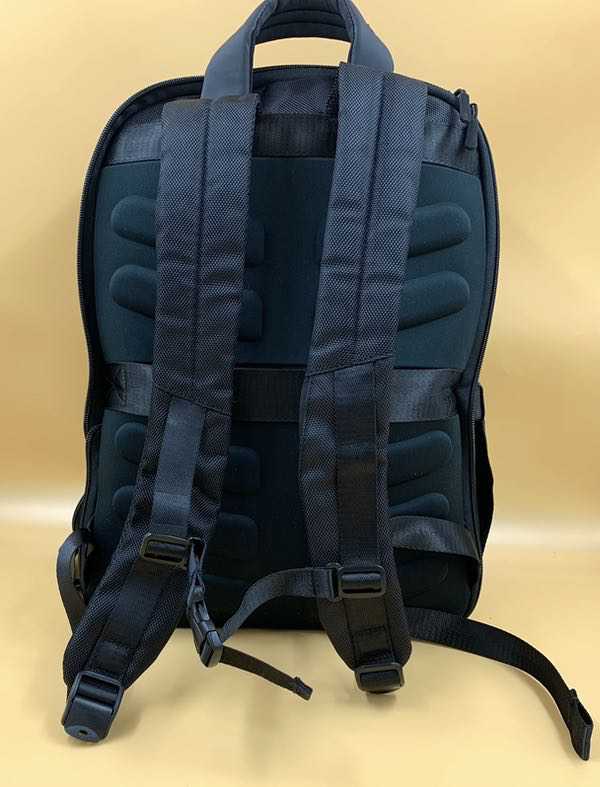 Here's a shot of the shoulder straps & sternum strap in place.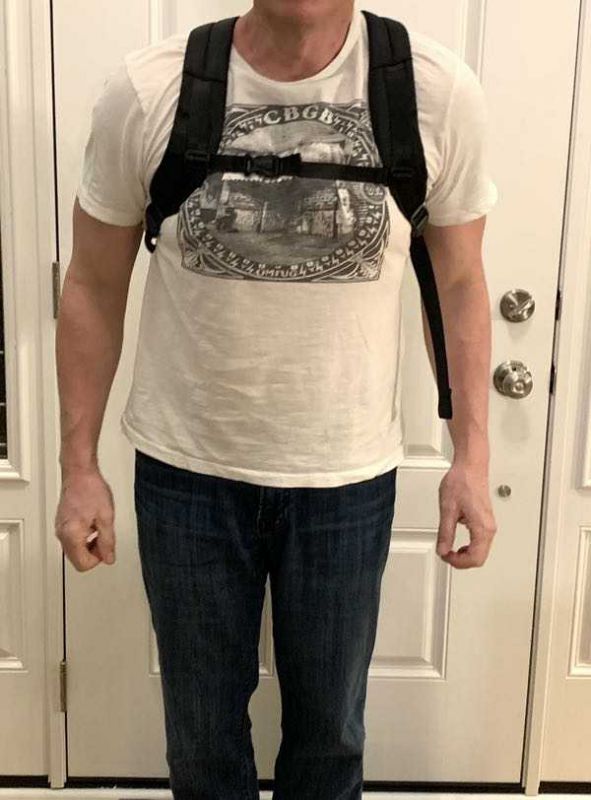 Overall construction is — pardon the pun — a mixed bag. The hardware is quite nice with chunky zipper pulls & durable plastic clips for the strapping. The materials, padding elements, and stitching are not particularly substantial. This is typical for budget bags but not great for long-term durability.
Slim Mode
When you're in slim mode the bag sports a nice trim profile. Here's a side shot for reference.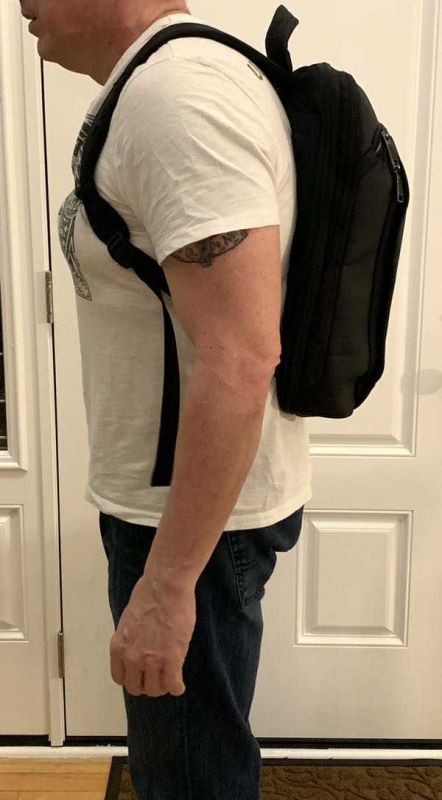 Your laptop rides in a padded sleeve in the middle compartment that has a soft-touch finish to keep your machine from getting scratched up. A pair of elastic strips keep a 15″ laptop from bouncing around, and you have  a pair of gear pockets in there for accessories with a couple of pen slots thrown in for good measure. I have a 15″ MacBook Pro and the power brick stashed in here for reference, with room to stash a notebook or two in the extra space.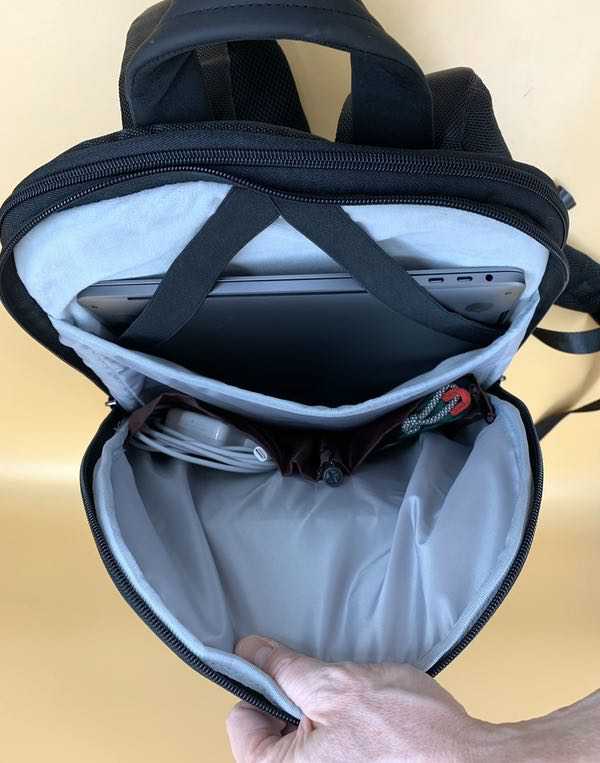 I quite like the slim profile for light-duty work if I am carrying my laptop and tablet. The lightweight harness if just fine for this and it's quite comfortable for walking around.
Expanded Mode
Here's where things get interesting. You'll find a zipper on the side of the bag as seen below: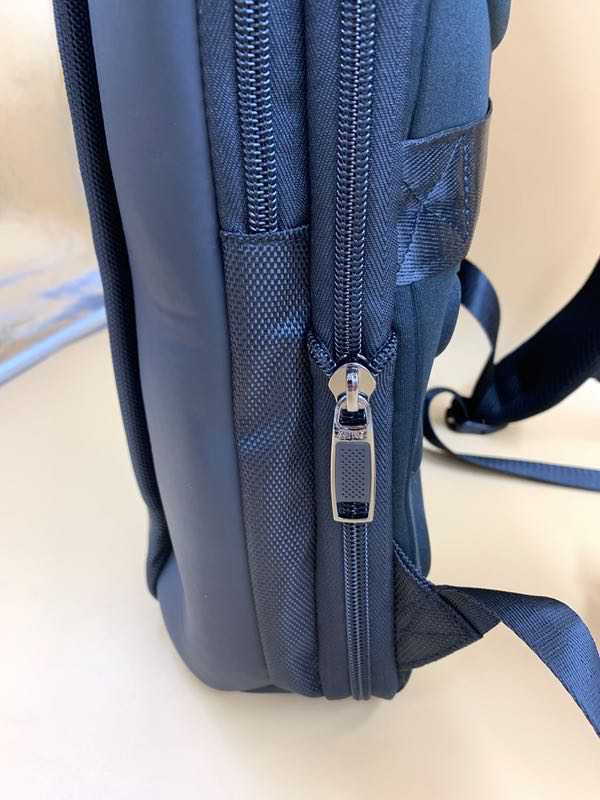 This zip runs the full perimeter of the bag. When opened up, the bag expands by an additional 3 inches for carrying all the things and some extra features.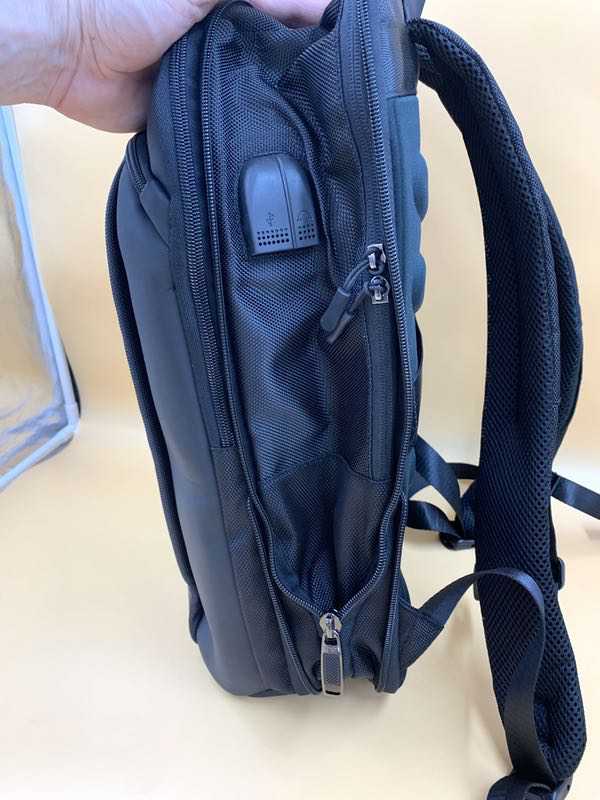 Expanding the bag reveals a hooded & water resistant port on one side for connecting your accessories. There's a USB port and a standard audio auxiliary jack here, with corresponding cables that you access from the interior to connect to your phone or portable power brick. Unfortunately the ports are both only USB and aux-in audio on both sides, which means your phone or accessories will need to support those plugs. The accessories can only be stashed in the rear compartment of the bag which we'll look at in a minute.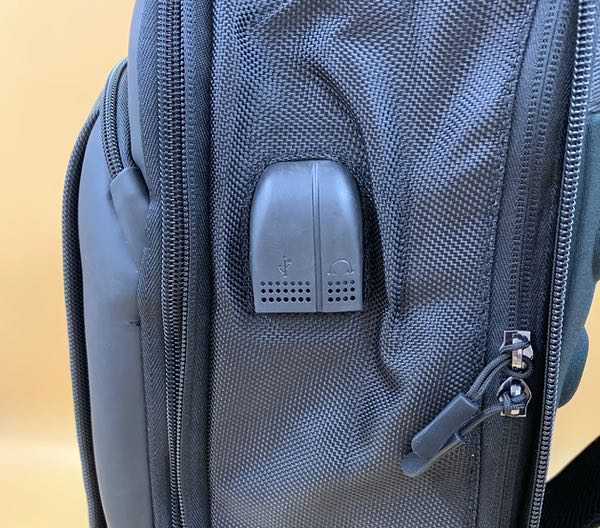 On the opposite side is a water bottle sling pocket, which also works fine for a sunglasses case or umbrella. It is elastic, but don't expect to get super-huge hydration bottles in there.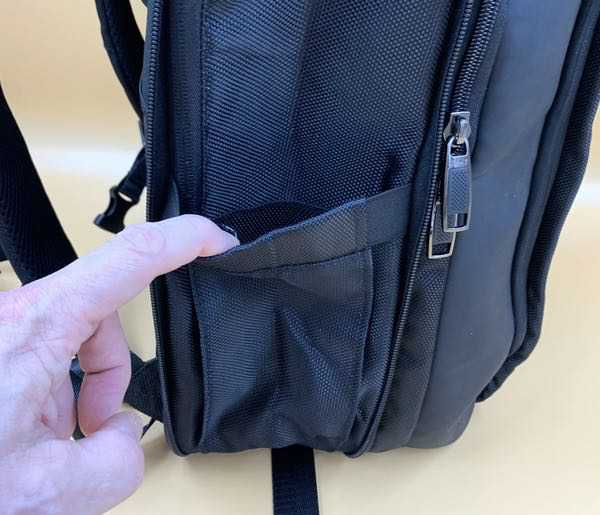 The rear compartment is now available in expanded mode by a separate zipper. It's got two more gear pockets at the mid point on the bag, and a deep mesh pocket on the back face. I have a sweatshirt and an iPad in this space to give you a fit reference.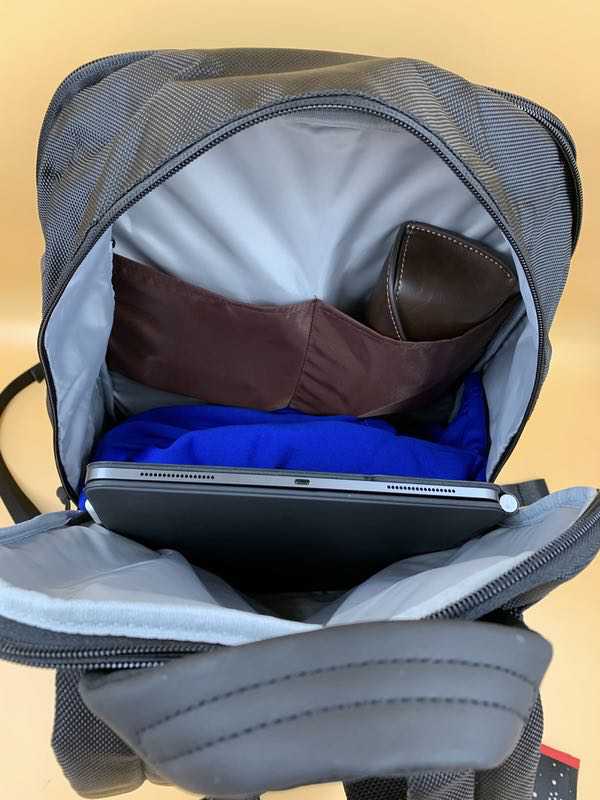 Unfortunately, this is where the design starts to get a bit wonky in expanded mode. Check out the side profile.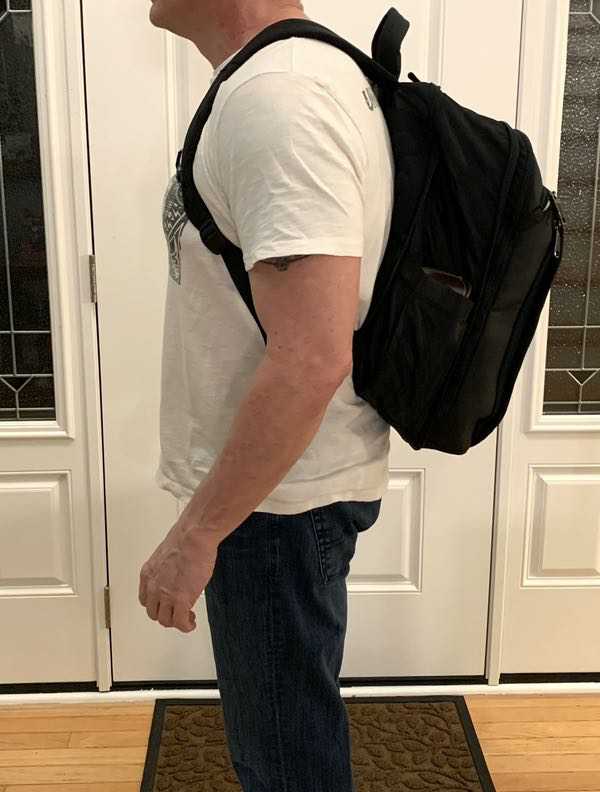 See how the back panel curves to my back and everything sags to the bottom? There's no frame sheet or structure to the bag once you're in expanded mode. Everything kind of sinks. The light-duty harness also becomes a problem here. Combined with the lack of structure the whole arrangement quickly becomes very uncomfortable if you are carrying heavier loads.
In slim mode, you just don't notice these issues because that peripheral zipper adds structure and rigidity to the frame. Open it up and you'll need to be very careful about what you pack. You could move your laptop back there to help, but that rear compartment is not as well padded as the middle space.
What I like
Sleek & unobtrusive look
Simple layout is easy to work with
Nice hardware for zips & clips
Comfortable and low-profile slim mode makes for easy commuting
What needs to be improved
Materials and construction need to be improved
Harness is not designed for heavy loads
USB/Audio port is a nice feature, but outdated for modern accessories
Lack of structure in expended mode makes it comfortable for hauling a lot of stuff
Final thoughts
The Zinmark backpack works quite well as a slim bag for the work/school essentials but I feel like it's trying to do too much as a travel multitasker. It may be fine in a pinch, but I don't find it comfortable if I am carrying a heavy load. I'm also concerned that the budget-level materials & build won't take extended punishment if it logs a lot of miles as a travel bag. You'll also need to check your accessories if you plan on taking advantage of that media/device port, and plan your packing accordingly for longer hauls.
Price: $79.99
Where to buy: Go to the product page on the Zinmark web site.
Source: The sample of this product was provided by Zinmark.