We use affiliate links. If you buy something through the links on this page, we may earn a commission at no cost to you. Learn more.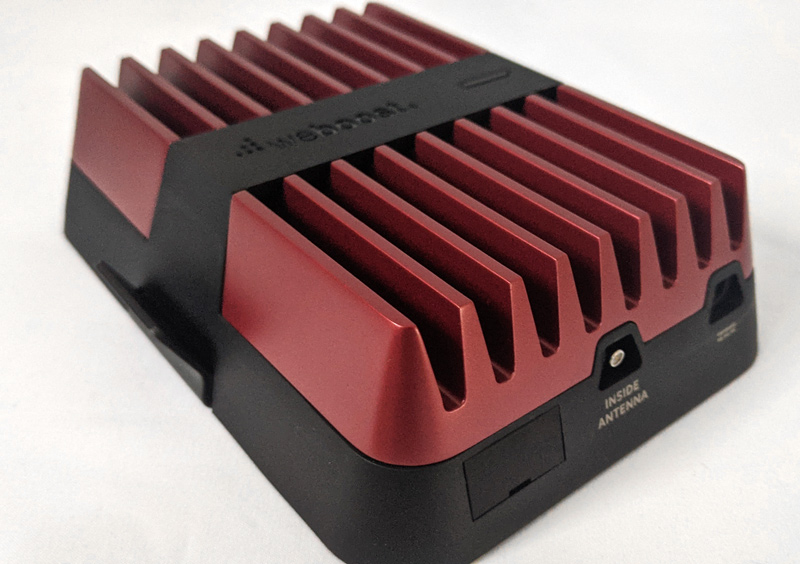 REVIEW – For those folks who live the RV life, there are some things that you come to expect. One of those things is spotty cellphone reception, or maybe no reception at all.  To get to those beautiful, picturesque spots, you probably have to head on out to the boondocks (for those folks not familiar with the boondocks, that generally means 'way out there in the middle of nowhere!') And in general, the boondocks has spotty cellphone reception. So what are you supposed to do if you want to experience those great outdoor locations but you still need to do some work? Maybe a cell signal booster will solve your problem. So let's look at the Drive Reach RV by weBoost. (Hereinafter referred to as the DR)
What is it?
A device that can boost the signal from cellphone towers when your cellphone can't pick up a strong signal.
What's in the box?
weBoost Drive Reach RV booster
Outside antenna, with L-bracket ladder mount
25 ft black RG-6 antenna cable for outside antenna
Inside antenna
10 ft black LMR-100 antenna cable for inside antenna
AC/DC wall power supply
13" mast extension, side exit adapter & spring base
Cable entry cover with cable management accessories
Thread lock
SMA-to-SMB adapter
Instruction booklet
And here are the specifications:
Model: Drive Reach RV- 470354
Gain: 50dB
Max Uplink Power: 29.5 dBm (1 Watt)
# of Devices Boosted Simultaneously: Multiple
LTE Bands Supported: 12/17, 13, 5, 4, 2, 25
Exterior Antenna: Drive RV – SMB connector
Internal Antenna: Desktop Antenna – SMB connector
Power Supply: AC
Range of Interior Coverage: 6″ – 4′
In Motion Usage: Yes
Dimensions: 6 x 4.5 x 1.5 in / 1.8 pounds
Warranty: 2 Year
Installation
The DR comes with cables that are long enough to work with most RVs.  Our family RV is a Class A 22 ft unit.  In my opinion, the tricky part about the DR is finding the best way to install it because every RV is different.  It took my father and me about 3 hours to install it, and the first hour was spent just going over all the possible ways that we could run the wires to install it.  We finally decided that we could have gone over the top and down into the RV, or gone underneath and up into the RV.  In the end, we went with the option to go underneath, and that worked out the best.  I should also mention that, in my opinion, having 2 people install the DR is a must.  It would have taken a couple of additional hours to install this thing with only 1 person.
We attached the outside antenna to the ladder (see picture below) and ran the cable underneath the RV into the wheel well, where we drilled a hole up into a storage area where the water tank sits. That storage area is adjacent to the seating area where the table is, so it was fairly easy to install the booster unit inside that storage area and run the inside antenna cable into the seating area and up onto the table.  Easy peasy!  We had plenty of cable both for the outside and inside antenna.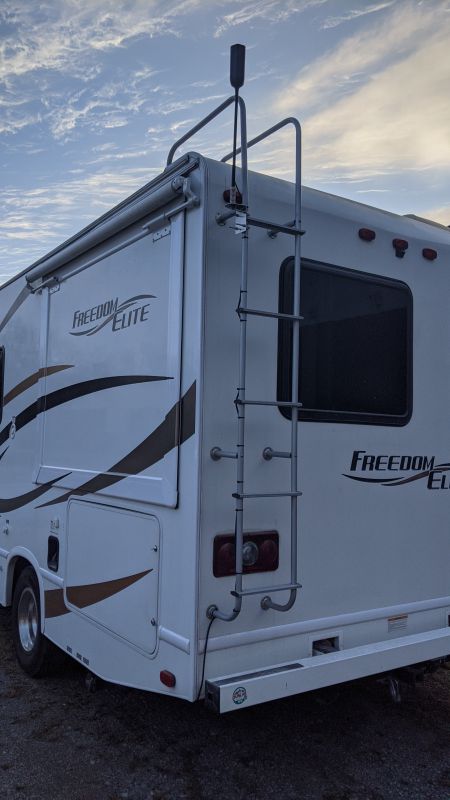 Boosters vs MIMO antennas
So for a minute let's talk about whether or not you even need a booster like the DR, because boosters don't improve every situation.  In fact, sometimes they make the situation worse. When you think about your cellphones and tablets, each of those devices comes with multiple antennas inside: usually 2 and sometimes 4. This is called MIMO (multiple in, multiple out), and it helps your cellular device find that much-needed signal.  The reason that is great is that it gives you the best chance of finding a signal to your cellular provider by providing multiple antennas… sometimes on the top and bottom of the device or the front and back of the device.  With a booster like the DR, there is only 1 antenna.  So if you have a medium-strength cellular signal already, a booster might make things worse because you are going from using multiple antennas to using only 1 inside the DR.  For example if you use one of those cellular hotspots that have multiple antennas inside, and it has antenna ports on them, you might get better signal boosting by simply buying a MIMO antenna and plugging it up to your hotspot.  Those MIMO antennas can also be pretty cheap too.  For a much better explanation about this issue, watch this video on YouTube created by The Mobile Internet Resource Center.
Testing
The first test that we did on the DR was sitting inside the RV in the driveway to our house. We live inside a city and the Verizon signal is very strong. But it wasn't surprising to see that when we went inside the RV the signal bars showing on our phones dipped slightly. Then we did a speed test on up/down rates without using the DR. When we turned on the DR and repeated the speed test, we saw a slight decrease in the download speed. That might not make sense because you would expect if the DR is 'boosting' the signal, we would see an increase in download speeds, but as I mentioned in the previous section, the MIMO technology of using multiple antennas inside our cell phones was better in this situation than using the single antenna in the DR.  So in this first test, the DR made no difference at all, and you could say it made that situation slightly worse.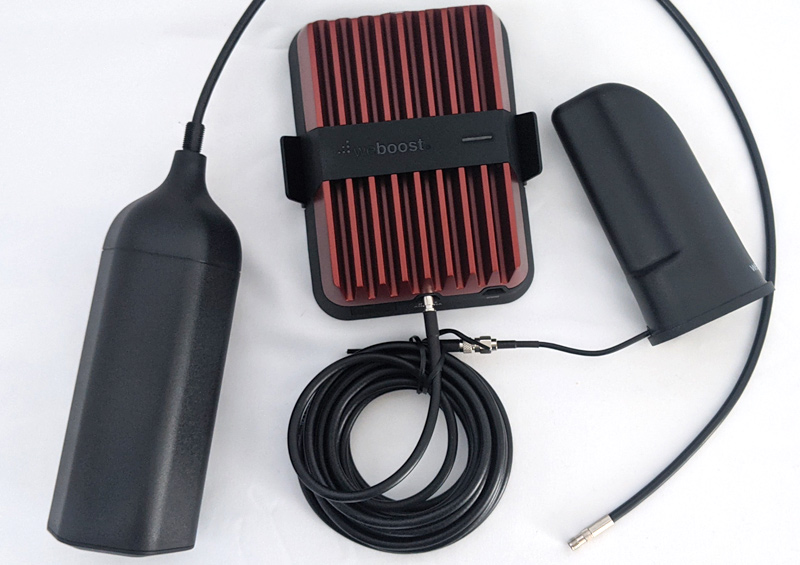 The second situation we tested was taking the RV to a remote location (a state park) where we were amongst some hills and valleys and the cell signal wasn't good at all, and they didn't offer wifi at the campground.  The entire time we had 1 to 2 bars on our devices, at the most. When running the speed test not using the DR and then again using the DR, the results were remarkable.  The speeds were easily doubled on the download and the upload speeds were quadrupled. Now, we never owned the previous generation of weBoost product in this space, The 4G-X, but weBoost says that the DR has a significant increase in transmit power to maximum your upload speeds.  In fact, weBoost says it has almost doubled the transmitting power with the DR, which may be enough reason for owners of the 4G-X to upgrade.
A word about 5G compatibility
The world of 5G is somewhat the 'wild wild west' right now.  And weBoost claims that the DR is 5G compatible, so a discussion of 5G seems appropriate.  5G coverage isn't nearly as ubiquitous as 4G/LTE, but it is getting better every day.  And the differences between 5G for all 4 cellular providers is quite different. This isn't a review about 5G, so I won't get in-depth with that here, and I am not sure I could honestly provide any more detail about it with my limited knowledge.  But let me summarize the situation with this explanation. There are 16 frequency bands that are out there for 4G/LTE that are used by the 4 cellular companies, and even more bands exist for 5G.  But the FCC only allows boosters to operate on 6 bands:  2, 4, 5, 12, 13, and 25.  So as long as your device uses 1 of these 6 bands (4G/LTE or 5G) then this booster will give you a 'boost'.  The DR doesn't know whether your device is 4G/LTE or 5G, so it isn't a 'smart' booster in that regard.  It simply boosts that signal that it picks up.  Finally, as more time passes and 5G becomes the norm instead of the exception, there will be less and less need for a booster because of the capabilities of 5G, even at low bandwidth coverages. So the claim that the DR is 5G compatible should come with the caveat of 'sometimes'.
What I like
Great performance out in the boondocks
Cables are plenty long
What I would change
Final thoughts
So when can the weBoost Drive Reach RV cell signal booster help you the most? The bottom line is this: if you only use cellphones and cellular-connected tablets (or maybe connect your laptop to the hotspot built into your cellphone) and need to boost the signal when you are out in the boondocks, the DR can help. Today's cellphones and tablets don't have antenna ports, so a booster like the DR is going to be your only option for helping you get a boosted signal when you are out in the boondocks. Also, because your cellphone doesn't have a tremendously strong amplifier when it comes to upload speeds, using the DR can help greatly increase upload speeds in those boondocks situations because the DR can provide that stronger connection back to the cell tower. If you use a router or one of those hotspot devices from your cell provider, then the DR might not be able to help you every time. In fact, if your router/hotspot device has an antenna port, you might be better off getting a MIMO antenna instead of a booster.  With the DR coming in a $499 and many MIMO antennas can be had for between $50 and $100, your personal situation is even more important when making the decision to drop that kind of cash and buy the DR or not.  But for those of you who travel a lot in your RV and find yourself a long way away from cell towers on a regular basis, the weBoost Drive Reach RV cell signal booster could be a valuable addition to your RV.
Price: $499.99
Where to buy: Amazon and the weBoost website here.
Source: The sample of this product was provided by weBoost.