We use affiliate links. If you buy something through the links on this page, we may earn a commission at no cost to you. Learn more.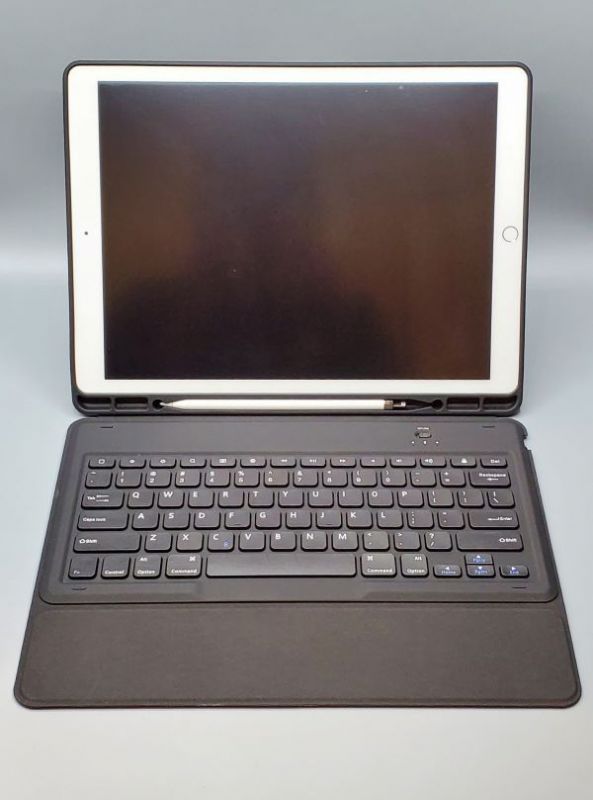 REVIEW – Like many people who use their iPads for both work and play, I enjoy the option of using a real keyboard with my iPad Pro. After a small catastrophe involving my morning coffee, my iPad Pro, and the dog (don't ask), I found myself shopping for a new keyboard case. After a lot of research, I settled on the Sounwill Keyboard Case.
What is it?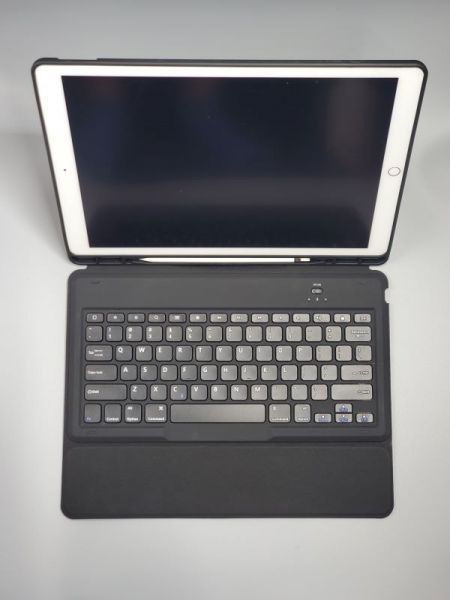 A protective case and keyboard for the first- and second-generation iPad Pro 12.9". The keyboard connects via Bluetooth. There is also a spot to keep your Apple Pencil.
What's in the box?
Keyboard case
USB-A to USB-B charging cable
Direction pamphlet in 3 languages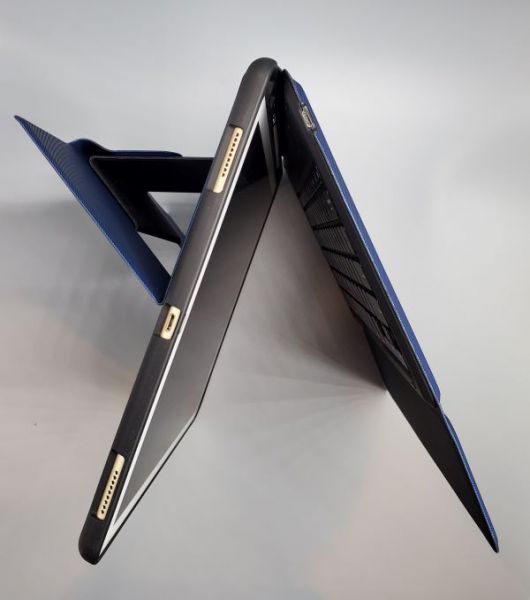 Design and Features
The case is probably like many you've seen before. It has a fairly rigid side that snugly fits around the iPad itself and provides excellent protection in case of accidents, and the other side has the keyboard itself. A magnetic flap on the exterior of the case snaps over the two sides to keep it closed.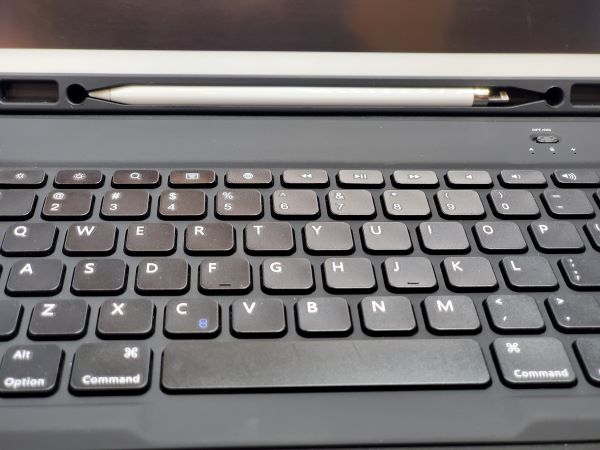 There are small crevices just below the screen designed to hold the Apple Pencil and accessories. This was a key reason for picking this particular case — I never use my Apple Pencil because it isn't handy and I thought this case might solve that problem. Unfortunately, the same rigidness that is so protective to the iPad is way too stiff to allow you to use the Pencil on a whim. Getting the pencil out of that hole is nearly impossible without using some other tool (I use a chopstick) to pry it out of there.
The keyboard itself is great. Pairing was quick once I read the instructions and there is a fair amount of key travel for such a slim profile. The battery life is good. The specs say you should get around 70 hours of typing before you need to charge, although I haven't run any tests on that. It has an automatic sleep mode that keeps me from wasting the battery and charging takes 2-3 hours with the supplied cable. It should be noted that you will need to plug into your own USB wall charger or computer port because it only came with the cable.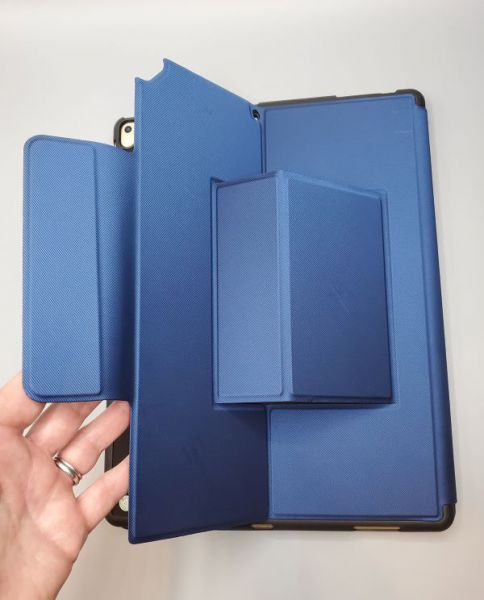 On the exterior, there is a triangle cutout in the case that snaps out and along with the magnetic flap, forms a support that keeps the screen of the iPad at a comfortable angle for typing and reading. I prefer a more upright angle for watching streaming media, however, and there isn't a great way of achieving that. I wind up propping things underneath the support, but that's a clumsy solution.
According to the product description, the exterior of the case should be in PU leather but that wasn't what mine is made of — it is much better! It has a grooved, rubberized texture that gives the case a luxe sheen and hides fingerprints and smudges.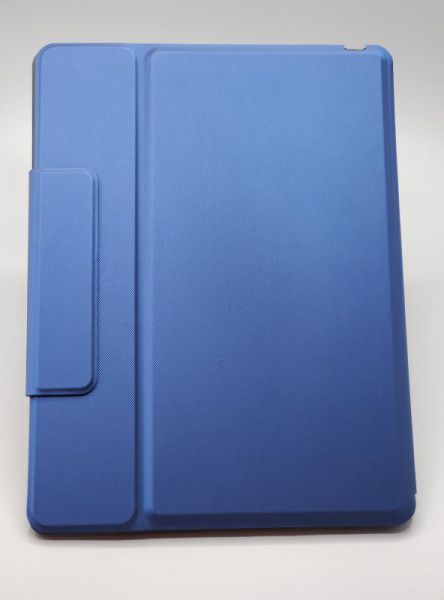 One of the main reasons I use an iPad is that I don't like hauling around heavy gear and I was worried that I wouldn't find a case that didn't add extra pounds to my backpack. This one only weighs 430 grams, or about 9.5 ounces. It does add to the bulk, however. The iPad in the case measures 0.75 inch.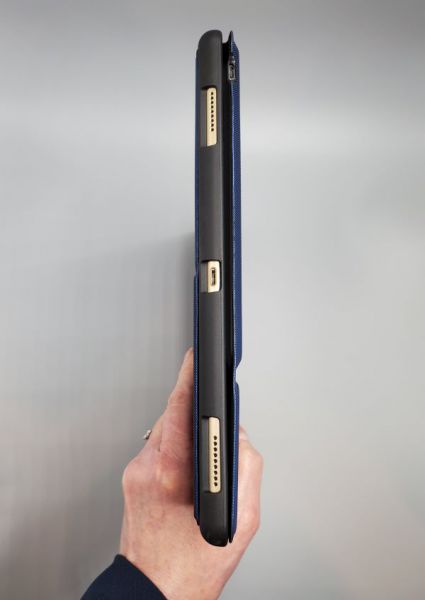 What I like
It's very protective
The keyboard feels nice to type on
The exterior is nice looking
It has great specs (battery life/weight)
What I'd change
Pencil crevice is way too tight to use
I'd like a way to adjust the viewing angle for watching streaming media
Final Thoughts
There are a lot of Bluetooth keyboards out there and I'm not sure that I'd buy this one again. I don't have a lot of remorse because I certainly will get a lot of use out of this one, but for my purposes, there's probably a better one out there.
Price: $71.55
Where to buy: Amazon
Source: The sample for this review was purchased with my own funds.