We use affiliate links. If you buy something through the links on this page, we may earn a commission at no cost to you. Learn more.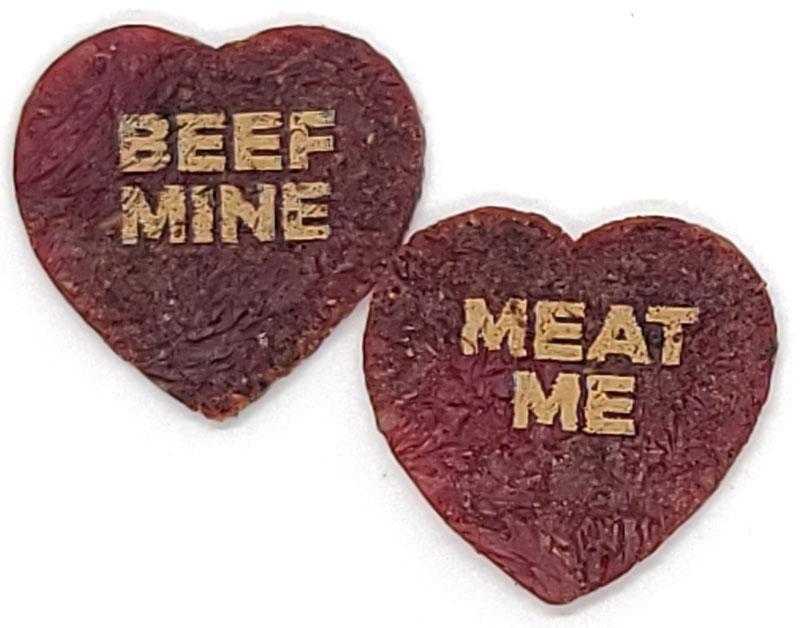 REVIEW – Heads-up, romantics!  Valentine's Day is right around the corner. If you're romantically involved with someone difficult to shop for, you know how hard gift-giving can be.  If you happen to be paired with a carnivore, Candy hearts are nice and all that, but it takes spiced, dried meat to warm the heart of a meat-lover. Manly Man Company, a veteran-owned small business that produces everything in-house, hears you and has some solutions to make this the meatiest Valentine's ever.
What is it?
Meathearts are just what they sound like – hearts made of meat – beef jerky, specifically.  But what makes them Gadgeteer-worthy is that they are both cut and etched with lasers!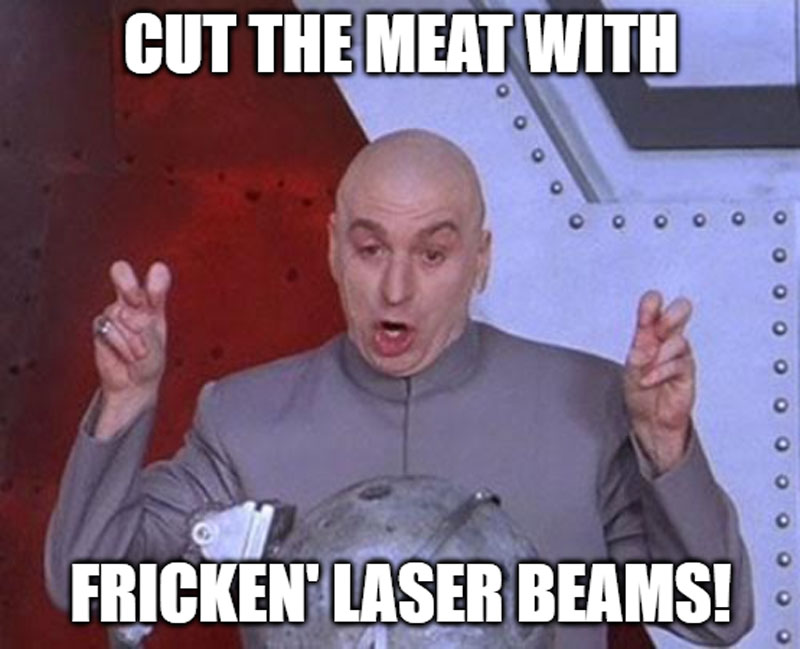 What's in the box?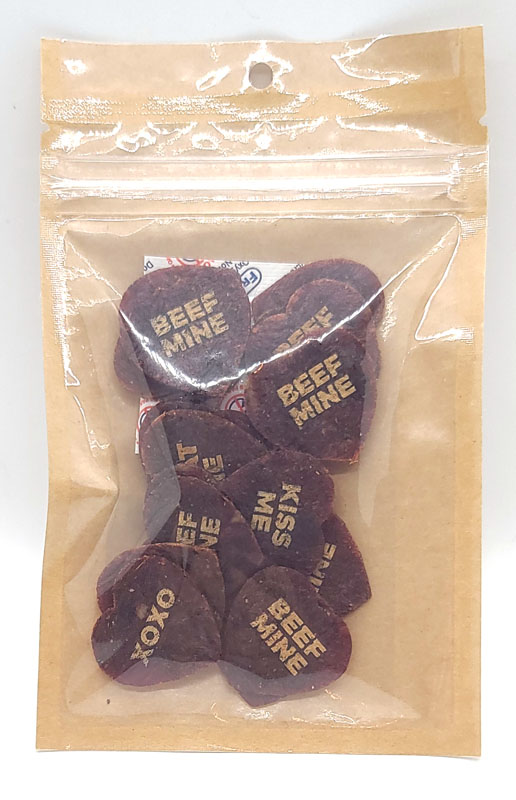 One ounce of Meathearts (about 21 pieces) and a desiccant pack, all sealed in a zip-top pouch
Specs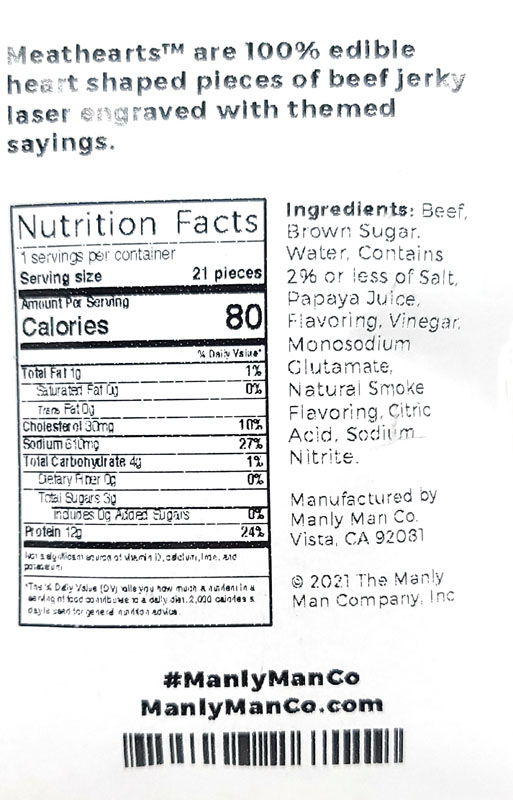 Product weight: About 1 ounce – about 21 individual pieces
Calories: 80 for the whole package, or about 4 calories per heart
Design and features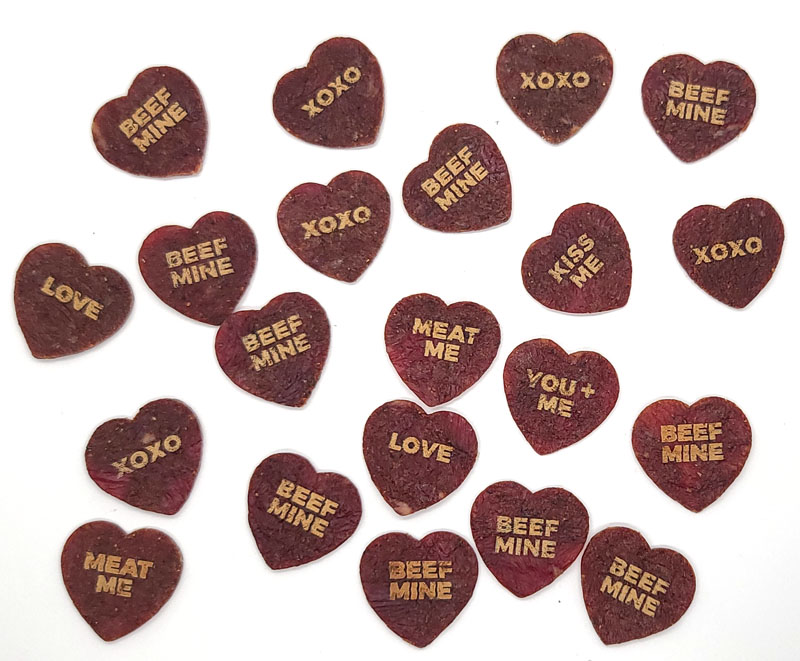 Each piece is a heart-shaped piece of tasty beef jerky.  The hearts are laser-cut and then laser-engraved with six different slogans: BEEF MINE, MEAT ME, XOXO, KISS ME, YOU+ME, LOVE.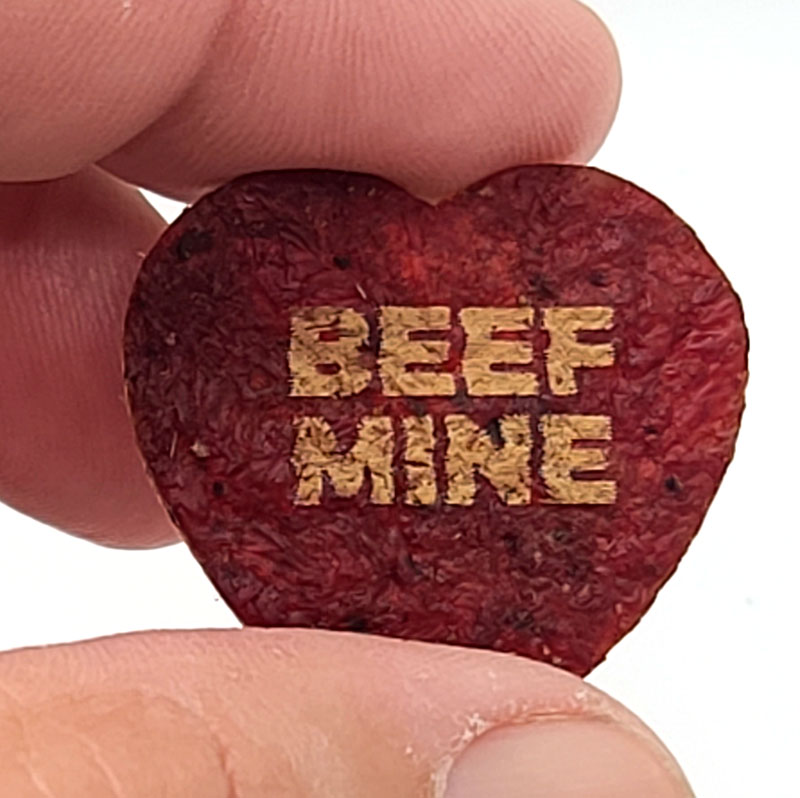 Never miss one of our posts again. Sent MON, WED, and FRI with the latest gadget reviews and news!
Setup
The only setup you need is to wrap your gift – perhaps in bacon-scented wrapping paper!
Performance
First, I'll address the individual messages.  I expected that the six different messages would be more-or-less evenly distributed.  I was quite wrong.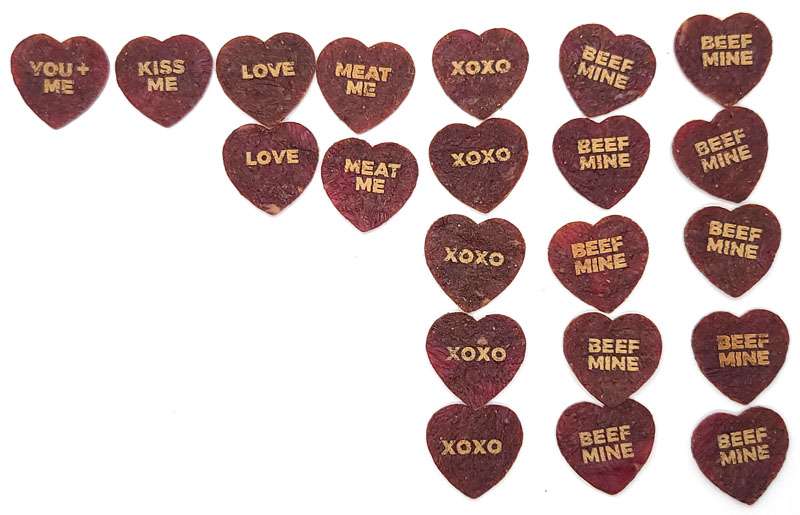 In my 21-piece pack, there were:
1 – YOU+ME
1 – KISS ME
2 – LOVE
2 – MEAT ME
5 – XOXO
10 – BEEF MINE
While I find the BEEF MINE hearts to be funny, there were *way* too many of them in the package.  I would much rather have seen three of everything, plus three extras of any message.
Next, I'll address the jerky itself. My jerky preference is a more tender jerky than Meathearts.  But, since that is a personal preference, I can't fault Meathearts for being a little tough, as many like that style of jerky.  Beyond that, the flavor was nice, with mild sweetness and smoke flavors, and just the right amount of saltiness.  Some jerky is so salty that you need a glass of water immediately after, and Meathearts don't suffer from that issue.
So, overall, as a jerky product, and a romantic novelty, Meathearts are a winner.
What I like
It is a unique gift
The jerky itself is of good quality and nicely tasty
Lasers make everything better
What I'd change
At $26.50 an ounce, it's pricey – very pricey
The different messages should be more randomly distributed in each package
Final thoughts
This is a very clever, albeit pricey gift.  At $26.50 an ounce, this is the most expensive beef jerky I've ever had.  But it's really about the novelty, and a unique way to express your love and devotion as well as your love of meat-based products. Manly Man offers other jerky-based gifts including several jerky flower bouquets and a Meat Card – a personalized card made of jerky, laser-etched with your personal sentiment.
While Ron Swanson might not approve of Meathearts…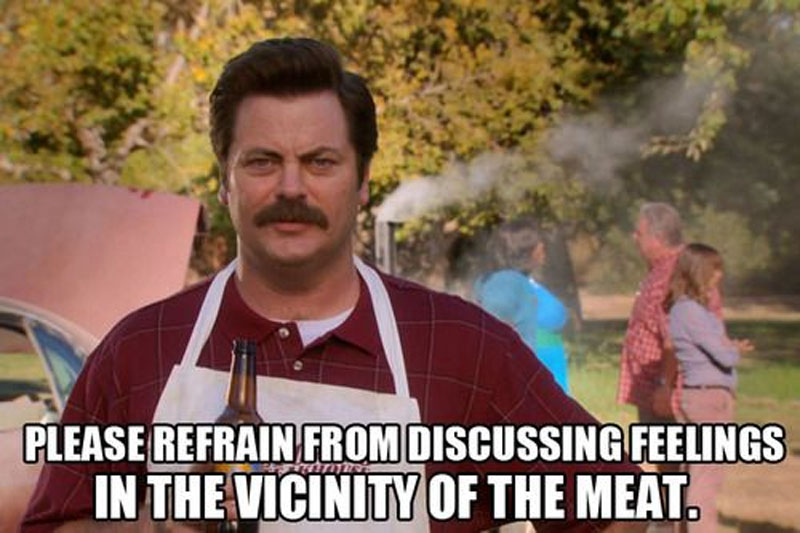 But I think Meathearts are a fun and unique gift for that person that has everything.  Chocolates are so last year…
Price: $26.50 – sold out, but the next batch is scheduled to be available on 2/2/2021
Where to buy: Manly Man Company
Their other "manly" Valentine's gifts can be found here
 Source: The sample of this product was provided by Manly Man Company.