We use affiliate links. If you buy something through the links on this page, we may earn a commission at no cost to you. Learn more.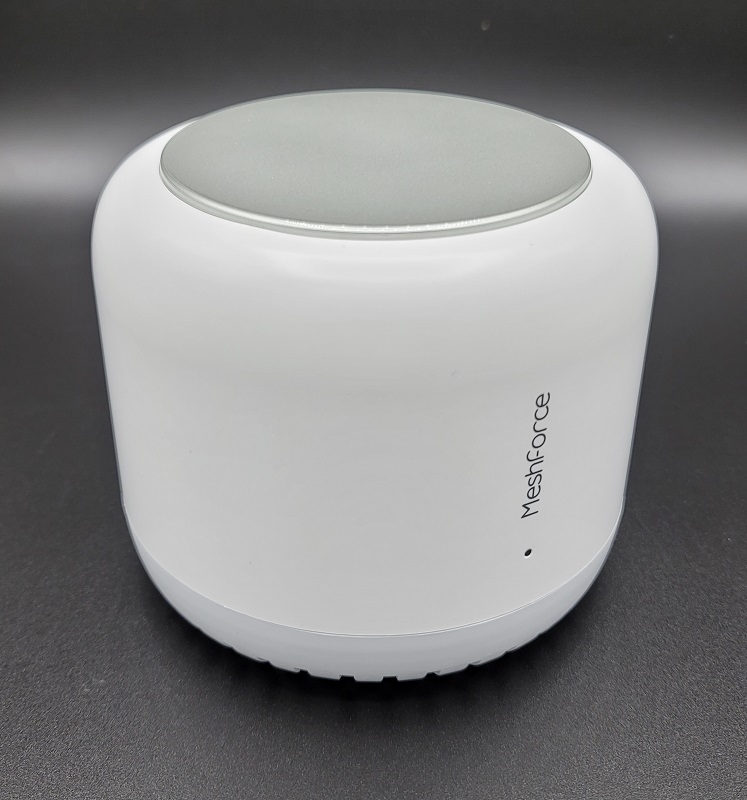 REVIEW – If you're like me, you've endured years (if not decades) of slow or spotty wireless connections, especially if you have a multi-level home or an apartment with many neighbors using WiFi.  In theory, the Meshforce M7 Tri-Band Whole Home Mesh WiFi System should offer better speeds and more reliable connections over a much larger area than a single wireless router.  I used the system for several weeks, and will now impart my gained knowledge, in the form of a product review.
What is it?
The Meshforce M7 Tri-Band Whole Home Mesh WiFi System is a wireless router system.  You install several Meshforce M7 mesh units (they are sold in 1, 2, or 3 packs – I was sent the 3-pack) depending on your needs, and these intelligently connect to each other and operate as a single wireless network.  Behind the scenes, the system should be balancing devices to the different mesh units, which are connected to each other wirelessly.  The end result is a single simple network that should be reliable and fast through larger homes or congested WiFi areas.  You don't need to run wires between the different units, and unlike wireless extenders, you don't have multiple networks to connect and disconnect from as you move around your house.  I tested the system in a ~2400 square foot split-level house which has been challenging for WiFi so far.  The internet router (municipal fiber) is located in the basement, so a single wireless router placed there can have a tough time punching through multiple walls and floors to get to the upper level on the far side of the house.
What's in the box?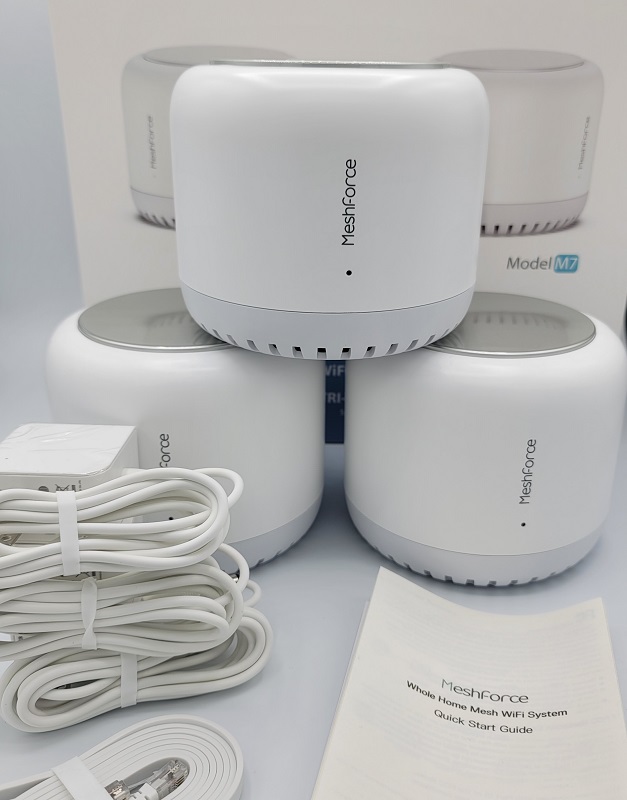 Included in the box for the 3-piece Meshforce M7 Tri-Band Whole Home Mesh WiFi System I was sent to review were the 3 wireless router units, 3 AC power adaptors, user manual, and a single flat-ribbon 10/100/1000 CAT-5 ethernet cable (to connect to the modem/ISP).
Hardware specs
Band technology: Tri-Band AC2100
Home coverage: Up to 6000 square feet (best for medium to large homes)
Mobile OS required for setup: iOS 9.0 or later, Android 4.4 or later
Dimensions: 5.3 in x 4.4 in x 5.3 in (134 mm x 112 mm x 134 mm)
Wireless features: Beamforming, MU-MIMO
Number of mesh points supported: Up to 6 on a single system
Advanced Features: Parental control, Guest network, Fast roaming, Smart QoS, Dedicated backhaul
Processor and Memory: Dual-core, 256 MB DDR3
Design and features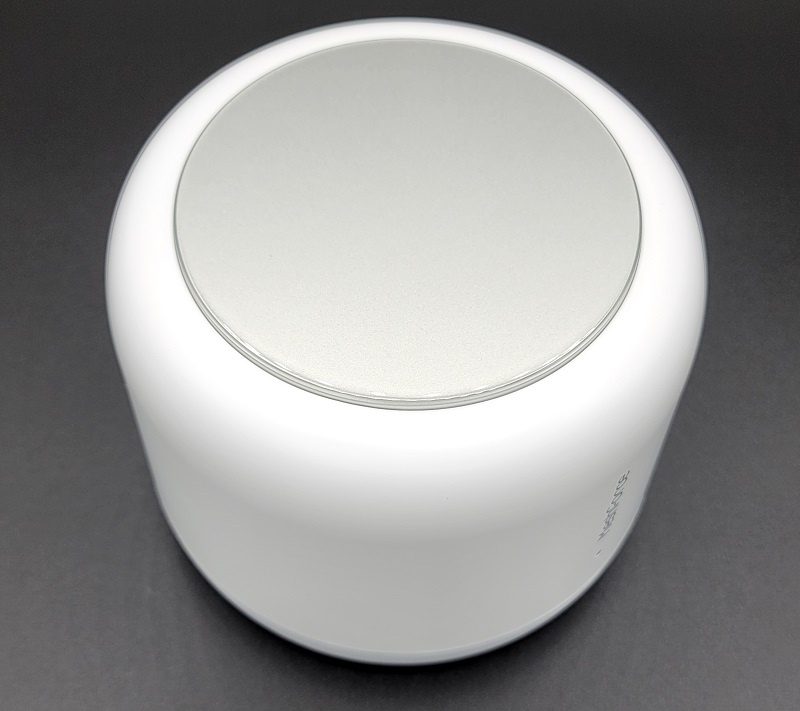 The Meshforce M7 Tri-Band Whole Home Mesh WiFi System mesh points are all identical and interchangeable (it doesn't matter which you use for the primary versus other mesh points).  They cylindrical shape vaguely reminds me of the Apple Homepod speaker.  It's mostly white with grey accents, and all plastic.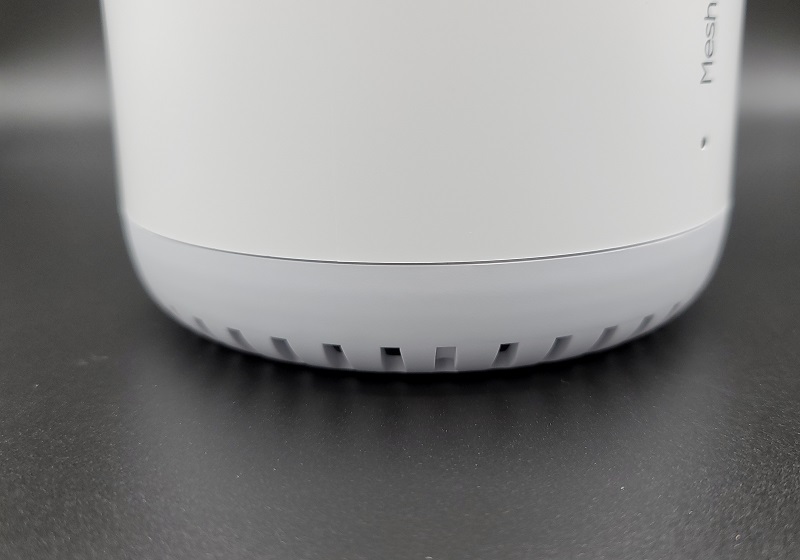 The cooling vents at the bottom are unobtrusive, and I never noticed any fan noise at all.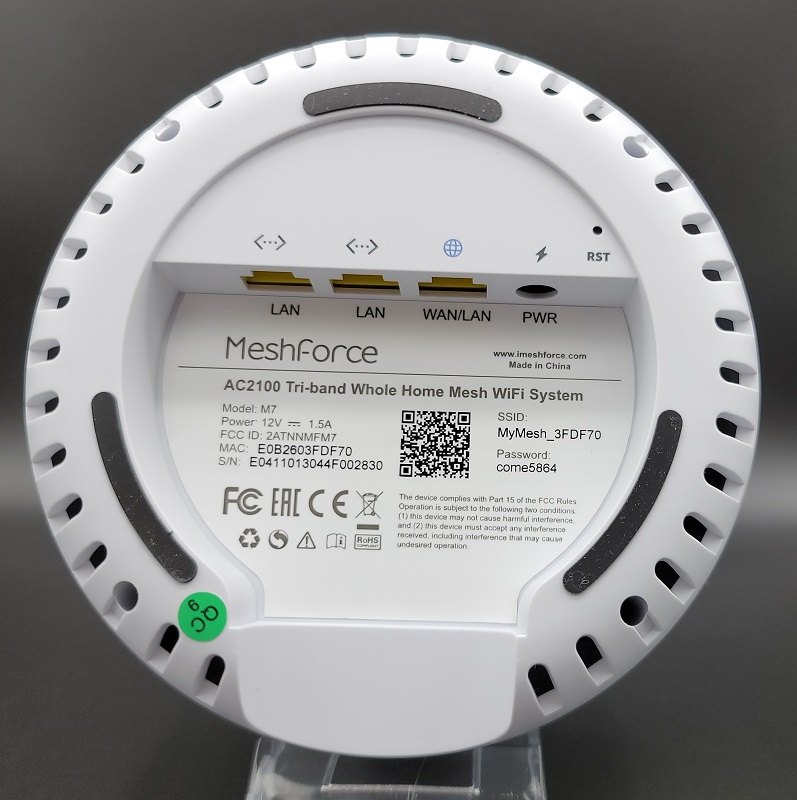 Each mesh point has a WAN/LAN port (you could connect these to an internal wired network rather than using the default all-wireless communication), as well as 2 ethernet LAN ports (you can connect up to 2 wired devices to each mesh point).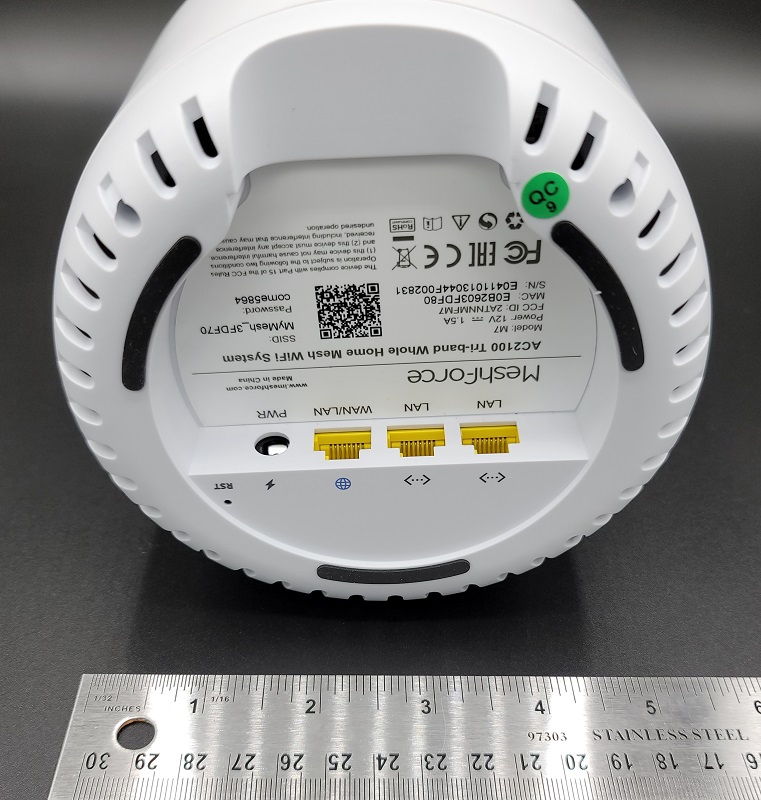 The overall size is pretty small, at just over 5 inches in any direction.  I was able to easily place the mesh points on furniture or shelves, and there's a nice groove in the bottom for wire management.
Installation and setup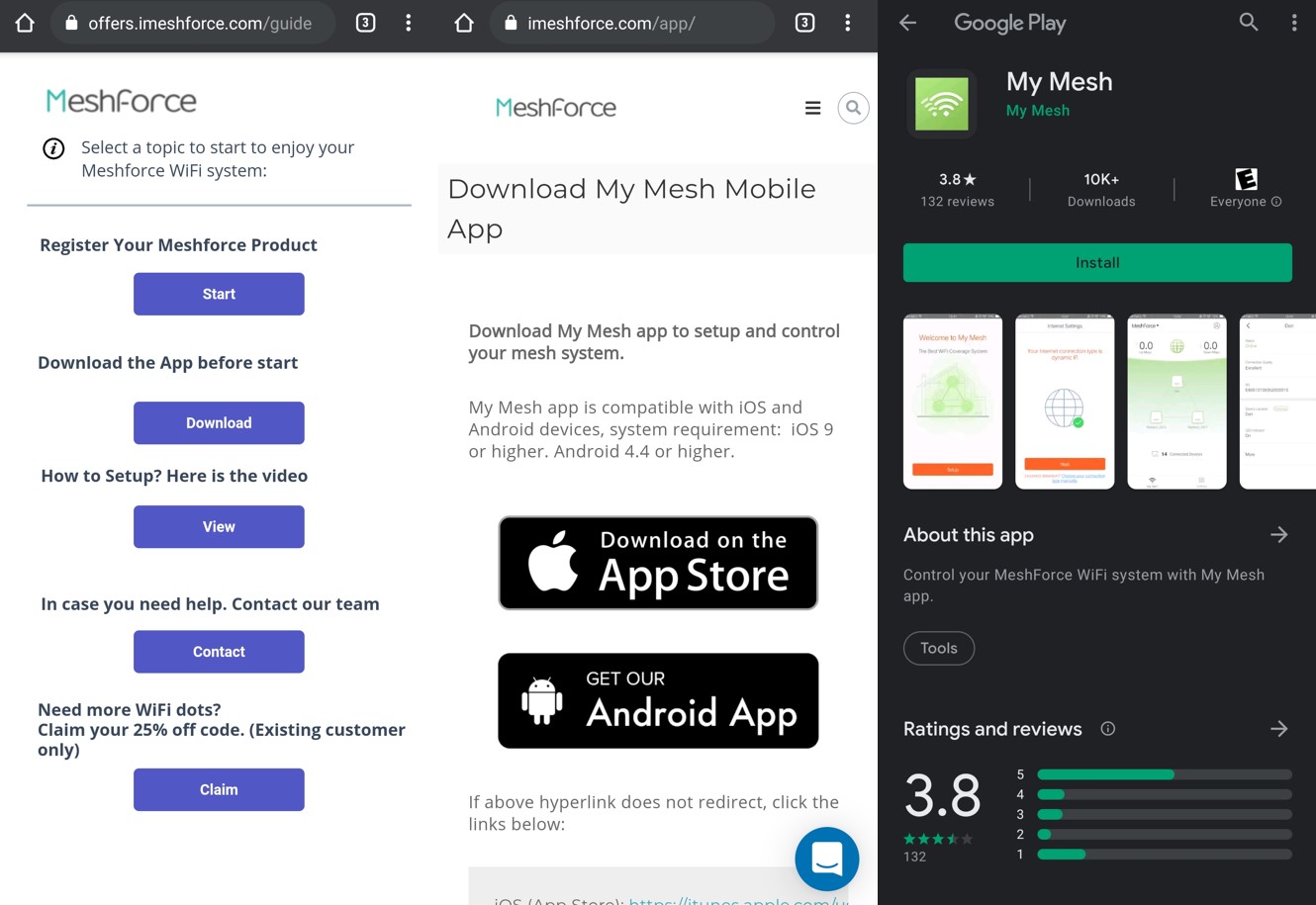 After connecting one mesh point of the Meshforce M7 Tri-Band Whole Home Mesh WiFi System to my ISP modem, I placed the 2 other mesh points strategically through the house: I wanted each to go through only a single wall or floor to talk to the next, and ended up with no room more than one wall or floor away from a mesh point, which should be pretty ideal for a mesh network system.  I then scanned the QR code on the bottom of the mesh points which brought me right to the mobile app (required for setup).  I setup and tested everything on Android on a Samsung Galaxy Note 20 Ultra.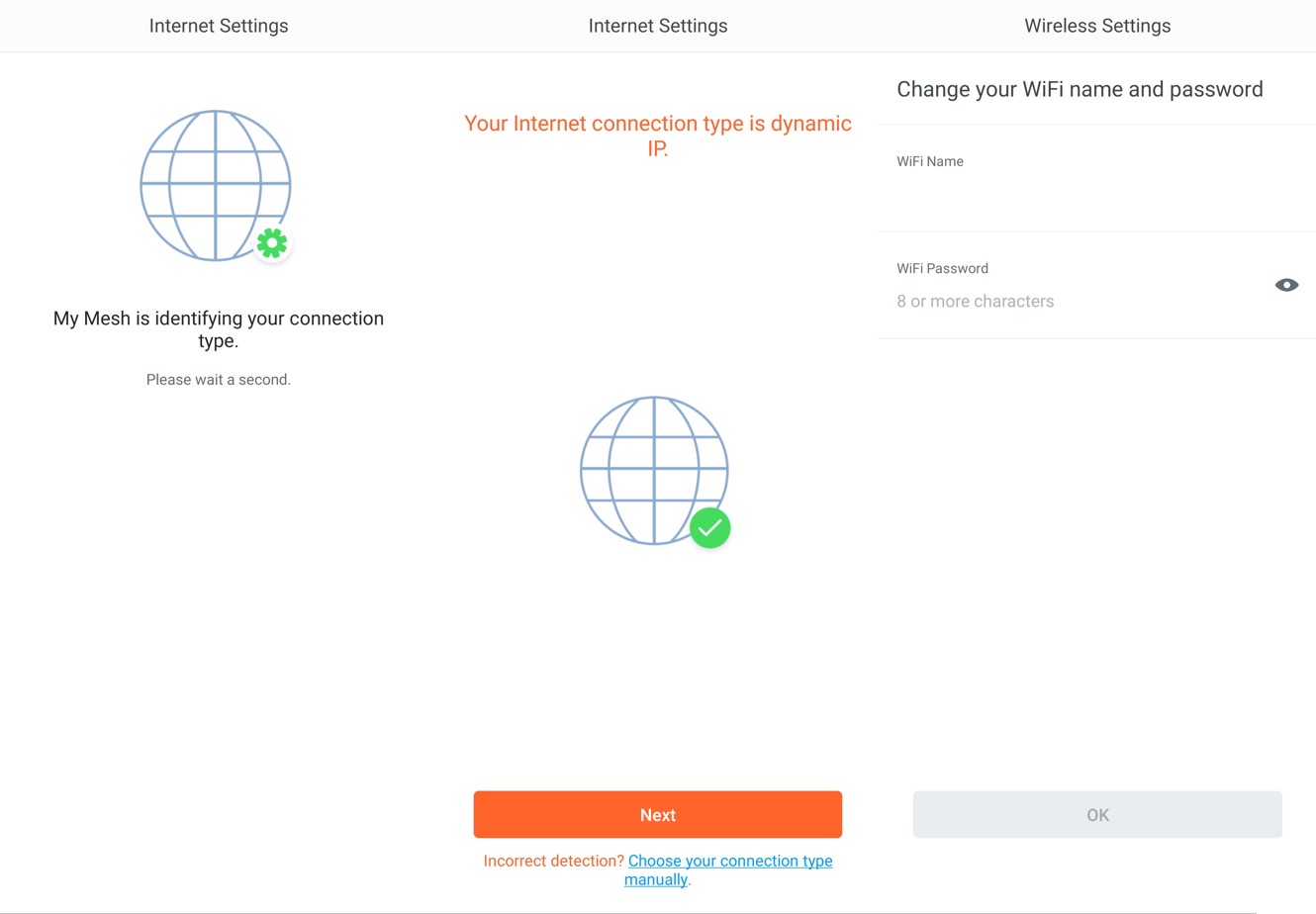 After installing the app, the guided setup was pretty easy.  It detected the network type, then had me enter a single wireless network name and password.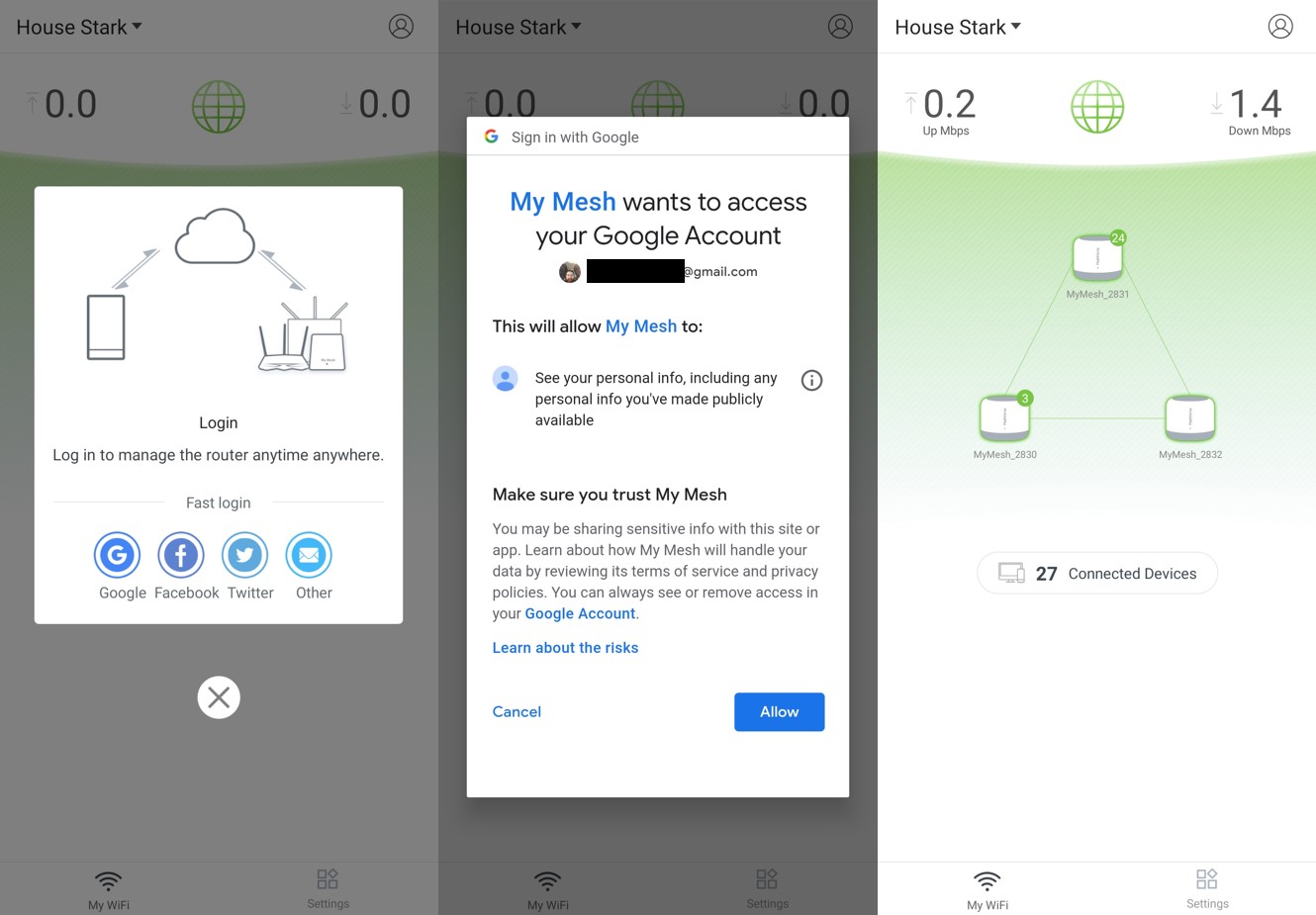 You are then prompted to create an account (or use Single Sign On from Google, Facebook, or Twitter).  I chose the Google route and allowed My Mesh access to my data.  Once setup was finished, I connected all my devices to the network (30+ devices depending on what the household is using, including quite a few Internet of Things smart home products).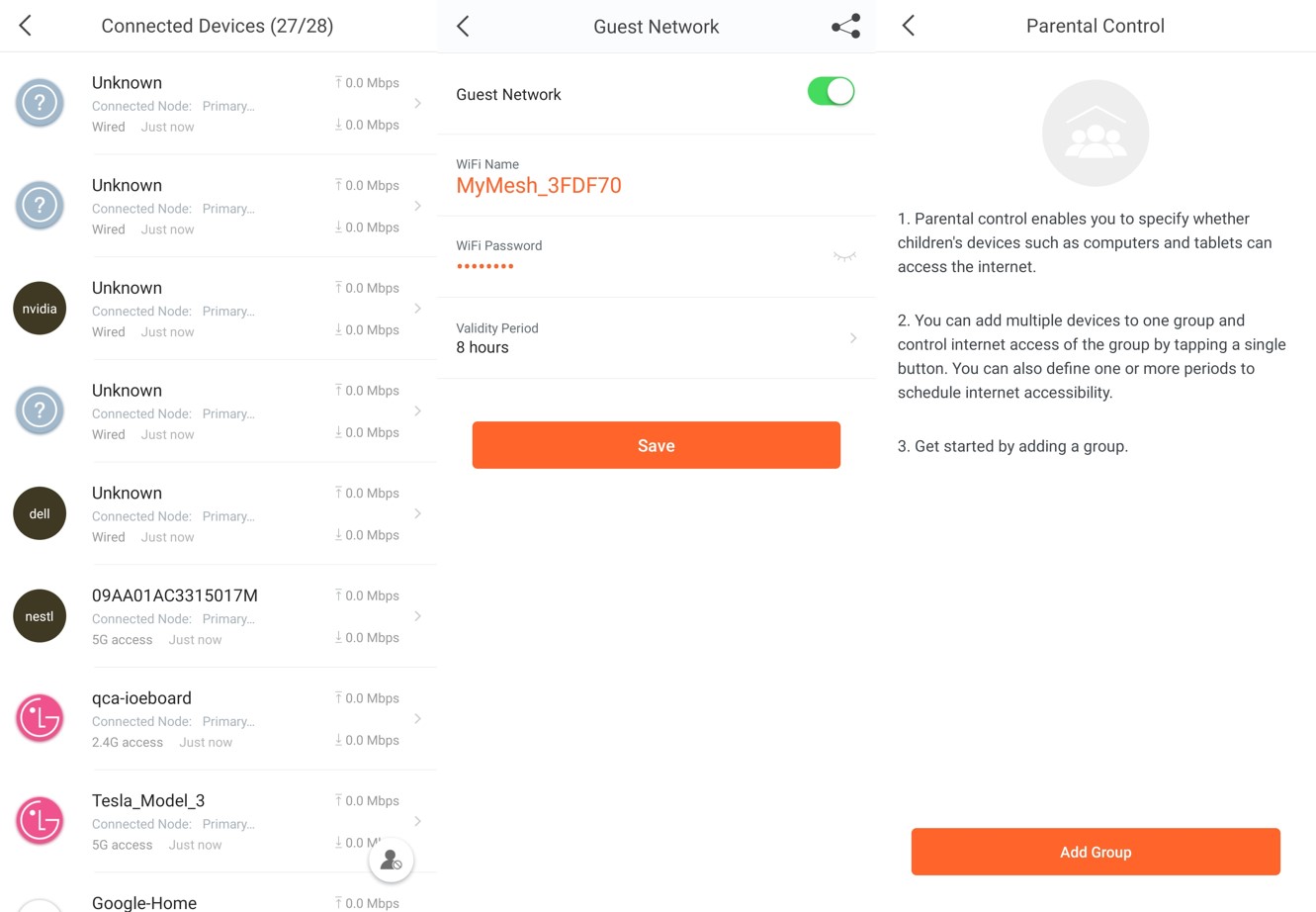 The app allows for a view of each connected device and current usage.  You can also set up a permanent or temporary Guest Network (allowing for guests to access the internet, but not other devices on your Local Area Network).  Parental control options were pretty simple, but effective: you can define groups (for different age groups or needs), schedule on/off times for devices assigned to each group, or manually toggle internet access on and off.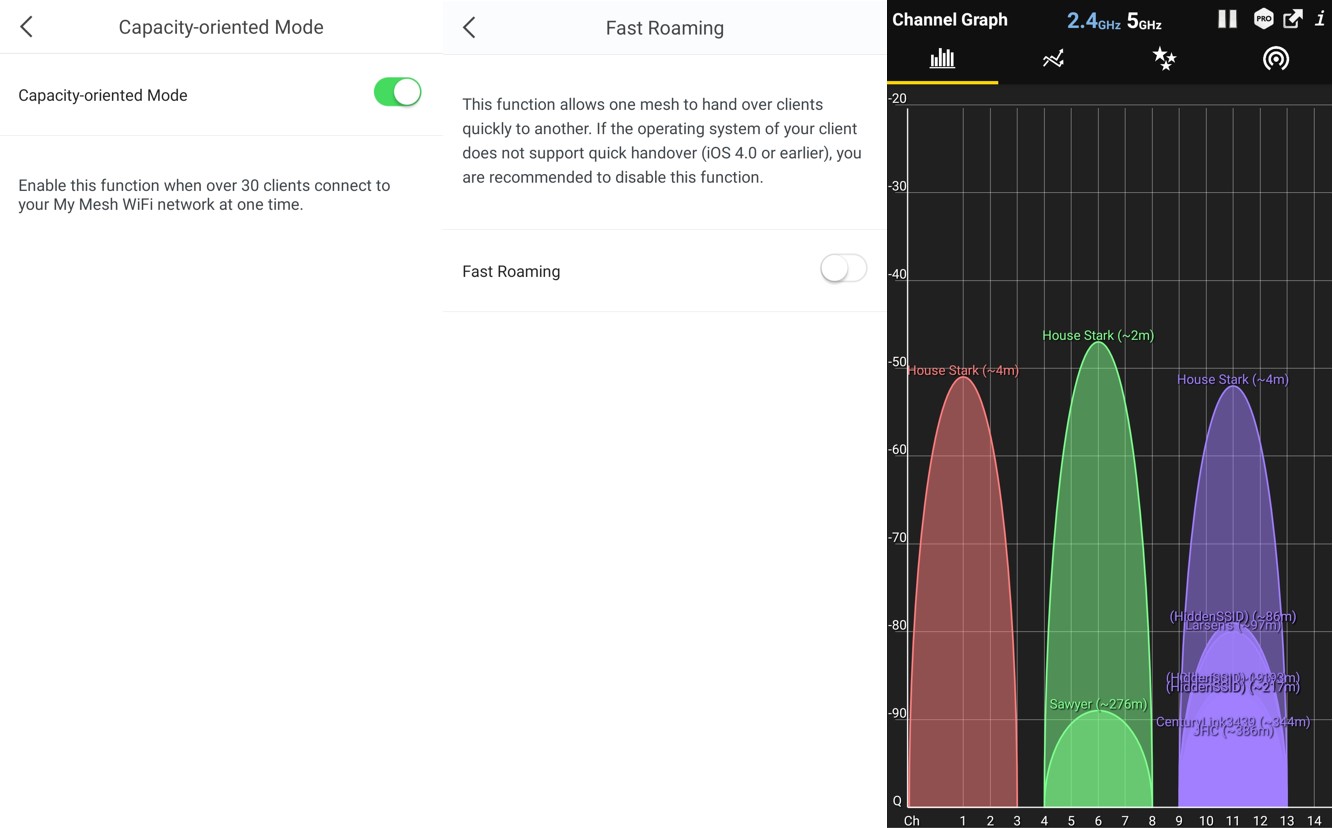 Other options include "Capacity-oriented Mode" which instructs you to enable if more than 30 clients are connected at a time.  I'm not sure why they'd not simply automate and hide this option, I wasn't seeing a measurable difference with it toggled on or off, even with 30+ devices connected.  Another option to toggle is Fast roaming, which should be turned on unless you have very old mobile devices (iOS 4.0 or earlier).  With this toggled on I noticed much better performance on my phone as I moved rooms.  With it off the phone would stay connected to a single mesh point no matter where I moved until I turned WiFi off and back on, thus negating the advantage of a mesh system entirely.  This option was off by default, so it's one I would definitely look for and enable.
I tested both speeds and reliability over multiple weeks.  I've used other mesh systems (Google WiFi several years ago) where speeds were better throughout the house, but over time they had to be constantly rebooted due to general flakiness.  The Meshforce M7 Tri-Band Whole Home Mesh WiFi System only had to be rebooted once during my multiple-week test period (some devices were running very slow one night, and recovered after a reboot).  This is much better than the previous system I'd tried in terms of reliability, and about the same in terms of speeds.
Speaking of speed, getting pretty lackluster speed tests on my phone until I turned on that fast-roaming feature.  After turning it on I was getting an average of about 50 Mbps up/down in the most difficult to reach corners of the house.  In rooms with the mesh points, I was seeing 200/200 Mbps, and wired devices connected to the primary mesh point achieved the expected 1000/1000.  I tested while multiple devices were streaming video as well, and these speeds were pretty much unfazed by the network load.  These speeds weren't quite as fast as the Google Wifi mesh network I'd used in the past, but the system was more reliable overall.
The system also seemed to handle many connected devices with ease.  Security cameras, thermostats, lights, automobiles, mobile devices, laptops, computers, game consoles and more were all easily managed with no issues.
Dedicated backhaul is a feature I like to see in mesh network systems (the Google WiFi system I previously used did not have this, resulting in some of the wireless capacity being used simply for the mesh points to communicate with each other).  The Meshforce M7 Tri-Band Whole Home Mesh WiFi System has dedicated backhaul, so traffic between mesh points shouldn't detract from other wireless traffic.  The 3 mesh points picked 3 different channels for both the 2.4 Ghz and 5.0 Ghz wireless spectrums, spreading out communication to prevent conflicts.
What I like
Nice minimalist design
Small form factor
Network reliability
What I'd change
Enable the Fast-Roaming feature by default, or have a simple question during setup to ask the user if they have any iOS 4.0 or older devices they plan on connecting
Don't force mobile-only setup – would like a standard browser-based interface option
I'd like to see faster speeds, but they were good enough for most people's needs
Final thoughts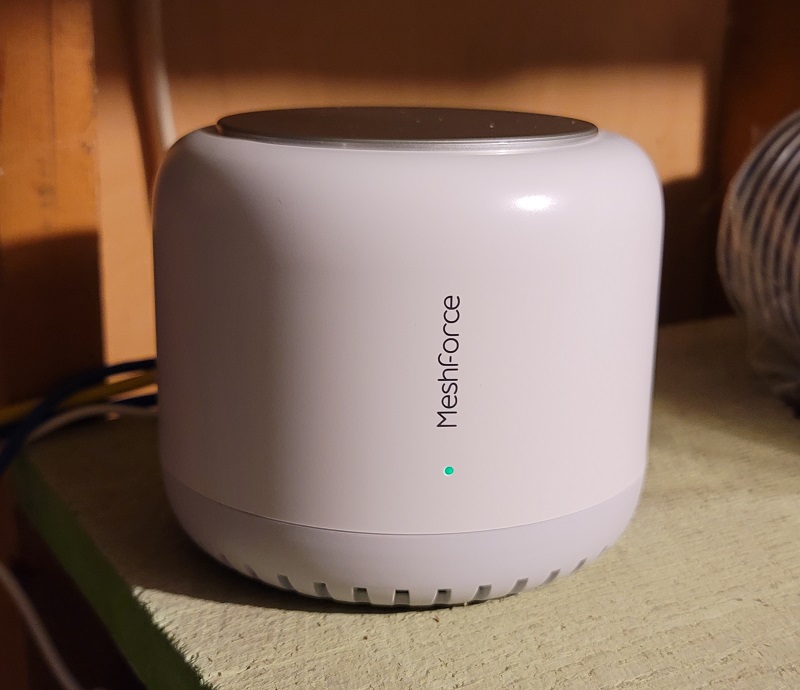 The Meshforce M7 Tri-Band Whole Home Mesh WiFi System is a dead-simple WiFi upgrade for medium or large homes.  It's super easy to install, improved speeds in the edges of our home, and is pretty competitively priced compared to other similar systems.  The very simple setup and installation process is easy enough I'd recommend it to my computer-challenged family, and though the app interface is pretty spartan for a tech-dweeb like me, it's probably for the better for the general public. This system gets a thumb's up from me!
Price: $249
Where to buy: Meshforce or Amazon (Save 10% with Amazon coupon code: MQNBS4BZ – expires 6/20/21)
Source: The sample for this review was provided by Meshforce