We use affiliate links. If you buy something through the links on this page, we may earn a commission at no cost to you. Learn more.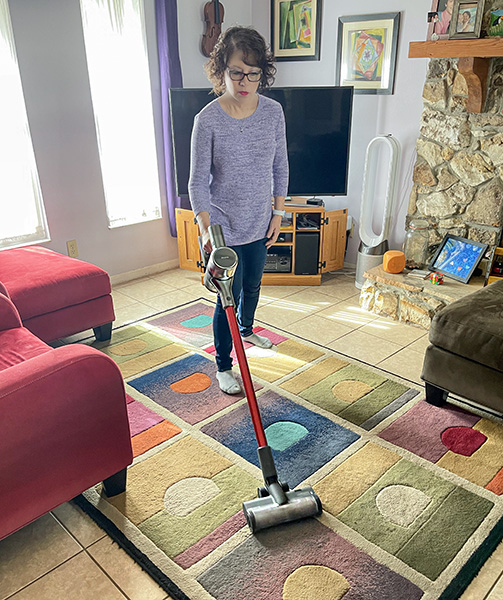 REVIEW – Any tech company knows they are the "King" of their domain when many other companies duplicate what they're doing—usually with more affordable options. Apple, Tesla, Dyson—you name it. They set the bar that others follow. Case in point: Dyson re-invented the vacuum cleaner with their innovative cyclone technology and more recently, cordless stick vacuum cleaners with the power of plug-in models. Now, it seems that countless companies have their versions of rechargeable stick vacuums. One such model is the Dreametech T20 cordless vacuum cleaner. At half the price of the current Dyson models, is it a viable alternative?

What is it?
The Dreametech T20 is a cordless stick vacuum cleaner that both looks and vacuums like a Dyson V8, but updated. It features multiple filters, multifunction accessories, swappable rechargeable battery, and a color LCD screen indicating battery life and vacuum mode.
Specs
150 air watts Suction Power
Engine-125,000 RPM cyclone engine
Four modes

Design and features
While this is not a comparison review to any Dyson vacuum cleaner, you can't escape the similarities. So this review will point them out when appropriate—like now.
We've owned a Dyson V10 Absolute vacuum cleaner for almost three years and it has performed flawlessly—well except for the recharging power cord. We had to buy an aftermarket charging cord because the Dyson brand is both hard to find and way too expensive. Other than that, it's been great. The Dreametech T20 cordless stick vacuum cleaner mimics the Dyson in many ways. There's the cyclone engine (Dreametech claims to have 26 patents on their engine) and the way dirt is ejected from the machine. The T20 is more akin to the Dyson V8 than the V10 we have. The canister is perpendicular to the stick rather than one straight line. Whether the Dyson V10's design is more efficient or not is anyone's guess.
The T20 is a handsome, well-made vacuum cleaner. Although much less expensive than later Dyson models, the T20 is not cheap. It feels like a premium product. All the parts fit together perfectly and the cleaner has a good heft and balance to it without being too heavy or awkward to use.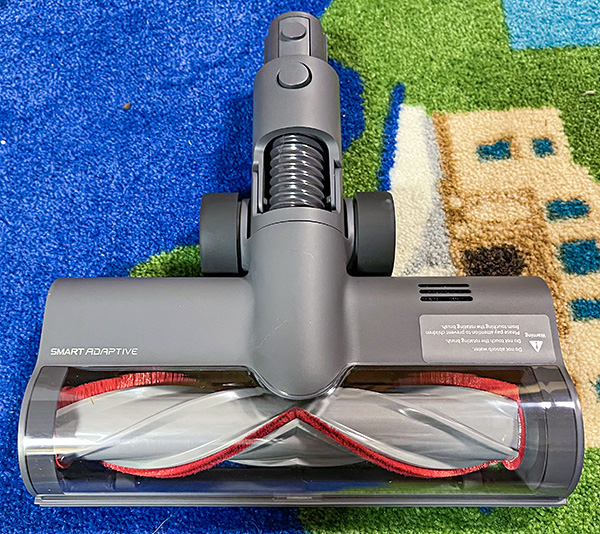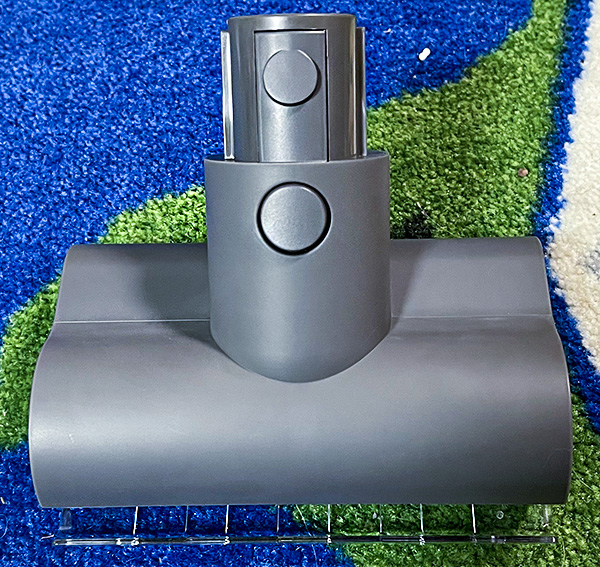 All the attachments you should need are included: V-shaped all-purpose brush, mite-removal brush, crevice tool, 2-in-1 brush, extension hose and a charging and storing wall mount.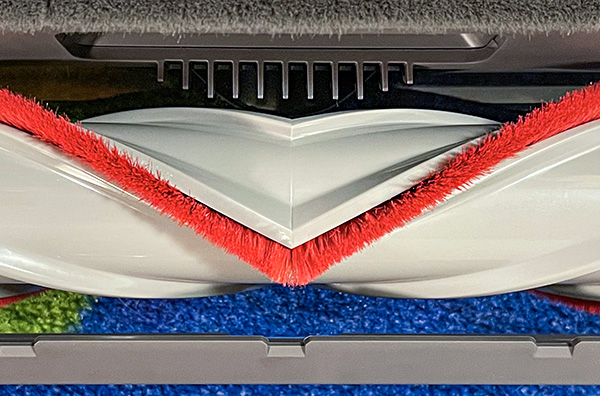 The V-shaped brush is the main floor brush. It can sense whether the T20 is on hard flooring or carpet. When over carpet, the motor automatically revs up the suction power for deeper cleaning and then powers back down a bit when on a hard surface. This comes in handy when you have tile with area rugs (like our house). The V-shaped brush has one drawback: when pushing the vacuum across a rug (or carpet), the suction is strong, but when pulling it backward, the brush can "hop" or vibrate as the brush is still pulling forward while being dragged back. This seems to be caused by the V-shaped roller because our Dyson (which has a "normal" roller) doesn't have this issue. Note that the V-shaped roller is great at picking up pet and human hair without having hair wrapping itself around the roller—you know what I'm talking about. It's a major pain to cut away from other vacuum cleaner rollers.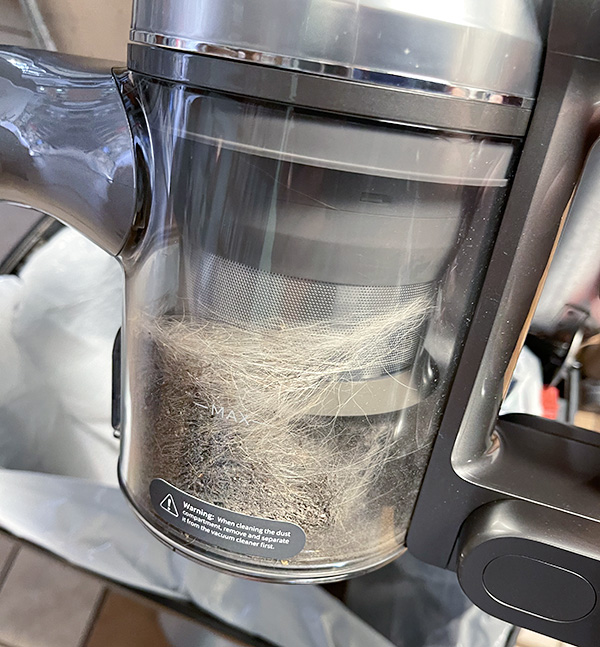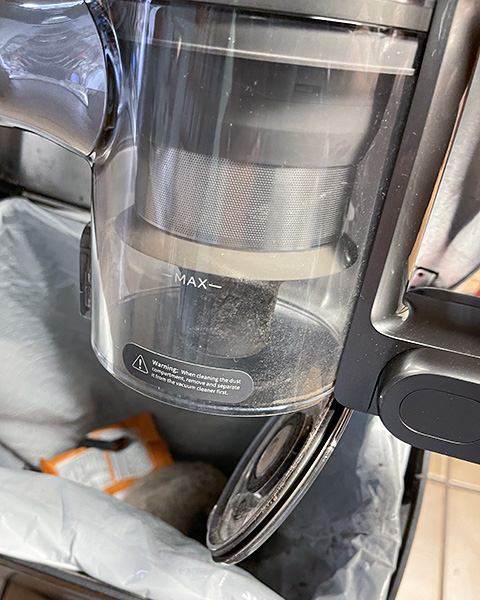 As with most stick vacuum cleaners, emptying the canister is a simple push of a button over a trash can. This may bother those who are overly sensitive to dust as it can drift a bit in the air when emptying.
The T20 comes apart for easy cleaning, although I initially had trouble figuring out how to break it down into individual parts. Yes, I should read the manual more carefully. I like that the filters are washable and easy to clean. Note that each part must be totally dry before re-assembling. Dreams recommends 24 hours to completely dry.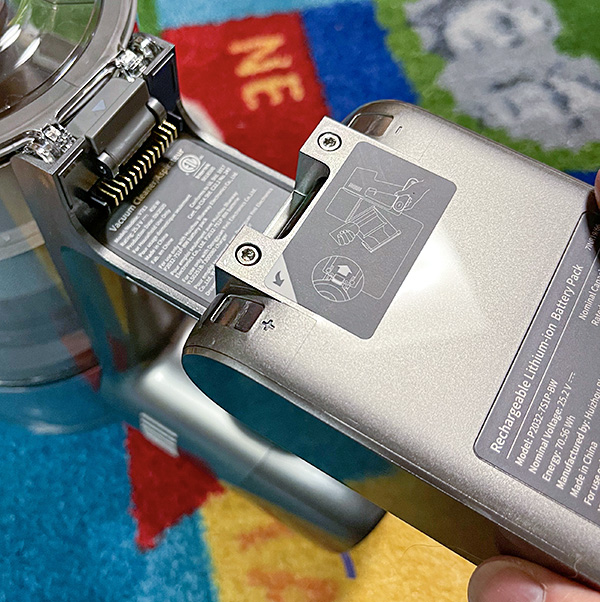 The T20 comes with a swappable battery—something Dyson doesn't offer. It's mind-boggling why the Dyson battery is not removable for extended vacuuming time. Unfortunately, the T20 ships with only one battery and additional batteries won't be available until February or March, 2021. Plus there is no information on how much an extra battery will cost. Dreametech has vented airflow around their batteries to help keep them cooler when used.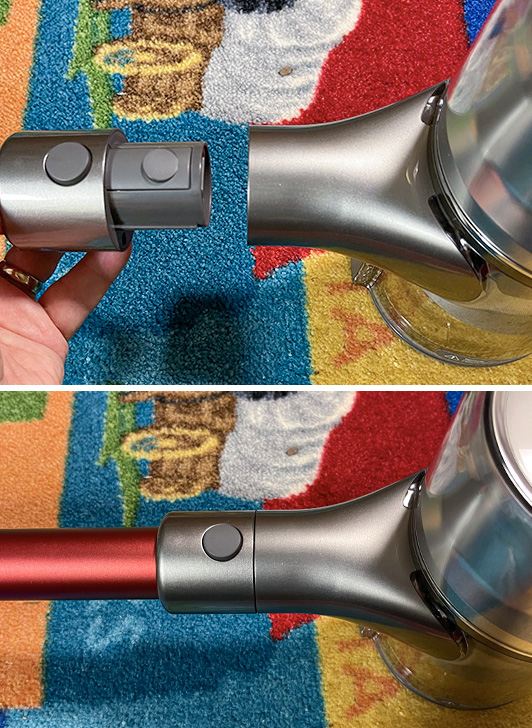 Connecting accessories is as simple as snapping into place or pressing a large button to unlock. The connection is solid with a satisfying click when completed. The 2-in-1 brush is good for hard to reach corners on the ceiling and also vacuuming keyboards or other electronic gear. The extension hose is for those hard-to-reach places where the bulk of the T20 makes it difficult to vacuum in tight or narrow spaces. However, it can be awkward holding the T20 handle with one hand while maneuvering the extension with the other.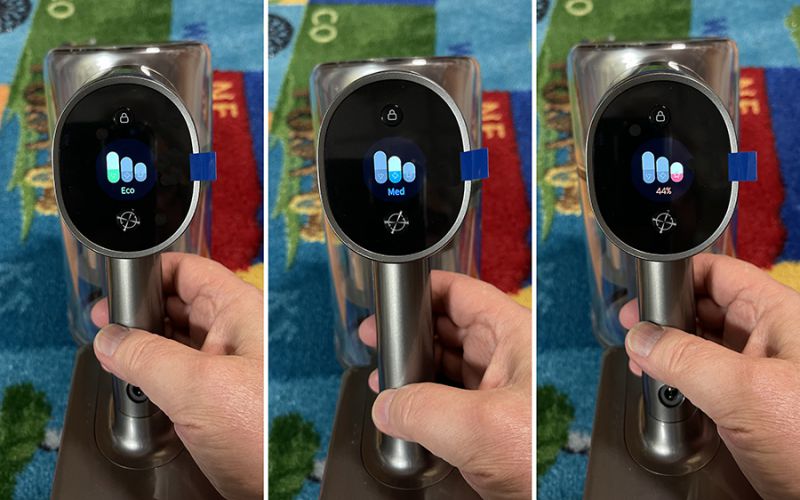 The handle of the T20 has a color LCD screen that shows battery life, and which of three modes is being used: Eco, Medium and Turbo. Eco mode provides the longest battery life, but at the expense of suction power. I found Medium mode to be best at both hard floors and rugs—especially since the T20 automatically compensates for both surfaces. Turbo mode (obviously) has the greatest suction, however, the T20 will only last about 7 minutes in this mode. It's almost laughable—you can actually watch the battery life percentage quickly drop on the LCD screen! For most uses, just set it on Medium, and leave it. 
Note that the motor noise in Medium mode is a higher-pitched whine than Eco. If you're sensitive to the noise, just change it to Eco, and the whine will improve, at the expense of suction power. The LCD will also indicate when it's time to replace a filter, if the filters are not properly installed, or any system error.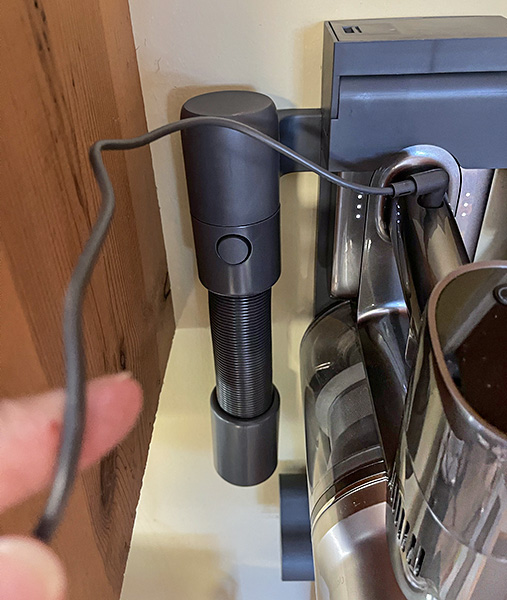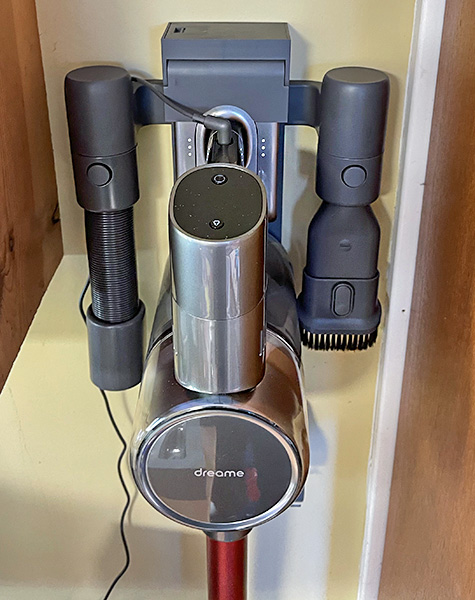 Mounting the T20 was not as easy as it should have been. First, the instructions make it look like the charging cord cleanly fits inside the storage mount. Not so. The cord just awkwardly sits outside the mount. Plus, the drill-bit size indicated in the instructions for making mounting holes was too large. I had issues tightening the screws. I had to use some other wall plugs I already had to secure a tight fit on the wall for the mount. Once done though, the T20 just clicks into place and charges—once you plug the cord in. There are lights on the charger mount that show charging progress. Plus, the wall mount has space for two batteries to be charged simultaneously.
The T20 is a pleasure to use for vacuuming up life's messes. The length of the included extension rod is good for avoiding a sore back from awkwardly bending while vacuuming. I'm 5' 10" and I can comfortably vacuum standing upright. My wife and I have both used the T20 around the house and in my backyard studio building. While I'm happy with the results, my wife—who is infinitely familiar with her Dyson—has reservations. She is OCD about our floors and tells me that the Dyson is better at vacuuming with fewer passes than the T20. My eyesight is not as good as hers, plus I'm a guy, so the floors looked fine to me after using the T20.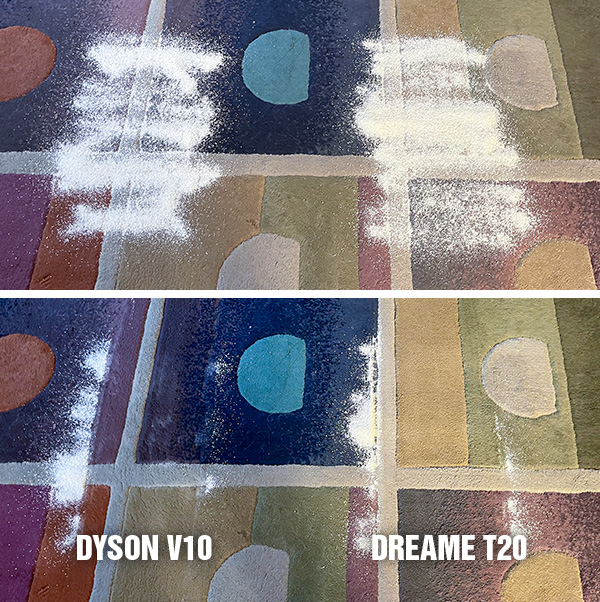 For a simple test, I sprinkled some dry grits on our living room rug and did a single sweep with our Dyson V10 and then the T20. I was impressed with the results. To my eyes, the T20 did a bit better than the Dyson. However, the Dreametech's setting was on Turbo, so it was using maximum suction. Of course, you cannot vacuum a whole house in Turbo mode unless you have one of those tiny homes or a few extra batteries. But it's nice to know that if you're vacuuming on Medium mode and run into a mess (like grits), you have the option to quickly take care of it. 
What I like
Less expensive than a Dyson
As many features as a Dyson
Swappable batteries
Well-built
Easy to use
What I'd change
Not as powerful as a Dyson (according to my wife—I don't agree)
Extra batteries not yet available
Mounting bracket difficult to install

Final Thoughts
Despite my wife's reservations, I'm happy with both the experience and results from using the Dreametech T20 cordless vacuum cleaner. It's powerful and well built with a clear and easy-to-understand LCD screen on the handle. It gets the job done and that tangle-free brush roller makes clean up easier with less hassle. Plus, once I figured out how it comes apart for cleaning, that became easy, too. But the real thing that sold me on the T20 was its price. If you don't have money to burn on a Dyson (who does?), try the T20. You may be surprised how much you can get for less money. The T20 has a permanent home in my studio building.
Price: $359.99 US
Where to buy: Amazon
Source: The sample of this product was provided by Dreametech.