We use affiliate links. If you buy something through the links on this page, we may earn a commission at no cost to you. Learn more.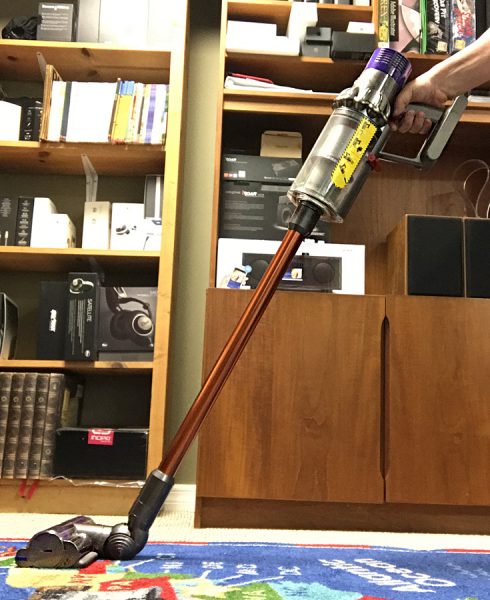 Through the years, I've reviewed products I liked and products I really liked. Then along comes a product that just suc… okay, sorry—I just couldn't resist. I'm reviewing a vacuum cleaner, get it? But this is not just any vacuum cleaner—it's a Dyson, and it's one powerful vacuum—a stick vacuum no less. But is it as good as a Dyson corded vacuum cleaner?
What is it?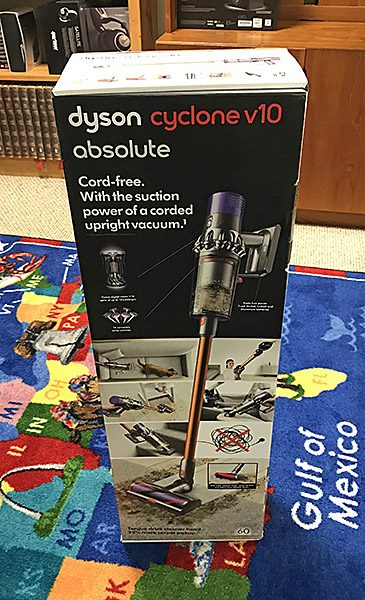 The Dyson Cyclone V10 is a stick vacuum cleaner, which is a lighter, more easily handling cleaner. Previously, the convenience of a stick-type vacuum usually outweighed its lack of power when compared to a more traditional corded vacuum. The Cyclone V10 is a rule changer.
It's convenient and powerful. It comes in three versions depending on your needs and budget: The V10 Motorhead, V10 Animal and what I'm reviewing—the V10 Absolute.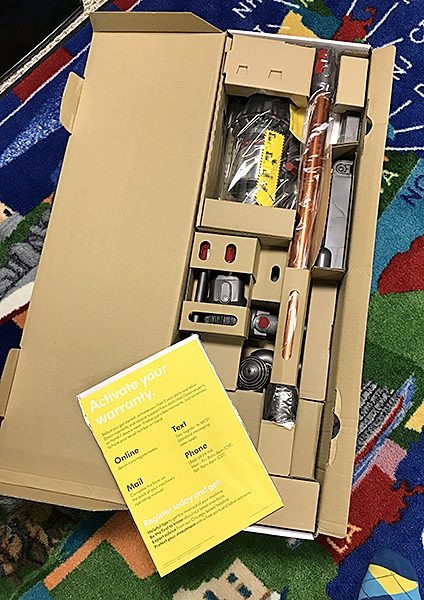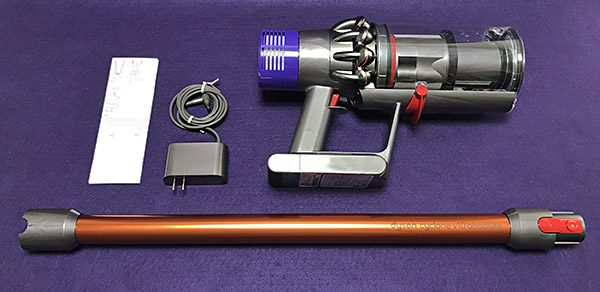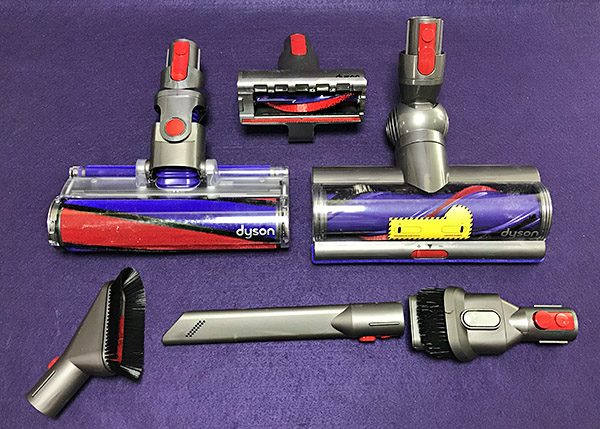 What's in the box?
The Cyclone comes in parts—many parts. Here's what's included:
Vacuum cleaner main unit
Torque drive cleaner head
Charger
Mini soft dusting brush
Soft roller cleaner head
Quick release mini-motorized tool
Docking station
Crevice tool
Combination tool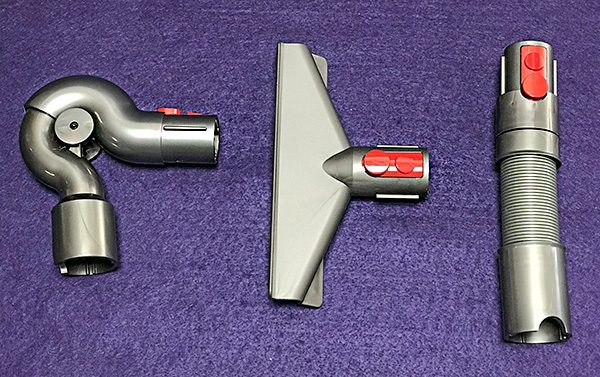 Registering the V10 gains you three additional free attachments of your choice. I chose:
Quick release up top adapter (for ceiling fans)
Quick release mattress tool
Quick release extension tool
Tool bag (I bought this since I had maxed out my three free tools)
Specs
• Weight: 5.9 lbs
• Charge time: 3.5 hrs
• Bin volume: 0.2 gallon
• Run time (Suction mode 1): 60 mins
• Cleaner head: Torque drive
• Cyclone technology: 14 concentric array cyclones
Design and features
We've owned a Dyson Ball upright vacuum cleaner for a few years and it still performs admirably. It's always easy to maneuver and its suction is great, both on our tile floor and area carpets. However, it's big, heavy and the built-in extension hose is a huge pain to use. When the Cyclone V10 became available to review, I got excited for a couple of reasons: the V10 is lightweight and it's cordless. That's a big deal to me. I wondered if vacuuming could become a fun chore—much unlike the corded Dyson.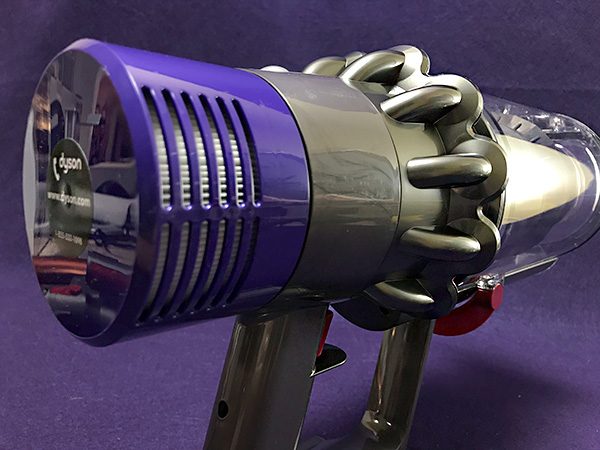 Face it; nothing looks like a Dyson product. The performance and especially the design are unique. 
When I opened the box, I was surprised at all the attachments and pieces. There was nothing to assemble—it was just connect this to that and voila—a vacuum! After taking photos (I wanted a pristine machine to shoot), I vacuumed the two oversized rugs in my studio building. I was impressed. The V10 felt as powerful as our upright at a fraction of the weight. I vacuum the rugs every other week and yet the V10 sucked up stuff I've never gotten before.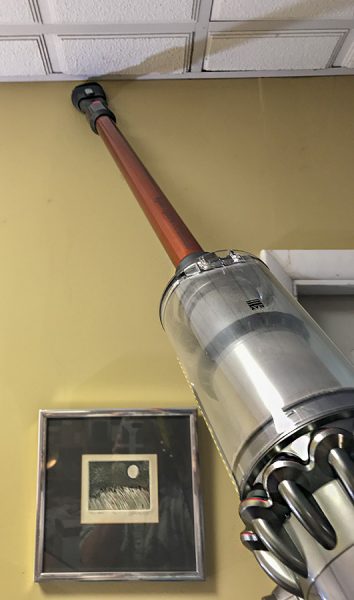 The V10 is also light enough for me to vacuum the area where walls meet the ceiling—a favorite place for Florida spiders to make their webs. Most of the weight is in the handle, so it's easy to vacuum at any angle without muscle strain.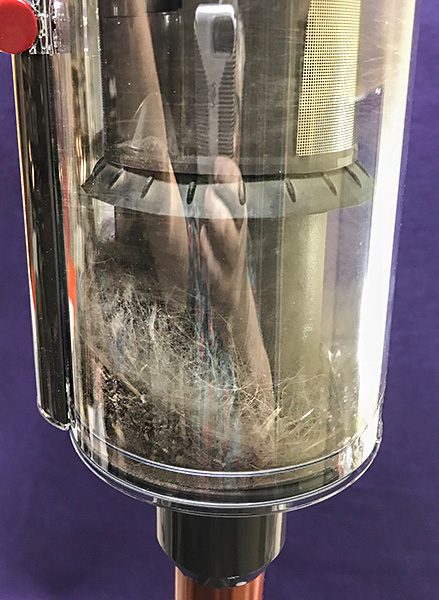 My wife (who suffers from allergies and asthma) has used the V10 more often than me, so I asked her to write down some thoughts—pro and con. Here's what she wrote:
Bill went over the living room rug right after I had vacuumed it with my floor-model Dyson, and it picked up a lot of dog hair.
My puppies are terrified of it, even though it's quiet and cordless.
It stores in pieces. At first I was frightened because of all the pieces. So I looked at the manual to figure out what to do with all the pieces.
It's a little awkward to swap out the rug and hard floor heads. It's easier to swap the heads on a counter top, but I'm not putting something that's been on my floors onto my counter.
The heads are smaller than on the corded Dyson, which means I have to do more passes in a large room. But I do like that the smaller heads are also more flexible so I can easily go under furniture without going into contortions
There's no cord for me or my puppies to trip on.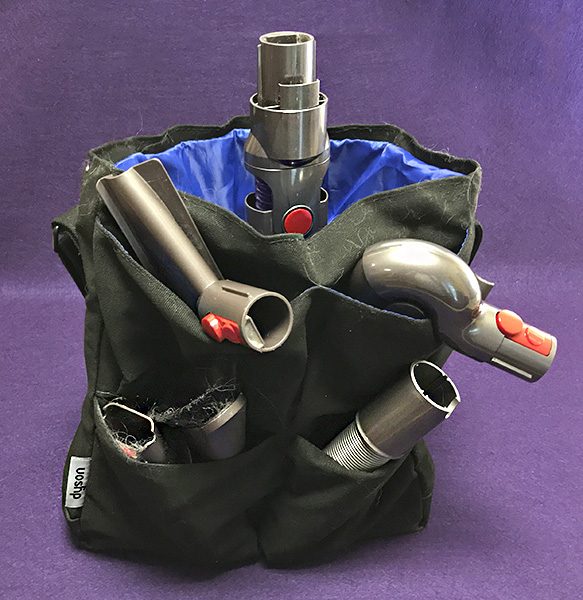 My wife also dislikes the storage bag. Even though it's a Dyson branded bag, it seems generic in design because while the attachments fit in the pockets, all of them don't fit that well. The V10 does have a wall mounted docking station which seems handy, but I am holding off attaching it to the wall in our laundry room until I can have an electrician install an outlet right below it. Otherwise, I have to recharge it somewhere other than while attached to the docking station, which seems counter-intuitive.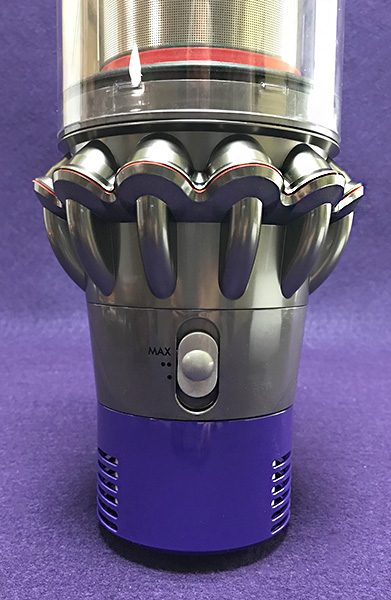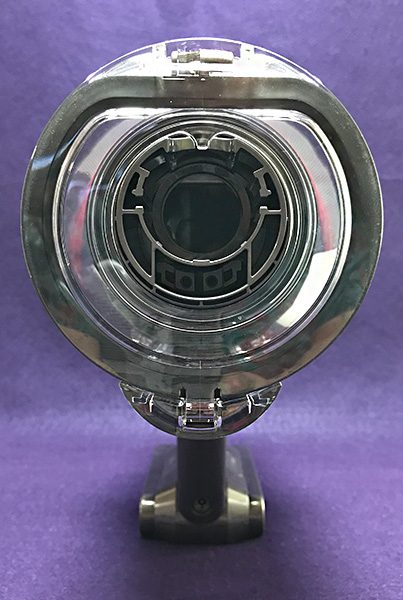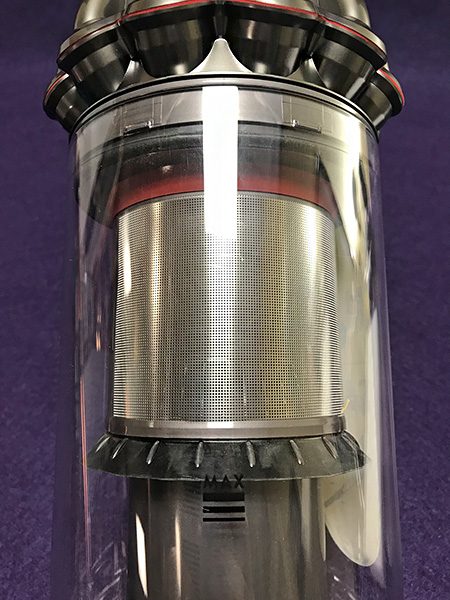 The motor housing looks like a weapon from "Blade Runner." The handle of the V10 is similar to a pistol with a trigger that powers the vacuum. Press it and it powers up; release it and it turns off instantly. The motor spins at an astounding 125,000 rpm. Just know that those speeds create a lot of suction. Dyson claims that this motor is the most powerful of any cordless vacuum. I have no way of proving that, but it wouldn't surprise me if it was true. It certainly feels powerful enough.
The V10 has a sealed filtration system that will trap up to 99.97% of particles as small as 0.3 microns – expelling cleaner air. There's a re-designed suction path that's straight, which makes this Cyclone more efficient than previous models like the V8 or V6 (which Dyson still sells). Keep in mind that you need to pay attention to how quickly the removable filter can get clogged. When that happens, suction is reduced. However, it's easy to clean and rinse off—just make sure it's dry before reattaching.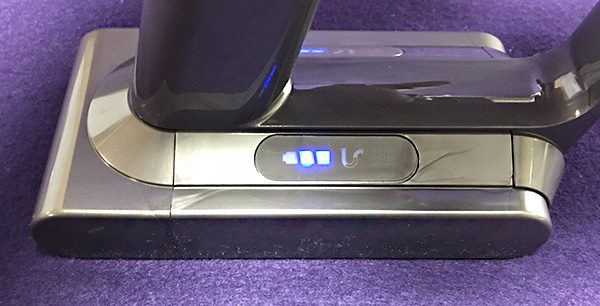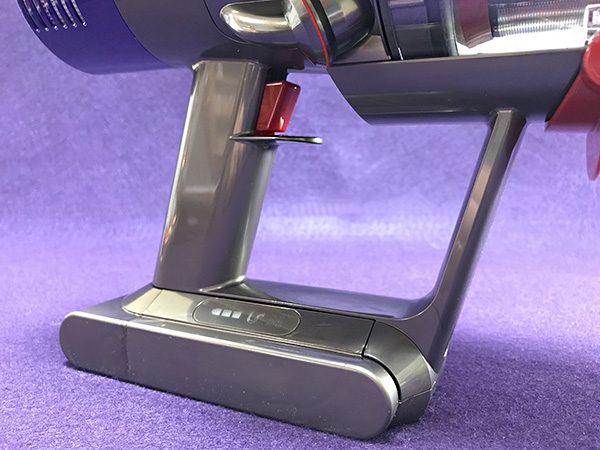 The Cyclone V10's battery is more than powerful enough. It has three settings: One (dot), two (dots) and MAX. The battery is rated at one hour on the lowest setting. Even though the majority of our floors are tile and wood, I feel more comfortable using the two (dots) setting. Battery life at this setting drops to 23 minutes, which is enough to clean our house—barely. On MAX, the battery lasts for a whopping 8 minutes, so you only want to occasionally use this setting. All of these times are based on a 3.5 hour charge. One cool feature is that the V10 only works when the trigger is pressed, so there is a potential battery savings as a result. Plus, the battery works at full power right up until it runs out of juice—there is no power fade.
One big drawback with the battery is that it's not removable. The whole motor unit must be plugged into the wall using the included proprietary charging cord. If the battery was removable, you would have the ability to swap out a drained battery for a fresh one and keep vacuuming—but you don't have that option. This may be a deal-breaker for some, especially considering the cost of the V10. Hopefully, a future model will have removable batteries.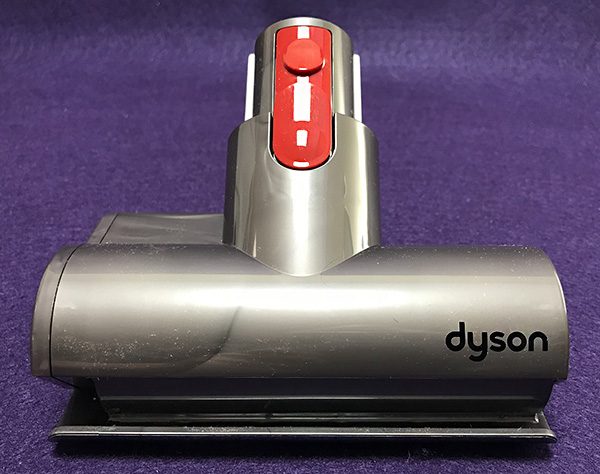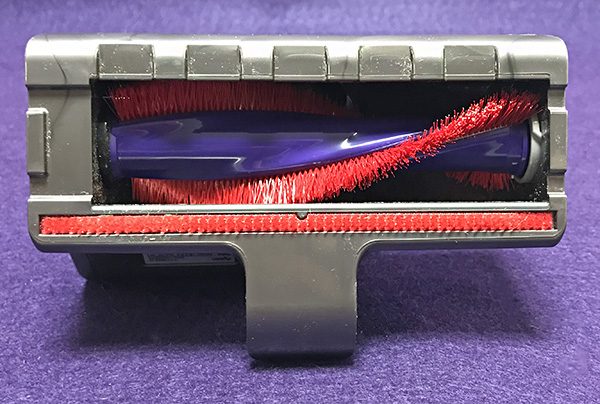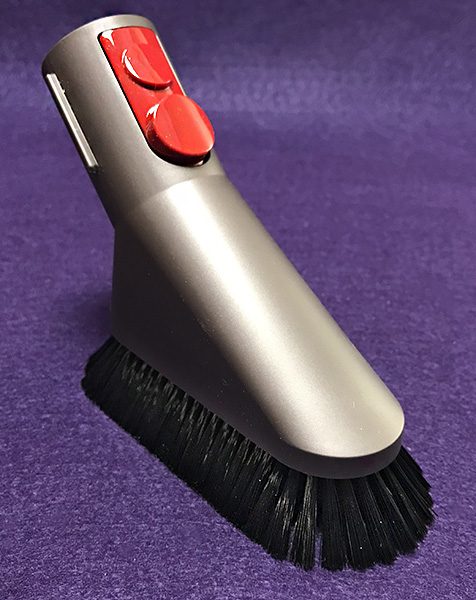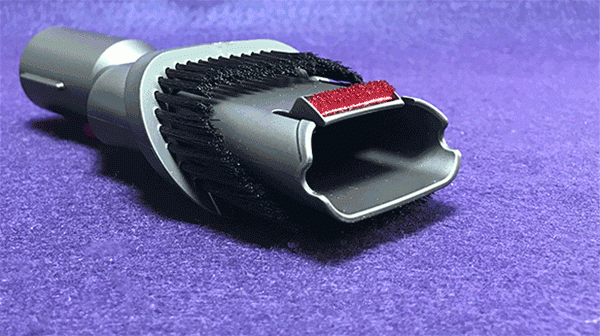 Using the attachments is much like other Dyson vacuum cleaners. There is only one way pieces will connect. The main head unit is called a powered torque drive unit. It can suck up a lot of dirt and pet hair out of carpets—at the expense of battery life. The MAX setting cleans the deepest, but remember, the battery will only last for eight minutes in this mode. It's best to use the middle setting for normal cleaning and save the MAX setting for tough spots.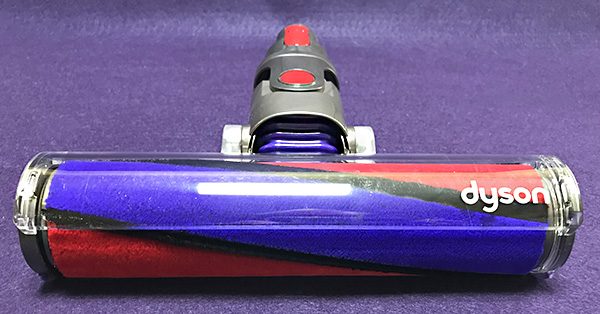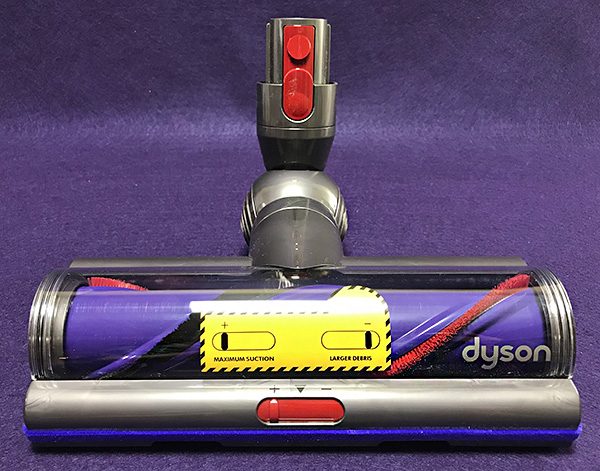 Also included is a soft roller cleaner head made for hard floors and suctioning larger items, like cereal. I'm not a fan of this head because it seemed that almost as much hair and dust stuck to the rotating carbon fiber roller as was collected in the bin. Plus, as my wife stated earlier, switching heads to clean rugs and then hard flooring, is a pain. I ended up leaving the soft roller head in the Dyson tool bag.
Emptying the V10's bagless bin is easy and your hands don't get as dirty as with some other cleaners. A simple push of a lever and a door opens into the trash. You do have to manually close it though which can get dust on your hands.
Because it's a stick vacuum, the Cyclone V10 doubles as a handheld. This allows the V10 to be used as a duster and a powerful furniture vacuum. My excitement of this feature was tempered a bit when used in my car. The V10 is not a large vacuum, but inside the tight spaces of an auto, the V10's stout frame becomes an issue. One solution is to attach the optional (and flexible) extension tool to go under and between seating using the included mini-motorized and crevice tools.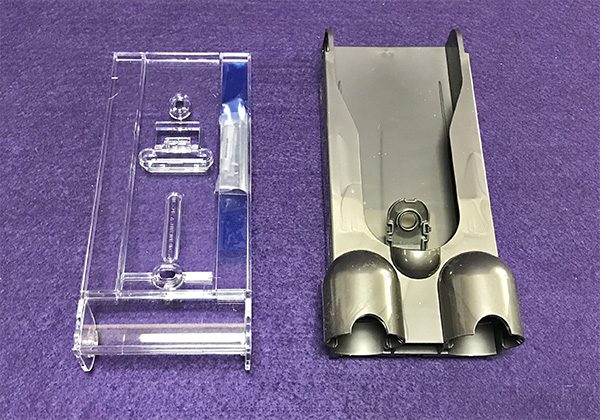 Lastly, the V10 comes with a handy wall mount.
What I like
The Dyson Cyclone V10 is lightweight, powerful and easy to use, no matter what you're vacuuming. Attachments are easy to add and remove and the bin is the easiest to empty of any vacuums I've used.
What needs to be improved
As I said, the battery should be removable. The V10 is almost all plastic and the futuristic style might not appeal to some—although I like it. I would have preferred a storage bag designed specifically for the V10's tools and attachments instead of the generic-feeling one.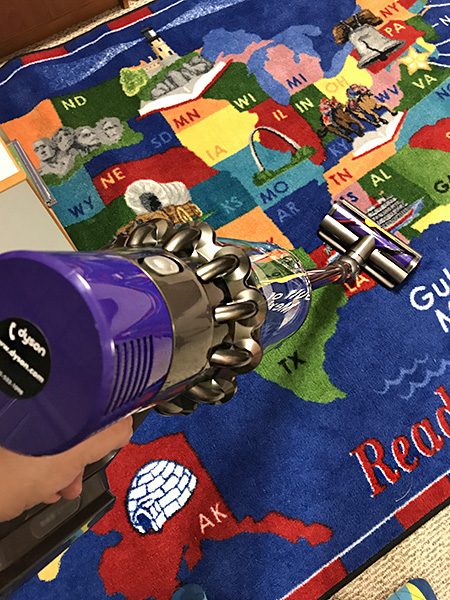 Final Thoughts
Since reviewing the cordless EGO lawn blower, I have become a huge fan of battery operated devices that require a lot of power. The Dyson Cyclone V10 is no exception. Despite a few minor quirks and it's non-removable battery, I have come to enjoy using it to the degree that I look for things to vacuum. How weird is that?
Price: $699.99 US
Where to buy: Amazon
Source: The sample of this product was provided by Dyson. Visit www.dyson.com for more information.