We use affiliate links. If you buy something through the links on this page, we may earn a commission at no cost to you. Learn more.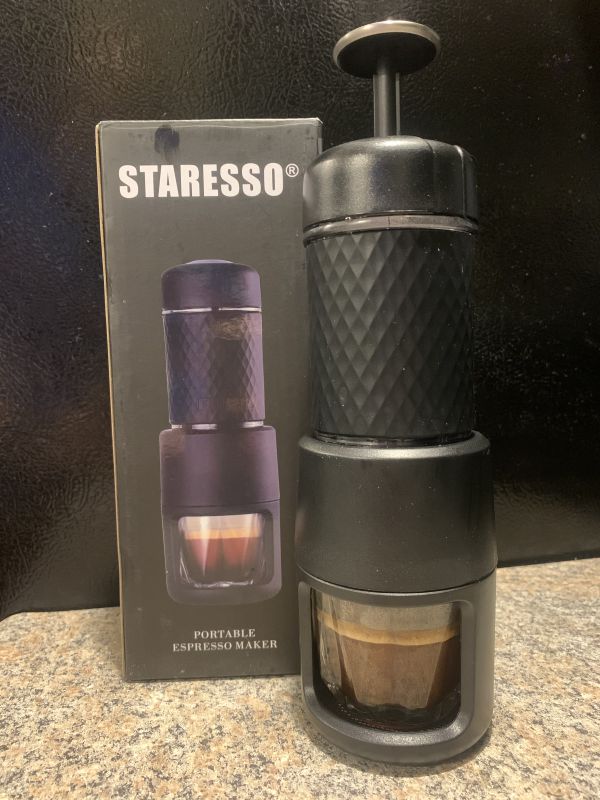 REVIEW – As I grow older, I love coffee more and more!  However, I am definitely not a connoisseur of coffee and will usually finish any coffee beverage I am presented.  Along with that, I do love the taste of a good espresso shot.  I always assumed you needed a large and expensive machine to create your own espresso at home.  But thanks to STARESSO, you can easily make yourself a single-serving at home or on the go, so I couldn't wait to test this product out for myself!
What is it?
The STARESSO Portable Espresso Machine is an all-in-one compact portable espresso brewing machine.
What's in the box?
STARESSO Portable Espresso Machine

Instruction Booklet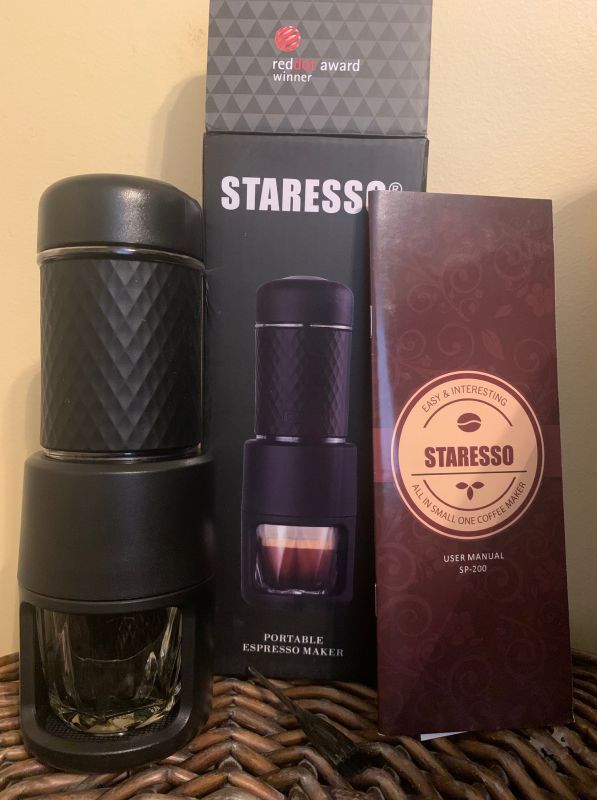 Item Specifications
Dimension: 3.35 x 3.35 x 8.86 in

Weight: 1 lb

Water capacity: 80 ml 

Max ground coffee weight: 10g

Max pressure: 261 psi / 15~20 bar

Made of BPA-free material
Design and features
Espresso is a coffee-making method in which a small amount of water is forced under pressure through finely-ground coffee beans. 
The STARESSO espresso machine offers the needed pressure to produce a rich espresso in a compact little package.  This lightweight machine works without any extra adaptors or equipment, which allows you to be able to get your coffee fix no matter where you are.  This machine not only allows you to produce an espresso, it also includes a way to froth milk.  
Here is how it works: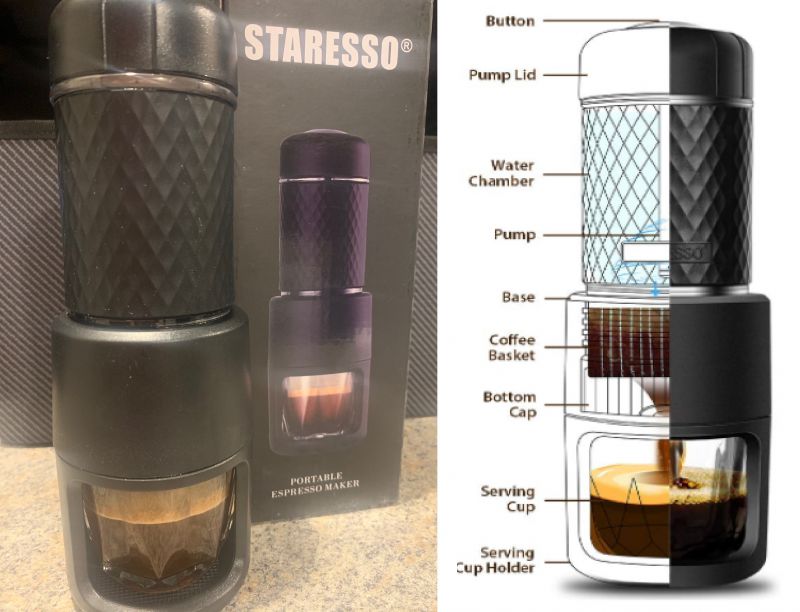 Step #1: Fill the ground coffee basket with 7-10g of coffee.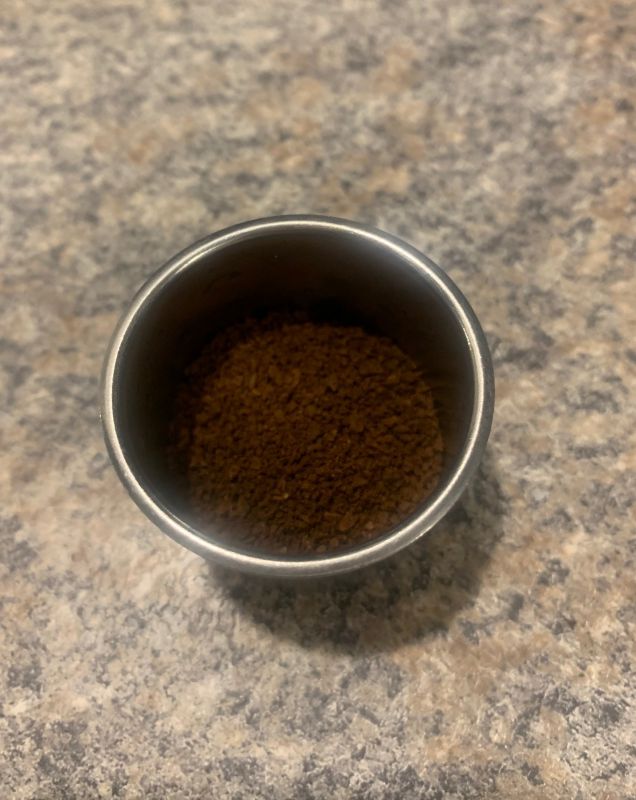 Step #2: Press the coffee tightly with the spoon.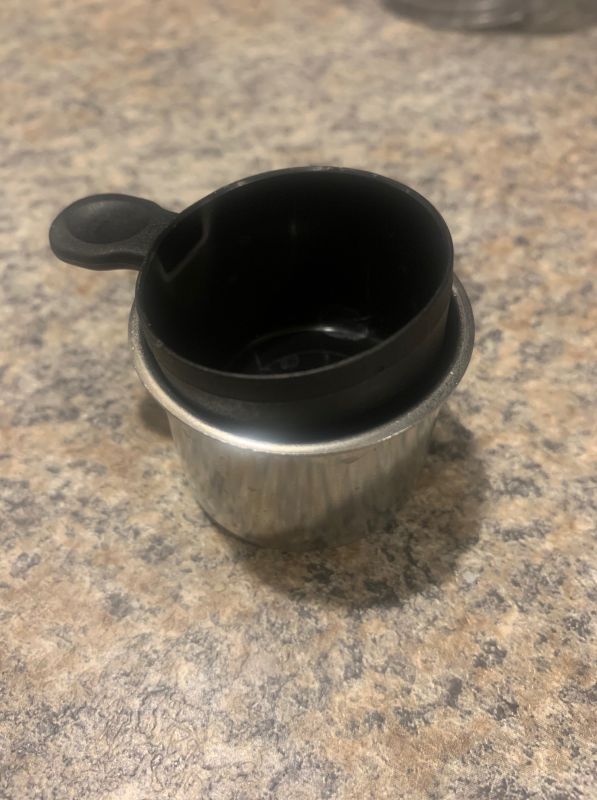 Step #3: Twist coffee basket on to bottom of base (as shown below).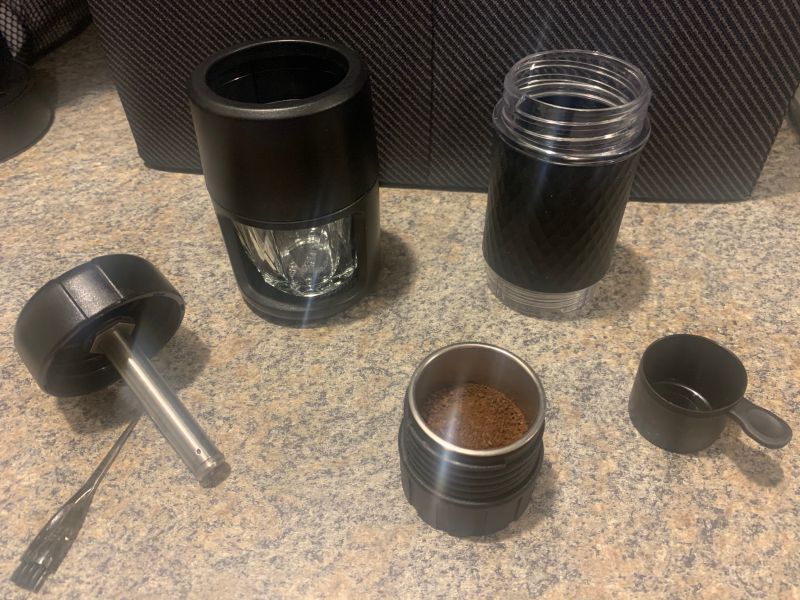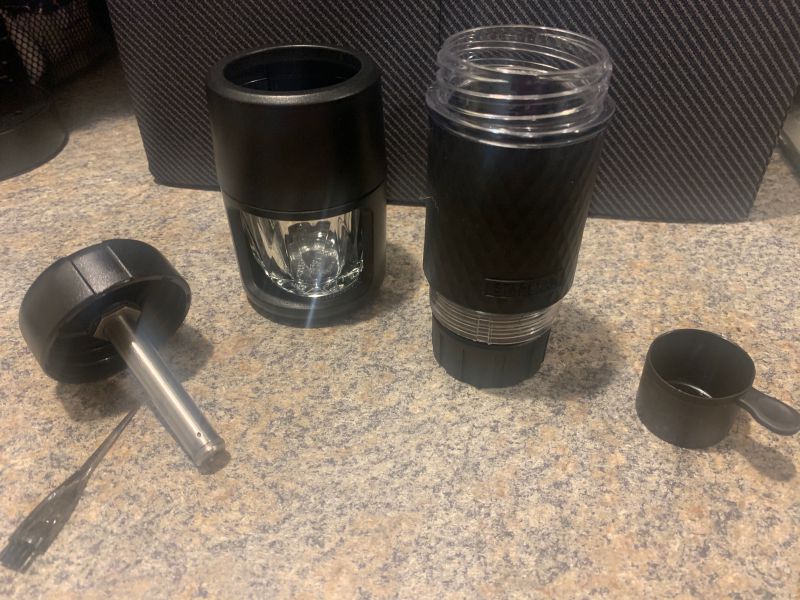 Step #4: Open the pump lid (if not already open) and fill the water chamber with 50-80ml (2-3oz) of hot water.  Boiling or close to boiling water worked best for me.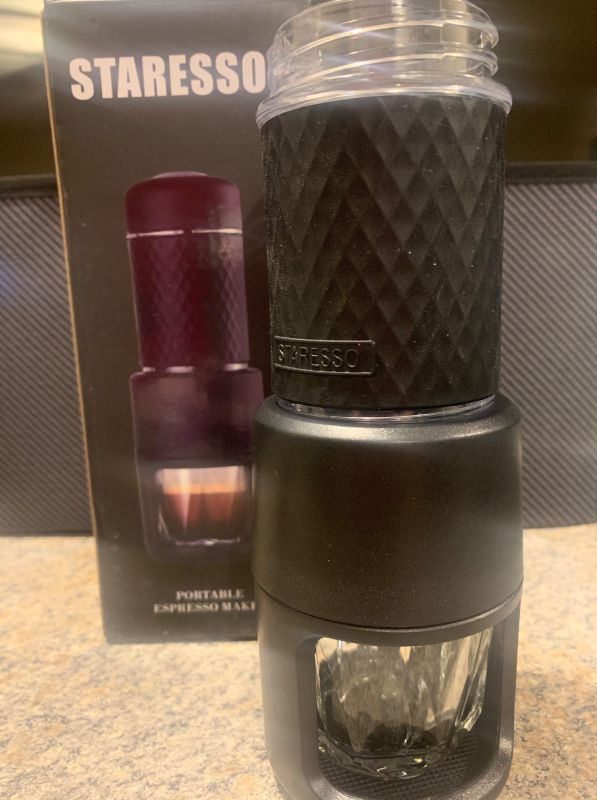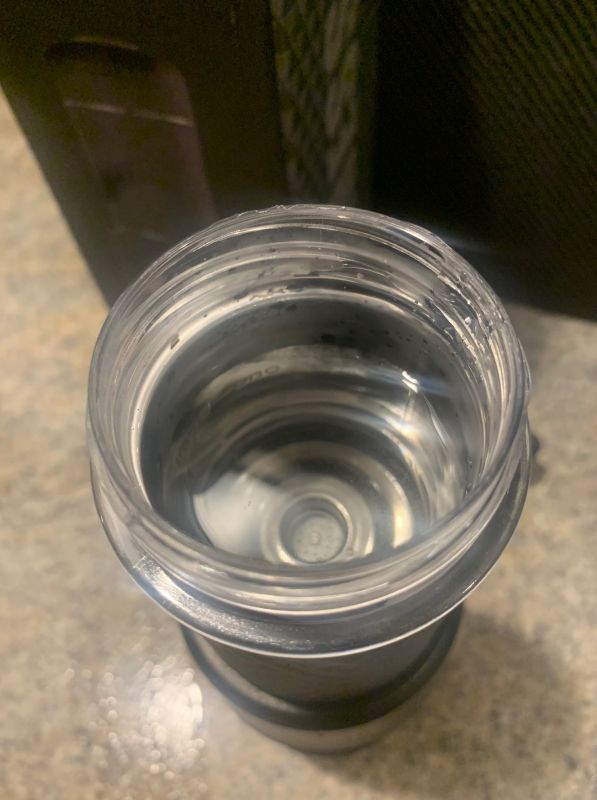 Step #5: Release the pusher (the pusher is press-twist to lock and unlock) on the pump lid and press consistently until water empties into the glass shot glass below.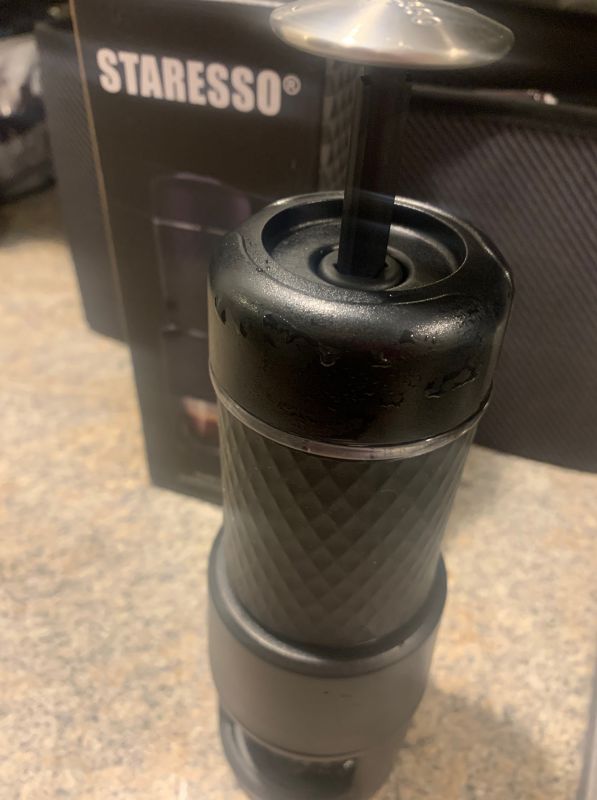 Step #6: Remove the upper part of the base and take the serving cup out and ENJOY!
Optional Step #7:  Along with producing a nice espresso, this STARESSO offers you a way to froth milk.  You simply remove the pump lid, hold down in the milk (inhale) and pull the pump out and push the milk back into the cup.  You will want to do this several times to accomplish your frothed milk.  You can now use it how you would like in your espresso.  You will want to note that in order to get the warm frothy milk, you will have to pour warm milk into the frothing chamber.  The frothing process does not warm the milk at all.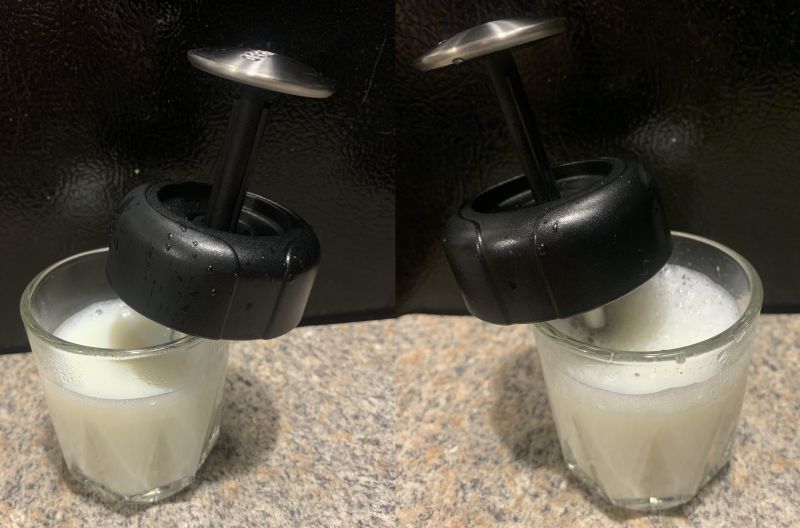 I found the STARESSO to produce a strong and bold flavored espresso.  The magic amount of coffee and water combo to satisfy my liking was 7g of coffee and between 50-60ml of water.  This is something you will need to experiment with to see what combo works best for your taste buds.
Another preparation option mentioned in the instruction booklet to try is using icy water for a cold option.  The STARESSO machine uses 15~20 bars of pressure, which allows you to brew not just hot water, but also cold water for a different option for those who enjoy cold drinks.
Now that we have covered the ease of using and enjoying the product, I must cover cleaning the STARESSO machine. Ease of cleaning is definitely something that is very important for me and I must say the STARESSO is straightforward and simple to clean.  All the components are easily detachable for cleaning.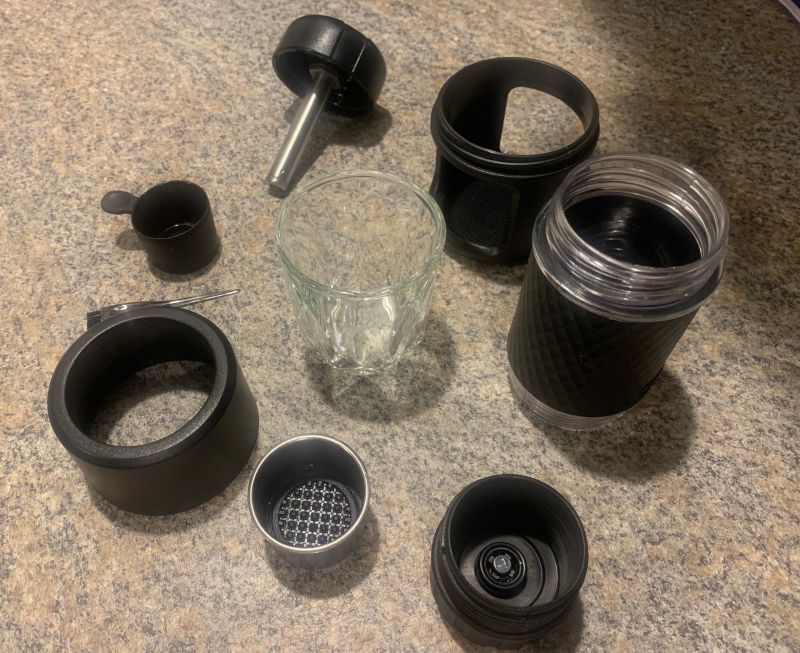 After making your coffee, remove the upper part and unscrew the pump lid.  You will want to pump out any leftover water and unscrew the bottom cap slowly (especially if you just made the coffee, the water will be hot).  Tap out the used coffee grounds and clean all your components of your machine.  Make sure all your components are dry before reassembling and storing the machine.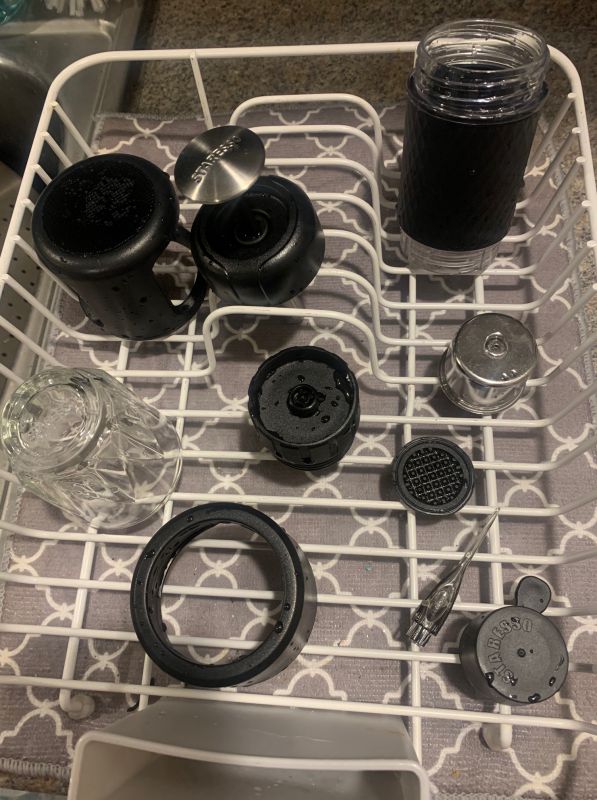 When frothing milk, you will want to dip the pump into soapy water and keep pumping until it pumps clean.  Allowing milk to dry in the pump will definitely block the pump.  Make sure you clean especially thoroughly to remove all the milk residue.  The instruction booklet suggests using 10% or higher alcohol to clean the internal wall of the pump after frothing.  I have not had any issues with blockage yet, but I plan on trying this suggestion if I run into any issues in the future.
My review would not be complete without mentioning a few more things.  STARESSO does offer a 30 day return and refund policy that you can read the fine details about here.  Also, if you are purchasing your machine on Amazon, you can also choose a pink color option.  Please also note as I type this review, there is a $20 off coupon for the pink option while supply lasts, making the machine only $44.99 at the moment.
What I like
Compact size

Included glass shot glass

Easy to disassemble and reassemble for cleaning
What I'd change
Add instructions on using Nespresso pods in the instruction manual (the fact that you may use these pods is mentioned on

Amazon

, but I found no mention of it in the manual about how to use, so I haven't tried it)

Add a seal between the hot water reservoir and lid to prevent accidentally spilling hot water out.

Include a carrying case for traveling and storing
Final thoughts
Overall, I am happy with what the STARESSO Portable Espresso Machine has to offer.  I find this machine to be simple to use and clean, compact, and portable, and most importantly offers a confident way to get an espresso at home or on the go.  I also appreciate the included glass shot glass that sits right inside the machine, allows for all the liquid to end up in the glass and makes this machine an all-in-one for all my espresso needs.  I would recommend this product to any coffee lover that wants the option to create a nice espresso at home!
Price: $64.99-$89.99
Where to buy: Available directly from STARESSO. Also available for purchase on Amazon.
Source: The sample of this product was provided by STARESSO.