We use affiliate links. If you buy something through the links on this page, we may earn a commission at no cost to you. Learn more.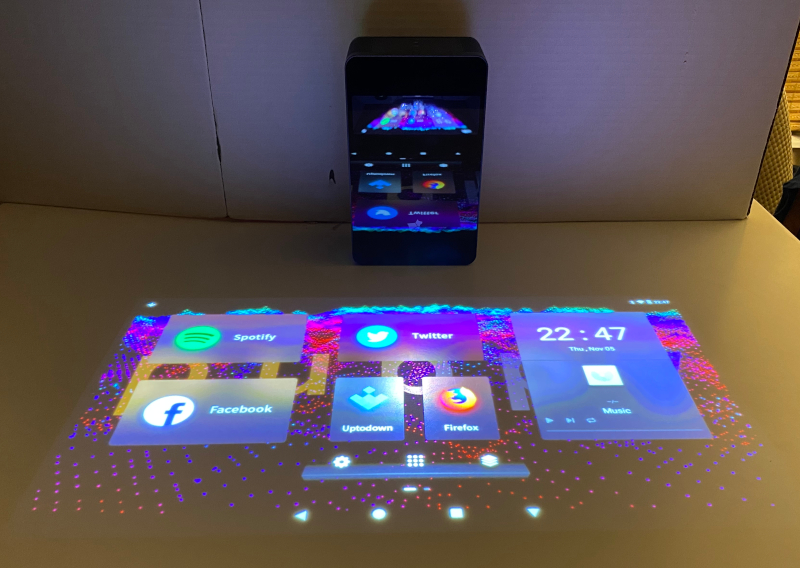 REVIEW – I was offered the opportunity to review a  Puppy Robotics Puppy Cube ultra short-throw projector back in the spring of 2020, but nature had other ideas and shut down the logistics train necessary for building, supplying, and supporting the Puppy Cube.  Now that I've got a review unit in hand, let's see if this puppy is a good dog, or not.
What is it?
The Puppy Robotics Puppy Cube (hereafter referred to as just Puppy Cube), is an ultra short-throw projector with a built-in Android computer that provides touchscreen and virtual keyboard capabilities and some stand-alone media options. The Puppy Cube has a built-in battery that allows remote use and supports both wired and wireless video connections to computers, phones, and tablets.
What's in the box?
My Puppy Cube review unit arrived as a deluxe package which consists of
Puppy Cube device
Power adapter
Power cord
Warranty card
Instruction manual
Data cable (deluxe kit)
Remote control (deluxe kit)
The quality of the presentation of the Puppy Cube and it's packaging is worthy of any high-end personal electronic device.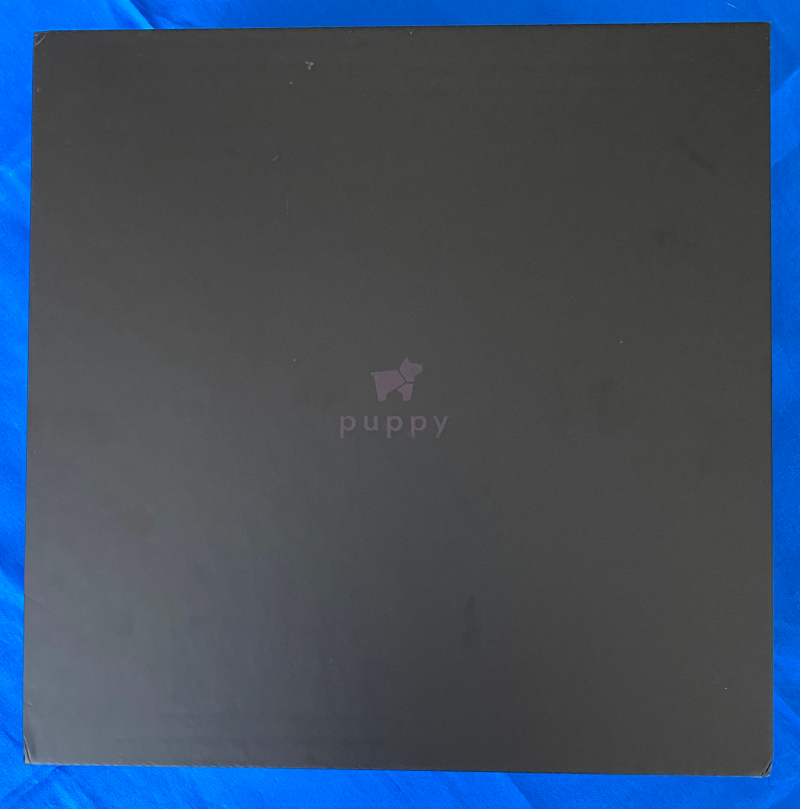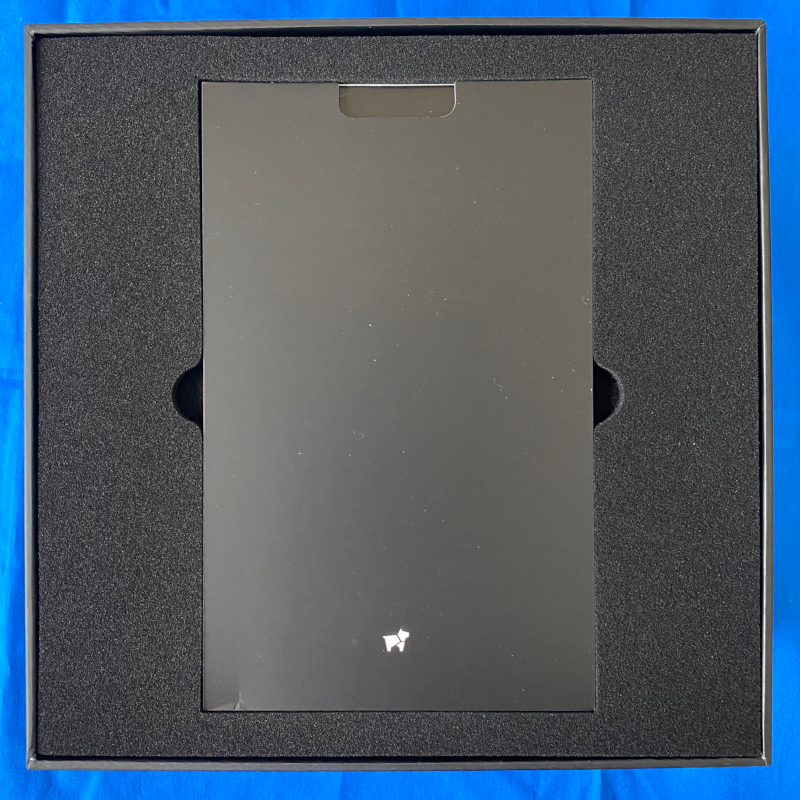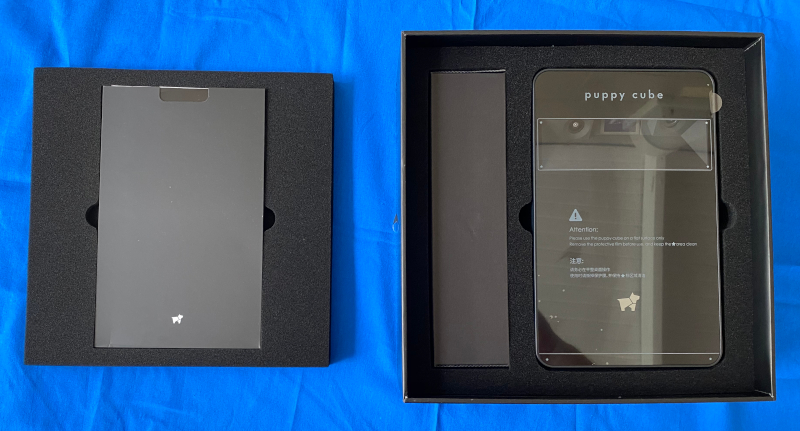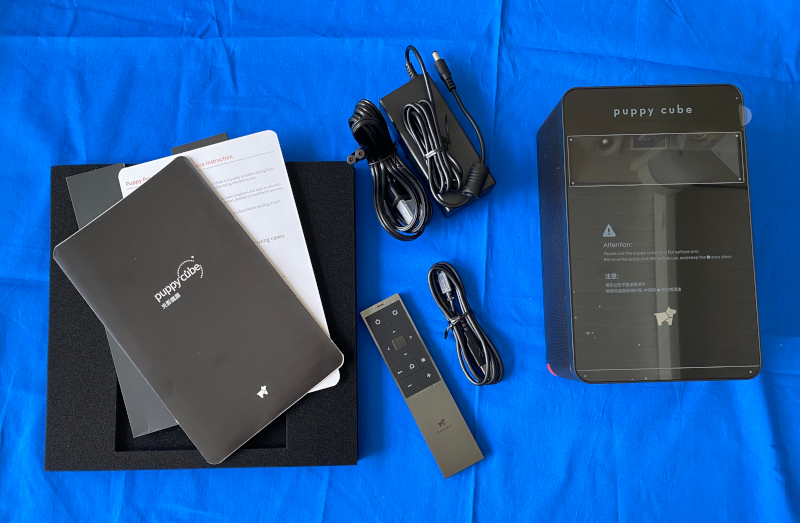 Hardware specs
Physical specifications
Length: 132 mm (5.2 in)
Width: 86 mm (3.4 in)
Height: 213 mm (8.4 in)
Weight: 1.6 kg (3.5 lbs)
Material: Translucent coated glass, Aluminum alloy+PC/ABS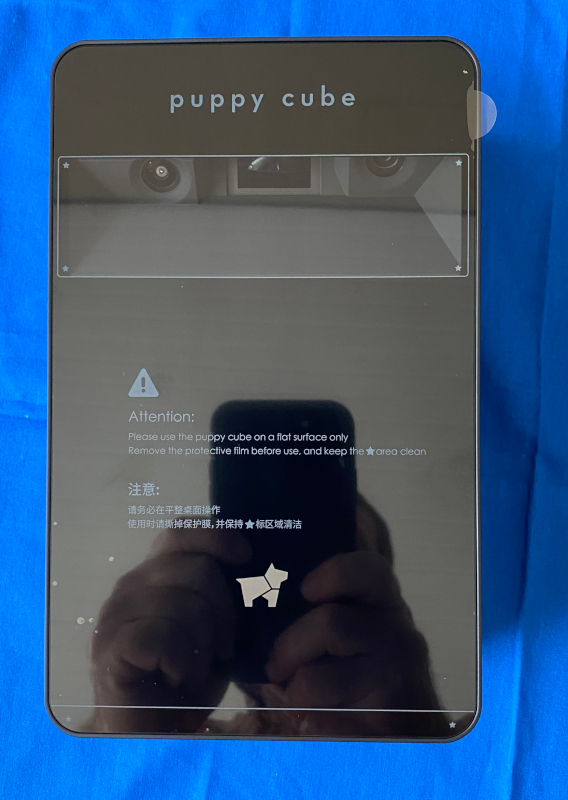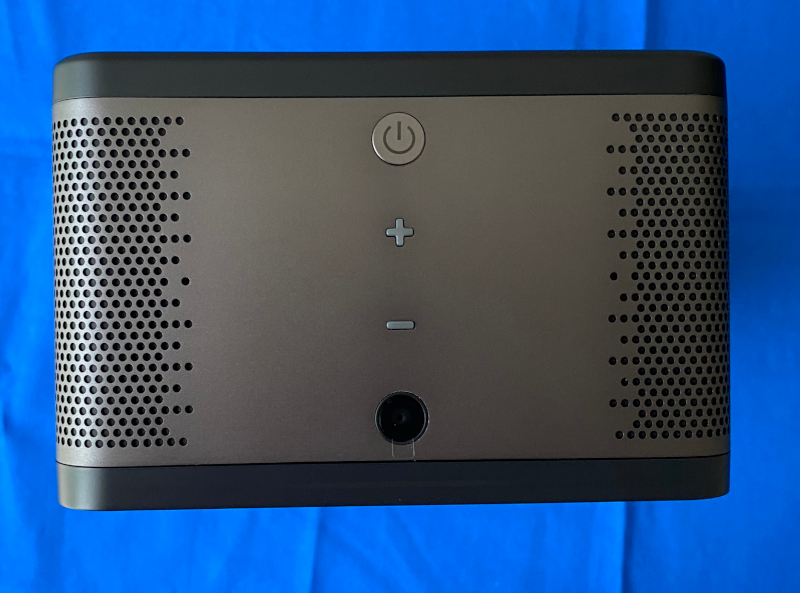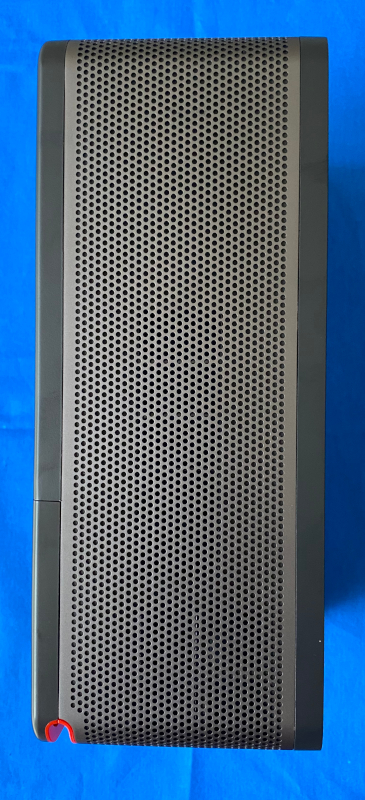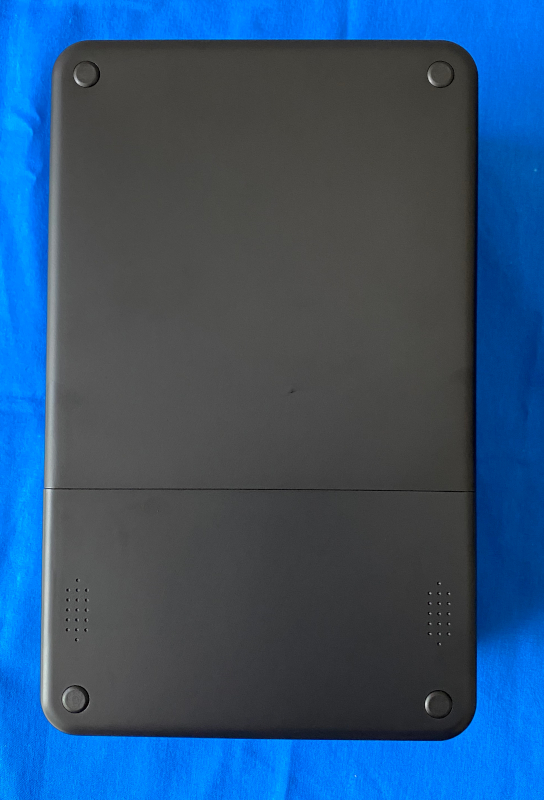 System hardware specifications
CPU: Mstar 6A938
RAM: 4GB
Built-in storage: 32GB eMMC
Built-in battery: 11.1v 5000mAh
Power supply: AC100-240V, 50/60Hz
Bluetooth: BT 4.0 and above/BLE independent antenna
Camera: 5M camera module
Wi-Fi: 2.4G/5GHz dual frequency 802.11 a/b/g/n/ac 2 x 2 Dual antenna, dual transmission and reception
Projection Parameters
Projection ratio: 0.39:1
Off-axis: 100% and above
Picture size: 23~100 inches
Recommended size: 23~40 inches
Keystone Correction
Desk projection, supports horizontal and vertical placement
Focus Mode
Auto focus and allow manual adjustment by remote control
Optical Parameters
Standard resolution: 1280 x 720
Compatible resolution: 1080p/2K/4K
Display technique: DLP
Lens: High transmittance coated lens
Center brightness: 300ANSI
Brightness Uniformity: JBMA > 85%
Color gamut: >=100%NTSC
Center contrast: 600:1
Audio
Channel: 2.0 channels
Speaker: Full frequency 36mm x 2
Power: 5W x 2
Ports
Input: USB 3.0 Host x 1/HDMI 2.0 Input x 1/DC-in
Output: 3.5mm headphone jack x 1
System Functions
OS: puppyUI 1.0
Android system: Android 6.0
Dynamic image: HDR
Multi-scr interaction: Airplay/DLNA/Miracast
Design and features
Setup
Setting up the Puppy Cube was straight-forward. The biggest problem was removing the rear panel to access the charging and I/O ports.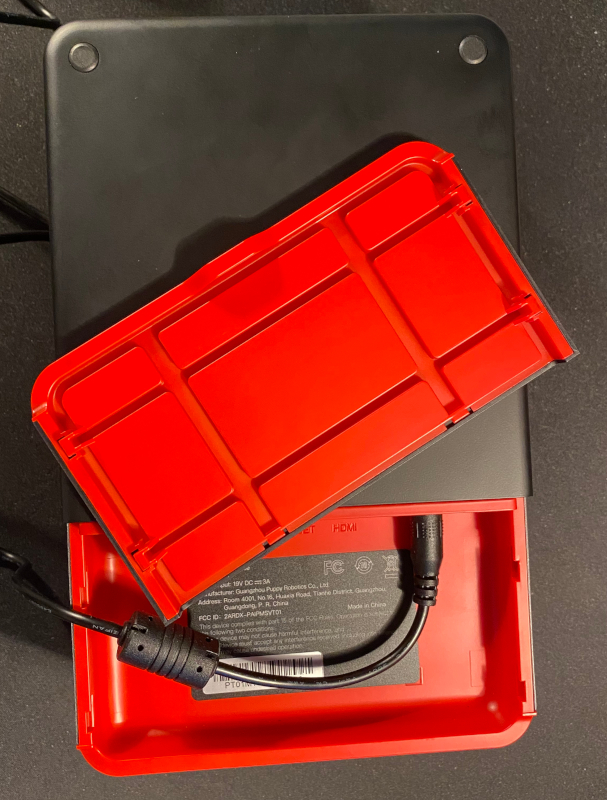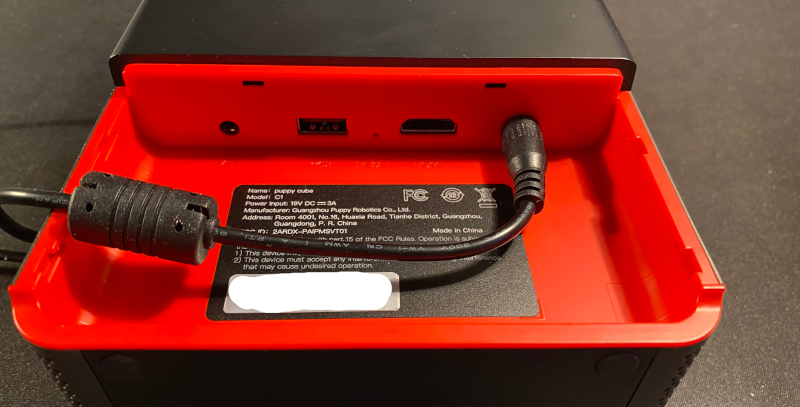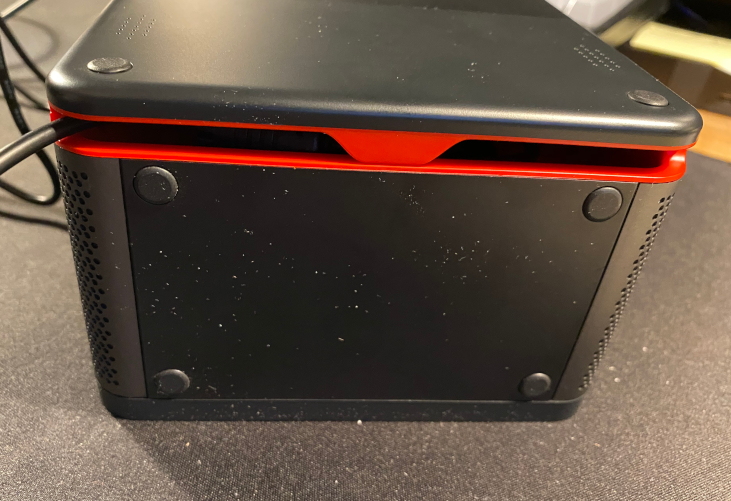 Once cables are plugged in, the rear panel may be reinstalled to give a nice clean look to the unit. The Puppy Cube arrives with a partially-charged battery.  I charged the Puppy Cube for several hours until the battery-charge indicator light turned from orange to green. The only real problem I had setting up the Puppy Cube was finding a large enough flat surface upon which to test the system.  I eventually had to use our kitchen peninsula for the 'desktop' testing and a cardboard display board (the back of an old science fair display) for the 'wall' testing.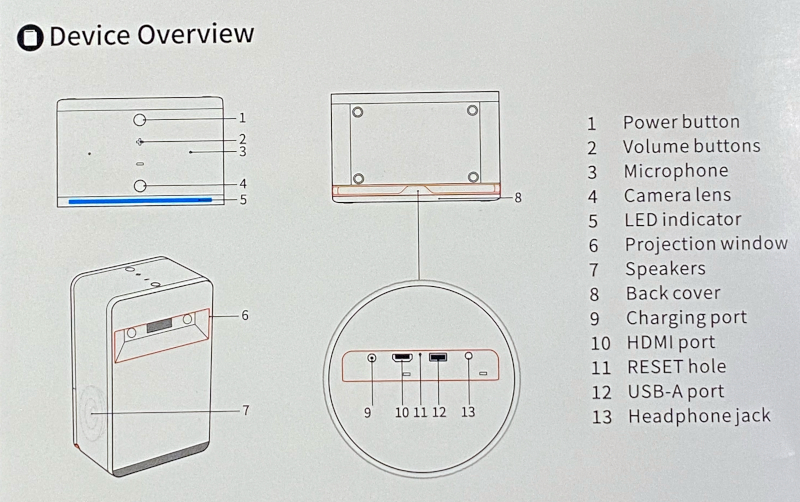 Performance
I am going to break this review into three parts: projector, projector and HID (human interface device), and stand-alone media device. The Puppy Cube can accept either wired video connections through an HDMI port or using the Android 'casting' playback feature.
The Puppy Cube can project onto either a horizontal surface (e.g., a desk) to create a workspace for either an individual or a small group or onto a vertical surface (e.g., wall, whiteboard, screen) for presentations to medium-to-large groups.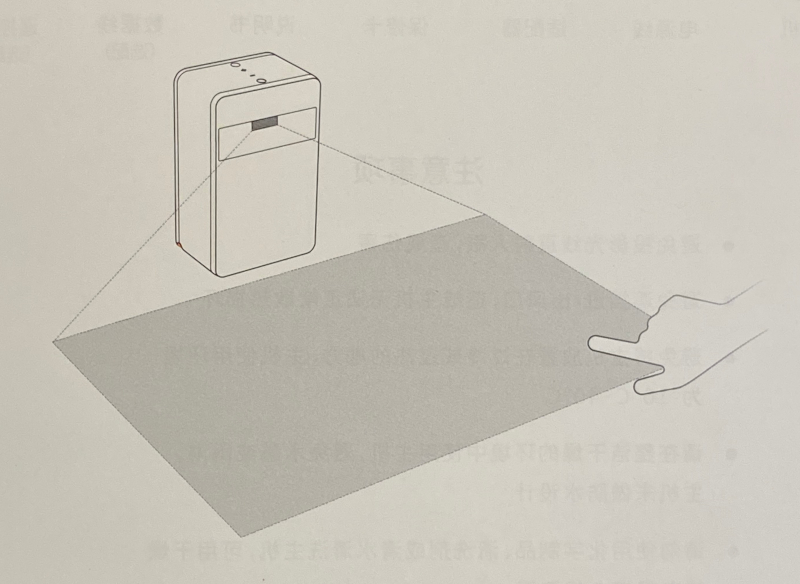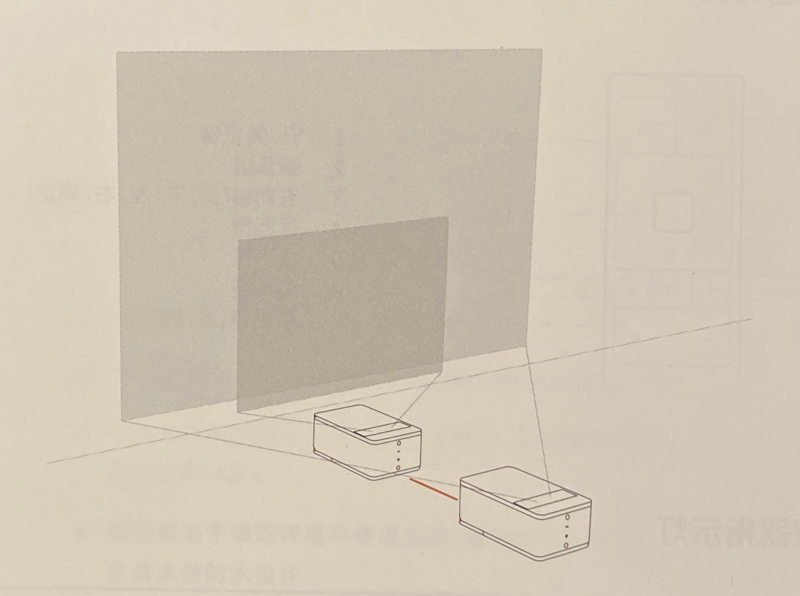 The integrated camera is only available when the Puppy Cube is projecting onto a vertical service. The camera is set to point straight out from the Puppy Cube. This means that unless you put the projector up on a stand or a stack of books, you only get a video of yourself from the shoulders down unless you hunch over.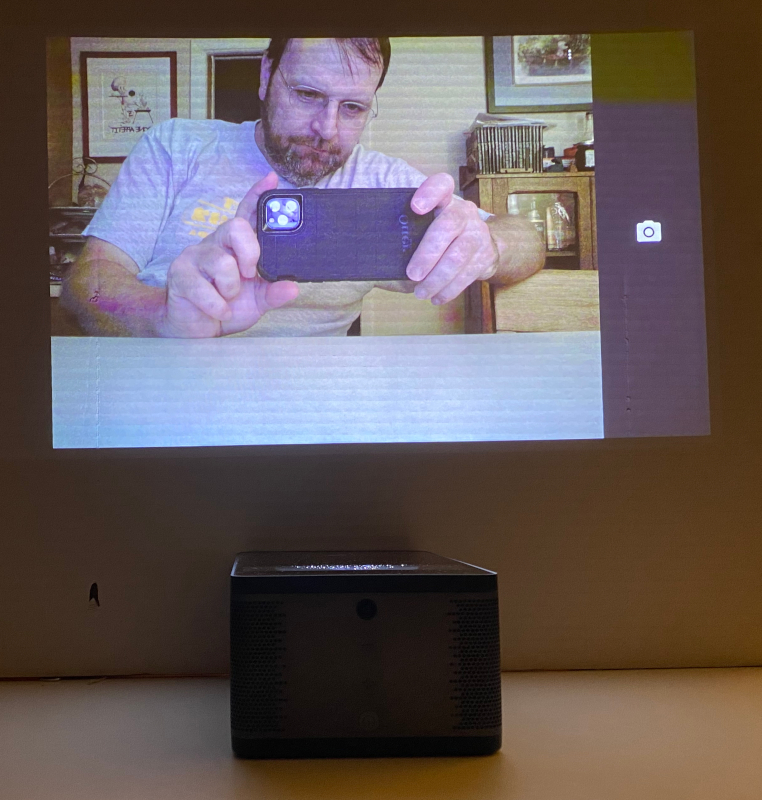 Projector
When used as just a projector the Puppy Cube performs as well as most other 720p-native projectors.  The image is bright enough for use in dimly-to-moderately-lit rooms. The auto-focus and keystone corrections function well.   The Puppy Cube successfully displayed 720p, 1080p, 2K, and 4K feeds. Videos played well at all resolutions using HDMI, but desktop images at 2K and 4K resolutions suffered from noticeable degradation when down-sampled to the native resolution of the projector. PowerPoint slides were acceptable at all resolutions. I had no problems displaying DRM-encoded video files over HDMI.
Brightly Lit Room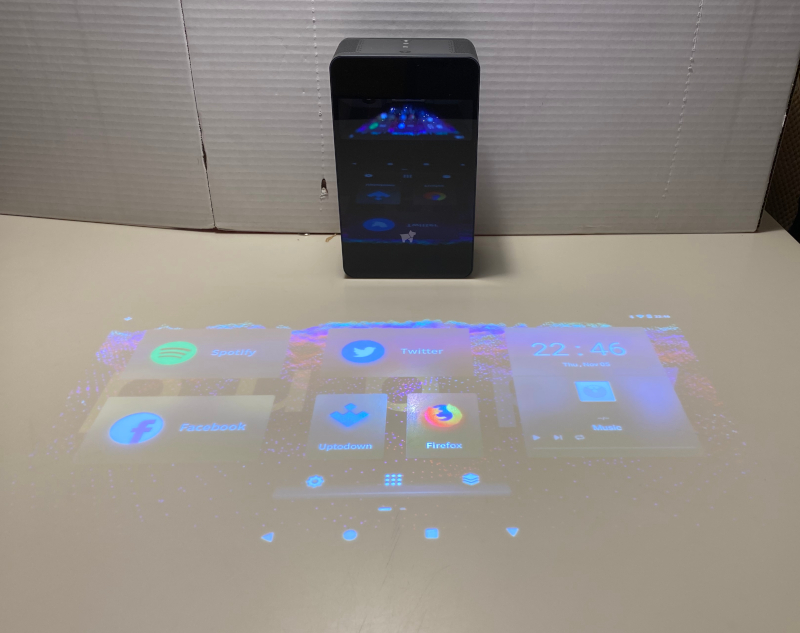 Dimly Lit Room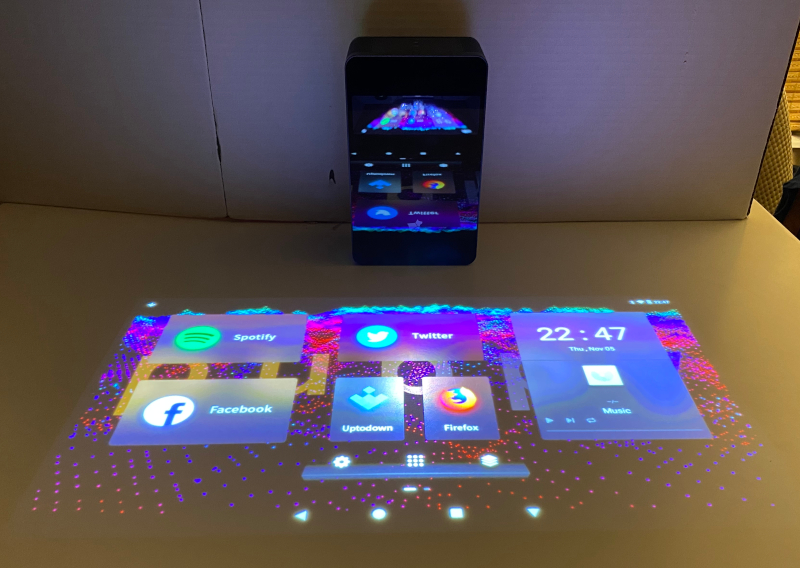 When using the wireless casting features of the Puppy Cube over WiFi to display videos, the compatibility limitations between Android devices and iOS devices reared their ugly heads.  I was able to wirelessly display non-DRM videos (e.g., videos that I had recorded) using AirPlay, but video files purchased online from the iTunes store would not play because my iOS devices could not make a secure connection with the Puppy Cube. I was able to connect to my UPnP server using the Video Lan app and play different movies stored on my server.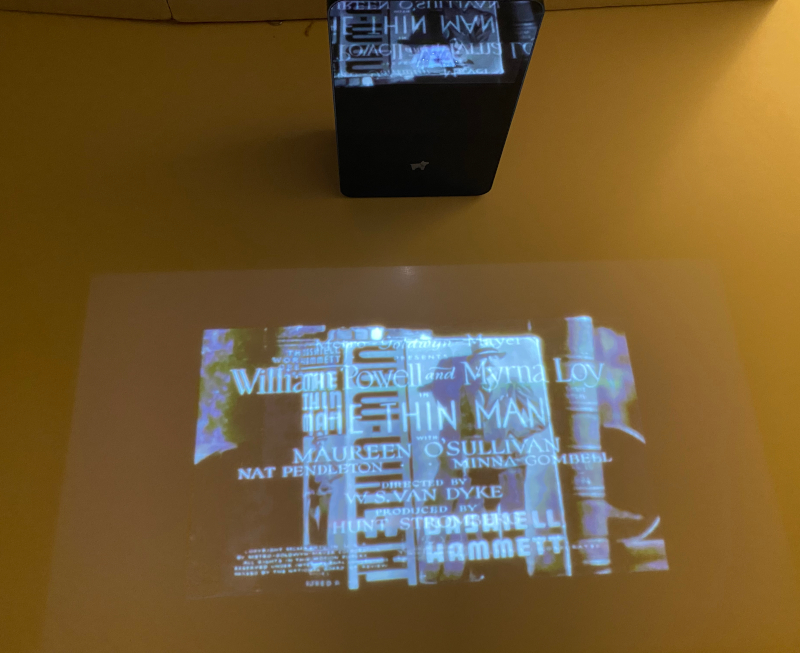 Projector + HID
In addition to functioning as a basic projector, the Puppy Cube supports both virtual keyboard and mouse / touchscreen features using a video mapping system that uses a projected field and camera system that works similarly to that of the Xbox One Kinect system. The virtual mouse system worked better than the virtual keyboard in my initial testing. Once I abandoned my attempts at touch typing and went to hunt-and-peck style two-fingered typing my results improved dramatically.  You don't want to try and write a novel using the virtual keyboard, but it works well for entering basic login information for various video-conference systems.
By default, the touch features are turned off when using the Puppy Cube to project onto vertical surfaces, but these features may be enabled through the onboard configuration system. The Puppy Cube's on-board USB port allows for the connection of separate USB input devices if you choose to do so.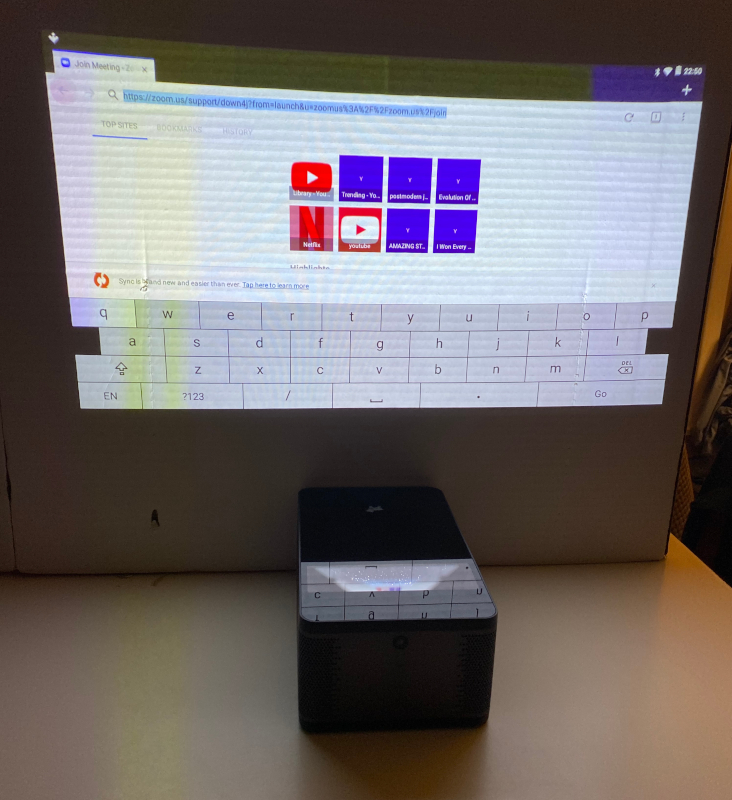 Stand-alone media device
I have mixed feelings about the Puppy Cube as a stand-alone media device. The Android-derived Puppy Cube OS does not support many of the commonly used media apps (e.g., YouTube) due to a lack of a compatible Google Play app. At least some of this can be traced back to the current technology embargoes, but I'm not sure that all of the problems are related to this issue.  YouTube can be accessed via the browser, but it was frustrating to find such a common app to be incompatible.  I was able to load and use Video Lan (as mentioned above), but I was only able to play videos that were stored on my local server, rather than on remote servers. I was able to download videos to the Puppy Cube via USB thumb drives and these played just fine.
General notes
The Puppy Cube's user interface is a customized Android UI. While I am primarily an iOS user in the mobile arena, I do have some familiarity with the Android UI from helping my sons and some less tech-savvy neighbors with their phones. Both of my sons and I all had problems finding certain features in the Puppy Cube OS when we first started using the Puppy Cube. My sons who live in both iOS and Android had fewer problems than I did, but they still had problems finding and using some of the controls.
The Puppy Cube's battery life is sufficient for a short presentation, but my unit would not make it through a 2-hour movie on a single charge.  Additionally, the unit acts like there is a low power, continuous drain on the battery, which I attribute to the unit being in a suspend mode rather than being powered all the way down. This latter issue only crops up when I leave the Puppy Cube unused for several weeks.
PuppyRobot is a Chinese company. The time-zone differences and language differences have created some challenges when I've asked technical questions. The use of asynchronous text communications has hindered troubleshooting.
What I like
Works via interface cable or 'casting' right out of the box
Touchscreen input / virtual keyboard
Support for both desktop and wall projection
Good aesthetic design
Support for both wired and wireless operation (both power and A/V)
What could be improved
The ability to upgrade the Android OS to a more recent version with full support for apps
Improved UI for accessing features
Upgrade the projector subsystem to native 1080p
Larger battery
Improved ability to wirelessly cast DRM-encoded videos from iOS devices (this may be more of an Android OS issue)
Thumbnail notches to aid in the removal of the port cover on the back of the unit.
Live chat / phone support for US customers.
Final thoughts
I found the Puppy Cube an interesting product that has great potential. However, at this price-point, the native resolution of the projector is too low, the camera is poorly positioned, and the operating system on the unit I reviewed still needed some work.  The basic display and touch features work well, but the stand-alone media player features could still use some work. The current incarnation is fine for basic family use, but an upgraded version could make the Puppy Cube common in the workplace.
Update 12/18/20
Shortly after my review was submitted, I received an update statement from Puppy Robotics regarding the issues with Google Media Services that I had called out in my review.
This statement reads:
"We're working diligently to certify the device for use with Google Mobile Services and anticipate completing this process in the coming months, at which time previously purchased devices will be able to access GMS through a simple software update. Currently, GMS-based apps are not available for download directly onto the device. In the meantime, however, apps that require GMS such as YouTube, Hulu, etc. can be easily accessed and used normally on the device via the web browser. These apps can also be screen casted to the projector when paired with any Android or iOS device. "
Once this new capability becomes available as an OTA update, the Puppy Cube will be a more useful device for families.
Price: $899.99
Where to buy: PuppyRobot.com and Amazon
Source: The sample of this product was provided by PuppyRobot.