We use affiliate links. If you buy something through the links on this page, we may earn a commission at no cost to you. Learn more.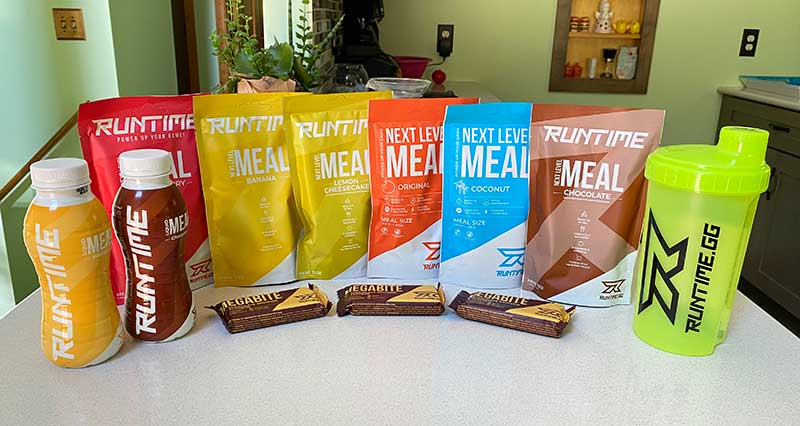 REVIEW – Since when is a protein bar or shake considered gaming gear? When it's a Runtime meal bar or shake! If you're a gamer or a creator, or anyone who needs a quick meal, with ingredients that are chosen to  Runtime wants you to check out their products. Let's take a closer look.
What is it?
Runtime offers meals in 3 forms: ready to drink shakes, powdered drink mixes, and meal bars with the following "features":
Runtime is spearheading the next generation of nutritional meal replacement solutions, built specifically around isomaltulose, a disaccharide carbohydrate composed of glucose and fructose. Together with branched-chain amino acids, proteins and nootropics, these expertly formulated ingredients are designed to supply long-lasting endurance, improve wakefulness, and increase focus without the sugar rush or fast crash.

Isomaltulose has emerged as an ideal alternative to sucrose due to the low glycemic index and sugar-content, as a result, it is metabolized by the human body much slower than normal sugar. It also enables those training to attain peak physical and mental operating levels, and also offers a higher rate of fat-oxidation during endurance training.
Runtime products also include BCAAs.
BCAAs (Branched Chain Amino Acids) are the essential amino acids leucine, isoleucine, and valine. Your body cannot produce them on its own, so you need to get them from your diet. They fuel muscle growth and development and can decrease muscle soreness from exercise.
Megabite Bars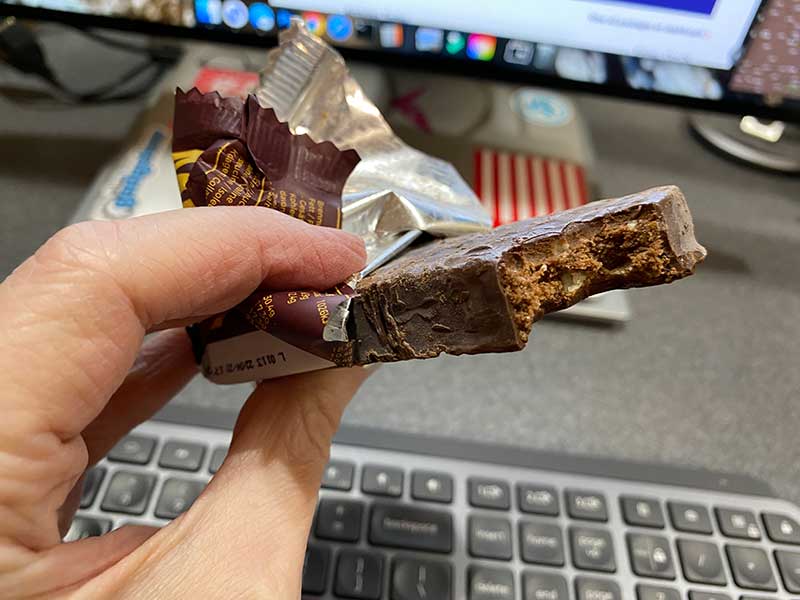 My favorite Runtime product is their Megabite Chocolate Brownie bars. OMIGOSH, they are yummy. The inside is chewy and the outside is covered with a thin layer of chocolate. The flavor (to me) is a little like a chocolate malt. It's not too sweet which I like.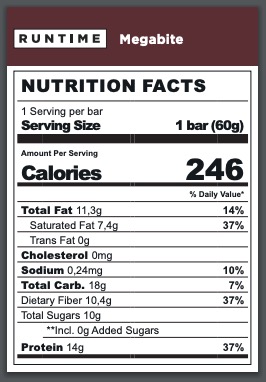 You can see the nutritional facts above and the ingredients below.
Never miss one of our posts again. Sent MON, WED, and FRI with the latest gadget reviews and news!

The bars do have sucralose and maltitol in them which is unfortunate. Sucralose is the same as Splenda and when I get too much of it in my system, it makes my joints ache and maltitol can cause some stomach issues like gas and diarrhea (ugh).
Runtime meals (powdered mixes)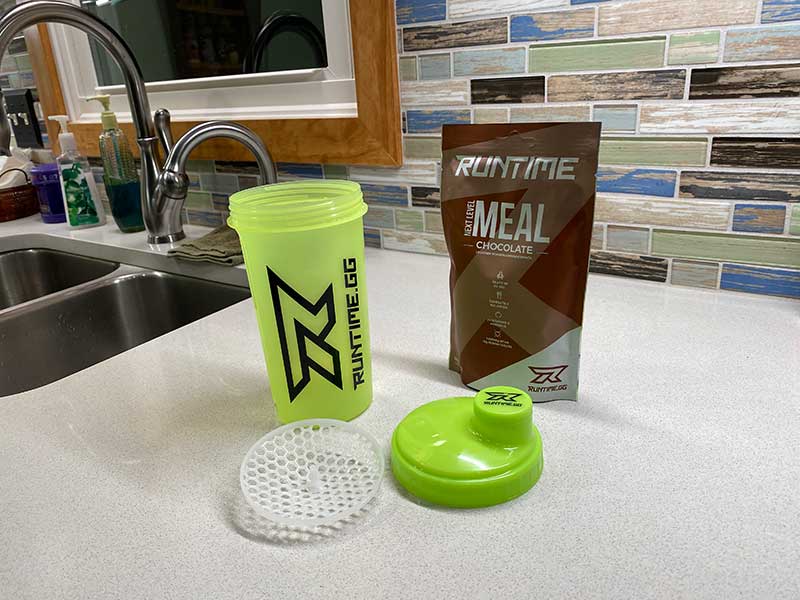 Runtime's powdered mixes are available in 13 flavors that include original (vanilla), strawberry, coconut, banana, chocolate, mango, lemon cheesecake, lime, matcha, watermelon, cherry, wild berries, and coffee. They sent me a starter pack with some of those flavors of which I tried the original and chocolate.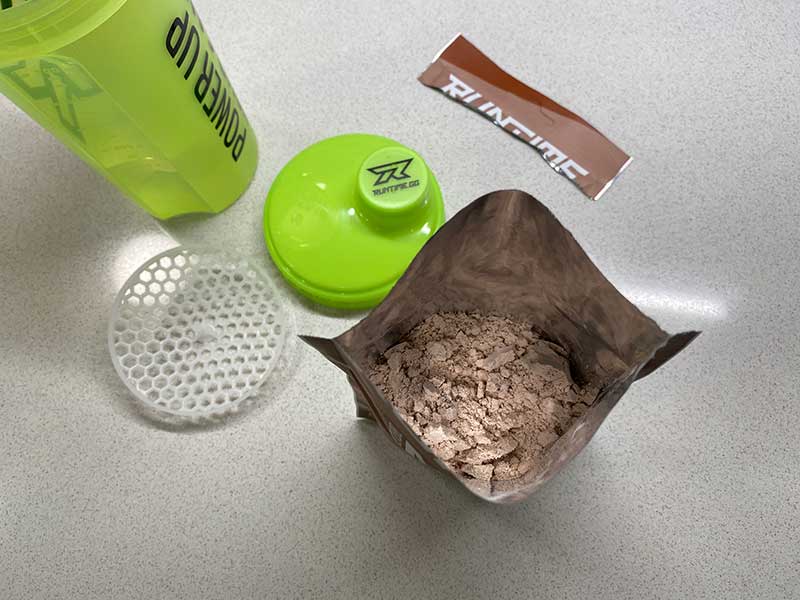 The powdered mixes are similar to all the other meal replacement mixes I've tried before in that they are a fine powder that you mix with water or milk in a shaker cup. The resulting "shake" was smooth with no grit. I can't say that I really loved the flavors that I tried. I didn't hate drink mixes, but for me, they had an odd aftertaste. Let's check out the nutrition facts.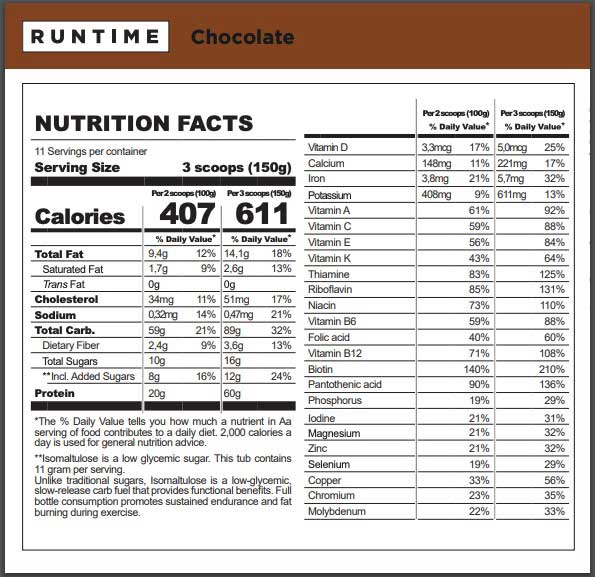 I couldn't find an ingredient list to include, but they use oatmeal and whey for the protein source. The powdered mixes also have sucralose in them in addition to isomaltulose.
Runtime liquid meals bottled shakes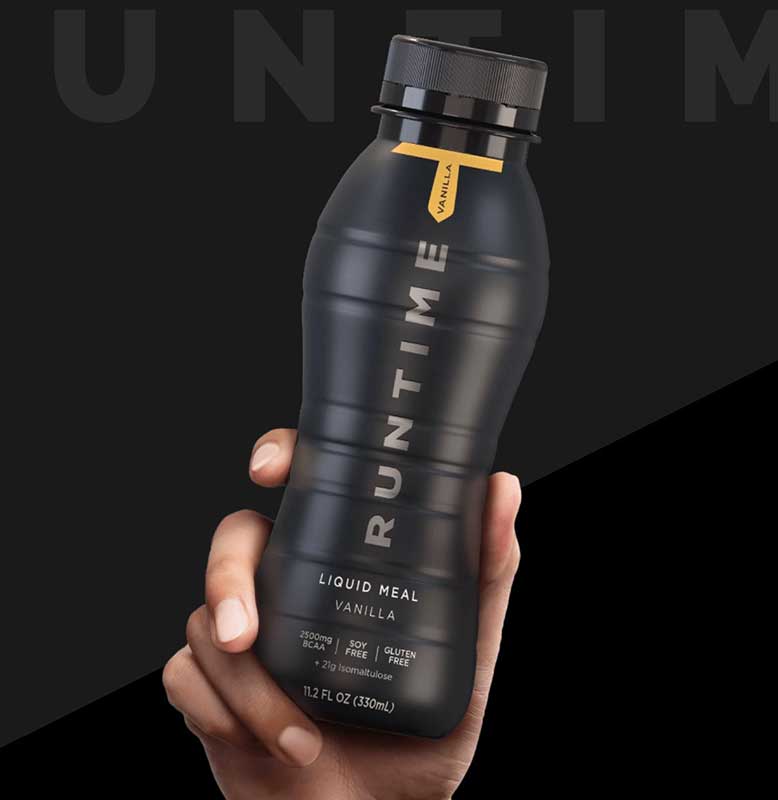 The Runtime liquid meals aka bottled shakes are available in chocolate or vanilla. I liked the chocolate pretty well but didn't like the vanilla at all. I thought it might be my taste buds so I had Jeanne try the vanilla and she agreed that the aftertaste was pretty bad.

Like the Runtime powdered mixes, their bottled shakes, also contain oatmeal, whey, vitamins and the sweetener isomaltulose. As far as I could tell, they do not contain other artificial sweeteners like sucralose or maltitol. The shakes do have milk and corn oil in them though.
What I like
Easy to grab or mix meal without cooking
Megabite bars taste (too) good.
What I'd change
Make it easier to find ingredient lists on the Runtime website
Replace Sucralose and Maltitol with Stevia or Monk Fruit sweetener
Improve flavors of the bottled shakes and powdered mixes
Final thoughts
Runtime markets their meal replacement products to gamers, athletes, and creators for the ingredients that they claim improves focus and recovery. I tried all of the products and the only one that I really enjoyed was the MegaBites. Did they improve my focus or recovery after workouts? I honestly didn't notice anything different.
However, I will say that I did notice some digestive issues after consuming a few of their products over the course of a few days. I'm sure the issues were due to the Maltitol and Isomaltulose. Maybe my system is sensitive to those sweeteners. I'm not sure. I will say that I probably would not buy the bottles or powdered mixes again due to the ingredients and the taste (drinks). But I would purchase the MegaBites but would not be able to eat one every day unless I wanted to offend those around me on a regular basis 😉 If you've tried Runtime products, please let us know your experience with them.
Price: MegaBites $9.99/3 bars or $34.90/12, Bottles $19.99/6, Powdered mixes $29.90/7 meals
Where to buy: Runtime's website
Source: The sample for this review was provided by Runtime.