We use affiliate links. If you buy something through the links on this page, we may earn a commission at no cost to you. Learn more.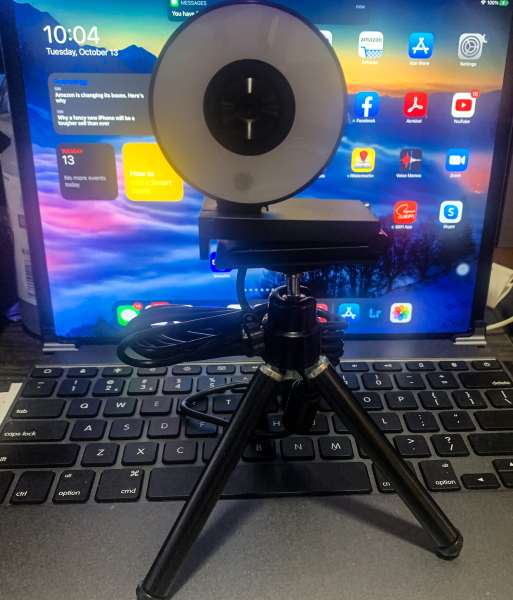 REVIEW – Since the inception of the Covid pandemic, millions of people have been working from home, and webcams have become standard gear on almost every workstation. While there are many brands to choose from all boasting their own features, not all webcams are created equal. Let's see where this Papalook Live Streaming Webcam ranks.
What is it?
The Papalook Live Streaming Webcam features a Studio-Like Ring Light, Dual Microphones, and a Tripod.
What's in the box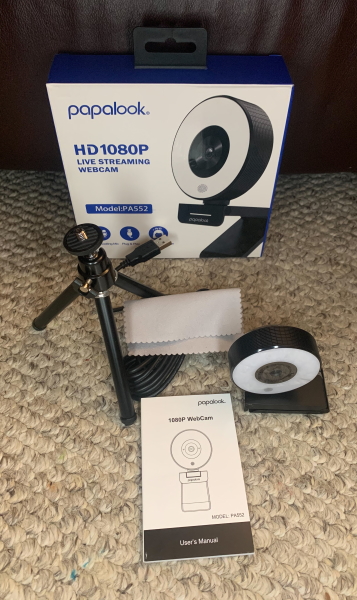 1 x Papalook Live Streaming Webcam
1 x Glass Cleaning Cloth
1 x Tripod
1 x User Manual
Design and features
Specifications
Video Capture Resolution: 1080p
Lens: Prime
Max Aperture: 1.8 f
Item Weight: 135.5 Grams
Features
Stream Like A Pro – Light up your live-on passion with the choice of PAPALOOK PA552 streaming webcam. Featuring studio-like fill light ring, 1080P at 30FPS detailed streaming, dual microphones with DSP noise filtering tech, and versatile mount options, it's the professional webcam for broadcasting when you go live on your favorite streaming platforms.
Light Up and Live On – PAPALOOK PA552 comes with an on-camera, multi-step ring light with adjustable lighting levels. The multi-step ring light offers even and flattering lighting and eliminates harsh shadows. Studio-like lighting is just one touch away! PAPALOOK Streaming Webcam ensures the best live effect in any light environment.
True-to-Life Streaming – The 5-layer glass lens and full HD 1080p capture the most exciting details, bright and natural colors in fluid video at 30fps, while the 75-degree field of view accommodates up to two people. This means that viewers can be completely immersed the way you are, the way you perfectly are.
DSP Noise Filtering Tech – Fitted with two omnidirectional microphones on the Front side, the PA552 streaming webcam is able to capture more realistic sound from every angle, so that your voice comes through sounding natural and clear.
Why Fixed Focus? – Because PAPALOOK believes that a fixed-focus lens brings the best facial image reproduction and color rendition, which has been mostly recognized by photography. PA552 adopts advanced portrait reproduction tech to meet the further demands of live broadcasting and guarantees true-to-life streaming to your fans face to face, no blurs nor distortion.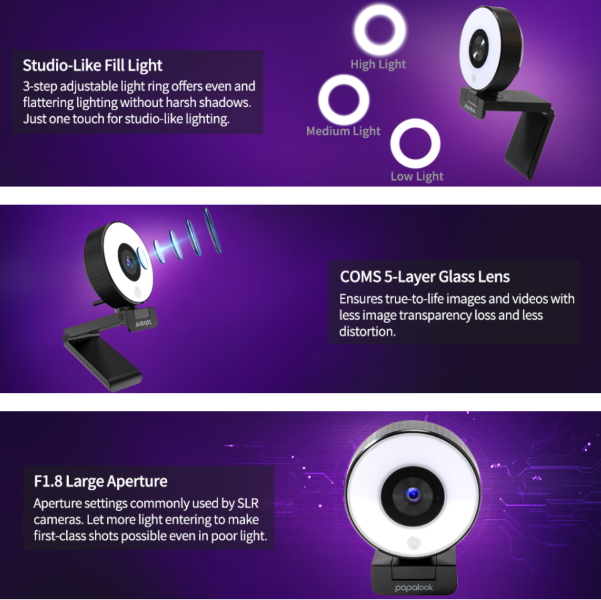 On the front of the webcam, there is a lens in the middle with a ring light around it. On each side between the lens and the ring light, there is a mic.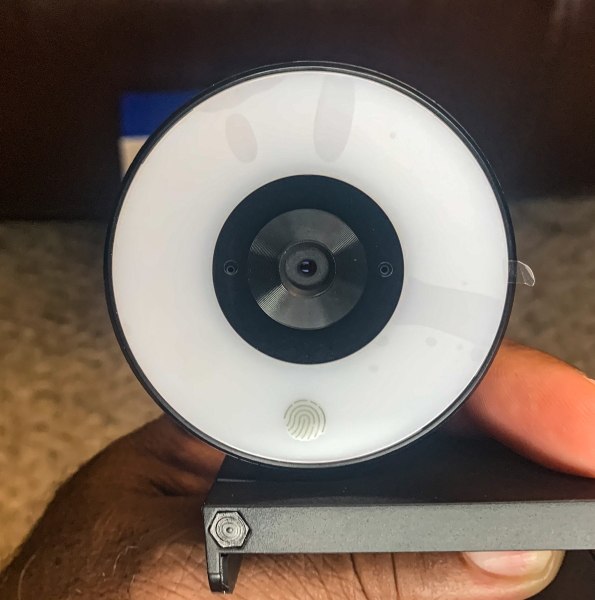 On the bottom of the webcam's built-in stand, there is a tripod mount.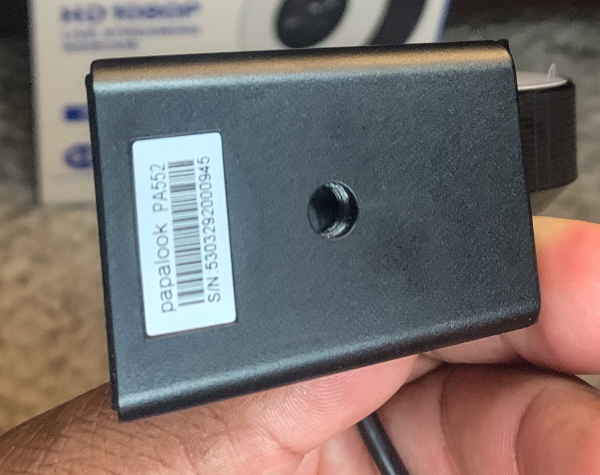 The photo below shows the included tripod.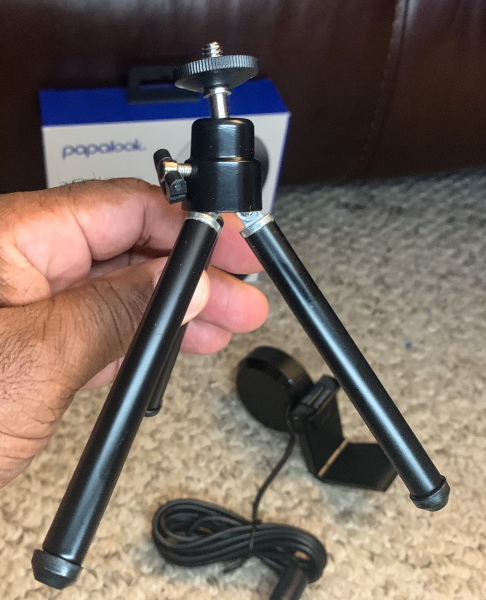 Performance
This webcam is truly plug-n-play. The user manual suggests that you download and install Amcap Webcam software. I did, but it turned out that it was a demo version and I did not like it. I decided that if this webcam is truly plug-n-play then it should work with OBS, and it does. The following is a demo of the webcam recorded with OBS.
I used the webcam on the tripod for the video but it can also be mounted on a laptop screen or a monitor.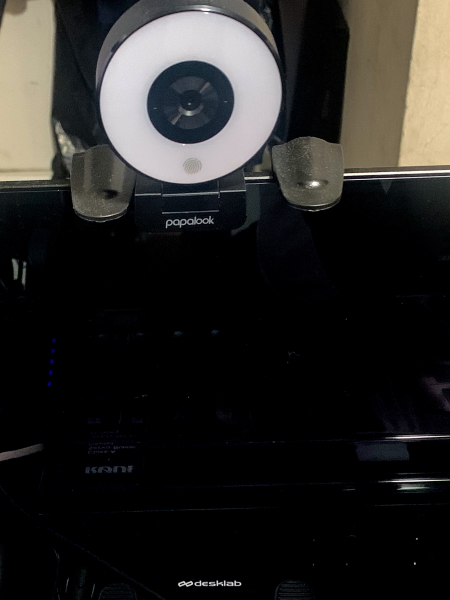 When I recorded the video, I was approximately 2 feet away from the webcam, which is my normal position,. As you can hear from the recording it was not great, and while for this video I did not edit the audio, I did edit for other videos that I used it for, and I had to De-Ess the audio. Speaking closer to the webcam produces a better result, but that is not my normal working position. The ring light works well and the video resolution is good.
What I like
The build quality
The adjustable ring light
The plug-n-play capability
The general video quality
The built-in tripod mount
The included tripod
What I'd change
Despite the dual noise-canceling mics, at what I consider to be a reasonable distance, the audio is not that clear and the sensitivity is a bit low…..IMHO
Final thoughts
This Papalook Webcam is well built and the video resolution is good. It is truly plug-n-play and showed up in every video capture software I tried. I like the adjustable ring light, but I do not like the audio out of the box. While the audio can be edited in post, that is not really helpful for live streaming. I have found that the audio is better if you are close to the front of the webcam. The included tripod and the built-in tripod mount do make it versatile.
Price: $80.99 (currently on sale for $71.99)
Where to buy: Amazon
Source: The sample for this review was provided by Papalook.