We use affiliate links. If you buy something through the links on this page, we may earn a commission at no cost to you. Learn more.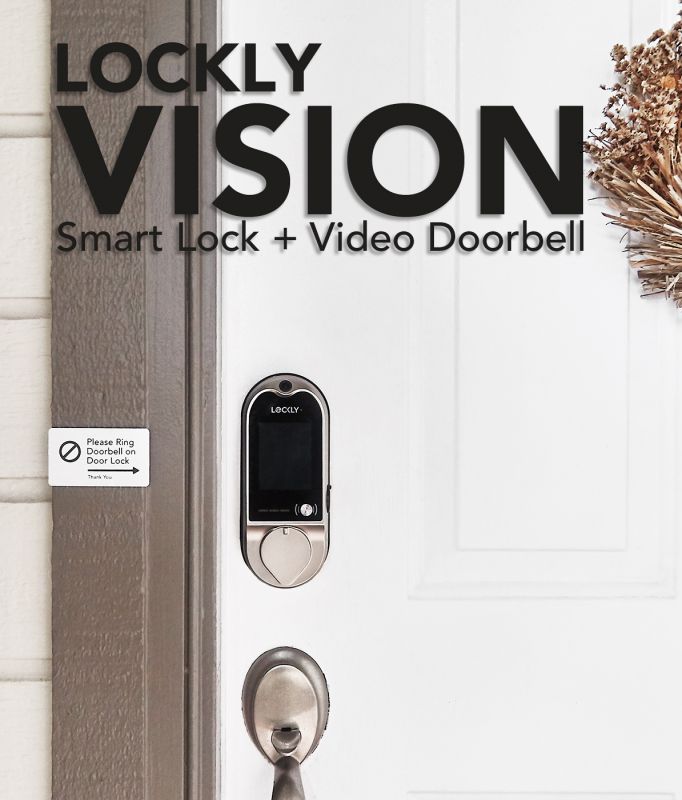 REVIEW – With video doorbells frequently being added to many homes, you may wonder how it can get any better? Well, one way to make it better is by adding a door lock to it that you can control with your smartphone. With the Lockly Vision Smart Lock Video Doorbell you can have the best of both worlds when it comes to the ease of controlling and interacting with your front door.  I have always liked the idea that we have the technological capabilities of seeing a visitor at the front door with your smartphone. And with more the expensive video doorbells you are able to have a two-way verbal communication with said visitor.  However, if you were able to lock and unlock the door for your visitor with the same app then that would be the pièce de résistance. You could greet someone at your door and let them in all without actually being home.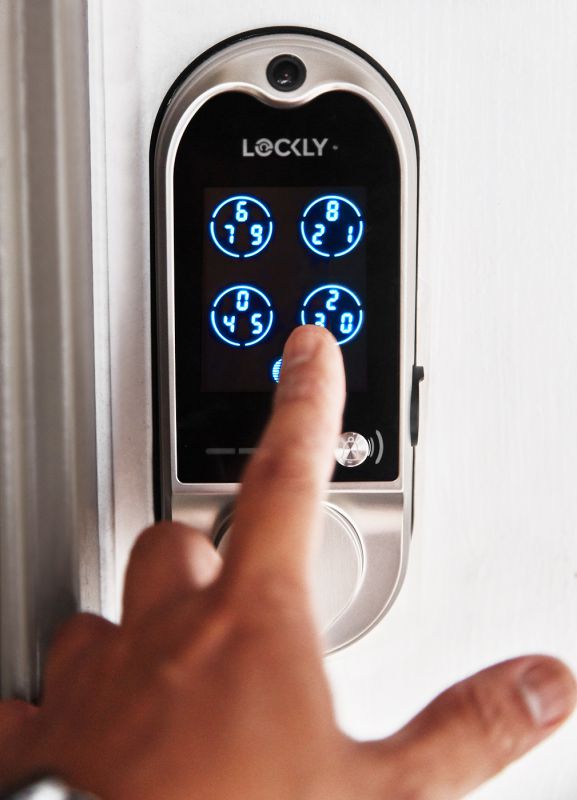 What is it?
The Lockly Vision is an all-in-one combination of a smart deadbolt lock and a video doorbell. With the help of the Lockly smartphone app, you can interact with the Lockly Vision such as locking and unlocking the deadbolt, see who is at the door ringing the doorbell, and you are able to have a two-way conversation with that person at the door. Along with the app, you are able to lock the deadbolt or unlock the deadbolt either by the touchscreen keypad, a physical key, or by my favorite, with the fingerprint reader. Plus, you can interact with the smart lock with Alexa and Google Assistant.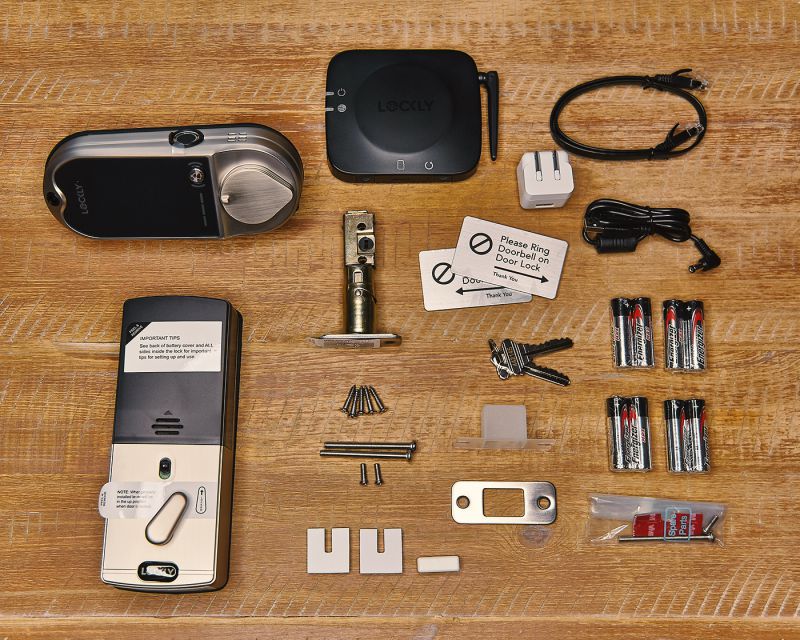 What's in the box?
Vision Smart Lock
Bolt Assembly
Screws
Strike Plate and Housing
Back Plate
(2) Two Keys
(8) Eight AA Batteries
Left and Right Doorbell Signs
Vision Connect Hub
Vision Connect Door Sensor
LAN Cable
Quick Start Guide
Installation Manual
User Manual
Hardware specs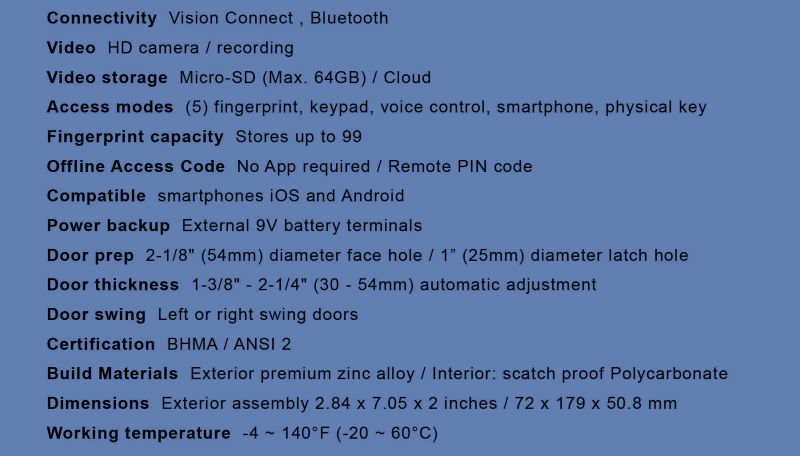 Design and features
What makes this device unique is that it is a combination of a smart lock and an HD video doorbell. Usually, most homes have one or the other and it seems like the new trend is combining the two because for years all I would see is the video doorbell that was made popular by Ring. However, after checking their website I still haven't seen a combination of a smart lock and video doorbell. They do offer a smart lock but they are still two separate devices, unlike the Lockly Vision which is an all-in-one. It seems like Lockly is ahead of the trend curve with its product.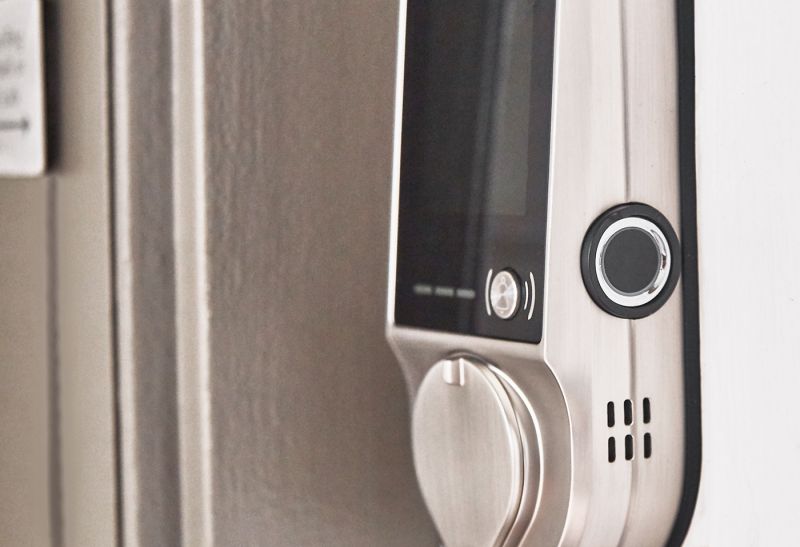 As I mentioned earlier, there are multiple options that you can use to access the smart lock. Five ways actually. You can access the smart lock with the app on your phone, by the touchscreen, a fingerprint reader, with voice assistants, and with a traditional physical key. I really enjoy using the fingerprint reader since it is so quick and convenient to use especially if I have my arms full. I just hold out my thumb and place it against the fingerprint reader. Plus, I don't have to fumble to get the key out of my pocket. I also used the touchscreen keypad as well as the app, which both are just as convenient. However, when using the keypad it took a few tries to have the screen turn on. The instructions state to slide your hand across the screen to activate the keypad. However, after several swipes and taps did the screen turn on. That's not so much a make it or break it for me since everyone in my household uses the fingerprint reader and we can still access the touchscreen if need be. However, keep in mind that three consecutive wrong attempts within five minutes put the lock in Safe Mode. This means that the keypad will be disabled for 10 minutes. To get out of Safe Mode you have to either input the correct Access Code twice, use the key, use the app, or use your fingerprint to override it.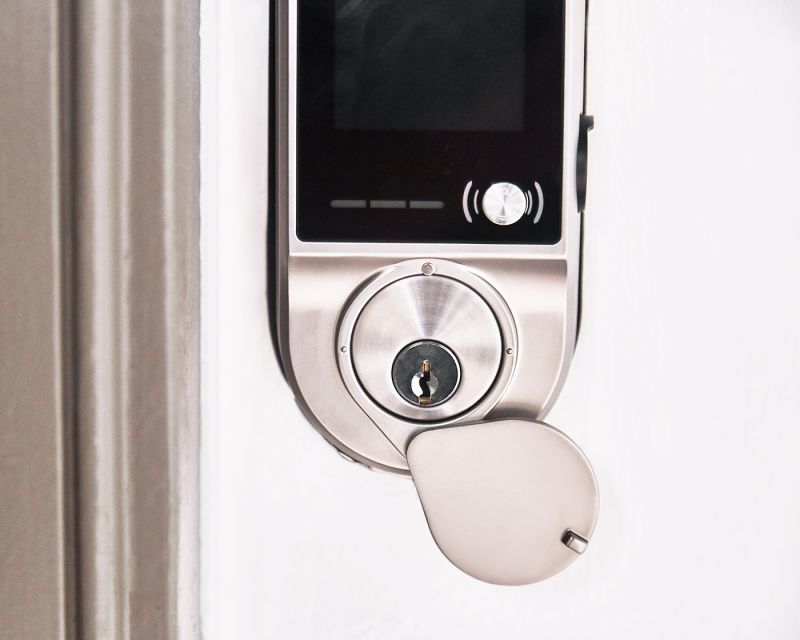 During the start of Safe Mode, a 15 second video will start recording. That 15 second video is nice to have just in case there was someone actually tampering with the lock then you will have recorded video footage of the person at the door. Video recordings are stored locally on the supplied microSD card and you can access them at any time on your smartphone. This is great because the footage doesn't have to get uploaded to cloud storage and there are no monthly fees to pay for cloud storage either. The footage is safe in your home and able for you to view any time and anywhere just by opening the app on your smartphone.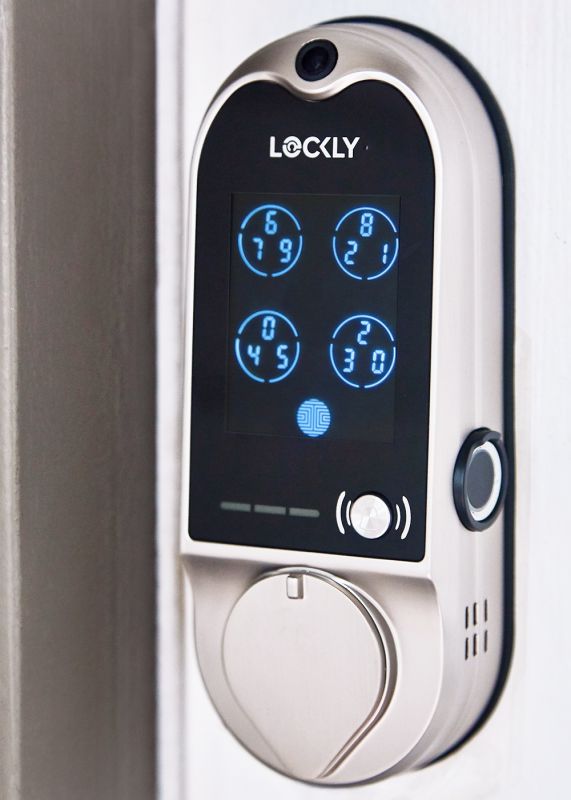 A feature that this smart lock has is the PIN Genie. This feature is like a rolling code that shuffles the PIN numbers to different positions on the keypad to keep prying eyes from guessing the numbers that you input. I can see this being useful if the smart lock is in a high traffic area where someone can easily view you inputting the access code but if you are using this smart lock in the privacy of your front door where no one is around then it might be a little overkill. But it is nice to have it.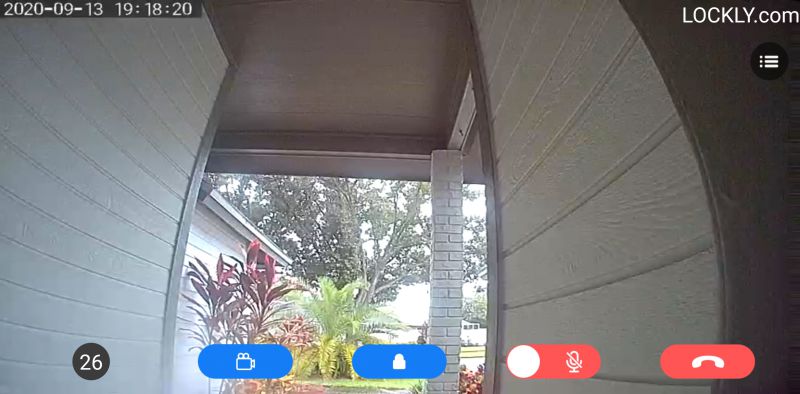 The video doorbell and app allow for real-time streaming on your smartphone. You can open the app and view a live stream of the video doorbell at any time. What I like about the video doorbell feature is that when someone presses the doorbell, not only is there a doorbell chime that emits from the smartlock but my phone also chimes with a doorbell sound as well. Basically, the Lockly app on my phone is triggered when the doorbell button is pressed.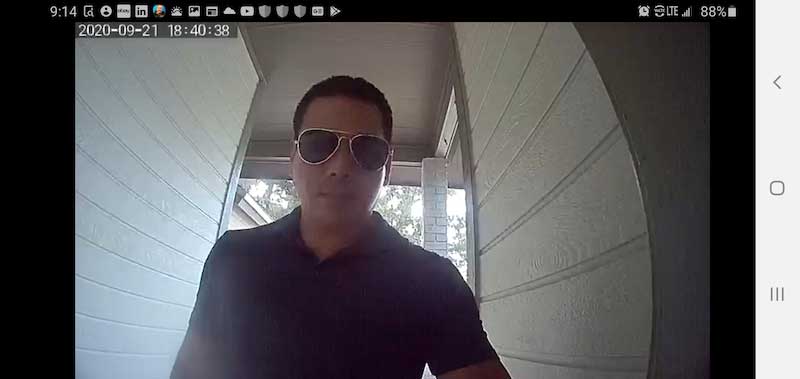 I can also then see on my smartphone who is at the door. And one of my favorite features with the Lockly Vision is that I can have a two-way conversation with whoever is at the front door. I can talk to them and they can speak to me. And if I need to let that person into my house I can unlock the door via my smartphone with a touch of a button. So, if one of my family members ring the doorbell, we can speak to each other and I can let them into my house and lock the door when they leave, all from my phone. How great is that?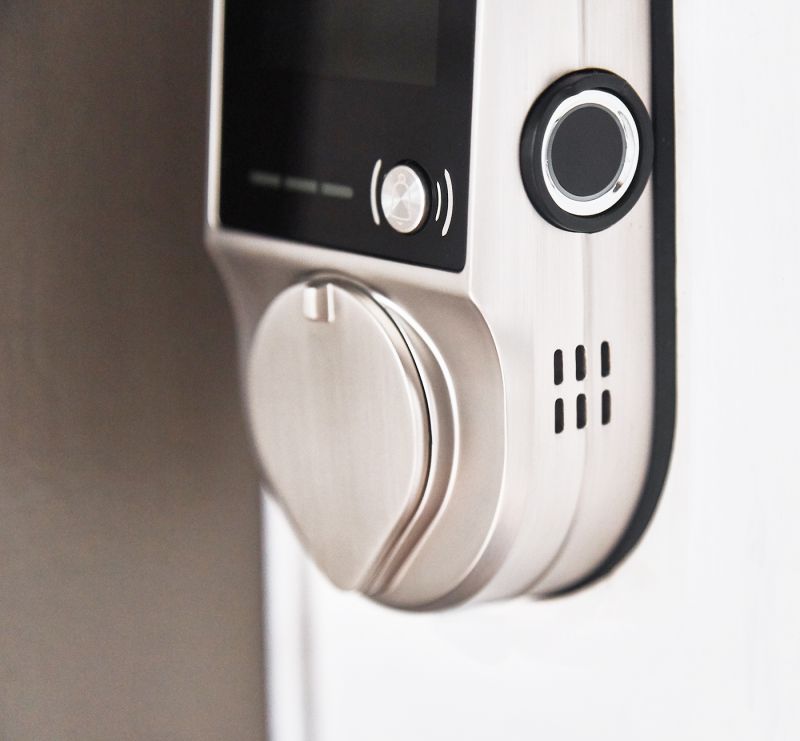 Although much interaction is done with your smartphone, you are able to generate an Offline Access Code for someone so that they don't have to download the app on their phone. I found this very helpful and convenient in case I want a friend or family member to gain access to my home at a time when I know I won't be able to grant them access to my smartphone. You can generate the Offline Access Code that will expire within a set amount of time, also. Additionally, you don't need the internet or a WiFi connection to use the Offline Access Code.
The HD video image of the video doorbell is decent at best.  Obviously, on a sunny day, the picture is clear but better on cloudy days when the picture image is not overly bright. I think what will affect the video image will be where the door is facing and the location of your door. In the evenings, the front porch light most definitely has to be on in order to get any kind of picture from the video doorbell.  It would be nice if, one, there was a setting in the app to adjust the camera settings to the conditions of the door's environment, and two, if the doorbell camera had a built-in night vision or some type of low light setting. I think this would greatly improve the camera and video resolution quality. 
The sound quality is what you would expect from a device like this. It's sufficient enough to carry on a conversation but isn't going to wow anyone. Besides, it may be that the majority of conversations you have are not going to be a very long one. So, the chances of analyzing the audio quality may not even be a considerable factor.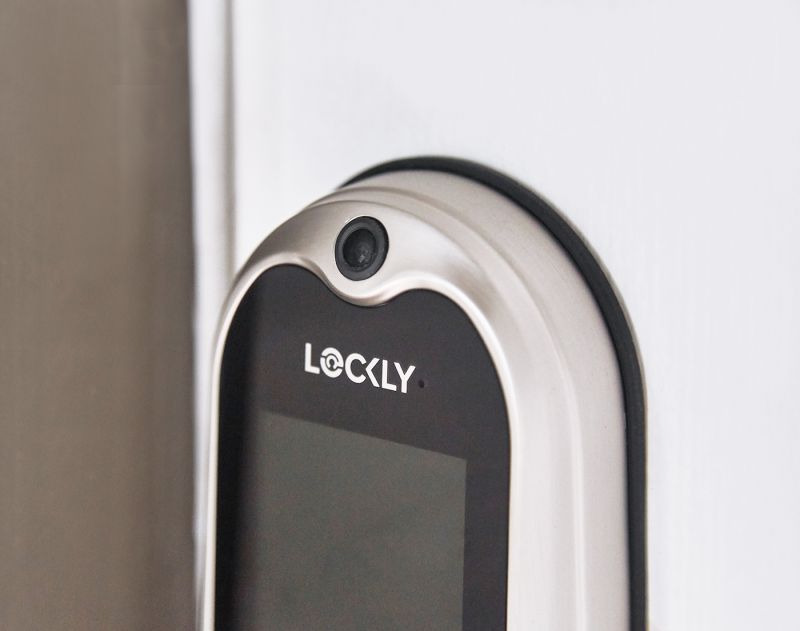 Setup
Although there is an included Installation Booklet in the box, I love the BILT install app that I used instead of the booklet to help me install the Lockly Vision. It went above and beyond any install guide or manual I have ever used. I hope to see all install manuals go this route. I was able to see the Install Steps as well as move around in a 3D space within the app. I could zoom in on a particular part of the lock and zoom out to see a wide view of it. Plus, having a narration of the Steps was handy, too. It was like a having someone read the instructions to me as I was working on the installation by myself.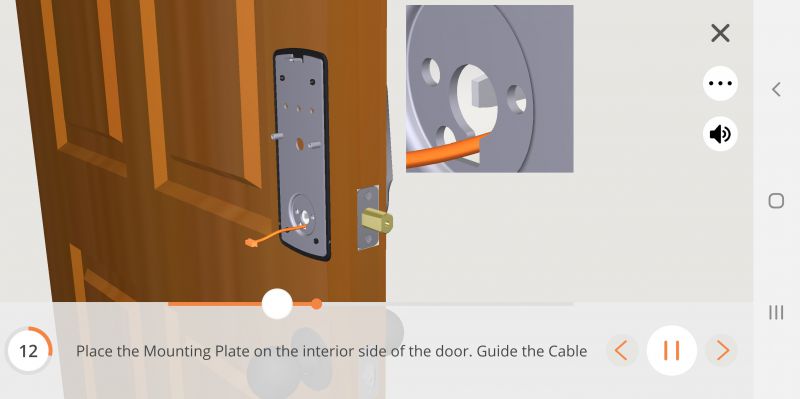 Although the instructions estimate the install to be about 30 minutes, it took me almost 2 hours. Not because it was difficult but because I was being thorough and double checking everything. The two hours was literally the start time when gathering my tools, to pulling up a chair in front of the door to sit while I do the install, and then cleaning up the area after the installation was done.  Add in the normal real time activities that one does when installing something new. Trust me, you don't want to rush things that involve connecting and aligning wires. Plus, add in the fact that I was taking my sweet time in installing this. However, keep in mind, if you are focused and with the aid of the installation app, it can be done a lot quicker if needed.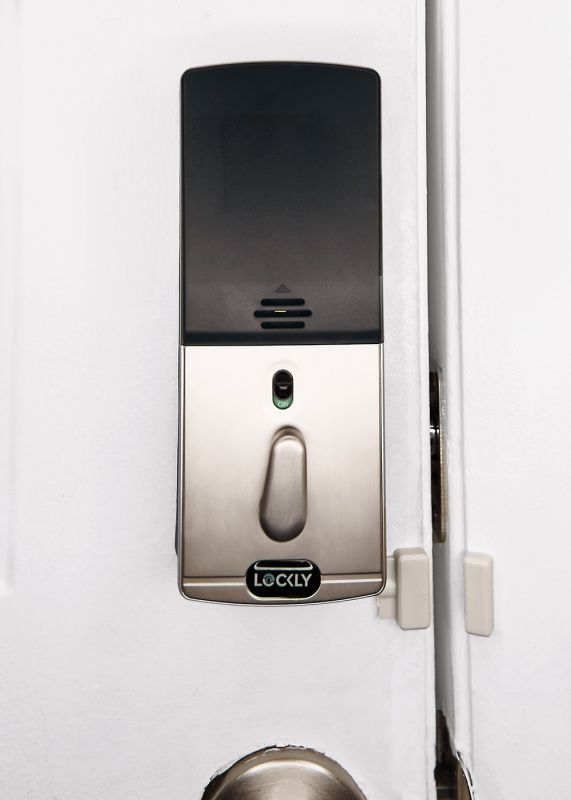 What I like
Two-way audio communication.
HD video doorbell.
Lock control via smartphone app.
Fingerprint access.
Real-time monitoring and status.
Offline Access Code.
What I'd change
Add picture settings for the camera.
Low light setting for the camera.
Make the touchscreen keypad more responsive to activate.

Final thoughts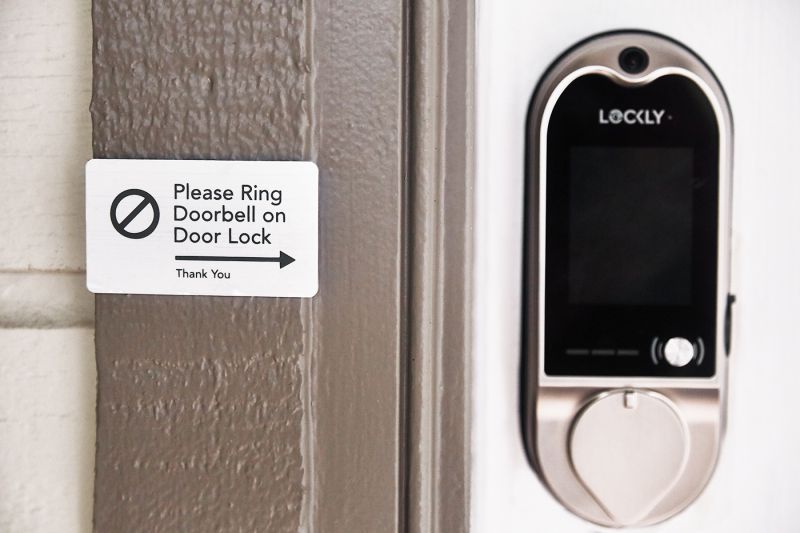 If you are looking to upgrade your home or place of business with a smart lock or video doorbell, why not have the best of both worlds and have one device with both? With the Lockly Vision, not only will you have interaction with a visitor at your door, but you will also have full control of granting access to them from anywhere using your smartphone.  Or if you need to give someone access with an offline code then that can be done, too. Plus, having the convenience of a touchscreen keypad, your smartphone, your voice, or your fingerprint to operate the smart lock and video doorbell is reason enough.  Notifications and status alerts are definitely an added security bonus when it comes to communication with the Lockly Vision and the smartphone app. If you are looking into a getting a smartlock or video doorbell, do yourself a favor and get the Lockly Vision that has both a smartlock and video doorbell. Why bother installing two separate devices when you can install just the Lockly Vision by itself? With the convenience of the app, the touchscreen, the fingerprint reader, and having the ability to use voice assistants, the Lockly Vision would be a great upgrade to your home or place of business.
Price: $399.99
Where to buy: Lockly Website
Source: The sample of this product was provided by LOCKLY.