The Gadgeteer is supported by readers like you! If you buy something through links on our site, we may earn an affiliate commission. Thank you! Learn more.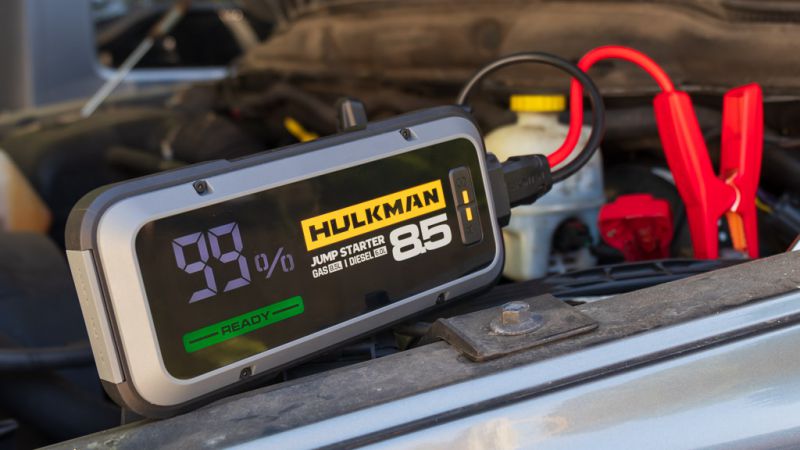 CROWDFUNDING REVIEW – In the last six months, I've had to jump-start 4 or 5 vehicles. When the Hulkman Alpha 85S Jump Starter review offer came along, I thought it could be the answer to making that task much easier.
What is it?
The Hulkman Alpha 85S Jump Starter is a multi-purpose device whose primary task is to jump-start your vehicle.
What's in the box?
Hulkman 85S Jump Starter
12v Jumper cable with battery clamps
65W 120v wall charger (USB-C)
12v out cigarette lighter socket adapter
USB-A to USB-C cable (out)
User Manual
Hardware specs
 20,000mAh battery capacity
Type-C In: SC1.0 65w / PD18W (5V-3A / 9V-2A / 12v-1.5A) 5V-1A / 5V-2A
Type-C Out: PD18W (5V-3A / 9V-2A / 12v-1.5A) 5V-1A / 5V-2A
USB Out: QC3.0 (5V-3A / 9V-2A / 12v-1.5A) 5V-1A / 5V-2A
DC Out: Max 15V-10A
Flashlight
Design and features
The Hulkman Alpha 85S Jump Starter is more than just a jump starter. It's also a battery bank for charging devices and a multi-mode flashlight. A Red Dot Design Award-winning American design team really put some thought into this unit's design and operation. The cleverness and quality of the features show their expertise.
The Hulkman Alpha 85S Jump Starter arrived in a lovely box with detailed features and contents clearly displayed on the side. I always keep the box for these things, so I appreciated this touch as later down the road, I sometimes forget a device's features.
Upon opening the box, I looked at the unit's front and thought, "I thought this thing had a digital display?" A digital display is a feature that I always look for on these chargers. I did not see it. However, upon turning on the unit, the display appeared from behind the gloss black panel, which reminded me of the displays you see in Star Trek.
Looking further into the box, I found the included accessories. The jumper cables were my main interest. I've had many jumper cables in the past, and most of them had clamps that were pure garbage. What I found was pure perfection. Not only was the insulative covering top-notch, but the clamping and conductive mechanism was all copper. The jaws, the spring, the hinge pin, everything is copper. Most jumper cables only conduct on one side, but these conduct on both sides. I was extremely pleased.
The unit's front has a large 3.3″ digital display that indicates the battery power percentage, 65W Fast Charging, Charging, Discharging, Error, and ready to start function. It is an extremely easy screen to read. Also on the front is the power button and the LED flashlight button.
The 200 lumens LED flashlight has five light modes:
1. 50% luminosity
2. 100% luminosity
3. White strobe light
4. White SOS light
5. Red strobe light.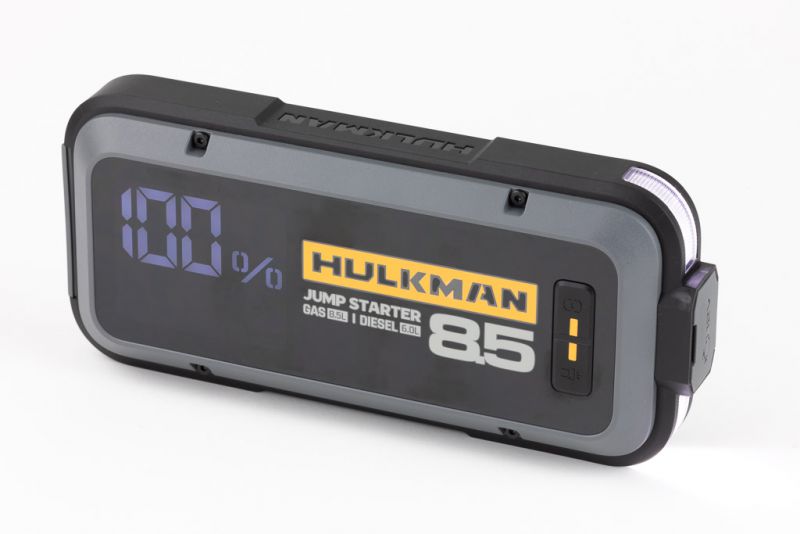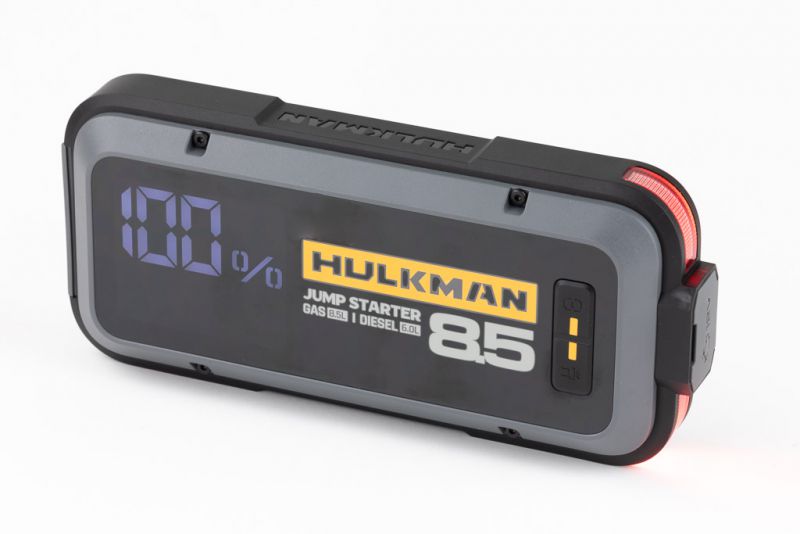 The included 65W charger can charge the unit in about 1 hour. This is much quicker than most other battery banks of this size. The 85S also has a sophisticated circuit design so that it can be stored for 6-12 months when fully charged and not in use. However, it is recommended to charge it every three months to extend the service life.
If the unit is discharged, charging it for as little as 5 minutes will provide enough power to start a car with a 6.5L engine or less. When the unit is fully charged, it can start a vehicle with up to an 8.5L gasoline engine and a 6.0L diesel engine.
The IP65 rating means it's waterproof, dustproof, and drop resistant. The unit also features protection for jump start overtime, surge voltage, reverse charge, high-low temperature, overpressure, reverse polarity, and short circuit.
As for the operation of the Alpha 85S, it worked as advertised. My son has a van that has been sitting for a while and requires a jump start. I hooked up the Hulkman, and it started straight away. The Hulkman has a nice feature where if the vehicle battery has some charge, the Hulkman will automatically turn on when hooked up. When the "ready" is displayed, which is almost instantaneous, you can start the vehicle. Otherwise, you simply turn the unit on with the buttons.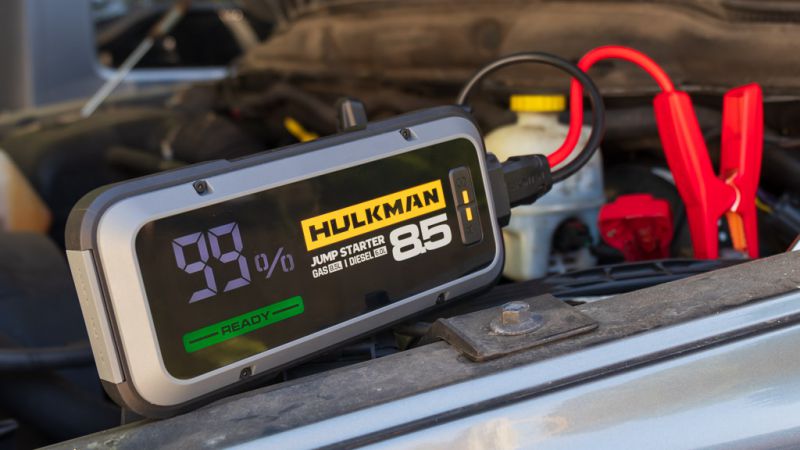 What I like
Outstanding design and quality
Excellent digital display
Quality cables
What I'd change
A carrying case or bag would have been nice
Final thoughts
The Hulkman Alpha 85S Jump Starter is a revolutionary design that everyone should have in their home or car. Whether for emergency lighting, device charging, or jump-starting, the Alpha 85S is a small, powerful, and durable solution. I haven't been absolutely amazed by very many products, but this one has me giddy.
The HULKMAN SMART jump starter is currently seeking funding through Kickstarter. Order now and save 40% off. Super early bird price starts at $89 and if you back them during the first three days (Sep 22nd-24th) of the campaign, you will receive a free travel bag with a retail value $30.
Price: $89.00
Where to buy: Kickstarter
Source: The sample of this product was provided by Hulkman.
Support The Gadgeteer
:
The Gadgeteer is supported by readers like you! If you buy something through the links on our site, we may earn a small affiliate commission. Thank you! Learn more.