We use affiliate links. If you buy something through the links on this page, we may earn a commission at no cost to you. Learn more.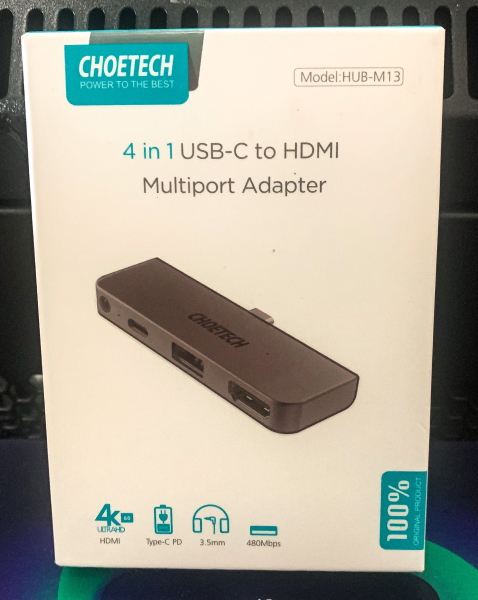 REVIEW – I use my iPad Pro 12.9″ tablet as a daily tool and it is an integral part of many of my workflows and processes. In my recent accessory search, I have been looking for a small, lightweight, and compact USB-C hub that will connect nicely to my iPad without a cable and will add multiple ports to my iPad so that I can better handle its integration with my Podcast equipment and workflow. Enter the Choetech 4 in 1 iPad Pro Hub.
What is it?
The Choetech 4 in 1 IPad Pro Hub features a 4K 60HZ HDMI Adapter, a USB-C PD 60W port, a USB 2.0 port, and a 3.5mm Audio Output port. It is compatible with the iPad Pro 2020, 2019, 2018, the MacBook Pro 2020/2019, Type C Devices, etc
What's in the box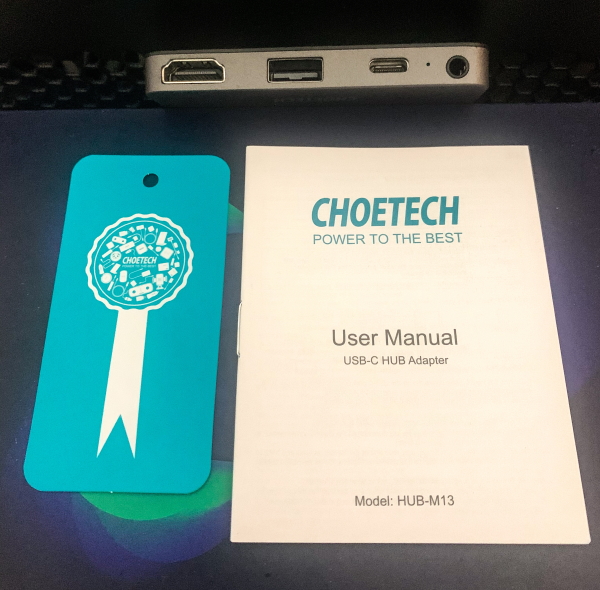 1 x Choetech 4 in 1 USB-C iPad Pro Hub
1 x User Manual
Design and features
Features
Innovative IPad Pro Adapter: Compared with traditional USB-C hub, this iPad adapter is highly compatible with iPad Pro 2020/2019. It supports regular flash drive USB to work in word/excel processor, also able to read video/PDF/ZIP files. Note: If you want to write the documents on the flash drive, please open them in the corresponding iPad OS app. Doesn't support NTFS
4K@60HZ Display & Charging: The USB-C to HDMI port lets you stream apps such as Netflix, Prime, or from your laptop to your UHDTV, enjoy Ultra HD 4K movies with your friends at home. Or connect to a projector and do a presentation or speech in the classroom using your iPad with a direct HDMI to HDMI connection. Note: 2K@60Hz for iPad Pro. The USB-C port supports power delivery up to 60W, streaming video while still charging
3.5mm Headphone Jack: This iPad pro dock offers an extra port to listen to music and stream video in public without disturbing others. Besides the headphone jack also can be connected with a mic or a stereo system. Note: When HDMI and 3.5 audio ports are used together, the sound will output from audio port first
USB Expansion: Perfect for transferring photos, files, and movies on and off of your iPad through the USB port with speed up to 480Mbps. You can also connect with a keyboard to be a computer to increase your typing speed or to other hard drives, mouse, and more USB devices.
✿USB-C Compatibility✿: This iPad USB-C hub works with iPad Pro 2020/2019, MacBook Pro 2020/2019/2018/2017; MacBook Air 2019/2018, MacBook 2019/2018/2017, iMac, Mac Mini, Samsung Galaxy Note 10/Note 9/S9/S8/Note 8/, Dell XPS 15/ XPS 13, Chromebook Pixel and more USB-C laptop/smartphone which supports DisplayPort Alt Mode. Note: DO NOT support old-style lightning port iPad

Specifications
4 in 1 USB C Hub Specially developed for iPad Pro
4 in 1 USB C adapter with 4K60HZ HDMI converter, USB 2.0, 3.5mm headphone jack, 60W USB C PD
Ports: Type C PD charging connector x 1; HDMI output x 1; USB 2.0 port x 1; 3.5mm audio output x 1
Compatibility: iPad Pro 2018 (11 inch, 12.9 inch); 2019/2018/2017/2016 MacBook Pro; 2019/2018 MacBook Air; 2017/2016/2015 MacBook; 2018 Mac Mini / 2017 iMac; Samsung Galaxy Note 10 / Note 10 + / S10 / S10 + / S10E / Note 9 / S9 / S9 + / Note 8 / S8 / S8 +
Dell XPS 15 / XPS 13; Google Pixel 3 XL / 3; Surface pro 7; Additional USB-C laptops / smartphones that support the Display Port Alt Mode
Note: DOES NOT support the 2017 & earlier iPad models with Lightning Port.
OS Compatibility: iOS 12, Apple OS X Yosemite, Apple OS EI Capitan, Windows 10, Google Chrome OS.
Note: It is recommended to update the iPad Pro system to iPadOS 13
On the top flat surface of this hub, there is the brand name. On one of the long edges, there is just the USB-C port and on the other edge, there are all of the connectivity ports. The photos and the illustration below show the design and the types of ports.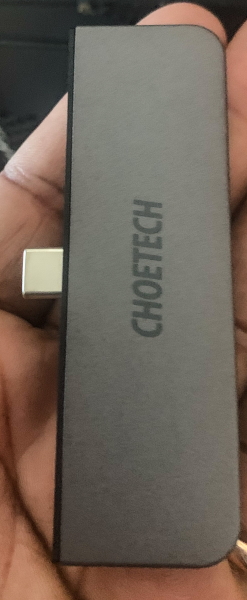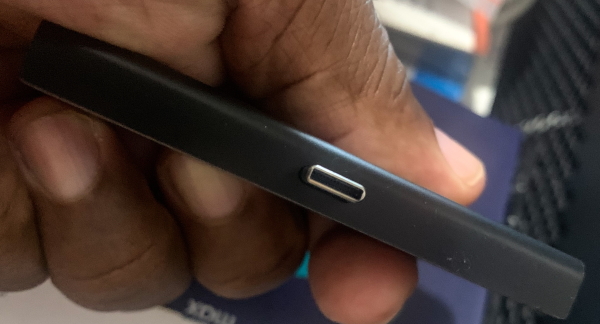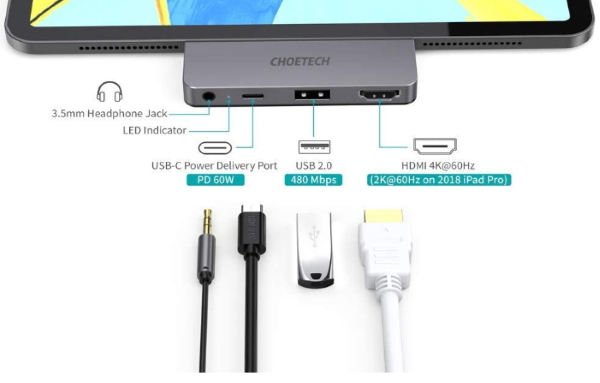 Performance
This hub is designed specifically for the iPad, and that is what I used for testing. It plugs seamlessly into the iPad's USB-C port and as you can see from the charging indicator on the iPad in the photo below, charging/powering via the USB-C port works.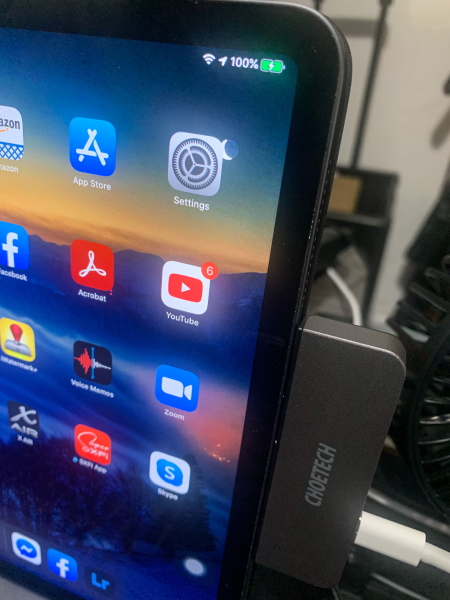 The illustration below shows the connectivity options that include headphones or speakers, a USB-A drive, a power adapter, etc. The USB-C port can also be used to connect to another device for data transfer.



The photo below shows a USB thumb drive plugged into the USB-A port on the hub, and in the second photo, you can see that the drive shows up as "untitled" (I did not name the drive when I formatted it) in the iOS Files app.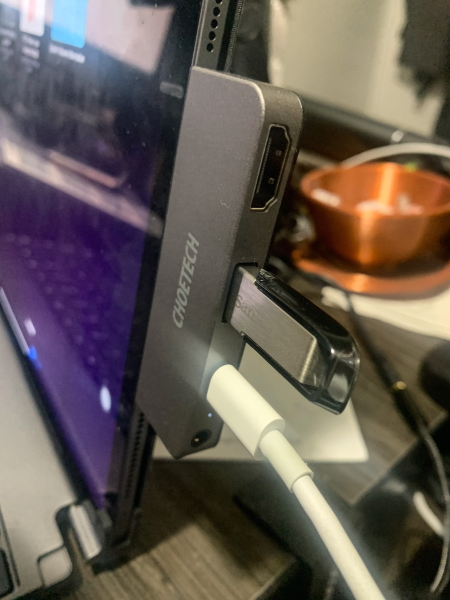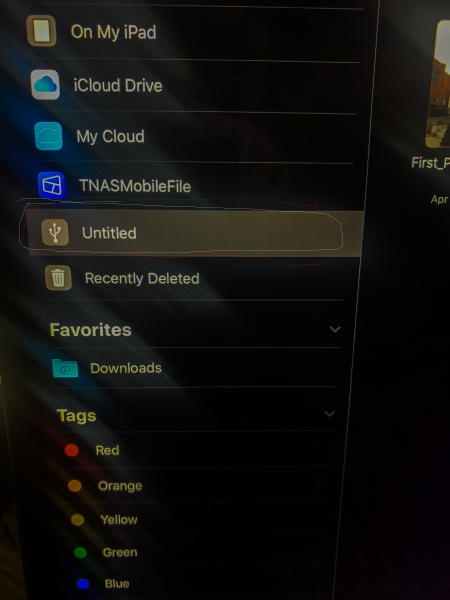 In this next photo, I have a second screen connected via the HDMI port on the hub.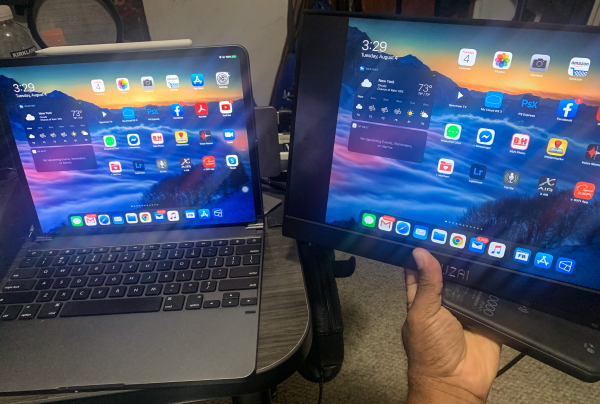 These last 2 photos show my iPad connected to the RODECaster Pro that I use for my Podcast via a USB-C to USB-C cable and the Ferrite app and for call-in guests a USB-C to TRRS cable for use with Skype. This connectivity is for separate purposes and not simultaneous.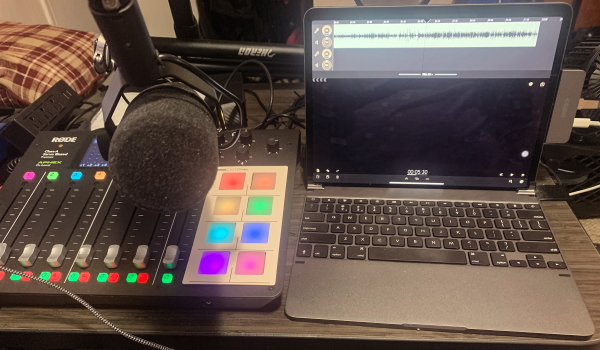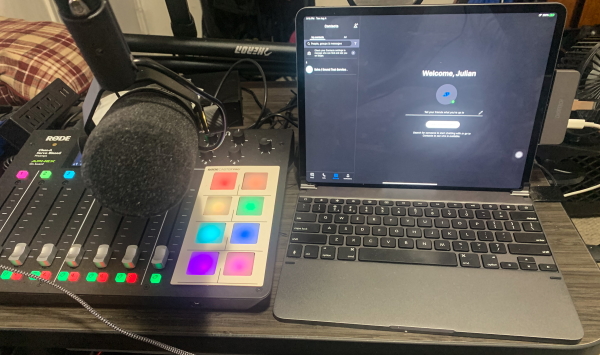 What I like
The compact size
The Plug and Play functionality
The flawless performance
What I'd change
I am not sure if this is possible, but I would like a second USB-C port so that one port allows for charging while another allows for bi-directional data. This would allow me to use for data with equipment while charging. I tried using a USB-A to C bi-directional cable to solve the data issue but it does not work
Final thoughts
The Choetech 4 in 1 hub is a great tool to have and a great addition to my daily workflow and also for some specific tasks that I require for my Podcast recordings. It works flawlessly and while it is not the perfect solution for me, it is more than worth the price. Well done.
Price: $24.97
Where to buy: Amazon
Source: The sample for this review was provided by Choetech