We use affiliate links. If you buy something through the links on this page, we may earn a commission at no cost to you. Learn more.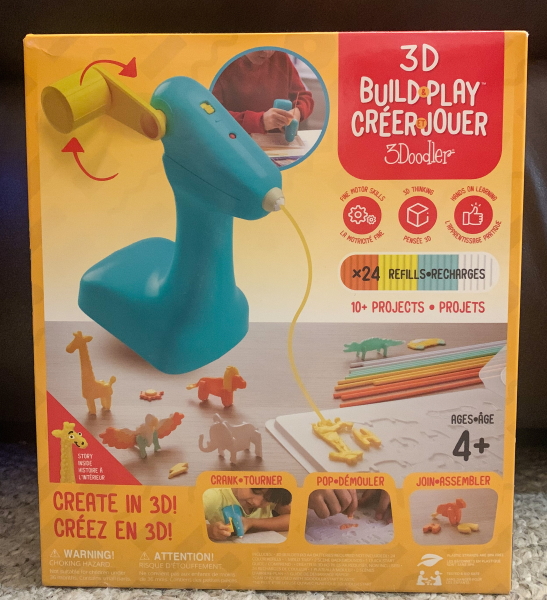 REVIEW – I am a major 3D printing fan, and I own four 3D printers and would love to own more. I have printed so many things including toys for the kids that they too have become fans of 3D printing. The problem is that they want to tinker and print for themselves and at their ages, I cannot let them get near to my printers!! So what do I do? Enter the 3Doodler 3D Build & Play 3D Printing Pen.
What is it?
The 3Doodler Build & Play 3D Printing Pen is designed for kids 4 years and older and includes special molds to allow kids to create designs, some of which follow read-along stories. It is designed to promote STEM learning for kids. 3D Build and Play is compatible with all kid-safe 3Doodler Eco-Plastic.
What's in the box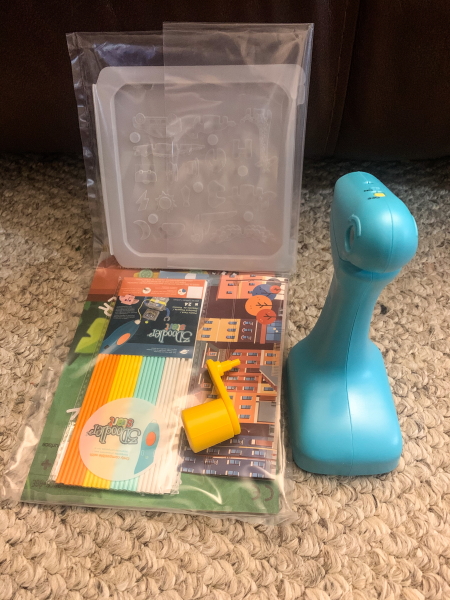 1 x 3D Printing Pen
1 x Crank Handle
24 x Plastic Refills
1 x Plastic Model Mold
1 x User Guide
Design and features
Features
3D IN SECONDS: 3D Build & Play by 3Doodler allows parents and kids to create in 3D in seconds.
BUILD & PLAY: Use the 3D Build & Play and molds to create Jim the Giraffe and his friends, and read along as you take them on a big adventure.
EASY TO USE: Designed to be fun and easy to hold and use, crank can be moved for Left- or Right-Handed users.
CHILD-SAFE: Using low-heat, BPA-Free, and Non-Toxic Plastic, 3D Build & Play is completely safe for kids to use.
STEAM LEARNING: Teaches fine motor skills, hands-on learning, and three-dimensional thinking.
EXTRAS: Includes free molds for easy to make characters and objects (animals, weather, and accessories)
On the top of the 3D Pen, there is an on/off switch and a power indicator light, and at the bottom, there is the battery compartment.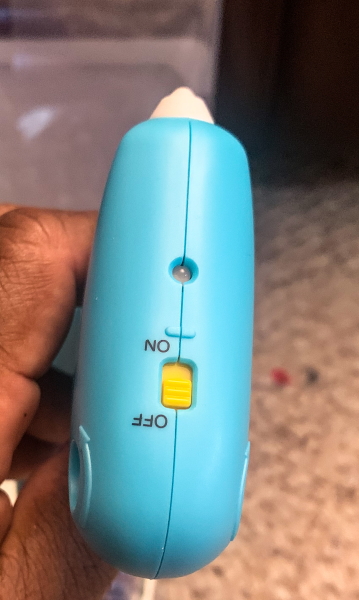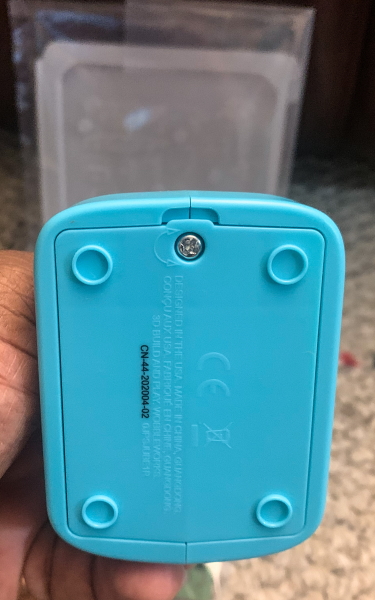 On the top front there is the nozzle where the plastic comes out and at the top back is the hole where the plastic is fed into the 3D Pen.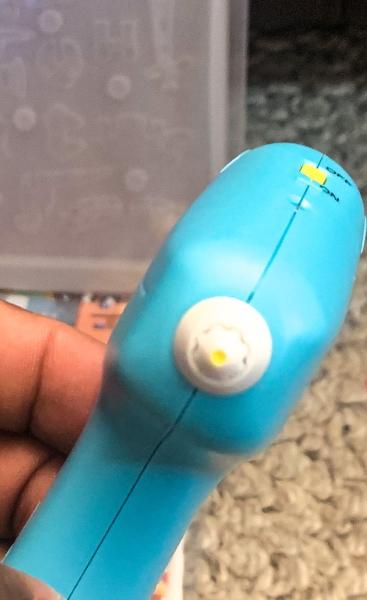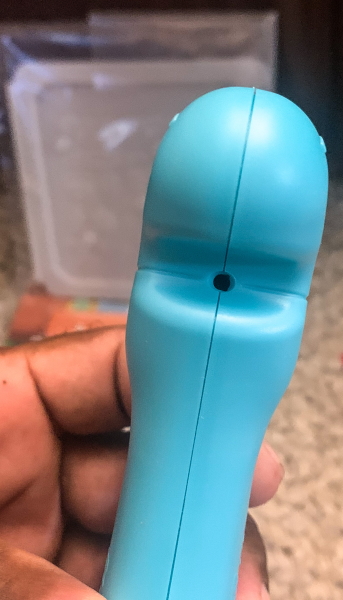 On each side, there is the insert for the crank handle and marking to show the direction in which the crank handle should be turned to extrude or retrieve the plastic. The handle can be used on either side to accommodate left-handed and right-handed users.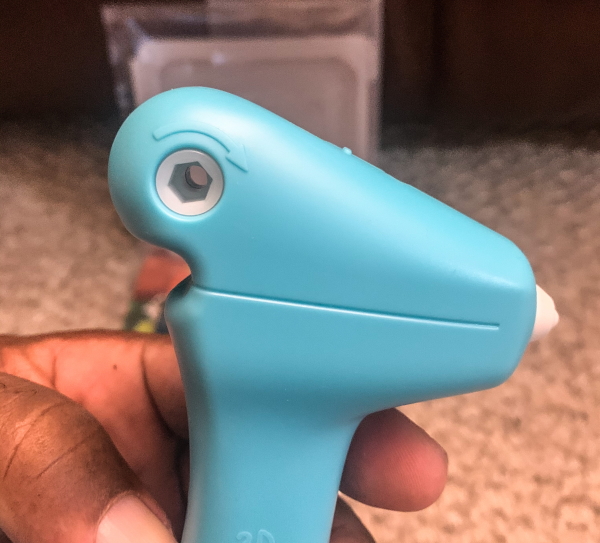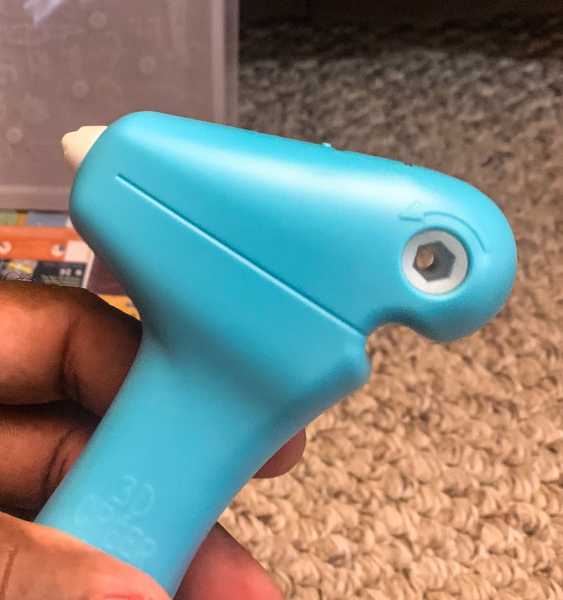 Below is a photo of the crank handle.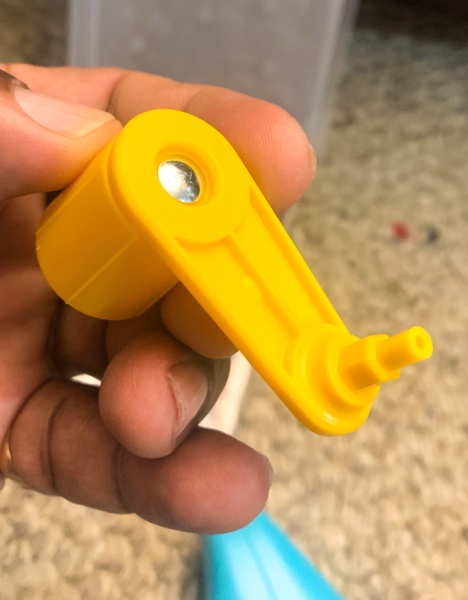 Performance
To get started, you have to install batteries.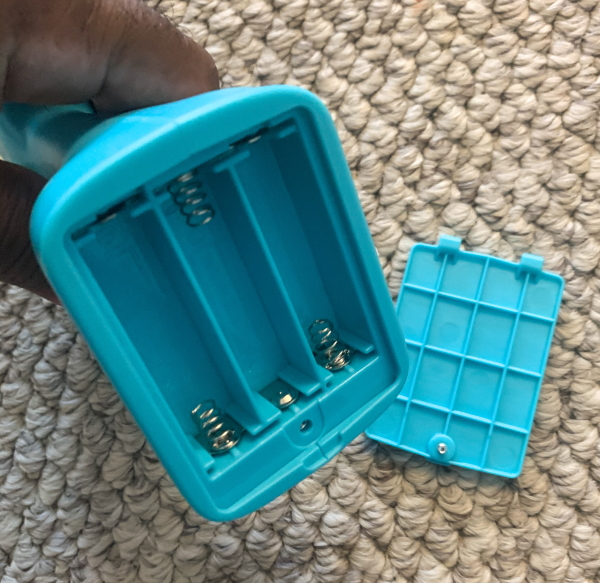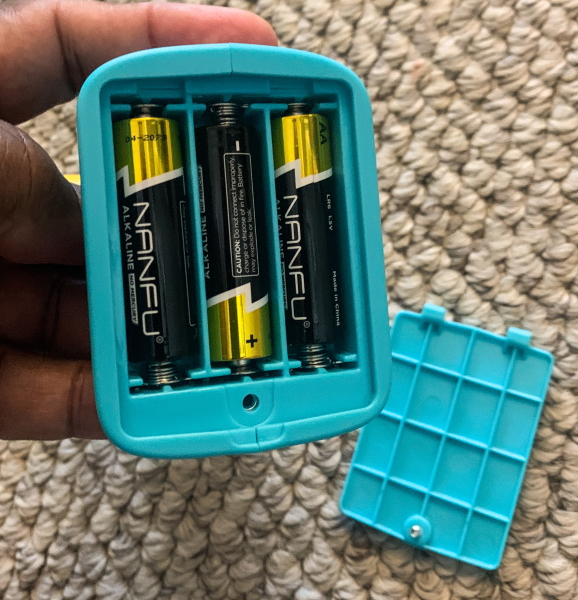 Next, simply turn it on, insert a colorful strand of material, and crank the handle to bring animal characters to life. As my kids used it I could see its ability to help them to improve fine motor skills while engaging in reading and interactive story building.
There is an accompanying app that brings the creative process to life.
Screenshots from the APP: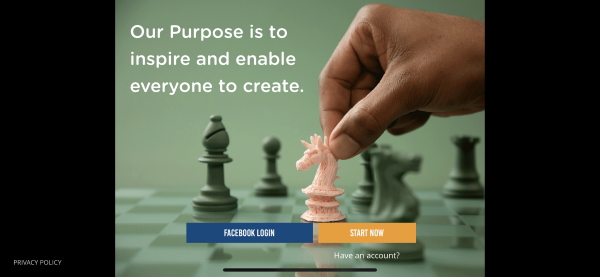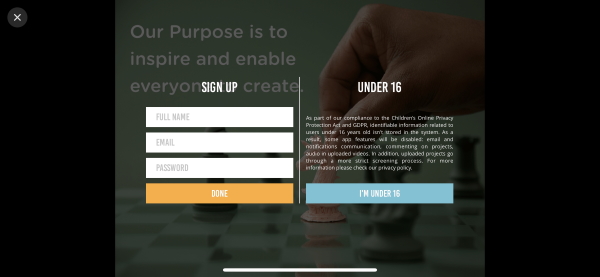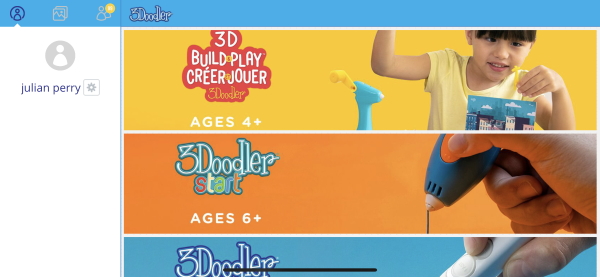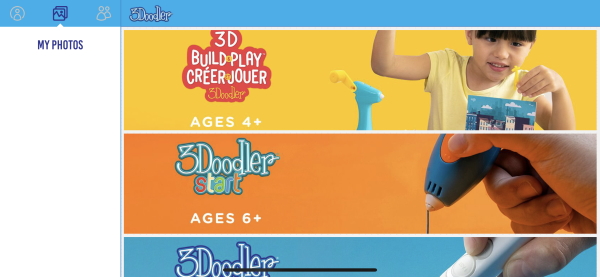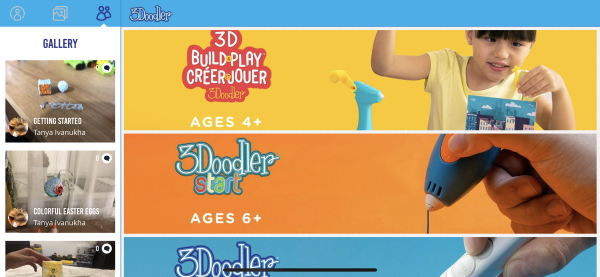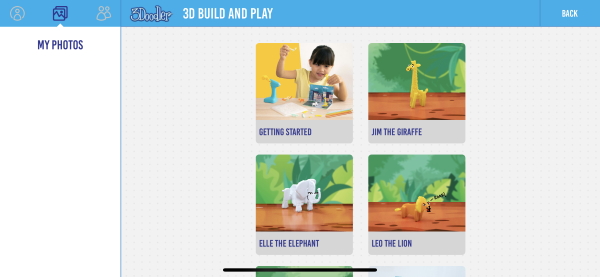 For this example I chose "Elle The Elephant" option: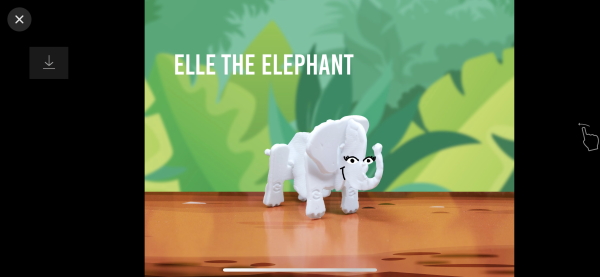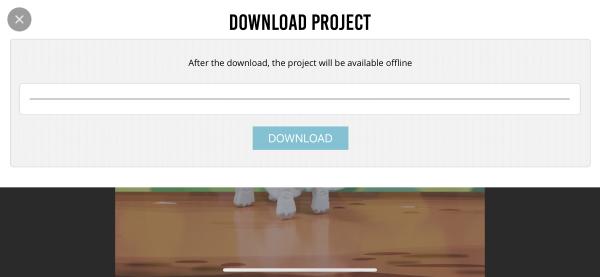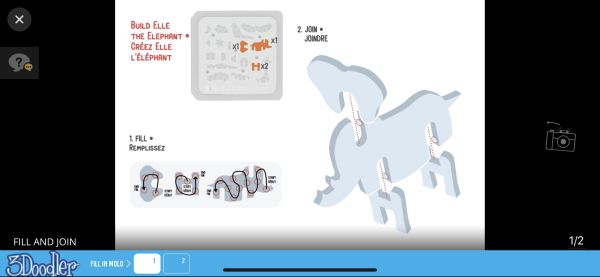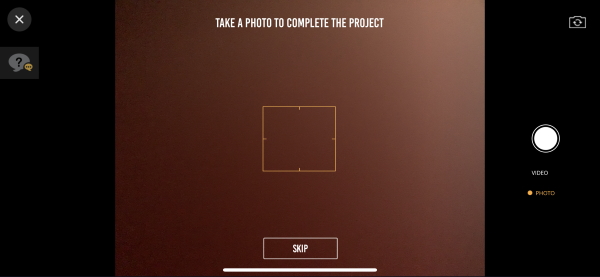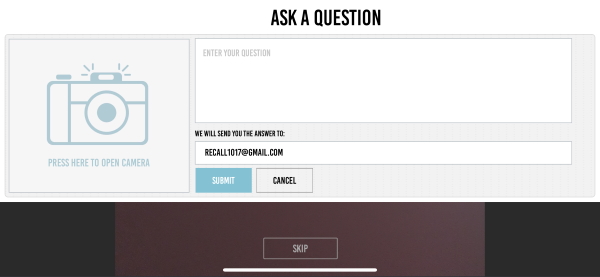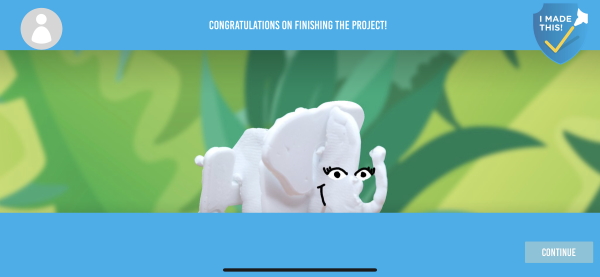 Working with the pen
There is an on/off switch on the top of the pen. When turned on the LED lights red and green once ready.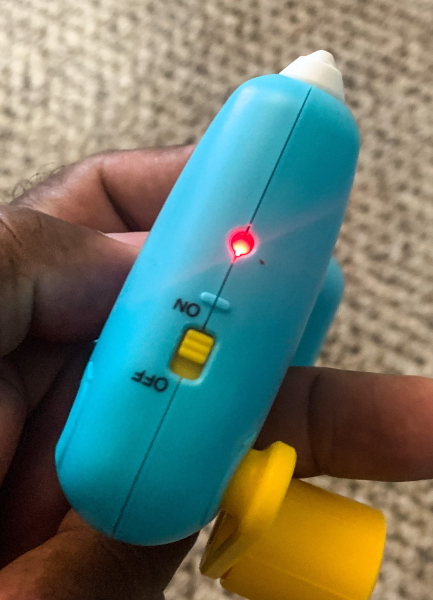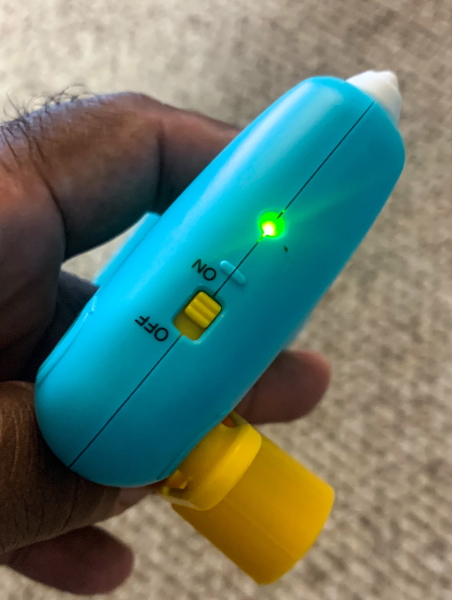 My kids had a lot of fun using the pen.
The photo below shows how the filled mold looks after it is filled and hardening.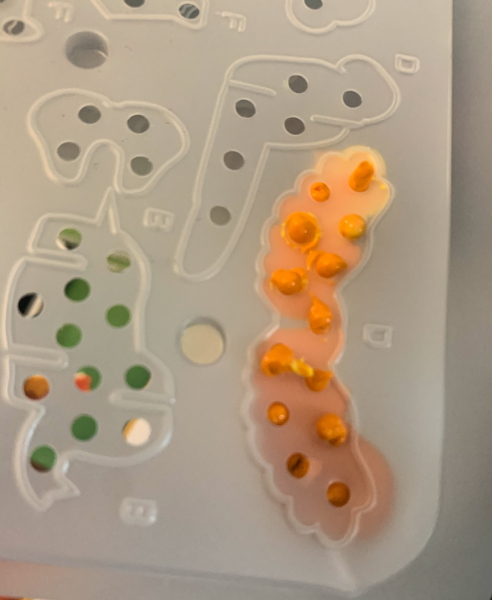 Here are some samples of the resulting models that my kids created: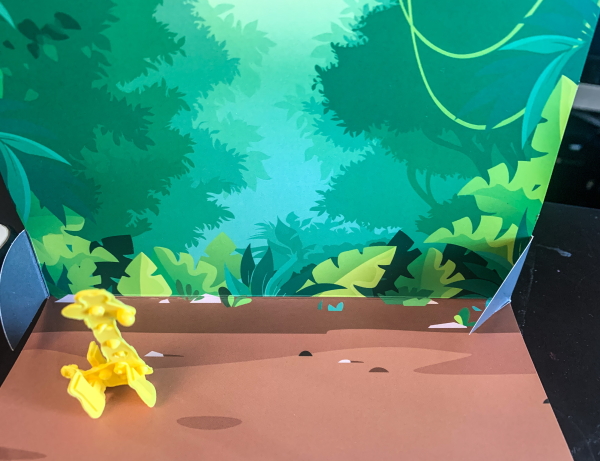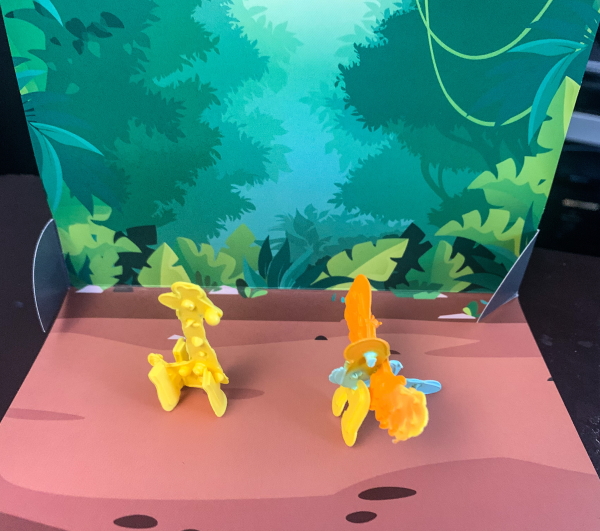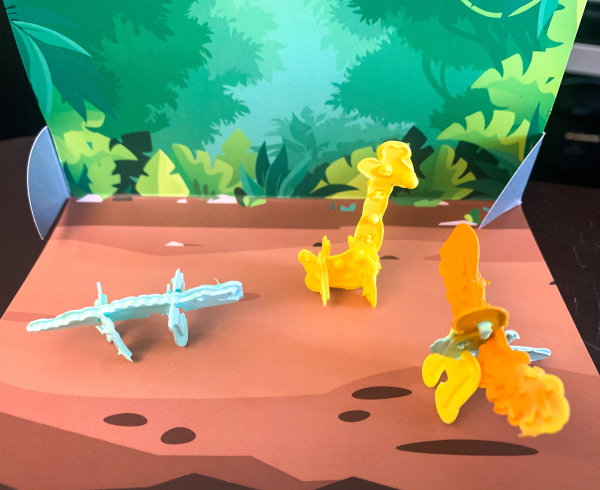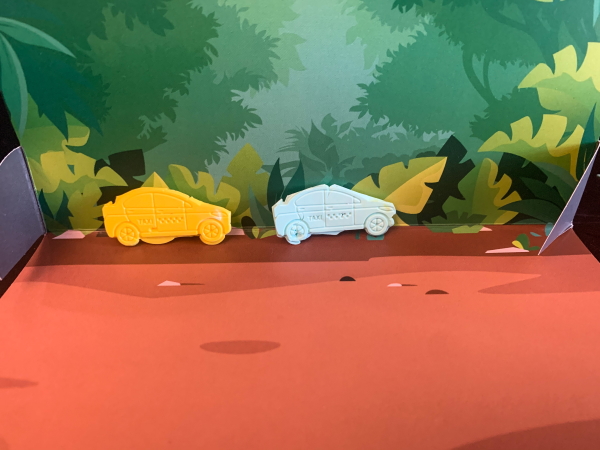 What I like
The simplicity of the design
The ease of making the models
The fun and imagination it provides for kids
What I'd change
I would like the mold to be a bit stiffer and to be able to make the models a bit thicker
While I can find plastic refills on their website, I could not find additional molds. If I am correct then more molds offering more printing options should be made available.
Final thoughts
The 3Doodler 3D Printing Pen is a nice toy for kids who want to explore the concept of 3D printing at an early age and get a good idea of what they can create with their imagination. In my opinion, for the price, it is a good deal.
Price: $29.99
Where to buy: 3Doodler website and Amazon
Source: The sample for this review was provided by 3Doodler