We use affiliate links. If you buy something through the links on this page, we may earn a commission at no cost to you. Learn more.

REVIEW – Whether we like it or not, dongles, docks, and hubs are here with us to stay. With most laptop manufactures eliminating the classic suite of ports many of us still need, others have stepped in to create a wide variety of solutions to fill this gap. Now I love a sleek and slim laptop like the rest of you but also know the struggle of having to workaround that same "optimization" as well. To help, Anker has recently released a very nicely endowed Thunderbolt 3 dock engineered to provide you with (pretty much) every port you might need these days…let's see if it lives up to its potential. 
I do suggest before buying a Thunderbolt or USB-C dock, dongle, and/or cable you do a bit of research into the subject…cause the devil is definitely in the details, especially in this case. Based on the port or cable, often it is difficult to know what you have at first glance. Then add in the fact you'll need to know what standards your laptop, monitor(s), other devices, etc have, all makes for a pretty complex equation. Too many times I have tried a cable, and based on the plugs should work only to find out that it doesn't due to whatever reason.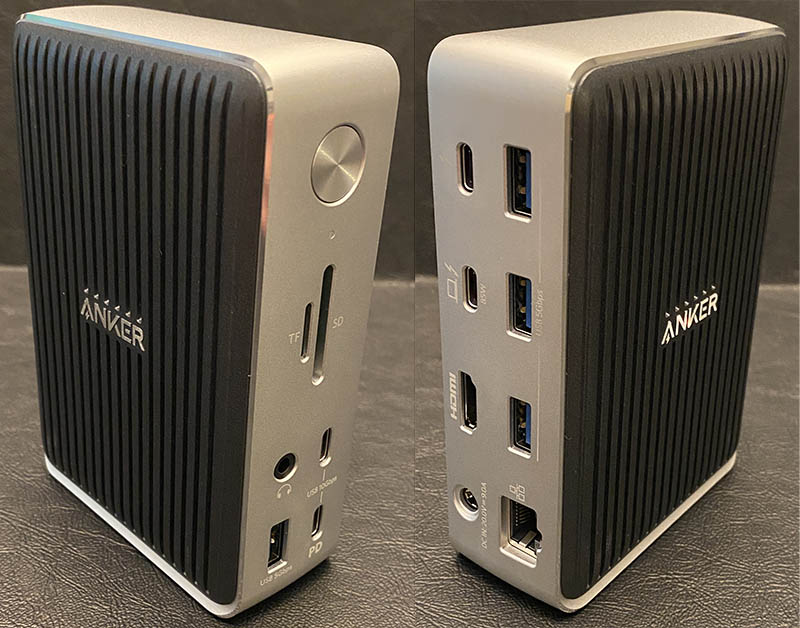 What is it?
The Anker PowerExpand Elite is a 13-in-1 dock with multiple power delivery and nearly every type of data ports one could need, all connected to your computer via a single Thunderbolt 3 connection.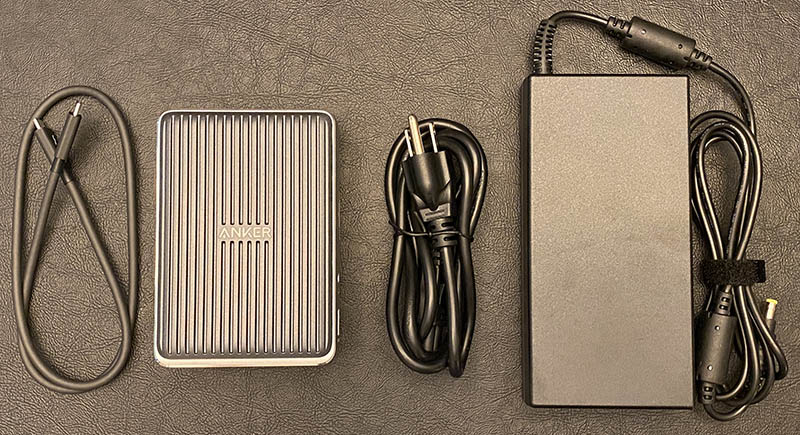 What's in the box?
PowerExpand Elite 13-in-1 Thunderbolt 3 Dock
180W Power Adapter
Thunderbolt 3 Cable (2.3 ft)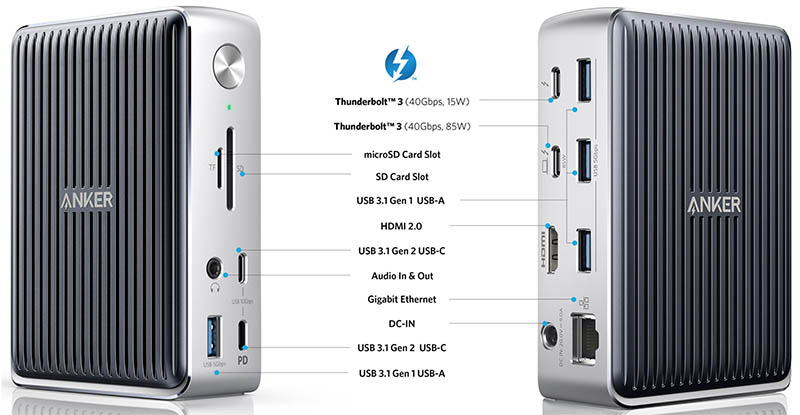 Hardware specs
Power: 180W DC Input
Compatible Operating Systems: macOS 10.12 or above / Windows 8/10 / iPadOS
Dimensions: 125.8 mm / 4.9 in x 88.5 mm / 3.5 in x 41.9 mm / 1.6 in
Weight: 490 g / 17.3 oz

Port Overview:
– SD Card Slot (SD 4.0 UHS-II)
– microSD Card Slot (SD 4.0 UHS-II)
– Audio In & Out
– USB-C Port (4.5W, 10Gbps)
– USB-A Port (7.5W, 5 Gbps)
– USB-C Port (18W, 10Gbps)
– Thunderbolt 3 Port (15W, 40 Gbps)
– Thunderbolt 3 Port (85W, 40 Gbps)
– 3 x USB-A Port (4.5W, 5 Gbps)
– 4K HDMI Port
– Gigabit Ethernet Port
Design and features
The PowerExpand Elite 13-in-1 Thunderbolt 3 Dock is one of Anker's latest power and port solutions for Thunderbolt enabled laptops. In addition to providing 85W of power to your laptop, the PowerExpand Elite gives you a wide variety of ports from a miniSD card slot to a ethernet jack. It charges your multitude of devices, connects all your peripherals, and enables you to utilize multiple monitors.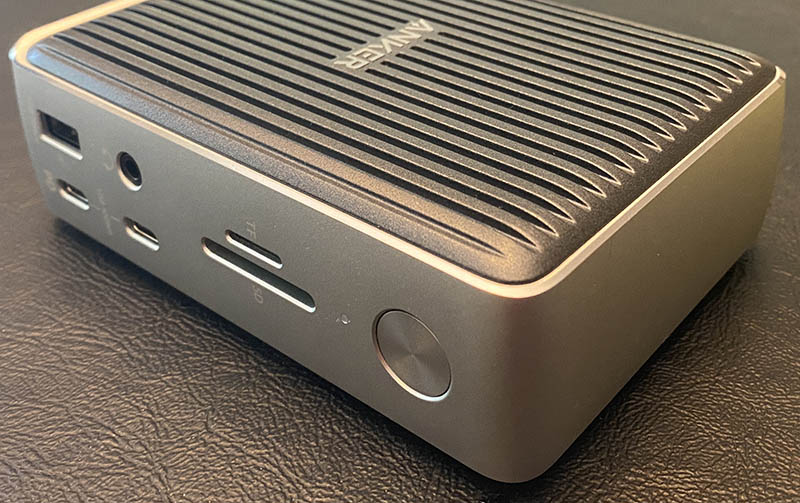 The PowerExpand Elite dock is well constructed with a machined aluminum housing and rubber on the sides and base. The aluminum is sandblasted with a look that goes well with most desk's feng shui these days. Weighing in at more than a pound, the dock has a nice quality heft to it that keeps it from sliding around your desk.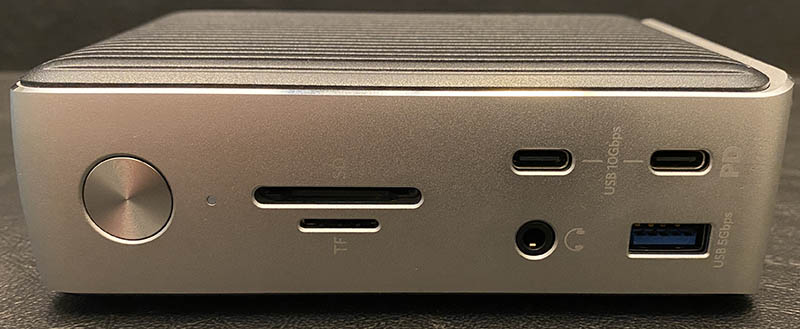 The front of the Anker PowerExpand Elite has a large, well placed power button, LED power/connection indicator, standard and micro SD card slots, 2 x 3.1 Gen 1 USB-C ports, 1 x 3.1 Gen 1 USB-A port, and a headphone jack.

The back of dock has a gigabit Ethernet port, 4K HDMI port, 3 x 3.1 Gen 1 USB-A ports, 2 Thunderbolt 3 ports, as well as the 180W DC input power port. I was a little surprised Anker didn't include a DisplayPort or Mini DisplayPort in the back in addition to the HDMI port. I would have easily traded one of the USB-A ports for another video out port. Though I have discovered if you want a DisplayPort and multiple HDMI connections, Anker has also release a nearly identical dock called: The PowerExpand 13-in-1 USB-C Dock as an alternative.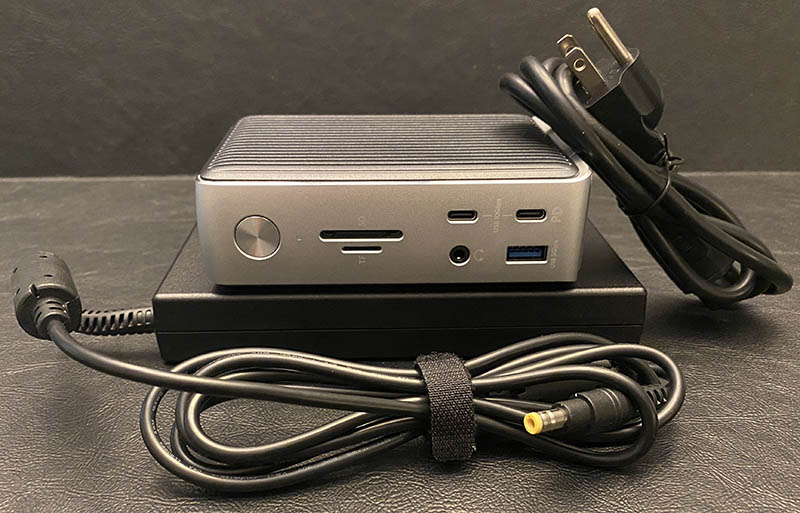 The power brick is impressively massive but needed to provide power to everything that could potentially be connected to the PowerExpand Elite simultaneous. Really not that big of a deal (at least for me), since the brick lives under my desk, out of sight, out of mind 😉 .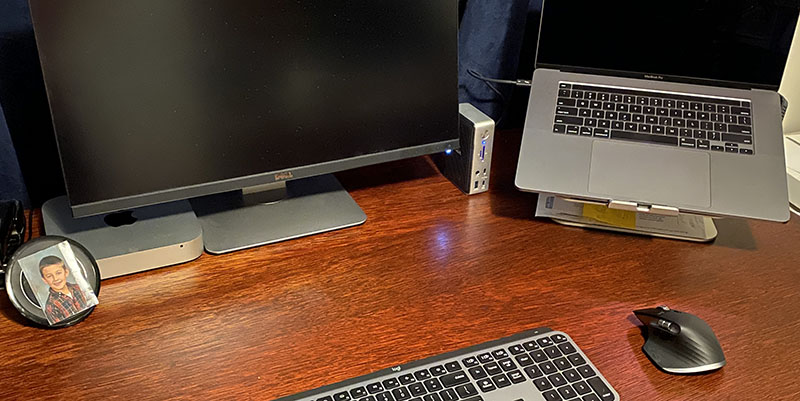 Setup
Setting up the Anker PowerExpand Elite Thunderbolt dock is a snap. I spent more time under my desk getting the power brick situated and plugged in than it took to connect the dock to my monitor and MacBook Pro. It was quick and easy…everything worked. Once plugged in, you're good to go.
Performance
I did not conduct any benchmark tests on throughput or power delivery but did make sure files transferred quickly, my laptop & devices charged quickly, and my monitor worked without issue…and for my use case, the dock performed flawlessly. The PowerExpand Elite has 85W and 15W Thunderbolt 3 ports plus a front-facing 18W USB-C Power Delivery port for high-speed charging. Even though it "only" provides 85W, I was impressed with how quickly the dock topped off my extremely power hungry 16″ MacBook Pro during use. It charged all the devices (smartphone, mouse, keyboard, etc) quickly. 
The Thunderbolt 3 port supports 5K@60Hz and the HDMI port supports a resolution of 4K@60Hz. You can connect to both simultaneously "to enjoy crystal-clear streaming or mirroring across 2 high resolution displays". I believe with specialized cables you can support up to three monitors but that is far beyond my need. Though I am contemplating a Thunderbolt/USB-C enabled 4K monitor to replace my aging 25″ 1080p display I acquired years ago. 
File transfer speeds were great. Once again, I did not speed test, move massive files or do anything crazy. But according to Anker the USB-A has speeds up to 5Gbps, the USB-C is 10Gbps, this the Thunderbolt 3 port can support a whopping 40Gbps. That said, I did move decent sized files to and from SD cards and thumb drives and everything was very zippy. Though I do have one (interesting) caveat, I attempted to backup all of our family photos (10K+ files / 70gb) from our NAS to a 128gb thumb drive…in a single copy & paste. Well, the effort failed 3 times and I wasn't sure why. When I pulled it out to try a different drive, I discovered the metal of the thumb drive was crazy hot. So, my guess is that the operation was canceled cause of thermal issues. Once it cooled down, I moved the files in smaller chunks over time, everything worked without issue.
What I like
Very well made/quality materials
Wide variety of ports
Zippy file transfer
Fast charging
Excellent options for powering your devices
Small compact form factor
What needs to be improved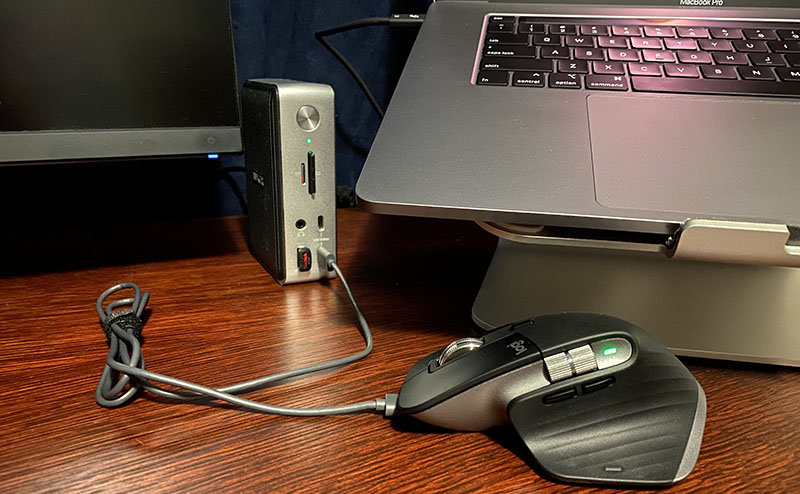 Final thoughts
Bottom line: I really like the PowerExpand Elite Thunderbolt dock and plan on keeping it on my desk as a great addition to my tech world. Anker has done an excellent job creating a dock with every port I currently need, fast charging, and Thunderbolt/USB-C/HDMI video output. The dock is well made, looks good, has a small form factor, and reduces cable clutter…all adding up for a definite increase in my tech-Zen. 
Price: $299.99
Where to buy: The PowerExpand Elite 13-in-1 Thunderbolt 3 Dock is available from Amazon.
Source: The sample of this product was provided by Anker.