We use affiliate links. If you buy something through the links on this page, we may earn a commission at no cost to you. Learn more.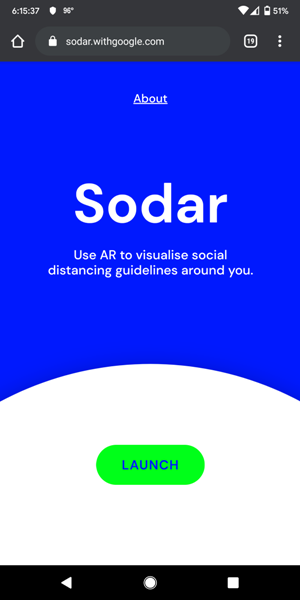 NEWS – Have you been wondering how far you should be from someone in order to adhere to social distancing guidelines? Most people just estimate. However, using the Google Chrome app for Android devices that are augmented reality (AR) compatible will take the guesswork out of it. You will be able to get a visual of that distance using your Android phone. To do this, you'll need to go to sodar.withgoogle.com and tap on the "Launch" button.
The website will tell you that it wants to "create a 3D map of your surroundings and track camera position", so tap on "Allow". It will then ask you for permission to take pictures and record videos, so tap on "Allow". Next, you will need to tap on the green "Launch" button.
It then states, "To find the ground, point your phone down and move it around". Finally, it will show you the proper distance (in meters) you need to be to follow social distancing. Two meters is little more than six feet (2 m = 6.6 ft.). I was surprised to see just how far away that distance was. I guess I'm not a good judge of distance so this helped me to better understand just how far we should be to practice social distancing. Plus, it's just fun to use!