We use affiliate links. If you buy something through the links on this page, we may earn a commission at no cost to you. Learn more.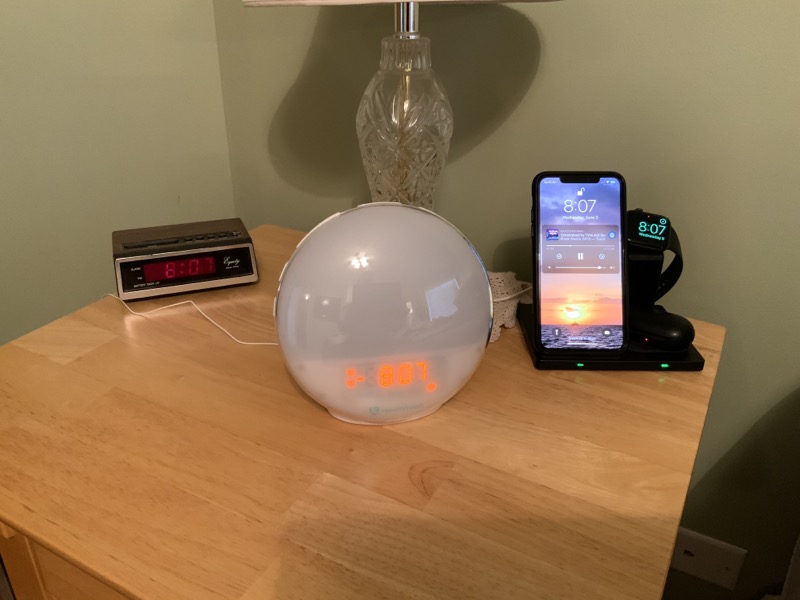 REVIEW – Sometimes it can be hard to get up in the morning. Anything that can help you get up and start your day off better is a good thing. One thing that can help is an alarm clock that wakes you up with soothing sounds and gradually increasing light levels, as if the sun was shining and the birds were chirping outside your window.
What is it?
The HeimVision A80S Sunrise Alarm Clock is a bedside alarm clock with a large built-in circular panel that contains 7 different colored LEDs in up to 20 brightness levels, to be used as a sunrise or sunset simulation or just a nice colored light when you don't want to be left in the dark.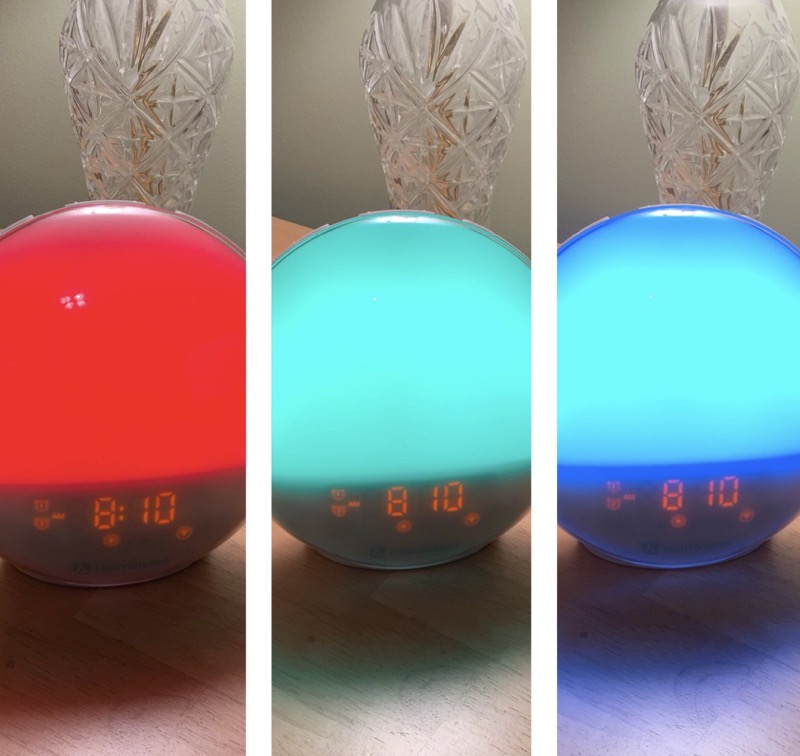 In addition to the lighting effects, the A80S has a built-in sound generator. Choose from 7 different sounds including birds chirping, waves crashing, and wind chimes. These sounds can be used as the alarm sounds to wake you up in the morning or a soothing sound to fall asleep to at night.
There is also a built-in FM radio so you can wake up to your favorite radio station or listen while you get ready in the morning. As with most alarm clocks, there is a snooze feature. Snooze time is adjustable from 8 – 15 minutes. There are two alarms that can be set with the buttons on the alarm clock but if you download the Smart Home app you have access to two more alarms. I'm a fan of setting multiple alarms at night, just in case I accidentally turn one off instead of hitting the snooze button. I don't need four alarms every night, but they can be set differently for different days of the week or the weekend.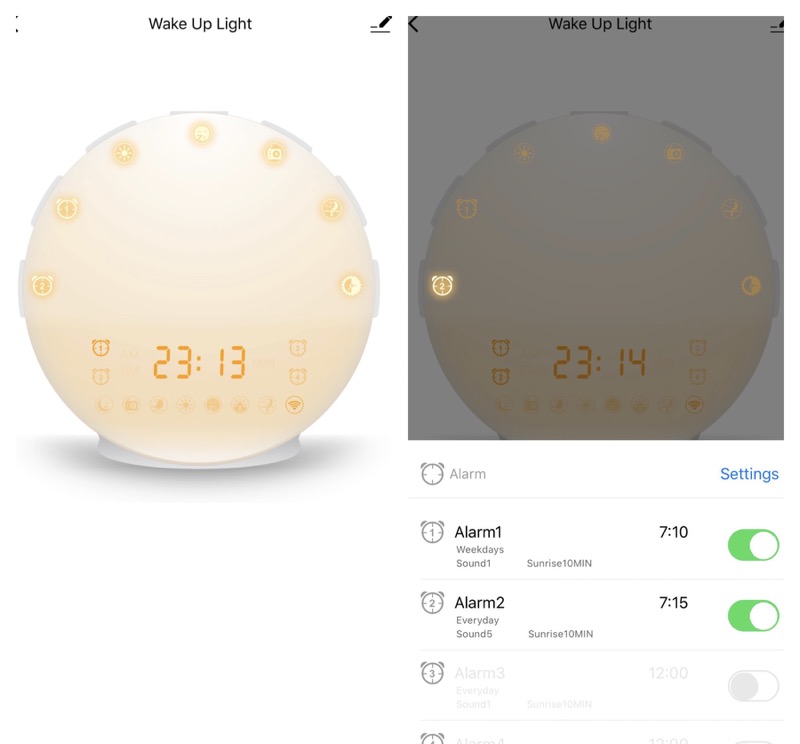 There's even voice control, supporting Amazon Alexa, Google Assistant, AliGenie, DuerOS, and Rokid. For iPhone fans there is no Siri control. Maybe that can be added in a future firmware update. You can also use voice control directly inside the Smart Home app if you don't want to set up any of the other smart assistants.
The clock even supports setting its time over the internet if you have it connected to WiFi, making sure the clock always has the right time. In addition there's a button-cell backup battery to keep the time set during a power outage.
If you're the type who doesn't like any lights on while you're in bed the time display can be turned off so you're not bothered while you're trying to sleep.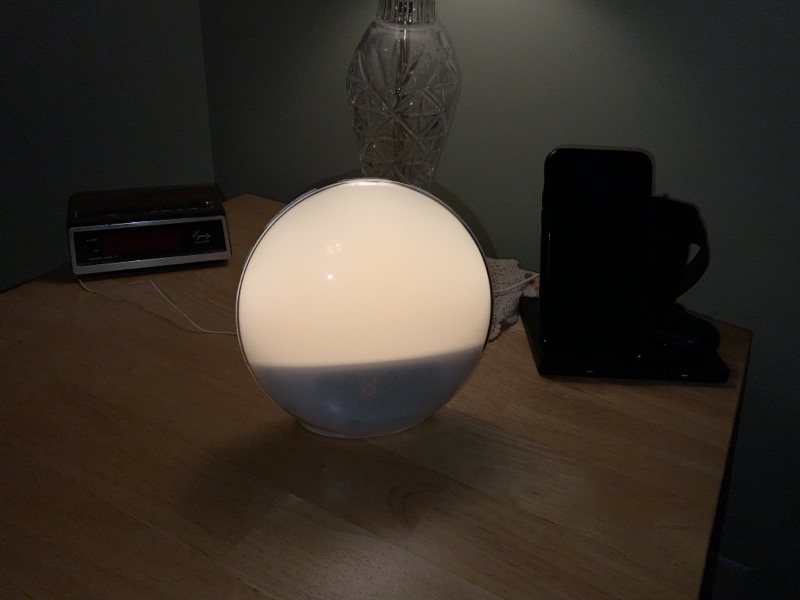 What's in the box?
HeimVision A80S Sunrise Alarm Clock

USB charger

USB-A to Micro-USB

Product Manual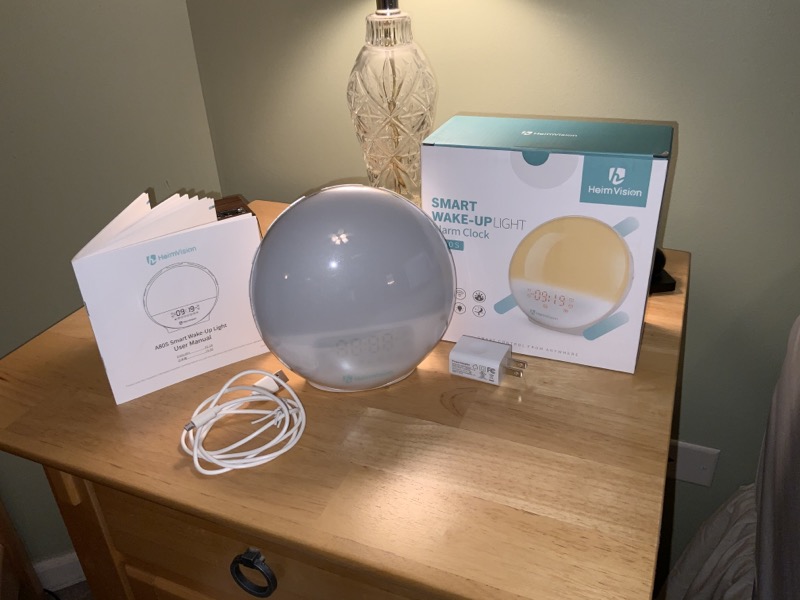 Hardware specs
Sunrise Simulation: Yes

Sunset Simulation: Yes

Wireless Speaker: No

Music Atmosphere Light: No

Snooze function: Yes

Natural alarm sounds: 7

Alarm setting: 4

Brightness Setting: 20 levels

FM radio: Yes

Controlled by App: Yes

Product Dimensions: 6.5 x 6.5 x 2.8 inches

Item Weight: 1.15 pounds
Design and features
The A80S is a round, white device with a flat base for setting on a night stand or desk. There is a small antenna wire permanently attached for the FM radio. On the back side there's also a Micro-USB input and a 1.5 A USB output for charging a phone or other device.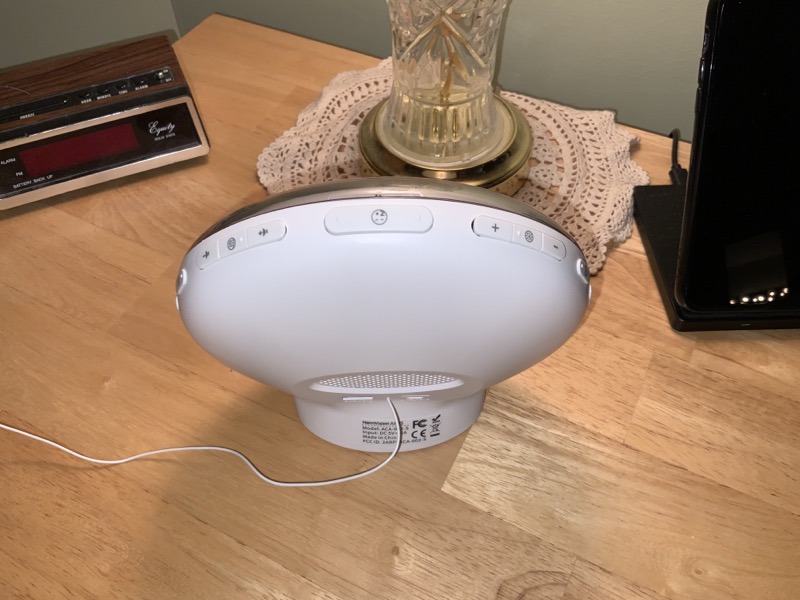 Installation and setup
Basic installation consists of simply plugging in the alarm clock with the included USB charger and cable and setting the time and the alarms you wish to have enabled. Many of the features are available through buttons around the top and sides of the clock. The extra two alarms, voice control features, network time, and several more advanced features are available through the Smart Home app. There are even automations as well as custom voice controls available for many of the features, making it easier to enable your normal alarm settings, bringing up your favorite radio stations, and even turning the light on and off.
Setting up the Smart Home app is similar to the setup process for many smart devices – you enable the clock's WiFi, connect to it through your phone's settings app, then provide your home's network details, and it syncs up. The Smart Home can also connect to smart switches, smart lights, kitchen appliances, video cameras, and other smart devices.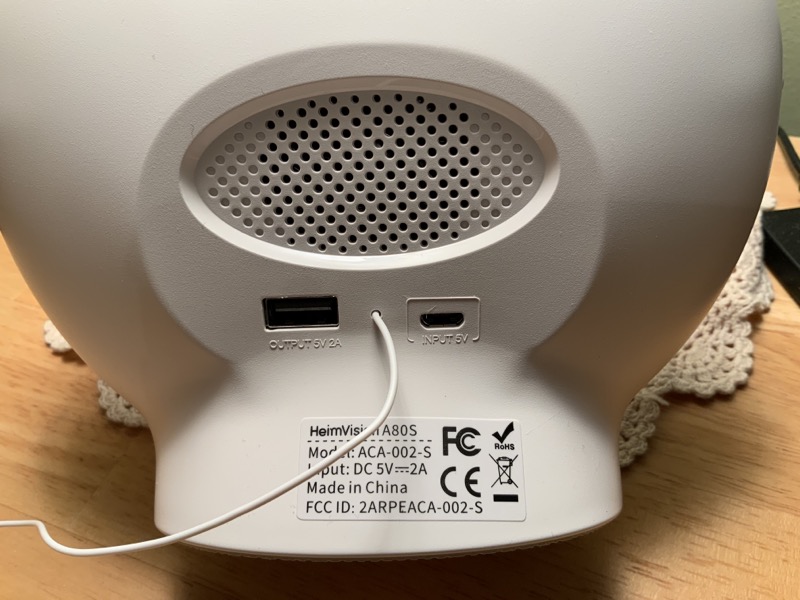 What I like
I've wanted to experiment with smart, color changing lighting for a while, something I can tie in with an alarm to help me wake up in the morning. This smart alarm clock provides this and more. I also like the wake up sound options vs. the annoying siren or buzzing sounds most alarm clocks offer.
What I'd change
As an iPhone user, I'd like to see Siri support added. USB-C support in future models would be nice, too, since just about everything is moving that way.
Final thoughts
With a sleek design, smart lighting and alarm features, radio, and voice control capabilities, I'd consider this a great deal for the price.
Price: $39.98
Where to buy: heimvision.com or amazon.com
Source: The sample for this review was provided by HeimVision.