We use affiliate links. If you buy something through the links on this page, we may earn a commission at no cost to you. Learn more.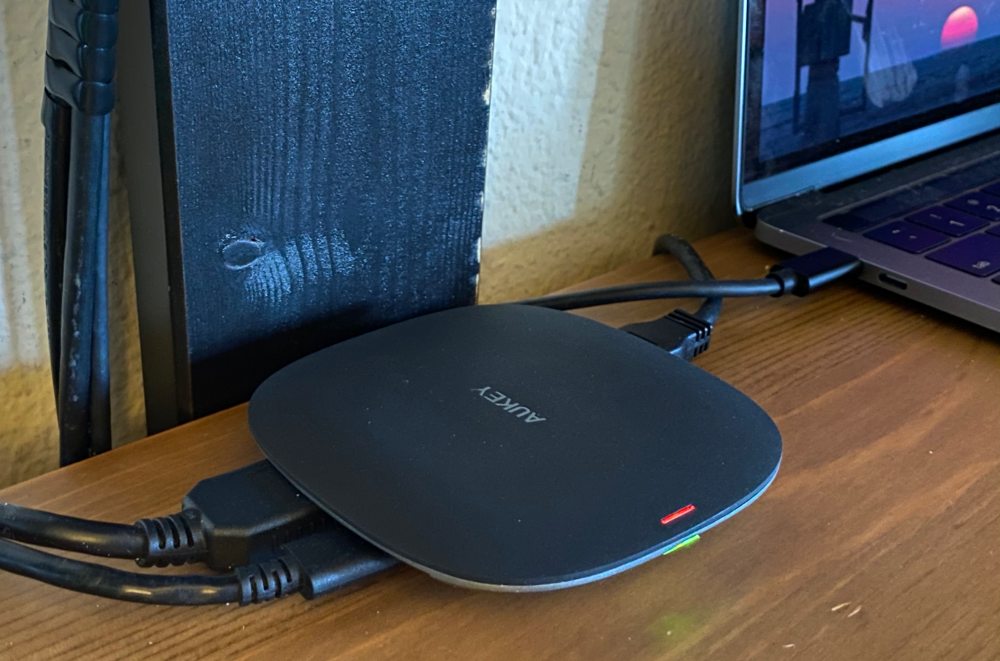 REVIEW – I really like connecting to external monitors when jumping into a project or researching anything that requires multiple windows being open. I don't like connecting multiple cables to make that happen, so a good hub, dock or adapter is required for USB-C laptops. Aukey has a newer hub aimed at that exact problem with a sweet set of features keeping the footprint small but maximizing functionality. Let's take a look.
What is it?
Aukey's CB-C70 is a USB-C hub for your laptop that includes connections for HDMI, USB-A and a wireless Qi charger in a single unit while providing USB-C PD power to the connected computer.
What's in the box?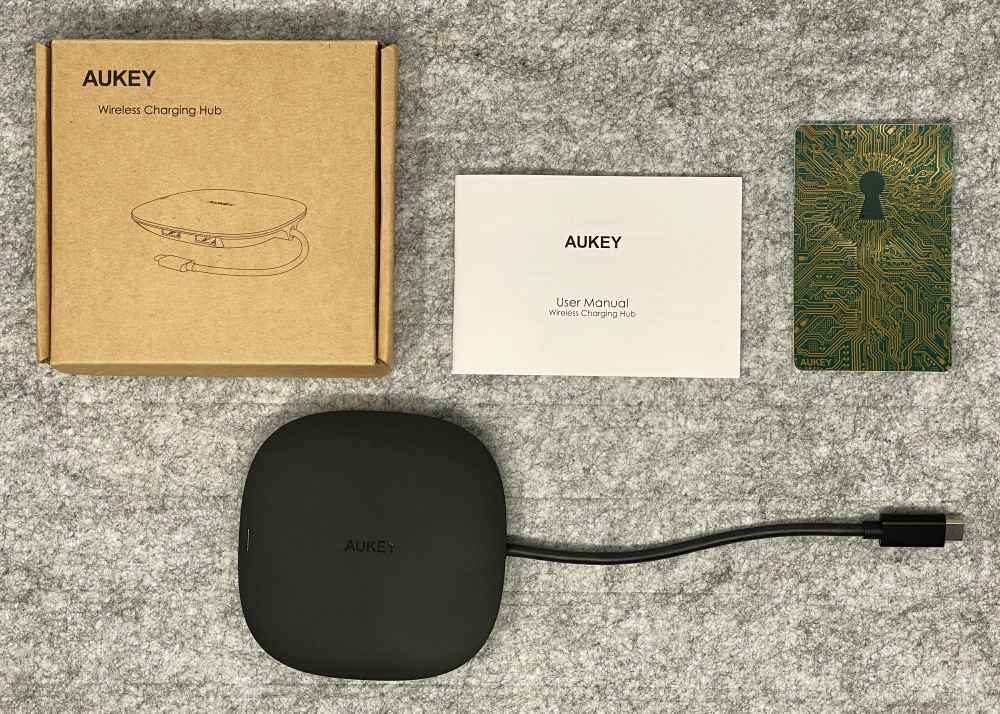 CB-C70 USB-C Hub
User Manual
Product Warranty Sticker
What's not in the box that you'll need:
USB-C Power adapter – the one that came with your computer should work
HDMI cable
Hardware specs
USB-C Power Delivery: DC 5-20V/5A (up to 100W)
Max Qi Wireless: 10W (when a power adapter and laptop are connected)
USB-A 3.0 Data Ports: DC 5V 900mA Max (up to 5Gbps)
HDMI Resolution: Up to 4K@30Hz
Cable Length: ~15mm including connector
Dimensions: 92 x 92 x 16mm and 148g
Design and features
The CB-C70 dock is a condensed little unit that connects between your laptop and a USB-C charger.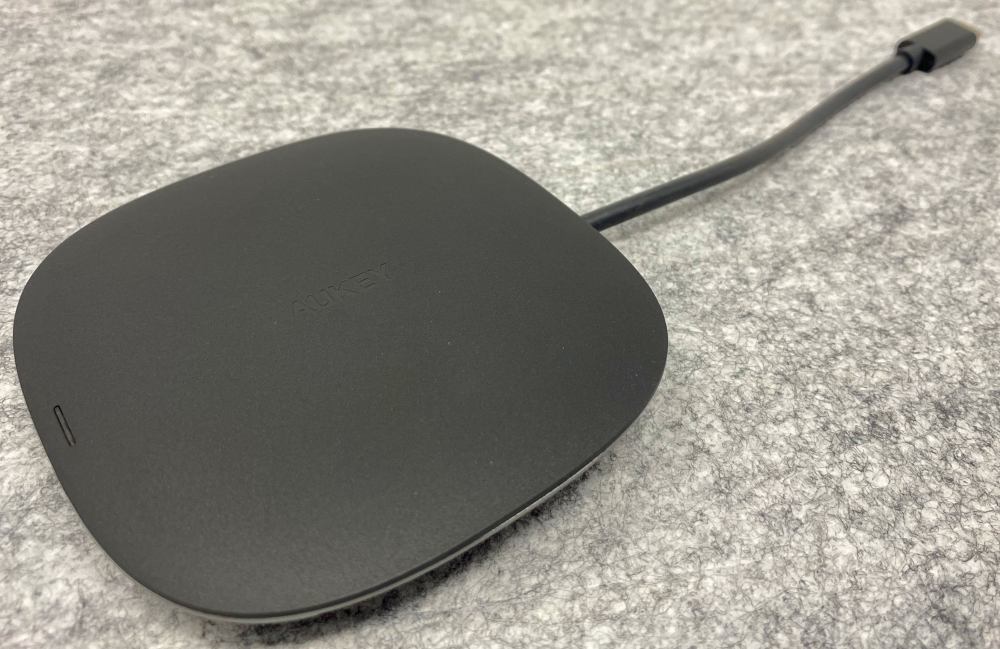 That connection provides up to 100W via Power Delivery to keep your laptop fully charged. The top of the unit is also a wireless Qi charger that will power compatible devices at rates of up to 10W. Both of these features require a power adapter to be connected.

On one side is the USB-C port for power input and an HDMI port for connecting an external monitor. The other side has two USB-A connectors for any compatible peripherals.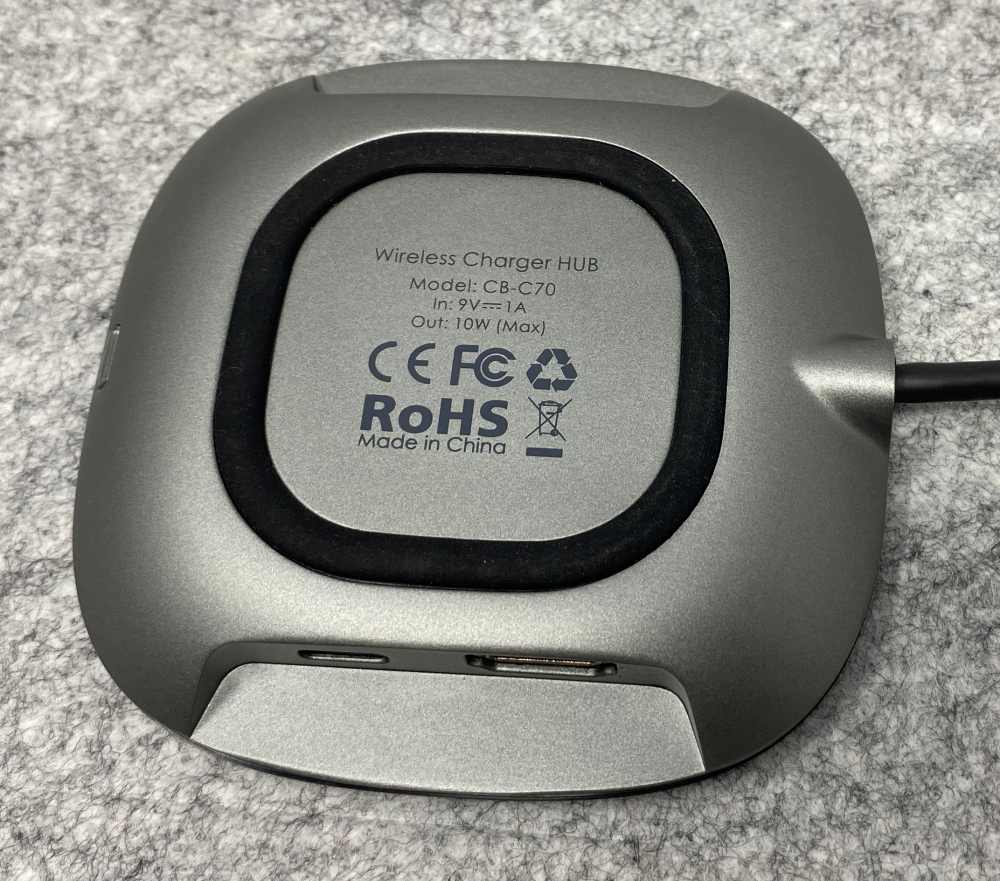 The bottom has a raised elastomeric ring providing a stable base to rest on.
Setup
Setting up is easy. First connect the USB-C cable from the hub to your computer. The LED on the bottom edge of the hub will light up green once attached.
Connect your own USB-C power supply to the USB-C port next to the HDMI connector on the side of the hub. That power supply should be a minimum of whatever came with your laptop. I tried two different chargers from previous reviews (a 90w and a 65w) without issue. The top LED will light up red while the bottom will remain green. You should be able to confirm that your laptop is now charging.
You're now able to connect any USB-A accessories, like flash drives. Note that these are these ports are lower power at 900mA so better for non-charging needs. The good news is you can charge your Qi-compatible smartphone or earbud case by placing either on top of the CB-C70 hub.
To use an external monitor, you'll need to connect it via HDMI to the port on the side of the hub. If you also need USB connections to your monitor you'll need to provide your own cable and connect that to one of the USB-A ports on the hub. Note that you may need to adjust your display settings after connecting the first time.
Performance
I recently needed to hand over my office for my wife's daily use. I created a workstation upstairs converting a small desk to something more useable with an extra leaf from the dining room table, wall mounting my monitor with some left-over ikea parts. Turned out pretty well as you can see.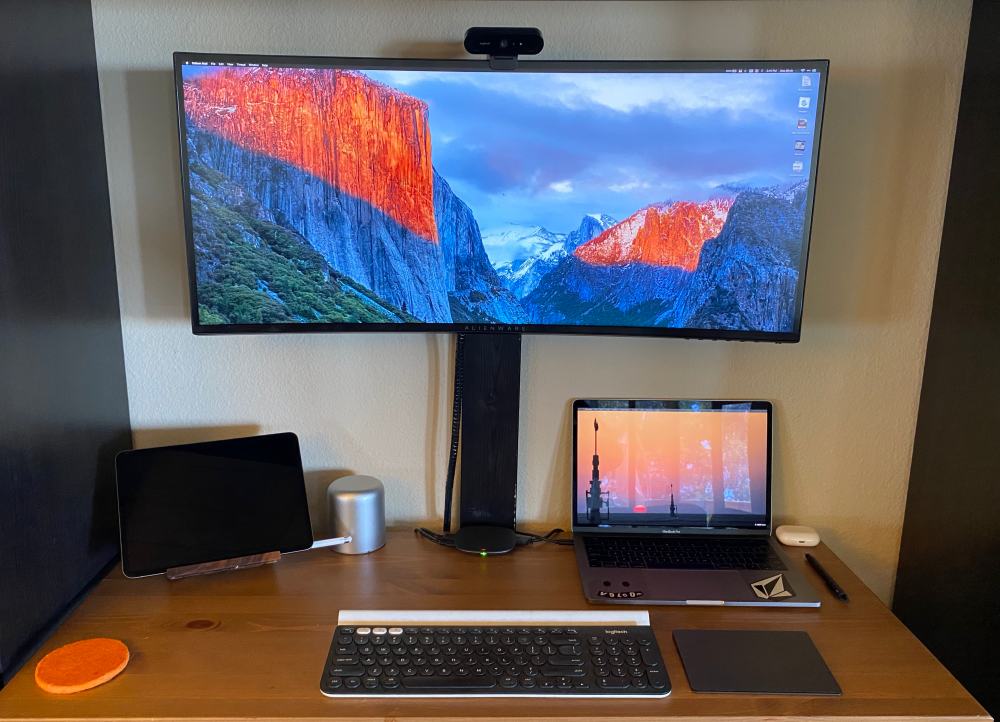 The Aukey CB-C70 really simplified the set up as it just works out of the box. After connecting to my laptop, and to the HDMI cable, my external monitor sprung to life and displayed at 3440 x 1440. There was nothing I needed to adjust. In fact I was able to use the hub to drive my monitor without connecting the power adapter. Granted my laptop was no longer charging, nor would the Qi charger work in that case, but for the small size that means it will function well as portable hub to use on the go when you just need to connect to a monitor and present.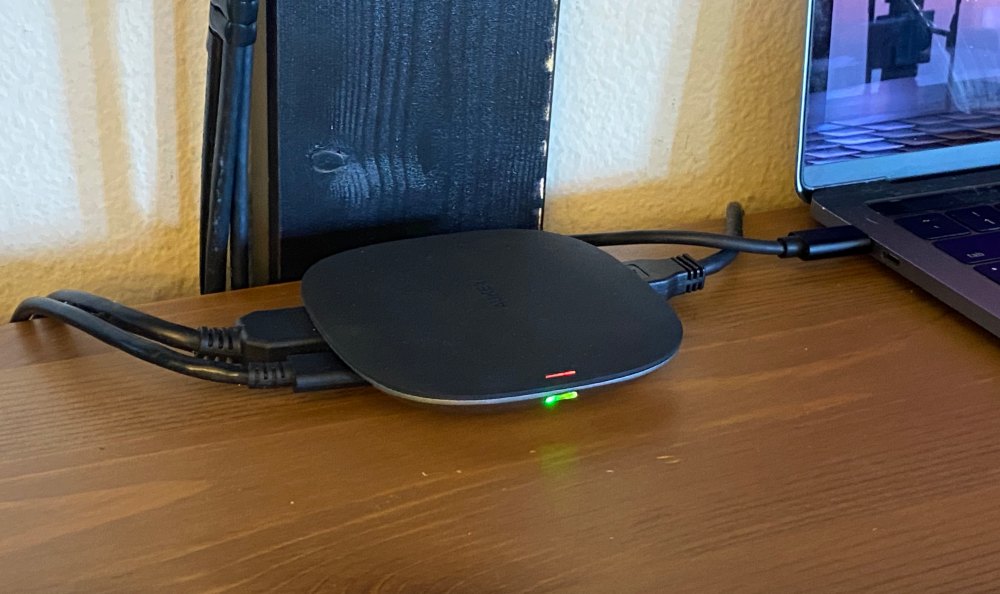 Here's a closer shot of the hub. The HDMI and USB-C power source are both connected to the left side. The right side has a USB-A cable connecting up to the monitor so my webcam can stay connected to ports on the monitor itself. The USB-C cable to the computer exits the back of the unit. Note that it's a pretty short cable (around 15mm) so you'll need to keep it pretty close to your laptop which you'll want to do for the Qi charger anyway.
Speaking of the Qi charger, it's great to be able to place my iPhone or Airpod Pros on the hub without needing one more thing on the desktop. You can see that the top LED changes to green when charging.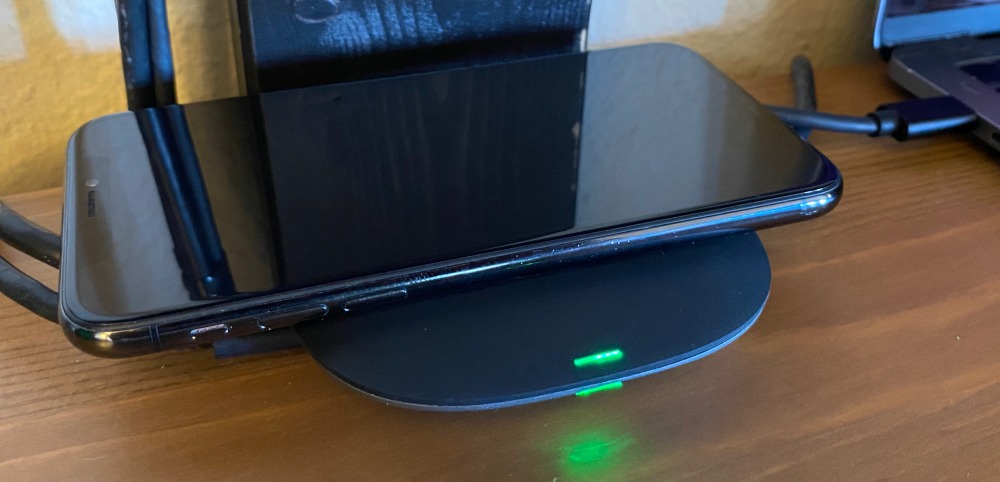 I'm left with one open USB-A port on the right side of the unit should I need to connect a flash drive, and all the open USB-C ports on my laptop. Pretty great set up.
What I like
Aesthetics and functionality
Wireless accessory charging built in!
What I'd change
Unless you're only connecting a power supply and HDMI, you're going to have cables pointing out of 3 sides
I'd pay additional to have a power supply included to leave my own in my bag.
Final thoughts
If you're in the market for a USB-C hub or dock to work with your HDMI monitor then this is a great product. When you then consider that it's normal price on Amazon is over $20 lower than on Aukey's own site and that the CB-C70 has a built in wireless charger for your compatible accessories, it's hard to find a better option. Might need to pick up a second one to leave in my EDC kit.
Price: $49.99
Where to buy: Amazon
Source: The sample of this product was provided by Aukey