We use affiliate links. If you buy something through the links on this page, we may earn a commission at no cost to you. Learn more.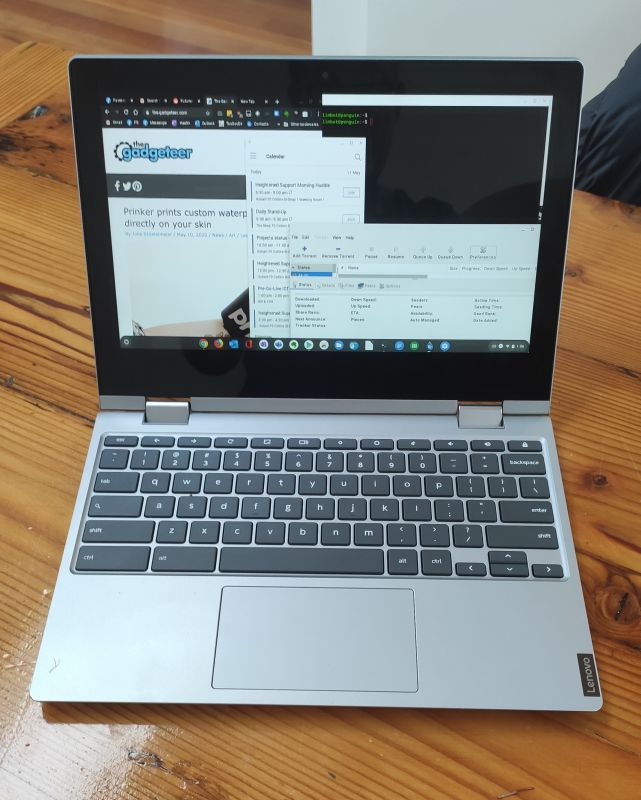 REVIEW – Chromebooks haven't been reviewed much here on the Gadgeteer, the last real reference I can find is around 2018. Julie has made mention in passing over a number of her "finding the right device" reviews, but nothing substantial. Well recently my 2013 Nexus 7 tablet finally passed away and I started looking for a replacement tablet.  For the money, nothing came close to the value and power of the good old Nexus 7 so I then started looking at Chromebooks as a possible replacement.  Things have changed a lot in the world of Chromebooks; once a device that really had to be internet-connected to be useful, they now can stand alone in their own right. Sadly here in Australia, the choice of Chromebooks is very limited. It hasn't taken off in the same way it has in the US, so things like the Google Slate or Pixel book were off the list for me (unless I wanted to import in from the US). I ended up purchasing a Lenovo C340-11 Chromebook which has somehow ended up replacing both my Nexus 7 tablet AND my Windows 10 based Dell 7270 notebook. Can a sub $300 device replace both the Nexus 7 and a $1000+ notebook?
What is it?
ChromeOS is an alternative to your macOS, Windows and Linux operating systems. Based on Linux, it's a lightweight, secure and flexible OS. As such it will run better on equivalent hardware than other larger (bloated) operating systems.
What's in the box?
My unit was an off the shelf demo model so I didn't actually get a box, but it's contents are pretty basic, you get the C340 itself and a 45W USB-C AC adapter 🙂
Hardware specs
Processor-Intel Celeron N4000 (2C / 2T, 1.1 / 2.6GHz, 4MB)
Operating System-Google Chrome OS
Display Type-11.6″ HD (1366×768) IPS 250nits Glossy, 10-point Multi-touch
Memory-4GB Soldered LPDDR4-2400
Hard Drive-64GB eMMC 5.1
Weight 1.2 kg
You can see above, that the specifications aren't that high (hence the lower cost) and while there are Windows machines around that are available on the same specifications I certainly wouldn't expect Windows to run as well on this hardware, especially once you start loading some applications on it.
Design and features
Hardware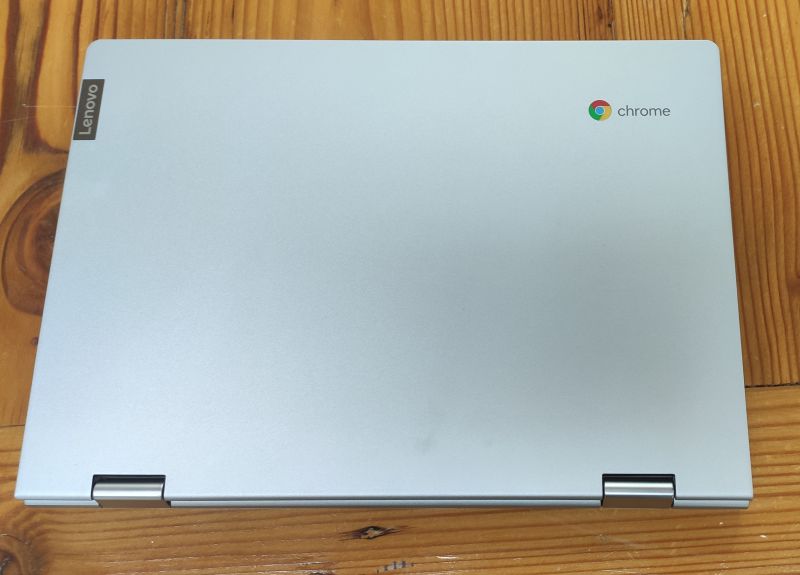 Externally a Chromebook looks no different to any other Windows notebook, the only discerning feature (that appears on all Chromebooks) is the Chrome badge on the top.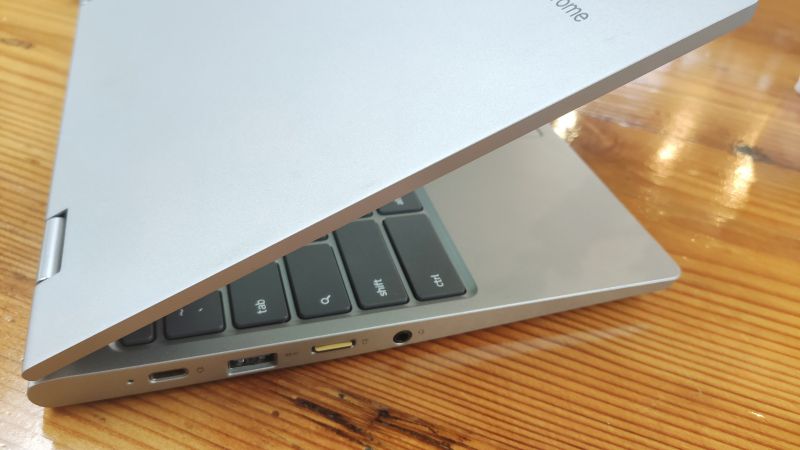 To cut costs, the C340 has an aluminum lid and a plastic base however Lenovo has done a great job of making it as seamless as possible.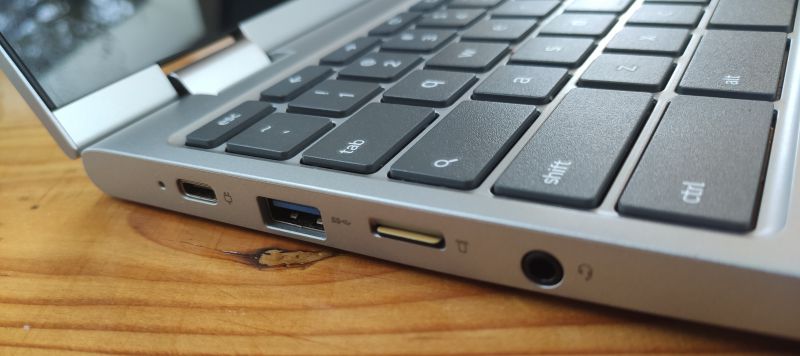 On the lefthand side; USB C for charging and also things like video, sound expansions, a USB-A port, a micro-sd slot and a combo headphone/microphone jack.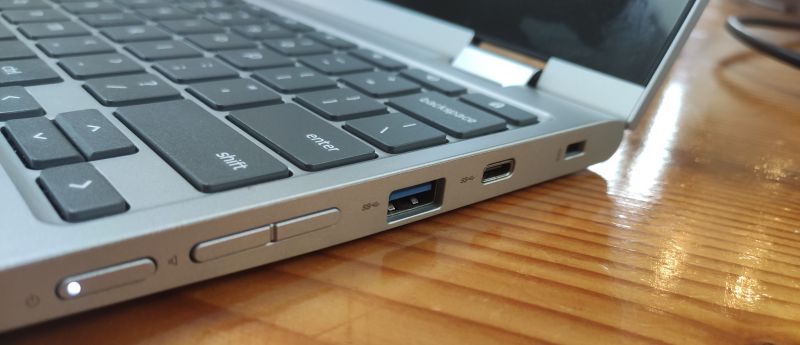 On the right side; power button, volume buttons, USB-A, USB C and a Kensington lock.
The C340 has a wide range of useful ports which makes it as flexible as possible.  For example, I have a Dell port replicator that doesn't pass power through. As such I can run the port replicator via the left hand USB-C port and power via the right USB port.  The USB-A ports are useful for things like memory sticks or other USB-A peripherals.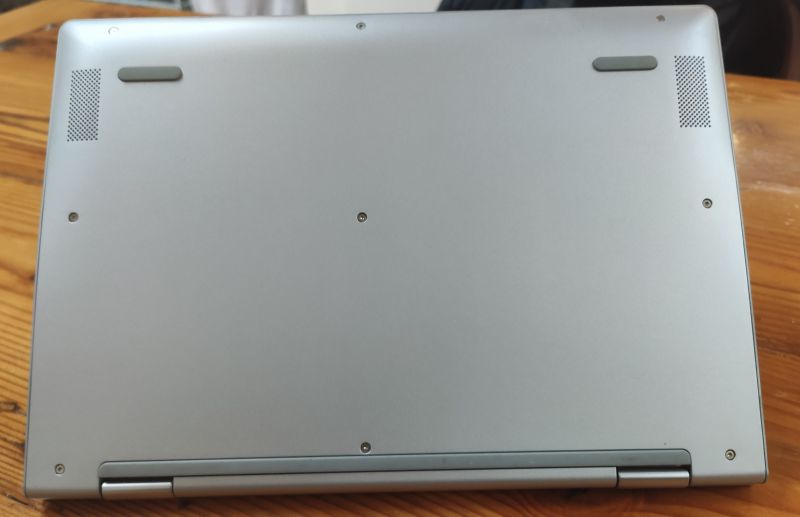 On the bottom are the two speakers. They're not the best out there, but they do the job.
Internally the C340 has Bluetooth 4.2 and dual band WiFI AC for connectivity.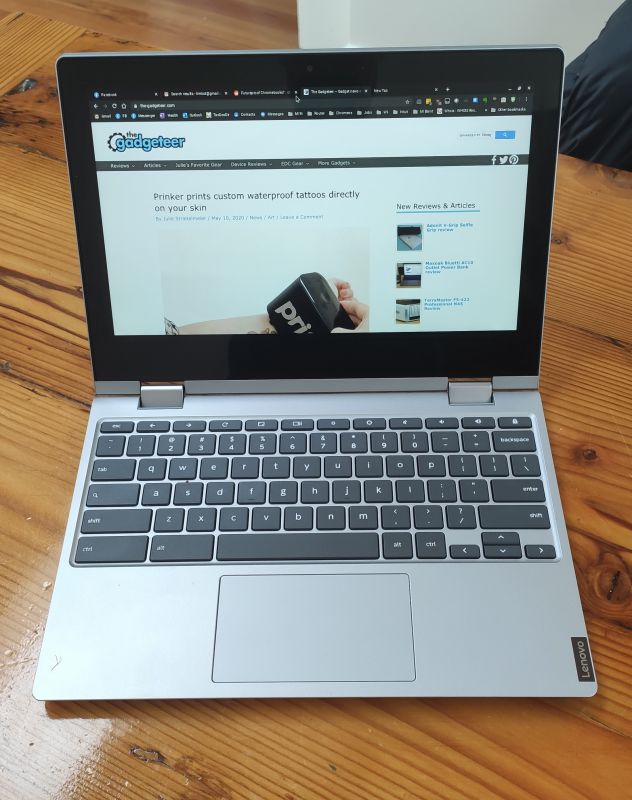 On the top of the screen is a 720p webcam and microphone for video conferencing.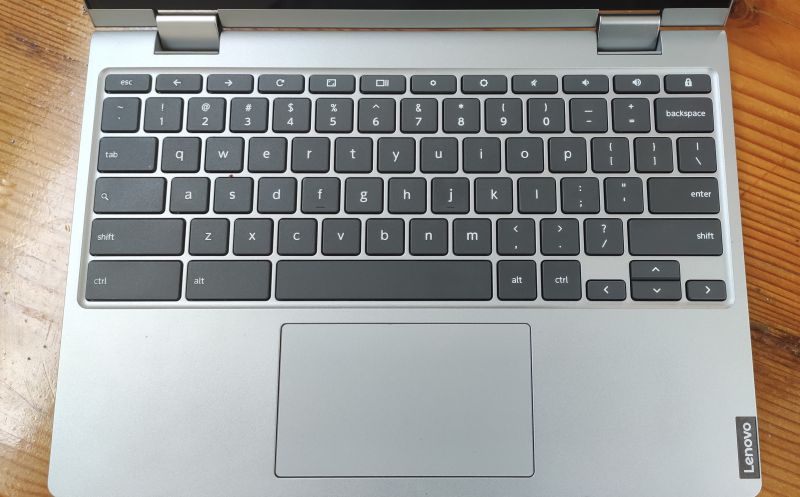 One thing to notice is that the keyboard is set out a little differently to a normal keyboard. There's no caps lock key, which is replaced with a search button, no delete key and there are no function buttons, these being replaced instead with some "standard" ChromeOS functions like full screen and showing all running apps.  It does take a little getting used to but you quickly get used to it.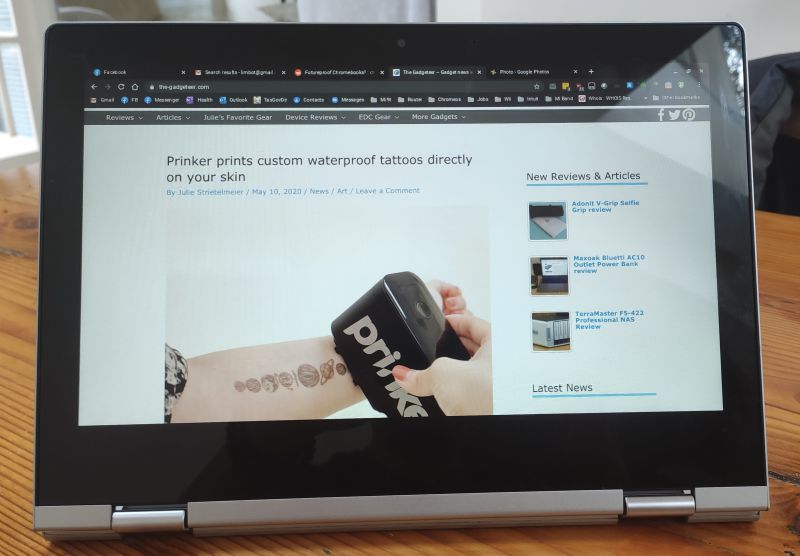 Being a 2 in 1 convertible device with a touch screen, the screen folds back to give you tent/presentation mode. It's worth noting that even though the native resolution of the internal screen is 1366 x768 there's a setting that allows me to run the internal screen at 1518 X 853.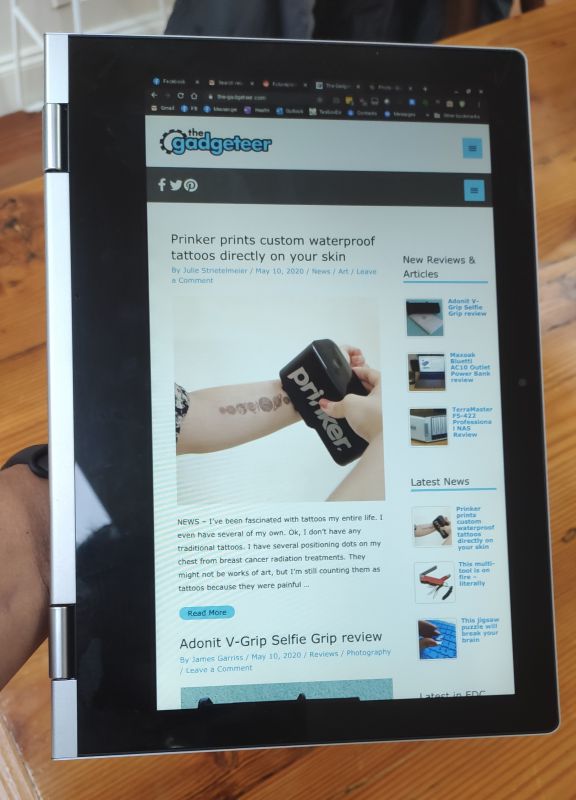 And if you fold it right back on itself, you get tablet mode.  While it's a big and heavy tablet it's certainly useable in a lot of circumstances. Sadly it doesn't support active pen/stylus devices which are so useful for document markups and writing notes.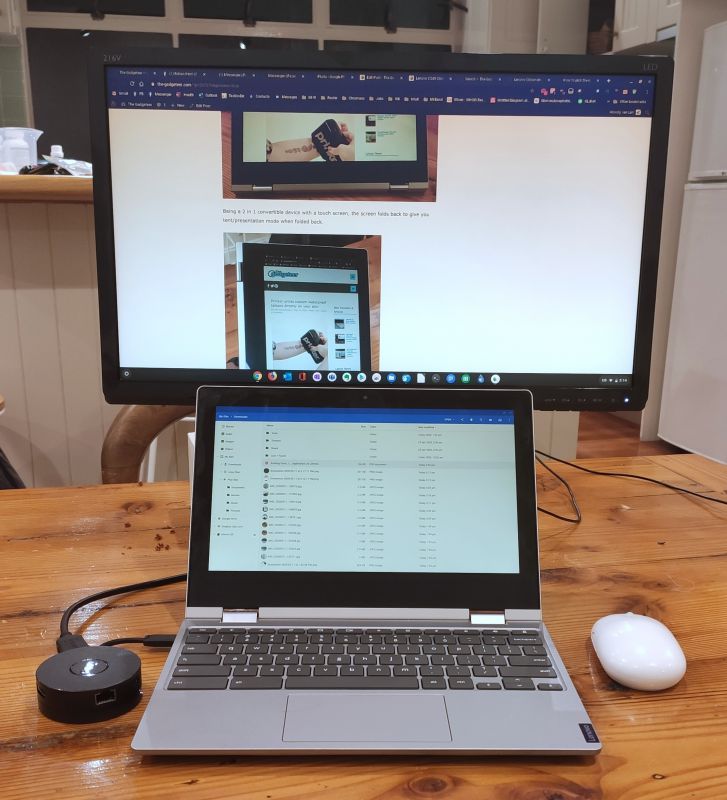 Here's a quick pic of my Covid19 work at home setup.  Lenovo C340, Dell DA300 USB-C Port Replicator, Philips 21″ monitors (1920 x 1080), Apple Mighty Mouse (yes it's an Apple product 🙂 )
At work where I have a Dell DA600 USB-C replicator, I can run 2 external screens (currently at 1920 x 1080).
Software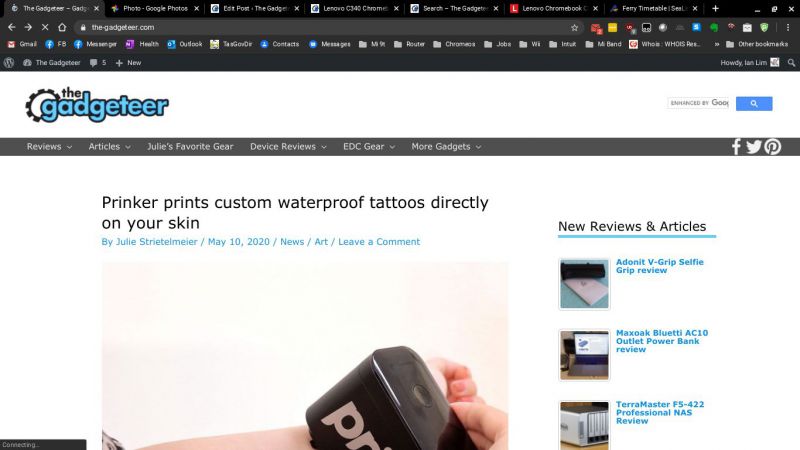 So traditionally the big selling point of Chromebooks is that it's based on…..Chrome Browser. As soon as you fire up ChromeOS you don't get a desktop you get a Chrome browser, nothing else. This is the basic premise of ChromeOS.  To supplement this basic browser function you can add Chrome Extensions. You can see in the top right, I've got some of my useful extensions like GMail checker, Lastpass, UOrigin Ad Blocker, Evernote Clip.
Now, these days most of my work is done on the web.  My email….web…my accounting system…web…writing this post in WordPress….web…Netflix….web. As such using just the web browser for my home use I can probably do 95% of what I used to do on my Dell 7270 running Windows 10. It's fast and quick and is done on a unit that's 1/4 to a 1/3rd cheaper than the Dell.  This is where the misconception that you HAVE to have an internet connection to use ChromeOS comes from.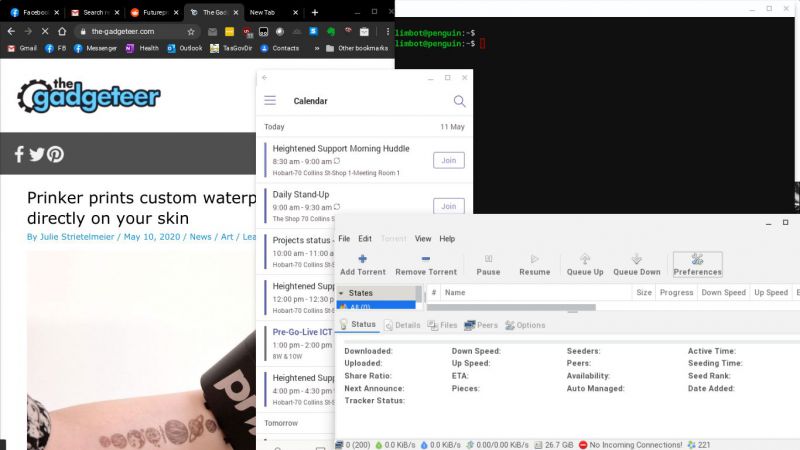 But what about the other 10%?  Well not only does ChromeOS support Chrome Browser but there's now a number of other ways you can run applications:
PWAs
Android Applications
Linux Virtual machine
In the above picture, I'm running The Gadgeteer website in a browser, Microsoft Teams via the Android App, Deluge as a Linux app and a full Linux terminal.
Using these different methods you can start running applications that are local data supported.  While traditionally ChromeOS was all about storing things in your Google Drive and using Google Docs and Spreadsheets while connected online, now it's possible to store things locally and work offline. Some of the most common offline applications are running Libre Office or GIMP in Linux boxes to replace Microsoft Office and Photoshop and I run quite a few Android Apps like Evernote, Microsoft Outlook, Snapseed and a number of Android games. It is worth noting that some Android apps don't scale properly for a larger screen.
Many of the standard Google Android applications can now be made to work offline and are compatible (to an extent) with their Microsoft equivalents.  If you really can't do with Microsoft products, then if you have an Office 365 subscription you can use the Microsoft web-based or Android-based applications as well.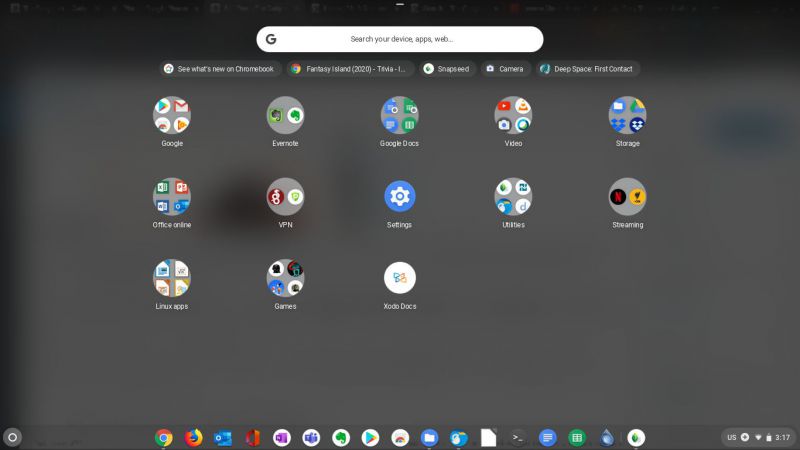 Above is my full app tray (accessed by swiping up from the bottom), there's a mix of applications running in all the methods above.
Performance
Because the OS is so light the performance of the C340 is way better than running Windows on the same hardware specifications. There are many less processes running in the background sucking up resources, which is why a lower specification machine will run better with ChromeOS.
If you ever need to reset the machine you perform a Powerwash. Anyone who's ever had to reset their Windows machine will know it takes hours to get a machine back to the same state, but because Chrome OS is so light and because your configuration is backed up in Google's cloud, a reset of a machine, including reloading all your applications takes 10s of minutes not hours. There's no need to download GBs of installation files first because Chrome extensions, Android apps and Linux packages are so much smaller in size. The installation file for Libre Office is 278MB.
Additionally, you can log into any new Chromebook device and your profile will be dragged down and installed for you so you have a safe and familiar environment.
I get about 10 hours operating on the unit, more than enough to last me a work day and then some.  Closing the lid puts the unit in standby and once opened again it only takes second to get active again.
It's very rare that I see any lag happening. The most commonplace for me to see it is when opening large PDFs (like floorplans) or using Project Libre (a Microsoft Project alternative). Other than that all my work runs just as smoothly as on my i7, 8GB Dell notebook.
There are three different OS streams you can enroll in, stable, beta and developer. Obviously the beta and developer run the risk of having more bugs however many people are happy to "risk" this to get the added and new functionality. Stables get updates about every 6 weeks, Beta gets updates ever week and developer gets updates up to twice a week. Updates occur silently in the background and after performing a reboot, it only takes a few minutes to get back up and running. No more "update is 10% complete" warning messages.  You can switch between the different modes however "downgrading" does to a Powerwash (reset) of your system.
What I like
Cost- I purchased this on sale for $299AUD ($195USD) but even at RRP it's considerably cheaper than a similar performing Wintel Notebook
Performance
 Flexibility

In form factor
In terms of the different applications and methods of running

Long Battery Life
What I'd change
Active pen would be great
It does lag a bit opening big PDF floor plans
It does lag a bit running Libre Project (a Microsoft Project alternative)
I'd consider a more powerful machine (better process, more RAM) but this still does 99% of what I want it to do
Final thoughts
For home use, the C340 replaces 99.9% of my home usage. The mix of web browser, PWAs, Android apps and Linux apps easily meets my (meager) needs. This consists mainly of web-based applications and consuming media (web, streaming video).
For work purposes, the C340 compliments my 15″ Dell Latitude 3500 while I'm out and about on-site. It's size, weight, flexibility and battery life and the use of Microsoft Onedrive as a central repository for my work regardless of location allows me to use it onsite without having to synchronize data between multiple devices.
A Chromebook isn't going to be for everyone, but then if you look closely at your usage you'd be surprised how much you don't really rely on standalone local applications these days.  Additionally, the need to not purchased expensive and bloated software packages in which you only use a small percentage of the features just makes the whole experience much more pleasant.
If you live your life in the Google ecosystem, use mostly use web-based, Android or Linux applications and you don't have the need for "power" apps for say video editing, gaming or  CAD type work (though there are alternative apps to work on more powerful ChromeOS devices and you can run Steam under Linux)  then a ChromeOS device (like the C340) may well be worth considering for a whole raft of reasons.
For someone who made a living out of selling Wintel boxes and Microsoft licensing, I can say that I'm now firmly in the ChromeOS camp.
Price: $469.00
Where to buy: Lenovo and Amazon
Source: The sample for this review was purchased with my own funds.