We use affiliate links. If you buy something through the links on this page, we may earn a commission at no cost to you. Learn more.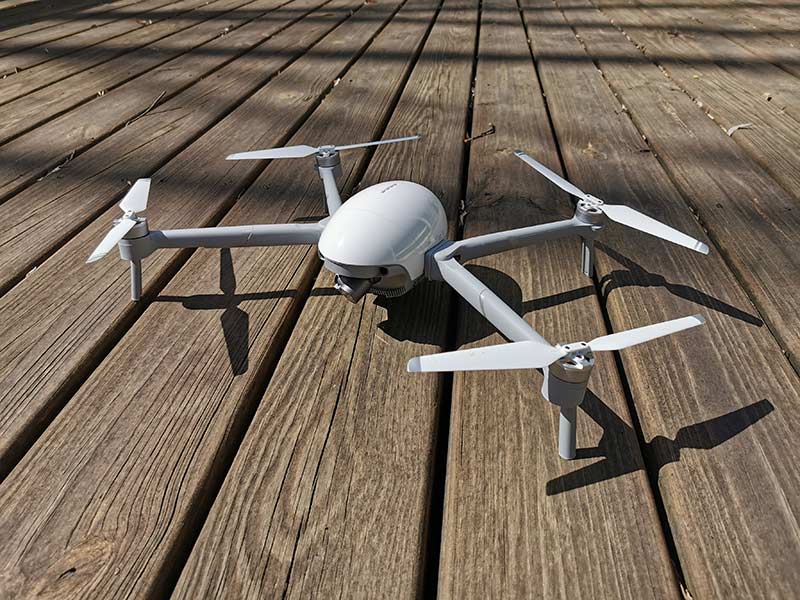 REVIEW – When you think of drone brands, the one that probably comes to mind first is DJI. But are there other brands worth checking out that have more features at a similar or lower price point? You bet, and today I'm going to show you the PowerVision PowerEgg X Autonomous Personal AI-Camera Drone. Let's take this egg-shaped drone for a spin.
What is it?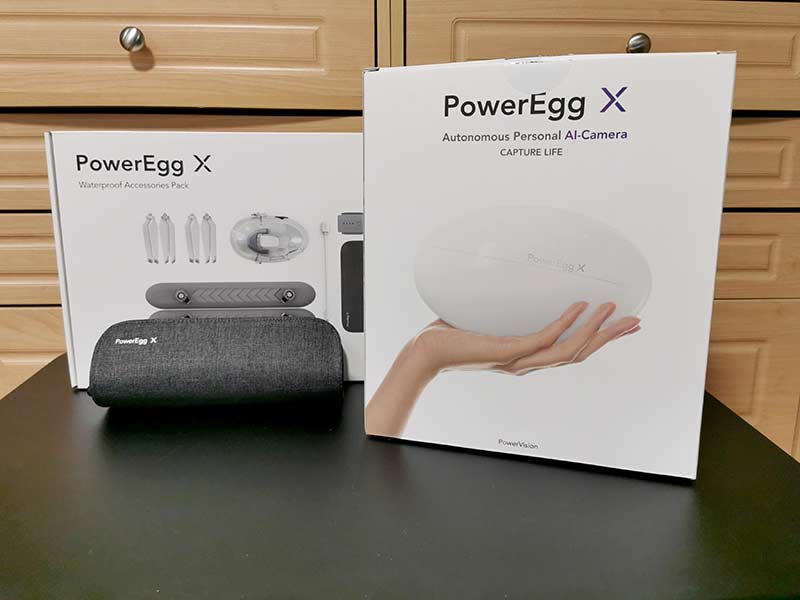 The PowerVision PowerEgg X is a 4K drone with extra features that make it a great bang for your buck.
Hardware specs
Drone:
Weight: 1.9 lb
Max Ascent Speed: 11.2 mph/s, Max Descent Speed: 6.7 mph, Max Flight Speed: 40 mph
Max Service Ceiling Above Sea Level: 2.5 mi
Max Flight Time: 30 min
Max Flight Distance: 3.7 mi
Max Wind Speed Resistance Level: Level 5
Operating Temperature: 32 – 104 F
Camera:
Sensor: 1/2.8 inch CMOS
Effective Pixels: 12MP+
Lens FOV: 78.4°
Focal Length: 27mm
Aperture: f/1.8
Shooting Range: 1 m to ∞
ISO Range Video:100 – 3200
Photo:100 – 6400
Shutter Speed Electronic Shutter: 8–1/8000s
Max Image size 4000×3000
Still Photography Modes Single Photo
Burst shooting: 3/5/7 frames
Auto Exposure Bracketing (AEB): 3/5 bracketed frames at 0.7 EV Bias
Interval: 3/5/7/10/15/30/60s
Video Resolution 4K:3840×2160 24/25/30/48/50/60p, FHD: 1920×1080 24/25/30/48/50/60/120p, HD: 1280×720 24/25/30/48/50/60/120/240p
Max Video Bitrate 75 Mbps
Supported File Systems FAT32(≤32 GB); exFAT(>32 GB)
Photo Format JPEG / RAW
Video Format MP4 / MOV (H.265/H.264/MPEG-4 AVC)
Internal Storage 6G
Supported SD Card Micro SD, Class 10 or UHS-3 rating required, Max capacity: 128 GB
What's in the box?
PowerEgg X Explorer system
PowerEgg X drone with rotor arms
2 extra sets of blades with wrench and screws
Battery
Battery charger
USB charging and phone connection cables
AI camera handle
Tripod adapter
Remote control
Hard foam case
Drawstring bag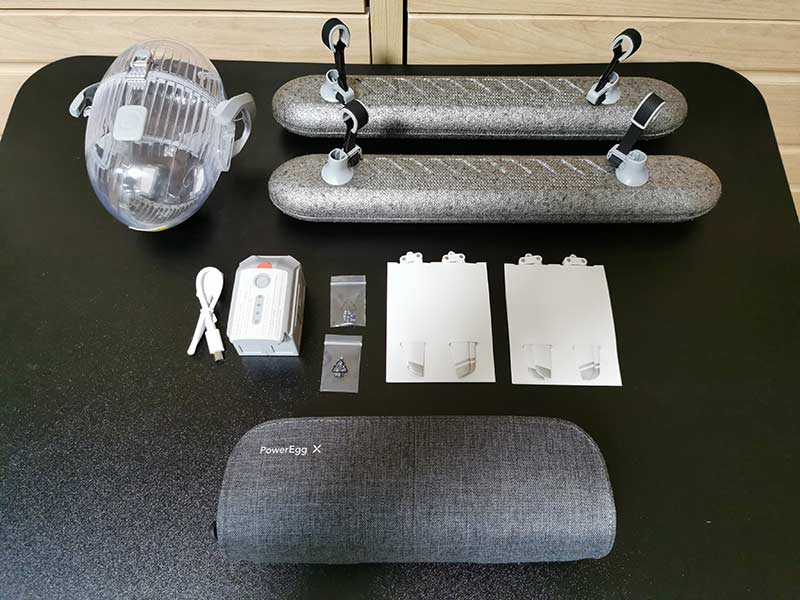 PowerEgg X Wizard System
Everything from the Explorer

 system 

2 extra batteries
2 extra sets of blades and screws
Hard foam landing gear
Waterproof shell
Zippered case for accessories
Design and features
The PowerEgg X drone looks exactly like a big white egg… well duh! The bottom cover has to be removed to reveal the cameras. There's the main 4K camera/gimbal assembly that is protected with a cover which is shown in the image above. You can also see the other cameras in the image on the right. In addition to the main camera, there are 2 forward vision cameras, a downward vision camera, and an ultrasonic sensor system.
There's a second cover on the top of the drone that you have to remove to gain access to the battery compartment, SD card slot, and so you can attach the arms which snap into the sides.
Once the arms are inserted in place, the cover snaps to the top of the drone. Then the arms can be unfolded so they are ready for flight.
In the images above, you can see the main camera/gimbal and the two forward vision cameras above it.
One of the features I've not seen before in any other drone is the ability for the PowerEgg X to turn into a handheld or tripod-mounted video camera. With the arms removed, you can insert the tripod mount and handle into the same slots that the arms use.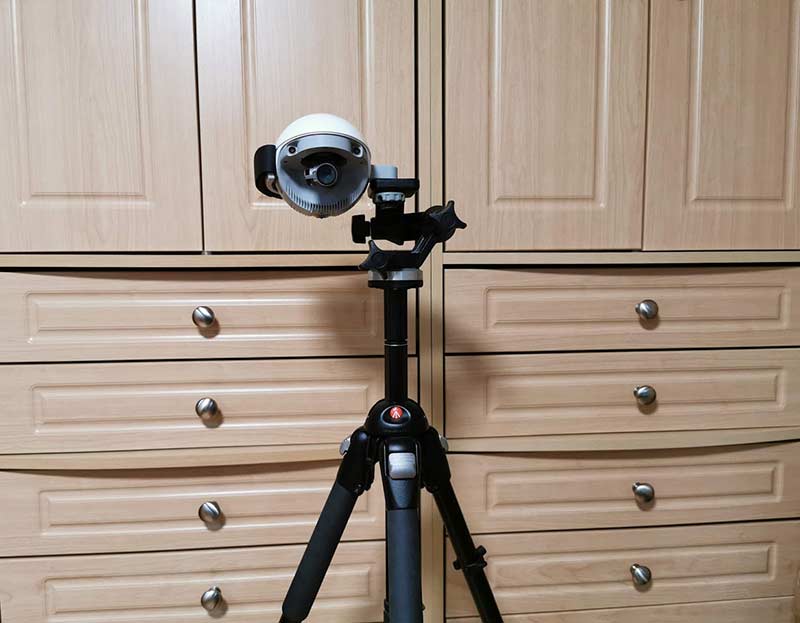 Genius design right? I think so.
The remote control has a quality look and heft to it. It's really solid and well made. Like many other drone controllers, this one has two thumb joysticks, and buttons on the front and rear that are designed to control a variety of functions like power, landing, photo and video capture buttons, and a camera angle knob.
There are two antennas that unfold and a phone clamp that extends to hold your phone for a live view from the drone and some extra controls.
The controller has a built-in rechargeable battery that charges via a micro USB cable that you can plug into the included charger for the drone's battery. There's another full-sized USB connector that is used with one of the short USB cables to connect your phone to the controller which works much better than using WiFi.
Getting the PowerEgg X drone ready to fly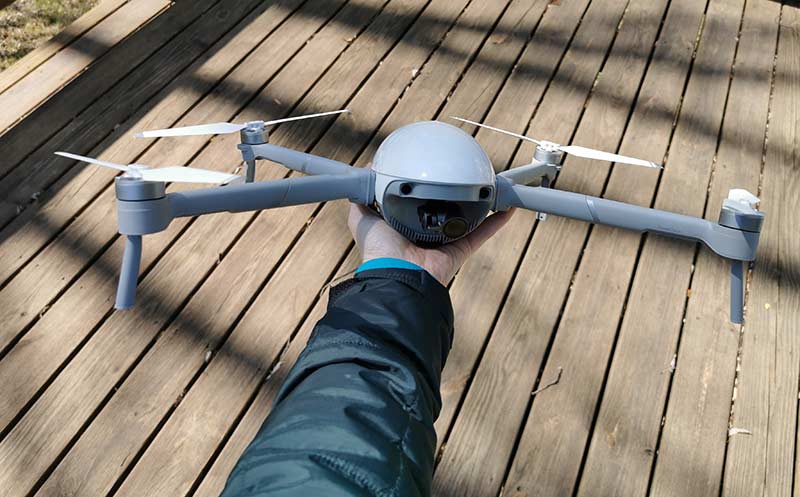 The first thing you need to do other than installing the arms is to make sure that you unfold the antennas on the bottom of the arms. They double as standoffs that keep the bottom of the drone from setting down on gravel or mud.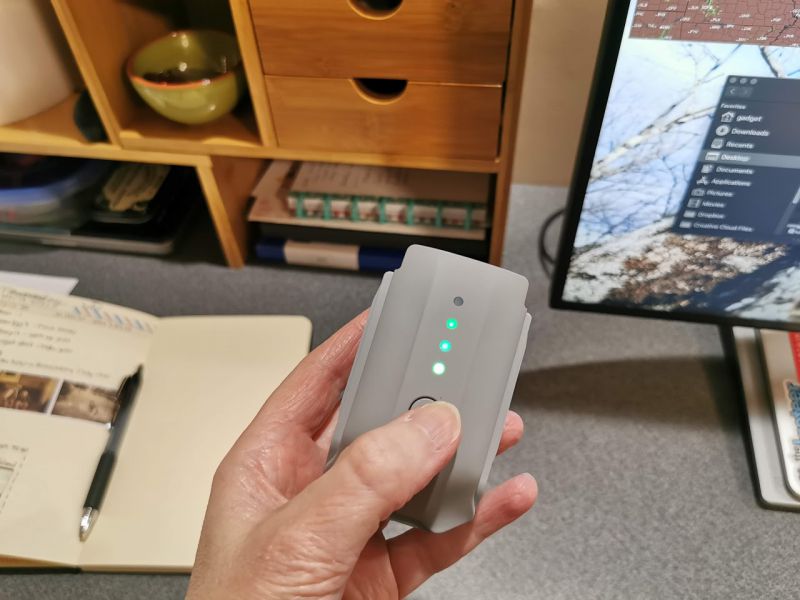 You also need to charge the battery which I have to say is awesome in several ways. First of all, it's easy to remove from the drone. I can't count how many drones that I've reviewed that have hard to remove batteries with chargers that are a pain to plug them in. The PowerVision PowerEgg X's battery is easy to remove from the drone, and the charger plugs in without any cursing.
You can also use the same charger to charge the built-in batteries on the remote control at the same time. Nice! And… there's a button on the top of the batter that you can press to see the level of power still left in the battery. This status check even works with the cover over the battery compartment.
Last but not least, the batteries last a long time compared to other drones I've reviewed. You can fly the PowerEgg X for up to 30 minutes per charge or use the drone in camera mode for 3.5hrs per charge.
Vision+ 2 App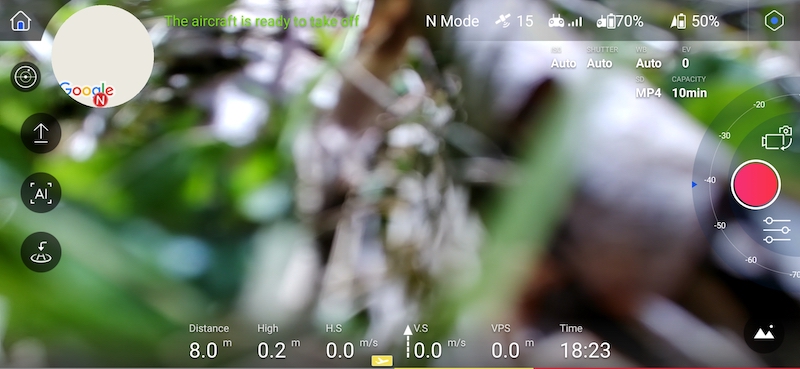 Compared to other drone apps, the one you use for this drone is easy to understand and not cluttered with a lot of stuff that you don't care about. The top edge is your status for how many satellites are connected, the remote control battery status, and drone status. Then at the bottom of the display, you can see flight info like distance traveled, how high you flew the drone, etc.
What I like is how easy it is to get set up for a flight. You don't have to calibrate the drone every time or screw around connecting to WiFi SSIDs, etc. You connect your phone to the controller with one of the included USB cables to tether it with the controller, power on the drone, power on the controller, and press the auto-off button which causes the drone to go up 4 to 5 feet and then hover in place. It's simple, easy, and fast, just the way I like it.
When you're flying, the handheld controller is responsive and easy to use and when you're ready to land, you can press the onscreen button and it will return and land from approximately where you took off.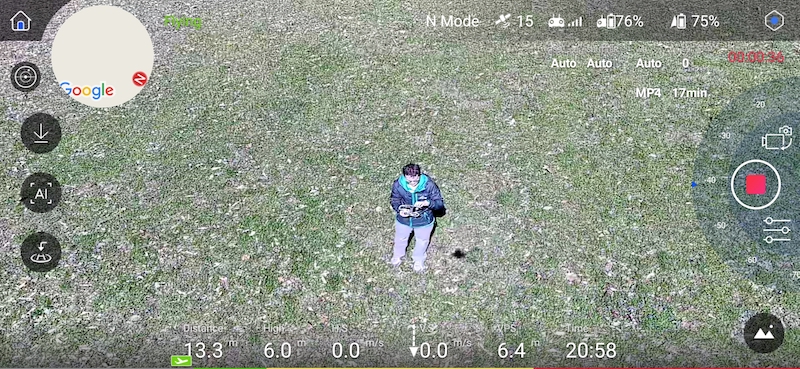 The app has onscreen buttons to take off, land, start video capture, take a pic, and special AI modes.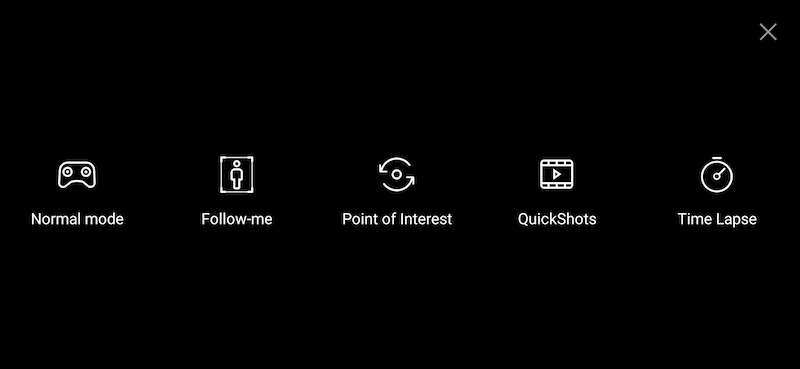 The AI modes are typical of most drones. There's a follow-me mode, point of interest, quickshots, and time lapse mode.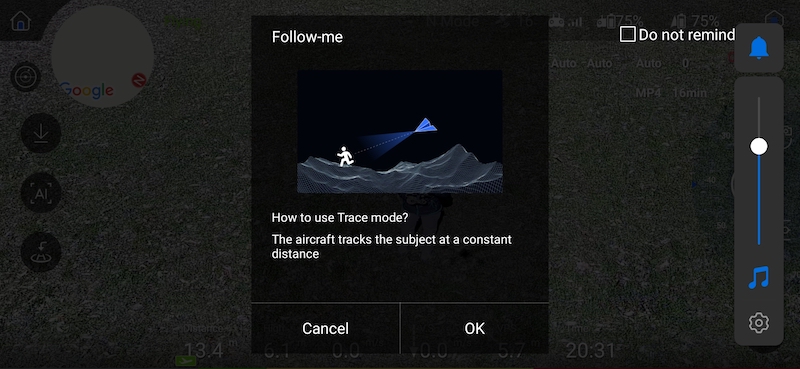 The Follow-me mode is what you would guess that it is. The drone will follow you as you wander around.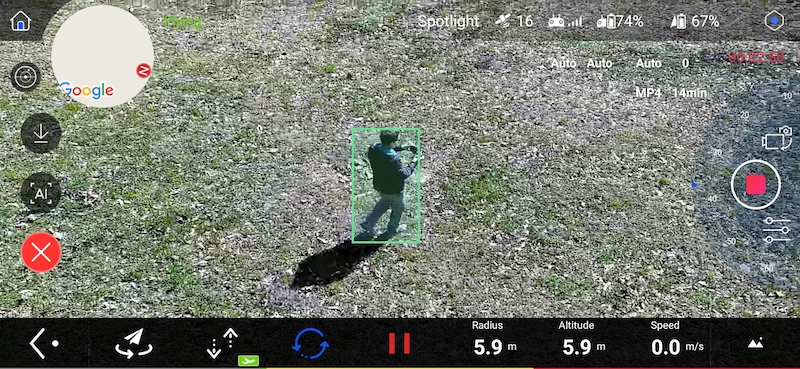 To use it, you have to draw a box around the subject that you want it to follow and then it does all the rest. It works great. It even recognizes gestures to start and stop video capture and/or photo capture. I have an indoor example of the follow mode in the AI Camera examples video below.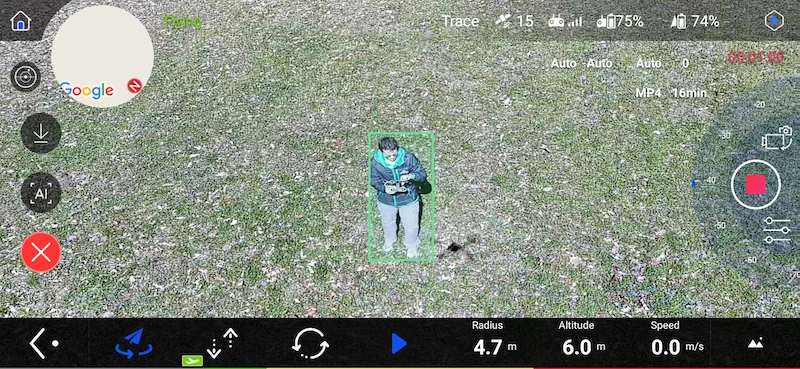 The Point of interest mode will revolve/fly around the subject.
The Quickshots mode will let you choose from 5 cinematic style flight modes around or from a target. The styles include: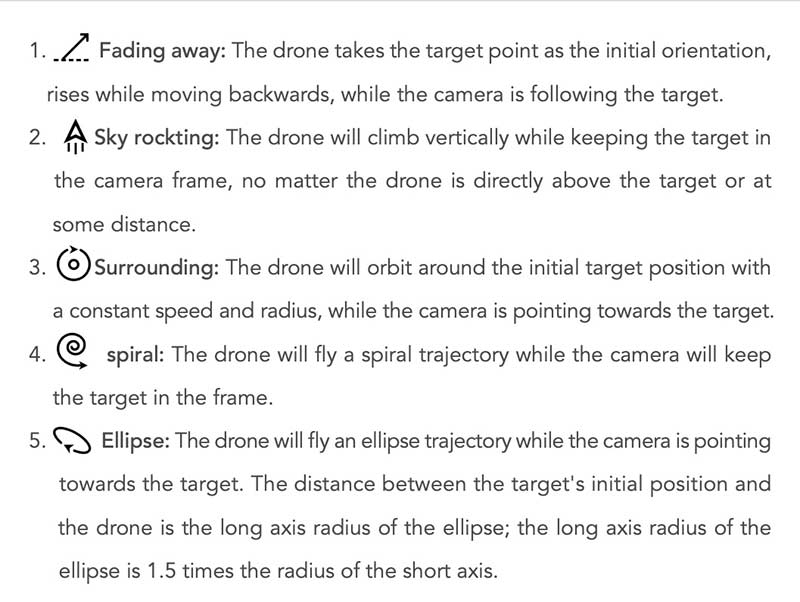 The Time lapse mode (example in the AI Camera examples video below) will take a photo at regular intervals and when completed it makes a video clip of the combined photos. You can set the range at 1s\2s\5s\30s\60s.
It can even fly in the rain and land on water!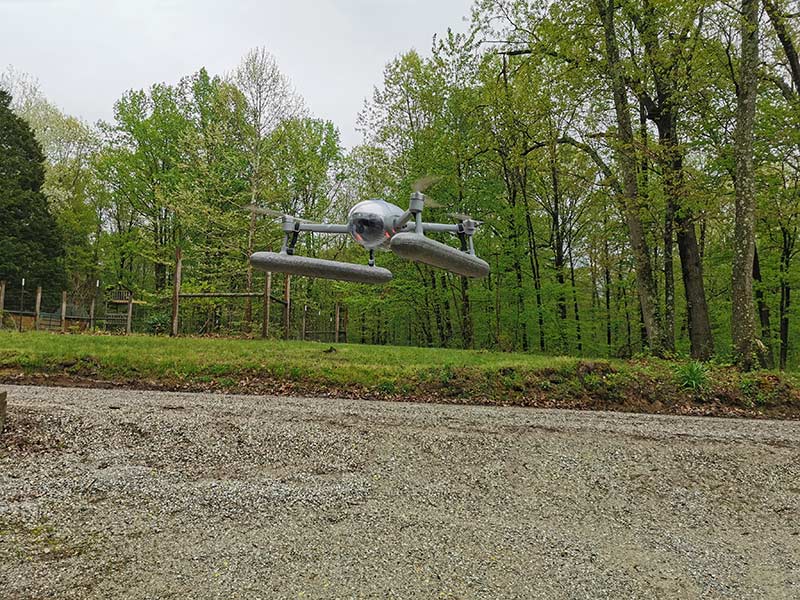 If you live in an area where it's always raining, or you plan to fly the drone over lakes and oceans, you can buy the Wizard package which includes all the waterproof gear that you need to protect the PowerEgg X.
The protective gear is easy to install, but there are two caveats. Glare and distortion. You can see this for yourself in the 1080p video sample below.
Julie quit talking and go fly the darn drone!
Video sample – 1080p
You probably noticed that this camera also captures audio. Well, not quite. The audio is being recorded through the phone. My Huawei P30 Pro to be exact. You'll notice at one point, the drone is up in the air probably 100 feet, with the camera pointing down where you can see me walking in my driveway. You'll hear me sniff a couple of times. There's no way the drone could capture sound that far away 😉
Now when it comes to the waterproof housing of the Wizard package, I probably would not ever use it. First of all, I don't anticipate ever needing to fly it in the rain and I don't live near bodies of water. I also don't' like the glare and distortion issues that it creates on the captured video.
Without the waterproof housing, the PowerEgg X does an excellent job capturing rock steady video. After reviewing so many budget drones, the addition of a quality gimbal is really a MUST have if you want useful footage. I also love the fact that when you take this drone up in the air, you don't get that weird domed earth fisheye look. With the PowerEgg X, the horizon is flat even though the earth isn't.
Video sample – 4K
The PowerEgg X also has built-in obstacle avoidance features, but you have to be smart with how you fly the drone. If you put it in P mode (professional mode) and then fly straight towards a tree at full speed, the avoidance features might not save you. How do I know? Let's just say I spent 1hr using a toothpick to pick mud out of one of the arm rotors one afternoon after the drone plunged about 30 feet to the ground after getting tangled in a bunch of tree limbs. Note that this was entirely my fault for deciding to test the P mode in my heavily wooded yard without knowing how fast this little guy can fly. 😉 I will say that the PowerEgg X took a licking and kept on ticking (thank goodness!).

AI Camera video samples
I also really like the fact that the PowerEgg X can be used as a stationary video camera capable of recording 4K audio. It's like having 2 cameras in one body that happens to be able to fly!
What I like
Very easy to fly
Long battery life and flying range
Can be used as a video camera as well as a drone
Great 4K video quality and also captures audio (through the phone)
What I'd change
Final thoughts
I've reviewed quite a few drones over the years and the PowerVision PowerEgg X drone is far and away the best drone I've had the opportunity to test and review. It's incredibly easy to fly, has long battery life (up to 30 minutes), great range (3.7mi) great video quality(4K), and it can double as a handheld or tripod-mounted video camera. If you can afford to spend the money on more than just a budget drone, the PowerVision PowerEgg X drone gives you a good bang for your buck and is definitely a keeper.
Price: $899 – $1249
Where to buy: Amazon
Source: The sample for this review was provided by PowerVision.